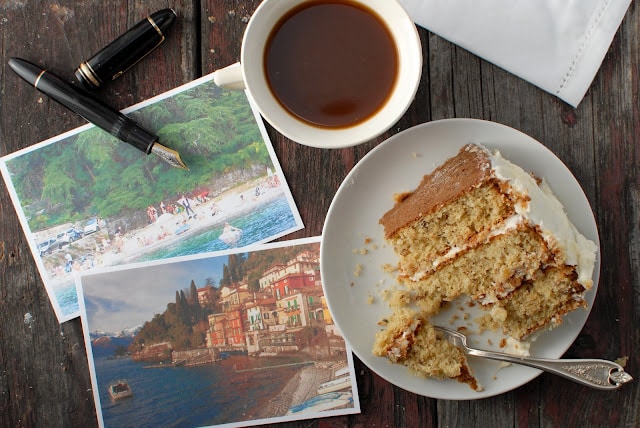 One of my favorite trips to Italy was touring the Lombardy Lake region.

 

I was fortunate to travel regularly to Europe for work and pleasure for a number of years.

 

The travel was frequent enough that all became familiar, opening an entirely different engagement with an area.

 

For me it became about the roads less traveled rather than the fast paced, hard hitting itinerary when one is only visiting a place for a short time, unsure if ever to return.
An American friend had held a workshop in Leysin Switzerland.

 

International friends from all over would be there and we met up for a fantastic week in truly the most pristine country in the world by my experience.

 

Cleanly swept streets, meticulously stacked wood piles, the most blue sky and clear blue lake waters.

 

After the week I took off with some friends to drive through Lugano, the Swiss area of the lake region, to Italy.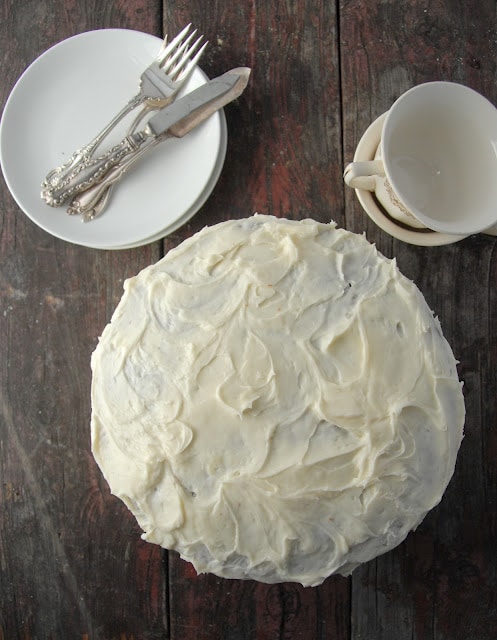 My favorite memory of the trip was the lazy driving when in Italy around the lake region.

 

Driving as a sightseeing method without aim or schedule.

 

It had a feel of what I imagine the 1950's was like in the U.S.; the practice of the Sunday afternoon drive as an activity worthy of itself without destination.

 

We'd wind up into the hills to discover wonderful towns trellised up a mountainside.

 

Stop at waterside cafes at odd hours for wine and a plate of antipasto.

 

Or a complete favorite, stopping at a sprawling piazza to linger at a table for strong coffee and pastry while literally watching the world go by.

 

People strolling, at a luxuriously slow pace, as a way to spend the afternoon (so

not

American).
It is not often I now find the time or the personal freedom to while away a day or even part of one.

 

My chore list seems endless.

 

The demands of my time far outweigh any slight notion of dalliances.

 

When I came upon a vintage recipe for Italian Cream Cake I felt transported to those lazy moments of lingering over mid afternoon cake and coffee across from Lake Como.

 

I knew I had to make the cake and will admit took the time to eat a slice with coffee in the middle of the afternoon, not rushing a bit!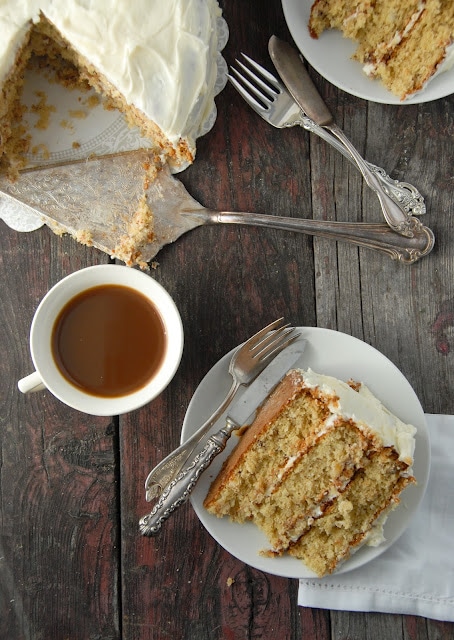 Though this cake contains coconut and walnuts I found neither flavor jumped to the forefront to stake claim on the cake.

 

It is a well balanced, lovely cake with a beautiful aroma, presence, texture and flavor.
·

        
1 stick plus ¼ cup butter, softened
·

        
½ cup shortening
·

        
2 cups granulated sugar
·

        
5 eggs, separated
·

        
2 cups flour (regular or gluten free)
·

        
1 teaspoon baking soda
·

        
1 cup buttermilk
·

        
2 teaspoon vanilla
·

        
3 ½ ounces shredded coconut

 

(I used half sweetened and half unsweetened coconut)
·

        
1 cup finely chopped walnuts
·

        
1-8 ounce package cream cheese
·

        
1 pound powdered sugar
·

        
Milk to thin frosting to desired consistency
1.
 

Preheat oven to 350 degrees.

 

Grease and flour 3-9 inch pie pans and set aside.
2.
In the bowl of a standing mixer with paddle attachment or large bowl with a hand held mixer, cream together

 

the 1 stick of butter (the additional ¼ cup is for the frosting), shortening and granulated sugar until light and fluffy.
3.
Add egg yolks and mix well.
4.
Sift together the flour and baking soda.

 

Add to the creamed mixture, alternating with the buttermilk, beginning and ending with dry ingredients.
5.
Add 1 teaspoon vanilla, coconut and nuts.

 

Mix to combine.
6.
Stiffly beat the egg whites to form soft peaks.

 

Fold into the batter.
7.
Pour batter into the prepared pie pans and bake for 30 minutes (until the cake is golden on top and toothpick comes out clean).

 

Allow to cool on racks for 20 minutes.

 

Remove from pans and allow to cool fully before frosting.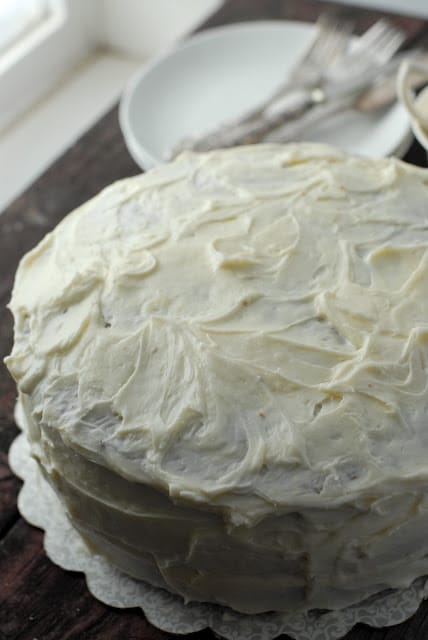 1.
 

In the bowl of a standing mixer with whisk attachment or medium bowl with a hand held mixer, cream together ¼ cup butter and cream cheese.
2.
Add powdered sugar and 1 teaspoon vanilla.

 

Mix to combine.
3.
Add milk, a teaspoon at a time to reach desired spreading consistency.

 

Note: since my cake was gluten free which is not as dense as wheat flour cakes I thinned mine with about 5 teaspoons of milk but make your own judgment for what would be desirable to you.
Recipe attribution:

 

Mrs. Edna Peavy, Atlanta GA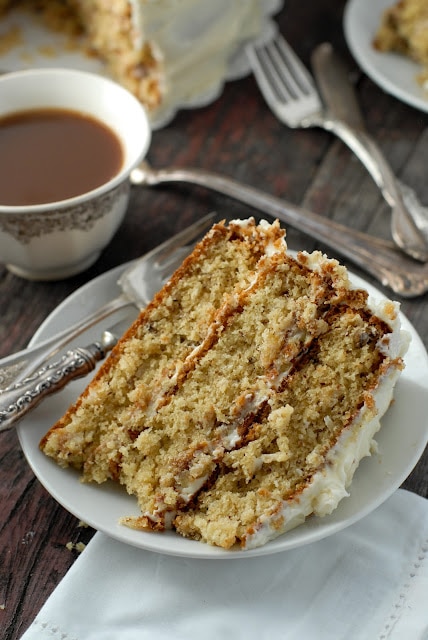 A personal note
: One might look at the stated focus for my blog and wonder why I'm making more cakes of late than would be needed at an old school Bake Sale!

 

Though my primary blogging focus is local and seasonal we are in the dregs of winter in Colorado.

 

Our only fresh local food is meager offerings from small greenhouses and we've had enough root vegetables to make us feel not seeing another beet would be just fine!

 

I have a second passion which is vintage recipes.

 

Through those from my own family and their friends, to packets of recipes given to me by friends, I feel it an honor to bring those back to life, sharing them with the current crowd of cooks and foodies.

 

You'll note many I select have a seasonal theme and all use whole ingredients.

 

Baking from scratch is a luxury few enjoy these days, me included.

 

By owning these recipes I feel it my responsibility to give them a second life with you!

 

I hope you'll forgive a bit of veering off the true local, seasonal path as we while away the winter from our root cellars and canning pantries, enjoying these lovely treats from the past!