Italian Cream Cake (also called Italian Wedding Cake) is an easy three-layer cake recipe. The flavors of coconut, nuts, buttermilk, and cream cheese taste like being on an Italian vacation with every bite.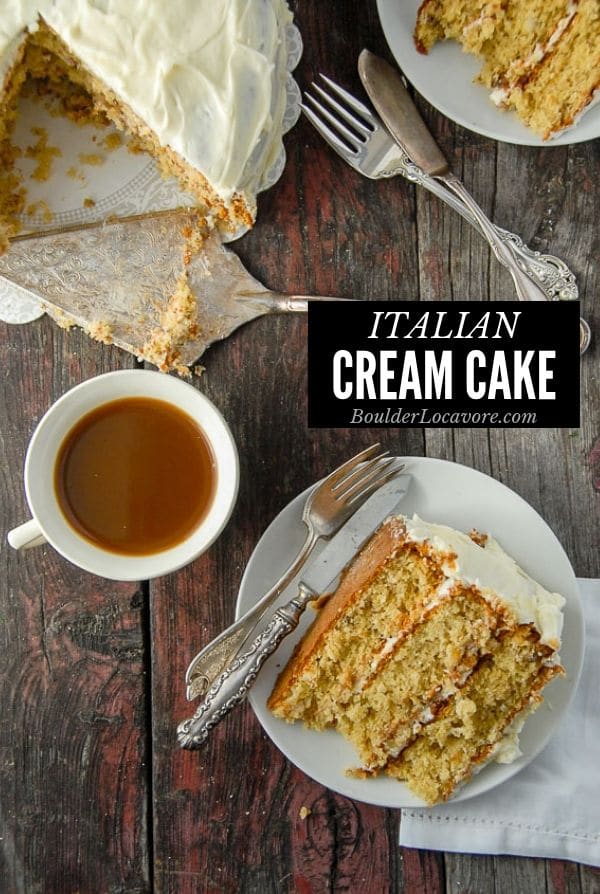 This easy delicious three-layer Italian Cream Cake makes any occasion feel special.
It's a family favorite recipe perfect for every night dinners, parties, gatherings or just 'because'.
What is Italian Cream Cake?
Italian Cream Cake is a three layer cake with coconut, pecans or walnuts, buttermilk and cream cheese frosting. It is traditionally served on special occasions and is sometimes also called 'Italian Wedding Cake' .
It's easy to make and you'll want to serve it more frequently, trust me!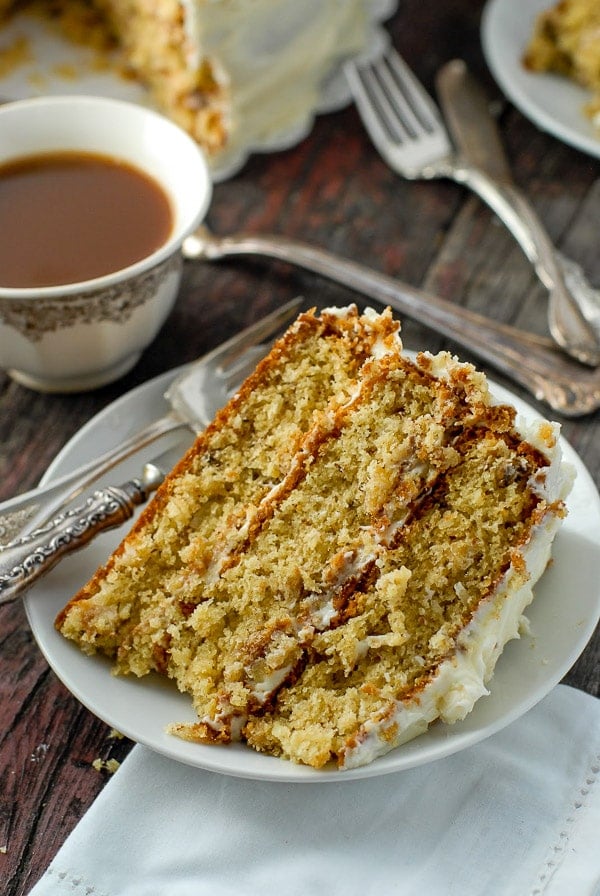 Ingredients in Italian Cream Cake
Despite the exotic recipe name the ingredients in Italian Cream Cake are simple and easily found at any grocery store!
Unsalted Butter
Shortening
Granulated sugar
Eggs
Flour (regular or gluten free)
Baking Soda
Buttermilk
Vanilla Extract
Shredded coconut (I used half sweetened and half unsweetened coconut)
finely chopped Walnuts or Pecans
Cream cheese
Powdered (confectioner's) sugar
Milk (to thin frosting to desired consistency)

Can be Made Traditionally or Gluten-Free
The original vintage recipe I used was a traditional one made with regular flour.
I adapted it with gluten-free flour. I suggest using a measure-for-measure style gluten-free flour if making it gluten-free.
This style of flour is an easy swap into gluten recipes to provide the same flavor and binding behavior.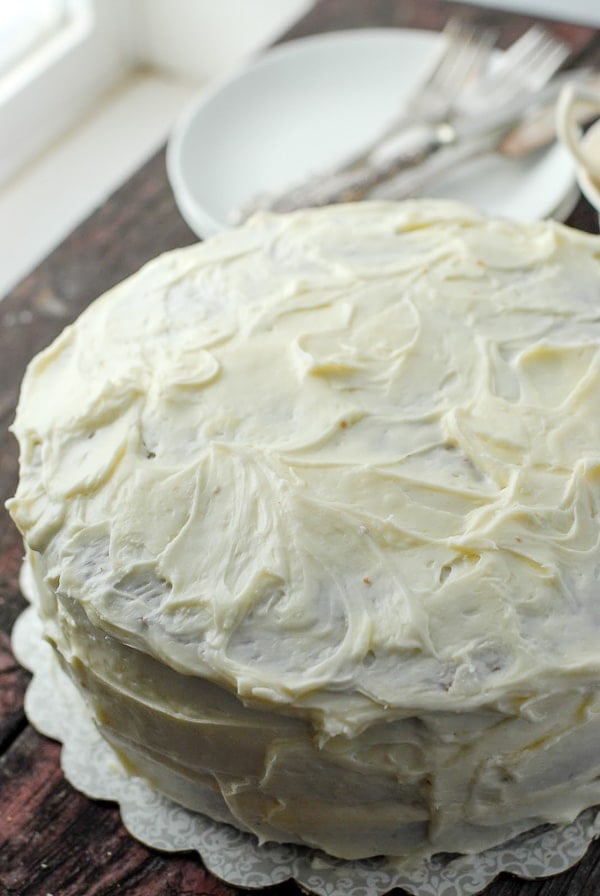 Does Italian Cream Cake Need to be Refrigerated?
Yes. Any cake with a cream cheese frosting needs to be kept in the refrigerator.
Remove the cake from the refrigerator 1-2 hours before serving to allow to warm to room temperature.
This will give the best flavor and texture.
How to Make Italian Cream Cake – Step by Step:
Preheat oven to 350 degrees F. Grease and flour 3 9-inch cake pans and set aside.
In a large bowl cream together the room temperature butter, shortening and granulated sugar until light and fluffy (photos 1 & 2). NOTE: a hand held or standing mixer may be used.
Add egg yolks; mix well (photo 3).
Sift together the flour and baking soda (photo 4).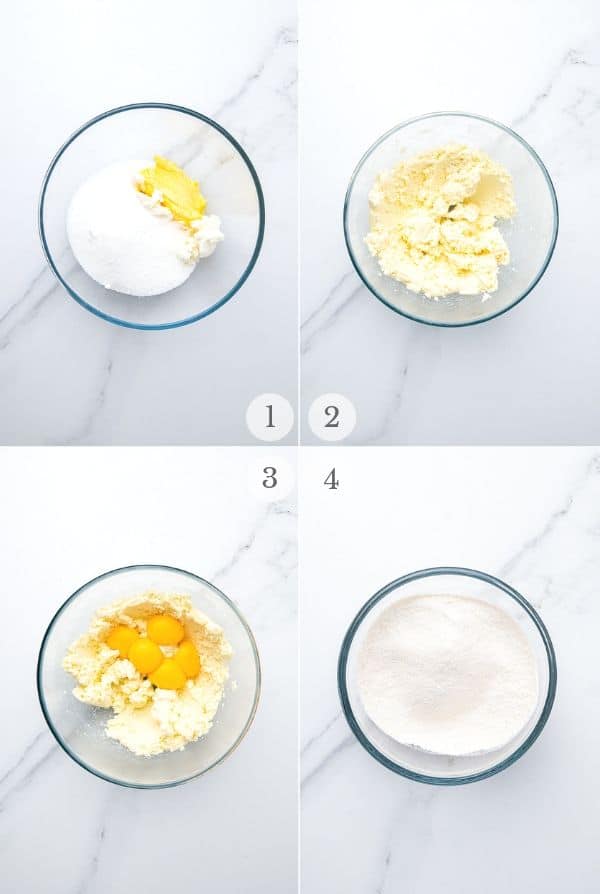 Add to the creamed mixture, alternating with the buttermilk, beginning and ending with dry ingredients (photo 5).
Add vanilla, coconut and walnuts (photo 6). Mix to combine.
Stiffly beat the egg whites to form soft peaks (photo 7). Fold into the batter.
Pour batter into the prepared pans (photo 8).
Bake for 30 minutes (until the cake is golden on top and toothpick comes out clean).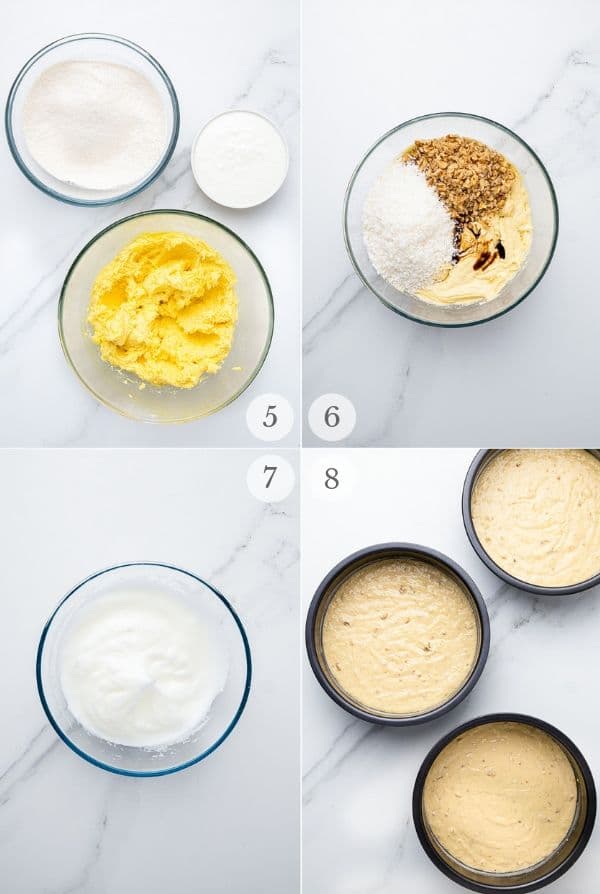 Allow to cool on wire racks for 20 minutes (photo 9). Remove from pans and allow to cool fully before frosting (photo 10).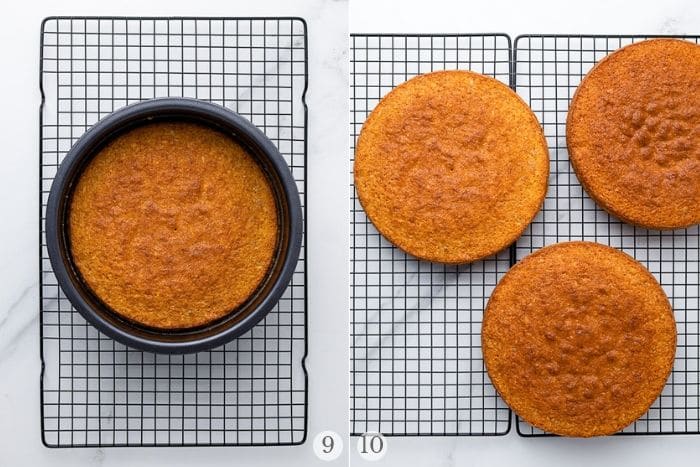 Making Cream Cheese Frosting
Using a hand held or standing mixer, cream together ¼ cup butter and cream cheese (photo 11).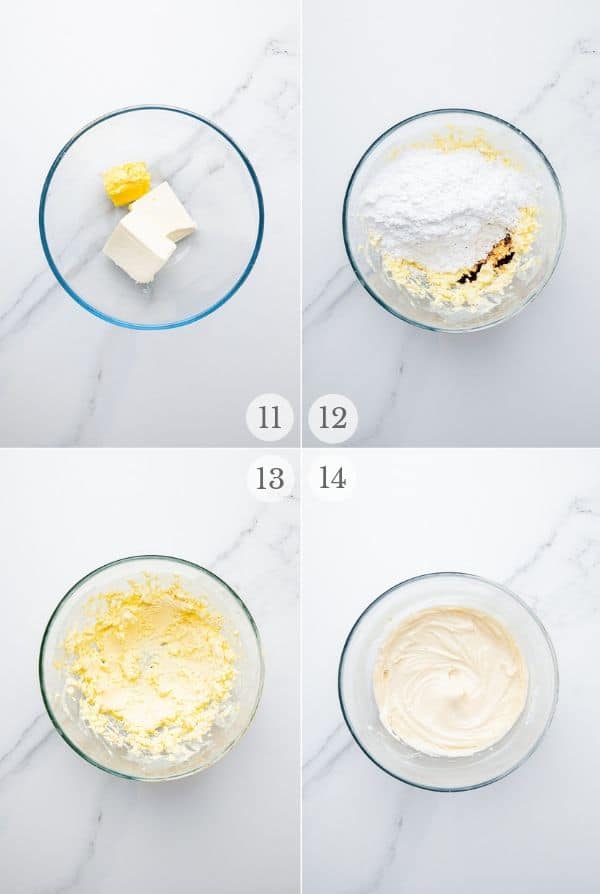 Add powdered sugar and 1 teaspoon vanilla (photo 12). Mix to combine (photo 13).
Add milk, a teaspoon at a time to reach desired spreading consistency (photo 14).
Spread a layer of frosting in between the cake layers, on the top and sides (refer to video for visual).
Time Saver Make Ahead TIP
Use this time saving PRO tip!
Make the cake layers ahead of time. Do not frost!
Wrap each layer tightly in plastic wrap and freeze. This may be done up to 1 week before serving.
On the day of serving remove cake layers from freezer and allow thawing in the refrigerator.
Assemble and frost the cake while the layers are still cold (tip: this makes the cake easier to frost with less crumbs).
Allow the assembled cake to come to room temperature before serving.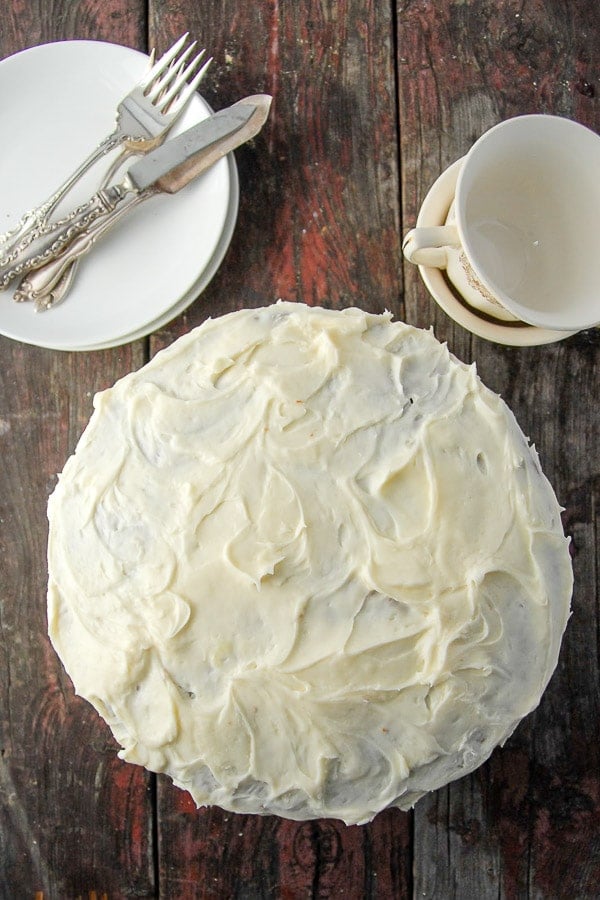 More Delicious Recipes You'll Love
Did you make it? Please RATE THE RECIPE below!
Please SUBSCRIBE and FOLLOW ME on FACEBOOK , TWITTER , INSTAGRAM and PINTEREST!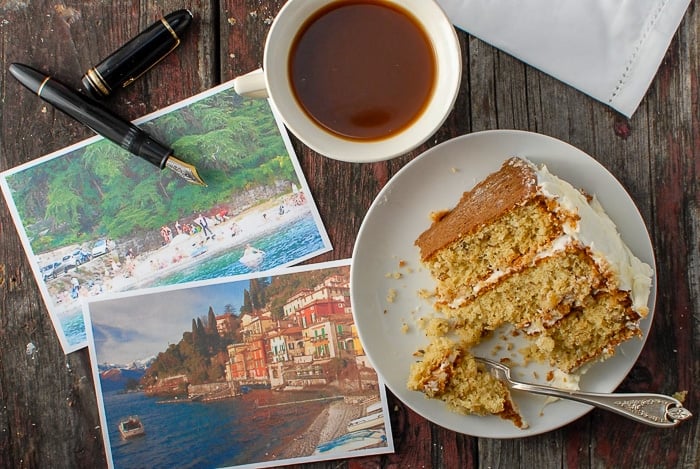 Originally published: February 25, 2012
Italian Cream Cake video: