Divinity is an old school candy that is perfect for holiday gifts and entertaining. Sweet, creamy nougat chock full of pecans, it's right at home as part of your holiday treat-making!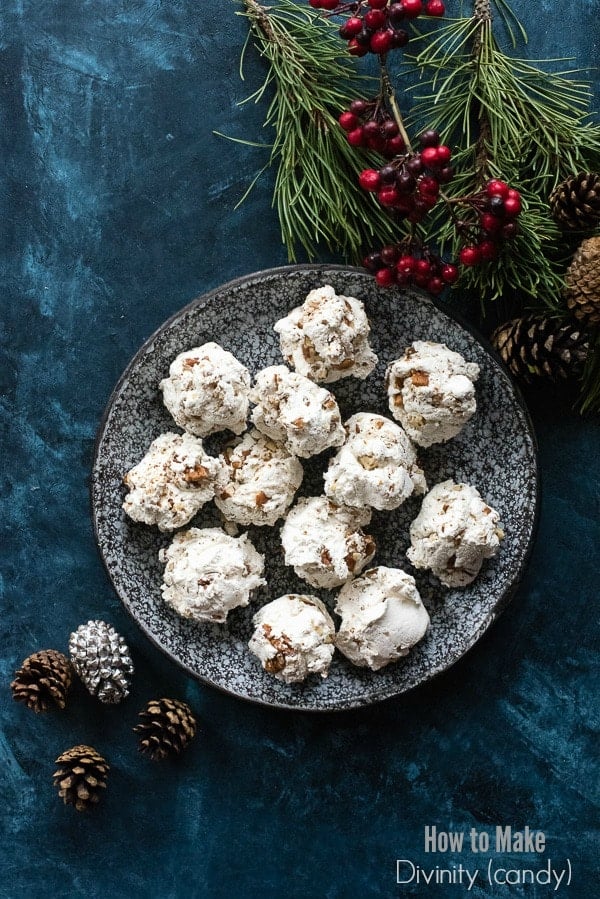 Do you remember a few weeks ago when I shared a recipe for No Crust Pumpkin Pie? When going through the packet of vintage recipes where I found the pie recipe, I pulled out some others that I wanted to try. One of them was for Divinity and after a conversation with my children I feel compelled to add 'the candy'.
While we were having dinner, I was thinking about the recipe. I remember first having Divinity as a child when visiting some relatives from the south. We had stopped at a rest stop while driving somewhere and one of the adults bought some. I'd never seen anything like this fluffy-looking, creamy white candy with a nougat-type consistency. It was sweet and dreamy.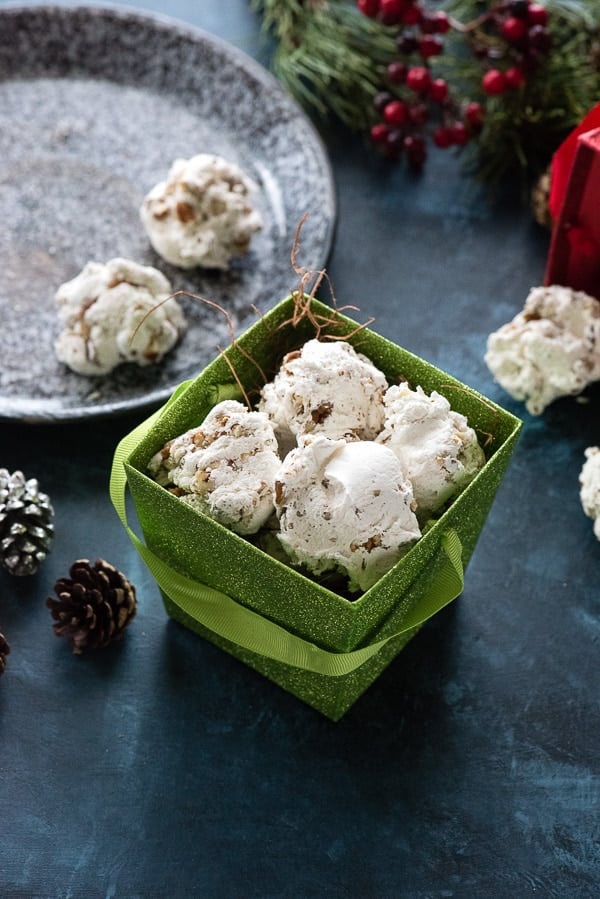 Lost in my own thoughts I asked my husband, totally out of sync with the dinner time conversation, 'what is the name of those old roadside restaurants? Stuckey's?'  He thought so. 'Why?' he asked. 'It was the first place I bought Divinity'.
My kids almost spit their food out and asked 'WHAT is Divinity?!'  I explained what it was and one of them said they thought maybe I was referring to drugs. Great. I do that so often, buy drugs at rest stops.  If unfamiliar with Divinity, I suppose the name does sound like drugs or maybe purchasing spiritual enlightenment.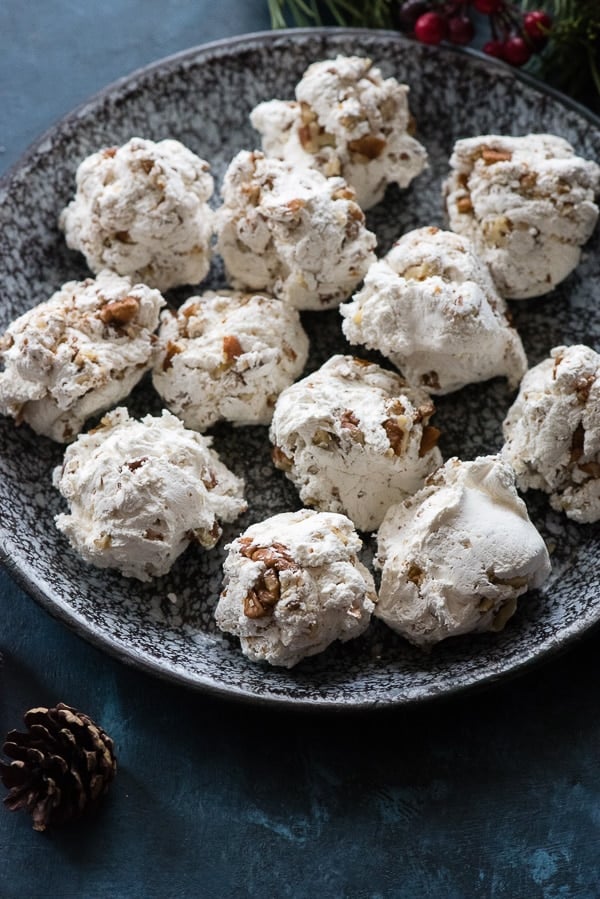 The recipe I have for Divinity is meager in its instruction. It also did not use a candy thermometer (an Instant read thermometer works too). It made me realize how older recipes like this are most likely made with someone who has done it for years so the first timer knows what the mixture looks like and about how long it takes to get to each stage.
When making candy, the 'soft ball' and 'hard ball' stages are registered when a small spoonful of the cooking candy mixture is dropped into a bowl of cold water and it forms (you guessed it…) a soft or hard ball. I depend on temperatures when making candy recipes, though I double tested with the cold water method too!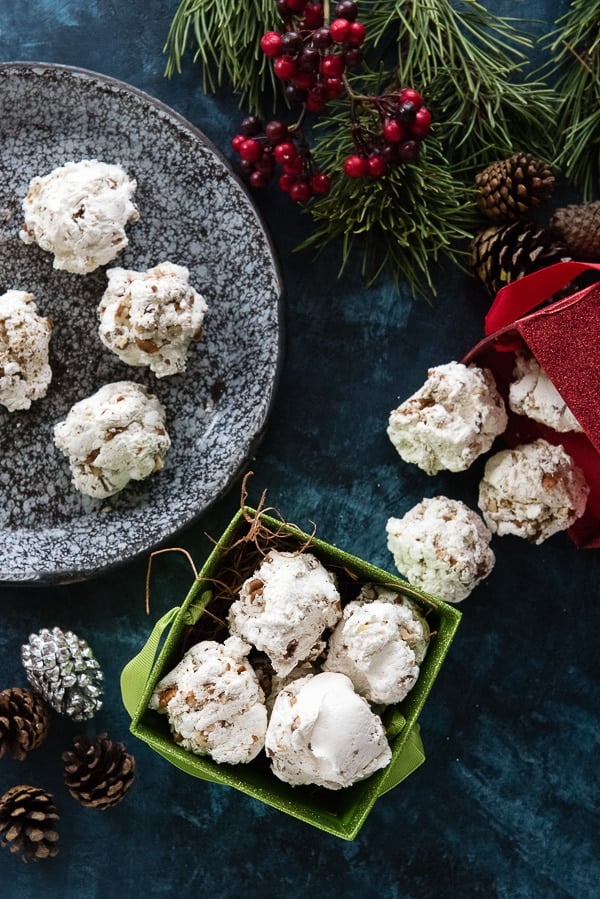 Divinity is straight forward to make however there are deviations based on climate and equipment. After making my batch I noticed in researching the candy's origins that it is not recommended to be made on humid days or in humid climates (something we don't have in Colorado, 'too much humidity'). I saw a few recommendations to remove 1 tablespoon of the water in the recipe if attempting it on a humid day. I also read a note from someone who made it on a rainy day in Seattle and maintains if you have a good candy thermometer and mixer you are fine. Who knows!
At the stage when beating together the hot candy mixture with the egg whites, I watched for the mixture beginning to thicken, not be as glossy as when I began mixing it and when I raised the whisk attachment the mixture slowly drizzled back into the bowl, thick enough to sit on the surface of the remaining mixture in the bowl rather than dissolving back into it.
Divinity is a very sweet candy, a little goes a long way so making smaller spoonfuls of it is the perfect approach. You'll note the recipe calls for 1/2-1 cup of chopped pecans. The version you see in the photos contains 1 cup of pecans. I've made it with less pecans as well (which lends itself to a smoother appearance). My preference is more nuts to offset the sweetness but experiment to find you favorite ratio of nuts to the nougat.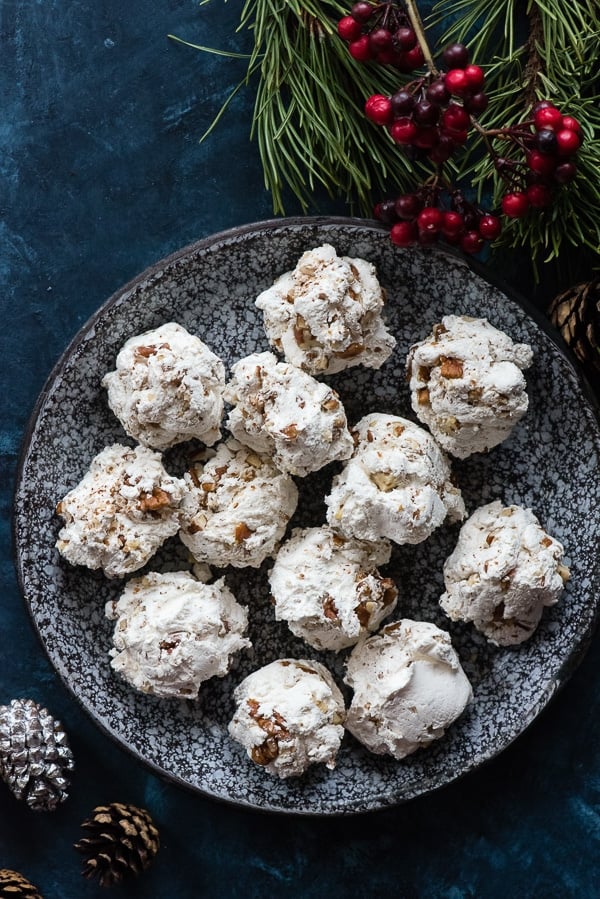 My Tips for Making Divinity:
Set up everything before you begin cooking.  Once the sugar mixture reaches the correct temperature and is beaten into the egg whites, one must move quickly to spoon it onto the waxed paper before it begins to get stiff.
Use a candy or instant read thermometer. It's the easiest way to cook the sugar mixture the correct amount of time.
Use a standing mixer. The hot sugar mixture is poured slowly into the egg whites while they are mixing AND the mixing of the candy takes a strong motor. I'm unsure it could be done with a hand held mixer.
Spray the spoons used to scoop the candy onto the waxed paper with no-stick spray. I do this when making marshmallows and it works great to aid the speedy transfer of the candy to the waxed paper.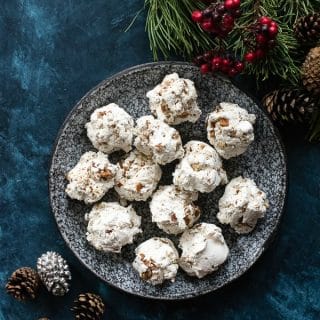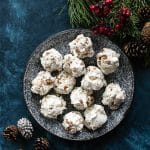 Divinity
Creamy, dreamy Divinity is an confection with a long history. It is a sweet nougat candy with pecans. As with many such things, the preference on how many nuts is personal. I prefer more nuts to offset the sweetness of the candy. If you like more nougat, start with 1/2 cup of pecans. If you like more nuts, as seen in the photos, go for 1 cup. Being a sweeter candy, smaller pieces (using a small dining spoon to scoop) work well. The cooking and mixer beating time are combines in the 'Cook Time' and the 'Total Time' includes letting the Divinity set for 2 hours.
Total Time
2
hours
30
minutes
Servings
24
-48 pieces depending on size
Ingredients
2

cups

Granulated Sugar

½

cup

Light Corn Syrup

½

cup

Water

2

Egg Whites

, room temperature

1

teaspoon

Vanilla Extract

½-1

cup

chopped Pecans

Equipment: Candy thermometer or instant read thermometer

, standing mixer, waxed paper, 2 dining spoons, non-stick spray
Instructions
Fit two baking sheets with waxed paper. Spray two small dining spoons with non-stick spray and set aside.

Place the egg whites in the bowl of a standing mixer equipped with the whisk attachment. Turn the mixer on high speed and beat the egg whites until they have stiff peaks. Swap the whisk attachment for a paddle attachment leaving the eggs in the mixer bowl.

While the egg whites are beating, combine the sugar, corn syrup and water in a medium-size, heavy saucepan over medium-high heat. Stir just until the sugar is dissolved then allow it to cook undisturbed until it reached 260 degrees (or the hard ball stage). Note: It took 14 minutes for me (I'm at 5,500 feet). The mixture will be light and bubbly.

With the mixer running on high speed, slowly pour a steady drizzle of the hot sugar mixture into the stiff egg whites. Add the vanilla extract. Continue to beat the mixture until it thickens, is no longer glossy and when the paddle attachment is lifted out of the mixture, the mixture on the paddle attachment slowly flows back into the mixture in the bowl to sit on the surface not dissolve into the mixture (for me it was about 7 minutes using a Kitchenaid standing mixer; the time required will depend on your mixer). It is not as sticky as well.

Hand stir the pecans quickly into the candy mixture. Using the prepared dining spoons, scoop some of the Divinity with one, and use the other to scrap it off the first spoon onto the waxed paper of the prepared baking sheet. The Divinity should hold its shape (if it does not it needs to be beaten further).

Allow the candy to sit undisturbed for 2 hours then pack in a sealed container for up to two weeks or freeze.
Nutrition Facts
Divinity
Amount Per Serving
Calories 102
Calories from Fat 9
% Daily Value*
Fat 1g2%
Cholesterol 0mg0%
Sodium 8mg0%
Potassium 13mg0%
Carbohydrates 22g7%
Protein 0g0%
Calcium 3mg0%
Iron 0.1mg1%
* Percent Daily Values are based on a 2000 calorie diet.