Chocolate Zucchini Cake is a moist, fudgy cake that's so easy to make. You'll never know the zucchini is even there!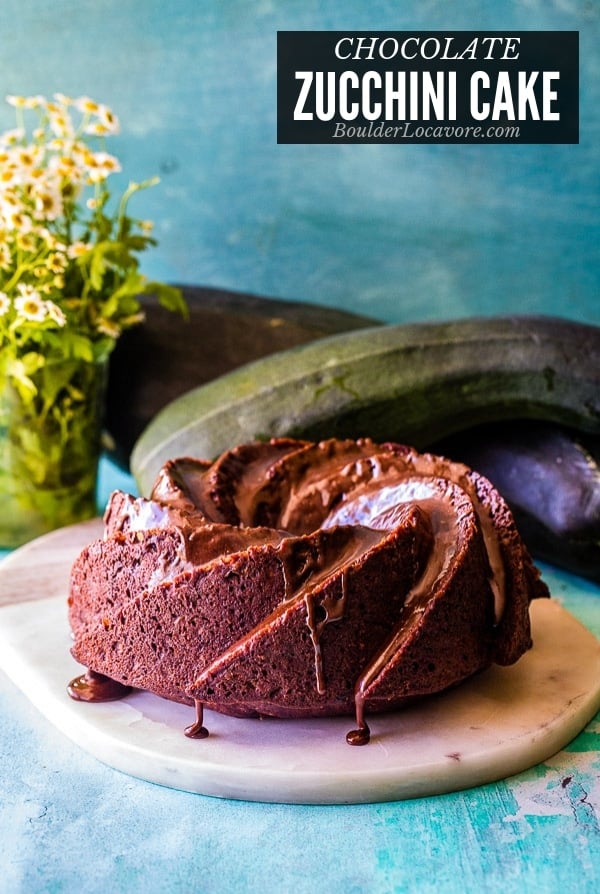 Chocolate cake is always a favorite. This easy Chocolate Zucchini Cake will rival any chocolate cake recipe for great flavor.
You'll love this cake for how moist and delicious it is!
Once you sink your teeth into this you'll want to try Zucchini Cake with Blueberries and Zucchini Muffins too!
Does Chocolate Zucchini Cake Taste like Squash?!
No, it doesn't! I've been eating zucchini bread since I was a child so this question never crossed my mind.
Adding zucchini to cake or bread adds more moisture.
Magically the texture disappears and so does the zucchini flavor.
It's a great way to use excess zucchini as a home gardener and no one will guess you did! It's a great recipe.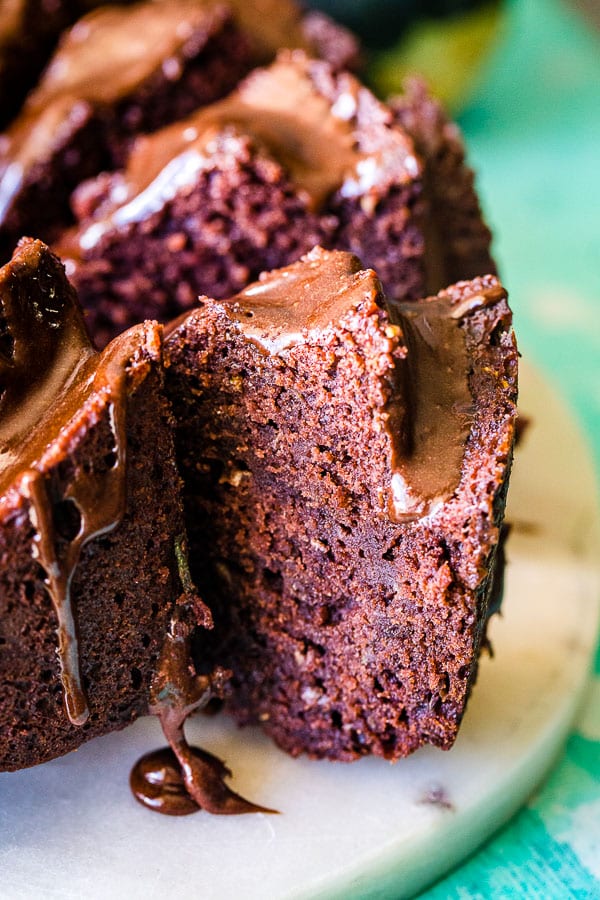 Recipe Ingredients
The ingredients are easy to find. If you are a home gardener it's a great way to use up summers zucchini harvest!
All-purpose flour (regular or gluten-free measure-for-measure flour blend)
Cocoa powder
Baking powder
Kosher salt
Granulated Sugar
Cinnamon
Vegetable oil
Eggs
Buttermilk
Vanilla extract
Finely shredded Zucchini
Unsalted butter
Semi-sweet chocolate chips
Confectioner's (powdered) sugar
Hot Coffee
Secret Weapon Ingredients
Did you know that adding cinnamon to chocolate deepens the chocolate flavors?
Just a little bit in the cake batter does the trick!
Also using coffee in the icing recipe does the same thing.
Pro Tip: How to Grate Zucchini
Smaller pieces of grated zucchini are the key to success for this easy cake recipe. No one wants ribbons of squash in their cake slice.
My Preferred Method
I like using the grating blade for my food processor. It's fast and creates the perfect size of grated zucchini.
A Trick for Hand Grating Zucchini
If you don't have a food processor, there is a trick for manual zucchini grating.
Place the end of the zucchini at a 90-degree angle to the grating surface of a box grater.
Rather than grating at an angle the smallest surface of the zucchini will be grated making shorter pieces.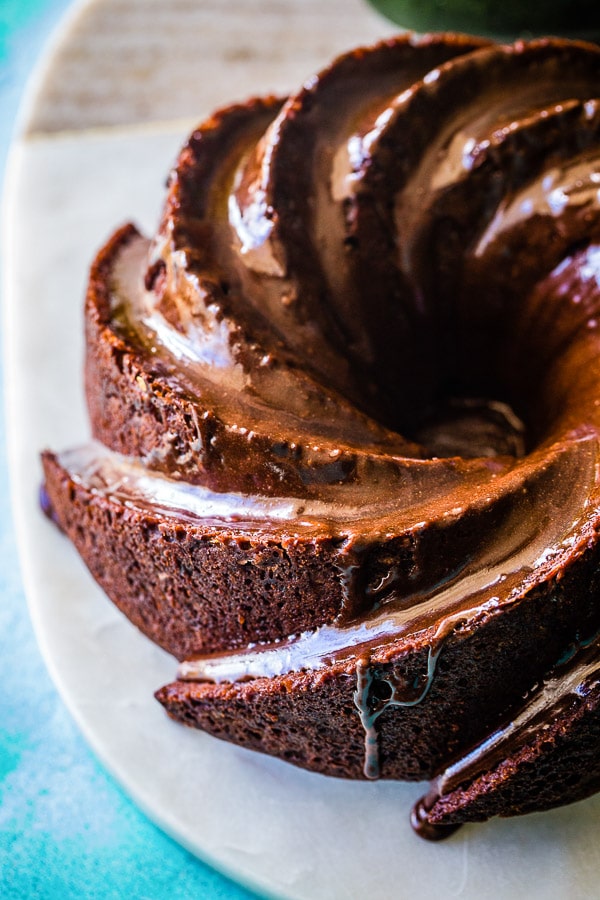 How to Make Chocolate Zucchini Cake – Step by Step
For a detailed printable recipe refer to the recipe card at the end of the blog post.
STEP 1: Preheat oven to 350 degrees. Generously spray a 10-12 cup Bundt pan with non-stick cooking spray.
STEP 2: In a large bowl, whisk together flour, cocoa powder, baking powder, salt, sugar and cinnamon (photo 1).
STEP 3: Create a well in the center of the flour mixture. Add the oil, eggs, milk, and vanilla extract (photos 2 and 3). Whisk together until combined. Batter will be thick.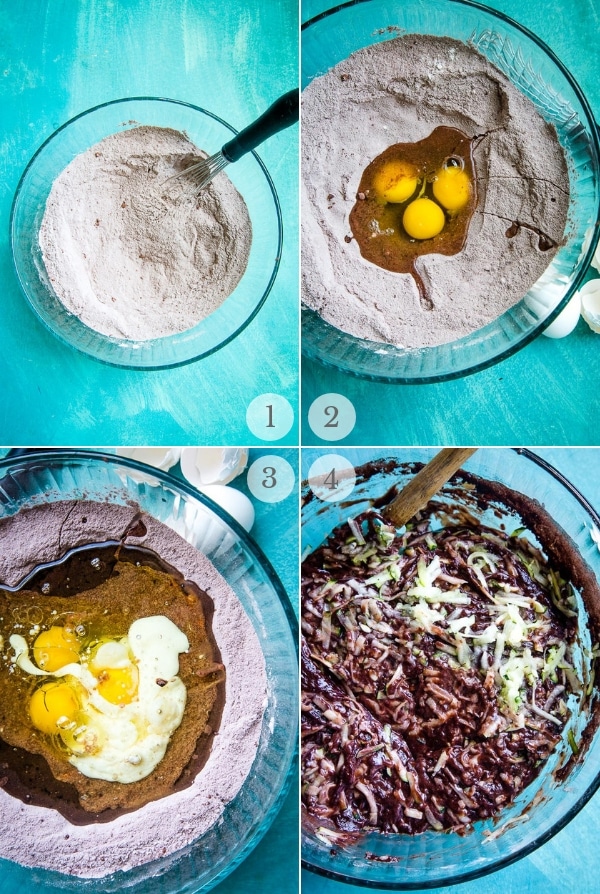 STEP 4: Stir in shredded zucchini (photo 4).
STEP 5: Spoon cake batter into the prepared pan (see photo below).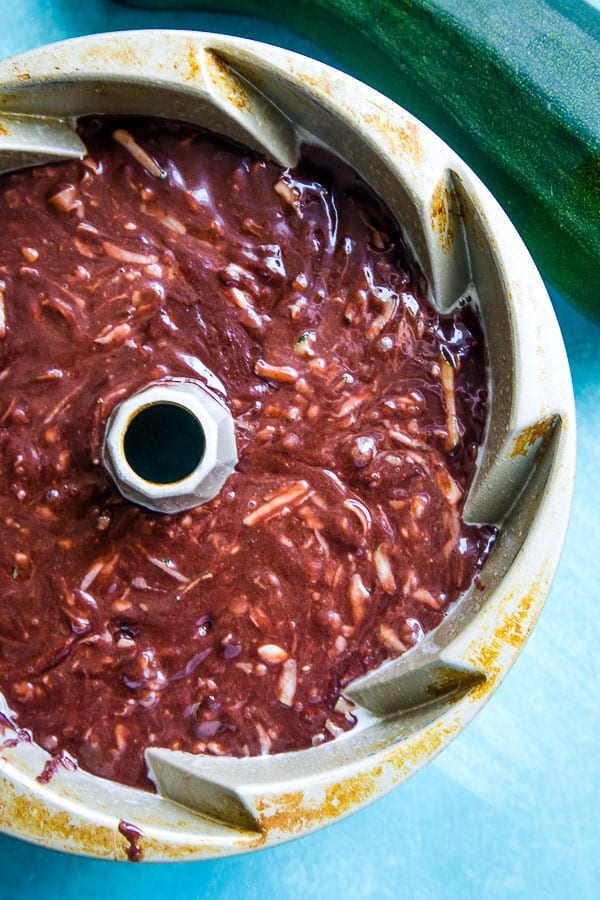 STEP 6: Bake for 55-60 minutes or until a knife is inserted in the center and comes out clean.
STEP 7: Cool in pan for 10 minutes, then invert pan onto a cooling rack. Allow cake to naturally release from pan. Cool completely on cooling rack before adding the chocolate glaze.
To Make the Chocolate Glaze
Combine butter and chocolate chips and microwave until melted and can be whisked together.
Once melted, whisk in powdered sugar and hot coffee until smooth.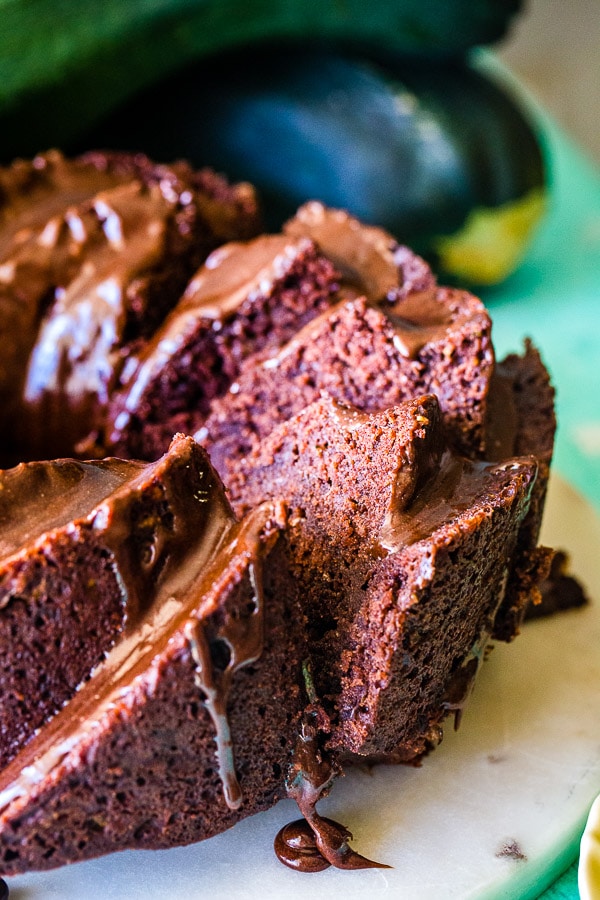 PRO TIP: Mess Free Cake Glazing Tip
Glazing a cake like this bundt cake recipe can be a mess.
I have a tried-and-true Pro Tip to perfectly glaze any cake!
It's the best way to glaze a cake well and avoid mess.
This method also keeps the cake from sitting in a pool of glaze. That can make the cake soft and sticky.
Line a rimmed baking sheet with foil.
Place a cooking rack over the prepared baking sheet.
Place the cake onto the cooling rack.
Drizzle the glaze as directed. Allow the cake to sit until the glaze has hardened.
Extra glaze will drip through to the baking sheet underneath. When the glaze has set on the cake, move the cooling rack with the cake off the baking sheet.
Remove the foil with extra glaze and discard.
My Favorite Bundt Pan
I inherited some Bundt pans from the 1970's that work fine. However have since fallen in love with Nordic Ware pans.
They are thicker for more even baking. The coating releases cakes very easily.
Several shapes are available too so they aren't only a traditional Bundt cake shape.
The mold shown in the photos is the Heritage Bundt Pan.
My most used pan is the Platinum Collection Anniversary Bundt Pan. It can accommodate up to 15 cups of batter.
There are many decorative and seasonal versions of these wonderful pans too.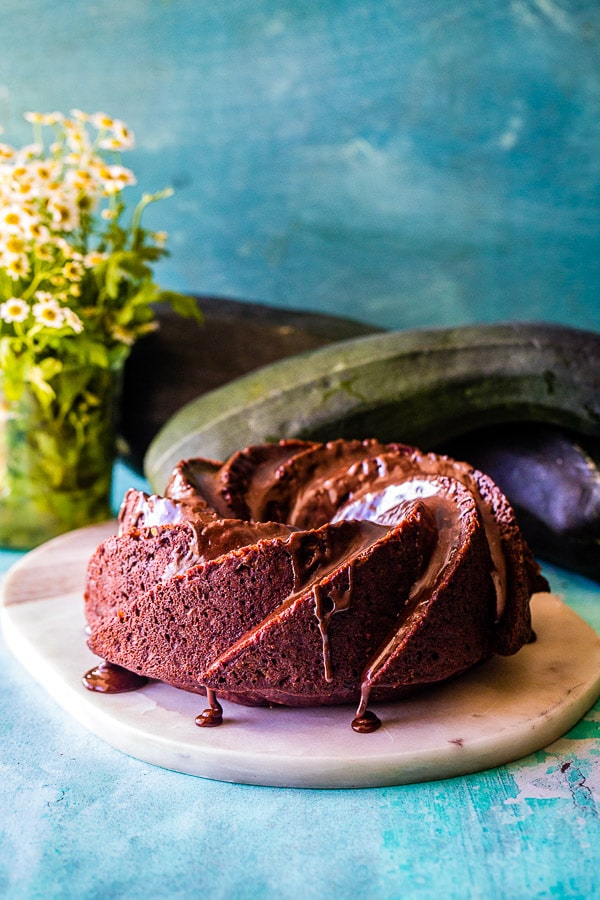 How to Store it
The completed cake can be stored, covered, at room temperature for up to 3 days.
It can also be stored tightly covered in the refrigerator for 5 days.
NOTE: refrigerating cakes can dry them out. Be sure to keep in an airtight container if chilling.
More Delicious Dessert Recipes
Try these Recipes too!
Did you make it? Please RATE THE RECIPE below!
FOLLOW ME on FACEBOOK , TWITTER , INSTAGRAM and PINTEREST to see more delicious food, travel and what I'm up to!