Mango Chicken made in the Instant Pot is light, flavorful, and ready in 11 minutes (in addition to the Instant Pot time to come to pressure). Serve it with rice and dinner is ready in a flash!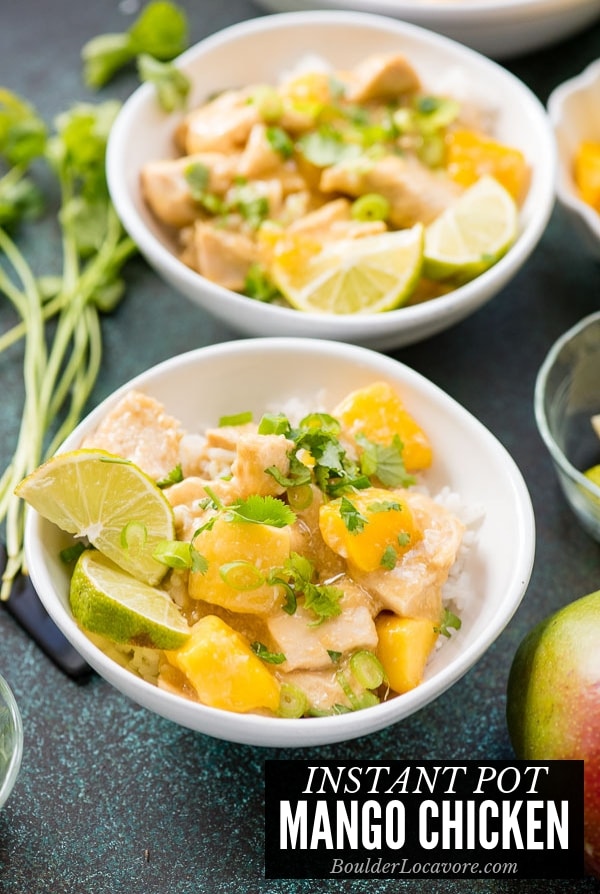 Mango Chicken is a delicious dish with a hint of the tropics from the wonderful mango flavor.
It's a fast recipe thanks to the Instant Pot! Perfect for lunch, dinner or meal prep.
Everything is done in the Instant Pot (great for fast and easy clean-up)!
The entire dish takes 11 minutes plus the time for the Instant Pot to come to pressure.
Mango Chicken is on the table in 20-25 minutes.
What Is Mango Chicken?
Mango Chicken is a main dish recipe featuring succulent chunks of boneless chicken breast, mango juice, and fresh mango chunks.
Aromatic seasonings of ginger, garlic, lime juice, some brown sugar for sweetness and Tamari to add some salty soy sauce flavor make this an irresistible recipe!
It is a saucy dish perfect to serve over rice which will soak up the mouthwatering liquids.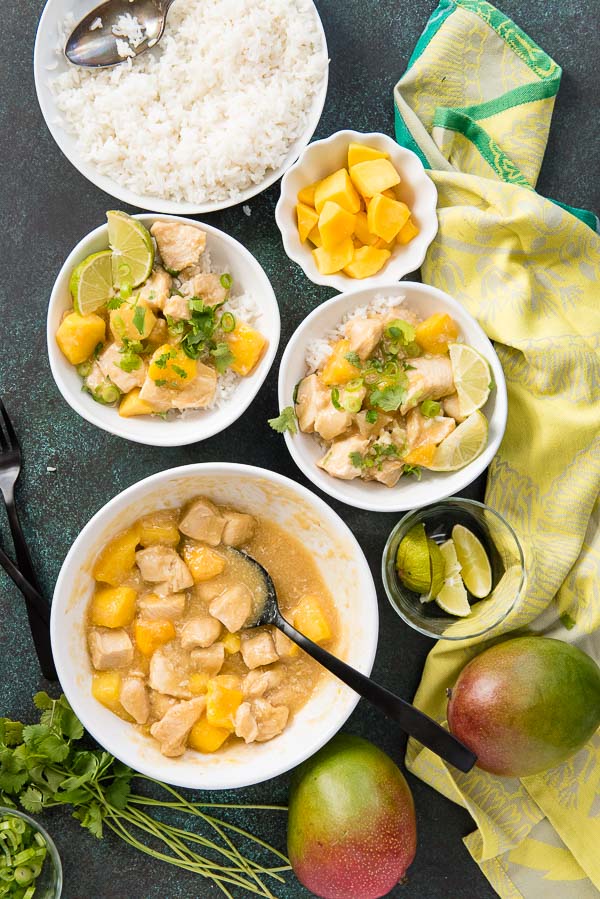 What does Mango Chicken Taste Like?
Mango itself has a unique but light flavor.
It is juicy, with citrus-like flavor and what I think of as almost a pine secondary flavor. A bit hard to describe!
This Mango Chicken recipe has mango flavor from two sources:
Mango juice
Chunks of fresh mango
Exotic flavors of ginger and garlic, intermingle with tropical lime and succulent chicken breast chunks for great texture.
Mango Chicken Ingredients
The ingredients in the Mango Chicken recipe are easy to find at the store:
Mango Juice
Ginger
Garlic
Soy Sauce or Tamari if gluten-free
Dark Brown Sugar
Boneless Skinless Chicken Breasts
Lime Juice
Cornstarch
fresh Mango chunks
Optional garnish: thinly sliced scallion greens and torn cilantro leaves
The Instant Pot Used for this Recipe
This recipe was developed using a 6-quart Instant Pot multi-cooker.
Is Mango Chicken Gluten-Free?
Yes! If you use gluten-free Tamari sauce, which is gluten-free, this Mango Chicken recipe will be gluten-free.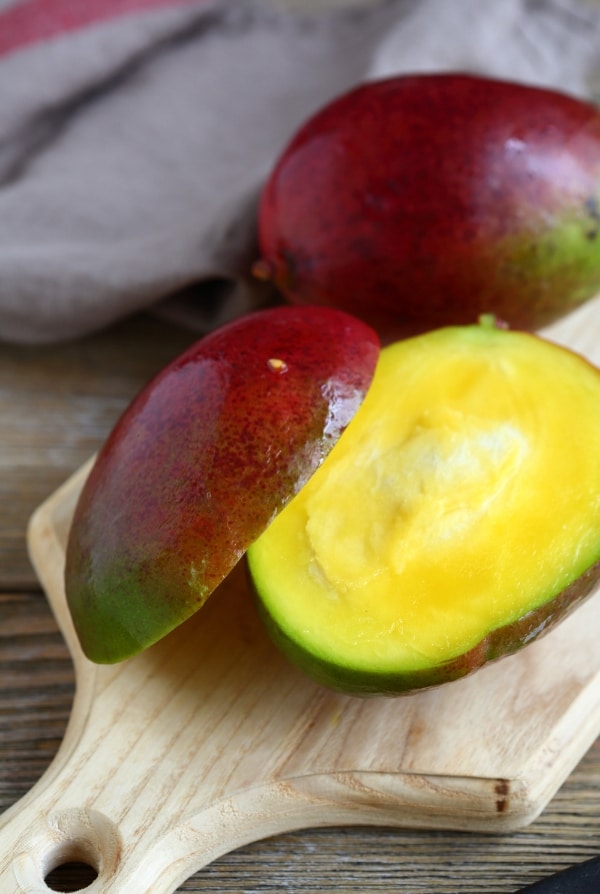 How to Cut a Mango
Probably the most mysterious part about a mango is how to cut it up.
Mango chicken has delicious chunks of fresh mango however without a technique to remove the fruit from the pit, it can end up a mushy mess.
Mangoes have a very large almost flat pit in the middle. Cutting around it can seem tricky but you'll quickly get the hang of it!
Peel the mango with a paring knife or a vegetable peeler
With the mango standing vertically on the largest end (stem end facing up), insert a paring knife in the middle of the top of the mango and cut downwards slowly.
Slide the knife around the pit until reaching the bottom of the mango
After cutting the majority of the fruit away from the pit, any extra fruit may be cut away from the pit
Alternatively, a mango pitter is a handy tool that slices through the mango releasing the fruit from the pit!
This video demonstrates how to do it AND for the more adventurous, how to cut mango cubes without peeling first!
How to make Instant Pot Mango Chicken – Step by Step:
The base flavor of the recipe is created by using mango juice instead of water in the Instant Pot.
The mango juice is mixed with some diced ginger, garlic, soy sauce or Tamari (if gluten-free) and dark brown sugar which brings out the mango flavors.
Add 1 cup mango juice, ginger, garlic, tamari/soy sauce and sugar to the Instant Pot insert; whisk to combine.
Add the chicken; stir to coat.
Seal the Instant Pot lid; turn valve to 'sealing'.
Select Manual High Pressure for 4 minutes.
When complete, manually release the pressure valve.
While the chicken is cooking, combine the remaining mango juice, lime juice and cornstarch; whisk to dissolve the cornstarch.
Remove the lid from the Instant Pot and select Sauté.
Drizzle the cornstarch mixture into the mango chicken. Stir continuously stir for 2 minutes to thicken the sauce. (Note: the sauce will continue to thicken as it cools after the 2-minute cooking period).
Stir in the mango chunks and allow to warm briefly.
Serve with rice and garnish with sliced scallions and torn cilantro leaves (if desired).
Time Saving Tips!
Instead of dicing ginger and garlic you can substitute stir-in paste-style fresh ginger and garlic.
Gourmet Garden makes a high-quality set of paste herbs found in tubes in the fresh produce section of the grocery store.
Also using cubed frozen and thawed mango saves peeling and cutting of a fresh mango!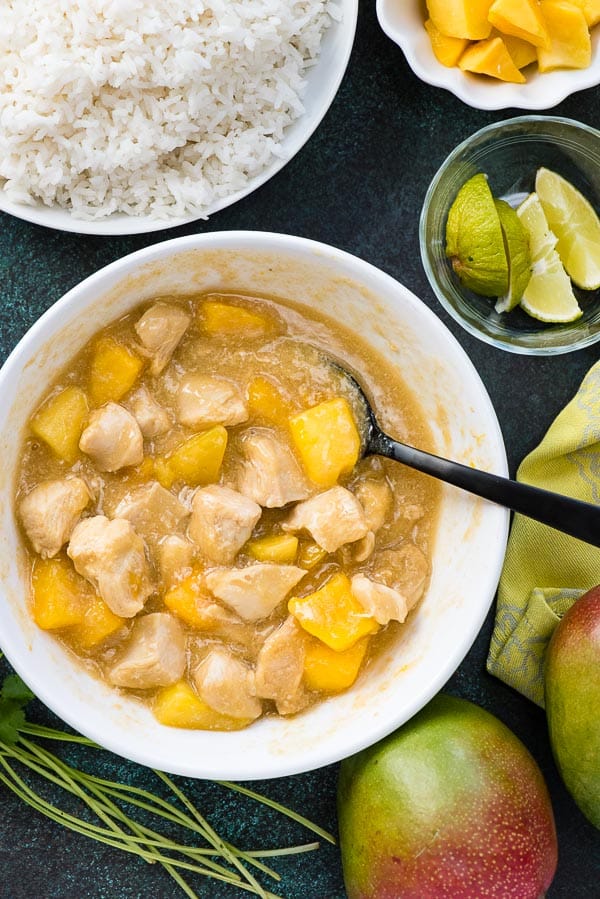 What To Serve with Mango Chicken
I love a rice dish with Mango Chicken as it absorbs the extra delicious juices.
Regular rice is great. OR if you want to take it up a notch using your Instant Pot I recommend Easy Instant Pot Cilantro Lime Rice Recipe or Instant Pot Coconut Lime Jasmine Rice.
The rice may be made beforehand and warmed in the microwave before serving.
Mind-Blowing Instant Pot Tips You Need!
While developing Instant Pot recipes for the past few years, I've uncovered some unexpected, useful tips you'll want too!
Sign-Up below and I'll tell you all my Instant Pot secrets!
If you prefer a conventional recipe this coconut rice recipe is delicious!
Did you make it? Please RATE THE RECIPE below!
Originally published: February 4, 2018