Easy and fast Instant Pot Mango Chicken is a dinnertime favorite. Light and flavorful, this chicken dish is ready in 11 minutes (in addition to the Instant Pot time to come to pressure). Serve it with rice and dinner is served!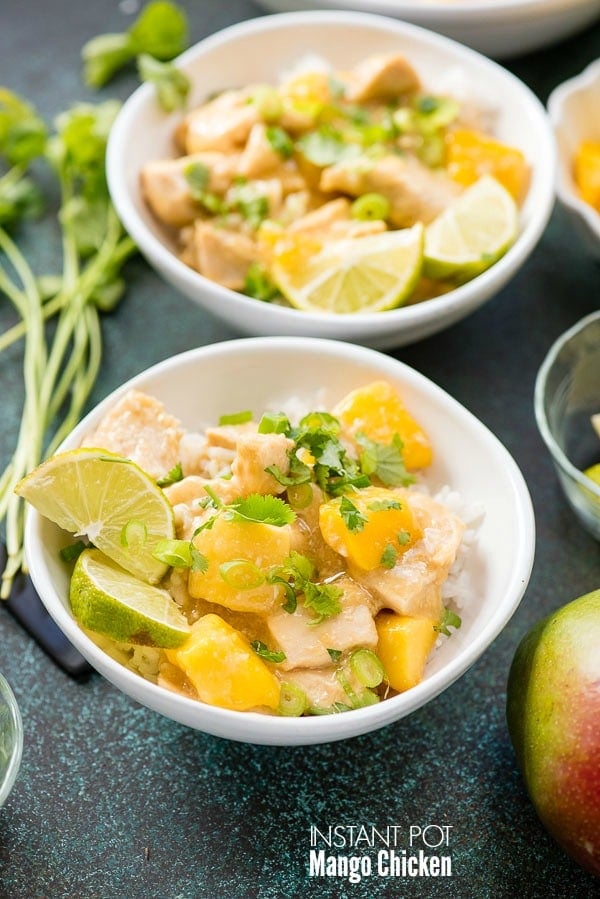 I was recently going through a new Instant Pot cookbook to test some of the recipes when I found a mango curry recipe. Loving both mangoes and curry I couldn't wait to try it. When I read the recipe, I noticed the only mango was added in the end which made me curious about the overall flavor.
As I suspected it was a sincere curry dish but the addition of the mango at the end did not impart any mango flavor to the recipe. Mango is a distinct but lighter flavor to begin with and curry would overwhelm freshly cut mango.
All was not lost as it got my creative juices flowing about how to make and Instant Pot Mango Chicken recipe. I wanted it to be easy and simple, allowing the mango flavors to come through, uncomplicated by other stronger flavors.
And that's what I'm serving up today: Instant Pot Mango Chicken. It truly could not be easier!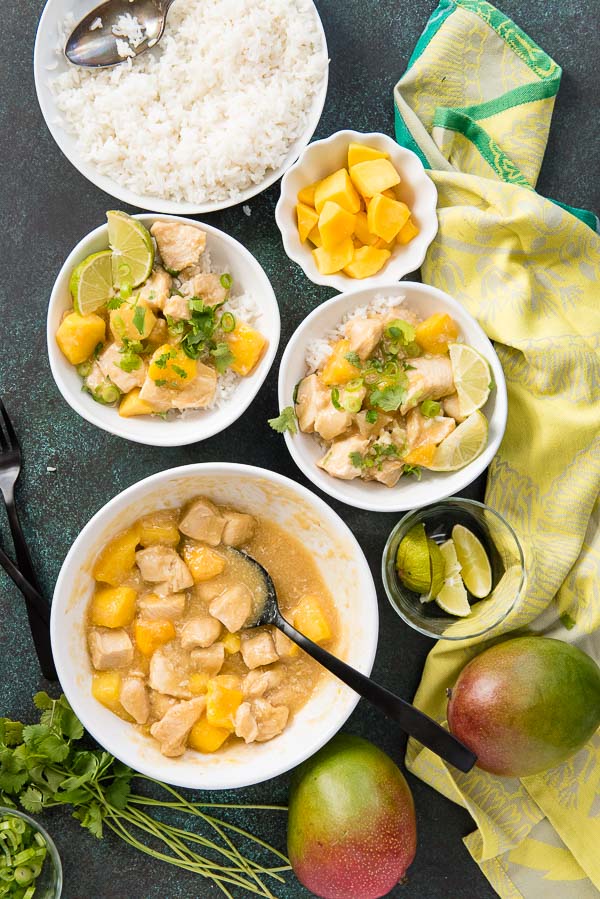 How to make Instant Pot Mango Chicken – Step by Step:
The base flavor of the recipe is created by using mango juice instead of water in the Instant Pot. The mango juice is mixed with some diced ginger, garlic, Tamari (or soy sauce if not gluten-free) and dark brown sugar which brings out the mango flavors.
Cubed chicken breast is added and cooked for only 4 minutes, manually released with a mango juice, lime juice and cornstarch slurry drizzled on top to thicken the sauce at the end. Mango cubes are stirred in at this point too so they retain their shape and punctuate the recipe with bites of pure mango deliciousness. Everything is done in the Instant Pot and the entire dish takes 11 minutes plus the time for the Instant Pot to come to pressure (so on the table in 20-25 minutes).
Time Saving Tips: Instead of dicing ginger and garlic you can substitute stir-in paste-style fresh ginger and garlic. Gourmet Garden makes a high-quality set of paste herbs found in tubes in the produce section of the grocery store. Also using cubed frozen and thawed mango saves peeling and cutting of a fresh mango.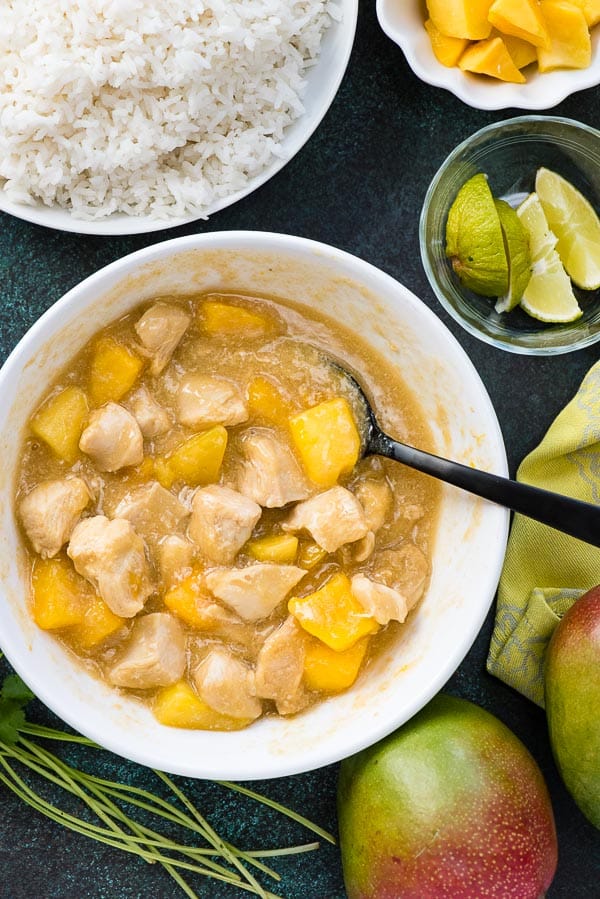 What does Instant Pot Mango Chicken Taste Like?
As mentioned, mango has a distinct but light flavor. This recipe has the light flavor of mango with the chicken, and some slight hints at the ginger, garlic and soy sauce/tamari. Adding a bit of brown sugar amplified the sweetness of the mango without making the dish overly sweet. The cubes of mango give a wonderful fresh mango flavor in every bite!
Some delicious rice recipes that would be a perfect pair with Instant Pot Mango Chicken: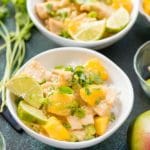 Instant Pot Mango Chicken
Easy Instant Pot Mango Chicken has two sources of mango for a tropical bite with light chicken. A fast and fun dinner recipe.
Ingredients
1

cup plus 2 tablespoons

Mango Juice

(I used Ceres brand)

1

tablespoon

minced Ginger

(or fresh ginger paste)

1

tablespoon

minced Garlic

(or fresh garlic paste)

1

teaspoon

gluten-free Tamari

(or soy sauce if not gluten-free)

1.5

tablespoons

Dark Brown Sugar

1.5

pounds

Boneless Skinless Chicken Breasts

cut into 1-2 inch cubes

1

tablespoon

Lime Juice

2

tablespoons

Cornstarch

2

cups

fresh Mango chunks

Optional garnish: thinly sliced scallion greeens and torn cilantro leaves
Instructions
Add the 1 cup mango juice, ginger, garlic, tamari/soy sause and sugar to the Instant Pot insert and whisk to combine. Add the chicken and stir to coat.

Seal lid of the Instant Pot and turn valve to 'sealing'. Select Manual High Pressure for 4 minutes. When complete, manually release the pressure valve.

While the chicken is cooking, combine the remaining 2 tablespoons mango juice, lime juice and cornstarch. Whisk to dissolve the cornstarch.

Remove the lid from the Instant Pot and select Saute. Drizzle the cornstarch mixture into the mango chicken, and continuously stir for 2 minutes while the sauce thickens. (Note: the sauce will continue to thicken as it cools after the 2 minute cooking period). Stir in the mango chunks and allow to warm briefly.

Serve with rice and garnish with sliced scallions and torn cilantro leaves (if desired).
Nutrition Facts
Instant Pot Mango Chicken
Amount Per Serving
Calories 313
Calories from Fat 36
% Daily Value*
Total Fat 4g 6%
Cholesterol 108mg 36%
Sodium 288mg 12%
Potassium 782mg 22%
Total Carbohydrates 29g 10%
Protein 37g 74%
* Percent Daily Values are based on a 2000 calorie diet.