Carrot Cake Cookies are everything you love about carrot cake in a cookie! Ribbons of fresh carrots, pineapple juice plumped raisins, coconut, cinnamon, drizzled with a cream cheese frosting and crushed walnuts!

Carrot Cake is a favorite dessert any time.
The classic combination of homey cinnamon, tangy cream cheese, crunchy walnuts along with fresh grated carrot and raisins are just the start of this favorite dessert.
Imagine everything you love about Carrot Cake rolled into a Carrot Cake Cookie!
They are easy to make. Great to nibble on.
Perfect when you don't want to make or have a whole cake.
You'll find all the ingredients you love in one bite-size package!
Carrot Cake Cookies
These cookies are not overly sweet and enjoyable with or without the frosting.
The addition of raising soaked in pineapple juice adds some extra natural sweetness!
For the classic Carrot Cake flavor the cream cheese frosting drizzle and crushed walnuts are a must!
The cookies are soft both inside and out.
The grated carrots, raisins and coconut give a satisfying chunky texture to the cookies.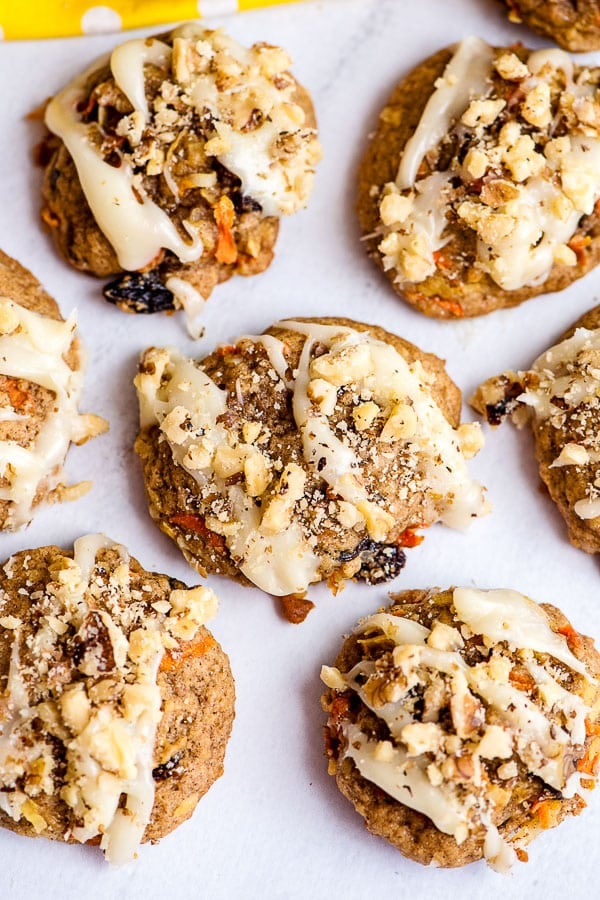 Ingredients
Unsalted butter
All Purpose Flour (regular or gluten-free measure-for-measure flour blend)
Baking Powder
Baking Soda
Salt
ground Cinnamon
Egg Yolks
Light Brown Sugar
Vanilla extract
Pineapple juice
Sweetened Coconut Flakes
Raisins
Carrots
Confectioner's/Powdered sugar
Walnuts

Ingredients Notes
Flour
These carrot cake cookies can be made with regular All-Purpose Flour or a gluten-free measure-for-measure flour blend.
My recommended gluten-free flour is Bob's Red Mill Gluten-Free 1-to-1 Baking Flour.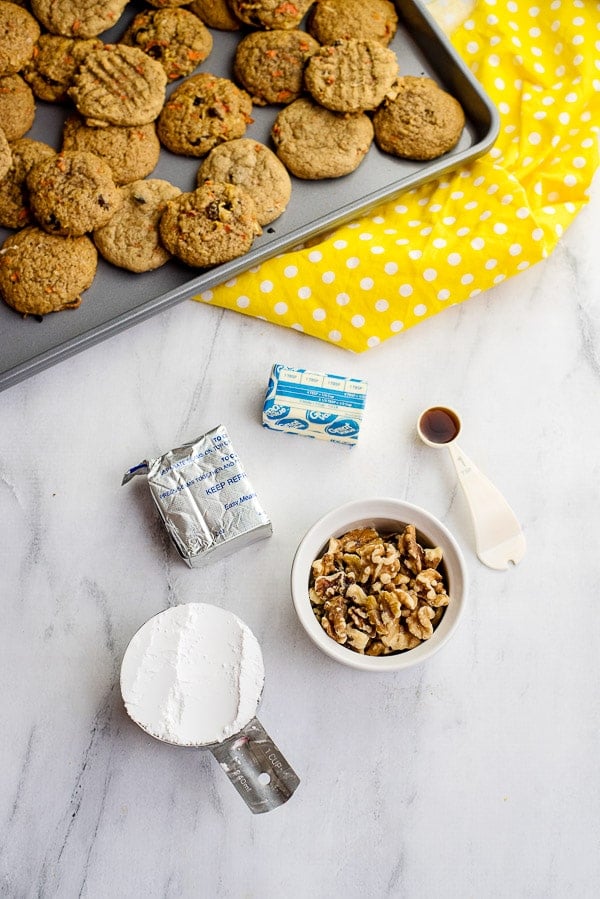 Cream Cheese Frosting
The frosting is made with:
Confectioner's/Powdered Sugar
Cream Cheese
Butter
Vanilla Extract
It's quickly beaten into a creamy frosting then warmed so it can be drizzled on top.
Crushed walnuts make the finishing touch.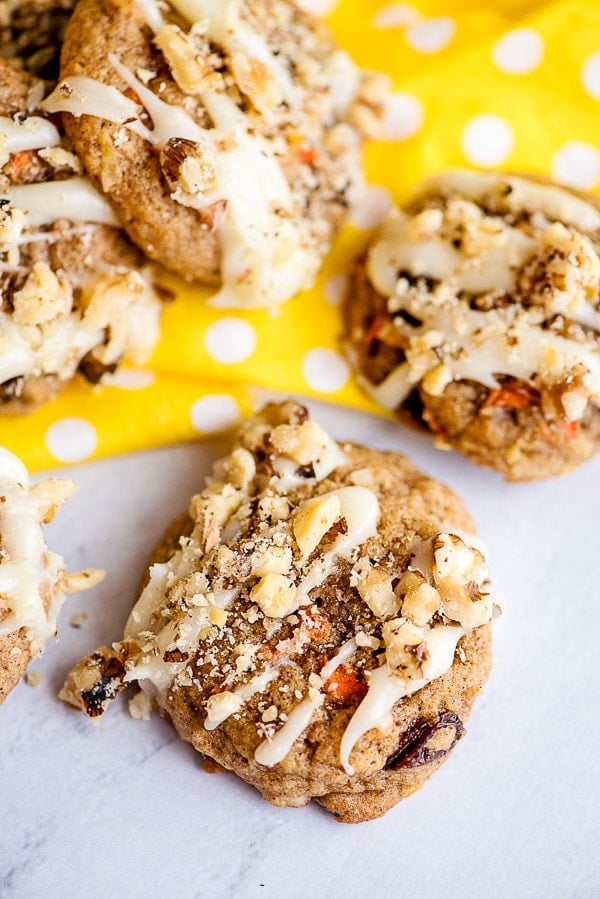 Pro Tips for Making Carrot Cake Cookies
Do not overmix the recipe steps using flour. This will keep the cookies from becoming dense.
Allow the cookies to cool on the baking sheet before moving them. This is especially important if making them gluten-free. Being a softer cookie this allows them to become firmer to handle.
Allow the frosting to set before stacking the cookies. The frosting does not harden but does become set. Waiting allows storing them without a mess.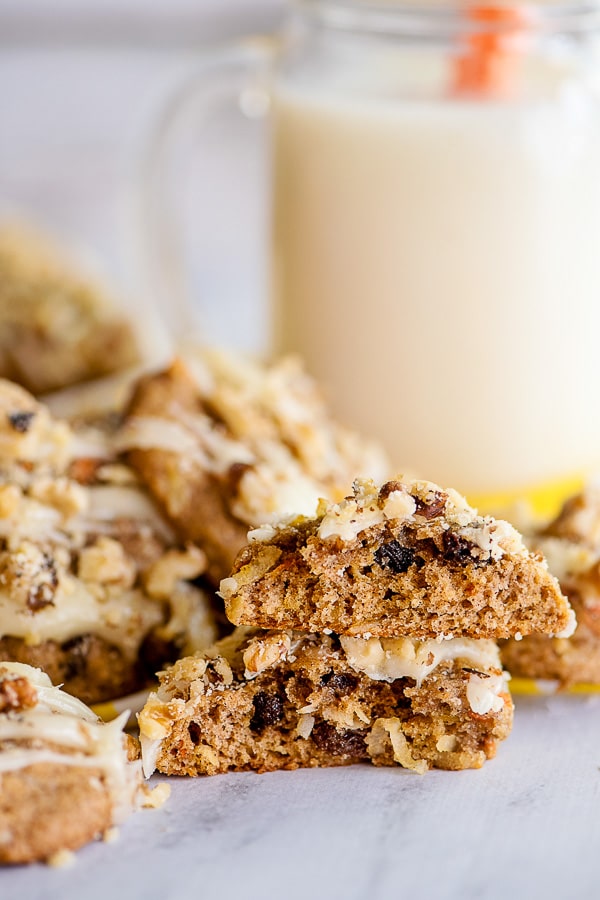 How to Make Carrot Cake Cookies – Step-by-Step
STEP 1: Preheat the oven to 350 degrees F. Line a baking sheet with parchment paper.
STEP 2: Place the raisins and pineapple juice in a bowl for 15 minutes (photos 1-2). Drain and reserve the pineapple juice.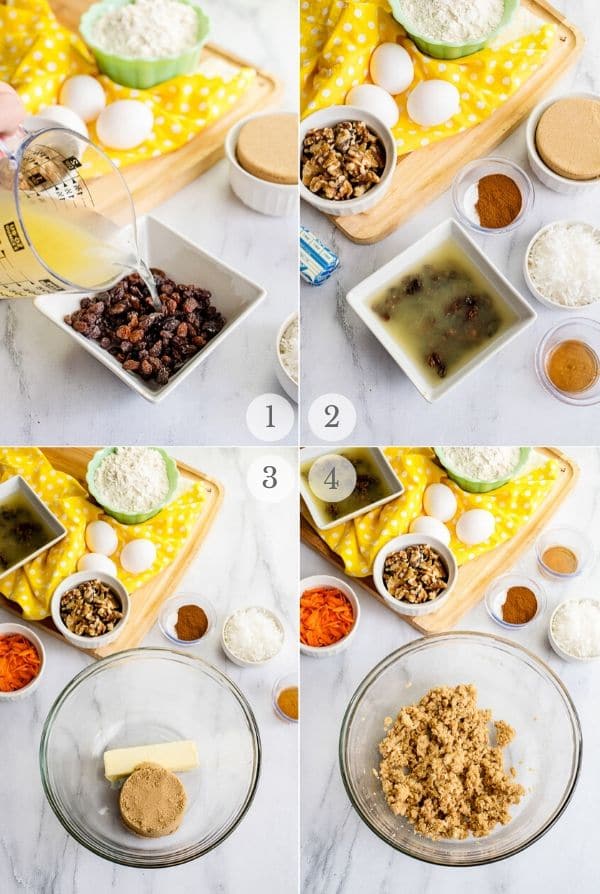 STEP 3: Using a mixer cream together the butter (1 stick – 8 tablespoons) and brown sugar until creamy (photos 3-4).
STEP 4: Combine the flour, baking powder, baking soda, cinnamon and salt (photo 5). Whisk together (photo 6).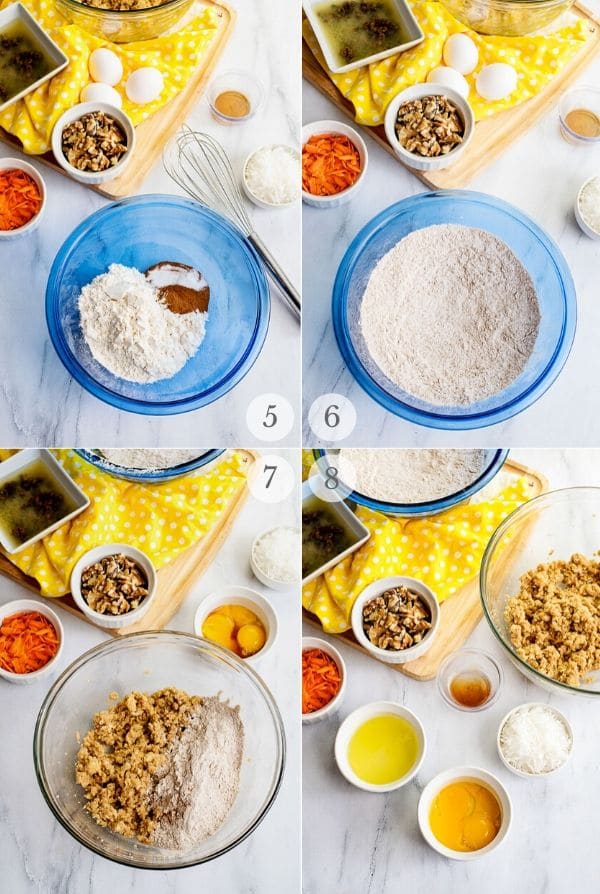 STEP 5: Slowly add the flour mixture to the butter-sugar mixture (photo 7). Beat to fully combine.
STEP 6: In a small bowl mix together the egg yolks, pineapple juice and vanilla (photos 8-9). Beat into the dough mixture (photo 10).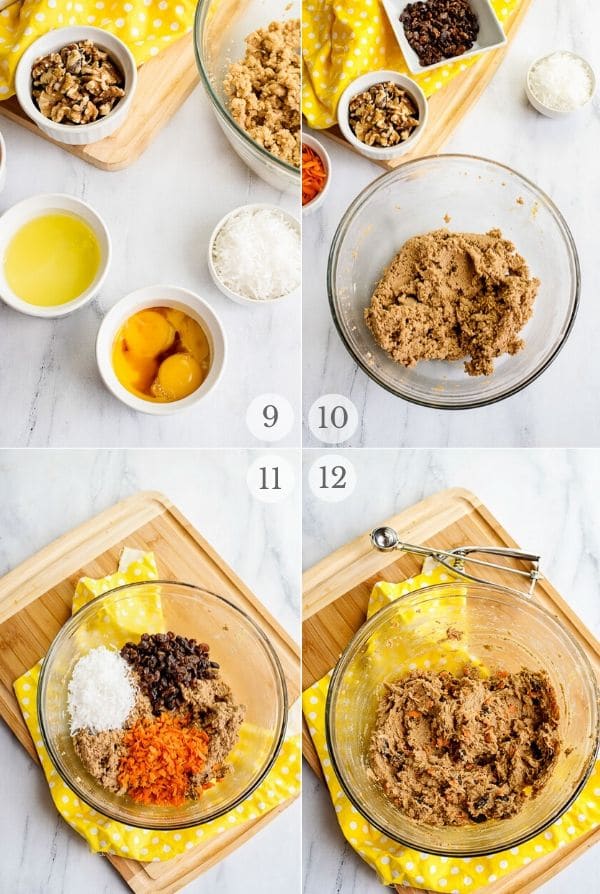 STEP 7: Add the carrots, raisins and coconut (photo 11) and stir in by hand just until combined (photo 12).
STEP 8: Using a large cookie scoop (1 1/2 tablespoons) scoop onto the prepared baking sheet with 2-inches in between (see photo below).
Bake 10-12 minutes until the tops of the cookies are no longer wet.
Cool completely on the baking sheet then transfer to a sheet of wax paper for frosting.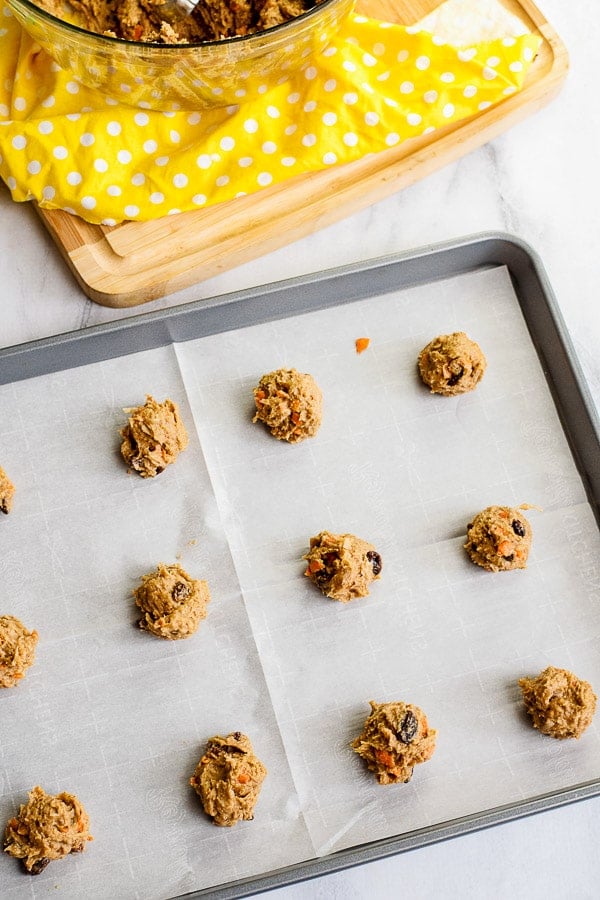 Making the Cream Cheese Frosting
STEP 9: Beat together the cream cheese, powdered sugar, vanilla and 2 tablespoons of butter until combines (photos 13-14).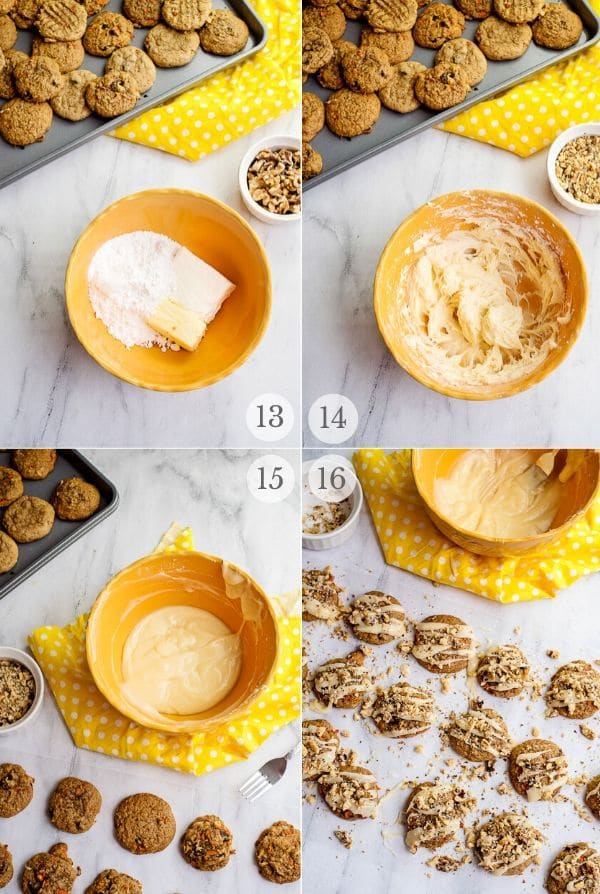 STEP 10: Warm the frosting just until is can be drizzled (photo 15). Drizzle over the cookies and sprinkle with crushed walnuts (photo 16). Allow to set or eat immediately!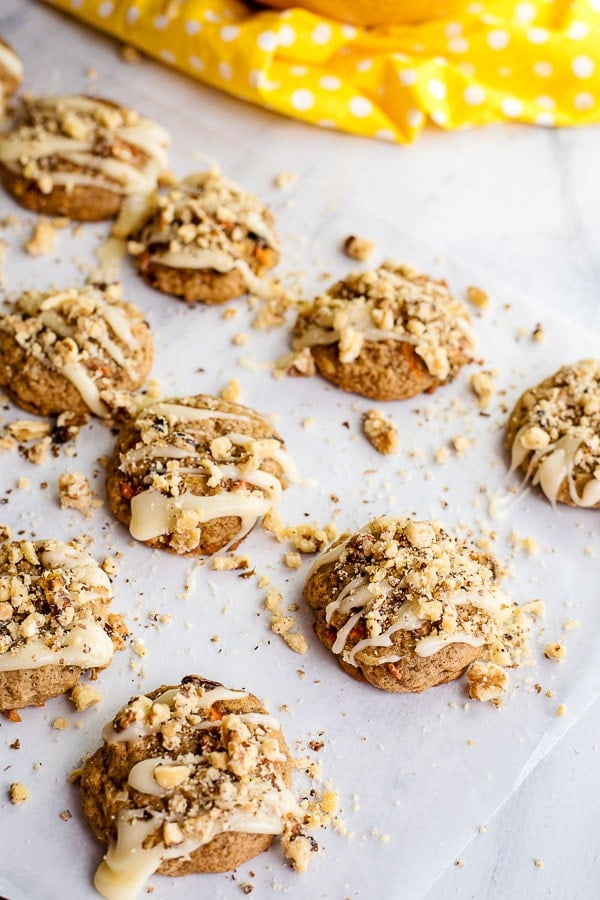 How to Store
In the Refrigerator
Place cooled frosted cookies in single layers in a hard container with a lid (not a bag).
Place a layer of parchment paper or wax paper in between layers.
Chill in the refrigerator for up to 3-4 days.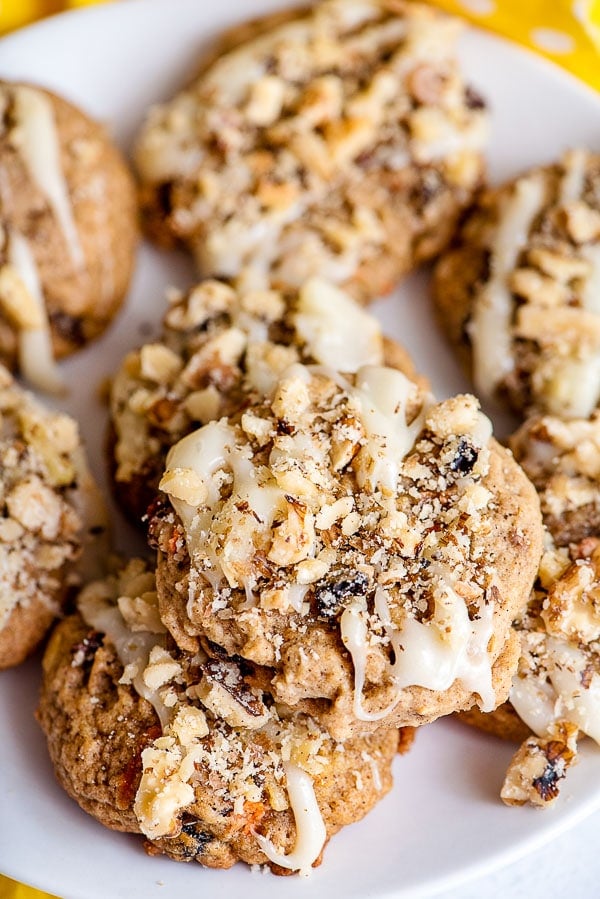 Try these Cookie Recipes too!
Did you make it? Please RATE THE RECIPE below!
Please SUBSCRIBE and FOLLOW ME on FACEBOOK , TWITTER , INSTAGRAM and PINTEREST !