Pumpkin Cheesecake is much easier to make than a traditional pumpkin pie. And this recipe is so creamy with a wonderfully unique crust that can be made gluten-free or with gluten. A perfect fall dessert or for Thanksgiving.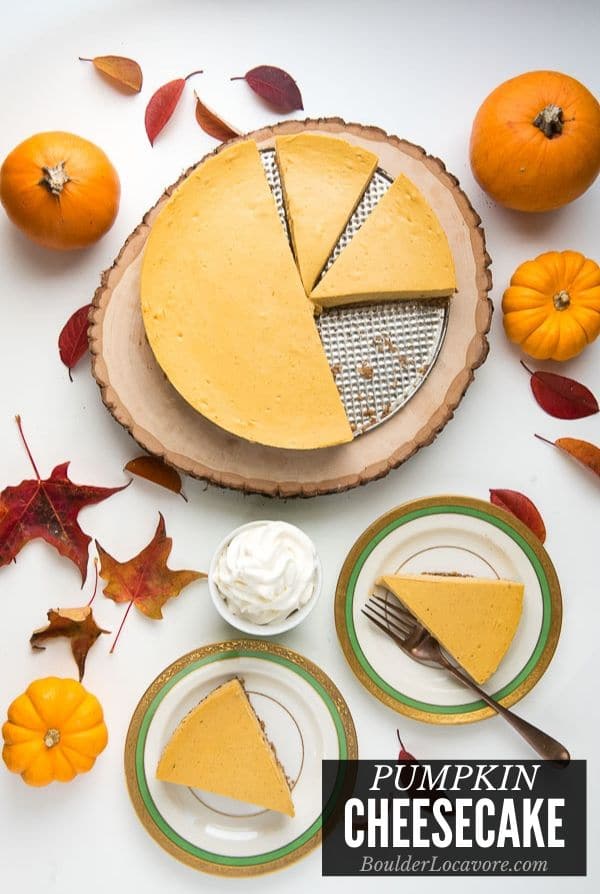 The flavor in this Pumpkin Cheesecake is a perfect mix of a pumpkin pie with abundant fall spices and a cheesecake.
Pumpkin Cheesecake would make a wonderful dessert for fall and certainly should be a Thanksgiving dessert consideration.
The recipe itself is quick and easy to make.
The time involved is really in the cooling then chilling.
Why Make THIS Pumpkin Cheesecake?
What makes it different than other Pumpkin Cheesecakes on the internet?
The Crust
Unlike usual graham cracker crust this crust is a mixture of whole oats, pecans (or walnuts; I used pecans), sugar and butter.
It tastes more like an oatmeal cookie than a plain familiar crust.
The Creamiest Cheesecake Ever
This truly is the creamiest cheesecake I have ever tasted or made.
I attribute this to the methodical cooling method.
The cheesecake is cooked then cooled in the oven, then to room temperature and then chilled.
It has a completely dreamy texture AND no cracking which can happen when a cheesecake is cooled too quickly.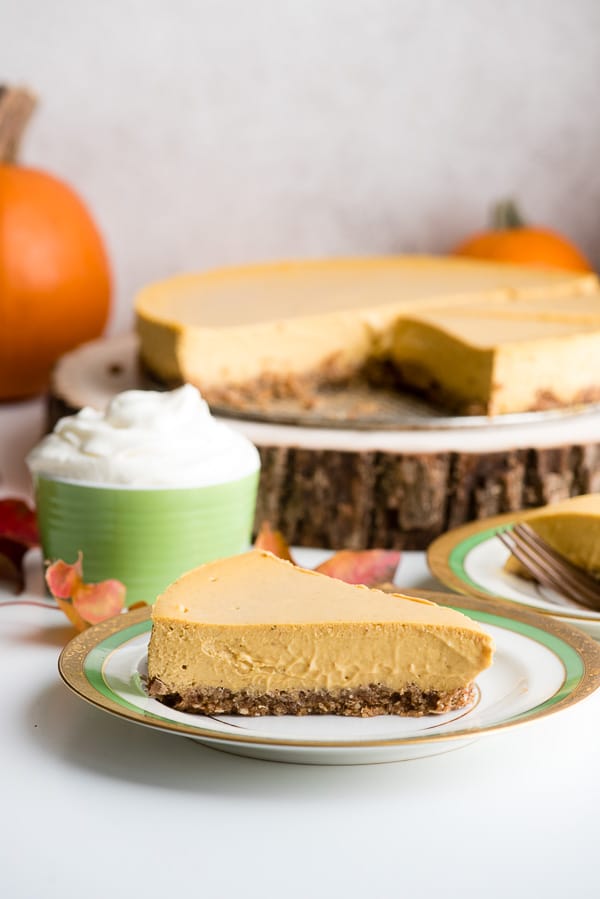 PRO TIPS for making a Perfect Cheesecake
Cheesecakes have a tendency to crack, but they don't have to. Avoid overbeating the batter, because overbeating incorporates additional air.
Mix the batter well and eliminate cream cheese lumps before you add the eggs. To help with this, bring the cream cheese to room temperature or soften it by unwrapping it and placing it in a glass or ceramic bowl and microwaving for 30 to 45 seconds until slightly softened.
Eggs hold air in the batter, so add them last, and mix the batter as little as possible once they are in.
Another cause of a cracked surface is a too-rapid temperature change. If you heat a cheesecake too fast or cool it down too fast, it's likely to crack.
So, bake the cheesecake at a low oven temperature and don't overbake. When perfectly done, there will still be a 2- to 3-inch wobbly spot in the middle of the cheesecake. The texture will smooth out as it cools.
Cheesecake shrinks as it cools. Hence the directions for a slow, gentle cooling down.
Generously butter the sides of the baking pan before pouring in the batter. This allows the cake to pull away from the pan as it cools and shrinks instead of pulling apart from the middle.
If, after all this, you still have a crack, and you care what your cheesecake looks like, spread on a topping or a sauce to camouflage the crevasse.
How to Make this Pumpkin Cheesecake – Step-by-Step
This is an overview of how to make the cheesecake. For a detailed printable version of the recipe refer to the recipe card at the end of the blog post.
STEP 1: Prepare and bake the crust as directed.
STEP 2: In a food processor add all filling ingredients EXCEPT the eggs. Process until smooth, scraping the sides of the food processor bowl as needed.
STEP 3: Add eggs and process just until combined and smooth.
STEP 4: Pour the filling into the crust. Bake the pumpkin cheesecake for 45 minutes at 300 degrees.
STEP 5: Turn oven off and open the oven door a few inches. Leave the cheesecake to cool for 20 minutes to 1 hour.
STEP 6: Remove the cheesecake from the oven and allow it to cool at room temperature.
STEP 7: Cover the cheesecake with a plate and refrigerate until firm: 3-4 hours or overnight.
STEP 8: Remove the cheesecake from the springform pan and serve.
How to Freeze Pumpkin Cheesecake
Baked cheesecakes freeze well.
STEP 1: First, freeze the cheesecake, uncovered, on a level surface.
STEP 2: Then wrap it securely in plastic wrap and then heavy-duty foil.
NOTE: Do not freeze cheesecakes with garnishes or toppings.
Defrost in the refrigerator.
More Recipes to Try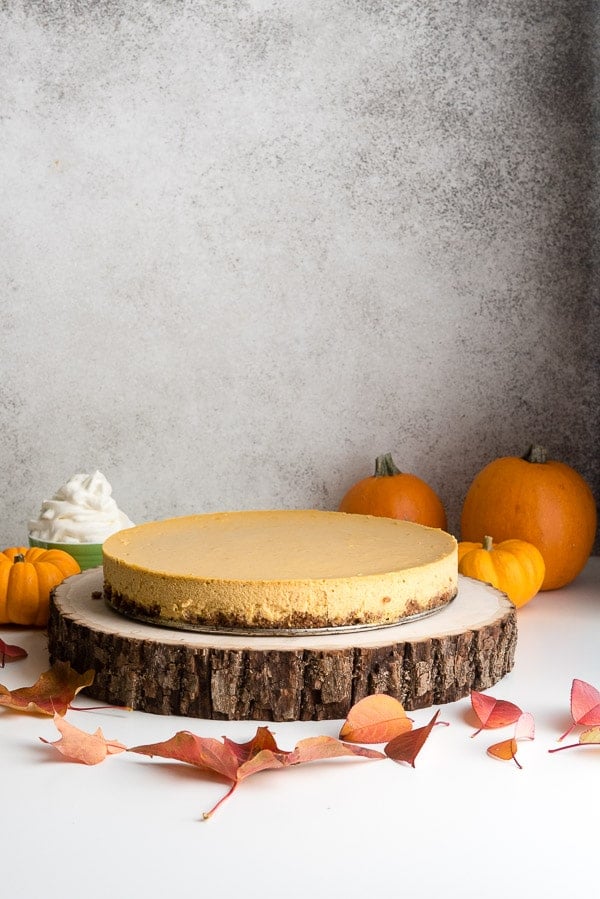 The Moosewood Restaurant Table Cookbook
This Pumpkin Cheesecake recipe is from The Moosewood Restaurant Table Cookbook. "250 brand-new recipes from the Natural Foods Restaurant that Revolutionized Eating in America". I reviewed the cookbook when it was released in 2017.
I think this cookbook makes a great addition to any cookbook collection, and not just for vegetarians. It will educate through the palate that non-meat dishes can be fabulous, satisfying and fun.
Did you make it? Please RATE THE RECIPE below!
Please SUBSCRIBE and FOLLOW ME on FACEBOOK , TWITTER , INSTAGRAM and PINTEREST !
Originally published: October 8, 2017
Disclosure: I received a copy of the Moosewood Restaurant Table Cookbook for the purposes of review. All opinions are my own.