Pumpkin Cheesecake is much easier to make than a traditional pumpkin pie. And this recipe is so creamy with a wonderfully unique crust that can be made gluten-free or with gluten. A perfect fall dessert or for Thanksgiving.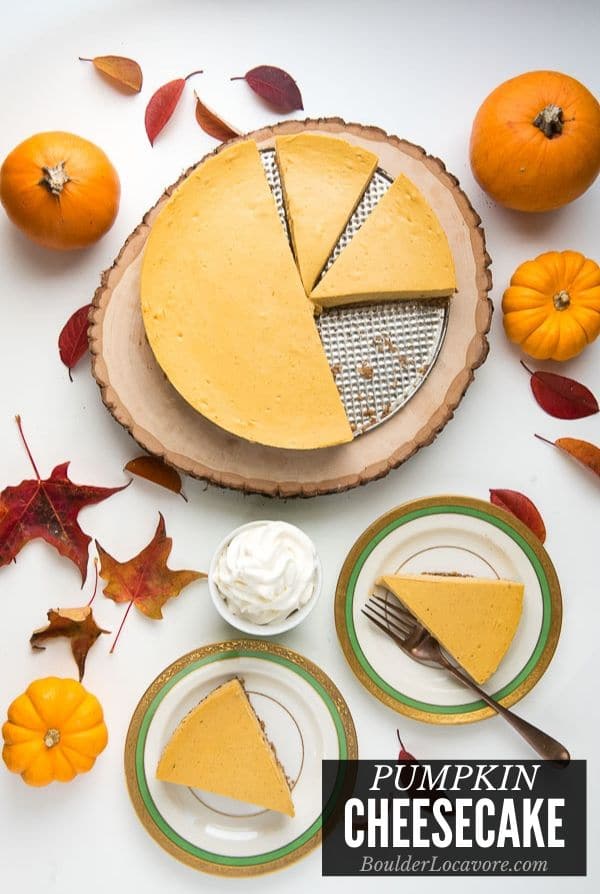 The flavor in this Pumpkin Cheesecake is a perfect mix of a pumpkin pie with abundant fall spices and a cheesecake.
Pumpkin Cheesecake would make a wonderful dessert for fall and certainly should be a Thanksgiving dessert consideration.
The recipe itself is quick and easy to make.
The time involved is really in the cooling then chilling.
Try our Pumpkin Cheesecake Bars too!
Why Make THIS Pumpkin Cheesecake?
What makes it different than other Pumpkin Cheesecakes on the internet?
The Crust
Unlike usual graham cracker crust this crust is a mixture of whole oats, pecans (or walnuts; I used pecans), sugar and butter.
It tastes more like an oatmeal cookie than a plain familiar crust.
The Creamiest Cheesecake Ever
This truly is the creamiest cheesecake I have ever tasted or made.
I attribute this to the methodical cooling method.
The cheesecake is cooked then cooled in the oven, then to room temperature and then chilled.
It has a completely dreamy texture AND no cracking which can happen when a cheesecake is cooled too quickly.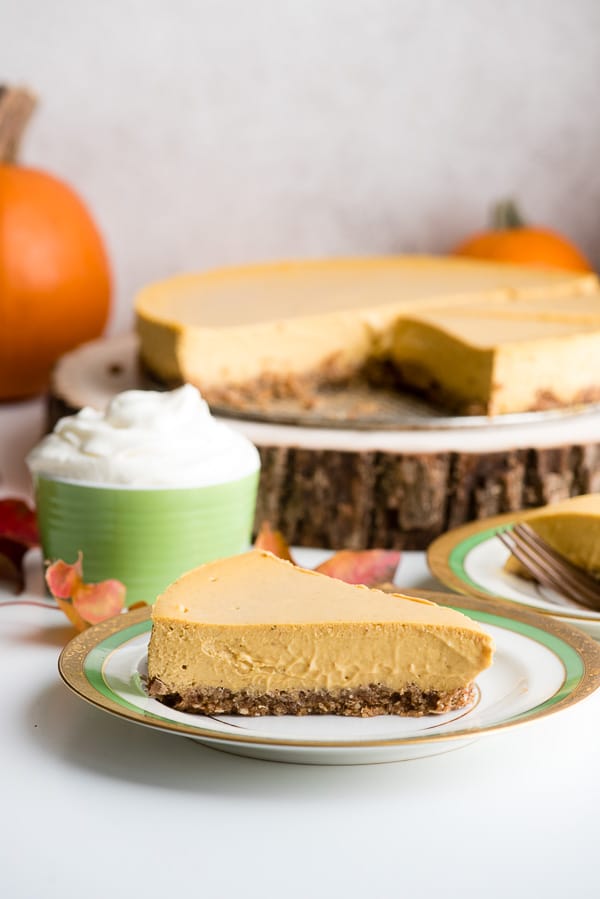 PRO TIPS for making a Perfect Cheesecake
Cheesecakes have a tendency to crack, but they don't have to. Avoid overbeating the batter, because overbeating incorporates additional air.
Mix the batter well and eliminate cream cheese lumps before you add the eggs. To help with this, bring the cream cheese to room temperature or soften it by unwrapping it and placing it in a glass or ceramic bowl and microwaving for 30 to 45 seconds until slightly softened.
Eggs hold air in the batter, so add them last, and mix the batter as little as possible once they are in.
Another cause of a cracked surface is a too-rapid temperature change. If you heat a cheesecake too fast or cool it down too fast, it's likely to crack.
So, bake the cheesecake at a low oven temperature and don't overbake. When perfectly done, there will still be a 2- to 3-inch wobbly spot in the middle of the cheesecake. The texture will smooth out as it cools.
Cheesecake shrinks as it cools. Hence the directions for a slow, gentle cooling down.
Generously butter the sides of the baking pan before pouring in the batter. This allows the cake to pull away from the pan as it cools and shrinks instead of pulling apart from the middle.
If, after all this, you still have a crack, and you care what your cheesecake looks like, spread on a topping or a sauce to camouflage the crevasse.
How to Make this Pumpkin Cheesecake – Step-by-Step
This is an overview of how to make the cheesecake. For a detailed printable version of the recipe refer to the recipe card at the end of the blog post.
STEP 1: Prepare and bake the crust as directed.
STEP 2: In a food processor add all filling ingredients EXCEPT the eggs. Process until smooth, scraping the sides of the food processor bowl as needed.
STEP 3: Add eggs and process just until combined and smooth.
STEP 4: Pour the filling into the crust. Bake the pumpkin cheesecake for 45 minutes at 300 degrees.
STEP 5: Turn oven off and open the oven door a few inches. Leave the cheesecake to cool for 20 minutes to 1 hour.
STEP 6: Remove the cheesecake from the oven and allow it to cool at room temperature.
STEP 7: Cover the cheesecake with a plate and refrigerate until firm: 3-4 hours or overnight.
STEP 8: Remove the cheesecake from the springform pan and serve.
How to Freeze Pumpkin Cheesecake
Baked cheesecakes freeze well.
STEP 1: First, freeze the cheesecake, uncovered, on a level surface.
STEP 2: Then wrap it securely in plastic wrap and then heavy-duty foil.
NOTE: Do not freeze cheesecakes with garnishes or toppings.
Defrost in the refrigerator.
More Recipes to Try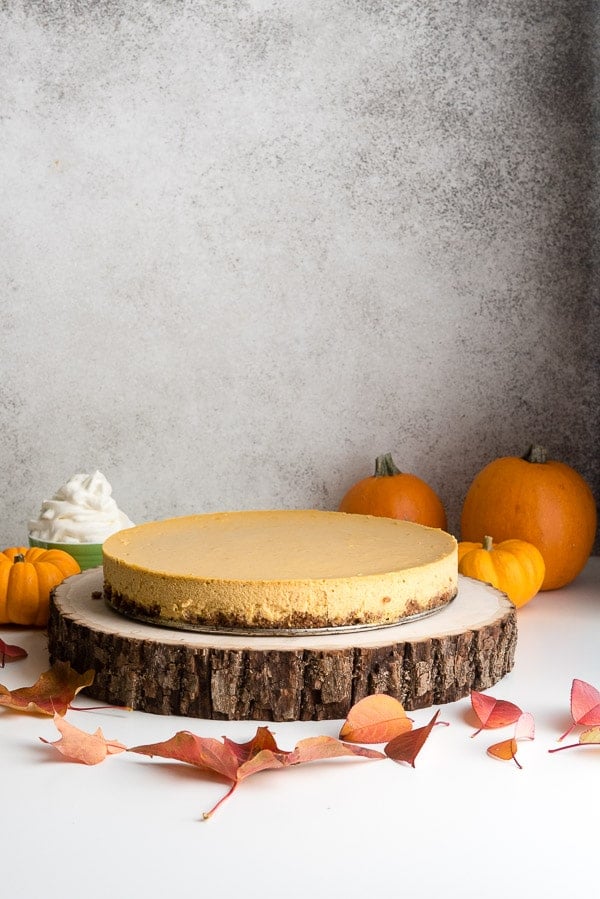 The Moosewood Restaurant Table Cookbook
This Pumpkin Cheesecake recipe is from The Moosewood Restaurant Table Cookbook. "250 brand-new recipes from the Natural Foods Restaurant that Revolutionized Eating in America". I reviewed the cookbook when it was released in 2017.
I think this cookbook makes a great addition to any cookbook collection, and not just for vegetarians. It will educate through the palate that non-meat dishes can be fabulous, satisfying and fun.
Did you make it? Please RATE THE RECIPE below!
Please SUBSCRIBE and FOLLOW ME on FACEBOOK , TWITTER , INSTAGRAM and PINTEREST !
Recipe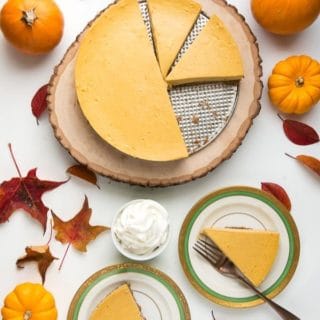 Pumpkin Cheesecake
"Easier to make than a pumpkin pie, this attractive, pastel orange–colored cheesecake is a crowdpleaser, especially for fall and winter holiday occasions." -The Moosewood Table Cookbook
Print
Save Recipe
Recipe Saved!
Pin
Rate
Ingredients
Crust:
Buter or cooking spray, for the pan

1

cup

Rolled Oats

regular or gluten-free

1

cup

Walnuts or Pecans

1/2

cup

Packed Brown Sugar

4

tablespoons

(1/2 stick) Unsalted Butter

melted
Filling:
1

15-ounce can

Pumpkin Puree

1 3/4 cups

1 1/2

pounds

Cream Cheese

room temperature

1

cup

Sugar, white or brown

(note: I used 1/2 cup of each type)

1

teaspoon

Ground Cinnamon

1/2

teaspoon

freshly grated Nutmeg

1/2

teaspoon

Ground Ginger

1/2

teaspoon

Salt

note: I recommend Kosher Salt

4

large

Eggs
Instructions
Crust:
Preheat the oven to 325°F. Generously butter or spray a 10-inch springform pan. (See Note.)

In a food processor, whirl all the ingredients for the crust until crumbly.

Spread the mixture evenly over the bottom of the prepared pan and press it to form an even layer.

Bake for 15 minutes while you prepare the filling.
Filling:
In a food processor, process the pumpkin, cream cheese, sugar, cinnamon, nutmeg, ginger, and salt. Run a rubber spatula around the sides and if there are any lumps of cream cheese, break them up and process again briefly until smooth.

Add the eggs and process for a few seconds, just until smooth and evenly colored.

When the crust has baked for 15 minutes, remove it from the oven and turn the oven temperature down to 300°F.

Pour the filling into the pan and bake the cheesecake for 45 minutes, until the sides are firm and the center still moves a bit when gently shaken.

Turn the oven off, open the oven door a couple of inches, and leave the cheesecake in the oven to cool for at least 20 minutes and up to 1 hour.

Remove the cheesecake from the oven and cool it in the pan to room temperature.

Cover it with a plate and refrigerate in the pan until firm, at least 3 to 4 hours, or overnight.

Remove the cheesecake from the pan when you're ready to serve it. Release the clasp slowly and run a knife around the edges if necessary. Using a long, offset spatula, you should be able to slide the cheesecake from the pan bottom onto a serving plate. NOTE: if it sticks, warm the bottom by holding it over hot water for about 15 seconds to melt the butter just enough to release the crust from the pan.
Notes
Recipe excerpted with permission from Moosewood Restaurant Table Cookbook.
The delicious crust is gluten-free when made with gluten-free oats. When cooking for someone who has celiac disease, be sure to use oats processed in a gluten-free facility; look in the gluten-free section of the supermarket.
Nutrition
Calories:
323
kcal
|
Carbohydrates:
25
g
|
Protein:
5
g
|
Fat:
23
g
|
Saturated Fat:
10
g
|
Cholesterol:
95
mg
|
Sodium:
227
mg
|
Potassium:
126
mg
|
Fiber:
1
g
|
Sugar:
20
g
|
Vitamin A:
730
IU
|
Vitamin C:
0.1
mg
|
Calcium:
63
mg
|
Iron:
0.8
mg
Originally published: October 8, 2017
Disclosure: I received a copy of the Moosewood Restaurant Table Cookbook for the purposes of review. All opinions are my own.