Banana Coffee Cake is moist, buttery with a sugary cinnamon ribbon in the middle and toasty crunchy top. Whoever said you can't have cake for breakfast hasn't tried this coffee cake recipe.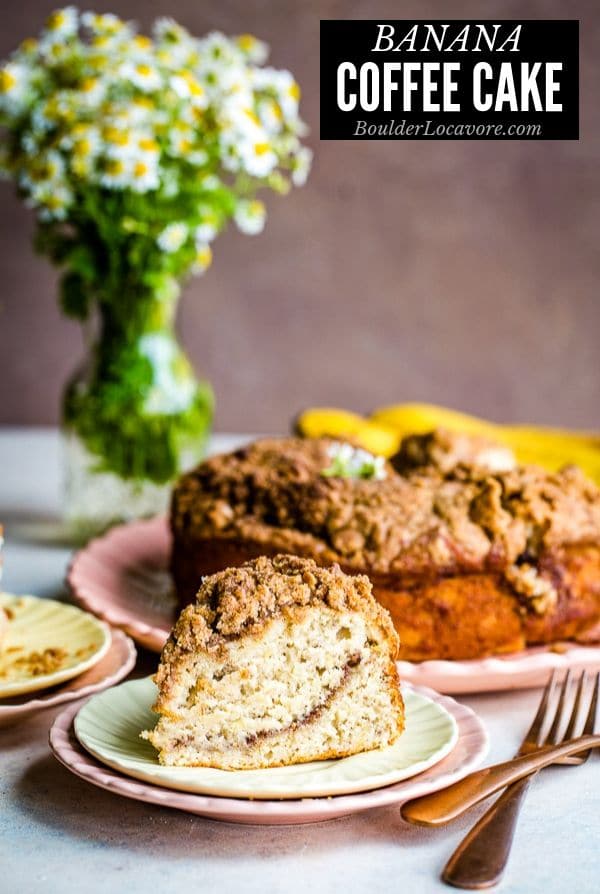 Whether starting off a weekend brunch or a Christmas morning, coffee cake is always a perfect choice.
Moist, sweet cake with a ribbon of sugary cinnamon in the middle that felt like finding an extra special present inside.
It's so easy to make and so delicious it needs to be enjoyed more often than holidays!
This Banana Coffee Cake is a cozy recipe with homey flavors that feel being wrapped in a cozy blanket.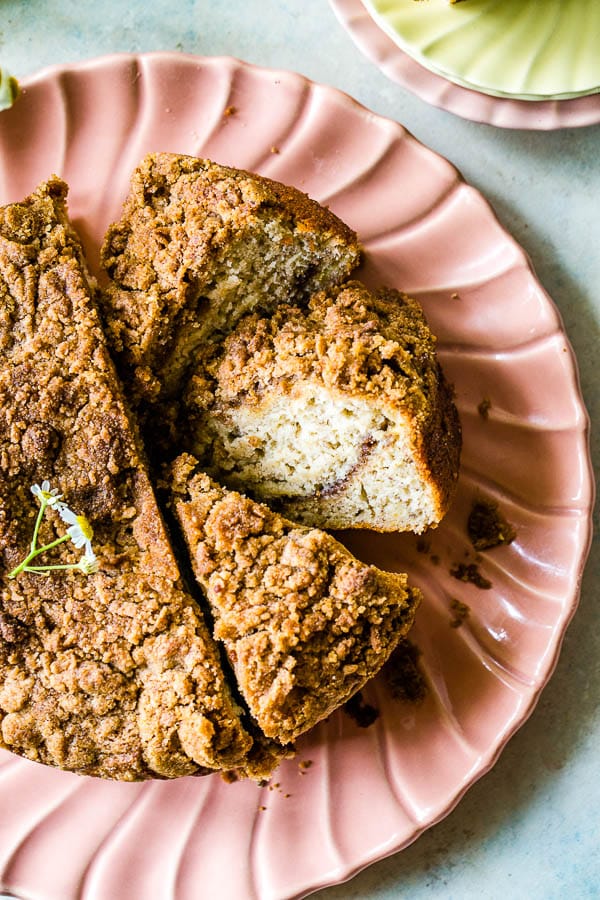 What is Coffee Cake?
Coffee cake is a light, sweet cake intended to be eaten with coffee!
It's a great recipe for special breakfast or brunch. Easy to make and always a fun surprise.
Coffee cake recipes usually have a ripple of sweet cinnamon in the middle and a toasty sweet topping.
Their familiar sweetness is offset by the bitter flavor of coffee (but you can certainly enjoy them without coffee too).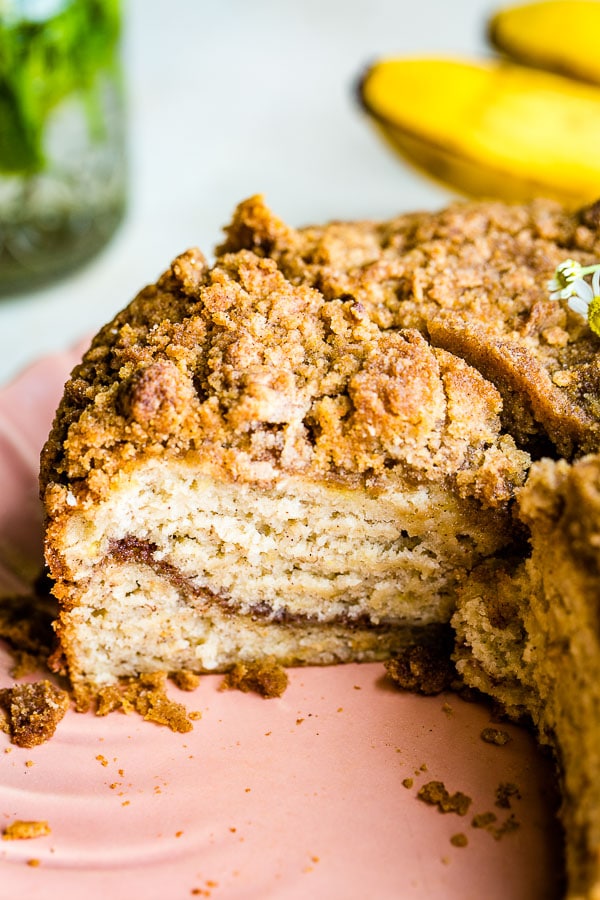 Banana Coffee Cake Ingredients
The ingredients in coffee cake are the same found regular cakes and are easy to find.
all-purpose flour (regular or gluten-free)
granulated sugar
baking soda
½ teaspoon salt
vegetable oil
eggs
bananas
cinnamon
light brown sugar
unsalted butter
Optional: Add Nuts to the Streusel
If you love nuts, add a 1/3 cup of chopped walnuts or pecans to the streusel topping for additional flavor and crunch!
What Type of Bananas to Use for Banana Coffee Cake
Ripe bananas are needed for this coffee cake recipe to give the best flavor.
Ripe Bananas (no brown spots)
Naturally ripened bananas before they begin to brown is what I used in this recipe. They are sweet and slightly soft perfect for mashing.
Ripened Bananas (with brown spots)
It's always a dilemma what to do with overly ripened bananas. This is a great recipe to use them up.
Bananas with brown spots are very sweet and a strong banana flavor that works great in this coffee cake recipe.
How to Make Gluten-Free Banana Coffee Cake
This recipe can be made regular or gluten-free.
The only ingredient that needs to be substituted is the flour in order to make the coffee cake gluten-free.
To make gluten-free coffee cake use your favorite gluten-free measure for measure flour blend.
A favorite flour I use often is Bob's Red Mill Gluten-Free 1-to-1 Baking Flour.
It has a very natural flavor and doesn't make baked goods gummy as some binders can.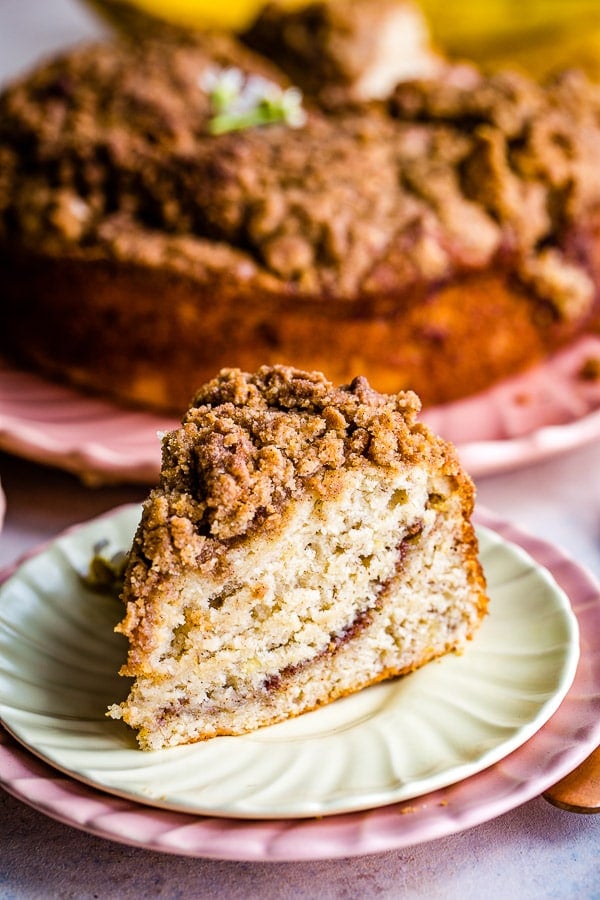 How to Make a Coffee Cake Recipe
Most coffee cake recipes are made in three easy steps:
STEP 1: Make the cake batter
STEP 2: Make the cinnamon swirl layer to go into the middle of the cake
STEP 3: Make the sugar-butter streusel layer for the top of the cake
The result is a perfect combination of moist cake, a cinnamon ribbon and a crunch sweet topping.
Chef's Notes
Batter Thickness
Depending on the ripeness of the bananas and the type of flour being used, the batter can be thick.
If so it will be more 'spreadable' than pourable into the pan.
Follow the directions and use this PRO TIP for spreading the batter: lightly spray a spatula or your fingertips with non-stick cooking spray.
This will allow easily spreading the batter in the pan without it sticking.
Banana Flavor
The ripeness of the bananas will determine the amount of banana flavor.
I made this recipe once with still hard, barely ripe banana and the banana flavor was very faint (but the coffee cake still good!)
Also the flavor will be stronger once the coffee cake cools after baking.
Pan Size
This coffee cake recipe makes an ample coffee cake.
I recommend using a deeper 9-inch round cake pan or spring form pan to accommodate all the ingredients. Suggested depth: 2-inches or more.
If using a pan that is less than 2-inches in depth, the full streusel amount may not fit.
Make the coffee cake as directed. Use 2/3's of the streusel or the amount that provides good coverage.
Optional: place a baking sheet on an oven rack below the coffee cake to catch any streusel that may fall off during baking.
Pan Color and Baking Time
If baking in a black baking pan check the temperature earlier. Dark pans speed up the baking time.
Baking Time
Bake the coffee cake between 45-55 minutes. It will be done when a knife inserted comes out clean.
How to Prevent Browning of the Streusel
Check the coffee cake at 30 minutes and 40 minutes.
If the streusel is beginning to brown, a piece of foil can be placed on top (shiny side up, not facing the coffee cake) for the duration of the baking.
How to Make Banana Coffee Cake – Step by Step
This one-layer coffee cake recipe is very easy to make. The cinnamon swirl inside and streusel on top make is a perfect breakfast or brunch recipe.
For a detailed printable recipe refer to the recipe card at the end of the blog post.
STEP 1: Preheat oven to 350 degrees. Grease and flour a 9-inch round cake pan.
STEP 2: In a large bowl, whisk together: flour, sugar, baking soda and salt (photo 1).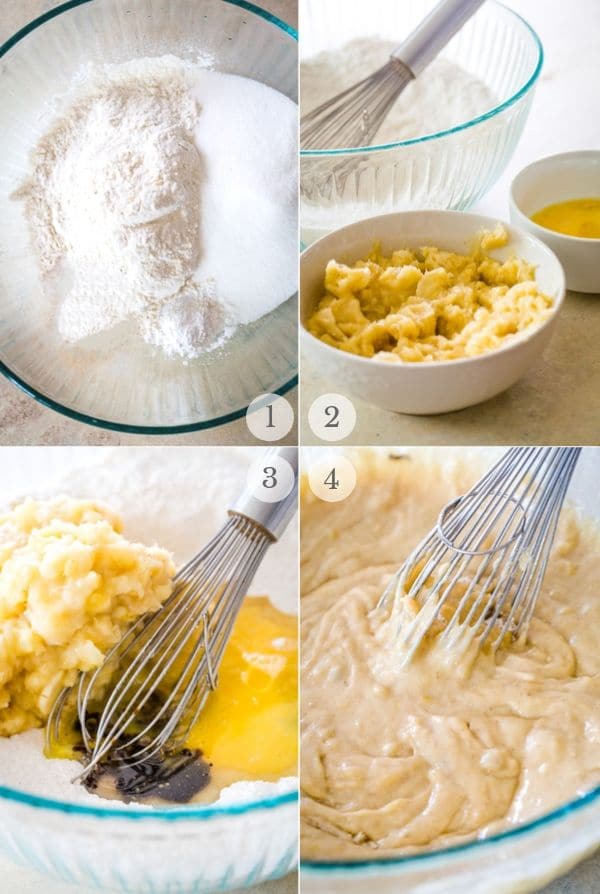 STEP 3: Make a well in the center of the flour mixture. Add the oil, eggs, vanilla and mashed bananas to the dry ingredients; stir until smooth (photos 2-4).
STEP 4: Whisk together the cinnamon and sugar for the cinnamon swirl.
STEP 5: Pour half of the coffee cake batter into the prepared pan. Sprinkle with the cinnamon swirl (photo 5).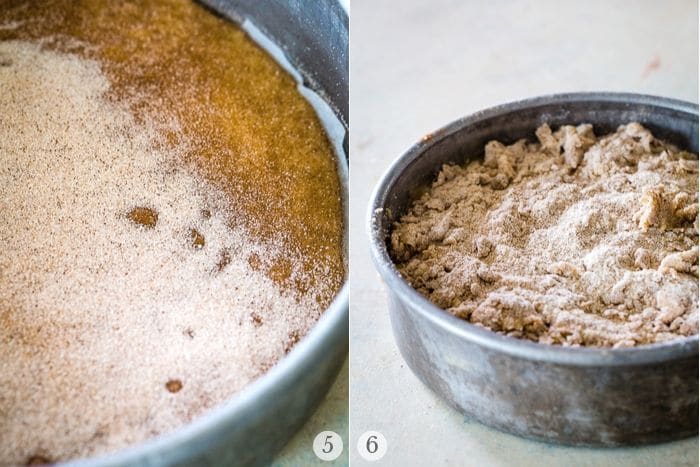 STEP 6: Spoon remaining coffee cake batter on top of the cinnamon swirl.
STEP 7: In a small bowl whisk together the flour, sugar and cinnamon for the streusel topping.
STEP 8: Add the cold butter to the dry streusel ingredients. Using a pastry cutter or two knives, cut the butter into the dry mixture to make small pea sized clumps.
STEP 9: Sprinkle streusel over the top of the coffee cake recipe (photo 6).
STEP 10: Bake the cake for 40-45 minutes or until a knife inserted into the center comes out clean.
Cool completely on a wire cooling rack. Serve warm or at room temperature.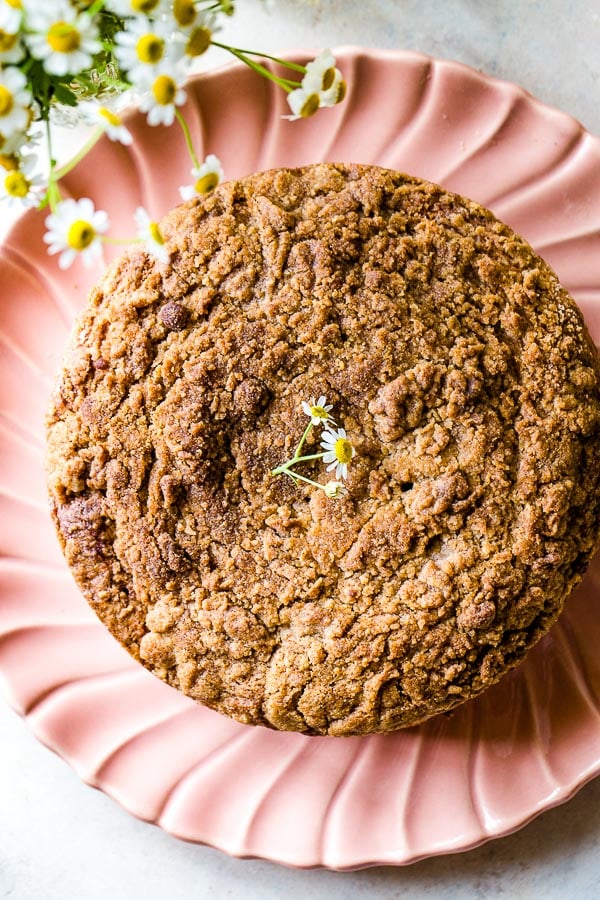 How to Store Coffee Cake
Storing at room temperature
Bake the coffee cake and allow too cool. Store at room temperature, covered with plastic wrap for 1-2 days.
Storing in the refrigerator
For longer storage, cover tightly with plastic wrap and store in the refrigerator for up to a week.
NOTE: baked goods can dry out in the refrigerator. Seal the banana coffee cake well.
How to Freeze Coffee Cake
Bake and cool the coffee cake. Cover tightly with a layer of plastic wrap followed by foil. Freeze for 2-3 months.
Thaw in the refrigerator before serving.
More Banana Recipes You'll Love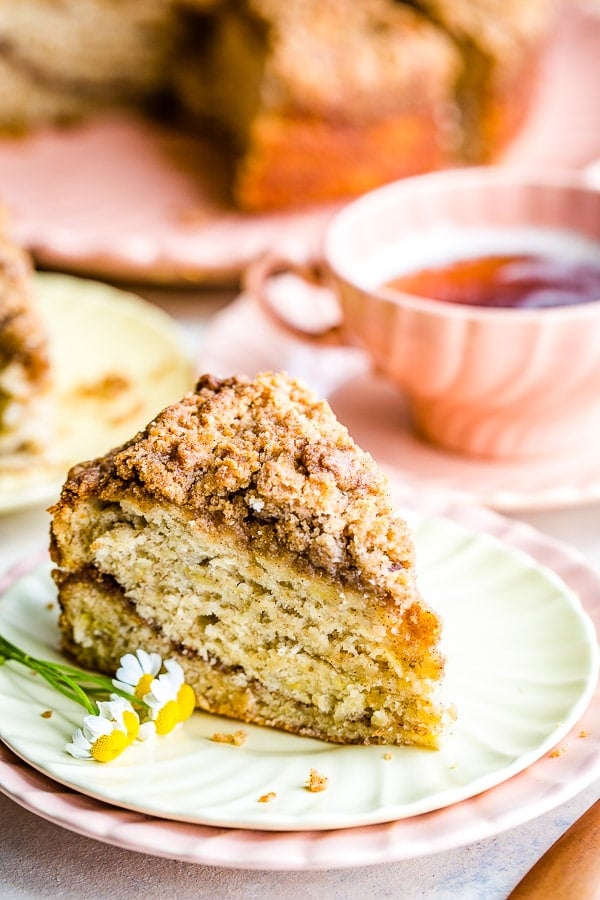 Did you make it? Please RATE THE RECIPE below!
Please SUBSCRIBE and FOLLOW ME on FACEBOOK , TWITTER , INSTAGRAM and PINTEREST!
Banana Coffee Cake is always a treat for brunch or holiday breakfasts!