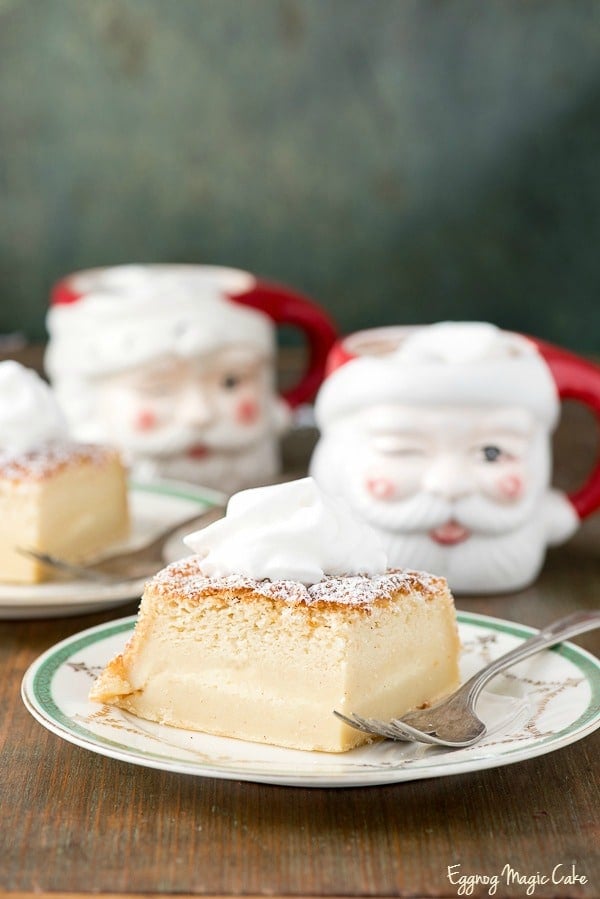 It was about 3 years ago that Magic Cake popped up on my cyber radar. The name caught my attention (who doesn't love anything 'magic'?!) but then I began to see variations of it everywhere, most likely on Pinterest where recipes tend to spread their wings.
Loving the roots of anything new, I did some digging to find the originating recipes and history which I shared with my first attempt at making Blood Orange Magic Cake and Candied Almonds. I'm fascinated by the chemistry that is baking anyway but this cake really, well, 'takes the cake'.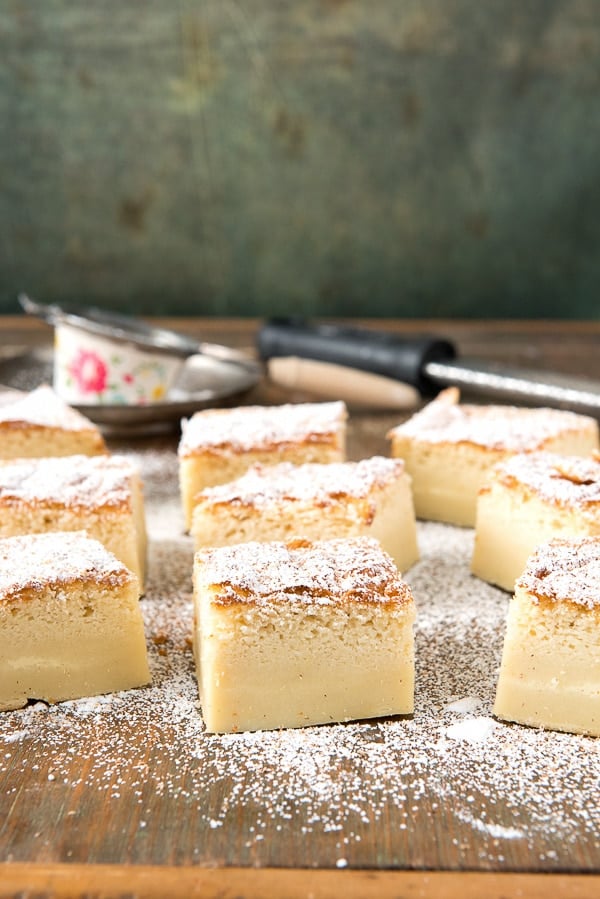 What is Eggnog Magic Cake?
Magic Cake presents three layers when it is done; a thin crust, a custard layer and a lofty-cakey layer on top. It's cool to look at and it's cool to eat. But the coolest thing is how it goes from a watery 'I'm-sure-I-must-have-done-this-wrong' looking batter to the definitively layered end result.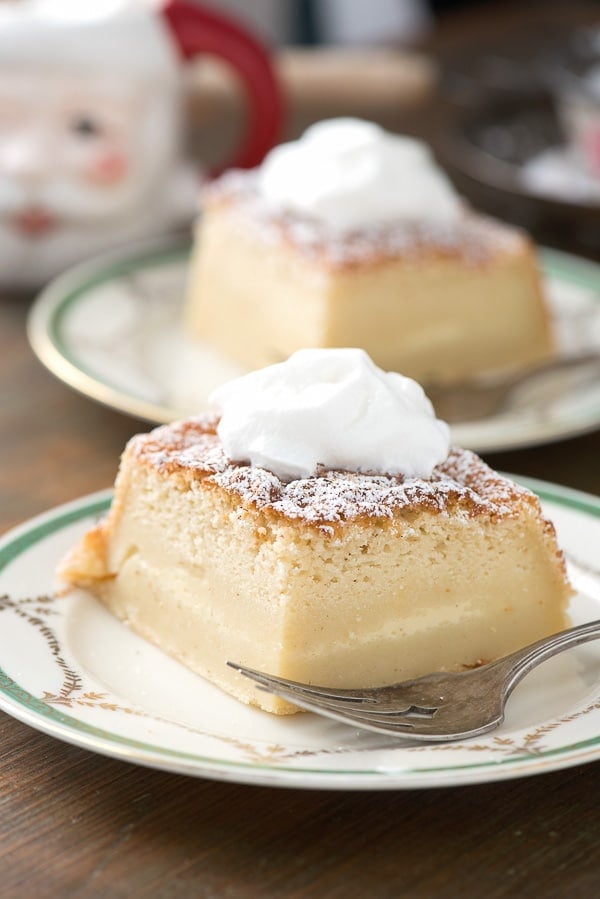 We are a bit eggnog obsessed in December. Multiple cartons are usually open in our fridge all month long. If I have time on a weekend, I'll whip some up. For adults I'll make my Great Grandmother's version which after tasting it I fondly renamed 'Designated Driver Required Eggnog'. When I got the itch to make Magic Cake again I decided to make it Eggnog flavored (and yes with a little rum too; which can be omitted if desired).
I was reminded about what a strange recipe it is when mixing it up. The batter seems fairly traditional until the liquid overwhelms the dry ingredients; my stomach always clenches about then when I haven't made it for awhile. Then when the lofty beaten egg whites are folded in it looks dreadful; a swampy mess with little bumps of egg white. This is where the leap of faith comes in. Fifty minutes later and out of the oven looks come a golden-brown cake, not anything like what was inserted into the oven originally.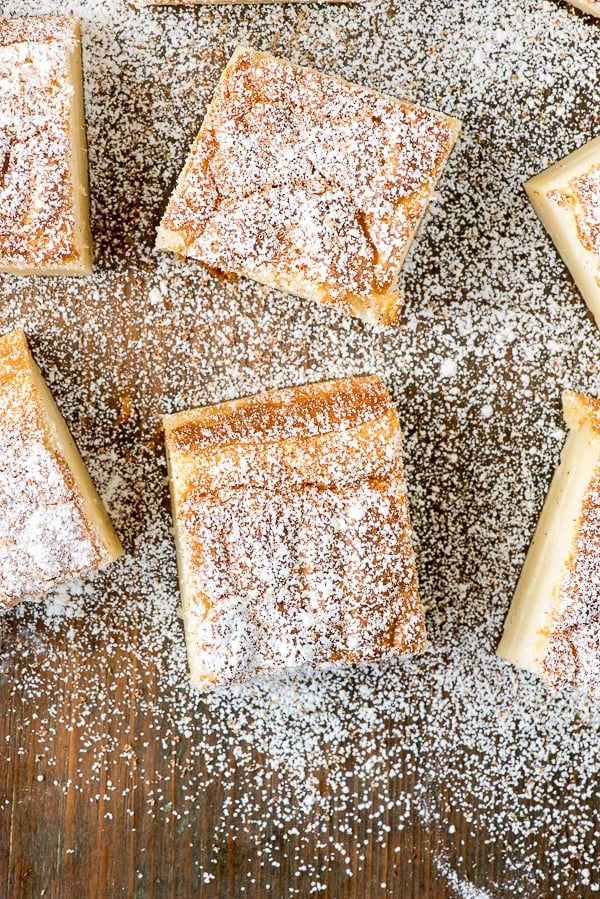 The most fun part of course is after the cake has fully cooled, cutting into it to see the magical layers that formed. It's a bit of science in dessert form and one you'll love eating! For those non-nog folks, the flavor is light not overwhelming so I think you'll love it too!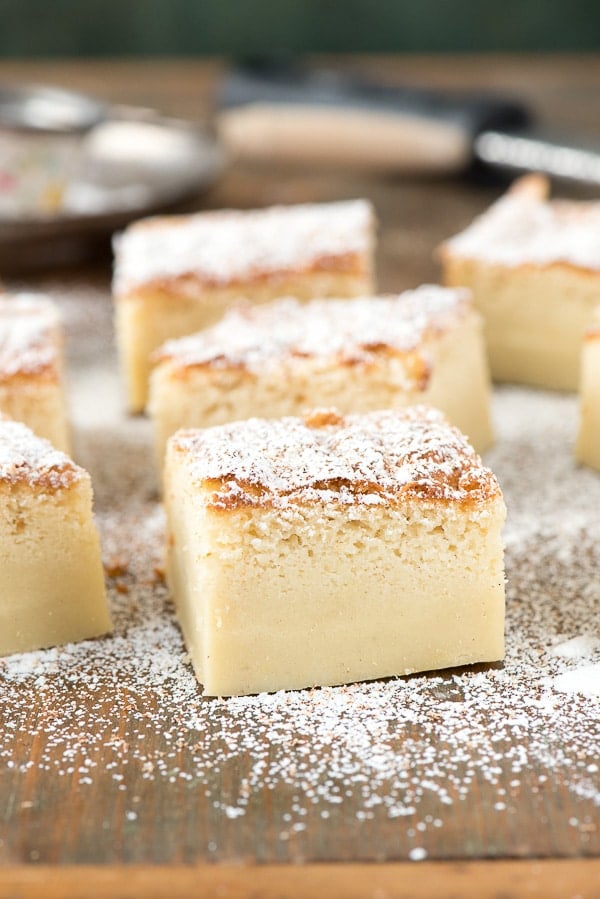 Can I Double the Recipe In a Larger Pan?
I have only made Magic Cake in an 8-inch by 8-inch pan. Baking is chemistry and this cake in particular has a very unique balance to the ingredients to acheive the outcome.
I have researched and not found any other Magic Cake recipes using a larger pan.
My recommendation if you feel you will need more than on 8-inch by 8-inch pan will serve would be to make multiple cakes rather than doubling it in a larger pan.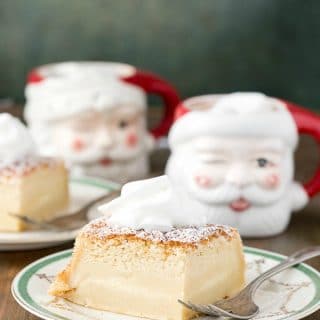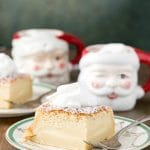 Eggnog Magic Cake
There is not a more fascinating cake than Magic Cake. Transforming from an odd, liquid batter into a three layered delectable dessert challenges the imagination while delighting the taste buds! The light flavor of eggnog and nutmeg celebrate the season too.
Total Time
4
hours
10
minutes
Servings
9
squares of Eggnog Magic Cake
Ingredients
2

cups

prepared Eggnog

, lukewarm

1

stick unsalted butter

, melted and cooled (cannot be hot) (plus some unmelted butter for preparing the pan)

1 ½

cups

Confectioners' Sugar

(plus some for dusting the top of the finished cake)

4

Eggs

, room temperature and separated

1/8

teaspoon

White Distilled Vinegar

1

cup

gluten-free flour

(I used King Arthur's Gluten-Free flour blend); if making a gluten version, all purpose flour may be substituted

3

tablespoons

Dark Rum

(can be substituted for more eggnog if preferable)

1

teaspoon

Vanilla Extract

Whole nutmeg to grate on top or ground nutmeg to sprinkle
Instructions
Preheat oven to 325 degrees. Butter an 8x8 inch baking pan and set aside.

To warm the eggnog: place eggnog in microwave container and warm in 15 second increments until lukewarm (about 1 to 1 ¼ minutes)

Combine the room temperature egg whites and distilled white vinegar and whip eggs with a mixer on the highest speed until forming stiff peaks. Set aside (note: the vinegar helps stabilize the peaks which is a key to success especially at high altitude).

In a second bowl, mix together the egg yolks and sugar until fully combined and sunny yellow! Add melted butter; mix on low speed until the mixture is fully combined.

Add the flour very gradually to the batter while mixing, to allow the flour to integrate with the rest of the batter.

Add the rum and vanilla to the warmed eggnog. While keeping the mixer running on low speed, trickle the eggnog mixture into the batter allowing it to incorporate with the batter. By trickling the eggnog, it has time to mix in easily. Note: by the end the batter will be very watery and should be so don't worry!

By hand, fold in egg whites one fourth at a time, stirring to combine with the liquid batter. There will be small lumps of egg white in the end and the batter will still be fairly liquid. Pour into the prepared pan and place in the preheated oven for 50-55 minutes. The cake will have a browned top but may seem to have some movement when removing it from the oven which is normal.

Allow to cool on a cooling rack for until completely cool (about 3 hours) OR allow to cool on the rack for 30 minutes, then cover with foil (shiny side out) and place in the refrigerator for at least an hour. Cut, sprinkle with confectioner's sugar and freshly grated nutmeg; serve!
Recipe Notes
The majority of the Total Time is 3 hours for cooling at room temperatures. This can be sped up by placing the cake in the refrigerator as noted in the recipe instructions.
Nutrition Facts
Eggnog Magic Cake
Amount Per Serving
Calories 213
Calories from Fat 36
% Daily Value*
Fat 4g6%
Cholesterol 106mg35%
Sodium 58mg2%
Potassium 120mg3%
Carbohydrates 34g11%
Protein 6g12%
Vitamin A 220IU4%
Vitamin C 0.8mg1%
Calcium 93mg9%
Iron 0.9mg5%
* Percent Daily Values are based on a 2000 calorie diet.