Happy Day Cake with Strawberry Whipped Cream Frosting is sure to life any spirits! A simple vintage cake recipe topped with summery strawberry whipped cream makes any day special. Gluten-free or regular options.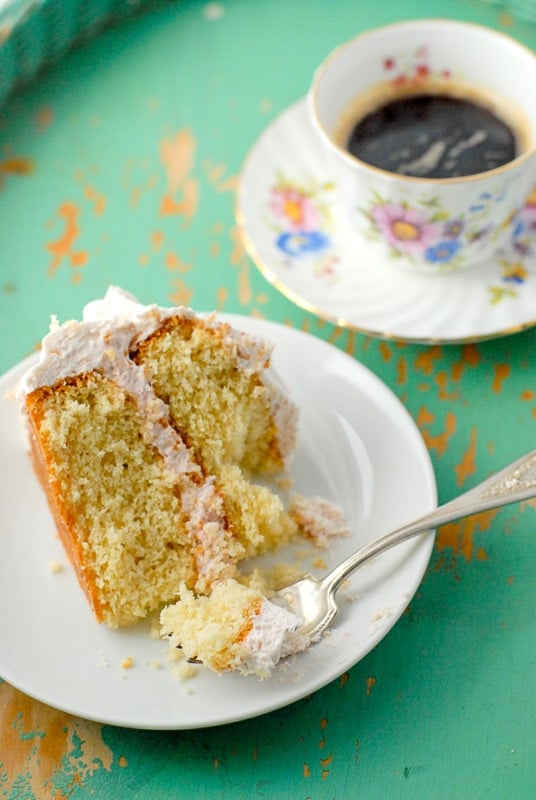 I'm sure you are familiar with the phrase 'it's all in the name', and for me it is with this recipe. Happy Day Cake.
Has there been a more uplifting, simple, sweet name for a dessert? Ever?
I think not.Around the holidays I was meandering through some shopping and came upon a small spiral-bound book called the 'Kitchen Scrap Book'.
It is a published cook book broken into sections of food with recipes printed by the publisher on the first page of each section, followed by blank pages for the book's owner to jot down their favorites.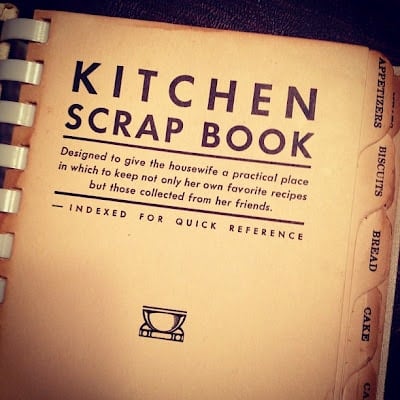 I was instantly charmed by its diminutive size and the blotted recipes written in fountain pen. The book was published in 1937.
I opened to the page with a recipe for Happy Day Cake. My response was a bit like seeing the cutest puppy in the world and I bought the book immediately.
I pored through all the recipes seemingly all added by different cooks. Some signed their names.
It made me realize what a different dimension is added to a recipe when reading it in someone's handwriting.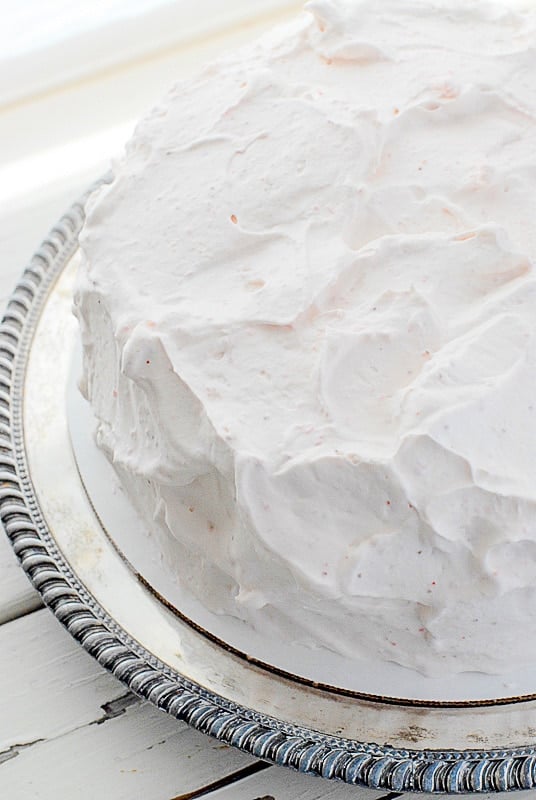 I wondered about the ladies whose recipes were in the book. 'Barby's Cherry Cake', 'Suzie's Beet Pickles', 'Lorraine Stabb's Ice Cream'.
A little slip of paper from the Motor Vehicles Department Commissioner was also tucked inside announcing that two 1954 automobile tags were enclosed; the back was covered in a recipe now in faded pencil, for what I cannot figure out.
I felt in the company of women who may not still be living. I feel sure in a little book such as this, there are surely treasures to discover!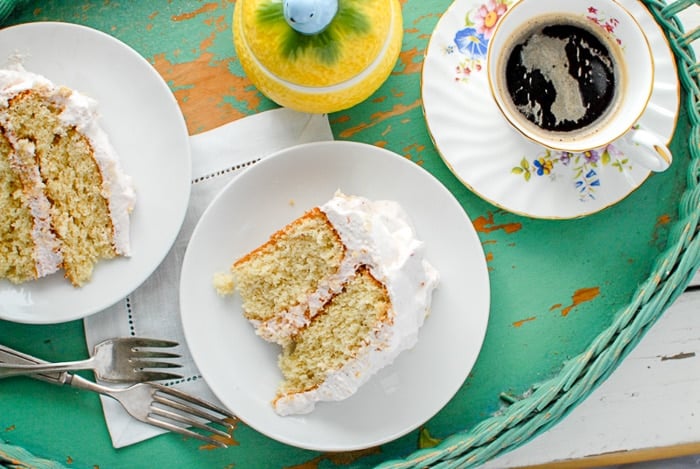 There was no frosting noted with the Happy Day cake recipe. Already feeling upbeat from the idea of the cake I decided to make a Strawberry Whipped Cream Frosting, keeping it very simple, flavorful with a bit of whimsy.
The faint pink color was appealing and made me think of Valentine's Day.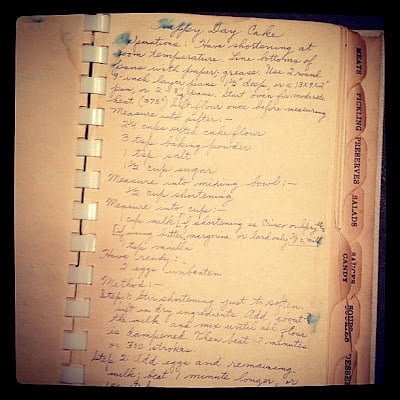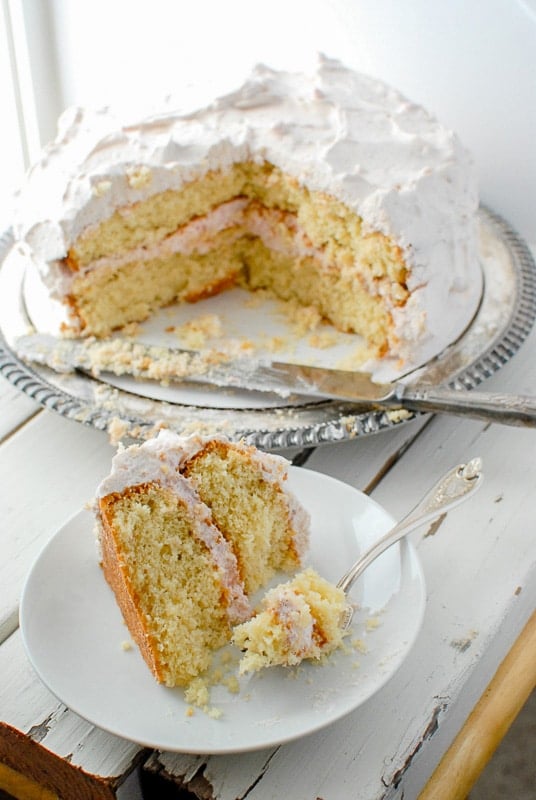 After making the cake myself I did some sleuthing and it seems this was a cake made for special occasions like birthdays and anniversaries.
I personally don't think one should wait for a marked date to make this. Any day is made happy merely by making the cake!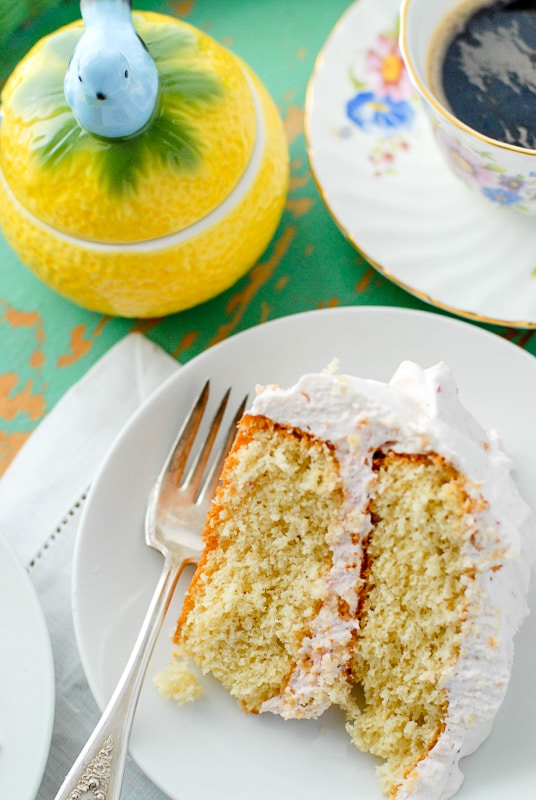 This Happy Day Cake is adapted from a vintage recipe which I believe would have been used for special celebrations, hence the name!
I've updated it to include a light fresh Strawberry Whipped Cream frosting and filling making it light and perfectly flavored to brighten any day!
Each the filling and frosting contain the same ingredients however the filling has a more dense amount of strawberry puree which is why they are made in separate batches.
Due to variations in berry sweetness, taste and adjust for sweetness to your own preference.
There is an ample amount of frosting to create billowy, whimsically decorated cake! If you have some remaining you can surely find other uses: on ice cream, in coffee, pancakes…