Holiday Turkey Hash is an indescribably delicious turkey leftovers recipe. You'll look forward to as much as the original holiday meal!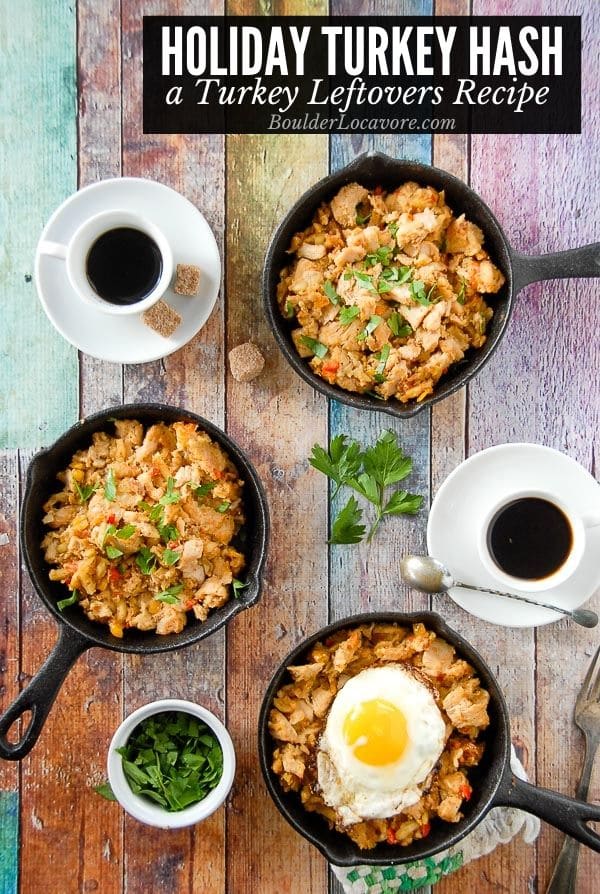 One of the undeniable features of holidays like Thanksgiving and Christmas are the leftovers.
Why is it so gratifying to fill a plate with duplicate meals the day after, and usually the day after that?
It's all 'just can't get enough' food that we generally eat only once or twice a year.
I have a secret! My family may love this Turkey Hash recipe even more than Thanksgiving dinner itself.
It's at the top of our Thanksgiving Leftovers Recipes list!
For years in my family we have been making a 'day after' Turkey Hash.
It uses the leftover turkey, stuffing/dressing and gravy.
Some fresh new ingredients are added turning the leftovers into an amazing new recipe.
The combination of ingredients let's you enjoy some of the best leftovers in a completely new way.
Along with the Thanksgiving, or Christmas meal leftovers, freshly toasted slivered almonds and sautéed red pepper give more flavor and a satisfying crunch to the texture.
Trust me, this recipe is a cinch and will become as coveted as your personal traditional holiday recipes.
This is a breakfast recipe but it's so good we eat it any time of the day!
What is Turkey Hash?
Hash is a dish that combines chopped meat, potatoes and usually fried onions.
It was developed as a way to use up leftovers.
Hash recipes offer flexibility in what they include.
It's a perfect way to use up holiday leftovers in an original and delicious way!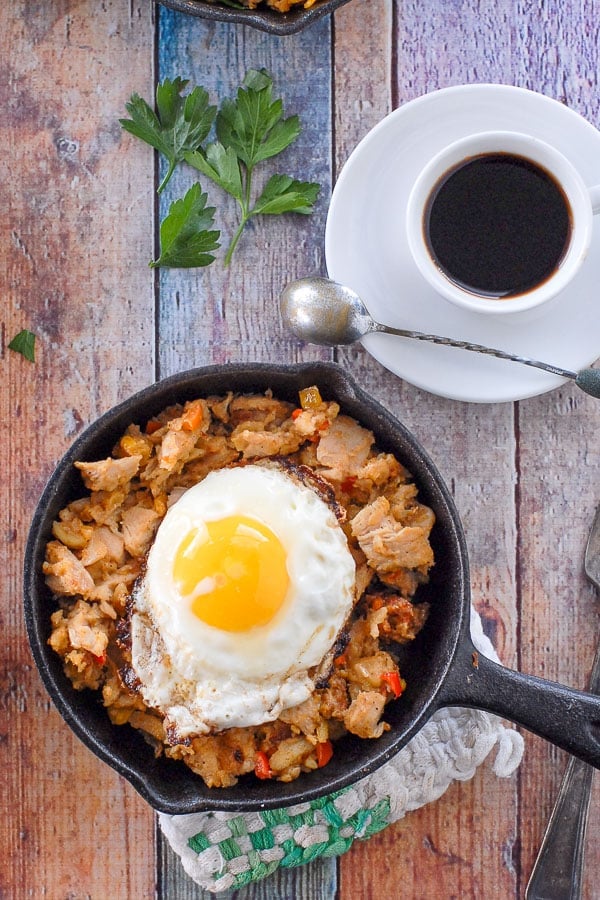 Turkey Leftovers Recipe and a Whole Lot More
This recipe is delicious enough to tempt me to make a turkey, dressing/stuffing and gravy just to be able to make a batch of Turkey Hash. Seriously.
My family is mad for it. It's virtually impossible to make enough of it to have any leftover hash it's gobbled up so quickly.
This turkey hash recipe uses up a good portion of turkey leftovers.
The recipe is a delicious combination of favorite Thanksgiving recipes plus fresh, new ingredients that add great flavor and a crunch!
Recipe Ingredients
Whether making these for your holiday dinner OR with making this Turkey Hash in mind, they are delicious recipes!
These are some of our favorite recipes for the turkey, stuffing and gravy to be used for the hash recipe.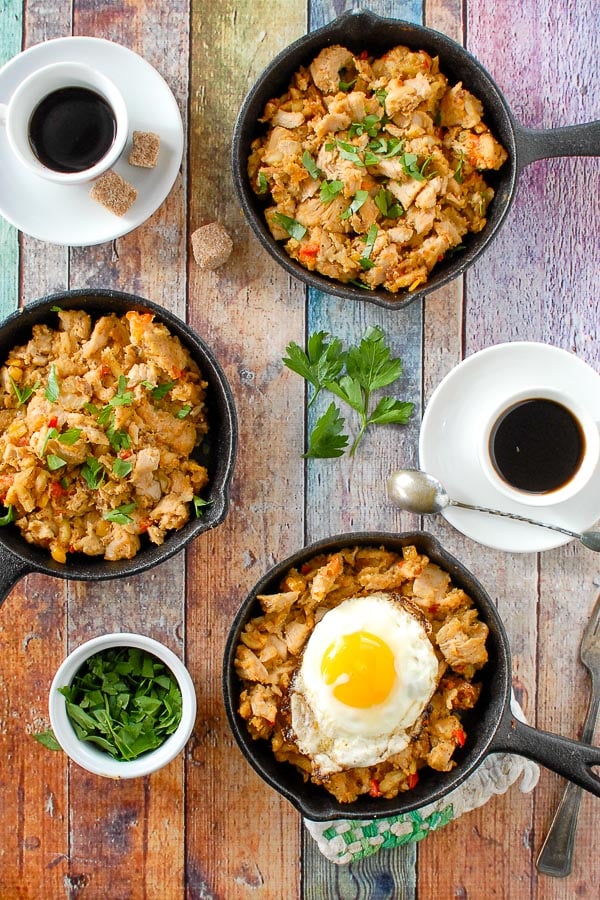 How to Make it – Step-by-Step
STEP 1. Toast the Almonds.
In a large heavy skillet over medium-high heat, stir the almonds constantly until golden (2-3 minutes).
Remove from the skillet and set aside.
STEP 2. Make the Hash.
In the same skillet over medium heat melt the butter. Cook the onions, garlic and red bell pepper until the onions become translucent.
Add the turkey, dressing, salt and pepper. Cook over medium heat, stirring often, until heated through (5 minutes).
Add the gravy and almonds. Cook until the liquid is absorbed stirring often to scrape up any browned food bits on the bottom of the skillet (5-10 minutes).
PRO TIP: allow the mixture to sit for minute or two between stirring to develop a browned crust. It's delicious!
STEP 3. Garnish and Serve.
Garnish with chopped Italian parsley and serve hot.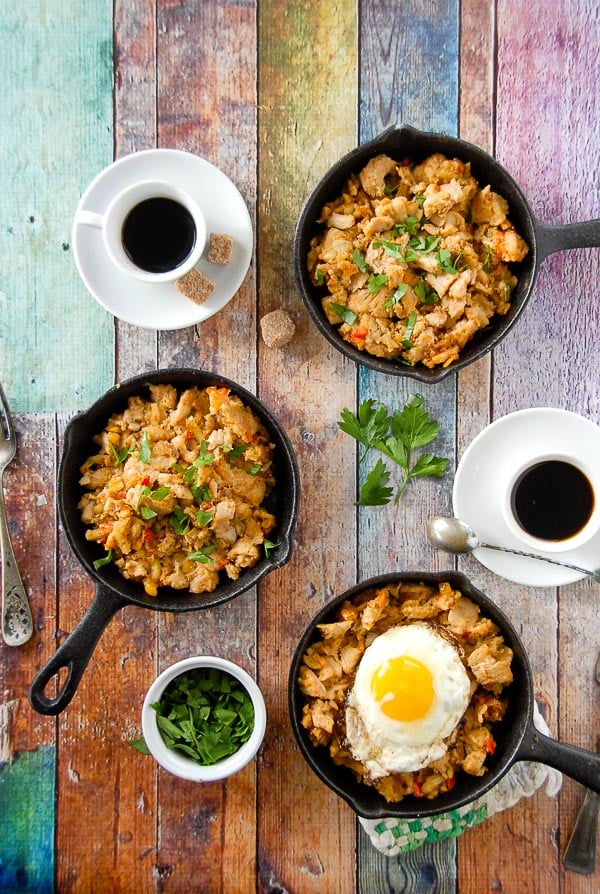 Serve it Over Mashed Potatoes!
Try serving it over leftover mashed potatoes too! This makes an even heartier meal.
I've made and served it over these three recipe with great success:
It was fantastic to combine the two textures and comfort food at its best.
Also topped with a fried egg can't be beat.
Storing Leftovers
Store in a sealed container in the refrigerator for up to 3 days.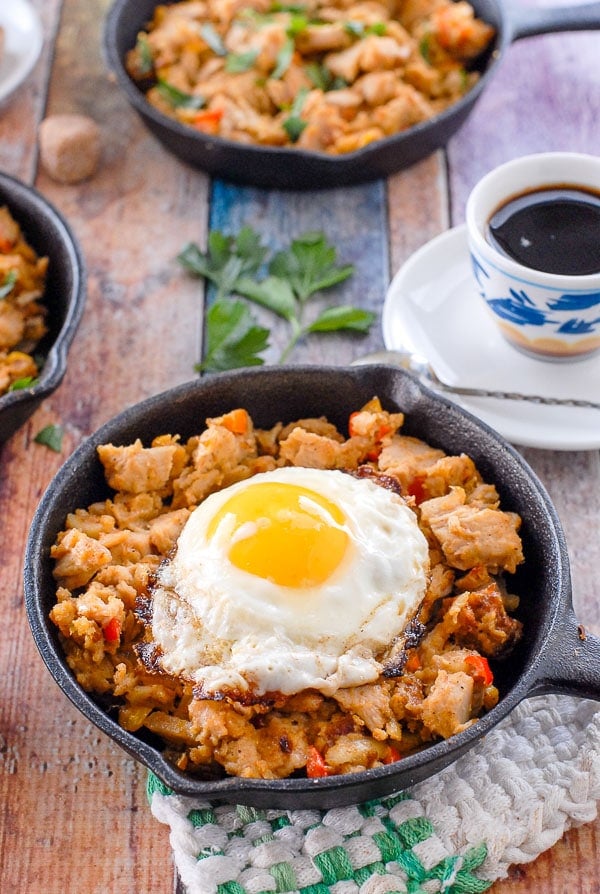 More Recipes You'll Love!
Did you make it? Please RATE THE RECIPE below!
Please SUBSCRIBE and FOLLOW ME on FACEBOOK , TWITTER , INSTAGRAM and PINTEREST !
Originally published: November 22, 2013