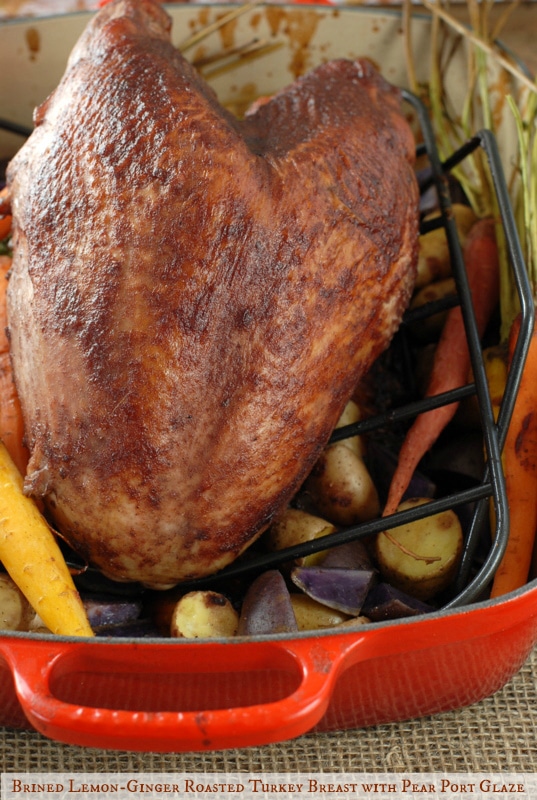 I realize we've just finished off turkey leftovers from Thanksgiving so considering cooking more turkey may not be the first thing on the menu. However with the Christmas celebrations as well as New Year's coming quickly, turkey often is a star player once again.
Something most do not consider when making turkey is only cooking a turkey breast instead of a whole bird. They are quite large usually weighing between 4-6 pounds offering plenty of meat for a large crowd. The true test of a well cooked bird resides in the moistness of the white meat. Being lower in fat it is the first thing that will dry out when being overcooked. I'm sure you've choked down uber dry white meat at Thanksgiving before. It is something that can and should be avoided at all costs in my book.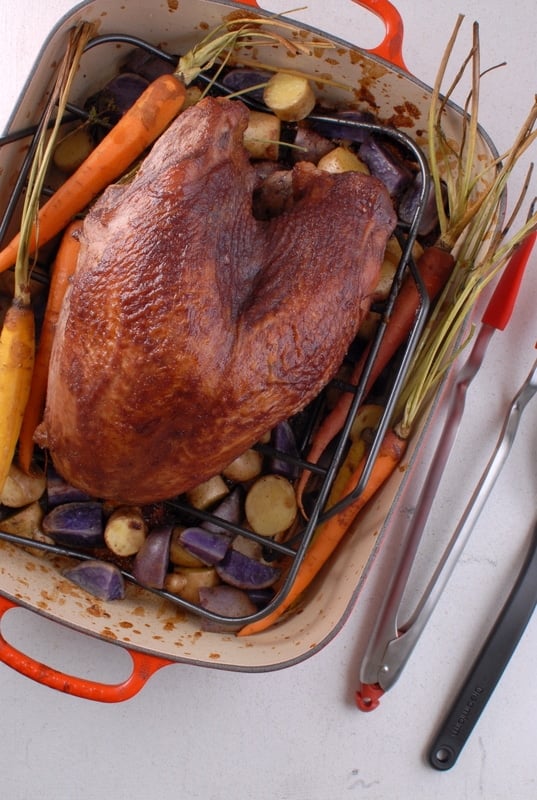 A key technique for ensuring a moist, flavorful turkey is brining. Simply put, a mixture of water, salt and usually sugar are combined and the turkey is placed in the mixture overnight. The molecular structure of the turkey is altered in the brining allowing the meat to stay moister in the cooking process. Brines can be customized with other herbs or vegetables to influence the flavor as well. It's a relatively simple step with big rewards. I don't remember the last time we cooked a turkey without brining it first. A turkey breast is able to fit inside a large plastic zipper bag along with the brine. If brining a full turkey food safe containers can be purchased and should only be used for that purpose if planning to brine in it more than once.
With the holidays in mind I prepared a five pound organic Turkey Breast with a Pear Port Glaze. Seasonal, beautiful and a bit more upscale for special dinners. I added the flavors of lemon and ginger to the turkey brine, along with herbs and spices. The turkey turned out moist and succulent with the light flavors of the glaze making it a unique and unexpected dish; yet simple to pull together.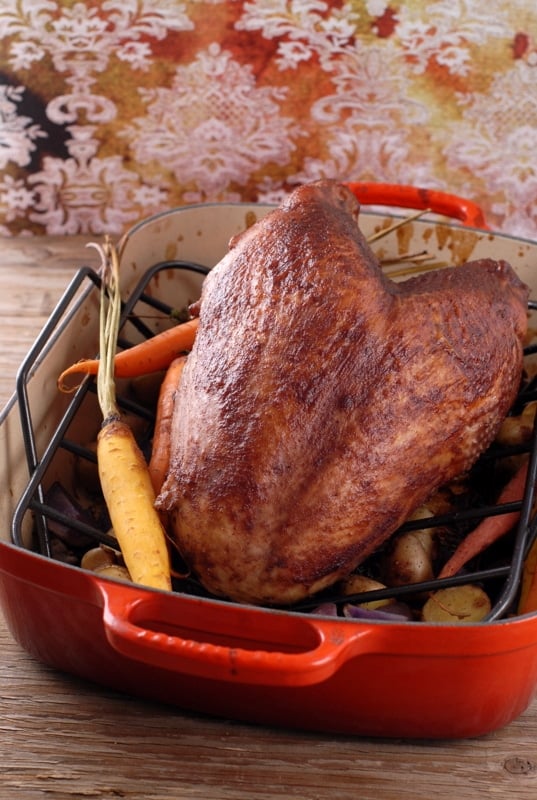 Recipe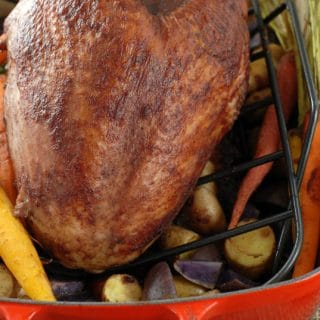 Brined Lemon-Ginger Roasted Turkey Breast with Pear Port Glaze
An often overlooking option when desiring to cook turkey but perhaps not wanting a whole turkey or the time required to cook it is to roast a turkey breast. When soaked in this aromatic Lemon-Ginger brine overnight the breast emerges from roast succulent and tender, bursting with flavor from the added Pear Port Glaze. No worries about dry white meat. I never cook a turkey anymore without brining it first! Perfect for holiday meals.
Print
Save Recipe
Recipe Saved!
Pin
Rate
Ingredients
Ingredients for Lemon-Ginger Turkey Brine:
1 5-

pound

Turkey Breast

1

gallon

Water

¼

cup

Kosher Salt

½

cup

granulated Sugar

1

tablespoon

Black Peppercorns

, crushed

Zest of 1 Lemon

8-10

fresh Thyme sprigs

1

head Garlic Cloves

, crushed

1

large Yellow Onion

, chopped

2

Bay Leaves

1-3/4

inch

piece Ginger Root

, peeled and rough chopped (approximately 1 teaspoon)
Additional ingredients for cooking the brined Turkey Breast:
1

tablespoon

unsalted Butter

, melted

1

tablespoon

Kosher Salt

1

tablespoon

ground Black Pepper
Ingredients for the Pear Port Glaze:
3

ripe Red D'anjou pears

(approximately 2 cups), peeled, cored, rough chopped

¼

cup

Pear Brandy

, purchased or homemade

1

cup

Ruby Port

2

tablespoons

granulated Sugar

1

teaspoon

Cardamom
Instructions
Instructions for Lemon-Ginger Turkey Brine:
Place all ingredients in a large zipper plastic bag with the turkey breast, squeeze out air and seal. Note: I often place the primary plastic bag in a second sealing bag to ensure no accidental leakage. Place in a large mixing bowl and refrigerate overnight (no more than 12 hours to ensure it does not become too salty)
Instructions to cook brined Turkey Breast:
Preheat the oven to 325 degrees.

Combine salt and pepper in a small bowl. Rinse the turkey breast and pat dry with paper towels. Rub the turkey breast with the melted butter, covering all sides and areas. Rub with the salt and pepper on all sides.

Place turkey breast on roasting rack in a roasting pan, breast meat side up. Place in the oven and cook for 1 hour.

Make the Pear Port Glaze while the turkey breast is cooking. Place all ingredients in a blender. Pulse until pears are pulverized and all ingredients are fully combined. Pour mixture into a heavy, medium saucepan over medium heat. Bring to a low boil, lower to simmering and allow to cook for 10 minutes until slightly thickened.

If you desire to add some glaze to the finished turkey when serving, set aside a portion of the glaze at this time (I recommend one third of the glaze). Note: When glazing uncooked poultry, any remaining glaze should not be used on a cooked bird when serving for the risk of salmonella; hence separating some at the beginning to use for serving. If more is needed for the glazing during cooking, some of the reserved glaze can be poured back into the pan from which you are brushing the glaze on the cooking turkey.

After 1 hour, remove turkey and baste liberally with the Pear Port Glaze. Return to oven to cook for 15 minutes.

Remove after 15 minutes to glaze again, liberally, and tent with a large piece of foil (shiny side out). This helps the turkey breast from over darkening. Return to the oven for 15 minutes.

Remove from the oven, lift foil and glaze one last time, and return to the oven for 15 minutes.

Remove from the oven and check the internal temperature of the turkey breast with a meat thermometer in the thickest part of the breast. The temperature should read a minimum of 165 degrees . The temperature will continue to rise slightly when the turkey breast is out of the oven. If the temperature is correct, allow to rest for 15 minutes with the foil in place before carving and serving. If the temperature is not yet 165 degrees, place back in the oven for 10 additional minutes and check the temperature.
Notes
The majority of the total time is brining which is alloted as 12 hours.
Nutrition
Calories:
709
kcal
|
Carbohydrates:
43
g
|
Protein:
98
g
|
Fat:
9
g
|
Saturated Fat:
2
g
|
Cholesterol:
249
mg
|
Sodium:
6850
mg
|
Potassium:
1308
mg
|
Fiber:
4
g
|
Sugar:
33
g
|
Vitamin A:
245
IU
|
Vitamin C:
7.3
mg
|
Calcium:
118
mg
|
Iron:
3.3
mg