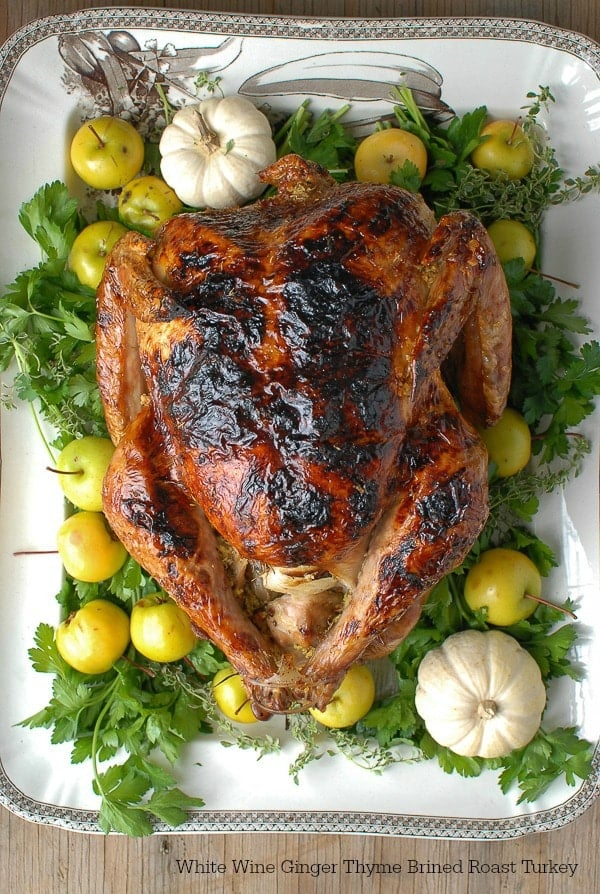 For many families (usually mine included), Thanksgiving is the only time of the year a turkey is cooked at home. This means expectations are high; it must be succulent, with crispy skin, and well-seasoned. It's a toss-up whether to make it the same way every year or throw caution to the wind and try something new, isn't it? We tend to mix it up in the Boulder Locavore kitchen but there is one constant every year; wet brining the turkey.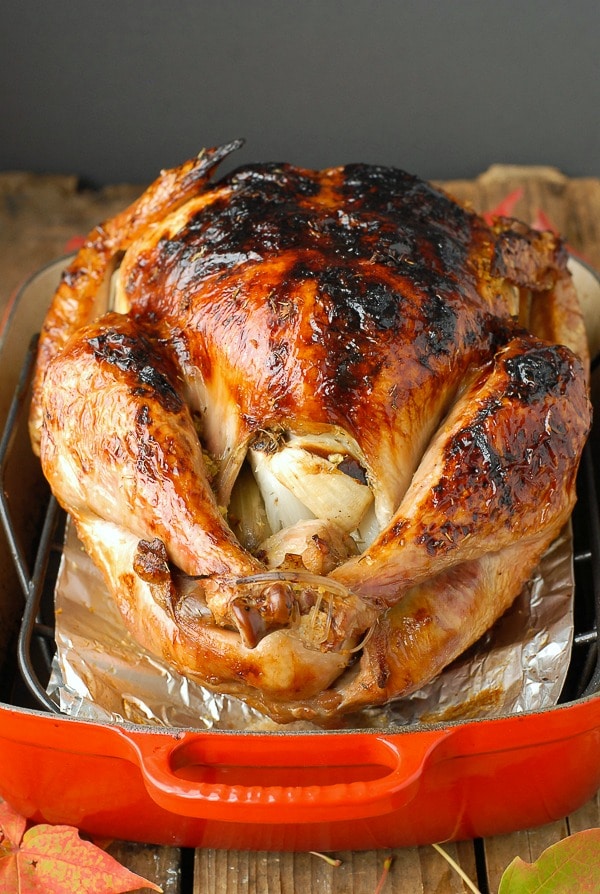 If you aren't familiar with wet brining, it is soaking the turkey in a mixture of salt, sugar, and water (can include seasonings) for up to 18 hours before cooking it. Lean meats such as turkey can lose up to 30% of their natural moisture during cooking. Brining allows extra moisture to permeate the turkey, reducing the moisture loss to about half of an unbrined bird. If you were to weigh a turkey before and after wet brining, you'd find it gains weight from the additional moisture absorption.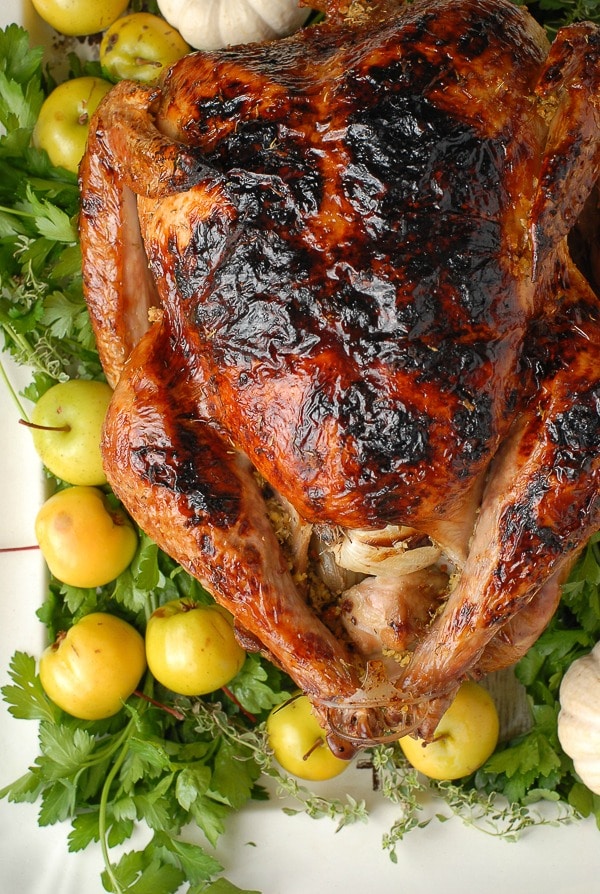 Generally brining a turkey overnight before you plan to roast it works best. Food-grade buckets with lids or bags specifically for brining are the easiest containers to use. We purchased a food bucket a number of years ago which we only use for brining and store it in between uses. The turkey must be refrigerated so if your refrigerator is full in preparations for the holiday, consider packing a cooler with ice or ice packs if you live in a colder climate where putting it in the garage would yield refrigerator-level temperatures.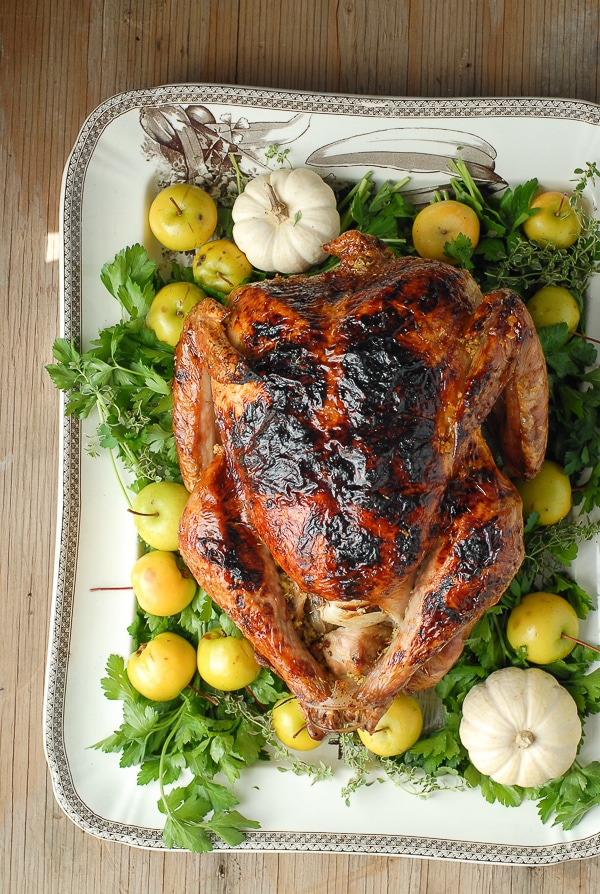 This year our Thanksgiving will have reminders from France where we spent 10 days in Paris this summer. Today we have an East-meets-West melding of flavors in a brined turkey to share. Each the brine and the final glaze are a mix of white wine, ginger root, star anise, thyme and other beautiful flavors that culminate in a uniquely tasty bird. Should you not desire to roast a full turkey, I shared a recipe last year for a brined turkey breast last year that offers plenty of juicy breast meat: Brined Lemon-Ginger Turkey Breast with Pear Port Glaze.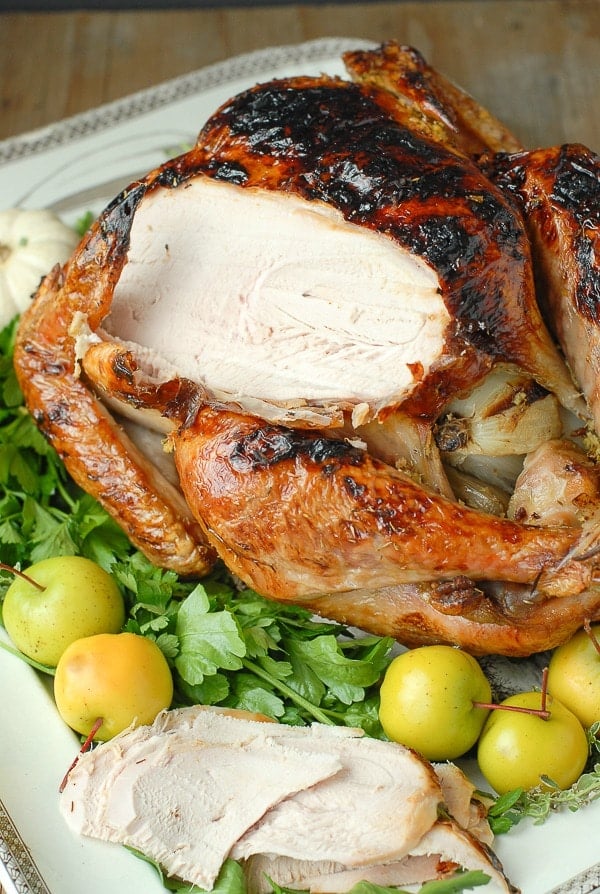 Recipe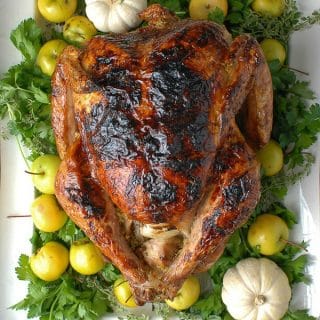 White Wine Ginger Thyme Brined Roast Turkey
Wet brining a turkey is a sure way to have the most moist, succulent bird possible. The brine and the glaze in this recipe take flavor cues from France and Asia, incorporating some signature tastes for a sumptuous end result.
Print
Save Recipe
Recipe Saved!
Pin
Rate
Ingredients
Ingredients for the Brine:
1

cup

Kosher Salt

½

cup

Brown Sugar

6

Star Anise

1

4-inch piece

fresh Ginger Root

, rough chopped (peeling not necessary)

2

teaspoons

dried Thyme

18

White Peppercorns

1

cup

Dry Chardonnay wine

Supplies: 5 gallon food-grade plastic pail with lid

(available at hardware stores)
Ingredients for the turkey cavity:
12 1/2

pound

Turkey

1

medium Yellow Onion

, cut into large pieces

1

Carrot

, cut into 2-inch lengths

2

stalks Celery

, cut into 2-inch lengths

1

stick Unsalted Butter

, softened
Ingredients for the Glaze:
1

teaspoon

dried Thyme

3

tablespoons

Honey

1

tablespoon

fresh Ginger Root

, finely minced

½

cup

Dry White Wine
Instructions
Instructions for Brining:
In a large pot over low heat, combine the salt, sugar and 8 cups water. Stir until the salt and sugar are dissolved.

Add the star anise, ginger, and thyme; allow to simmer for 10 minutes. Remove from heat and allow to cool to room temperature.

While the brine cools, rinse the turkey inside and out.

Add the brine to the food-grade pail, along with the 1 cup dry white wine and the turkey. Fill with cold water to cover. Seal with the lid and chill for 10-12 hours (but not longer than 12 hours); it works well to make the brine the night before cooking the turkey and allowing it to brine overnight.
Instructions for Roasting and Glazing the Turkey:
Heat the oven to 400 degrees. Cover a V-rack with two layers of heavy foil, dull side facing the turkey, and place into a roasting pan. Poke holes in the foil to allow the turkey juices to run into the pan.

Place the turkey breast side down on the prepared rack. Add the onion, carrot and celery pieces into the turkey cavity. Rub the entire turkey with the softened unsalted butter.

Pour 1 cup of water into the roasting pan and place in the heated oven for 45 minutes.

After 45 minutes, flip the turkey onto its back being careful not to puncture the skin. Bake until the turkey thigh registers 170 degrees on a meat thermometer.

While the turkey cooks, prepare the glaze. Combine the thyme, honey, ginger and dry white wine in a small saucepan over low heat, stirring until the honey dissolves. Remove from heat.

When the turkey thigh registers 170 degrees on a meat thermometer brush the top of the turkey with the glaze and return to the oven for 5-10 minutes until the thigh reaches 175 degrees . Note: glazes with sweeteners in them tend to blacken, so watch the turkey and remove if it becomes too dark (it will still taste great; this is for appearance sake).

Remove the turkey and allow to rest for 20 minutes. Slice and serve.
Nutrition
Calories:
559
kcal
|
Carbohydrates:
16
g
|
Protein:
72
g
|
Fat:
19
g
|
Saturated Fat:
4
g
|
Cholesterol:
241
mg
|
Sodium:
9820
mg
|
Potassium:
844
mg
|
Fiber:
0
g
|
Sugar:
14
g
|
Vitamin A:
1075
IU
|
Vitamin C:
1.4
mg
|
Calcium:
67
mg
|
Iron:
3.7
mg