Jalapeno Turkey Noodle Soup takes classic comfort food up a spicy notch. An exciting use for turkey leftovers or to warm up a chilly day!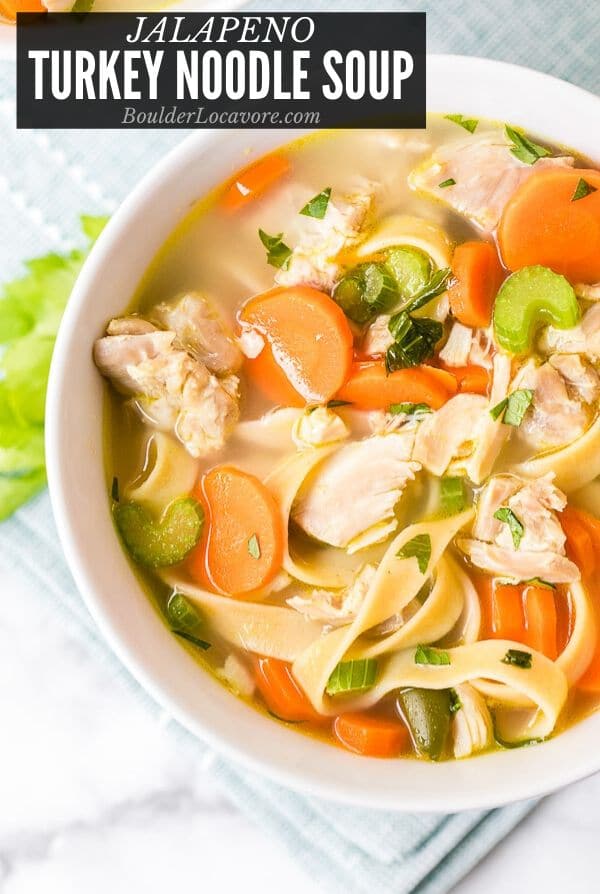 Turkey Noodle Soup is a classic comfort food recipe. It's also a great option to use up turkey leftovers from Thanksgiving or Christmas.
If you are a fan of spicier foods this recipe is for you!
Jalapeno pepper simmered in the turkey (or chicken) stock gives the soup a zippy heat.
Perfect for a chilly winter's day.
Jalapeno Turkey Noodle Soup
This recipe was originally developed as a reader request for an after holiday recipe.
Loving a spicy soup the broth is naturally spiced up with some jalapeno.
Loads of vegetables and turkey fill the delicious broth topped off my soft egg noodles (regular or gluten-free).
It's an easy and satisfying soup recipe.
Whether for kids rolling off a snowy day of sledding or as a pick-me-up to use leftovers; it will become a fast favorite!
Turkey Noodle Soup Ingredients
Jalapeno Chile Pepper
Turkey or Chicken Stock, homemade if possible
unsalted Butter
Carrots
Celery stalks
chopped Turkey
Egg Noodles, regular or gluten-free
Salt and Pepper to taste

Ingredient Notes
Jalapeno Peppers
Did you know the spiciest part of hot chile peppers comes from the seeds?
Also that when handling the spicy peppers with your hands not to touch your eyes or nose, without washing your hands first?
The spicy oils in the pepper can transfer to the sensitive membranes causing a burning sensation.
I have a great tip to easily remove the seeds that avoids much contact.
You can check it out in this cranberry salsa post.
Turkey Stock or Chicken Stock
I love using homemade stock for this soup recipe. Here are two easy turkey stock recipes:
Slow Cooker Homemade Turkey Stock
Making turkey stock is very easy and a great way to use up the leftover turkey carcass from holiday meals.
Store bought chicken stock may also be used.
Use Celery Stalks with Leaves
Add some of the celery leaves with the chopped stalks (if the celery has leaves still attached).
They add some additional flavors to the soup.
They can have a strong flavor so don't overdo it!
Chopped Turkey
If making this after a holiday its a perfect way to use up turkey leftovers.
If making outside of a holiday, have the grocery store deli but turkey slices 1/4-inch thick.
This will make the turkey a nice size when chopping it for the soup.
Egg Noodles
Egg noodles are easily available at grocery stores.
For gluten-free eaters I used brown rice egg noodles (Tagliatelle) from Jovial pasta.
Jovial is an Italian brand, shown in these soup photos and these noodles are fantastic.
They have a wonderful creamy consistency when prepared and were perfect for soup.
Since originally developing this recipe there are additional brands of gluten-free egg noodles on the market.
You can see more selections here.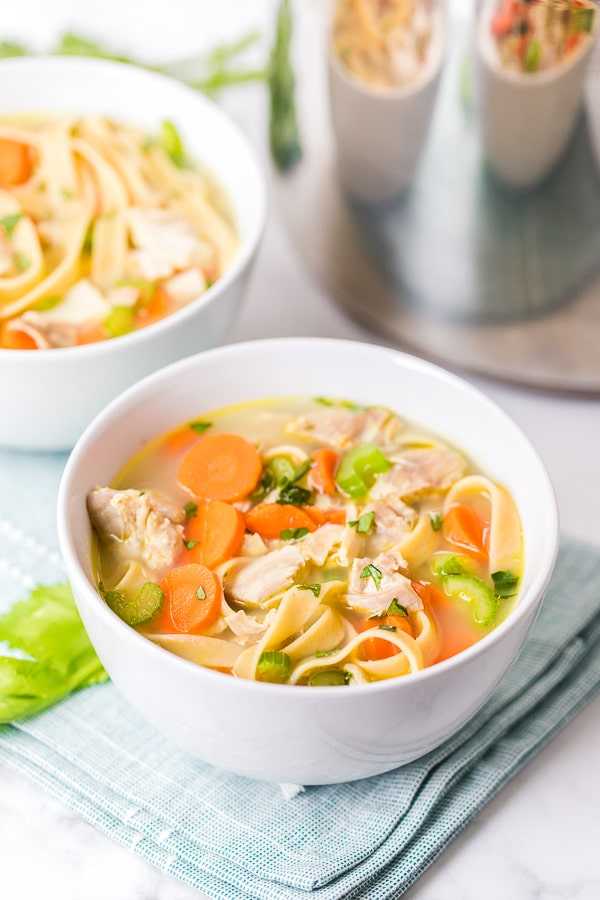 How to Make Turkey Noodle Soup – Step-by-Step
STEP 1: Combine the stock and jalapeno pepper. Bring to a boil, reduce to simmer for 10 minutes (photos 1-3).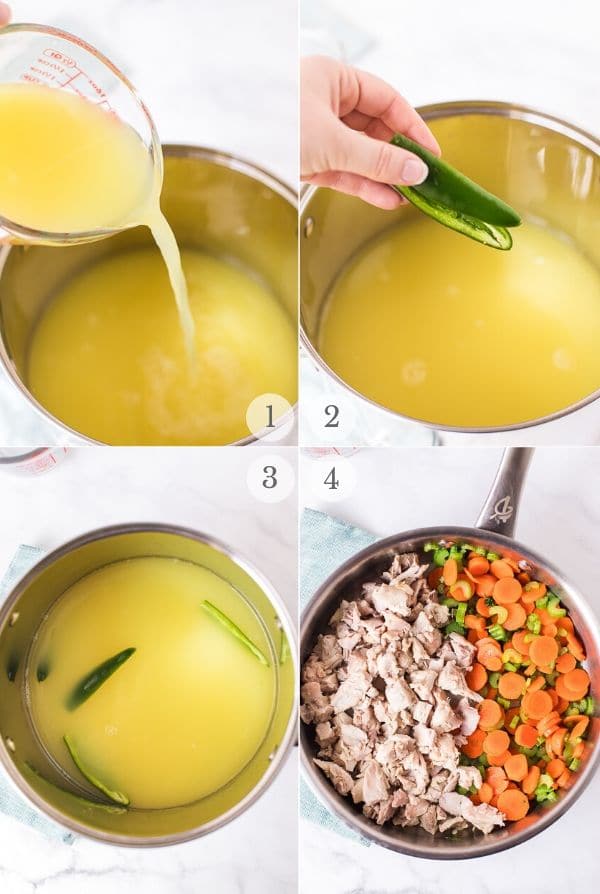 STEP 2: Melt the butter in a large skillet. Saute the vegetables until soft (about 5 minutes).
STEP 3: Add the turkey and cook an additional 3 minutes (photo 4). Add to the stock.
STEP 4: Allow the soup to simmer for 5 minutes over medium-low heat (photo 5).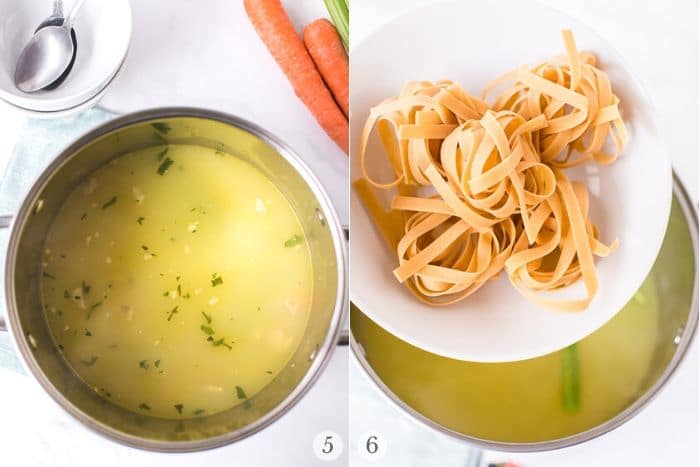 STEP 6: Add the noodles and simmer 10-15 minutes until the noodles are cooked and soft (NOTE: the temperature of the soup can be raised to ensure the noodles cook). (photo 6)
Remove the jalapeno pepper before serving.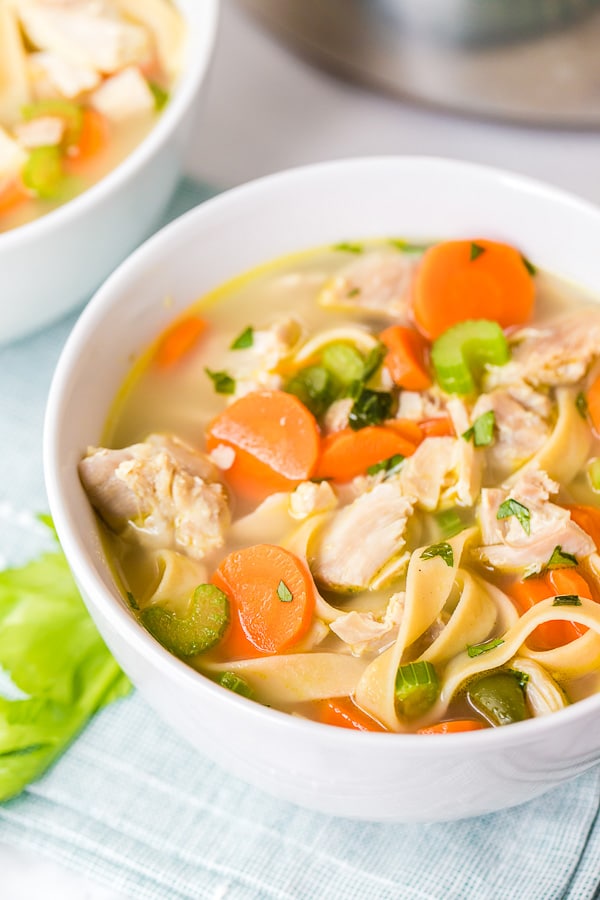 What to Serve with Turkey Noodle Soup
Try These Turkey Leftovers Recipes too
Did you make it? Please RATE THE RECIPE below!
Please SUBSCRIBE and FOLLOW ME on FACEBOOK , TWITTER , INSTAGRAM and PINTEREST !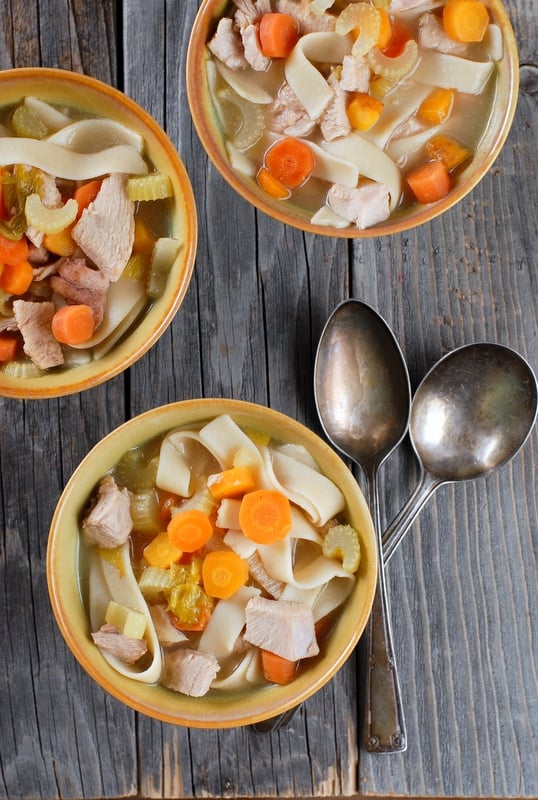 Originally published: November 24, 2013
This spicy Turkey Noodle Soup is a perfect way to use up turkey leftovers but too good just to make after holidays!