Whether making this with ham fresh from the deli or leftover holiday ham, Jalapeno Ham Hash is a flavor-packed one skillet recipe that leaves you wanting more! Sweet, salty and spicy, it's great on its own or as a side dish. So good with an over easy egg on top!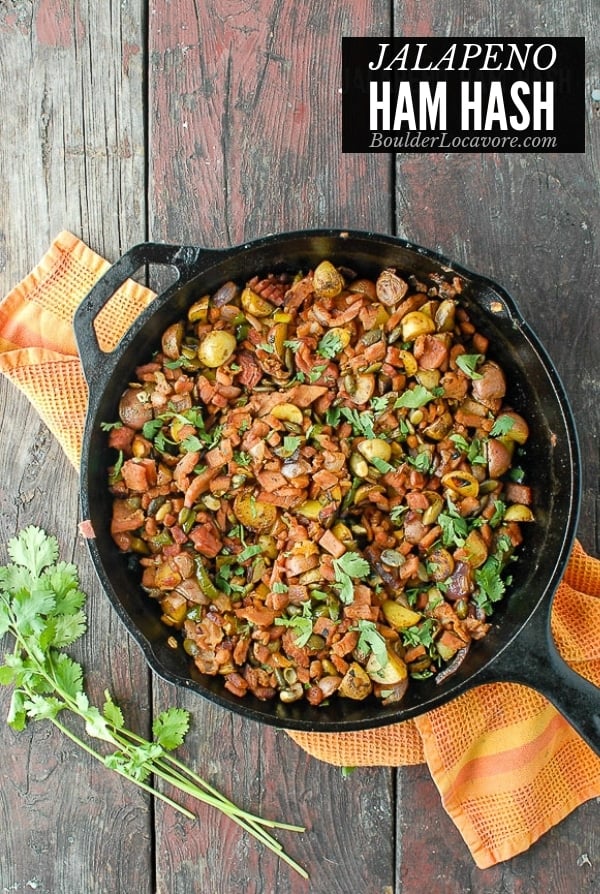 Despite having a list of lip-smacking Easter leftover recipes, another one popped to mind I had to try: Jalapeno Ham Hash. When I was growing up I loved Corned Beef Hash. Of course it was from a can but I could not get enough of the tiny cubed potatoes and corned beef. It was not until I was an adult that I realize it could be made from scratch and frankly was completely different, and much more robust with flavor.
I love dishes like hash as they incorporate different flavors and textures that make the dish interesting. We have a favorite post-Thanksgiving hash recipe that uses up turkey, stuffing and potatoes. It's incredibly delicious and we plan for it as loyally as we do our standard Thanksgiving dinner recipes! One of the things we most love about it is a fantastic crunch thanks to slivered almonds.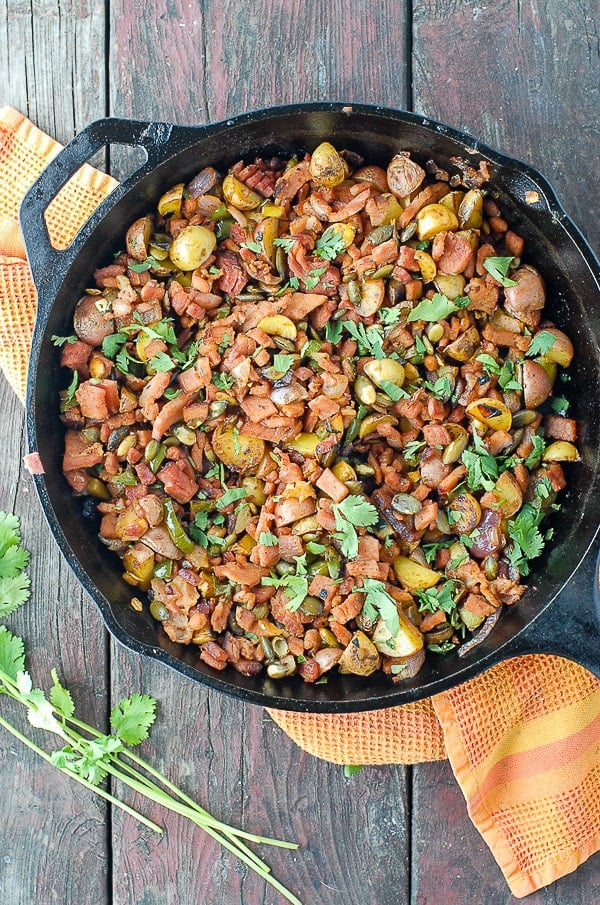 The idea of sautéed jalapeno pepper and ham sounded fantastic to me. I learned last year with a few of my leftover dishes that ham marries well into spicier Mexican or Southwestern recipes (such as Cheesy Ham and Black Bean Nachos). Most of us only make a ham for the holidays so it's not something we spend a lot of time experimenting with.
As we've been enjoying redo's of plates of Mashed Potato, Ham and Peas from Easter itself and of course ham sandwiches, I decided to sauté some of the abundant leftover ham with potatoes, onions, garlic, jalapeno with some smoked paprika and three in some roasted Pepitas for crunch. It's a comfort food dish, and one that would be perfect with eggs for a hearty breakfast or paired with a salad for dinner. It's complete in less than thirty minutes and will store well as a leftovers too!