Classic Sweet Potato Casserole is an easy Thanksgiving side dish that is well loved. This traditional casserole is full of creamy mashed sweet potatoes mixed with loads of butter, pecans and brown sugar.
The marshmallow and pecan topping is sweet and crunchy. Can be made ahead too!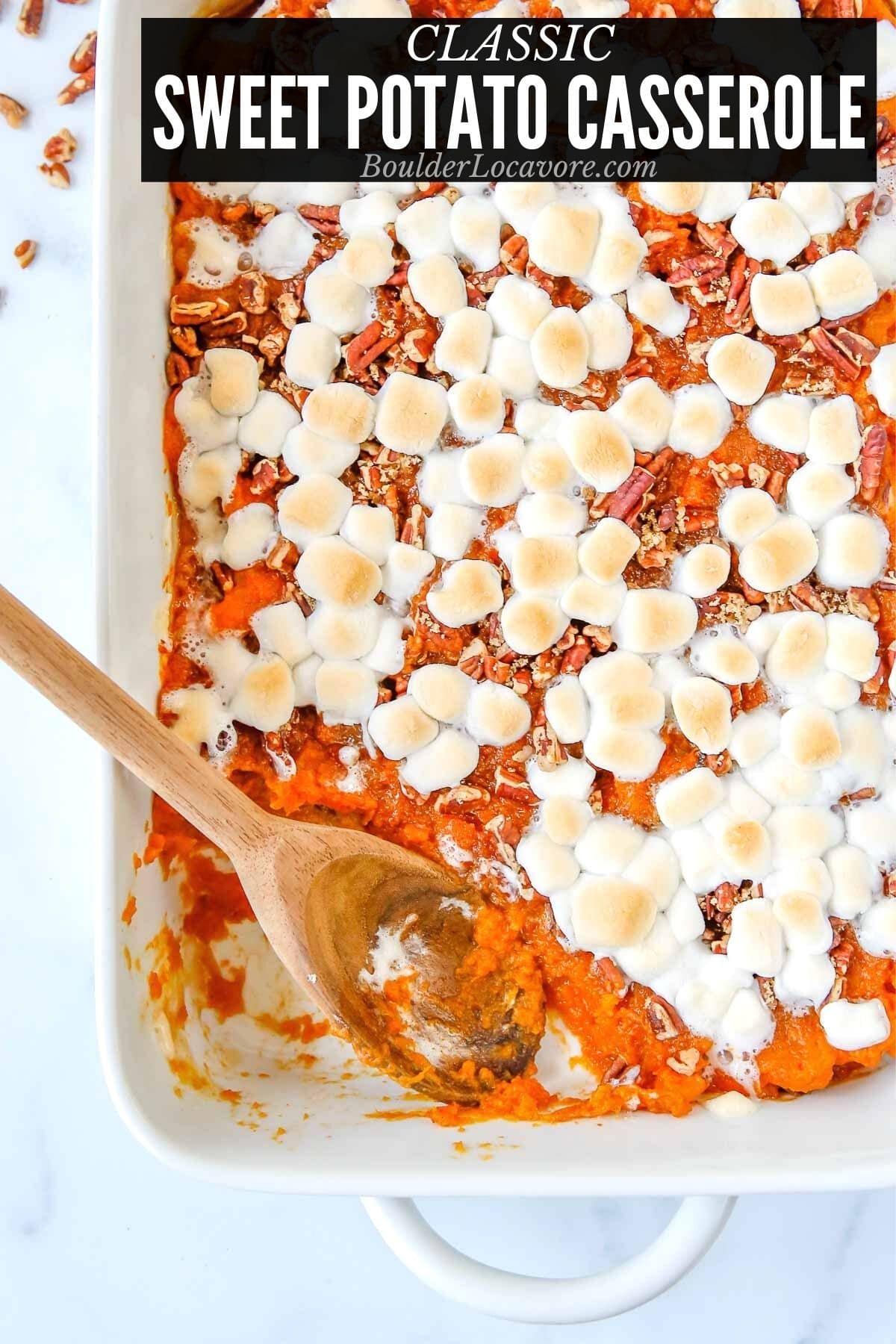 Just like iconic Green Bean Casserole (though ours has a French twist) or Creamed Corn, Thanksgiving doesn't seem complete without Sweet Potato Casserole.
Every family does it their own way and I'm sharing hour family loved recipe.
Love it or loathe it, there is always someone at the Thanksgiving dinner wants it!
Are you a sweet potato renegade?
Try spicy Instant Pot Mashed Chipotle Sweet Potatoes, Chipotle Scalloped Sweet Potatoes or Green Chile au Gratin Potatoes.
They have a wonderful spicy flavor to go along with the sweetness in the potatoes.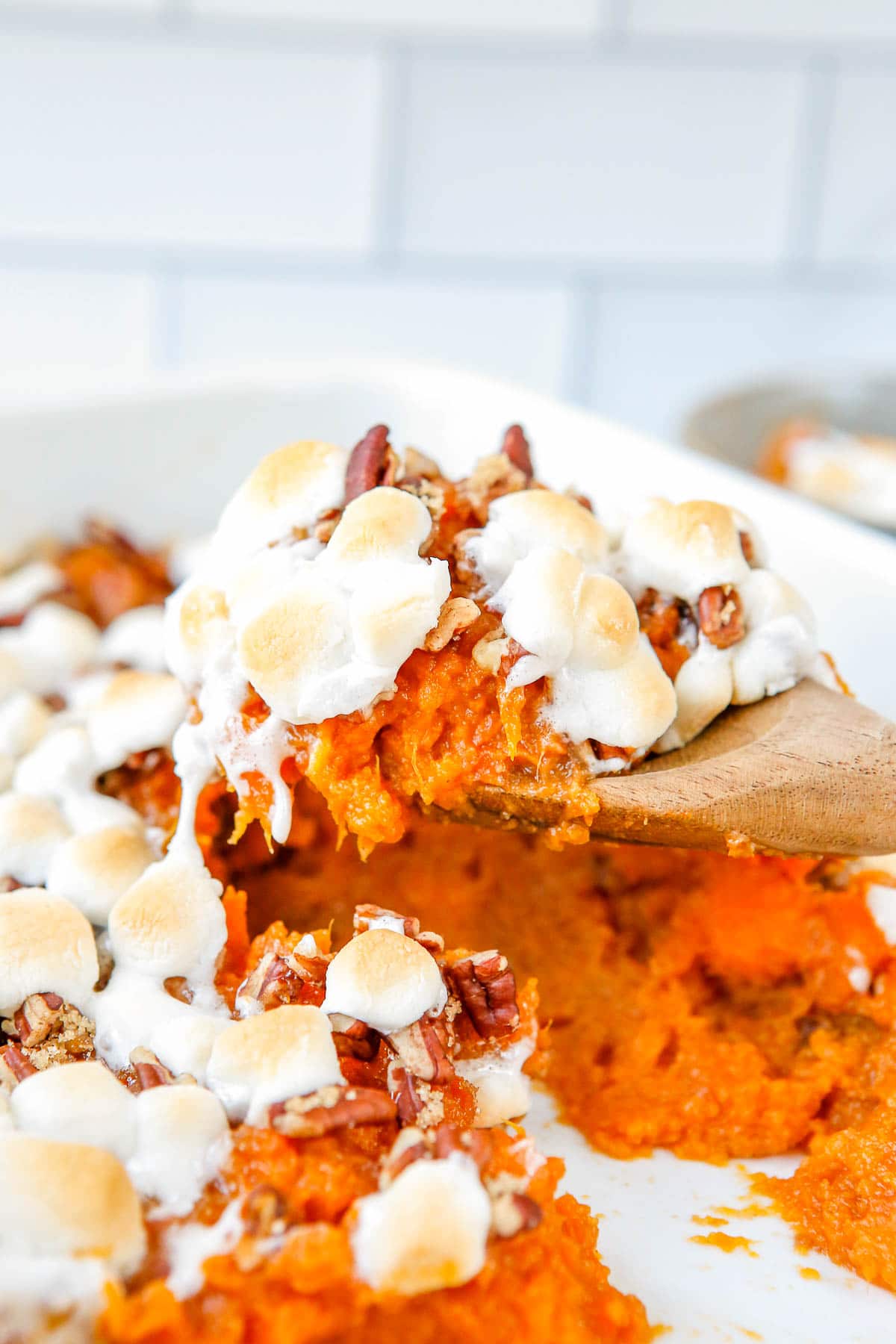 Easy Sweet Potato Casserole
If you can mash sweet potatoes you can make this casserole! It's an easy dish that has mass appeal.
The mix of butter, the natural sweetness of the potatoes, brown sugar and marshmallows on top are a homey comfort food.
It's a recipe people either love or they don't. Those who do can't imagine Thanksgiving without it.
If the sweetness is not to your linking try Creamy Mashed Sweet Potatoes. It doesn't include extra sweeteners.
It's also an Instant Pot recipe so out of your mainstream oven or stove top cooking.
The pecans in this casserole add a wonderful texture and nutty flavor in every bite.
Including them both with the mashed sweet potatoes and on top ensures you'll get some in every bite!
Sweet Potato Casserole with Marshmallows
Besides the sweet potatoes, the toasted marshmallows on top are probably the most classic ingredient.
They become soft and melty when cooked with a toasted top like S'mores!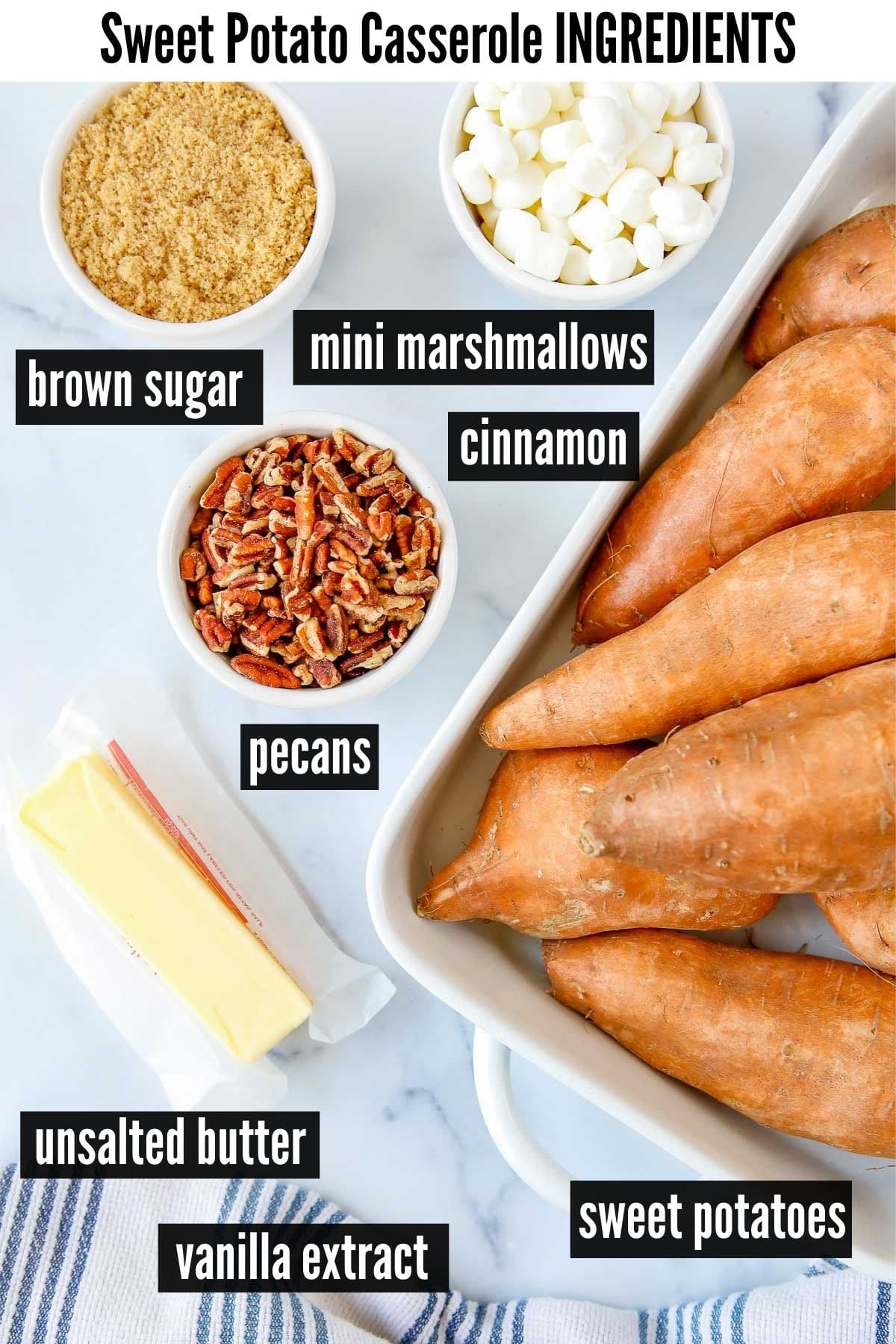 Recipe Ingredients + Notes
Sweet Potatoes. Any type of sweet potatoes can be used. You'll need three pounds total for the casserole.
Brown Sugar. This sweetener gives the side dish its well loved sweetness added both the mashed potatoes and topping.
Unsalted Butter. We prefer unsalted butter to add to the potatoes but if you like salted butter that can be used too.
Cinnamon. A bit of cinnamon heightens the flavor of the potatoes and gives a homey warming flavor.
Vanilla Extract. Adds to the homey flavors.
Pecans. Use chopped pecans. For a time saver buy them already chopped!
Mini Marshmallows. The classic version of this casserole isn't complete without the mini marshmallows melted on top!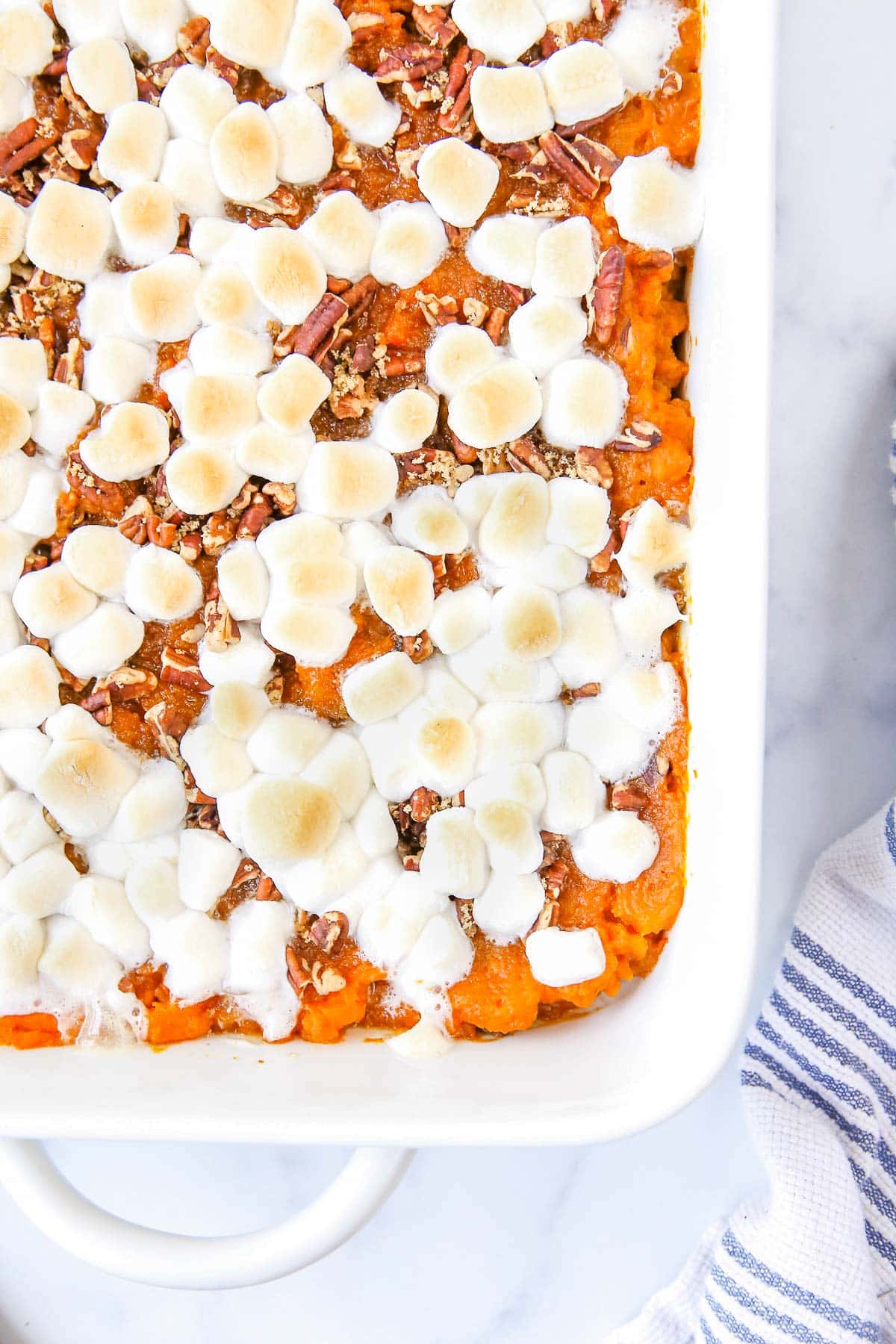 How to Make Sweet Potato Casserole from Scratch – Step-by-Step
STEP 1. Preparation.
Preheat the oven to 375 degrees F. Spray a 9-inch by 13-inch casserole dish with non-stick food spray.
STEP 2. Mash the Sweet Potatoes.
Place the cubed peeled sweet potatoes in a large pot with the 2 cups of water (photo 1).
Bring to a boil and reduce to simmer. Simmer for 20-25 minutes or until the potatoes are softened.
Drain the water and transfer to a large bowl to cool slightly.
Once cooled mash with a potato masher or fork
Stir in the butter, vanilla extract, cinnamon, 3/4 cup of the brown sugar, 1/4 cup of the pecans. Mix to combine well (photo 2).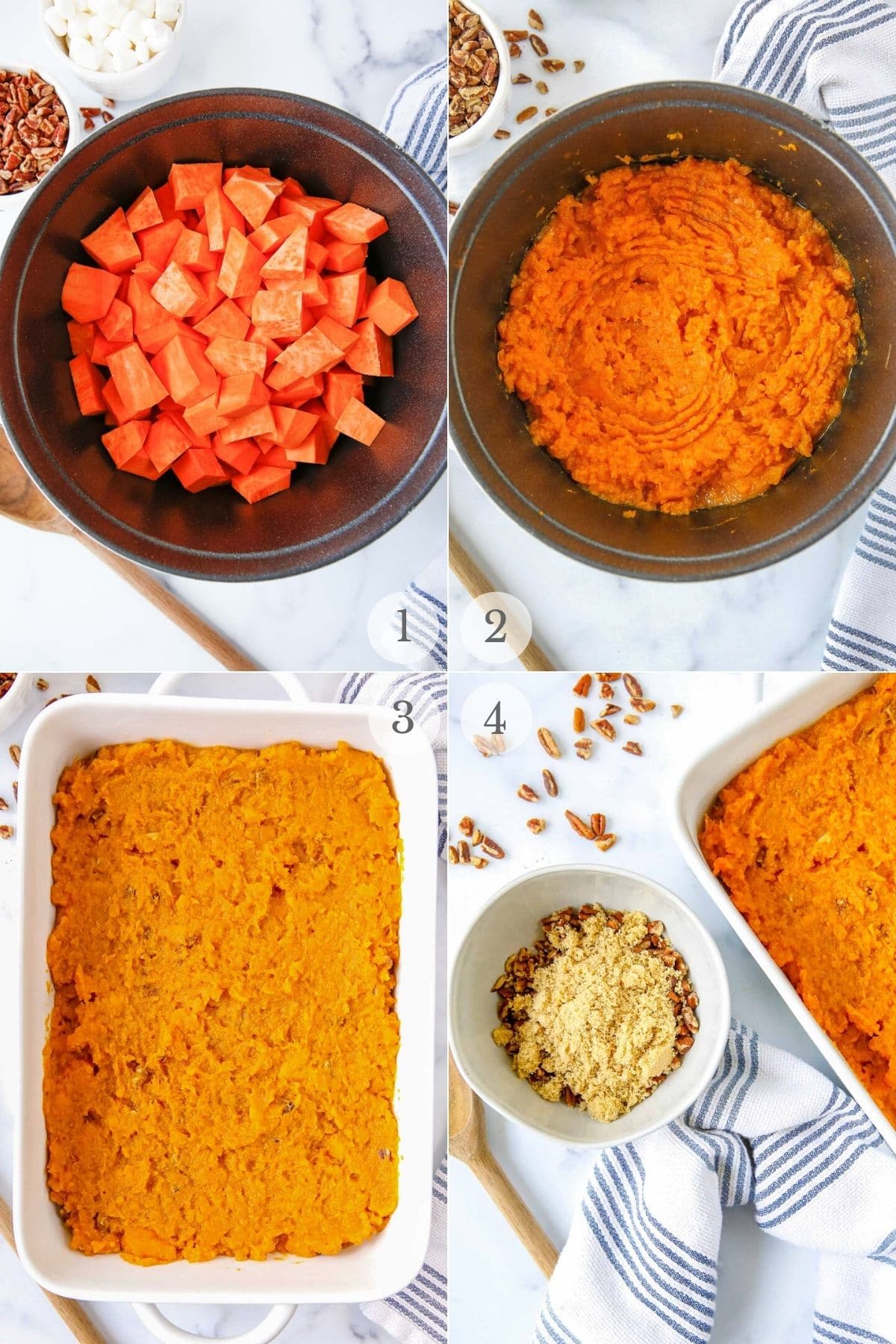 STEP 3. Make the Casserole.
Spoon the sweet potato mixture into the prepared baking dish (photo 3).
Toss the remaining sugar and pecans together in a small bowl (photo 4). Sprinkle evenly on top of the potatoes (photo 5).
Distribute the marshmallows on top (photo 6).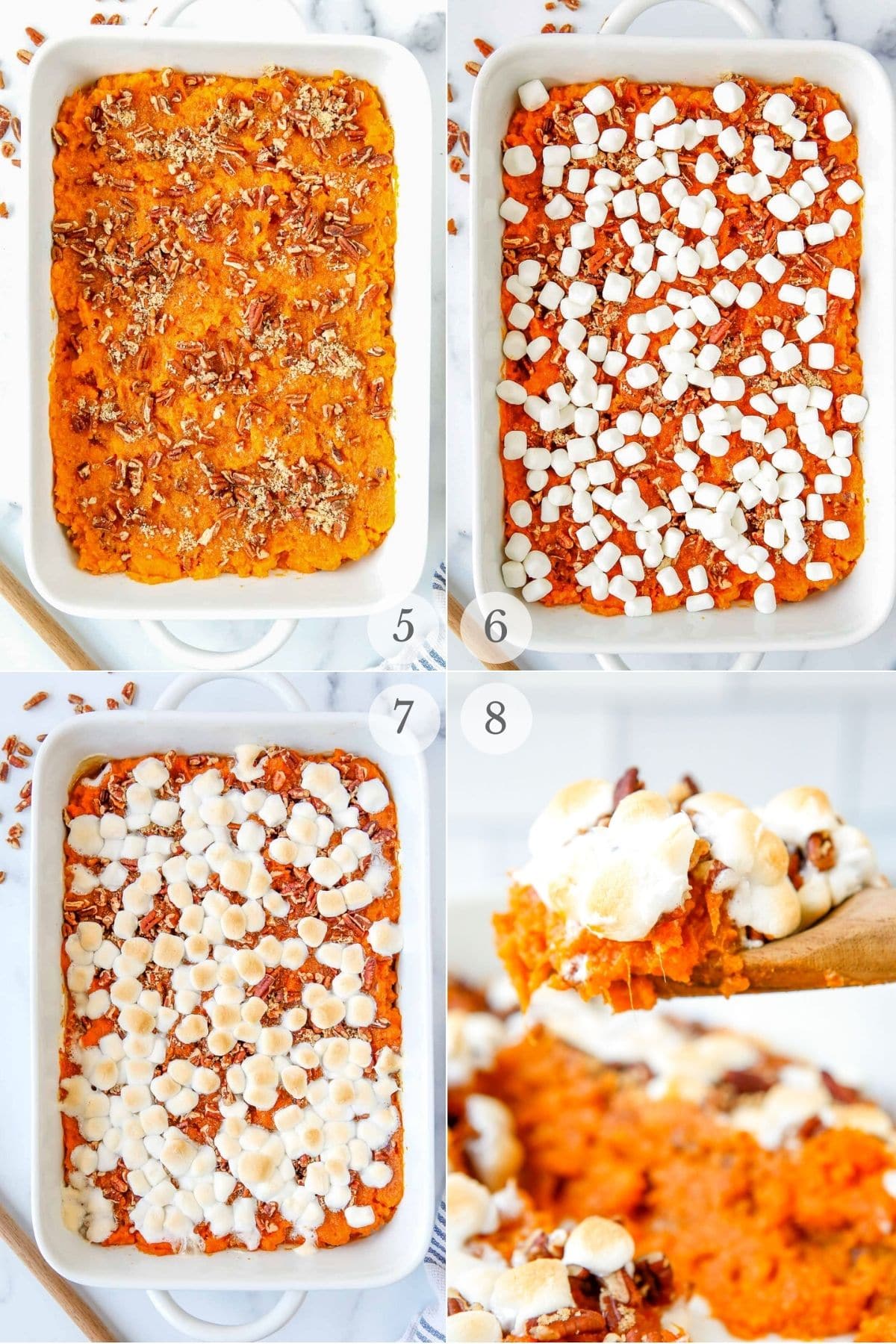 STEP 4. Bake the Casserole.
Bake in the oven for 15 minutes. Until the casserole is warmed through and the marshmallows are slightly golden in color and toasted on top (photo 7).
Serve warm (photo 8).
How to Make it Ahead!
To make Thanksgiving preparation easier you can make the casserole ahead of time.
Make the casserole as directed but do not add the topping or marshmallows.
Cover and chill in the refrigerator overnight.
Remove from the refrigerator 30 minutes before baking. Preheat oven to 375 degrees.
Cook the casserole for 20 minutes until the potatoes are warm (check the middle of the casserole too).
Remove from the oven. Add the topping and the marshmallows.
Return to the oven and bake 15 minutes more until the marshmallows are golden and toasted.
Storing Leftovers
Store leftovers sealed in the refrigerator for up to 3 days.
To reheat, use the microwave and reheat in servings for fastest results.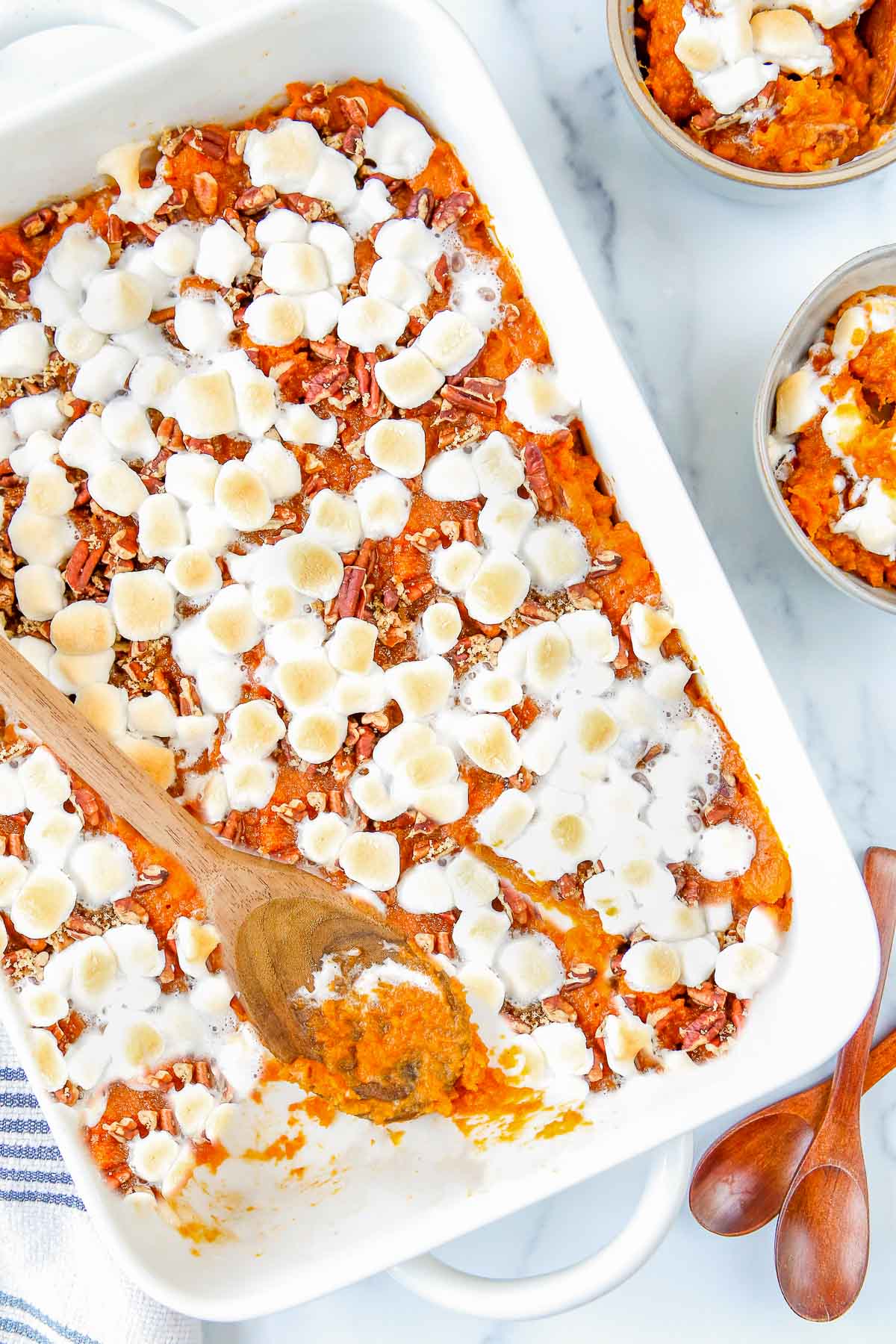 What to Serve with It
Try these Recipes too!
Did you make it? Please RATE THE RECIPE below!
Please SUBSCRIBE and FOLLOW ME on FACEBOOK , TWITTER , INSTAGRAM and PINTEREST !