Creamed Corn gets a change up with this slow cooker recipe. The classic side dish is packed with whole kernel corn in delicious buttery creamy sauce you'll love. Perfect for easy meals and a Thanksgiving recipe too.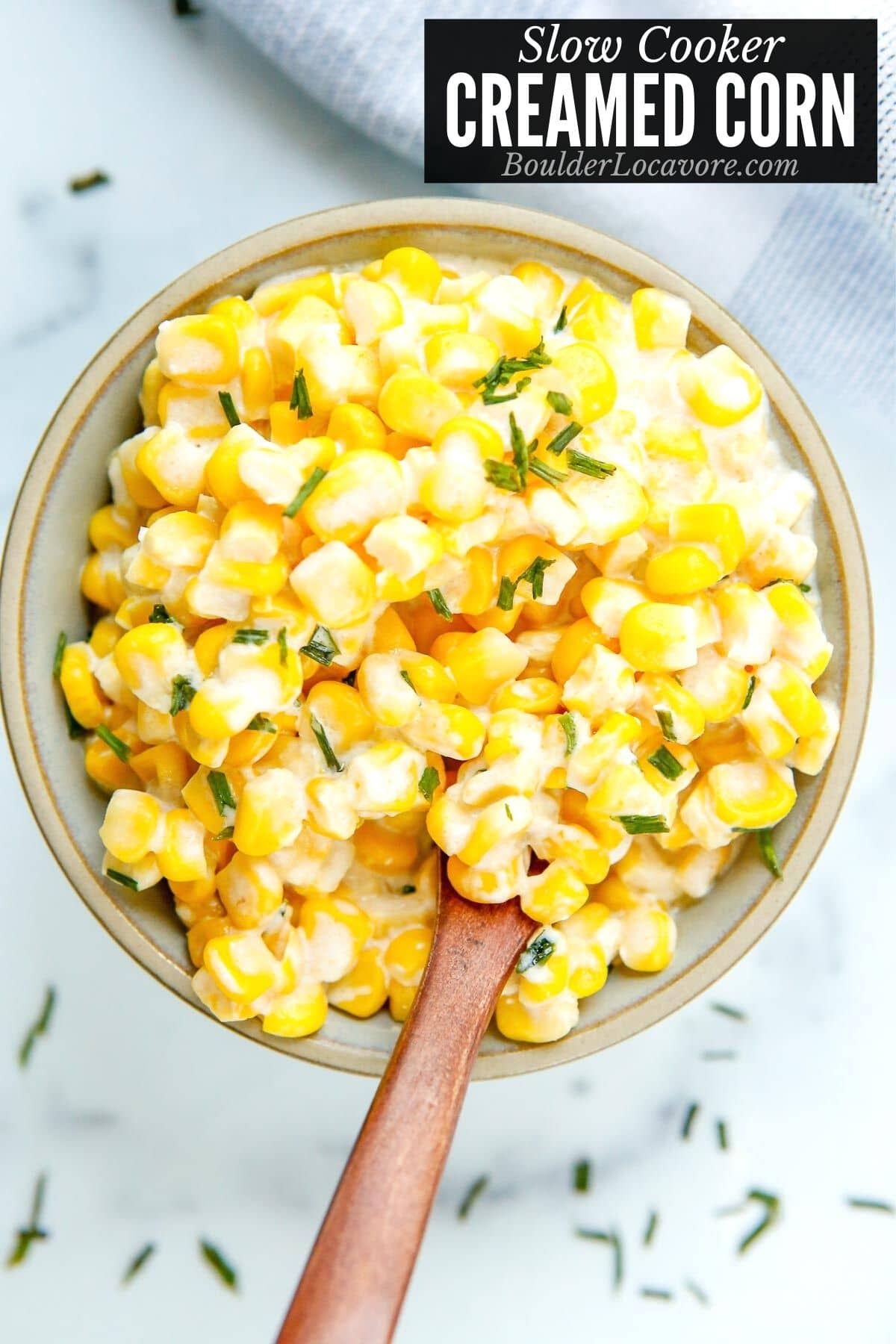 If your only experience of Creamed Corn is from a can, you are in for a treat!
This homemade version is lightened up in terms of the 'creamed' part.
Instead of a thick sauce it combines actual cream, butter and cream cheese for a fantastic flavor.
Using canned or frozen corn makes this recipe a cinch to make any time of the year (not just in fresh corn season).
Being a slow cooker recipe makes it effortless to whip up too!
What is Creamed Corn?
Creamed corn is a well known comfort food side dish recipe.
Whole kernel corn is combined with a creamy 'sauce' usually containing the pulp of more corn kernels.
Canned creamed corn is usually about half whole corn. The rest is pulverized corn made into a creamy texture.
Homemade creamed corn, as with this recipe, uses whole corn and a creamy sauce.
We've chosen some delicious ingredients for a wonderful side dish. Its a great choice for large holiday meals as well a summer barbecues!
Easy Creamed Corn
This recipe is made in a slow cooker making it pretty hand's off except for occasional stirring.
That alone makes it perfect for holiday meals like Thanksgiving and Christmas.
Instead of whole corn swimming in a thick saucy mixture, this recipe has specific ingredients that combine to cook into a creamy mixture that's more like a light textured sauce.
The corn is center stage with delicious flavor and texture.
A combination of butter, cream and cream cheese make it a lighter (in texture) recipe but with flavor you won't be able to quit eating.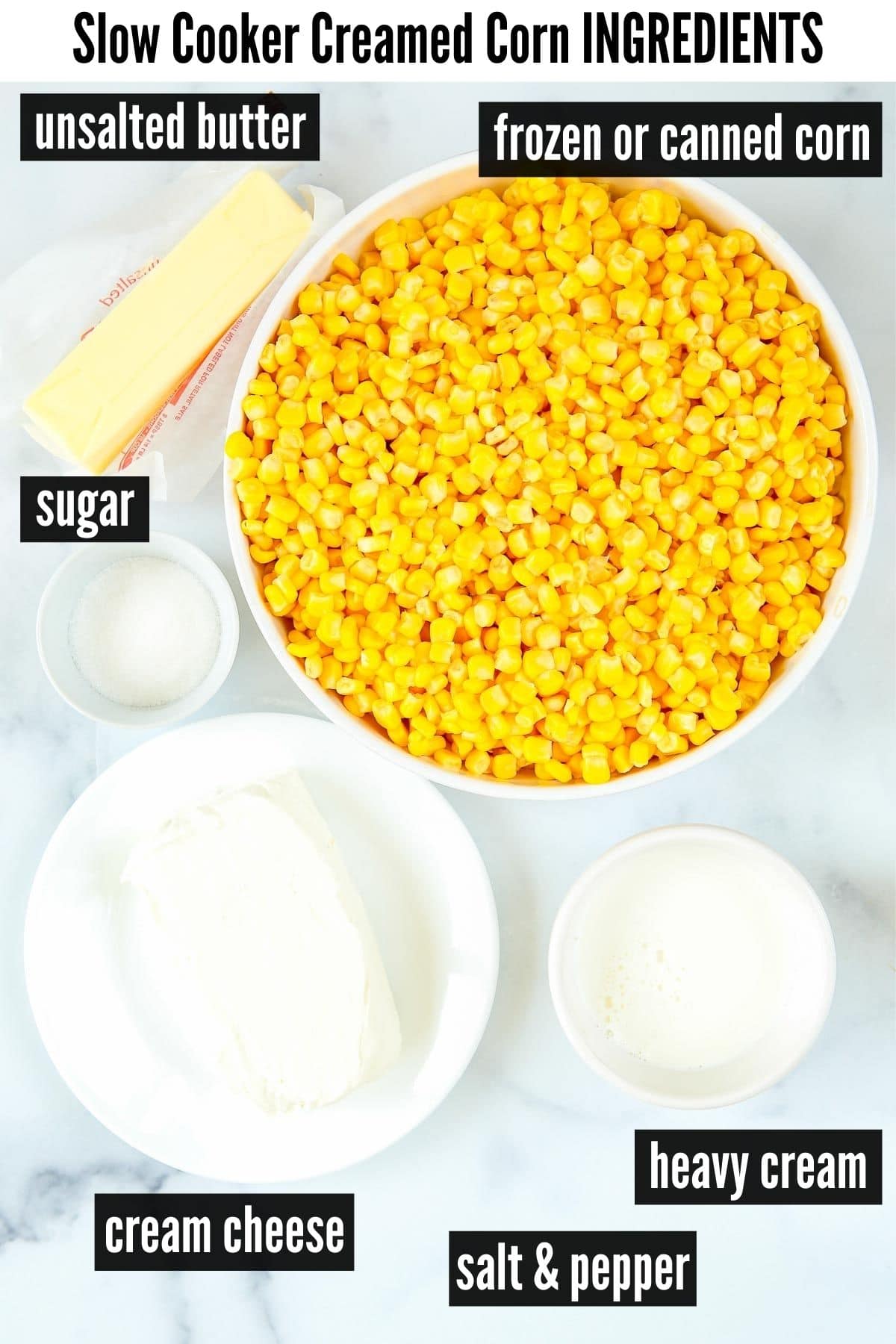 Recipe Ingredients + Notes
Canned or Frozen Corn. Either type of corn can be used. Canned corn should be drained before adding it to the slow cooker.
Frozen corn can be placed directly into the slow cooker without being thawed first.
Heavy Cream. Added for a creamy texture.
Granulated Sugar. Just a tiny bit of sweetness is added to bring out the natural sweetness of the corn.
Salt and Pepper. Seasoned when cooking the corn but then more can be added 'to taste' before serving if needed.
Cream Cheese. This adds a rich delicious flavor to the recipe!
Unsalted Butter. The right amount of butter gives the crockpot creamed corn a 'just right' buttery flavor.
Chopped Chives. Either fresh or dried chives can be used. They add some extra flavor and a nice contrasting garnish to the finished recipe.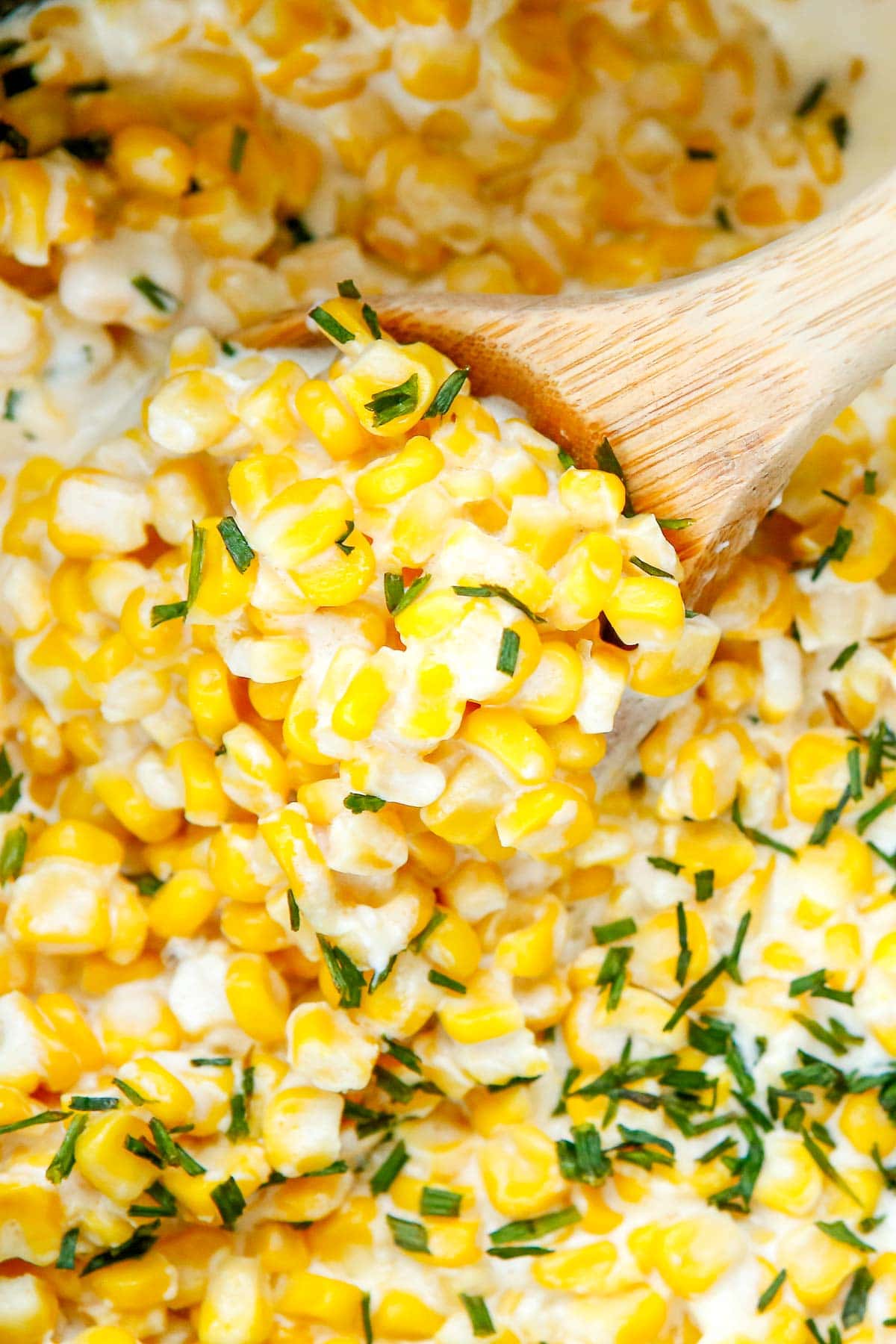 Using Frozen Corn
Frozen corn can be thawed and added or just added into the slow cooker frozen.
If using the corn frozen you'll find when the cream is added it may solidify from the cold corn. Don't worry about that.
Add all the ingredients as instructed. It will take a few hours of cooking for the corn to become soft.
Stir a few times while cooking and when the corn softened all the ingredients will blend when stirred.
Make it Spicy
The sweet flavor of corn is a perfect partner with spicier flavors if you like a little kick of heat.
Add a few cans of diced green chilies or a shake of crushed chile pepper flakes.
How to Make it – Step-by-Step
STEP 1. Assembling the Ingredients in the Slow Cooker.
Add the corn to the crockpot (photo 1). Follow with the cream, sugar, salt, pepper, cream cheese and butter (photo 2). Stir to mix together.
Add the butter and cream cheese on the top of the corn mixture (photo 2).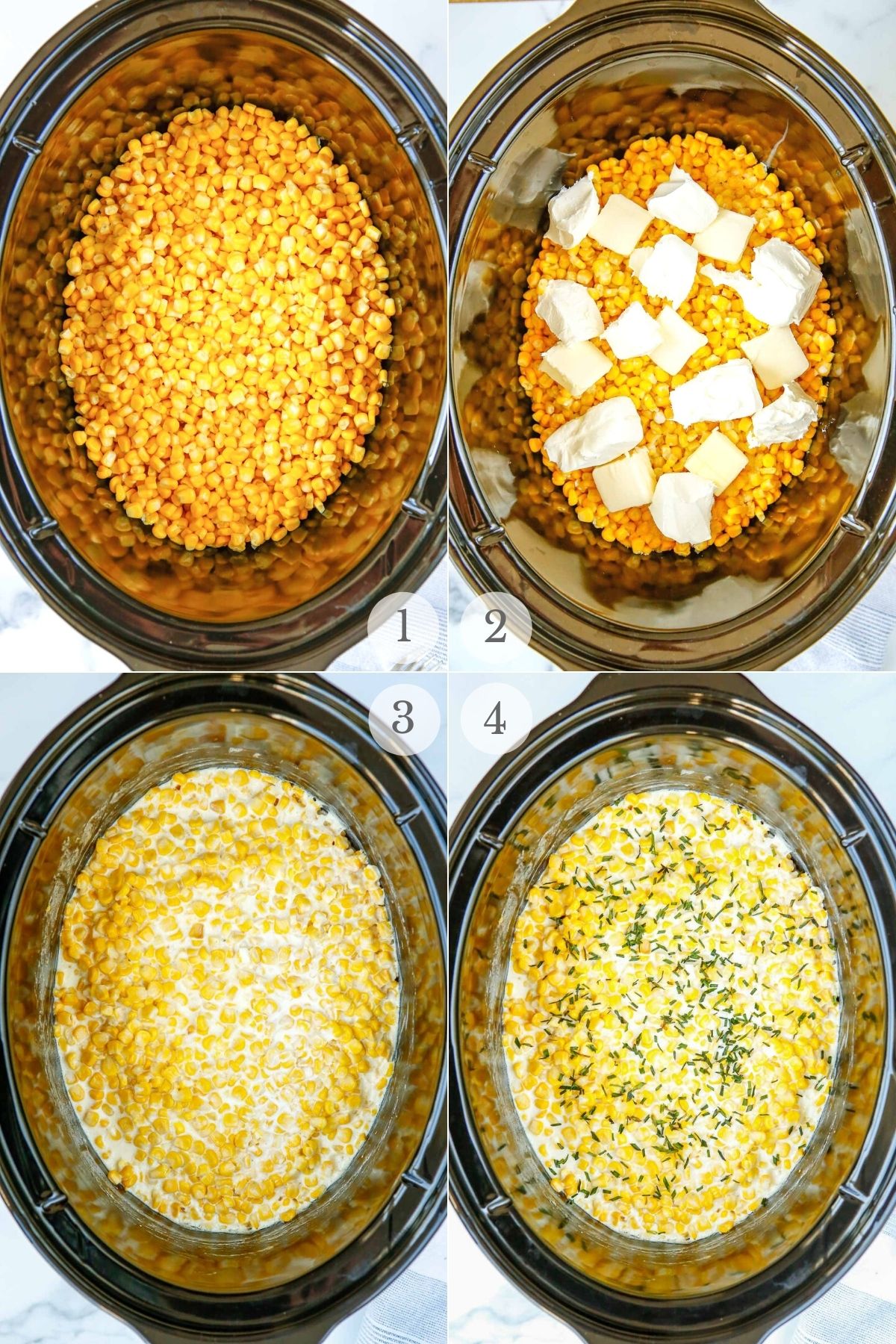 STEP 2. Cooking the Creamed Corn.
Place the lid on the slow cooker. Cook on HIGH for 2-3 hours or on LOW for 3-4 hours. Stir to ensure a creamy texture (photo 3).
Salt and pepper to taste if needed.
Garnish with fresh or dried chopped chives (photo 4) and serve.
How do you Thicken Creamed Corn?
If you love the idea of having a thicker dish there are a few ways to do it:
Blend some of the Corn. Remove some of the cooked corn and run it through a blender until it's pureed. Then stir it back into the mixture in the slow cooker.
Using an immersion blender (stick blender) works to puree some of the corn in the slow cooker too.
Use Cornstarch. Cornstarch is a thickener that will make the cream mixture thicker as it cooks and after as it cools.
How Much Cornstarch to Use to Thicken a Sauce?
For every 2 cups of corn 1 tablespoon of cornstarch is needed; that's about 5 tablespoons for this recipe size.
Combine it with an equal amount of water or cream and whisk together to make a smooth slurry. Add that to the recipe and the cornstarch will thicken it.
Do not add the cornstarch directly without first mixing it into the additional liquid. It will not completely dissolve.
Storing Leftovers
Store in a sealed container in the refrigerator for up to 4 days. Reheat in the microwave on on the stove top.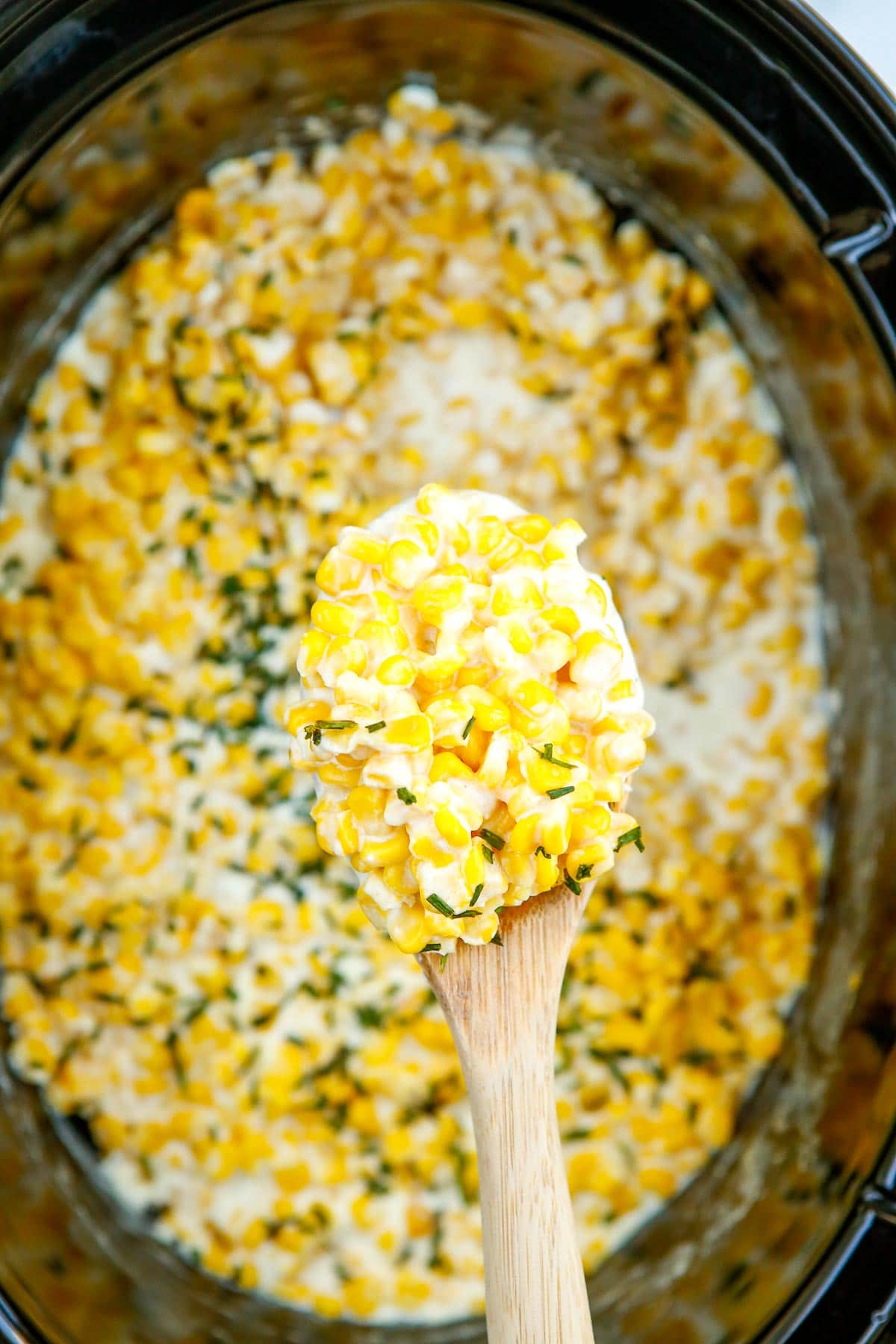 More Recipes You'll Love!
Did you make it? Please RATE THE RECIPE below!
Please SUBSCRIBE and FOLLOW ME on FACEBOOK , TWITTER , INSTAGRAM and PINTEREST !
Recipe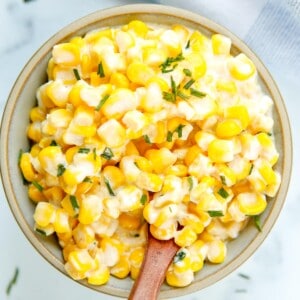 Slow Cooker Creamed Corn
Delicious Creamed Corn is so easy in the slow cooker. Only a few minutes to to assemble and 4 hours to cook. Butter and cream cheese gives perfect flavor!
Print
Save Recipe
Recipe Saved!
Pin
Rate
Servings:
8
(total yield: 11 cups)
Ingredients
4

15-ounce cans or packages

canned corn or frozen corn

canned corn should be drained

½

cup

heavy cream

3

tablespoons

granulated sugar

1

teaspoon

kosher salt

½

teaspoon

ground black pepper

1

8-ounce package

cream cheese

cut into 1-inch chunks

⅓

cup

unsalted butter

sliced into large pieces

2

tablespoons

chopped chives

fresh or dried

Salt and Pepper

to taste before serving
Instructions
Place the corn into the bottom of the slow cooker.

Pour the heavy cream over the corn and add the sugar, salt and pepper; mix well. See notes below if using frozen corn.

Add the butter and the cream cheese across the top of the corn mixture.

Cook the corn on high for 2 hours or low for 3-4 hours, stirring occasionally. Once the corn is finished cooking, garnish with chives and serve warm.
Notes
Note on using Frozen Corn
If using frozen corn when pouring the cream over the corn it will freeze. Stir and start cooking. Stir a few times during cooking. It will take a few hours before the corn fully thaws to allow full mixing in with the other ingredients. This is normal.
Note if using home frozen corn
If you have excess liquid from using home frozen corn, remove the lid for the last 30 mins of cooking to thicken. We have not experienced any excess liquid when using store bought frozen corn.
To Thicken the Creamed Corn
Add 5 tablespoons cornstarch to the same amount of water, cream or a mixture. Whisk to create a slurry. Add to the recipe to thicken the liquid as it cooks and cools after.
Blend some of the corn when cooked with an immersion blender. Or remove some, blend in a traditional blender and add it back. Stir to mix fully.
Nutrition
Calories:
138
kcal
|
Carbohydrates:
5
g
|
Protein:
1
g
|
Fat:
13
g
|
Saturated Fat:
8
g
|
Cholesterol:
41
mg
|
Sodium:
299
mg
|
Potassium:
11
mg
|
Fiber:
1
g
|
Sugar:
5
g
|
Vitamin A:
488
IU
|
Vitamin C:
1
mg
|
Calcium:
12
mg