Au Gratin Potatoes are a creamy, satisfying dish everyone loves. This comfort food recipe includes green chilies for a Southwestern twist!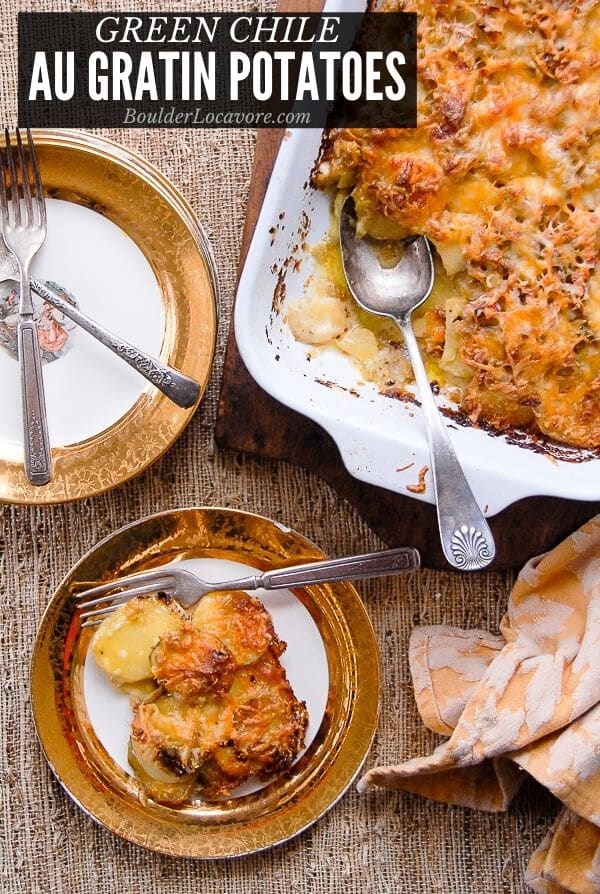 Green Chile au Gratin Potatoes
This cheesy, creamy au gratin potato recipe with a Southwestern twist was originally shared as a 'sassy Thanksgiving side dish'.
Thanksgiving recipes tend to be filling with a tamer flavor profile.
I love to throw something spicy in the mix. I find it's a welcome surprise.
I secretly think it helps with a person's digestion when eating a huge meal like Thanksgiving dinner.
Green Chile au Gratin Potatoes are easy to prepare and have a Southwestern flavor from the green chilies. It's not a super spicy recipe.
This potato recipe makes a delicious side dish recipe choice with any meal, not just Thanksgiving!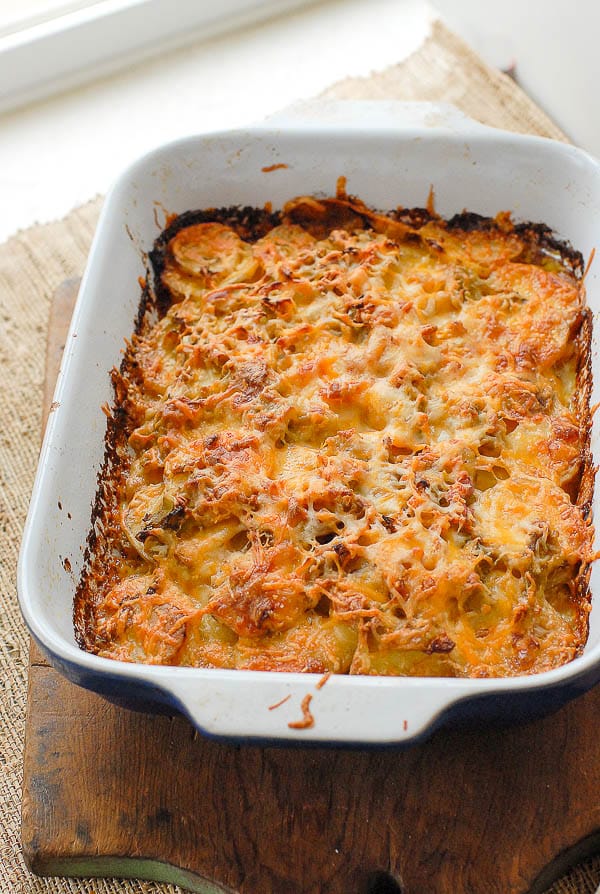 Difference between Scalloped Potatoes and Au Gratin Potatoes
There are similarities between scalloped and au gratin potatoes.
Both recipes use thinly sliced potatoes layered in a baking dish and cooked with a creamy sauce.
Au Gratin Potatoes (pronounced 'oh grah-tin') or Potatoes au Gratin, include grated cheese in the recipe.
It can also have a browned breadcrumb crust on top too.
Scalloped potatoes do not include cheese.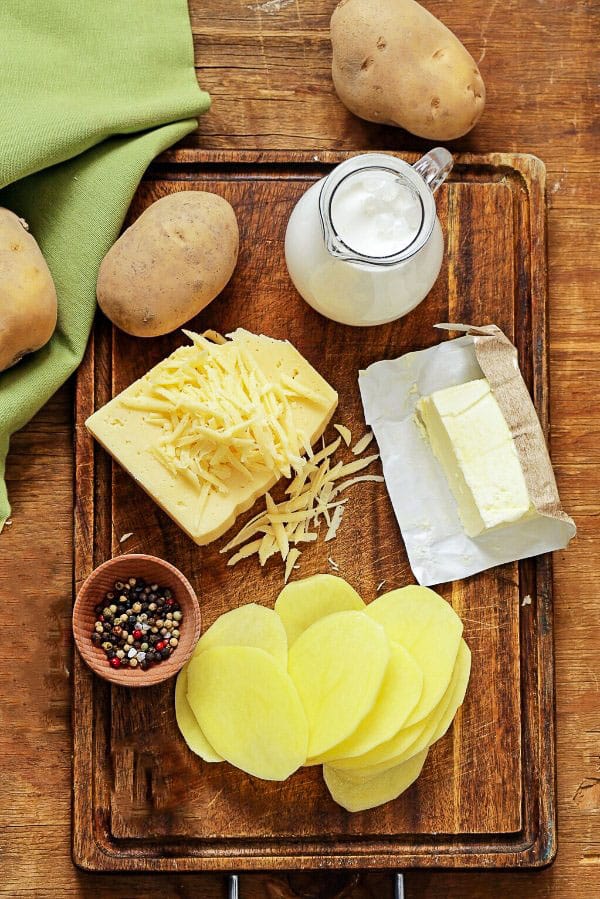 Potatoes au Gratin Ingredients
One great thing about this potato recipe is it doesn't take many ingredient to make a creamy, luscious dish.
The flavor is fantastic and the texture irresistible.
Russet Potatoes
Heavy Whipping Cream
Roasted Green Chilies (canned or home roasted)
Mild Cheddar Cheese
Monterey Jack Cheese
Red Onion
Unsalted Butter
Salt and Pepper
Using Purchased Grated Cheese
Normally I'd suggest using grated cheese available for purchase in the dairy section of the grocery store to speed up a recipe preparation.
This type of cheese does not always melt the same as hand grated cheese due to added ingredients that prevent the grated cheese from clumping together.
For this potato recipe I recommend grating the cheese yourself for the best recipe results.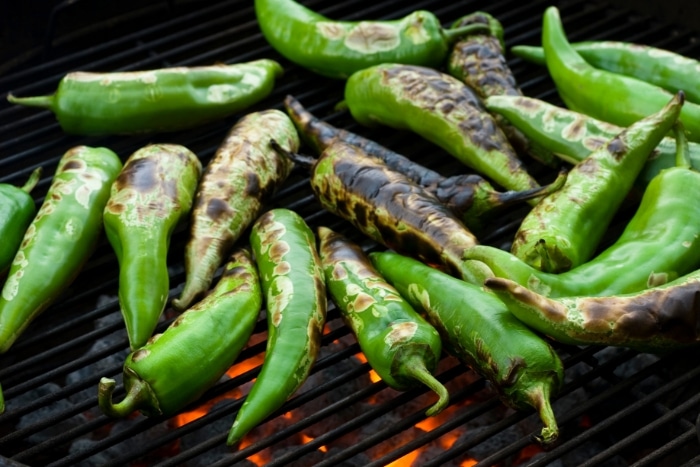 Green Chilies
This Au Gratin Potato recipe can be made as spicy or mild as desired.
Canned fire roasted Green Chilies are available in mild, medium or hot 'heat'.
Any heat level works great. It's really a personal choice how hot to make it.
To be safe choose mild or medium heat level.
How to Roast Chilies (optional)
Home roasted chilies can be used too.
Anaheim chilies is the type of chilies to use if roasting them at home. They are widely available at most grocery stores.
Here is an easy way to roast the Anaheim Chilies:
STEP 1: Place the Anaheim chilies on a rimmed baking sheet under a preheated broiler
STEP 2: Using tongs, turn the chilies as soon as they turn black on the side facing the heat. Continue until the entire chile is blackened.
STEP 3: Place the charred chilies in a plastic zipper top bag and seal. Alternatively place them in a metal or glass bowl and cover the top of the bowl tightly with plastic wrap.
STEP 4: Allow to sit for 15 minutes.
STEP 5: Remove chiles and rub the charred skin off (discard charred skin). NOTE: if skin is resistant to come off the chilies can be run under the faucet and rubbed off. Then pat dry with paper towels.
STEP 6: Remove the stems and seeds. Chop chilies.
NOTE: Always rinse hands after working with chilies.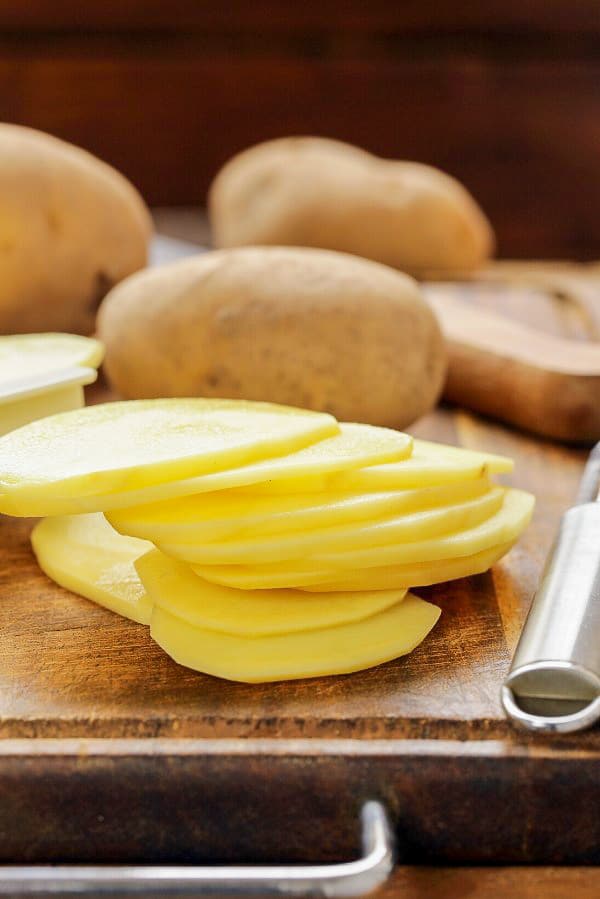 Best Way to Slice Potatoes for au Gratin Potatoes
Having uniformly thin potatoes makes a big difference both in the way the au Gratin recipe cooks but also in creating a pleasing end texture.
Au Gratin Potatoes should be 1/8-inch to ¼-inch thick (at the most). With slices this thin, large sharp cooking knives are key.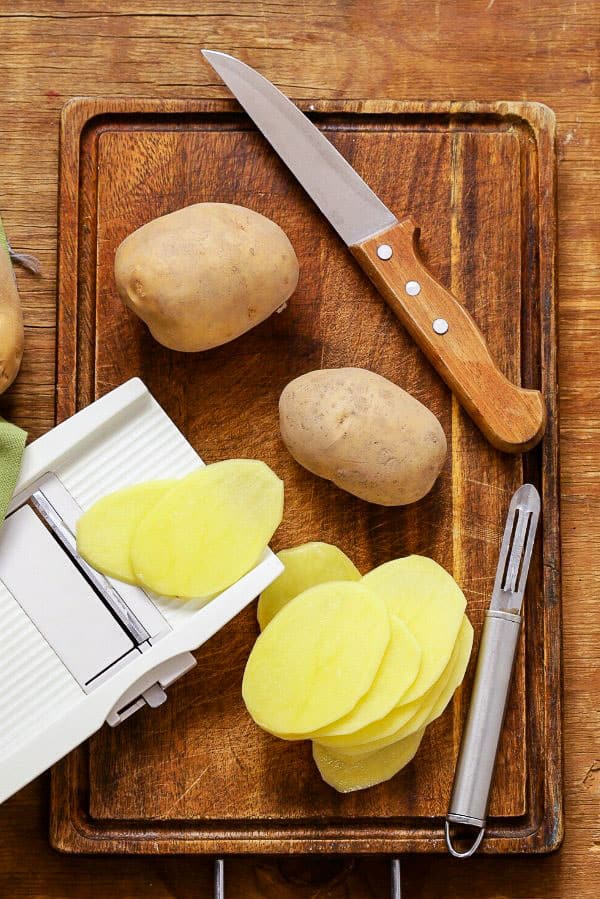 Use a Mandoline Slicer
The best way to slice the potatoes is with a Mandoline.
A mandoline is a slicer that allows setting the desired thickness of what is being sliced.
A mandoline slices very quickly and is easier than trying to hand slice the potatoes by hand.
PRO TIP: use a mandoline that has a guard. The guard goes over the food being sliced making it easy to push the item AND protecting your hands from the mandoline blade.
Mandolines are available at cooking stores, department stores, Asian grocery stores and ONLINE.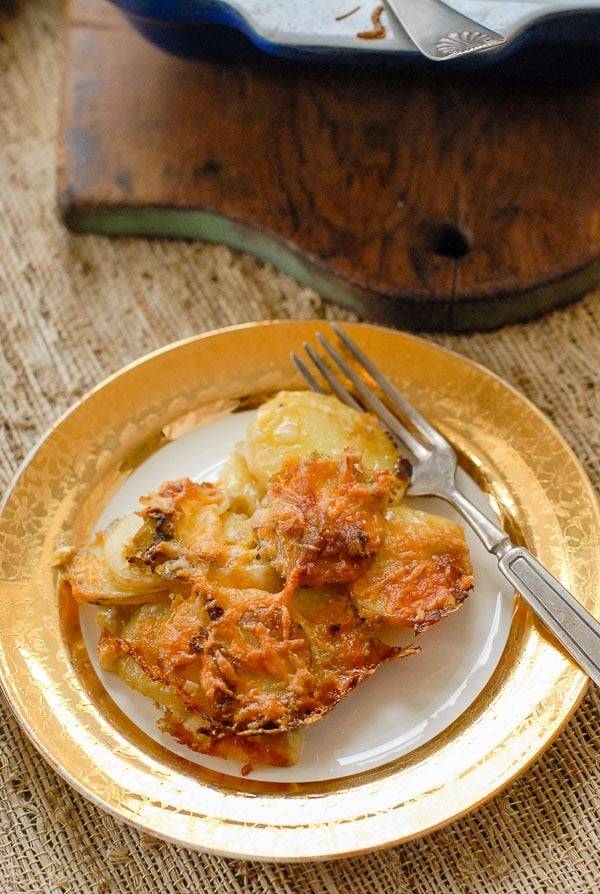 How to Make Green Chile Au Gratin Potatoes – Step-by-Step
Putting this potato recipe together is easy. All the ingredients are layered to create a creamy, cheesy end result!
For a detailed printable recipe refer to the recipe card at the end of the blog post.
STEP 1: Preheat the oven to 350 degrees. Butter a 12-inch by 9-inch casserole or baking pan.
STEP 2: Layer one third of the potatoes in the prepared pan. Drizzle on one third of the cream. Follow with one third of the cream, chilies, cheese, onion, salt and pepper (exact measurements in the recipe card).
STEP 3: Repeat Layer One.
STEP 4: Repeat Layer One a third time (minus the onions).
STEP 5: Bake for 40-50 minutes until top is golden brown.
Layer cooked chorizo or other ground meat to turn this potato recipe into a hearty main dish!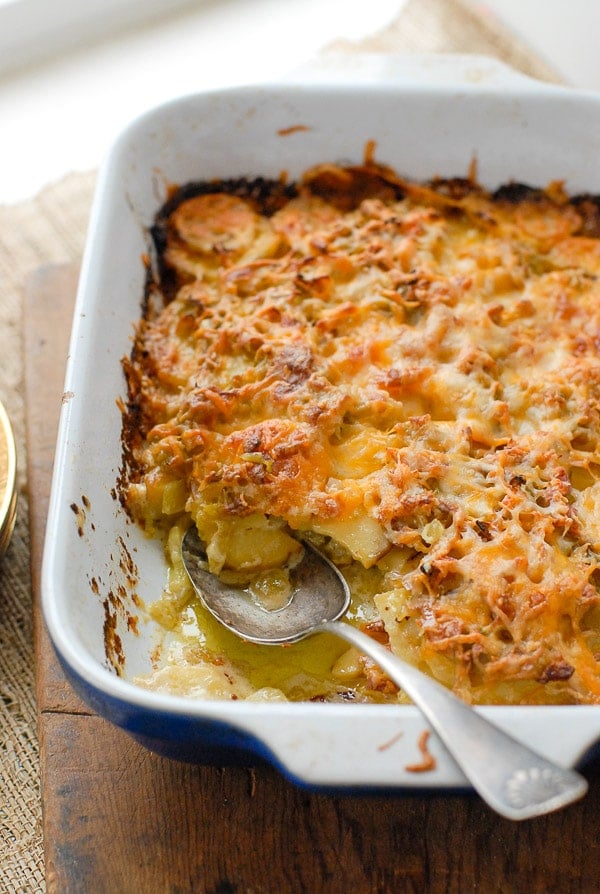 What to Serve with Potatoes au Gratin
Did you make it? Please RATE THE RECIPE below!
Please SUBSCRIBE and FOLLOW ME on FACEBOOK , TWITTER , INSTAGRAM and PINTEREST!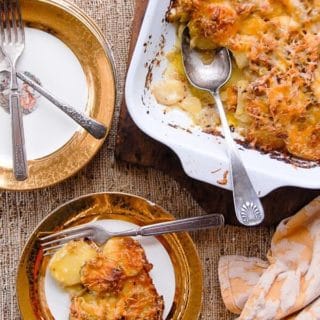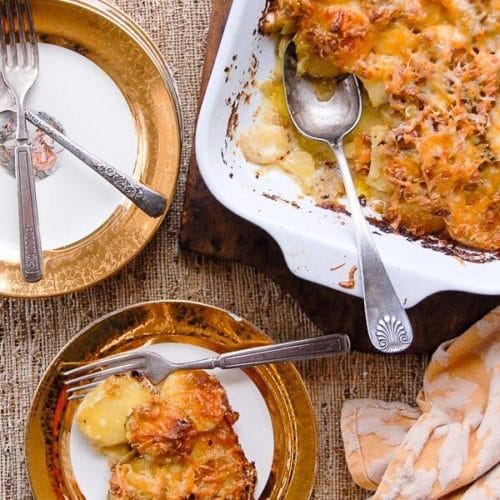 Green Chile Au Gratin Potatoes
This creamy cheesy scalloped potato side dish is brimming with green chile flavor. It is a perfect complement to chicken, beef or pork. Great for Thanksgiving too!
Print
Save Recipe
Recipe Saved!
Pin
Rate
Ingredients
4

tablespoons

cold unsalted butter (plus extra for buttering pan)

cut into very small pieces (refer to Notes below)

1

cup

grated medium cheddar cheese

1

cup

grated Monterey jack cheese

2

pounds

russet potatoes

peeled sliced into 1/8-inch thick slices (mandoline slicer highly recommended)

1 1/2

cups

heavy cream

¾

cup

chopped roasted mild green chilies

home roasted or canned (equivalent to 2 4-ounce cans of diced green chilies)

½

cup

diced red onion

1 1/2

teaspoons

kosher salt

1

teaspoon

freshly ground black pepper
Instructions
Preheat oven to 350 degrees F. Butter an 12-inch by 9-inch baking pan.

Combine the cheeses in a bowl. Mix together.

Layer 1: Line the bottom of the pan with a third of the potatoes. You'll have a single slightly overlapping layer with about half that amount placed on the other potatoes.

Drizzle with 1/2 cup of cream. Top with: 1/4 cup of the chilies , 2/3 cup of the cheese, ¼ cup of the onions, 1 tablespoon of the butter, 1/2 teaspoon salt and 1/3 teaspoon pepper.

Layer 2: Repeat Layer 1.

Layer 3: Repeat Layer 1 EXCEPT no onions in this final layer and use 2 tablespoons of the diced butter.

Bake for 60-70 minutes until the top is golden brown.

Remove from oven and allow to rest 15-20 minutes before serving.
Notes
Ingredient Notes
Grate the cheese yourself. Store bought pre-grated cheese includes an anti-caking agent that causes the cheese to not melt into a creamy texture.
Butter. Because a specific amount of butter is used in each layer, we recommend chopping the butter in separate piles. You'll use 1 tablespoon on each the first and second layers. And 2 tablespoons on the top of the potatoes. Do not over handle the butter to prevent it from melting.
Green chilies.
If using canned green chilies you may have slightly more than 1/4 cup for the top layer. No problem, just use the rest.
Canned diced chilies do not need to be drained before using.
Nutrition
Calories:
410
kcal
|
Carbohydrates:
24
g
|
Protein:
11
g
|
Fat:
31
g
|
Saturated Fat:
19
g
|
Polyunsaturated Fat:
1
g
|
Monounsaturated Fat:
8
g
|
Trans Fat:
0.2
g
|
Cholesterol:
92
mg
|
Sodium:
679
mg
|
Potassium:
557
mg
|
Fiber:
2
g
|
Sugar:
3
g
|
Vitamin A:
1084
IU
|
Vitamin C:
9
mg
|
Calcium:
255
mg
|
Iron:
1
mg
Originally published: November 17, 2012