A hearty breakfast doesn't have to take a ton of time or wipe out your kitchen in the process. Overnight Breakfast Casserole is a delicious way to ensure a cheesy filling breakfast but the work happens the night before. It uses regular or gluten-free English muffins!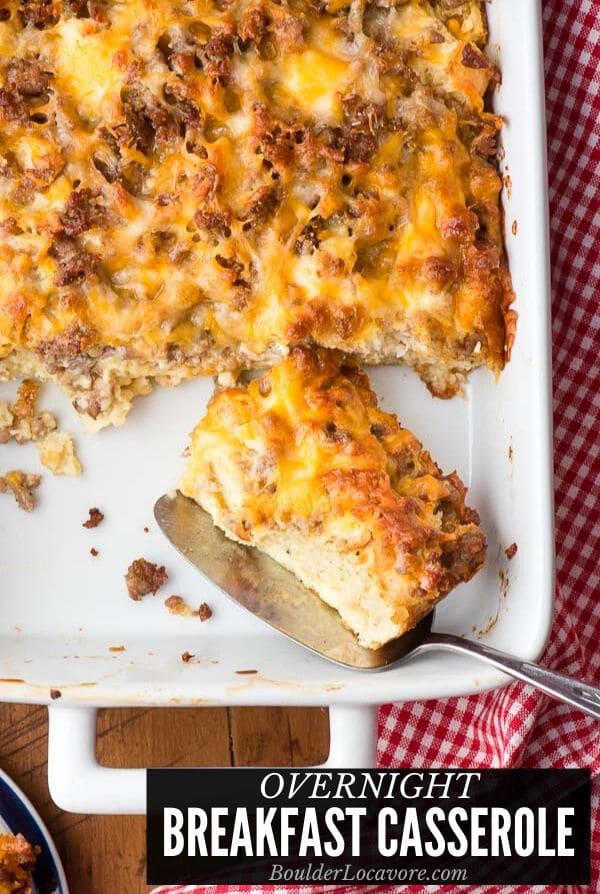 During the holidays when friends and family may be staying over, or your weekends are busier than leaves time for preparing much of anything for breakfast, Overnight Breakfast Casserole knocks it out of the park.
My son requests I make this (often) and we reheat it for all meals of the day.
It is packed with my breakfast favorites: eggs, cheese, cheese, sausage, gluten-free English muffins and cheese…..did I mention the cheese before?! It's SO good.
Perfect for busy holiday weekends, when house guests are bunking in, or to give the day a filling head start!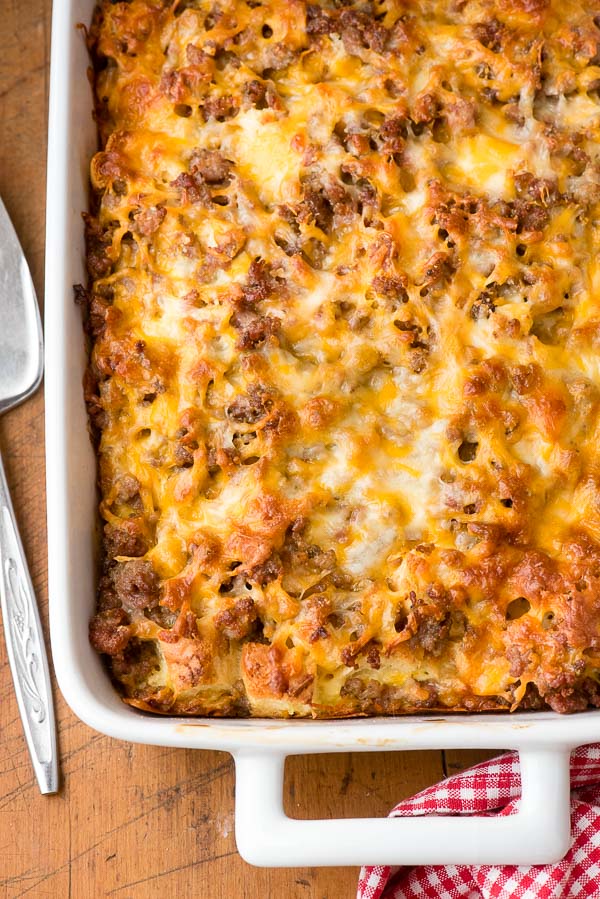 My quest for good make-ahead breakfast recipes originates with a very specific Christmas morning ritual in my family.
When I was a child we would get up, open Christmas stockings while having coffee cake that my Grandmother made.
Once the often-multiple-hour long stockings were done we'd all get dressed and open the big gifts. Then would come breakfast, a hot, hearty breakfast.
Now that I'm the one who would have to prepare the hot meal I've come up with a perfect solution: Overnight Breakfast Casserole.
Everyone loves it. It's hearty and delicious.
The only 'work' required the morning of serving it is turning on the oven and heating the casserole to golden perfection.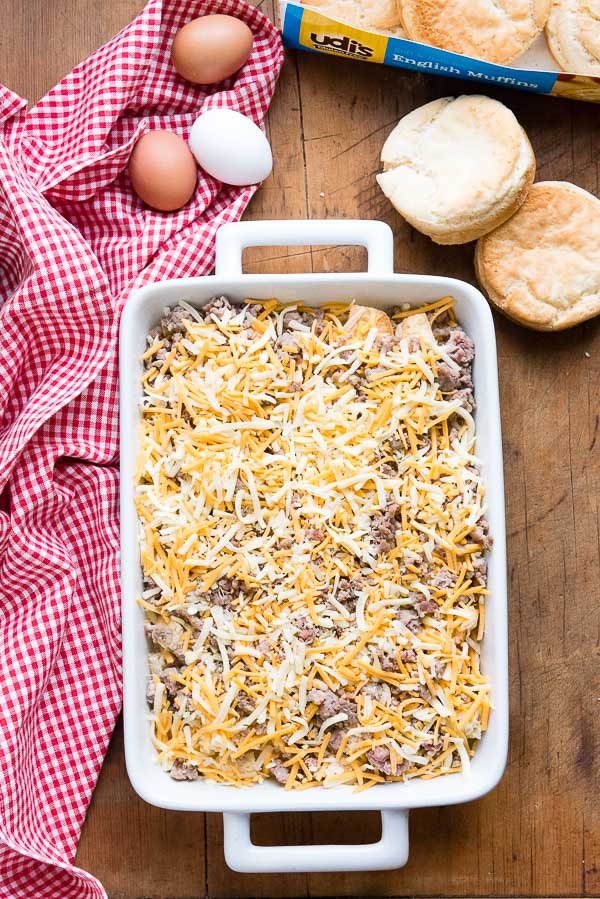 Overnight Breakfast Casserole Ingredients
Unsalted Butter
English Muffins (regular or gluten-free)
bulk Breakfast Sausage
grated Cheddar Cheese
grated Mozzarella Cheese
Eggs
Half and Half
Salt and Pepper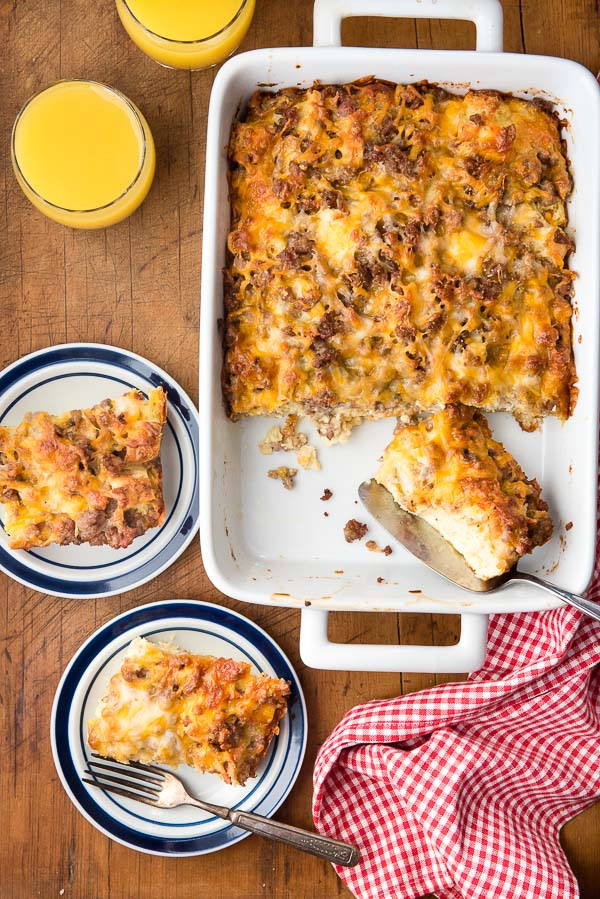 Prepare it and Cook the Next Morning
It's all made the night before, covered and refrigerated.
The following morning, turn on the oven to preheat and pull the casserole out of the fridge (it needs to stand at room temperature for 30 minutes before cooking).
It comes out crisp and browned on the top, full of filling cheesy protein to keep your energy going all day.
It smells and tastes like breakfast should.
I'm thrilled to be able to use gluten-free English muffins too.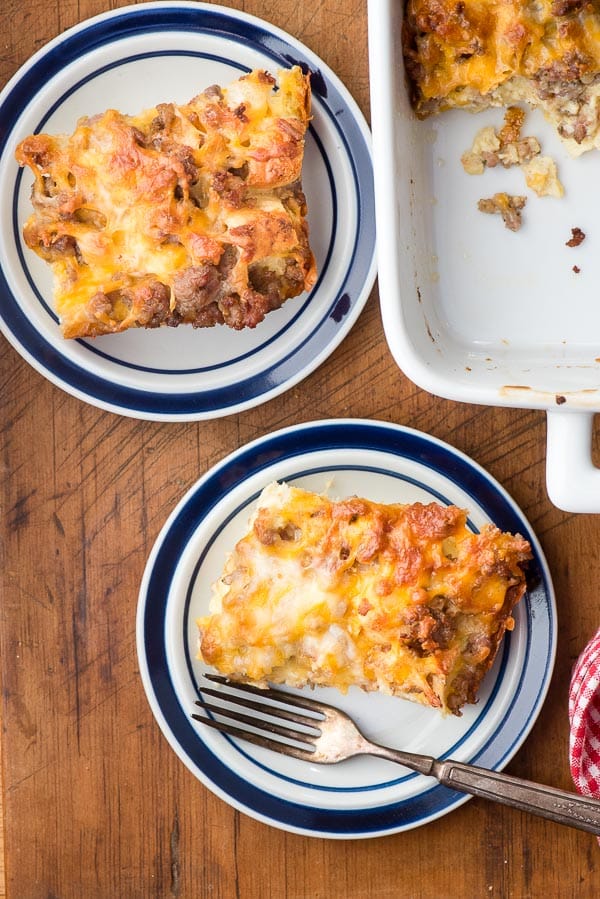 This casserole is not just a Christmas morning option.
If can be for a weekday or a weekend full of house guests.
Since the main effort is the night prior to cooking, it really fits with so many scenarios where you want a substantial, delicious hot breakfast but can't make the time in the moment to prepare it all. Trust me, you'll love this!
How to make Overnight Breakfast Casserole – Step-by-Step
STEP 1: In a large skillet (medium-high heat) brown the sausage. Drain any fat and allow to cool while preparing other ingredients.
STEP 2: Butter a 13-inch by 9-inch baking dish.
STEP 3: Cut English Muffins into 1-inch cubes. Spread evenly in the pan. Sprinkle half of the sausage on top. Sprinkle 1/2 cup of each cheese on top.
STEP 4: In a medium mixing bowl, combine the eggs, Half and Half, salt and pepper. Whisk to combine. Pour evenly over the casserole.
STEP 5: Evenly sprinkle remaining sausage, followed by the remaining cheese. Seal tightly and refrigerate overnight.
STEP 6: THE NEXT MORNING. Preheat the oven to 350 degrees. Remove casserole from refrigerator 30 minutes prior to cooking. Cook for 35 minutes. Allow to sit for 10 minutes before serving.
Originally published: December 3, 2017. This post was originally sponsored by Udi's Gluten Free.