A hearty breakfast doesn't have to take a ton of time or wipe out your kitchen in the process. Overnight Gluten-Free English Muffin Breakfast Casserole is a delicious way to ensure a cheesy filling breakfast but the work happens the night before. Perfect for busy holiday weekends, when house guests are bunking in, or to give the day a filling headstart!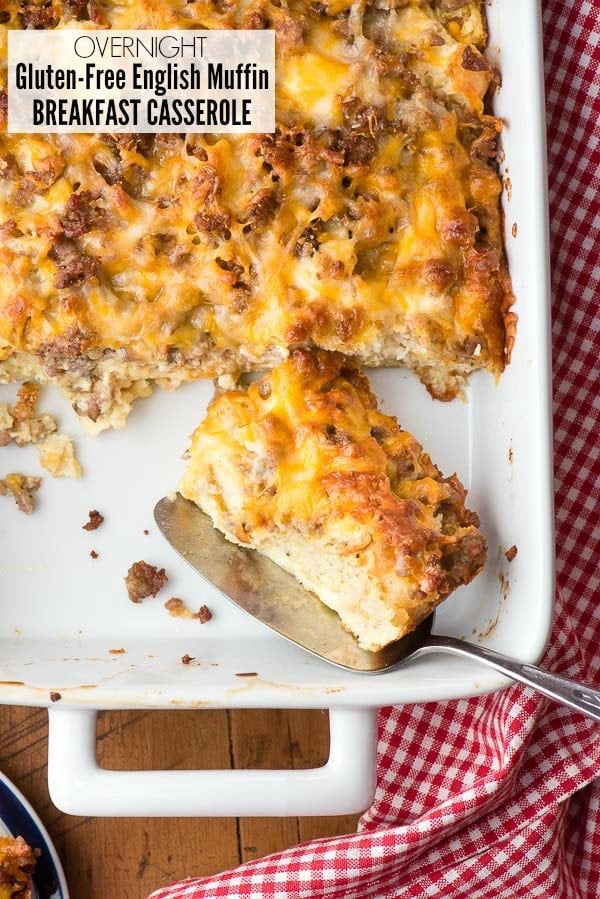 This post is sponsored as part of Boulder Locavore's ongoing partnership with Udi's Gluten Free. All opinions are my own.
I'm REALLY excited to share today's recipe with you! During the holidays when friends and family may be staying over, or your weekends are busier than leaves time for preparing much of anything for breakfast, Overnight Gluten-Free English Muffin Breakfast Casserole knocks it out of the park. My son requests I make this (often) and we reheat it for all meals of the day. It is packed with my breakfast favorites: eggs, cheese, cheese, sausage, gluten-free English muffins and cheese…..did I mention the cheese before?! It's SO good.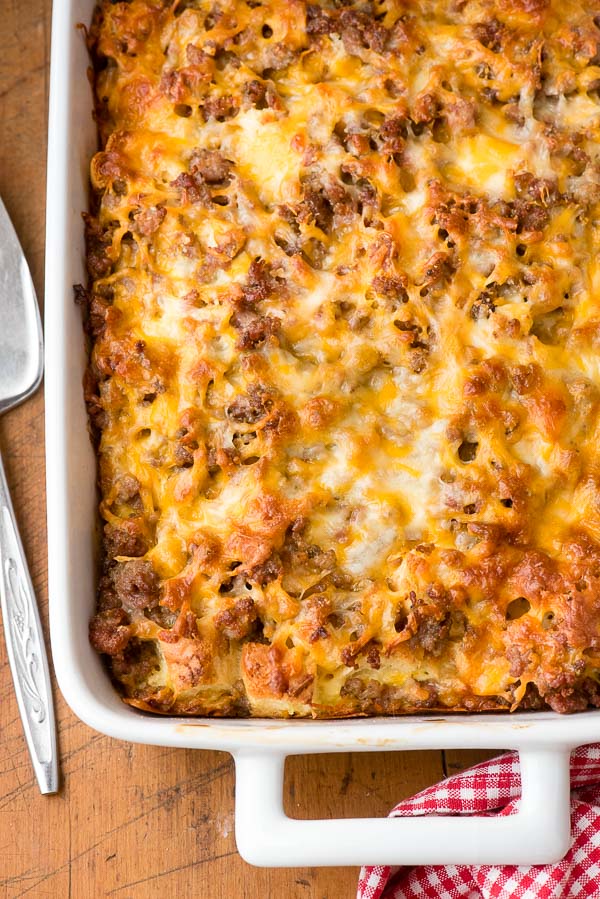 My quest for good make-ahead breakfast recipes originates with a very specific Christmas morning ritual in my family. When I was a child we would get up, open Christmas stockings while having coffee cake that my Grandmother made. The stocking ritual was not the rowdy, paper-flying chaos you see in holiday movies but rather a very methodical rotation of a family member opening a gift while all others watched, commented and then awkwardly tried to control the desire to rip through everything in one's own stocking rather than waiting for an entire rotation before revealing the next trinket.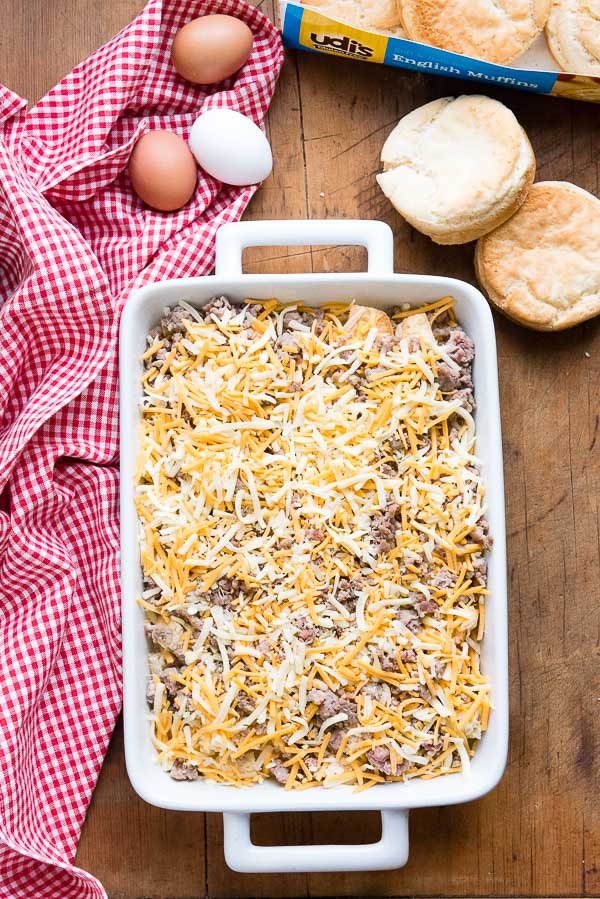 Once the often-multiple-hour long stockings were done we'd all get dressed and open the big gifts. Then would come breakfast, a hot, hearty breakfast. After all, several hours of gift opening works up an appetite, right?
Now that I'm the mom, we've streamlined the process. We still do stockings and we still take turns. But with four of us and more pared down stocking gifts, it's done quickly. No one wants to eat while doing this and no one wants to dilly dally before diving into the under-the-tree gifts. We don't get dressed in the middle or take a big break between the two types of gifts; usually my husband and I refill our coffee while the kids begin grouping gifts under the Christmas tree by recipient.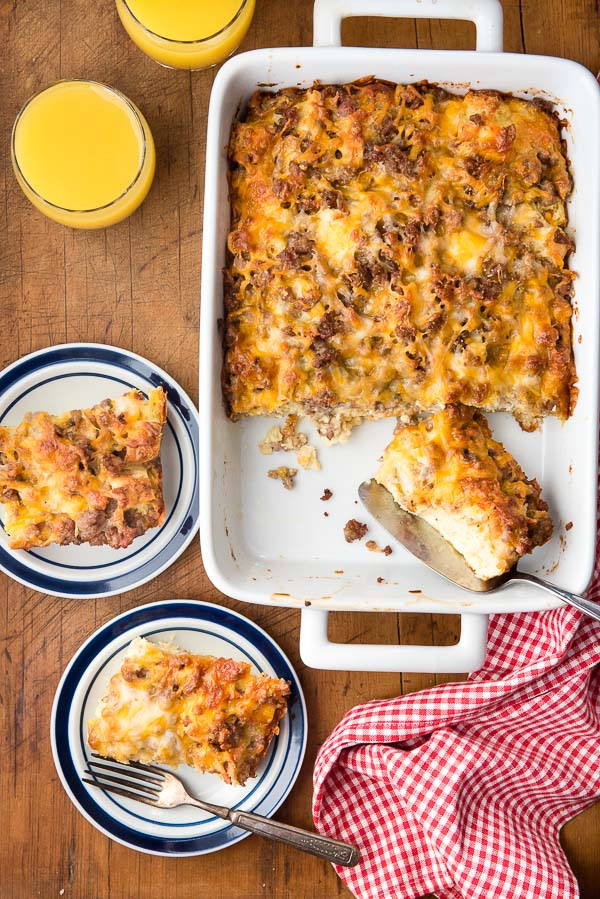 We do however still emerge hungry from all this gift opening. But can I tell you how much I am interested in slinging hash at this point? Not. At. All.  Here's where this divine Overnight Gluten-Free English Muffin Breakfast Casserole comes into play. It's all made the night before, covered and refrigerated.
The following morning, turn on the oven to preheat and pull the casserole out of the fridge (it needs to stand at room temperature for 30 minutes before cooking). It comes out crisp and browned on the top, full of filling cheesy protein to keep your energy going all day. It smells and tastes like breakfast should. I'm thrilled to be able to use gluten-free English muffins too. I waited a long time in my 12-year gluten-free life for English muffins and it was worth it (thank you Udi's Gluten Free)!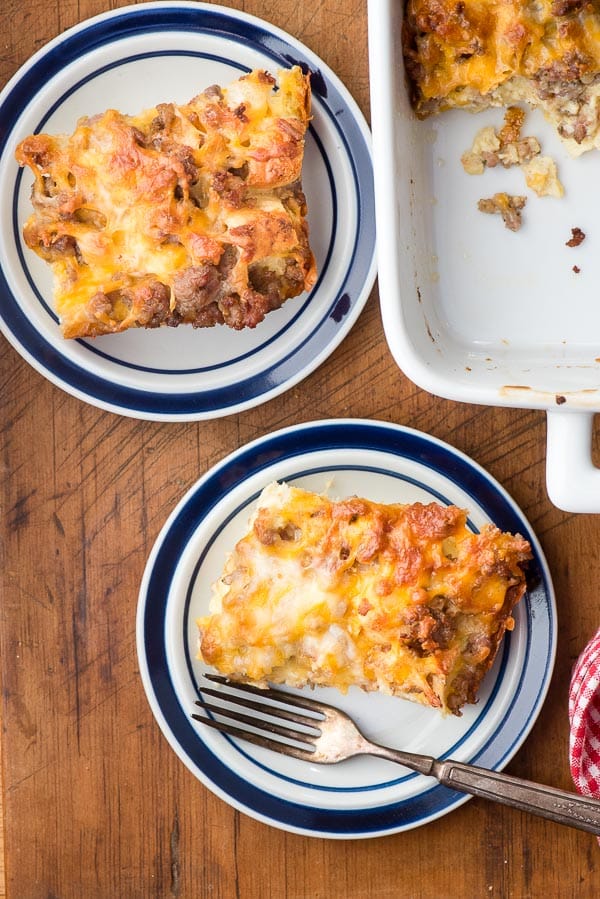 This casserole is not just a Christmas morning option. If can be for a weekday or a weekend full of house guests. Since the main effort is the night prior to cooking, it really fits with so many scenarios where you want a substantial, delicious hot breakfast but can't make the time in the moment to prepare it all. Trust me, you'll love this!
How to make Overnight Gluten-Free English Muffin Breakfast Casserole: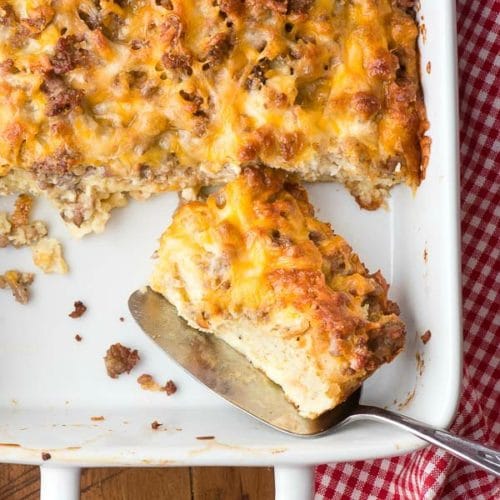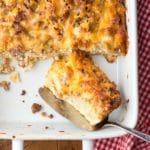 Overnight Gluten-Free English Muffin Breakfast Casserole
This filling casserole hits all the favorite breakfast notes of eggs, sausage, english muffins and cheese. Prepared the night before, it cooks into an irresistible casserole that can be eaten or reheated for any meal of the day.
Total Time
8
hours
45
minutes
Ingredients
1

tablespoon

Unsalted Butter

1

package

Udi's Gluten Free White English Muffins

1

pound

bulk/loose Breakfast Sausage

1

cup

grated Cheddar Cheese (mild or sharp)

1

cup

grated Mozzarella Cheese

10

Eggs

lightly beaten

2

cups

Half and Half

1/2

teaspoon

Kosher Salt

1/4

teaspoon

freshly ground Black Pepper
Instructions
In a large skillet over medium-high heat brown the sausage, breaking it into small pieces. Drain any excess fat and allow sausage to cool while preparing the remaining ingredients.

Lightly grease a 13-inch by 9-inch baking dish with the butter. Cut the English muffins into 1-inch cubes and spread them evenly in the prepared pan.

Spread half of the cooled sausage (it can be warm but not hot enough to begin to cook the other ingredients) evenly over the English muffin cubes. Sprinkle ½ cup of each type of cheese evenly on top.

In a medium mixing bowl combine the eggs, Half and Half, salt and pepper; whisk to fully combine. Pour evenly over the top of the casserole.

Sprinkle the remaining half of the sausage onto the casserole followed by the remaining cheese. Seal tightly and refrigerate overnight.

The next morning: Preheat the oven to 350 degrees. Remove the casserole from the refrigerator 30 minutes prior to cooking. Cook for 35? Minutes or until the casserole is lightly brown on top and set in the middle. Allow to sit for 10 minutes prior to slicing and serving.
Nutrition Facts
Overnight Gluten-Free English Muffin Breakfast Casserole
Amount Per Serving
Calories 294
Calories from Fat 216
% Daily Value*
Fat 24g37%
Cholesterol 198mg66%
Sodium 523mg22%
Potassium 213mg6%
Carbohydrates 2g1%
Protein 15g30%
Vitamin A 555IU11%
Vitamin C 0.7mg1%
Calcium 181mg18%
Iron 1.2mg7%
* Percent Daily Values are based on a 2000 calorie diet.