Soft and chewy Cranberry Oatmeal Cookies are always a favorite. The homey flavor and texture of oatmeal cookies with a sweet bite of dried cranberries are great for holiday baking and the rest of the year too!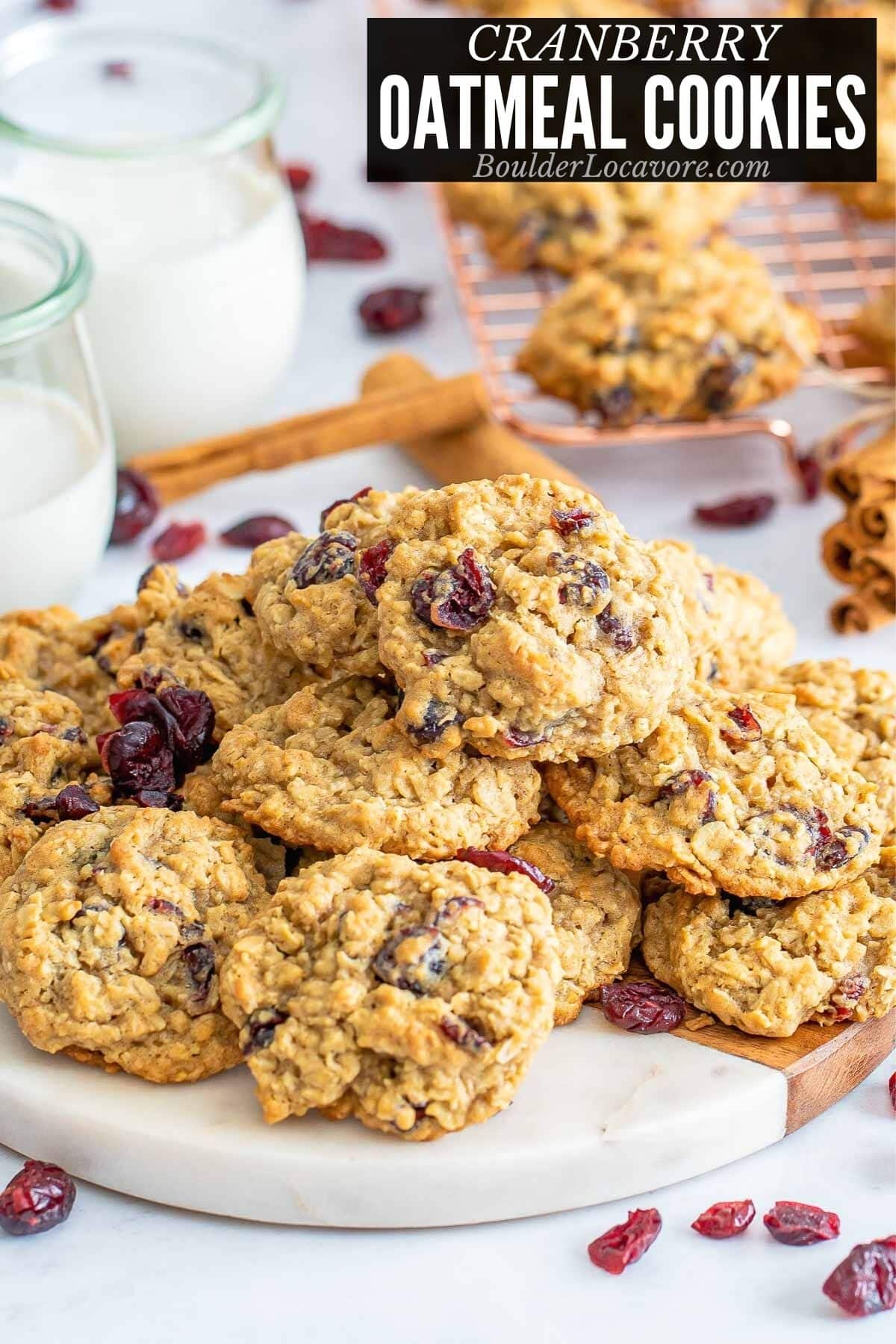 If you love to bake cookies but fussy cookies aren't for you, you'll love this cookie recipe.
It's straight forward, easy and the cookies are delicious.
It's a classic cookie with a little change up using sweetened dried cranberries for some special sweetness.
An Easy Oatmeal Cookie recipe
Whether you use a mixer or mix by hand, this oatmeal cookie recipe is so easy to make!
It has three main steps to create the dough. The dough will be stiff or thick by the end and bakes to make a chewy oatmeal cookie you'll love!
This is a big batch recipe creating 6 dozen cookies.
If you'd like to make less you can easily cut the recipe in half or make one third.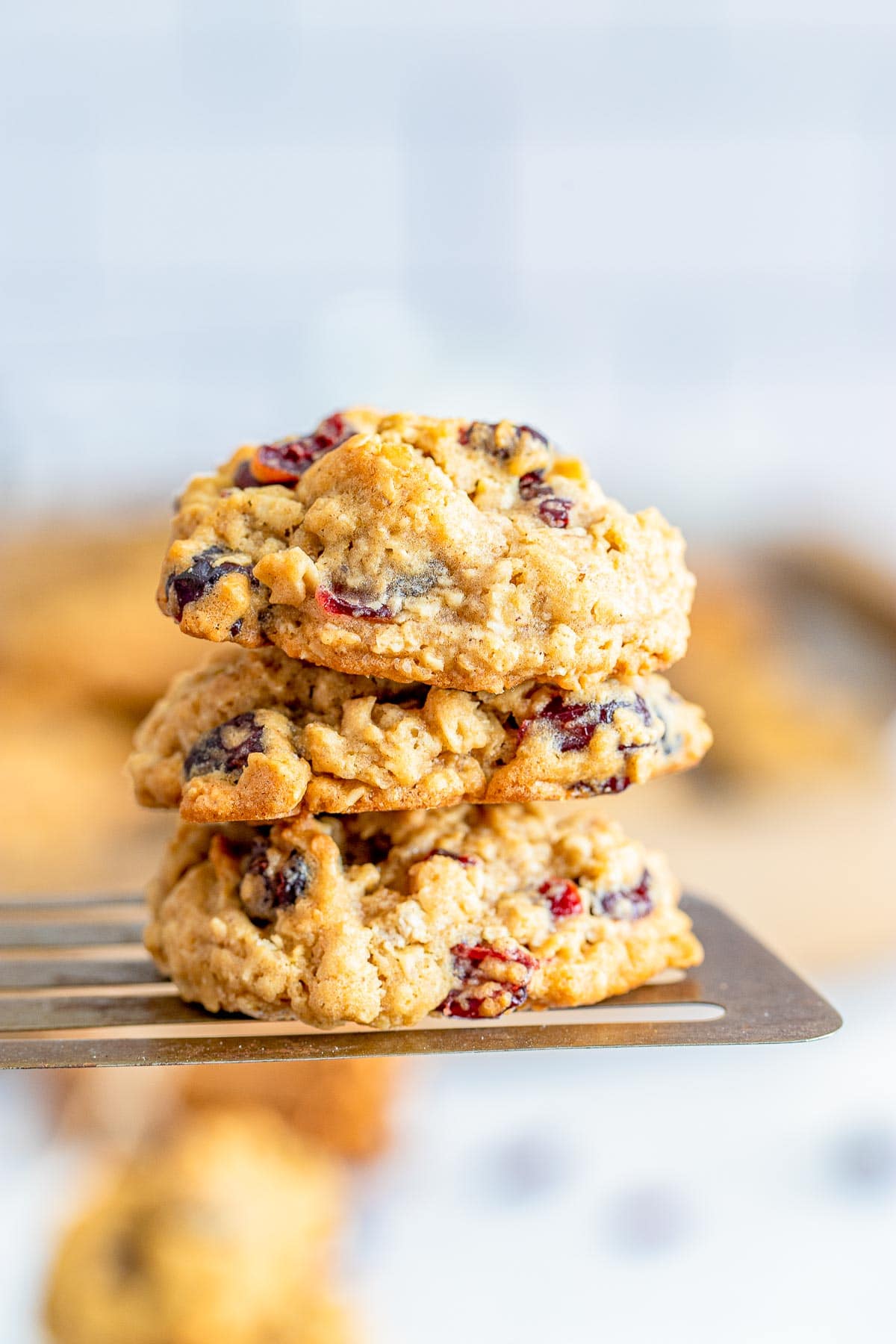 Recipe Ingredients + Notes
Unsalted Butter. Creamed together with the sugar to make a sweet, rich base for the cookies. We prefer unsalted butter for the sweetness. Use room temperature butter.
Light Brown Sugar. Homey sweet flavor and it keeps the cookies moist.
Egg. Helps in rising and binding the dough together.
Whole Milk. We prefer the richness of whole dairy milk. However if you prefer a lower fat milk it should work well too. We have not tested the recipe with non-dairy milk however it should work.
Vanilla Extract. Adds flavor.
Rolled Oats. Also called Old Fashioned Oats, these give texture and flavor. Either regular or gluten-free rolled oats can be used (we tested both). Do not use instant oats.
All Purpose Flour. Either regular or gluten-free All Purpose Flour can be used. We tested both!
Baking Soda. Will help the cookies rise.
Salt. We prefer kosher salt which is a less salty tasting salt. However iodized salt will also work.
Cinnamon. Just a touch to give a perfect warming spice flavor to the cookies.
Dried Sweetened Cranberries. These add a slightly chewy texture and sweet cranberry flavor to the cookies. Dried cranberries are usually softer than raisins so will not become drier/tougher when baked.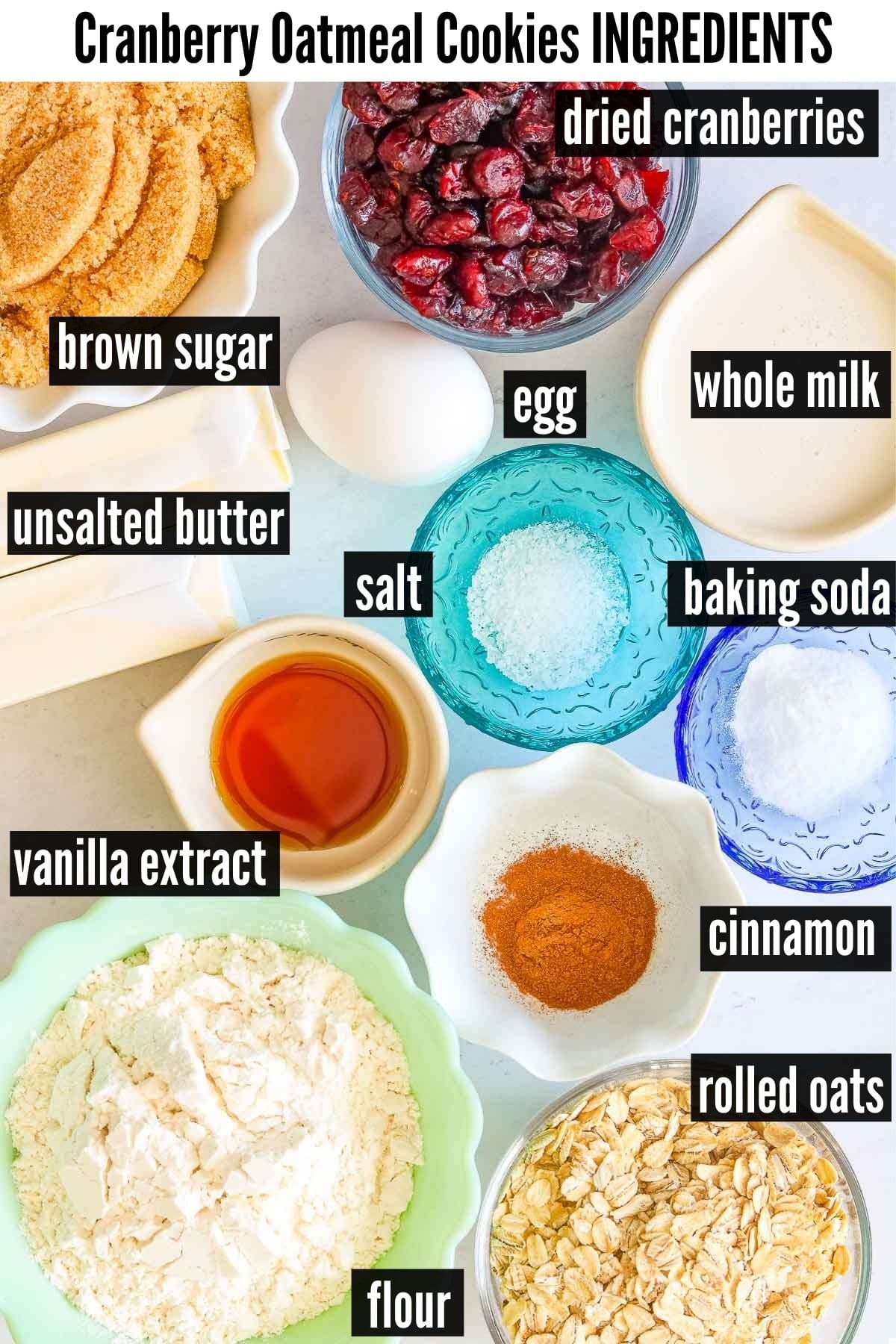 Variations
These cookies are very flexible to change them up! Here are some ideas:
Add chopped nuts. Adding 3/4 cup of chopped pecans, walnuts or even macadamia nuts would be great. Just stir them in with the cranberries.
Add chocolate chips. Try adding 3/4 cup of white chocolate chips, toffee bits, regular chocolate chips or a mix! Stir in with the cranberries.
Swap for a different dried fruit. Raisins or dried cherries would be delicious in place of the cranberries.
Tried and Tested Recipe
We've tested this recipe at sea level, at altitude, with regular All Purpose Flour and with gluten-free measure-for-measure flour blend.
The results in all conditions were delicious!
I used Bob's Red Mill Gluten-free 1-to-1 Flour Blend for the gluten-free recipe testing.
How to Make it – Step-by-Step
STEP 1. Preparations.
Preheat the oven to 375 degrees F. Line a rimmed baking sheet(s) with parchment paper or a silicon baking mat.
STEP 2. Making the Cookie Dough.
In a large mixing bowl or bowl of a stand mixer cream the butter with the sugar until light and fluffy.
Add the milk, egg and vanilla; mix to combine.
In another large bowl combine the dry ingredients: flour, oats, baking soda, salt and cinnamon.
Spoon the flour mixture into the wet ingredients 1 cup at a time, mixing together fully.
Stir in the cranberries (final dough photo 1).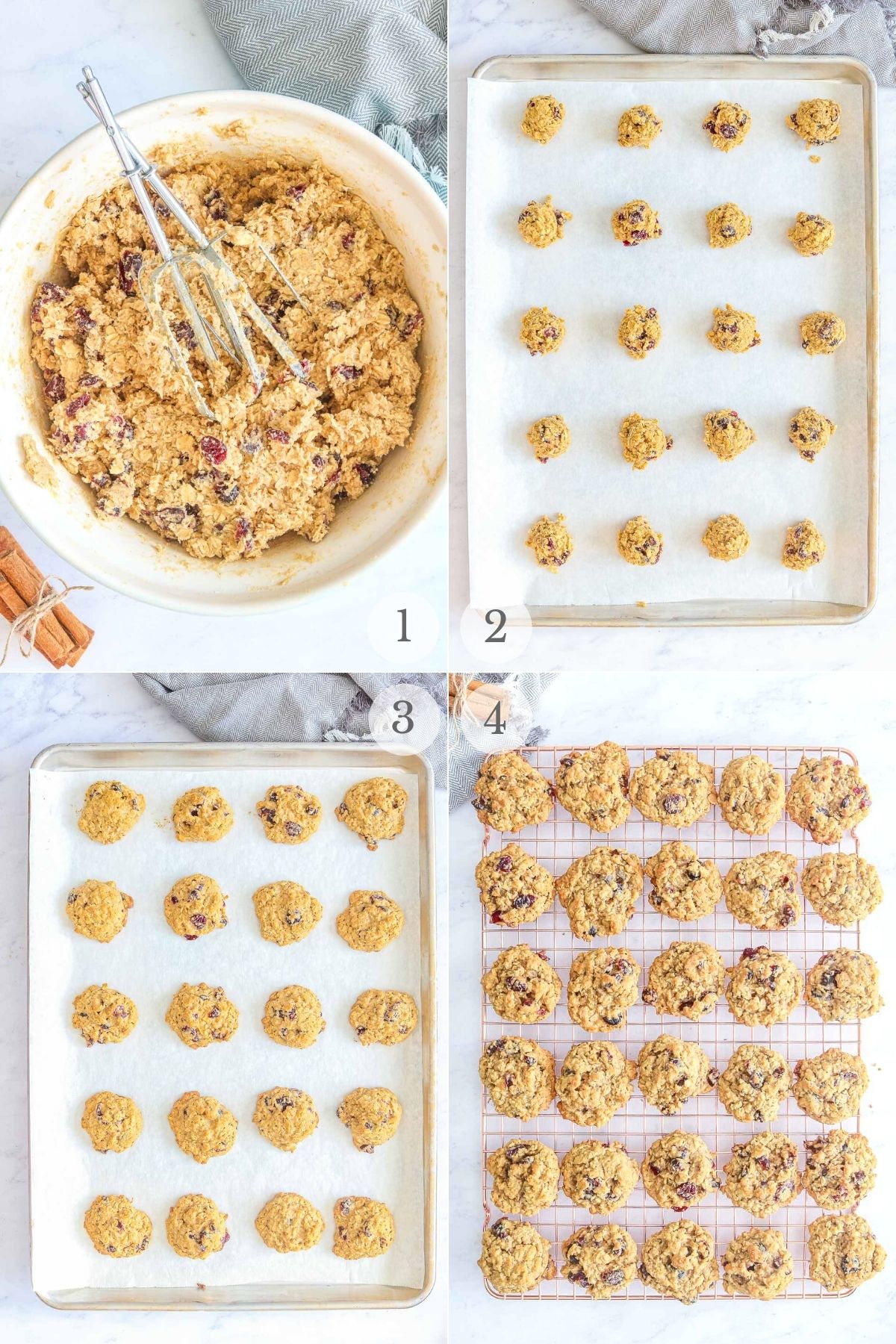 STEP 3. Baking the Cookies.
Make heaping tablespoons of the dough and place onto the prepared baking trays (photo 2). NOTE: a 1 tablespoon cookie scoop works great for this.
Bake for 10-11 minutes baking time until the edges turn light brown (photo 3).
Remove from oven and allow to cool on the baking pan for a minute. Remove and place onto a wire rack to cool fully (photo 4).
Storing them
Store at room temperature in a sealed airtight container for up to 1 week.
The cookies have a better texture when stored at room temperature versus being chilled in the refrigerator.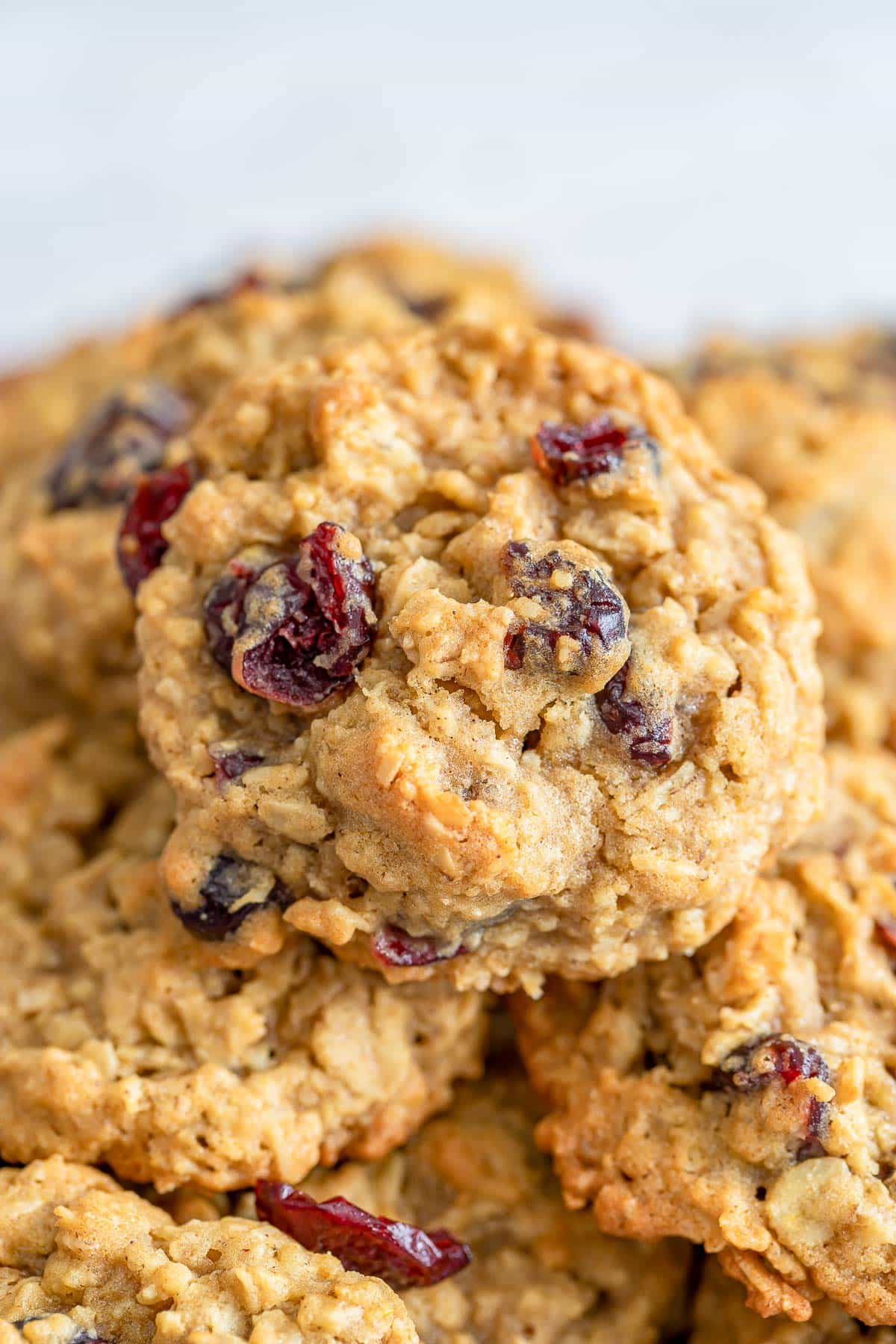 How to Freeze Oatmeal Cookies
These cookies freeze very well. With a large batch recipe it's a great option to freeze some for later.
There are two ways to freeze them and it depends on how you'll use the cookies: in a large quantity or a few at a time.
Option 1 – To remove a few cookies at a time
If you only want to take a few out of the freezer at a time, allow the baked cookies to cool completely.
Place them in a single layer on a rimmed baking sheet. Put it into the freezer to freeze the cookies.
When frozen, place them into a freezer proof container separating layers with parchment or wax paper. Or place them into a freezer jar.
When desires remove a few cookie and allow them to thaw on the counter top.
Option 2 – Batch freezing
To freeze and thaw a full batch, allow the cookies to cool fully.
Place them in a freezer proof container separating layers with parchment or wax paper.
Place the container in the freezer. To thaw: remove from the freezer and place cookies in a single layer at room temperature.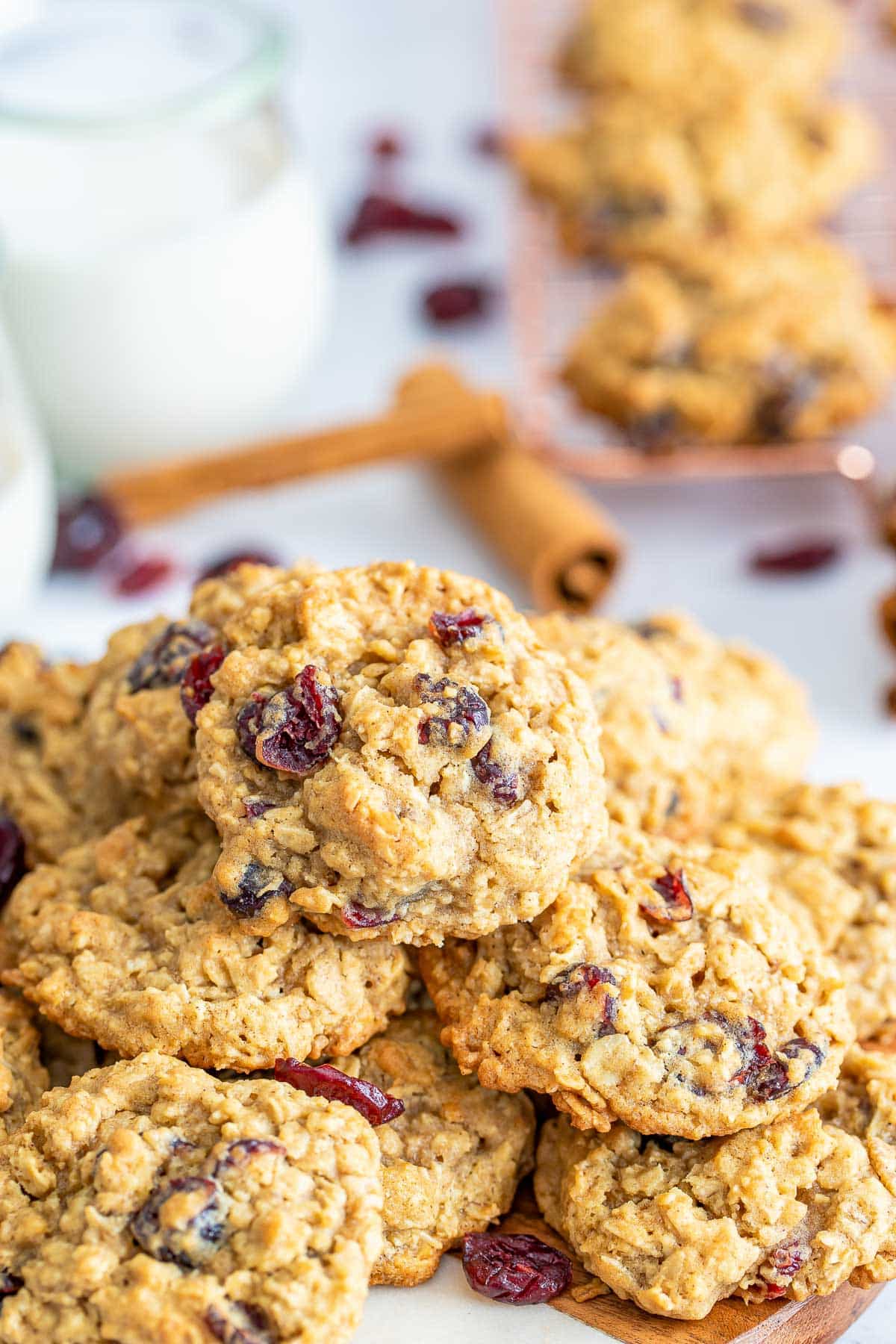 More Cookie Recipes You'll Love!
Try these Recipes too!
Did you make it? Please RATE THE RECIPE below!
Please SUBSCRIBE and FOLLOW ME on FACEBOOK , TWITTER , INSTAGRAM and PINTEREST !