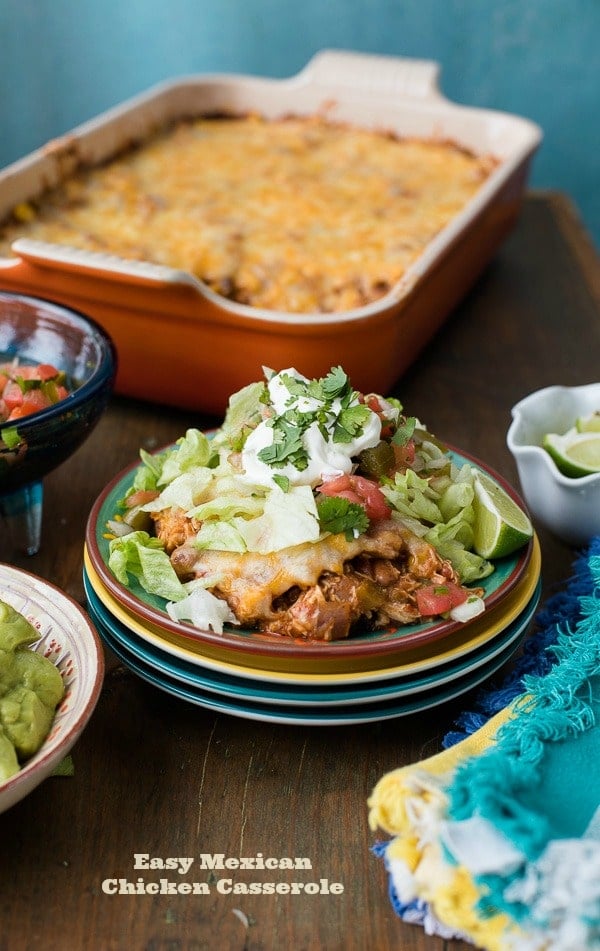 I feel like I've been on vacation for about month now.  Not completely like a vacation but out of my normal patterns.  Over Spring Break my kids and I took a road trip to Santa Fe New Mexico for a week.  We toured a number of museums, took a cooking class, ate where the locals ate, and how the locals eat.  Though we are used to New Mexican spice my 12 year old son commented that one dish must have been made with the 'fires of Mordor' and it would have been easier to just light fire to his own tongue.  We were clearly 'out of shape' on the spice front there.
We hopped out to the Four Seasons Rancho Encantado for part of our stay, about 10 minutes drive from downtown Santa Fe but with the feel of being nestled in a peaceful, private dessert bubble (complete with extraordinary food and a spa) and did a fantastic half day excursion to explore ruins of a more modern day pueblo.  Our other stay was at the relatively new Buffalo Thunder Hilton, slightly farther north of Santa Fe which must be the largest resort in New Mexico.  We previewed a fantastic walk up guacamole bar and I sampled several innovative margaritas, and will confess have not stopped experimenting with my own 'must drink' margarita recipes at home.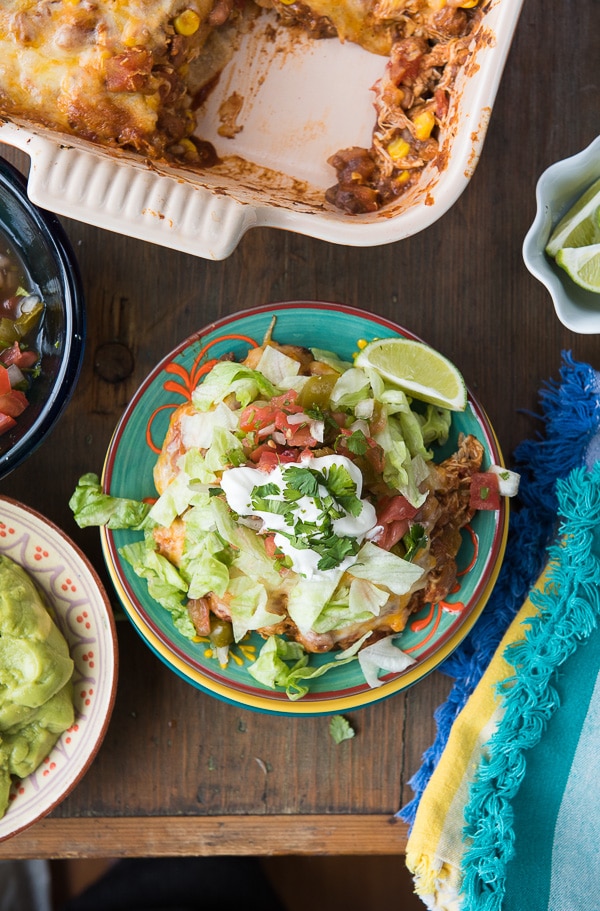 While we were traveling my husband was home wrapping up his last work assignment before taking time some off before a new adventure begins for him.  Typically he's commuted an hour each way daily and lands home around 7 p.m. to immediately be pulled into the vortex of teen homework support.  Having him home without responsibilities has been fantastic.  We plowed through days of tax preparation (so fun, right?!).  He's split the school driving with me (which can be up to four one hour round trips a day).  We've been eating dinner together as a family, at the same time versus our normal staggered dining, and he's had the time to dive back into a passion of his: cooking.  His love of cooking has been confined to holiday meals over the past few years due to lack of time.  The rekindled excitement has filled our weeknights with much more exciting fare than I can usually muster.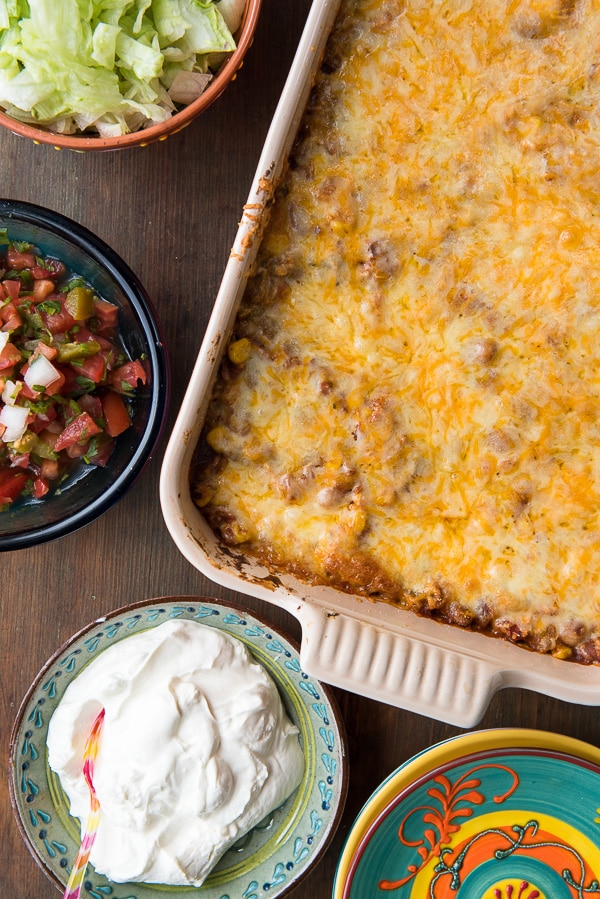 However it has left me a little bit lazy, I'll admit.  So when my turn to cook dinner on a night he was out rolled around, I sort of felt like I've never cooked before.  My muse had clearly flown the coop and was probably laying in a hammock in some tropical paradise sipping one of my newly created margaritas.
One thing everyone seems to love anytime is Mexican food.  With Cinco de Mayo coming as well I wanted to come up with a mouthwatering, spicy (not fires-of-Mordor spicy) easy to prepare meal.  This Easy Mexican Chicken Casserole is just the ticket.  And for those who, like me, love the flexibility to mix-and-match, it can be made with quality prepared ingredients OR fresh when you have the time and both versions are delicious.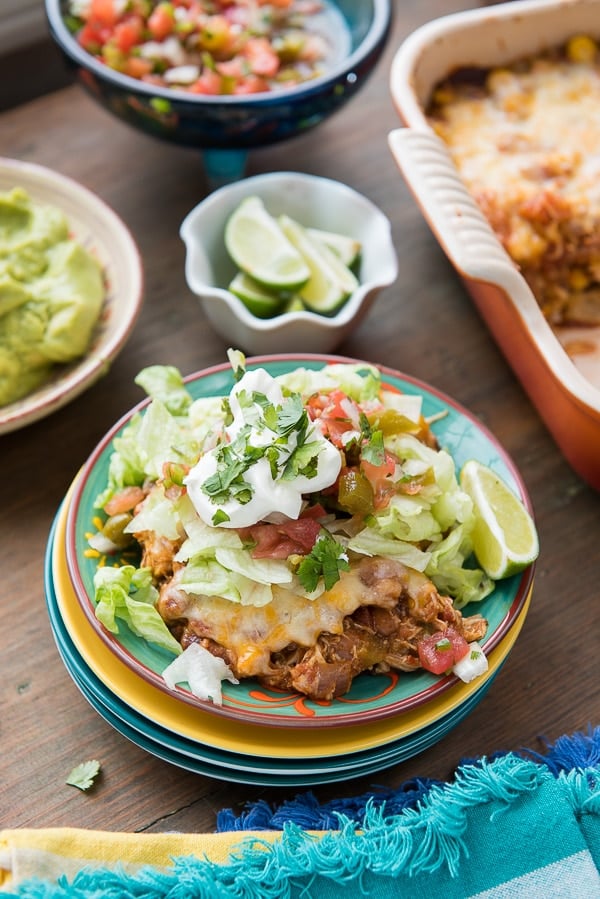 Whenever I am whipping up something using canned or frozen ingredients, I tend to stick with quality organic brands to ensure the ingredients are still as healthy as if I prepared them from scratch.  If I do that, I have no guilt about not making everything from the raw ingredients up.  This casserole is perfect if you are running short on time too.  It can be made in the morning (leaving off the cheese), covered, refrigerated then cooked (adding the cheese first) at dinner time.  The base preparation is about 20 minutes which is usually manageable on even the busiest of days.
I love to pile fresh toppings on it as one would a taco or tostada: fresh ribbons of iceberg lettuce, fresh salsa or pico de gallo, sour cream, guacamole, chopped cilantro, pickled jalapenos or whatever strikes your fancy.  Diners can make their own plate leaving it a great option for large gatherings too!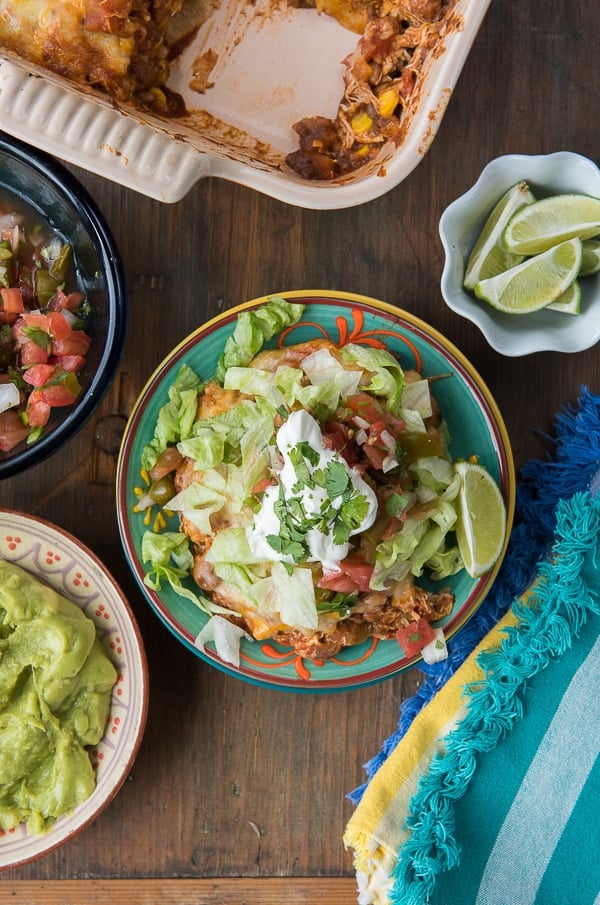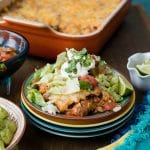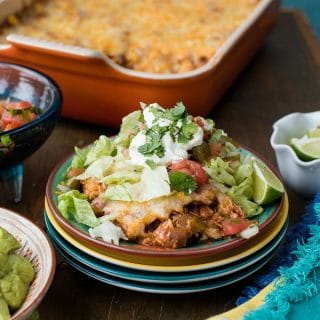 Easy Mexican Chicken Casserole
This casserole is very easy to make and sure to please. It can be made with almost all store-bought ingredients leaving only chopped onions to sauté; or ingredients may be made from scratch if preferred. The delicious, spicy combination is the best of comfort foods, piled high with fresh choices such as iceberg lettuce ribbons, salsa, guacamole, sour cream, chopped cilantro and pickled jalapeno; pick your favorites! May be made ahead of time, reserving the cheese, and baked just before serving or when hosting a gathering.
Ingredients
1 15-

ounce

can Red Enchilada Sauce

(if gluten-free, be sure to use a gluten-free brand)

6

Corn Tortillas

, cut into quarters

1 15-

ounce

can Black Bean Refried Beans

(regular refried beans may be substituted)

1

teaspoon

Olive Oil

¾

cup

Red Onion

, chopped

1 7-

ounce

can Mild Green Chilies

(fire roasted if available)

1 15-

ounce

can Pinto Beans

, rinsed and drained (1 ½ cups homemade beans may be used)

3

cups

shredded Rotisserie Chicken

1

cup

Corn Kernels; frozen

, canned/drained or fresh may be used

1 14.5-

ounce

can Diced Fire Roasted Tomatoes

, preferably with Mexican seasoning if available (I used Muir Glen Organic with Adobo seasonings), undrained

1

teaspoon

ground Cumin

½

teaspoon

Chile Powder

1 ½

cups

grated Mexican Cheese Blend

(sold with packaged cheese) or a combination of grated Milk Cheddar, Monterrey Jack and Cobly cheeses

Suggesting toppings: thinly sliced iceberg lettuce ribbons

, pico de gallo or fresh salsa, guacamole, sour cream, diced fresh cilantro, pickled jalapeno slices
Instructions
Preheat oven to 350 degrees.

Pour ¾ cup of the enchilada sauce into a 13 x 9 baking dish; spread evenly over the bottom of the pan. Layer the corn tortilla quarters to cover the sauce, overlapping them.

Heat the refried beans with 2-3 tablespoons of water, in a saucepan over medium heat or in the microwave covered (for about 2 minutes) until hot and creamy. Spread the refried beans over the corn tortillas in the baking dish. Set aside.

In a large non-stick skillet, heat the olive oil over medium high heat and add the chopped onions. Sauté until the onions are softened and translucent; 3-4 minutes.

Add the green chilies, pinto beans, chicken, corn, tomatoes, spices and remaining 1 cup of enchilada sauce. Cook over medium heat to fully combine; 2-3 minutes.

Spoon the filling into the baking dish spreading it evenly in the pan. Cover with the cheese and bake uncovered for 25-30 minutes until heated through and cheese has melted.

Serve with topping options or by itself.
xxx