Mexican Chicken Casserole is a hearty, satisfying dinner recipe that's fast and easy to make! Perfect for serve-yourself gatherings too.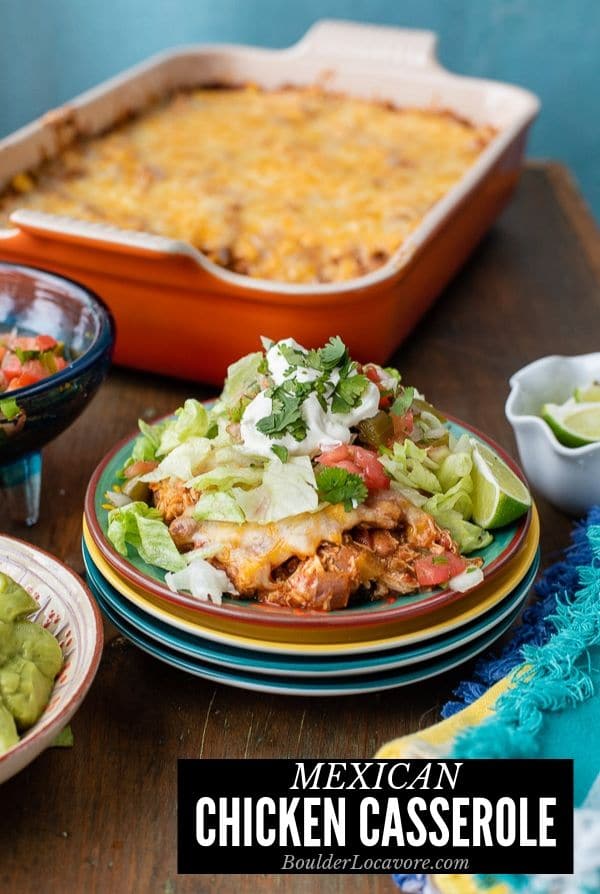 Hearty, flavor-packed easy meals are my quest in the kitchen. Certain times of year and in life just don't afford lots of hours spent over meal preparation.
One of my favorite dinners for those times is Easy Mexican Chicken Casserole.
It's full of mouthwatering flavors, all the Mexican ingredients you love but can be whipped up in a flash!
What is Mexican Chicken Casserole?
Mexican Chicken Casserole is a layered casserole, with Mexican ingredients, that bakes in 30 minutes.
When served it is topped with the same toppings you'd use for tacos giving it a fresh flavor.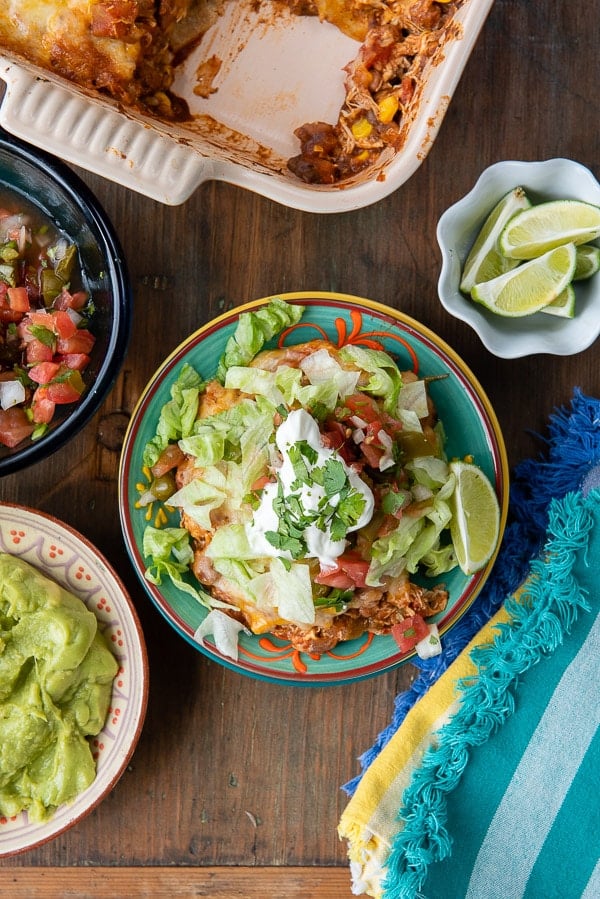 What Are the Ingredients in Mexican Chicken Casserole?
There is a secret both to the mouthwatering flavors and the speed of pulling this together! Most of the ingredients are already prepared!
Red Enchilada Sauce (canned)
Corn Tortillas
Black Bean Refried Beans, (canned);regular refried beans may be substituted
Olive Oil
Red Onion
Mild Green Chilies (canned)
Pinto Beans (canned)
shredded Rotisserie Chicken
Corn Kernels; frozen, canned/drained or fresh may be used
Diced Fire Roasted Tomatoes (canned)
ground Cumin
Chile Powder
grated Mexican Cheese Blend (sold with packaged cheese) or a combination of grated Milk Cheddar, Monterey Jack and Colby cheeses
TIP: Any of these ingredients can be substituted with homemade ingredients if desired.
The Mexican Chicken Casserole is delicious with prepared ingredients and so easy to make!
Option: Make Shredded Chicken at Home
If you have some extra time, I love making shredded chicken at home. It's always moist and with great flavor.
It can be frozen and packaged in 1 cup servings for recipes like this too!
Another option is using this slow cooker taco meat recipe or Mexican shredded chicken (Instant Pot recipe). It will pack even more Mexican flavors into this Mexican Chicken Casserole.
Suggested Toppings for Mexican Chicken Casserole
Having a selection of toppings allows each diner to customize their serving. Here are some favorite toppings to try:
thinly sliced Iceberg Lettuce ribbons
Sour Cream or Mexican Crema
diced fresh Cilantro
pickled Jalapenos slices
lime wedges

Make this Mexican Chicken Casserole Ahead!
Mexican Chicken Casserole can be made ahead of time too.
Make it in the morning (leaving off the cheese), covered, refrigerated then cooked (adding the cheese first) at dinner time.
Or even make it the day before.
The base preparation is about 20 minutes which is usually manageable on even the busiest of days!
Perfect for Parties!
Mexican Chicken Casserole is perfect for gatherings and parties. Why I love this recipe for parties:
Fast and easy to make
Delicious flavors everyone loves
It's easy to set up as a serve-yourself bar. The hot-from-the-oven Mexican Chicken Casserole and an assortment of toppings for individual serving.
Great, satisfying comfort food for a relaxed get together that's easy on the host too!
How to Make Easy Mexican Chicken Casserole – Step by Step
For a detailed printable recipe, refer to the recipe card at the bottom of the blog post.
Preheat oven to 350 degrees.
Pour ¾ cup of the enchilada sauce into a 13 x 9 baking dish. Spread evenly over the bottom of the pan.
Layer the corn tortilla quarters to cover the sauce, overlapping them.
Heat the refried beans with 2-3 tablespoons of water until hot and spreadable.
Spread the refried beans over the corn tortillas in the baking dish. Set aside.
In a large non-stick skillet, heat the olive oil the onions. Sauté until the onions are softened and translucent.
Add the green chilies, pinto beans, chicken, corn, tomatoes, spices and remaining 1 cup of enchilada sauce.
Cook over medium heat to fully combine; 2-3 minutes.
Spoon the filling into the baking dish spreading it evenly in the pan.
Cover with the cheese and bake uncovered for 25-30 minutes until heated through and cheese has melted.
Serve with topping options or by itself.
How to Store Mexican Chicken Casserole
Store leftovers, tightly sealed, for 3-4 days in the refrigerator.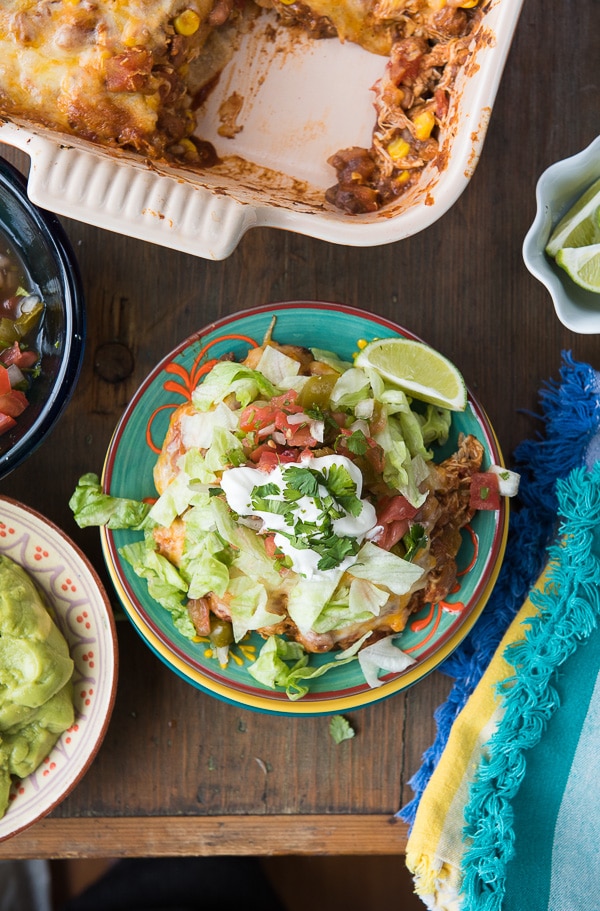 Can Mexican Chicken Casserole be Frozen?
It *can* but I'd recommend making it fresh. It's so quick, and actually faster to make it fresh rather than freezer/thaw and cook it.
Should there be a situation requiring freezing (giving it to a sick friend, etc.) I recommend:
Prepare the casserole (don't cook it),
Wrap it with plastic wrap followed by foil to be sure it's well sealed.
Freeze!
To Thaw and Cook:
Remove from the freezer and allow to thaw in the refrigerator for 24-36 hours. Bake as indicated in the recipe card.
Make It a Meal!
This Mexican chicken casserole can be a one dish dinner. If you'd like to add some other drinks, side dishes or salsas, here are some great choices: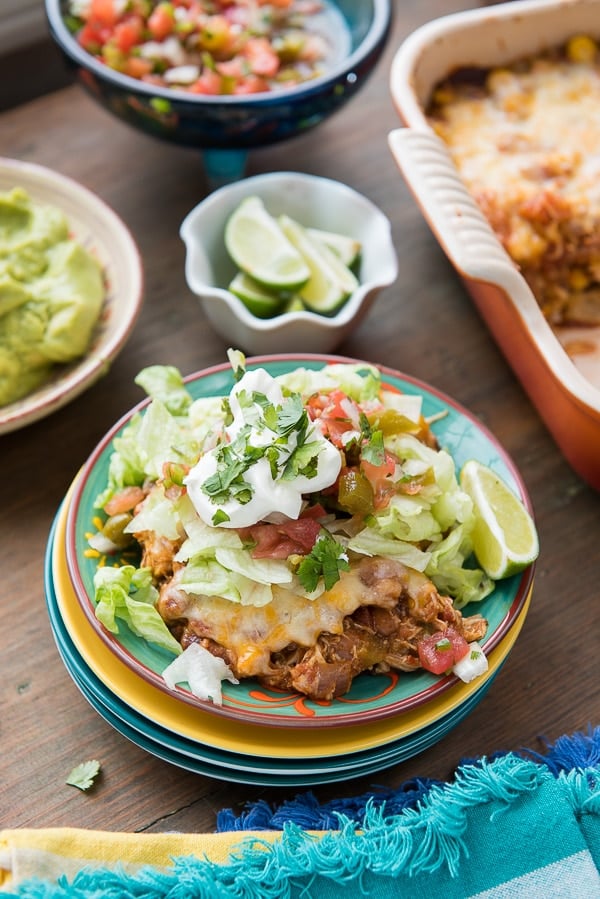 More Recipes You'll Love
Shakshuka (Poached Eggs in Spicy Tomato Sauce)
If you've made this Mexican Chicken Casserole recipe please RATE THE RECIPE below!
SUBSCRIBE and FOLLOW ME on FACEBOOK , TWITTER , INSTAGRAM and PINTEREST !
Originally published: April 25, 2015