Cajun Chicken turns ho-hum boneless chicken breasts into a bold delicious dinner recipe! Lightly pan fried with classic spices, this chicken has amazing texture and a sauce you'll love!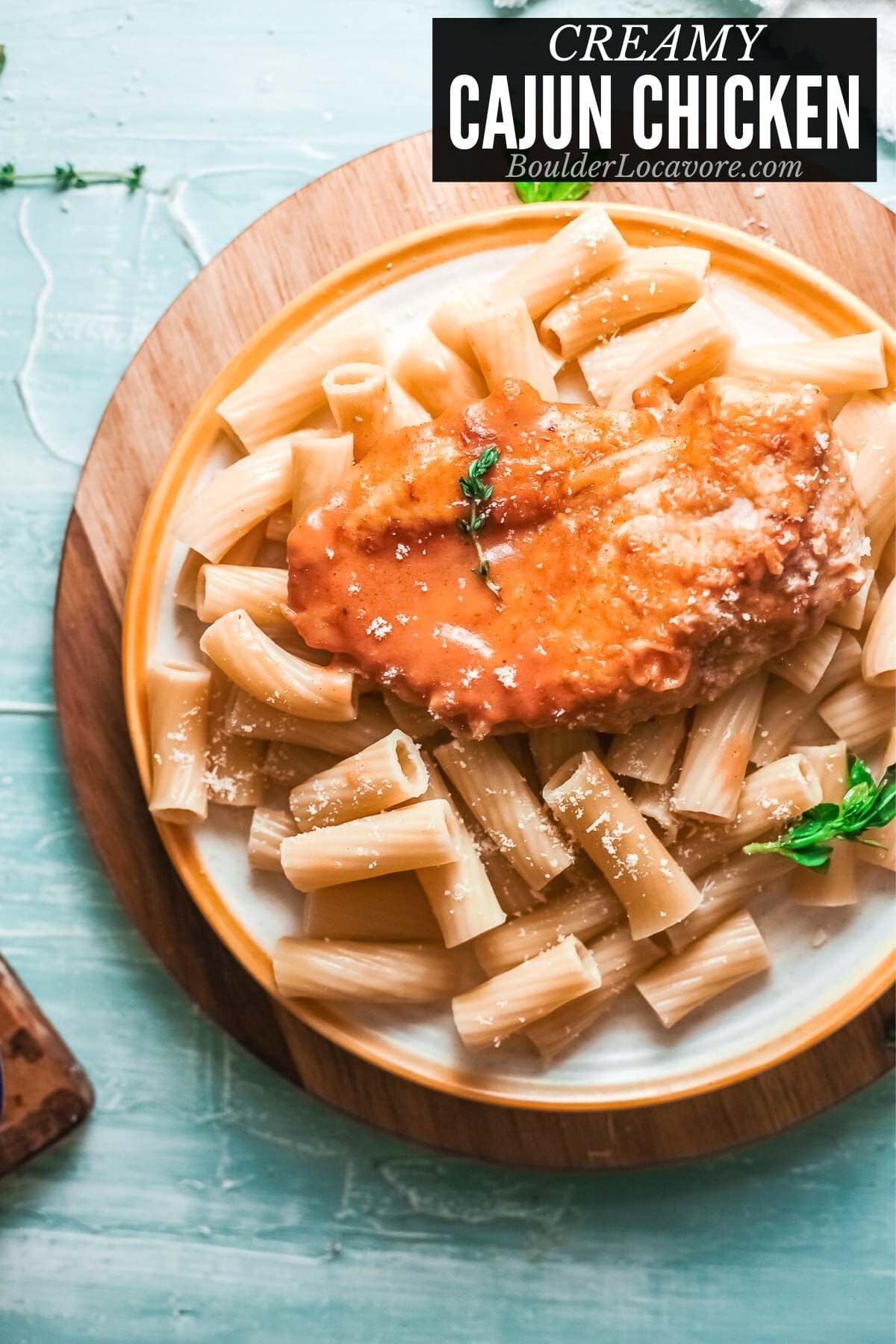 You don't need to travel to New Orleans to enjoy cajun flavors at home!
This delicious chicken recipe has a wonderful texture and is done cooking in less than 20 minutes.
It's easy to get a full dinner on the table in 30 minutes.
Serve it over rice or pasta with a simple side dish and Bananas Foster for dessert!
Easy Cajun Chicken Recipe
If you are a Jambalaya fan you already have a sense of what this Cajun Chicken is like.
The classic bold Cajun spices are mixed into a flour coating used before the chicken is pan fried to perfection.
It's finished in a simple homemade tomato cream sauce perfect for drizzling over rice, pasta or mashed potatoes.
What is Cajun Seasoning?
It's a spice blend found in Cajun cooking in Louisiana. The Cajuns are French in origin and blended their cooking with influence of West Africa, Spain and France.
The food is considered rustic and relaxed. Cajun seasoning if usually personalized but in general it has cayenne pepper, garlic powder, onion powder, paprika, salt and pepper.
Each dish or family may change it up.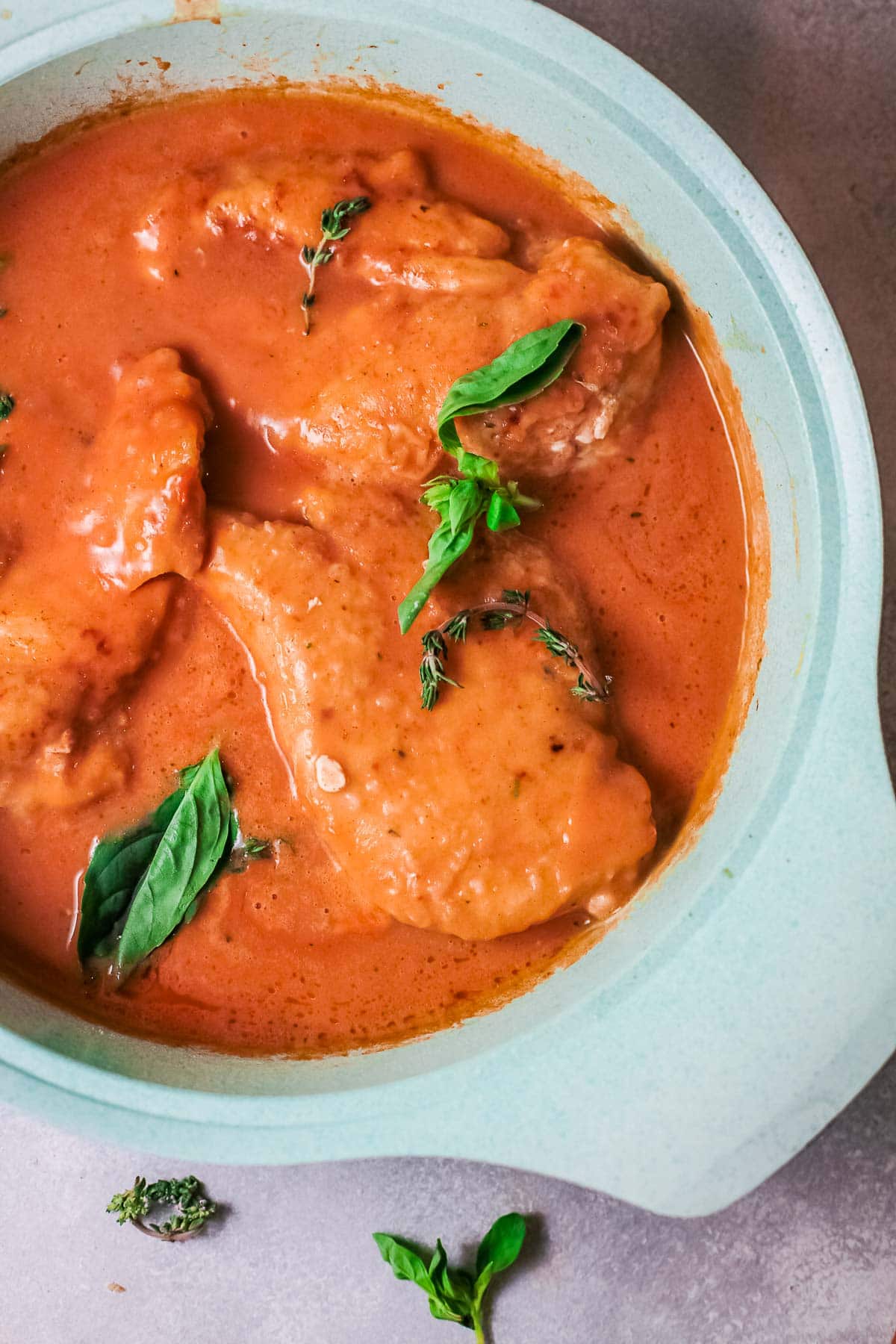 Recipe Ingredients + Notes
Boneless skinless Chicken breasts. Select chicken breasts that are similar size. The cooking time is based on an 8-ounce chicken breast size.
Seasonings:
The combination of spices create a slightly spicy Cajun flavor that mixes with the flour. Some of the cayenne pepper goes into the tomato sauce too.
Garlic powder
Onion powder
Paprika
Chili powder
Cayenne pepper
Salt
Black pepper
All purpose flour. Used with the spices to create a coating for the chicken. It makes a delicious outside texture and keeps the chicken moist and juicy inside.
Regular or gluten-free flour blend can be used. I used Bob's Red Mill Gluten-free 1-to-1 Flour blend.
Olive oil. Used to pan fry the chicken.
Unsalted butter. Used with the olive oil for pan frying the chicken.
Tomato paste. Just a little is added to the pan juices to create a final sauce for the chicken.
Chicken stock. Low Sodium stock is suggested. This will be used to make the sauce.
Heavy cream. The final ingredient to give the sauce a creamy touch.
Chicken Breast Size
Boneless skinless chicken breasts can vary wildly in size. What was a standard size of around 8-ounces can range up to almost 12-14 ounces now.
Try to find chicken breasts that are close to 8 ounces and all similar in size.
Having them all the same size will ensure they all cook in the same amount of time.
If using larger chicken breasts check the internal temperature of the chicken to ensure it is fully cooked.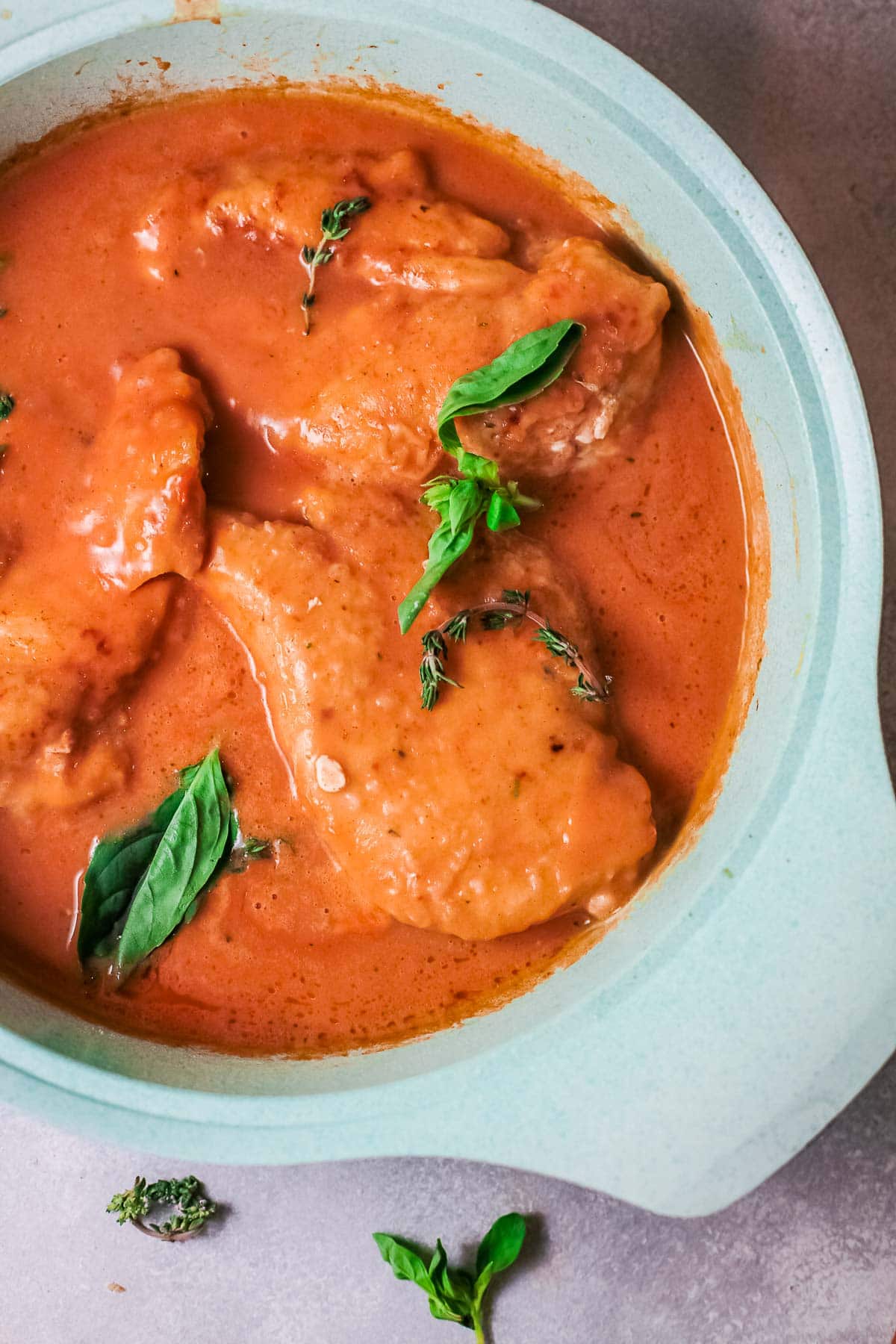 How to Make it – Step-by-Step
STEP 1. Dredge the Chicken.
Lightly season the chicken with salt and pepper.
In a bowl combine the flour, garlic powder, onion powder, paprika, chili powder, 1/2 teaspoon cayenne powder, 1 teaspoon salt and 1/2 teaspoon black pepper (photo 1). Mix well.
Dredge (dip) each chicken breast in the flour mixture on both sides to coat (photo 2).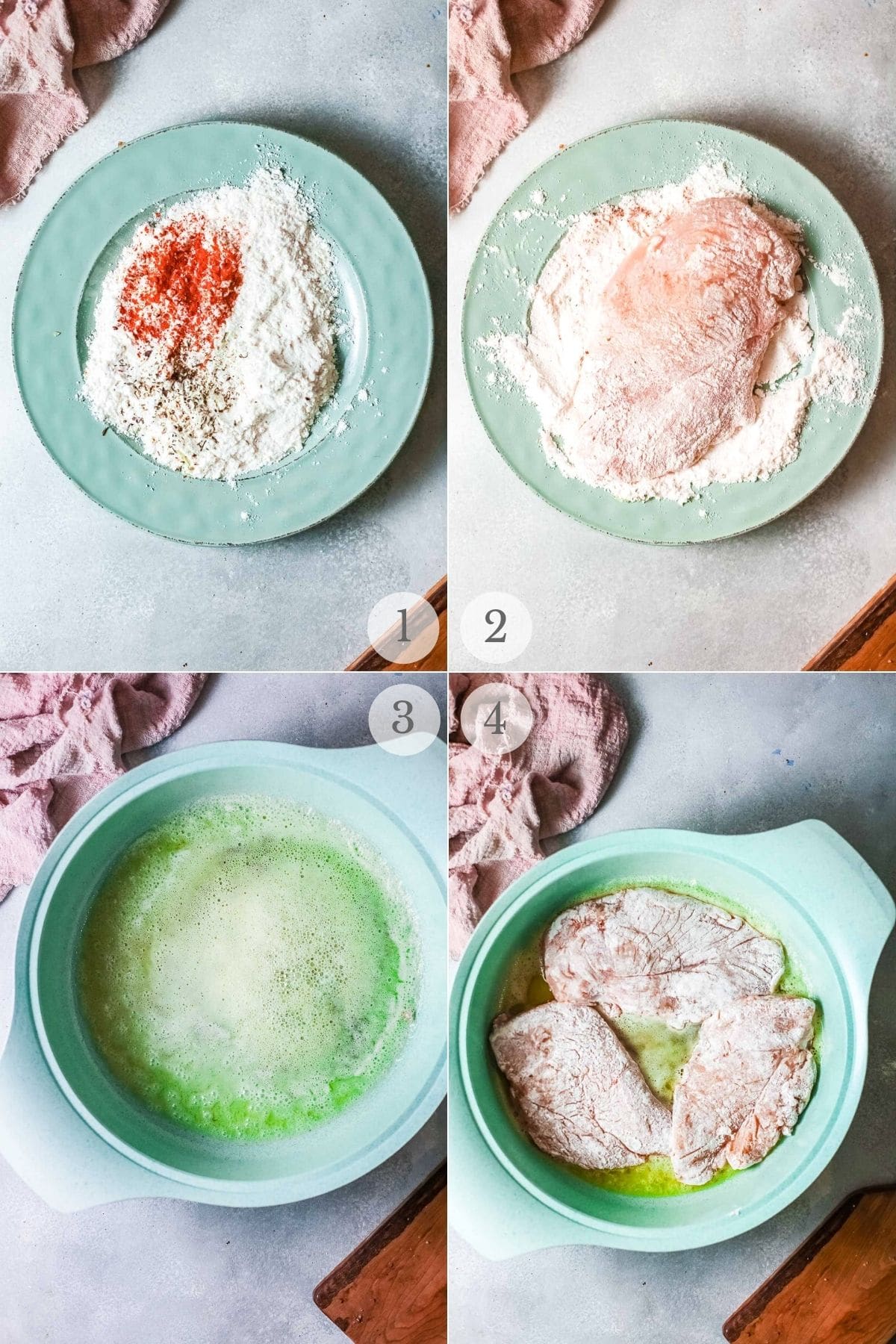 STEP 2. Cook the Chicken Breasts.
In a large sauce pan or skillet, heat the butter and olive oil over medium heat (photo 3).
Add the chicken breasts and cook 5 minutes on one side (photo 4). Flip over and cook 5 additional minutes on the other side (photo 5).
They will be golden brown and should be cooked through. They should measure aproximately 160 degrees F internal temperature.
NOTE: they will cook longer in the sauce and when they rest while the sauce is made.
Remove the chicken from the pan and set aside.
STEP 3. Make the Sauce.
Lower heat to low. Add the tomato paste (photo 6), chicken stock, heavy cream and remaining 1/2 teaspoon cayenned pepper to the pan (photo 7).
Bring to a simmer. Simmer stirring often for 4 minutes.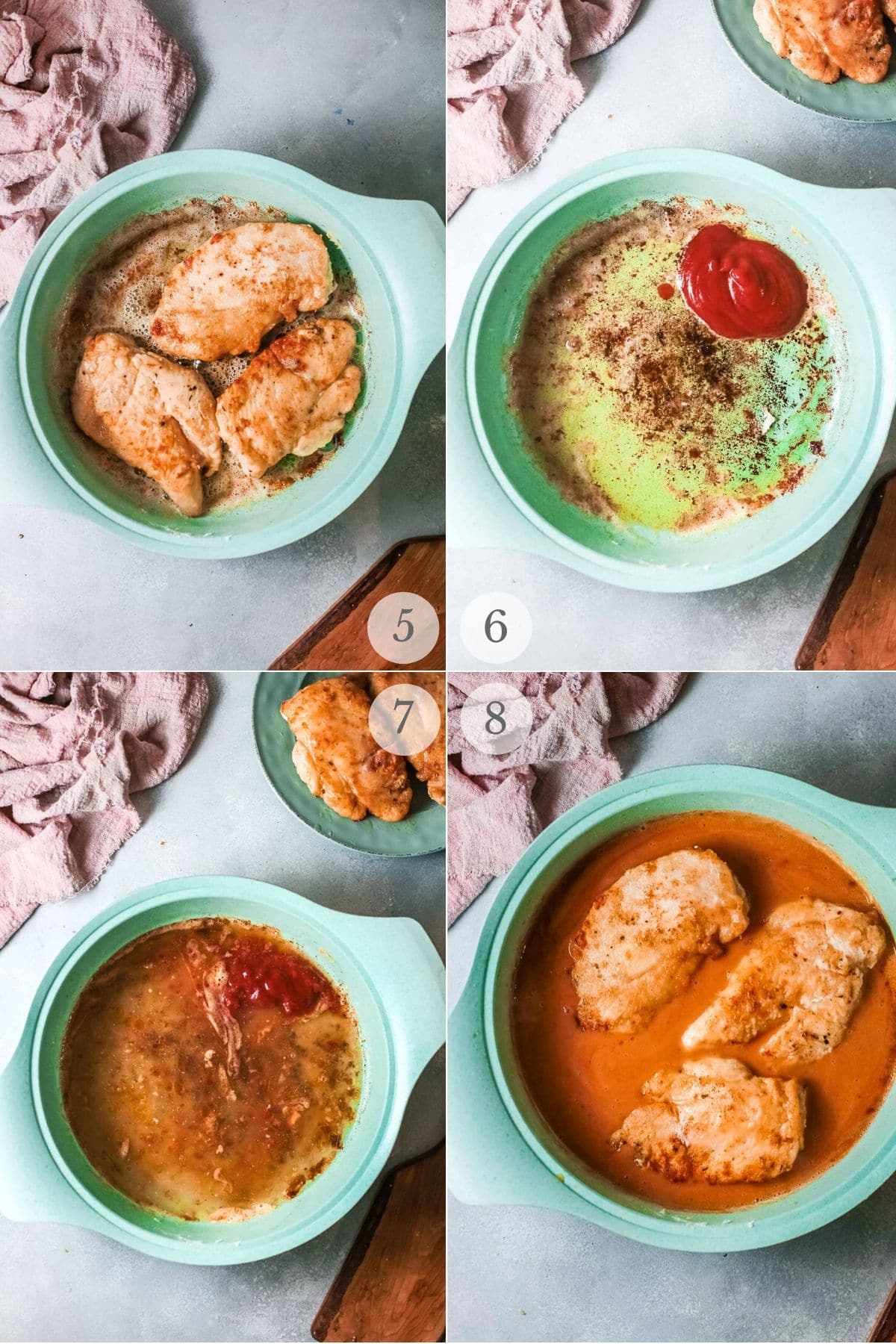 STEP 4. Finishing the Cajun Chicken in the Sauce.
Add the chicken back to the pan with the sauce. Turn the chicken to coat with the sauce (photo 8).
Cook 2 minutes more spooning the sauce over the chicken to coat.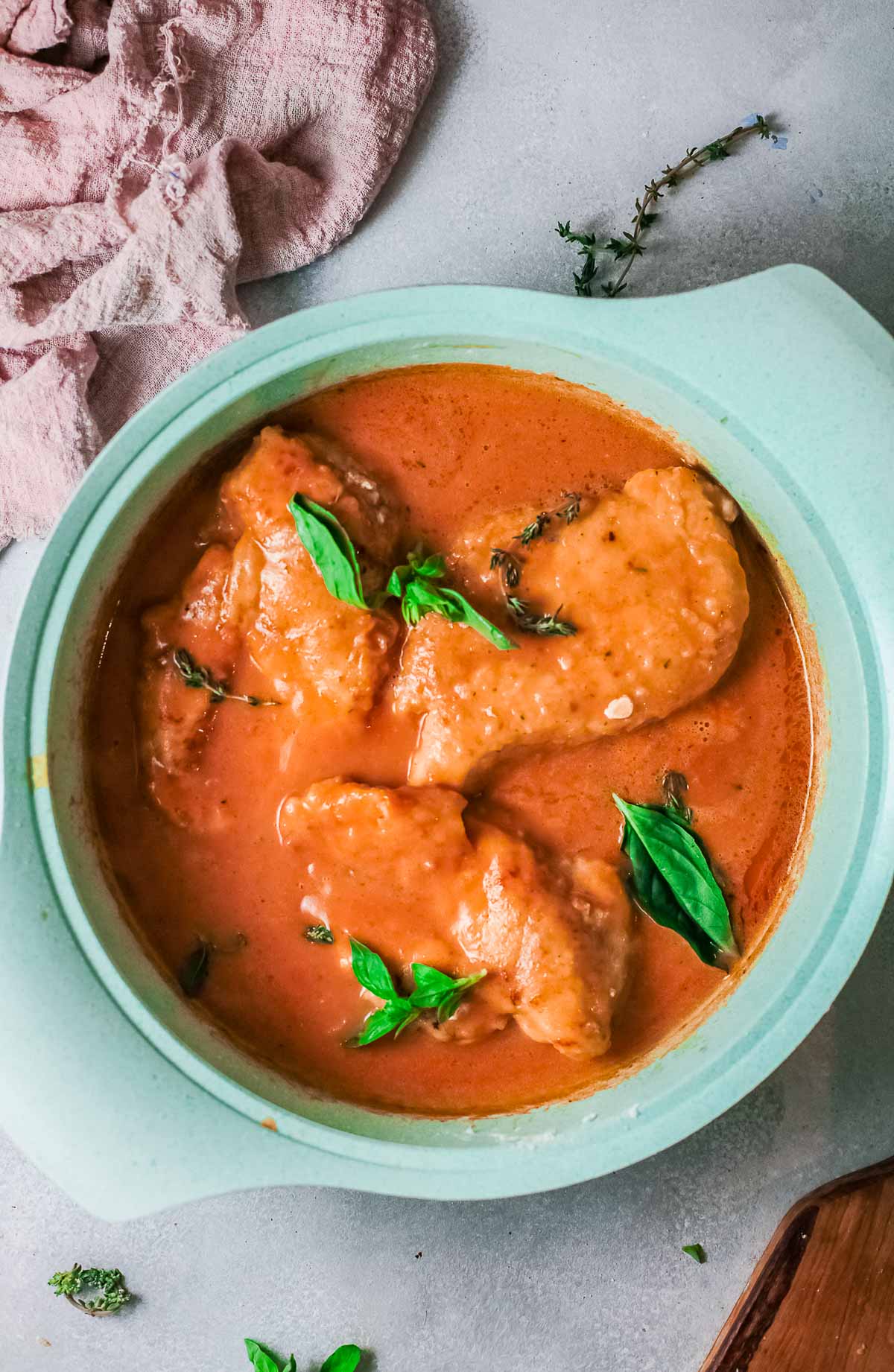 How to Serve it
Serve the Cajun chicken breasts over rice, pasta or mashed potatoes spooning the sauce over the top.
Recipe FAQ's + Pro Tips
Use same size chicken breasts. Even if they are over 8-ounces each this will allow the cooking time for all of them to be the same.
Use an Instant Thermometer to check internal temperature. Chicken is cooked when the internal temperature reaches 165 degrees F. This is best checked with an instant food thermometer.
After the chicken has cooked in the pan, it can be around 160 degrees.
The temperature will still rise while it rests out of the pan when the sauce is being made.
It will cook slightly more when added back to the sauce too.
How can I Make it Spicier?
First, always taste before adding more spices. If you like spicy heat, taste the sauce as made.
Want it hotter (spicier)? Add more cayenne pepper a little at a time until you like it.
How can I Make it less Spicy?
Omit the cayenne pepper from the sauce. The cayenne in the flour dredge with all flavor and a little bit of heat.
The main spiciness will be in the sauce. If you remove the cayenne it will be a creamy tomato sauce with no spices.
Storing Leftovers
Store any leftover chicken with the sauce in a sealed container. Keep it in the refrigerator for up to 3 days.
Reheat on a lower cooking power in the microwave until warm. This helps keep it from drying out.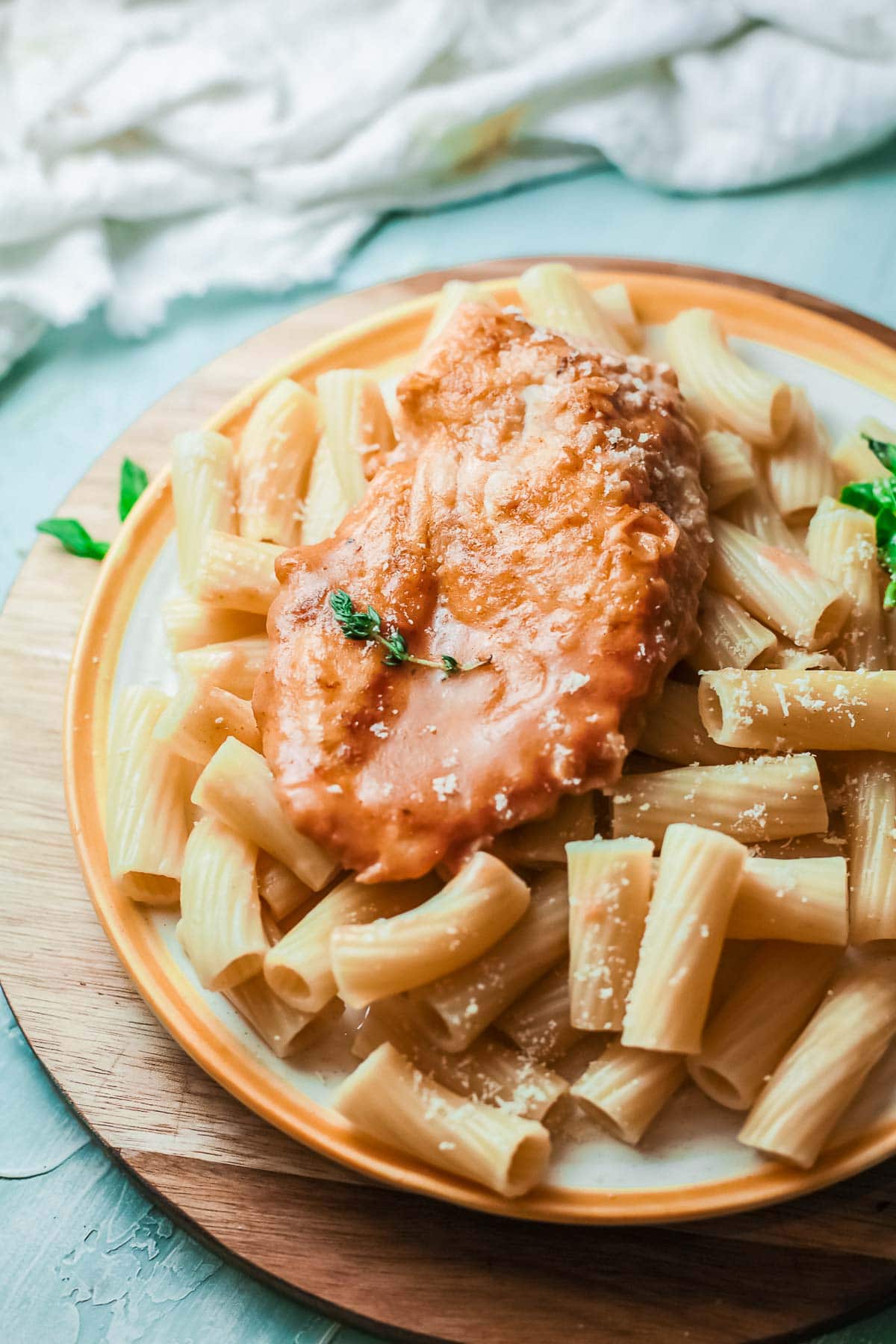 More Recipes You'll Love!
Did you make it? Please RATE THE RECIPE below!
Please SUBSCRIBE and FOLLOW ME on FACEBOOK , TWITTER , INSTAGRAM and PINTEREST !