Fresh and fabulous Fish Tacos are made with buttery baked tilapia, piled high with colorful fresh toppings and drizzled with a creamy homemade fish taco sauce. Everything is done and on the table in 30 minutes!

If you love fresh delicious ingredients these Fish Tacos will become a favorite!
They are SO easy to make!
Unlike fried versions these easy-to-make-at-home tacos are made with baked white fish.
They have wonderful flavor especially with the homemade creamy fish taco sauce.
For an easy taco party add these Instant Pot Chicken Tacos too!
Jump to:
The Best Fish Tacos
There are many things that make this fish tacos recipe 'the best' in our opinion.
The hot buttery tilapia paired with creamy, cool fish taco sauce and colorful, toppings. A perfect hot-cool crunchy-soft combination.
The lightly spicy, tangy sauce is easy and fast to whip up with ingredients you probably have already on hand!
This is a soft street tacos recipe using either flour or corn tortilla.
Made with a handful of wholesome ingredients.
Flexible toppings.
The fish is baked instead of fried.
Fast and easy to make.
Street Taco Serving Size
Street tacos are often served by street vendors and meant to be eaten in a few bites.
Because street tacos are made with much smaller tortillas, plan on 2-3 tacos per person along with some side dishes.
Fish Taco Ingredients + Notes
The tacos
Flour or corn 'street taco' tortillas. Street tacos are smaller than traditional tacos. The 'street taco' name will appear on the tortilla package.
The tortillas I used are by Mission and are 4.5-inches in diameter.
Tilapia. We used tilapia which is a very mild flavored white fish. It flakes nicely after being cooked making it perfect for these smaller size tacos.
Any white fish can be used (more details below).
Green onions. These are used to cook with the fish. They are milder than regular onions adding just the right amount of flavor without overpowering the flavor of the fish.
Salted butter. A small amount is used to bake with the fish. If desired a small amount of olive oil could be substituted.
Salt and Black Pepper. Used for seasoning.
Tortillas notes and options
Street Taco tortillas are available in both flour street taco tortilla and corn street taco tortillas.
They even make a 'carb balance' version if that better meets your needs.
Any of these tortillas can be used for these tacos.
The corn tortillas are gluten-free.
Larger tortillas can also be substituted. If doing so there will make fewer tacos than the recipe specifies.
What type of fish to use for fish tacos?
You can use any type of white fish for this recipe.
Some of the more popular and easily available types of white fish are: tilapia, cod, haddock, bass, or even catfish.
A thicker fish like Mahi-Mahi can also be used though cooking time may need to be adjusted.
You can also use salmon and shrimp for a different, yet still delicious, flavor combination.
Making them Gluten-Free
Use gluten-free corn or flour tortillas. All other ingredients are naturally gluten-free.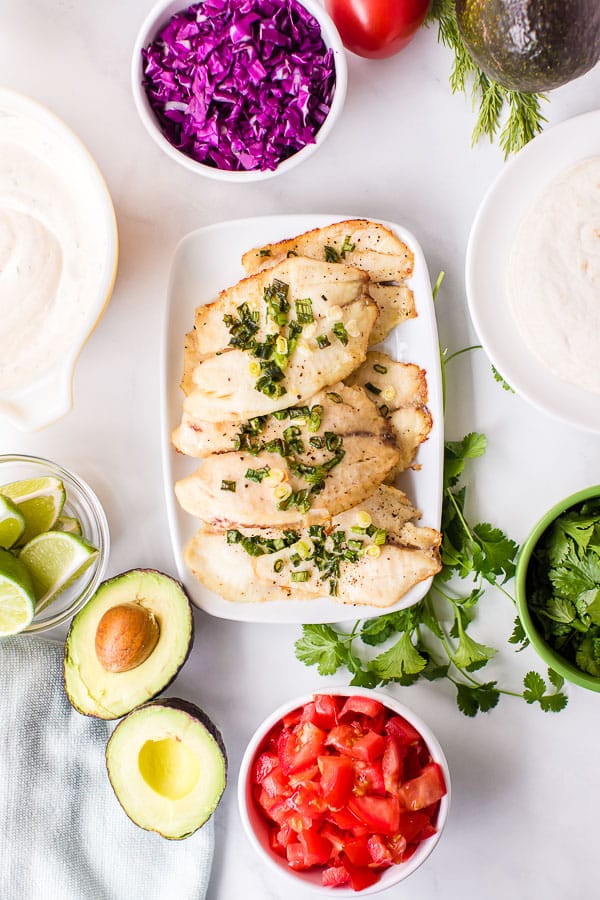 Fish taco sauce
The homemade sauce combines cool, cream ingredients with some sassy spices and tang.
Sour cream. Use full fat for best results.
Mayonnaise. Use full fat.
Dill. Fresh or dried dill can be used.
Garlic powder.
Sriracha sauce. Or other hot sauce can be substituted.
Lime juice. Use freshly squeezed lime juice if possible.
If you like spicy flavors a bit of chili powder could also be added.

Fish Tacos toppings
Toppings are flexible and the same types you'd put on any taco.
Here are some favorites for flavor, color and texture:

Purple/Red or green cabbage. Finely chopped or shredded cabbage. Cabbage slaw works great too.
Cilantro (fresh). Torn or chopped.
Tomatoes. Finely chopped.
Avocados or Guacamole. Use diced avocado or smooth guacamole.
Lime wedges. To squeeze additional fresh juice onto the tacos before eating.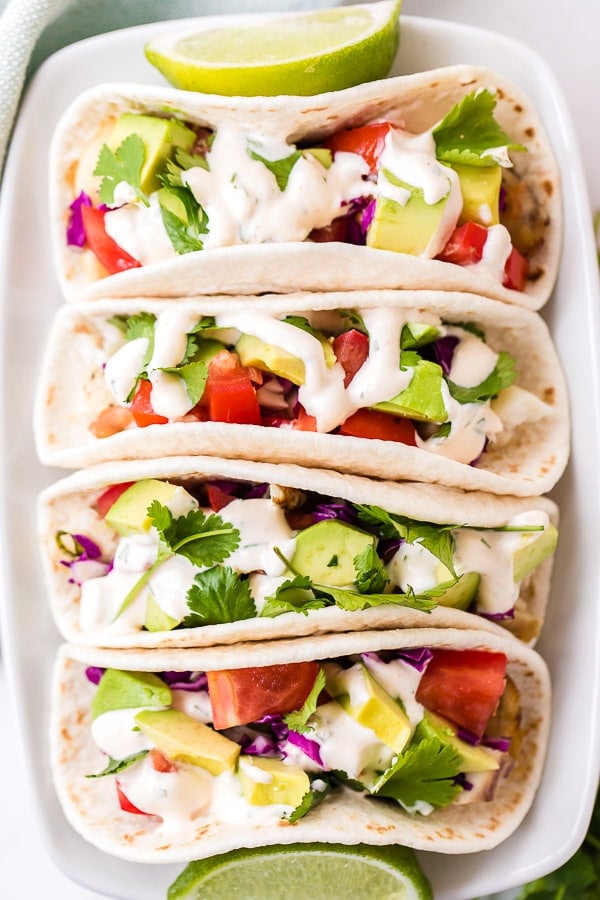 How to Make Fish Tacos – Step-by-Step
STEP 1. Preparation
Preheat oven to 375 degrees F. Line a baking sheet with parchment paper.
STEP 2. Cook the fish
Place fish fillets on the prepared baking sheet topped with salt, pepper, green onions and 2 slices of butter (photos 1-2).
Bake for 20-25 minutes until flaky.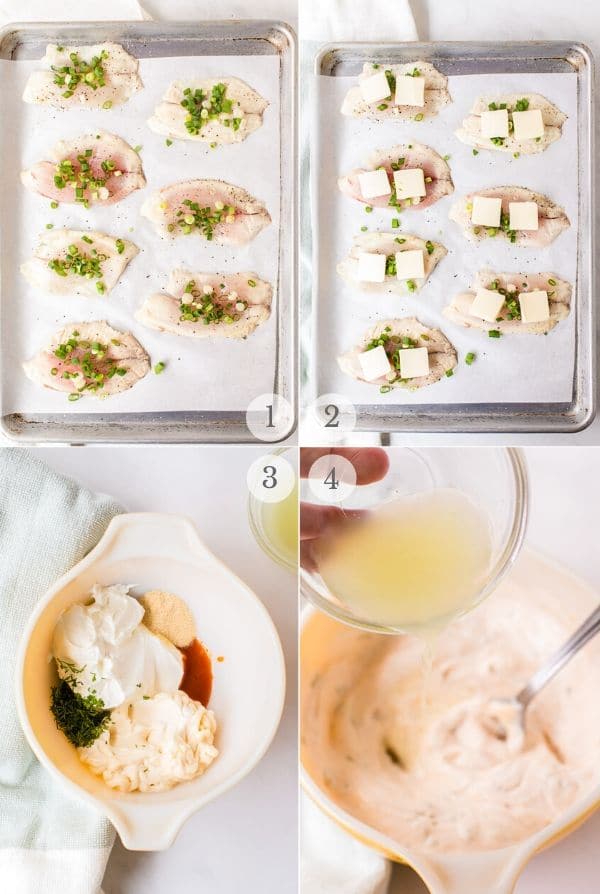 STEP 3. Make the sauce
Make the sauce by combining all ingredients EXCEPT the lime juice (photo 3).
Add the lime juice; stir to fully combine (photo 4).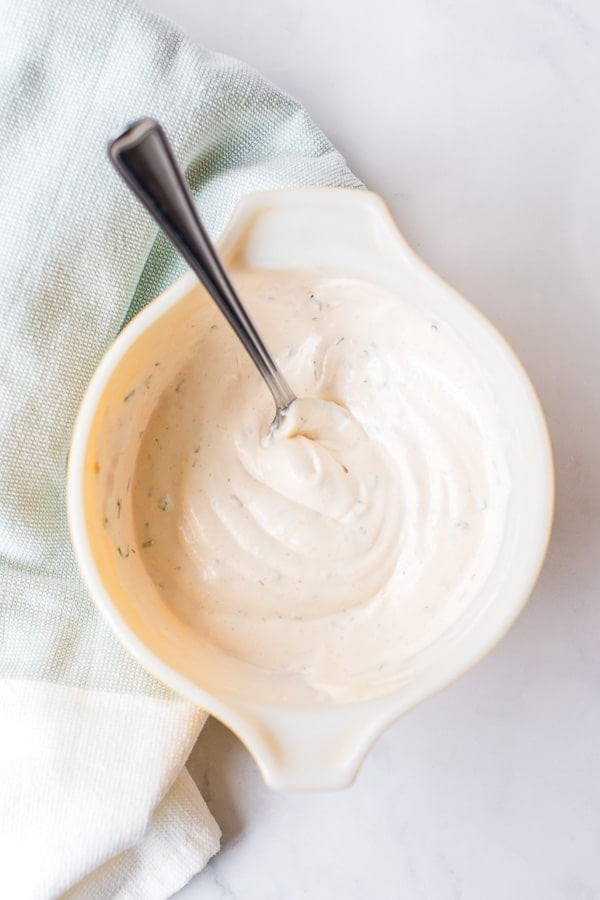 Assembling the Tacos
STEP 1. Break the fish up
Add the cooked white fish fillets to a medium mixing bowl. Break the fish into small pieces with a fork.
Add a portion of a fish fillet down the middle of a tortilla (photo 1).
STEP 2. Layer on desired toppings (photo 2).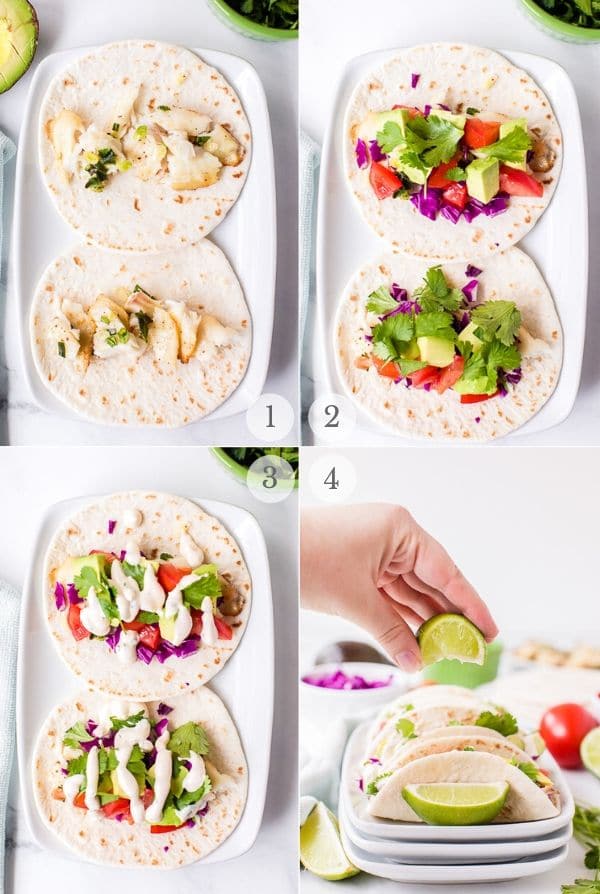 STEP 3. Add the sauce
Add some sauce (photo 3) and squeeze on some lime juice (photo 4).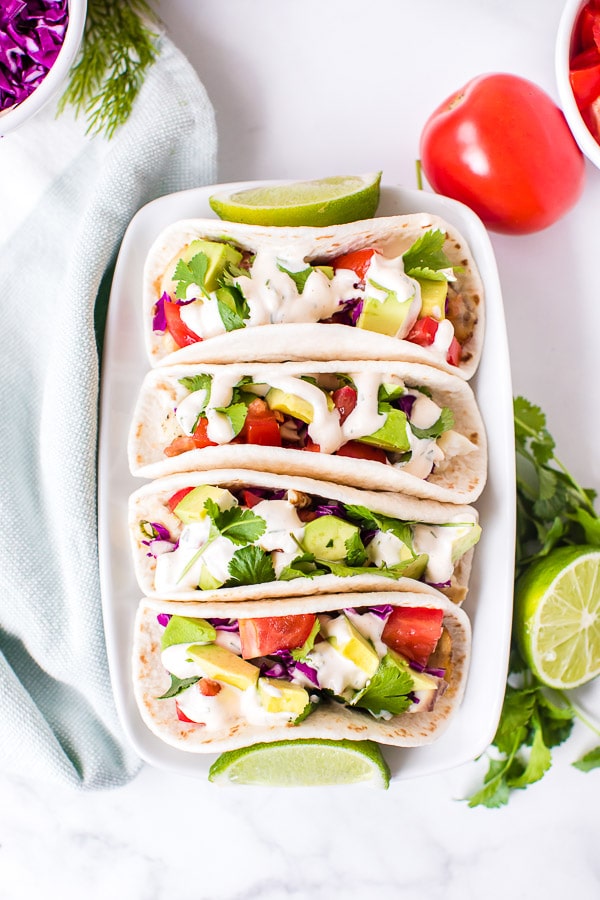 Ways to cook the fish
There are various ways to prepare the fish.
Why bake the tilapia?
Baking the fish with the green onion and the butter tastes divine.
This also keeps the fish naturally gluten-free and is a healthier alternative to frying.
Because the tilapia in this recipe is baked it has a softer consistency that's easier to break apart for the tacos.
It gives the taco a nice smooth bite and texture. The fish isn't overpowering in any way.
This is unlike crunchy texture that a deep fried fish taco would have.
Other ways to cook it
If desired the fish can be deep fried, pan fried or cooked in an air fryer before adding it to the taco. Or grill the fish.
Pro Tips
Use fresh ingredients. Though bottled 'fresh' lime juice, and frozen/thawed diced avocado can be used, the flavor of fresh ingredients IS better.
Keep the ingredients small sized. Because this recipe uses smaller tortillas keeping the ingredients in a smaller size fits best. Break the cooked fish into small pieces and chop the toppings into small pieces.
Lime juicing tip. Put the lime in the microwave for 10 seconds before juicing to get more juice! I use a hand held lime juicer. It makes quick work of juicing.
Avocado slicing tip. Avocado slicers speed up preparing the avocados.
Corn Tortilla tip. Double the tortillas for each taco if using corn tortillas. They fall apart more easily and doubling up helps keep them together.
Sauce shortcut. If you are short on time, you can use tartar sauce with a dash of hot sauce instead of making the sauce, even though it is well worth your time to make the sauce!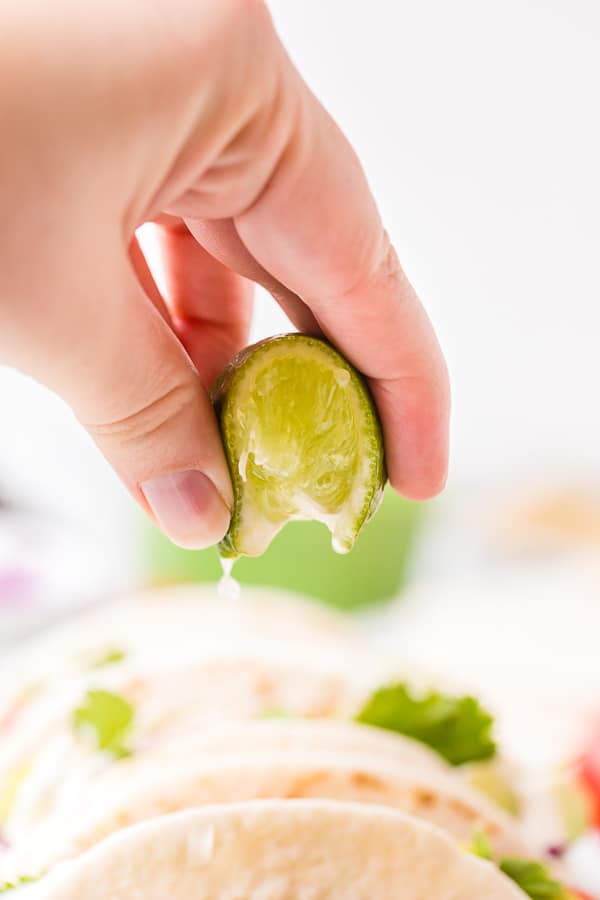 Frequently Asked Questions
Can fish tacos be eaten cold?
They can but what makes them delicious is the contrast of the hot-out-of-the-oven cooked fish with the cool, refreshing fish taco sauce and toppings. Also the fish has the most flavor when it is warm.
What to serve with fish tacos?
There are a variety of fish tacos sides that make a full meal.
The most popular option is beans and rice. Some of our favorites include:
Fries or a grilled vegetable such as asparagus or Elote (grilled Mexican corn) are great options.
A fresh summer salad, Mexican Quinoa Salad or Mexican Fiesta Cauliflower Rice are delicious too.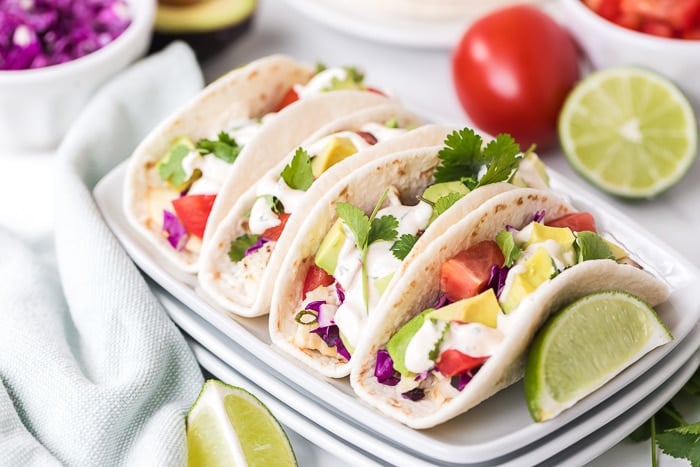 How to Store Leftovers
These soft tacos are best eaten when freshly made.
If needing to store leftovers, do not store in an assembled taco.
The fish can be stored fish in the refrigerator for up to 3-4 days in an airtight container.
Reheat the fish in the microwave before assembling a 'leftovers' taco.
The remaining ingredients may be stored, individually packed in air tight containers in the refrigerator for the same amount of time.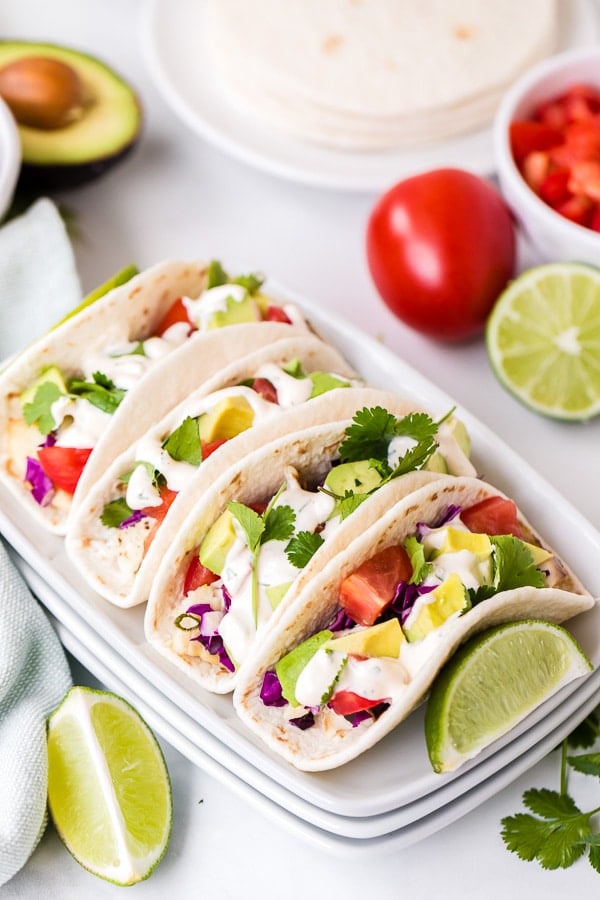 More Recipes You'll Love!
Did you make it? Please RATE THE RECIPE below!
Please
SUBSCRIBE
and
FOLLOW ME
on
FACEBOOK
,
TWITTER
,
INSTAGRAM
and
PINTEREST
!
Recipe
Originally published: February 23, 2020