If you love fresh Mediterranean flavors, this Greek Salad is a favorite. A handful of flavor-packed fresh vegetables, herbs, feta cheese and Kalamata olives make for a satisfying side dish.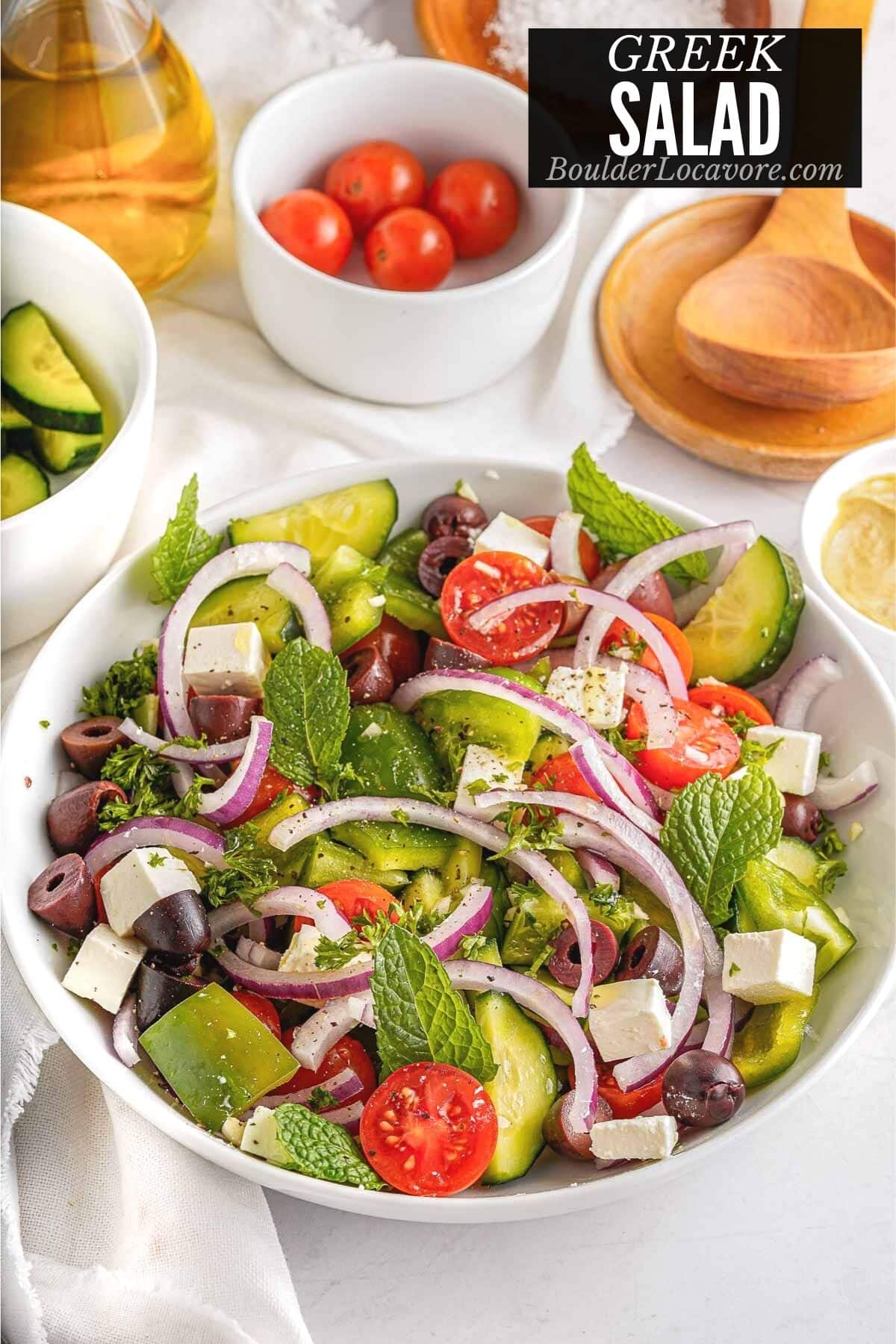 Time to change up ho hum green salad with something with a WOW factor!
The fresh classic Greek flavors are delicious and vibrant on even the hottest of summer days.
Enjoy a big portion as a main dish or serve it with some Chicken Souvlaki and Tzatziki Sauce for a full meal.
Jump to:
Easy Greek Salad recipe
Traditional Greek salad is a perfect example of using fresh ingredients at their prime being all that's needed for a fabulous meal.
Typically Greek Salad is made with 5 key ingredients: tomatoes, onion, cucumber, feta cheese and olives.
Cool, crisp cucumbers, thinly sliced onion, juicy tomatoes, salty feta cheese and tangy olives make for a simple robust salad that's perfect in hot temperatures.
A simple oil and vinegar dressing with some Dijon mustard and garlic is the perfect addition.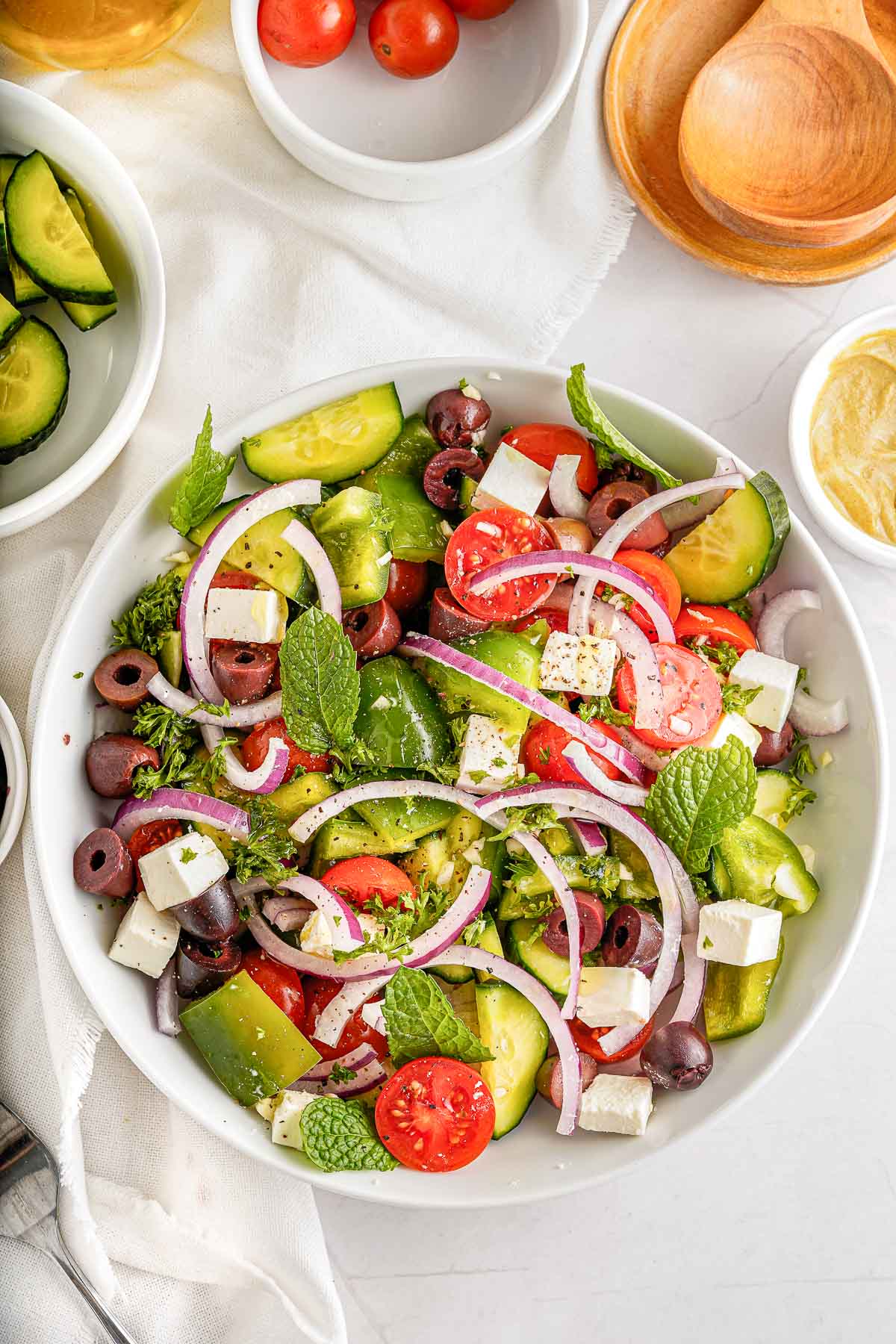 Recipe Ingredients + Notes
Cherry tomatoes. The tomatoes are halved giving a nice distribution of them in the Greek salad. Any type of cherry or grape tomatoes can be used.
Green Bell Pepper. Use a medium size pepper. If desired another color bell pepper can be substituted. They each have a slightly different flavor.
Feta cheese. This salty Greek sheep's milk cheese is a classic ingredient. It can be crumbled into the salad or cubed.
Cucumber. A regular or English cucumber can be used. It will be cut into half circles.
If using a regular cucumber to remove the seeds use a melon baller! It's great to scrape them right out. English cucumbers don't need to have the seeds removed.
Red onion. This adds color and some spicy flavor. For even slices consider using a mandoline slicer.
Kalamata olives. These large, brown Greek olives are brined in olive oil or wine vinegar. They can be purchased pitted and sliced as a time saver. Black olives can be substituted if desired.
Mint leaves. A touch of chopped fresh mint leaves adds bright flavor.
Parsley. Flat leaf (Italian) parsley or curly parsley can be used.
Olive oil. Used for the delicious dressing.
Red wine vinegar. Used in the dressing.
Dijon mustard. Adds a wonderful depth of flavor to the dressing.
Garlic clove. Just one clove minced is all that's needed to give the dressing some zing without making it overly garlicky!
Salt and Pepper. For seasoning. We love kosher salt and freshly ground black pepper whenever possible.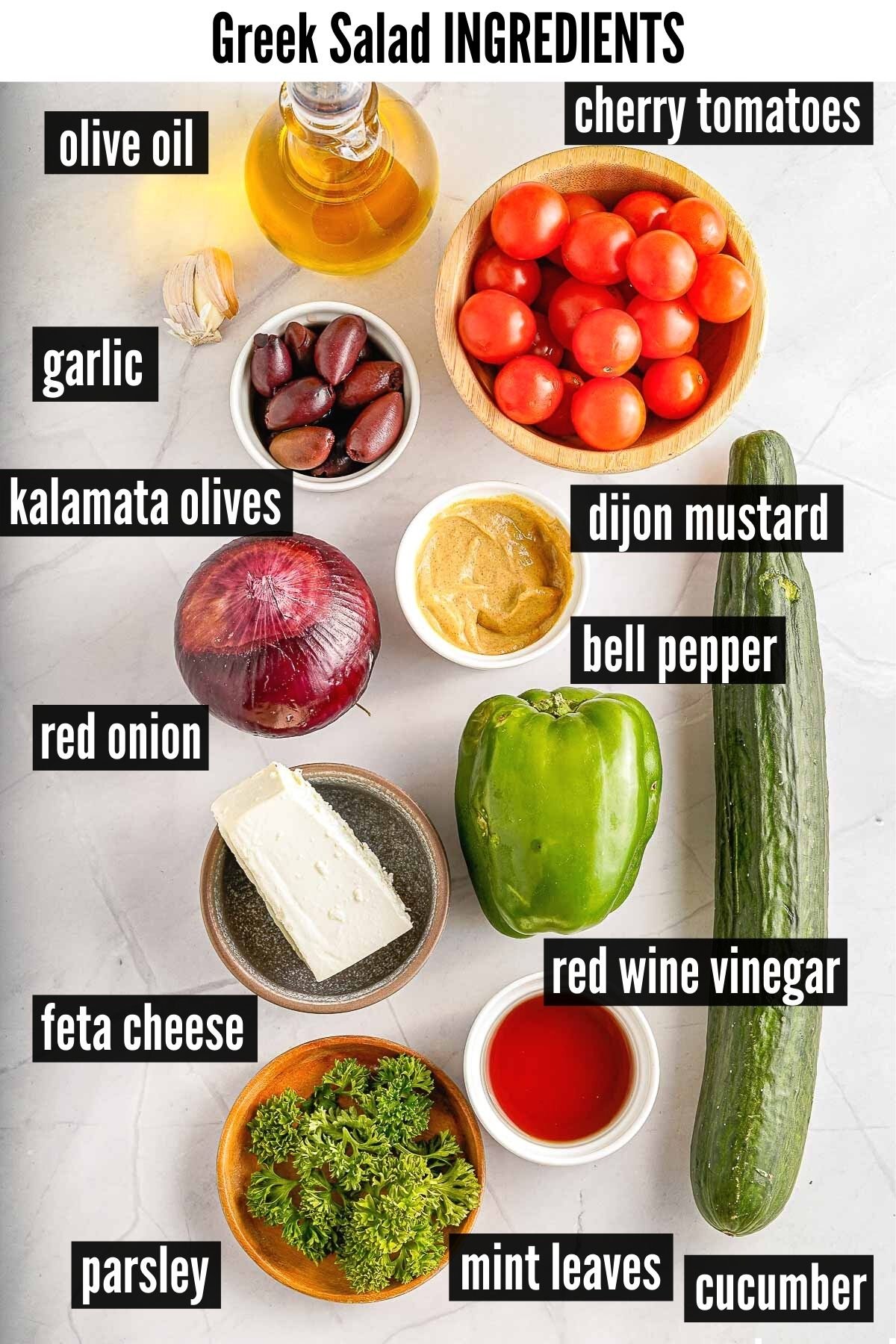 Variations
Add some oregano. Either some dried oregano in the dressing or some fresh Greek oregano sprinkled on the salad.
Add some grilled chicken. For a heartier salad grilled chicken is a great addition.
Add some prepared quinoa. To keep it vegetarian but with more protein, stir in some prepared quinoa.
Squeeze lemon juice. For a bright flavor a squeeze of fresh lemon juice is delicious.
Using different tomatoes. Tomatoes can have a lot of liquid which is why we use cherry tomatoes to keep the extra liquid to a minimum. Roma tomatoes (though Italian) are a denser tomato that could be used as a substitute. Grape tomatoes are good too (sweeter).
How to make Greek Salad
Combine the prepared ingredients in a large bowl.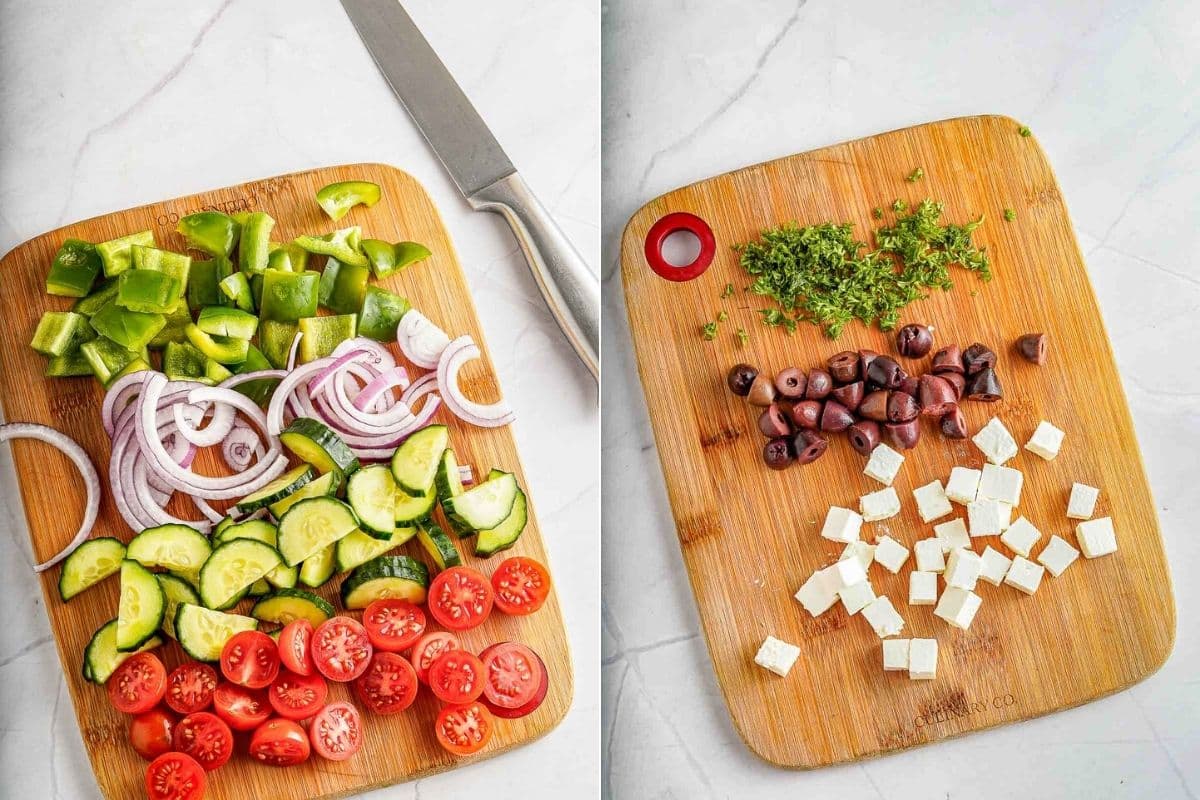 Whisk the dressing ingredients together in a small bowl.
Gently toss with salad ingredients and serve.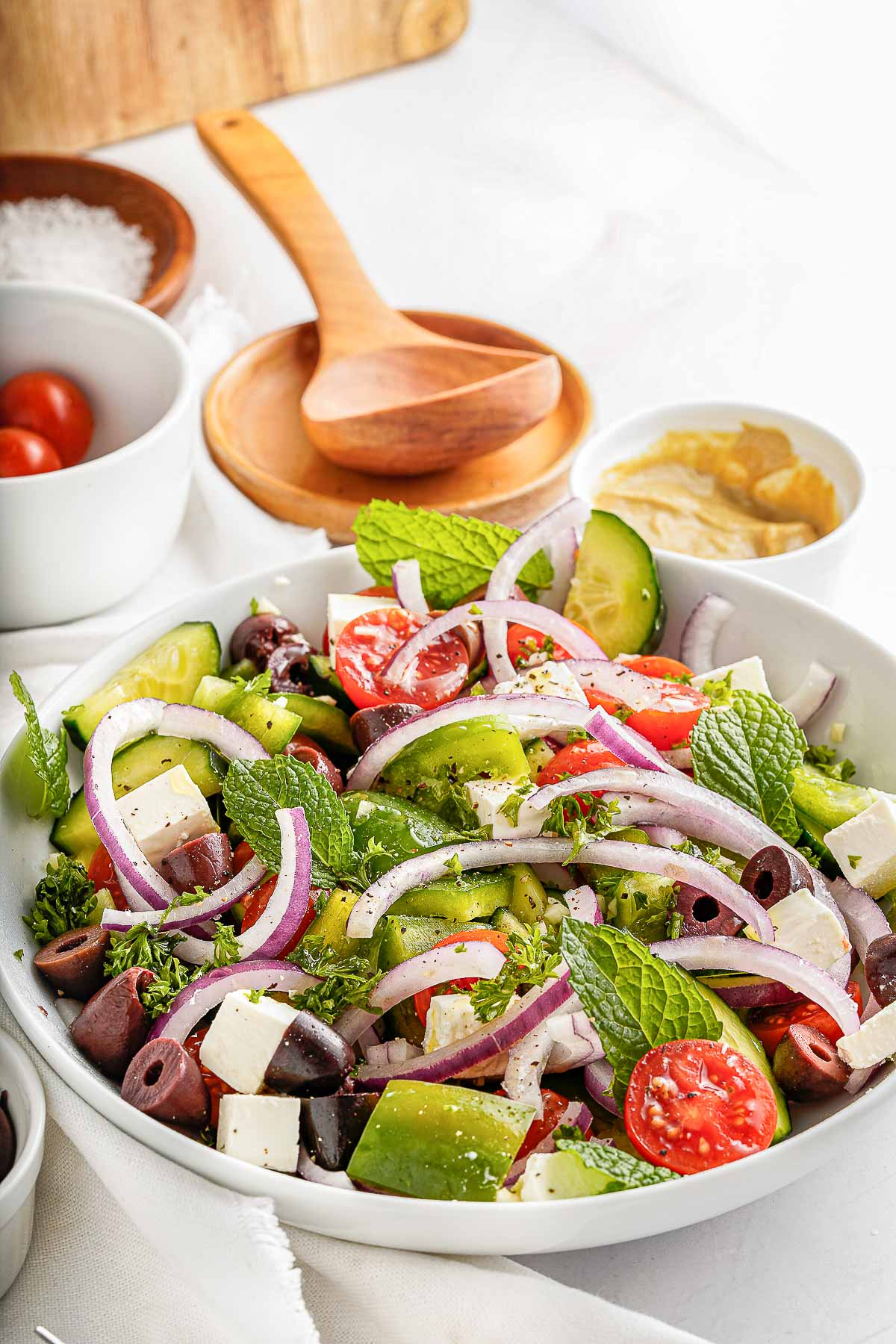 Make it Ahead tips
For a quick turnaround when you want to serve the salad you can do some preparation ahead of time.
Make the dressing up to a couple days beforehand. Store in a sealed container in the refrigerator. Allow to come to room temperature before dressing the salad.
The vegetables can be prepared earlier in the day and kept in an airtight container in the refridgerator.
When ready to serve add the feta cheese, olives and toss with the dressing.
NOTE: the flavors are best when at room temperature.
Storing leftovers
The salad it best when first dressed and served.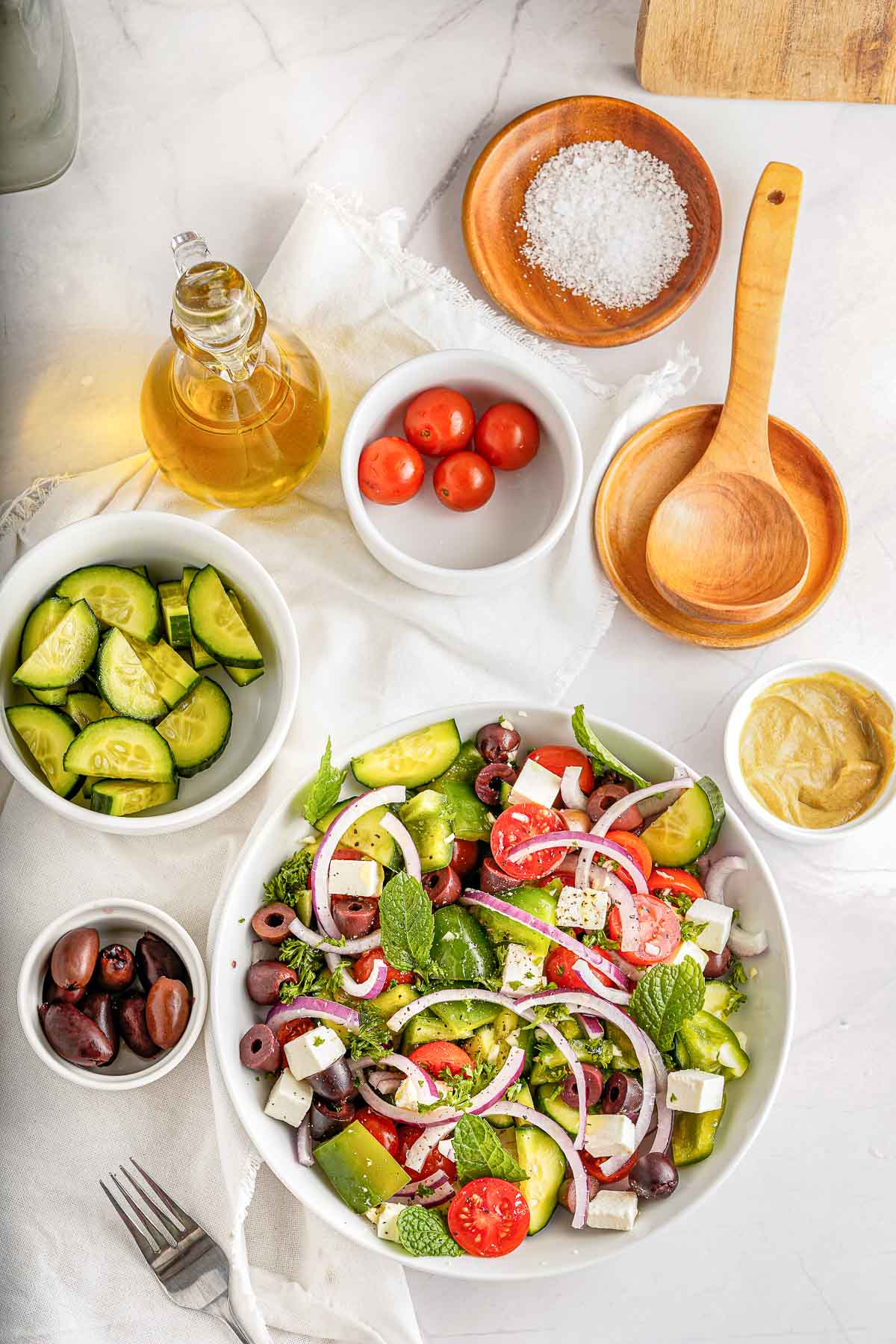 More recipes you'll love!
Did you make it? Please RATE THE RECIPE below!
Please
SUBSCRIBE
and
FOLLOW ME
on
FACEBOOK
,
TWITTER
,
INSTAGRAM
and
PINTEREST
!
Recipe