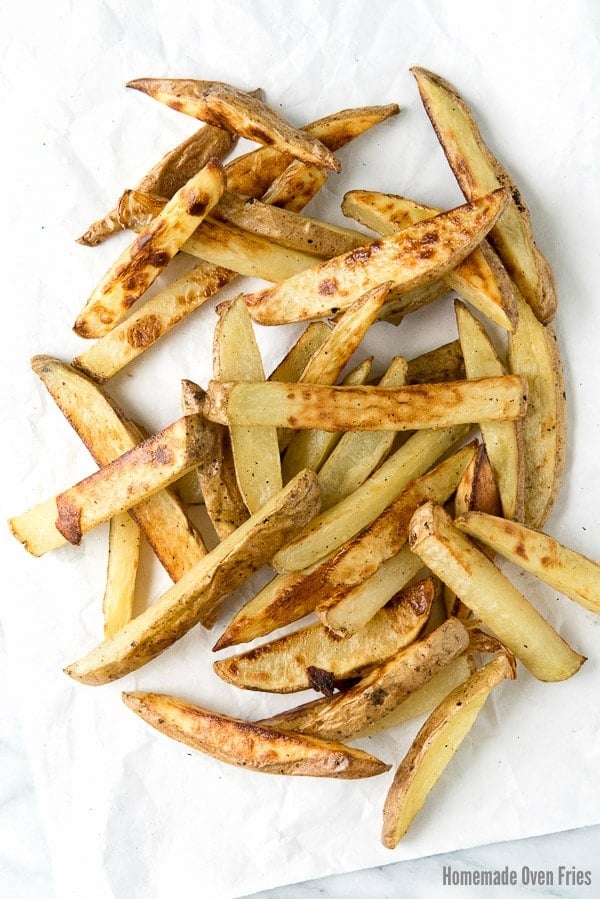 French fries have always been popular in my household and a number of years ago I realized I could make Homemade Oven Fries easily with potatoes, some oil and seasonings.  It might be obvious but when one is used to buying food like French fries their whole life the realization they can be made from scratch somehow isn't obvious.
What I love about making Homemade Oven Fries is I almost always have potatoes and can make the decision with no planning.  We love thicker fries but they can be made into any size or shape; long and skinny French Pomme Frites (the original 'French fry'), regular size fires or larger steak fries.  They are great on their own (with Homemade Best Ketchup) or in recipes like Texas-Inspired Chili Cheese Fries or Barbecue Beef Poutine (a Canadian signature food).  Also being baked instead of deep fried they have far less fat (and only 'good' fat).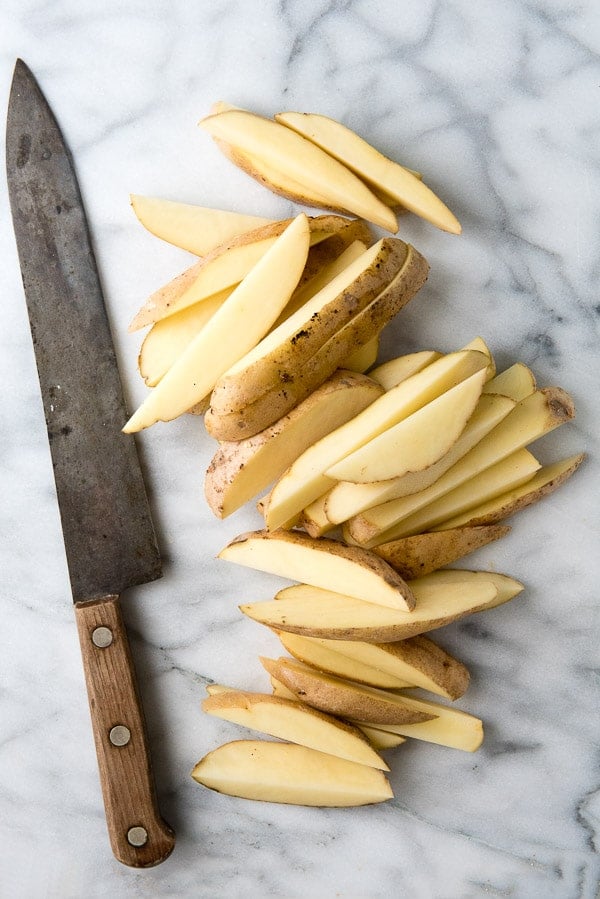 Potatoes are available all year round making the recipe a great side dish whether for roasted winter meats, and slow cooker dishes or for grilled summer recipes.  For those gluten-free they are a great choice being naturally gluten-free and when making them from scratch there is no concern over any flour being added to separate the fries.
I particularly like these Homemade Oven Fries because they are larger than a traditional French fry and develop a delicious golden, crisp outside with a soft inside.  They are definitely a family favorite.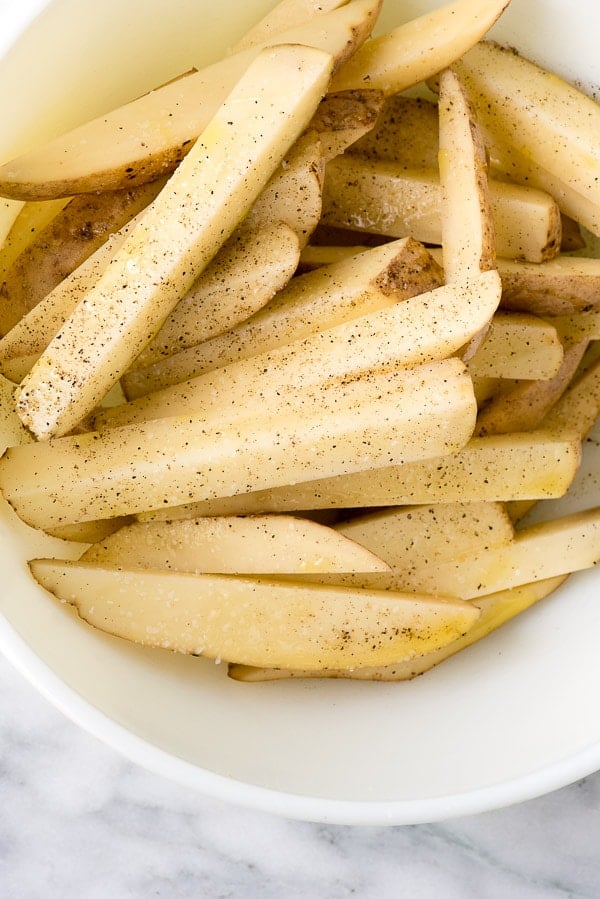 Something that my kids like about making these fries at home (and me too) is you can strike the perfect salt to potato ratio.  I'm sure you've had the experience of buy fries and they seem to be a Goldilocks story; too salty, not salty enough but rarely 'just right'.  I've deliberately not specified the amount of salt and pepper to leave that to your personal preference.  I give my fries a healthy sprinkling of both salt and pepper but you can all a bit before cooking and more after before serving as it suits your taste.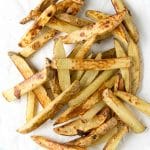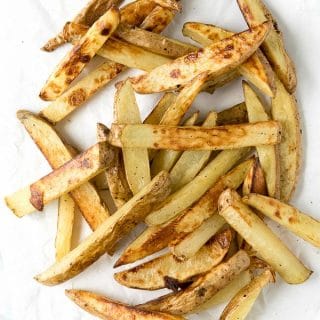 Homemade Oven Fries
Ingredients
3-4

larger size potatoes

(Russet, Yukon Gold, Yellow, White)

1-2

tablespoons

olive oil

Kosher Salt and fresh Black Pepper to taste
Instructions
Preheat the oven to 400 degrees.

Scrub potatoes. Slice potatoes lengthwise into 1/2 inch slices; then cut each slice into 1/2 to 3/4-inch wide fries.

In a large bowl, gently toss potatoes in 1-2 tablespoons olive oil and salt and pepper. The potatoes should all be thinly coated but not dripping with oil.

Line a baking sheet with a silpat or foil (non-shiny side) and place potatoes in a single layer on the prepared cookie sheet.

Cook until done (about 25 minutes), turning once or twice during cooking to allow a golden-brown crust to form on the potatoes. They'll develop a delicious crunch on the outside and soft inside.
This delicious recipe was originally published in May 2011 and has been updated in 2016.