Looking for a fun spicy side dish? To get more vegetables into your meals? Something grain-free? You'll love the bold flavors, and easy of making Mexican Fiesta Cauliflower Rice. It is a tasty versatile side dish that pairs with anything and is fast to make.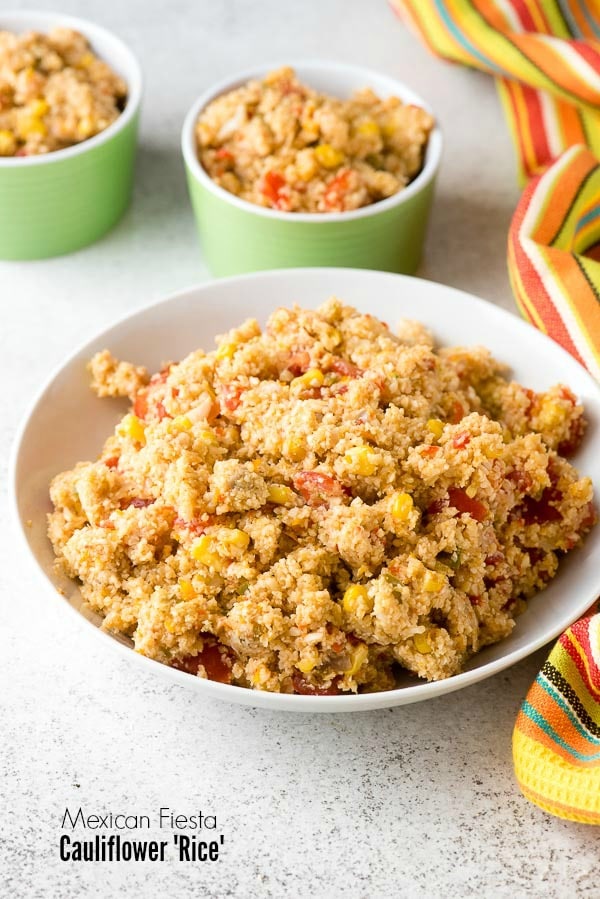 For any of you that follow culinary trends, search recipes online or are into low-carb eating you've undoubtedly noticed the trend of 'cauliflower rice'. It's exactly what it sounds like; cauliflower processed into pieces the size of rice or couscous. It's a fantastic option for those wanting to incorporate more vegetables into their meals (or their kid's meals), to create a lower-carb recipe in place of traditional grains, or to try something new.
Spicy Cauliflower Rice Recipe
This recipe for spicy Mexican Fiesta Cauliflower Rice perks up the mild cauliflower with traditional Mexican flavors and instructs on how to make cauliflower rice from scratch.
Plain cauliflower rice can also be purchased at the grocery store and substituted to make the recipe prep even faster.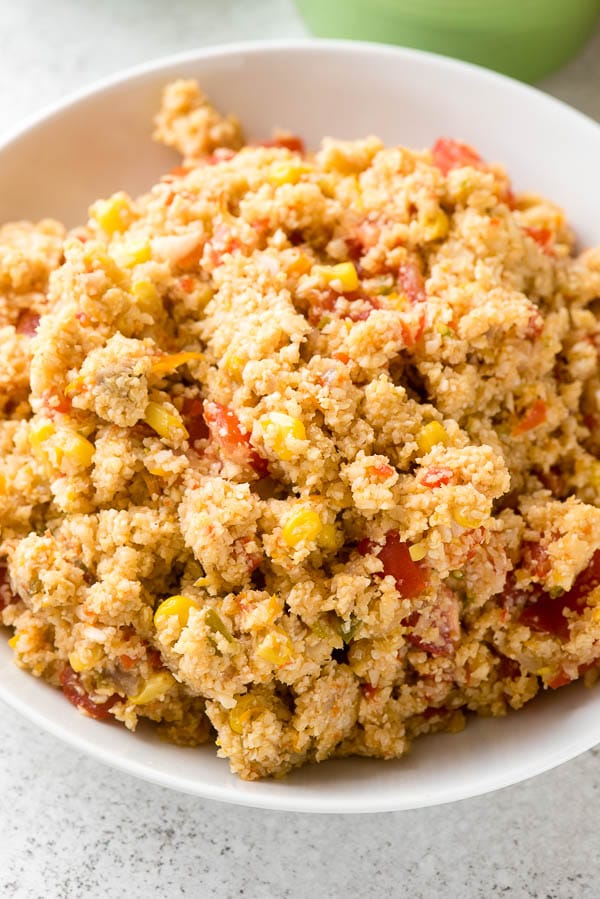 Last week I shared a mouthwatering Sicilian Cauliflower Salad recipe and had purchased some extra cauliflower when buying the ingredients. It seems a perfect time to break out a cauliflower rice recipe to share.
One of my favorite flavor profiles (and my family's too) is Mexican. I love the aromatic scent of cumin and it's the one spice I constantly run out of so am using it often. Colorful sweet peppers, red onion, corn, jalapeno come together to create a feisty side dish.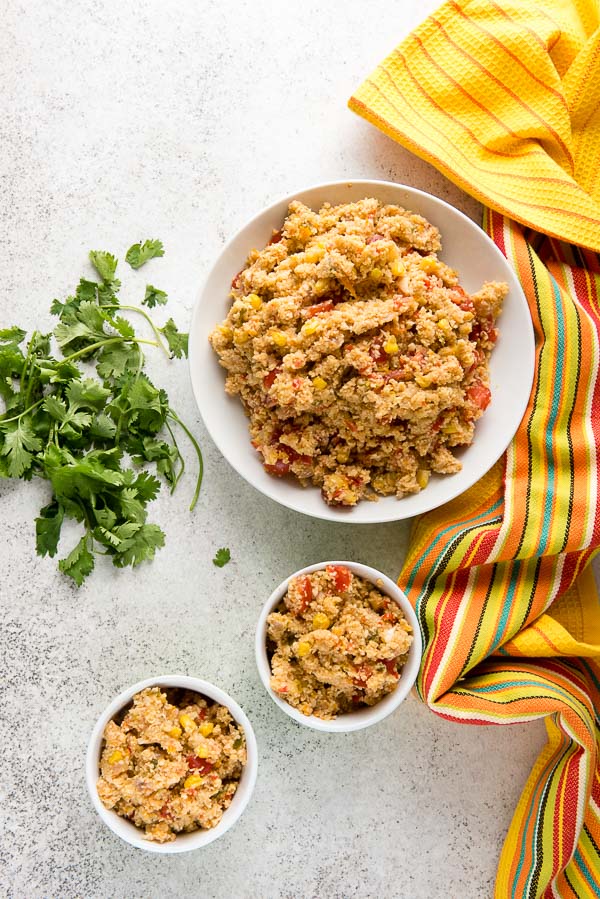 An obvious way to use the Mexican Fiesta Cauliflower Rice is as a side dish but it is also great in a bowl recipe layered with meat or burrito fillings and toppings. I served this with some grilled chicken shish kabob and I don't think anyone realized it wasn't rice.
A classic question about cauliflower rice is 'does it taste the same as rice?' No it doesn't, it only looks like it. However, if you are a rice-lover, do give this recipe a try. It's a great alternative to rice. And if you aren't a cauliflower lover, never fear. The spicy, strong spices really mask any distinct cauliflower flavor!
How to make Cauliflower Rice – Step-by-Step
STEP 1. Prepare the Cauliflower.
Cut the head of cauliflower into quarters. Cut off the stalk and cut into florets.
Process through a food processor until the cauliflower is the size of cous-cous.
TIME SAVING TIP: Buying bagged cauliflower florets saves the prep time described above.
Even faster? Use fresh or frozen and thawed plain cauliflower rice from the store for this step.
STEP 2. Make the Mexican Cauliflower Rice.
Heat a large skillet over medium-high heat. Add the oil to heat.
Sauté the onion until translucent.
Add the garlic and cook 2 more minutes.
Add the remaining vegetables (sweet pepper, corn, jalapeno pepper, tomato) and spices (cumin, cayenne pepper, salt).
Cook stirring occasionally until the cauliflower rice it cooked through (aproximately 5 minutes).
Serve immediately.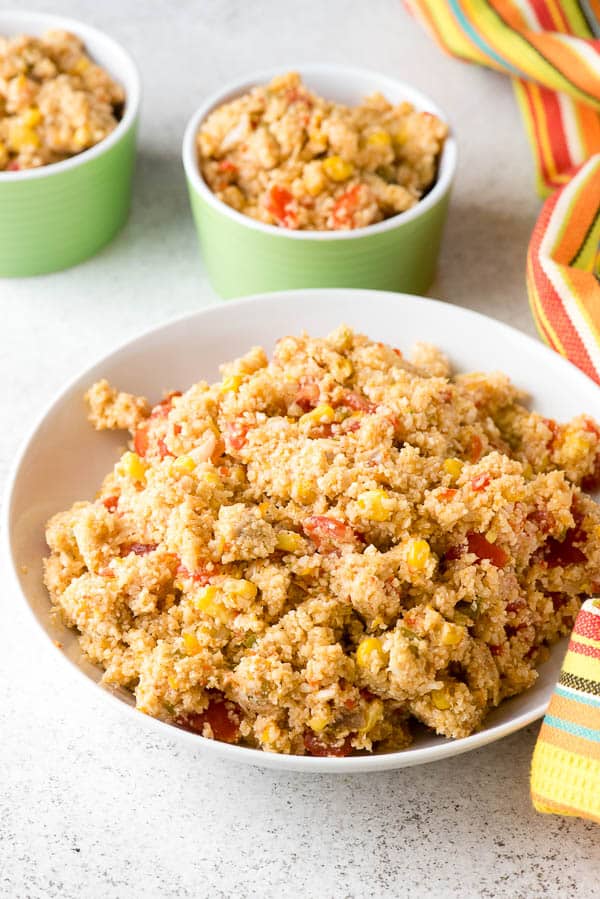 More Recipes You'll Love!
Did you make it? Please RATE THE RECIPE below!
Please SUBSCRIBE and FOLLOW ME on FACEBOOK , TWITTER , INSTAGRAM and PINTEREST !