If you want a colorful, crunchy salad or side dish that's full of flavor and great nutrition Mexican Green Chile Quinoa Salad is the ticket!  Quick and easy to make, it can be served as a chilled salad or warm side dish.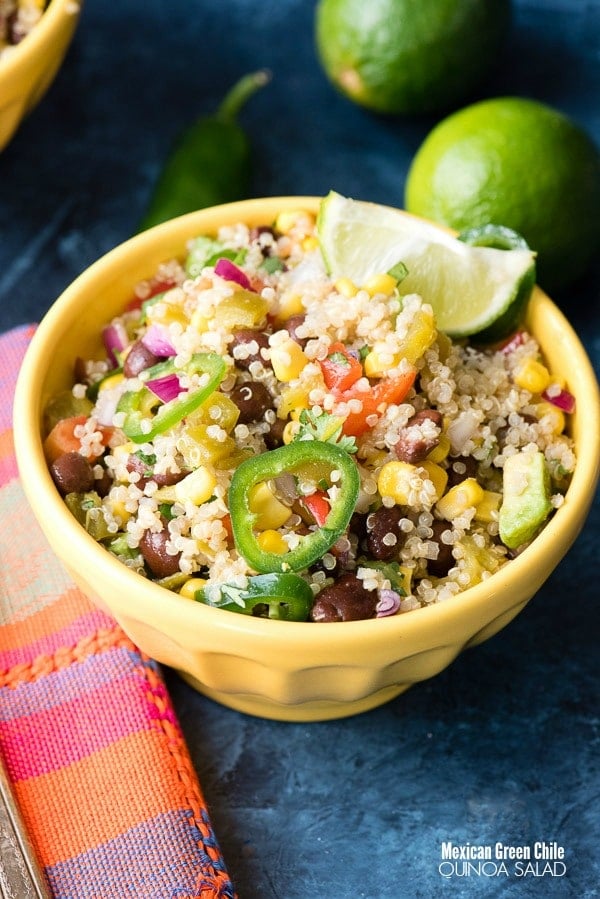 This weekend, Labor Day, signals the official close of summer.  Of course in many areas Mother Nature doesn't flip the switch to fall but it has definitely felt cooler and heading that way here in Boulder.  My kids and I were just talking yesterday about the visible signs of fall; the softer warm tone of the light, trees beginning to turn, temperatures which aren't so beastly hot.  We all agreed it's a favorite season and we look forward to the cozy foods, warmer clothes and the hope that it will stay awhile.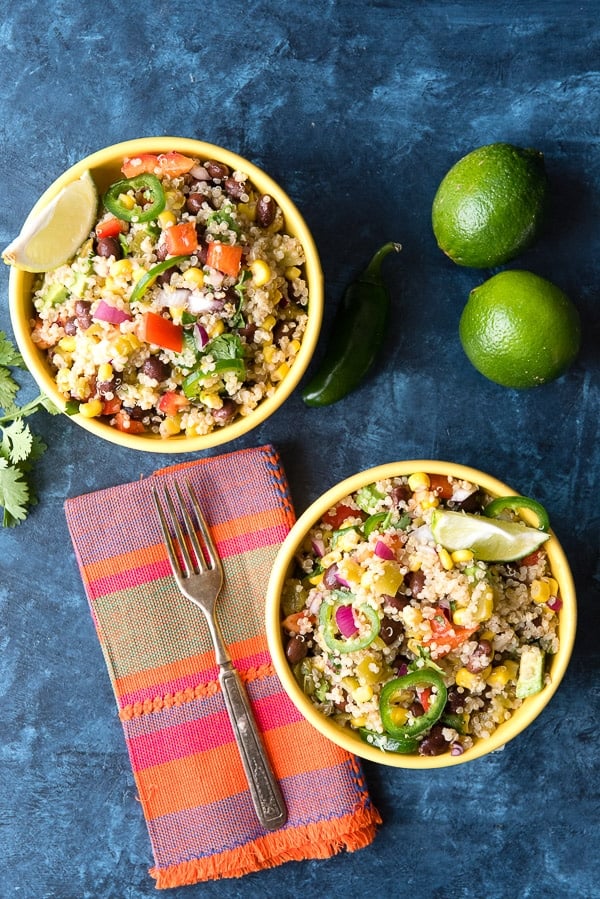 Labor Day is usually full of grilling, outings and get togethers.  In thinking through my own weekend plans, I wanted to create a delicious salad that would go well with any meal or picnic.  I've been playing with this recipe for a while and felt it was time to share it: Mexican Green Chile Quinoa Salad.
Mexican Green Chile Quinoa Salad really can be a warm side dish or chilled salad.  It's colorful, loaded with vegetables and high protein quinoa giving it a great texture and crunch.  It's drizzled with a slightly spicy cumin lime adobo dressing to give a bit of a kick!  With some thinly sliced fresh jalapeno in the mix it has a great bite!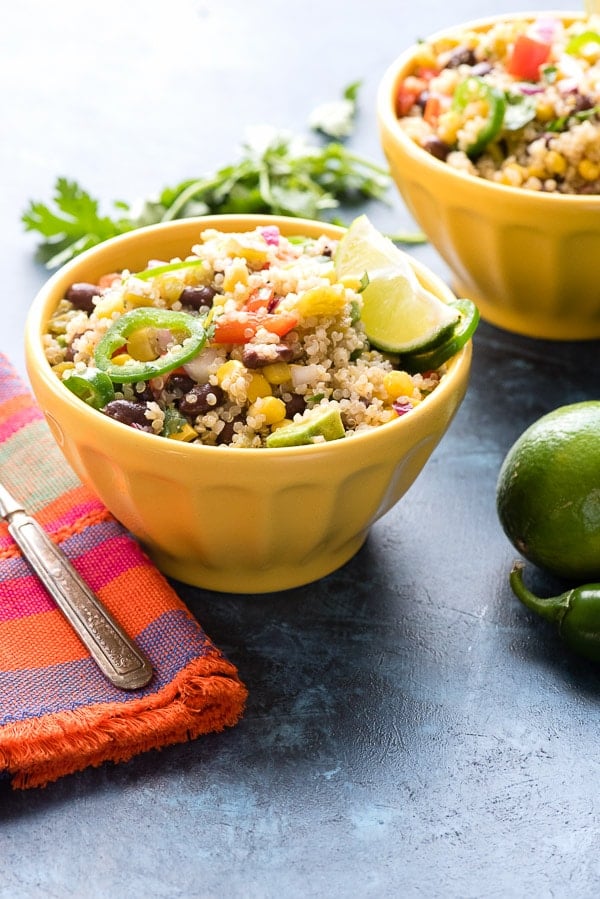 One thing I love about this salad is the opportunity to change up the look by using different colored quinoa.  It gives the salad a different feel all together.  The sweet peppers can be changed too to use yellow, orange, green or red.  I've made Black Quinoa with Brown-Butter Sage Butternut Squash and Pepitas into a healthy recipe perfect for Halloween.  Rainbow Quinoa is fun as it includes three colors of quinoa.  Any type you use will cook in about 15-20 minutes and have great bite!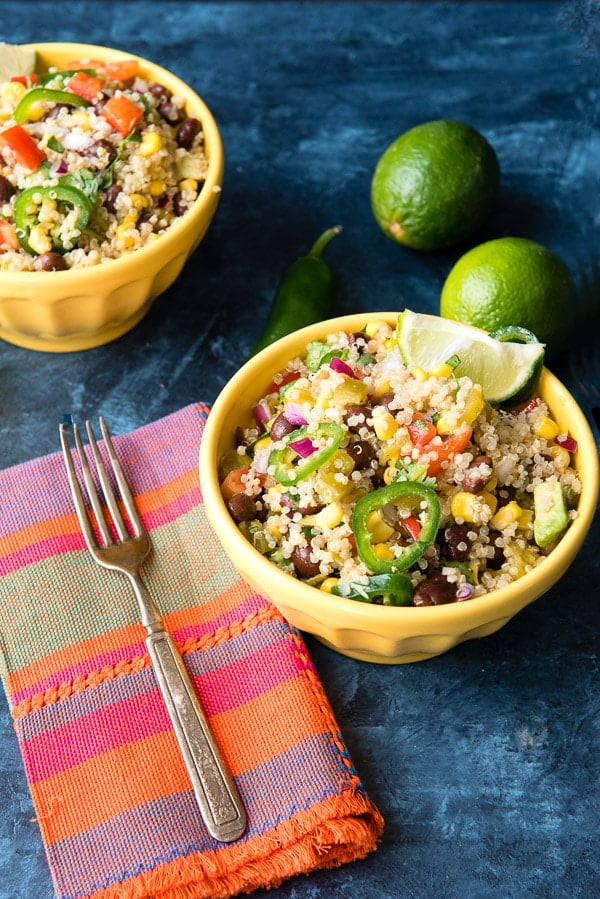 We too will be grilling but I'm not sure what.  I love these Grill-Smoked Green Chile Burgers in a Bacon Weave (who doesn't love anything with bacon?!).  Some Easy Grilled Shish Kabobs or a Grilled Chicken Cesar Salad might be great too.  The Mexican Green Chile Quinoa Salad would be a perfect partner with Smoky Grilled Chicken and Vegetable Quesadillas too.  Or, as I did last night, I might just eat it solo for dinner!  It's that good.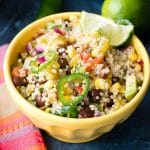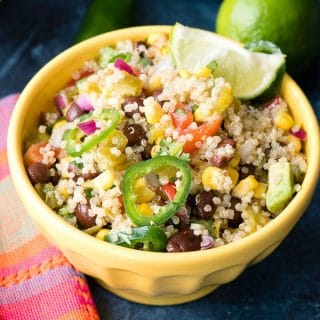 Mexican Green Chile Quinoa Salad
This tasty salad is great chilled or served warm as a side dish. Light and bright, it's easy to prepare and is chock full of great nutrition as well as spicy, full flavors.
Servings
9
-10 cups salad
Ingredients
3

cups

prepared Quinoa

1 15-

ounce

can Black Beans

, drained and rinsed

1 15-

ounce

can Corn

, drained (frozen and thawed, or fresh parboiled corn kernels may also be used)

1 7-

ounce

can Diced Mild Green Chilies

, drained

¾

cup

chopped Red Onion

1

cup

chopped Sweet Bell Pepper

1

Jalapeno Pepper

, thinly sliced (note: to decrease the heat level, remove the seeds from the pepper and wash hands thoroughly after handling the pepper)

1

medium ripe but firm Avocado

, cut into small cubes

¼

cup

chopped fresh Cilantro leaves

¼

cup

Olive Oil

Juice of 2 Limes

½

teaspoon

ground Cumin

1/8

teaspoon

Cayenne Pepper

1

large Garlic Clove

, diced

2

teaspoons

Adobo Sauce

Kosher Salt to taste
Instructions
In a large bowl combine the quinoa, black beans, corn, green chilies, onion, bell pepper, jalapeno slices, avocado and cilantro. Gently stir to combine.

In a small mixing bowl, combine the olive oil, lime juice, cumin, cayenne, garlic and adobo sauce. Whisk to combine and drizzle onto the salad; toss to combine. Taste and as salt to taste. Maybe served warm or chilled before serving.