Lime and Chili Fish Tacos are light, fresh and bursting with flavor thanks to wholesome ingredients. Served with an exciting homemade lime and coriander sauce you'll love!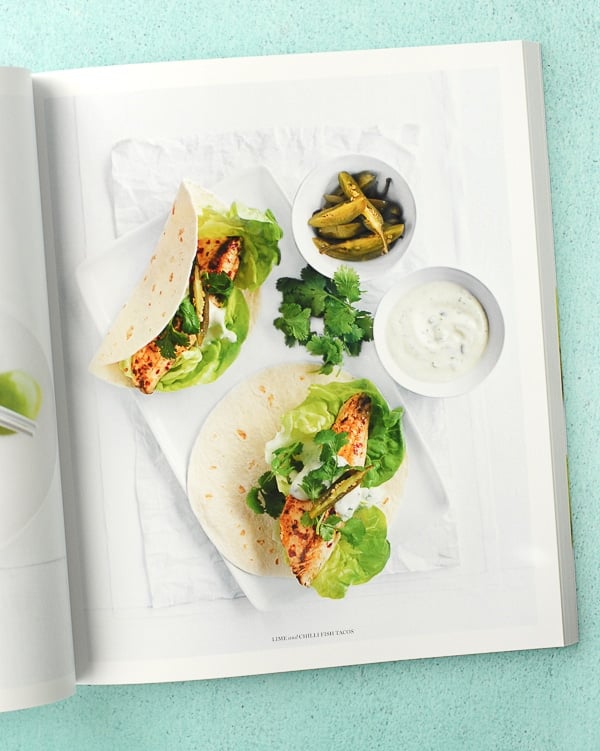 Tacos are universal comfort food and these Lime and Chili Fish Tacos are no exception!
They are fresh and fabulous.
Add some Instant Pot Chicken Tacos and make it a party!
Donna Hay's 'Fresh and Light' Cookbook Reivew
All of her recipes celebrate seasonal ingredients through approachable, delicious recipes that are geared toward easy preparation. Of her twenty published cookbooks, themes such as 'simple', 'fast', 'off the shelf' and 'instant' head the focus offering a reprieve for busy cooks who don't wish to sacrifice flavor or visual presentation when not having hours to prepare a meal.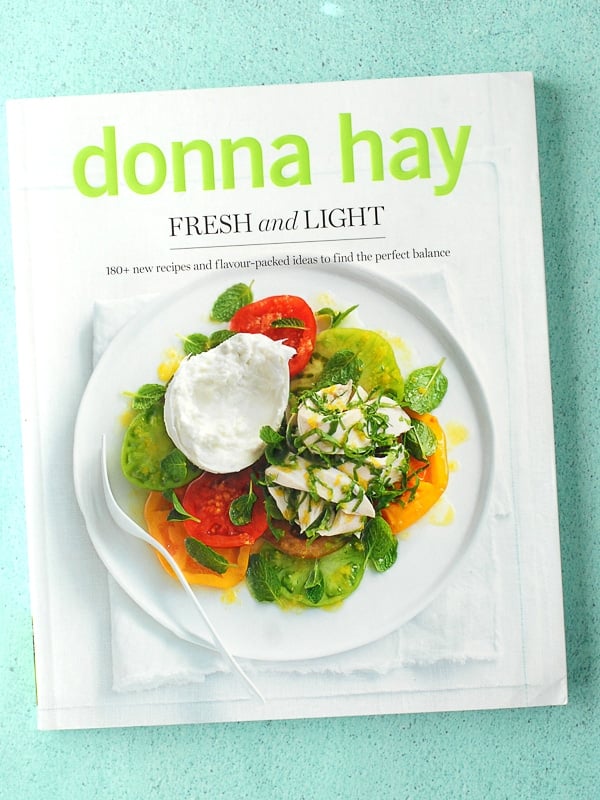 Fresh and Light is no different. The title hit me like the first blooms of spring; a lifting of the cold weather month's comfort foods and an embrace of the beautiful fresh ingredients we long for with the last snow.
In reading the book's forward Donna Hay addresses her dislike for the concept of dieting and how Fresh and Light presents a manner to lighten up the one's meals without being on a diet.
Candidly the idea of dieting never crossed my mind in reading through the book until I looped back to read the forward. This is a book chock full of deeply flavorful dishes that will deliver quickly to your table and look smashing at the same time.
For those unfamiliar with Hay's work, an undeniable draw is the photography. Fresh and Light provides the same in glossy, extra-large paperback form.
The photos of the recipes could be torn from the book and framed for their beauty. The cookbook covers all major meals (including a favorite of mine 'Fast Dinners'), snacks and 'basics' which instructs with recipes for basic dishes and condiments. The color palette of the book is mainly white, adding to the clean, minimal food which springs from the pages for its color.
A particular favorite feature of mine are sections where Hay takes a basic dish, such as a Frittata, and provides several variations to whip up.
From the basic four ingredient frittata one can prepare Pumpkin and Cauliflower, Pea and Ricotta, Basil and Tomato, Spiced Carrot, Kale and Bacon or Zucchini, Lemon and Feta versions offering a dynamically flavorful options for every season.
This approach is offered also for No-Cook Pasta Sauce, Bruschetta, Summer Rolls, Breakfast Muffins, Whole Wheat Pizzas, Hummus, Edamame, Granitas, Banana Bread, and Dressings, each with illustrations of the variations.
A generously detailed glossary explains all ingredients and methods for the reader's familiarization. Information about international measurements and notes on core ingredients are also included.
This cookbook is a treasure and one I'm anxious to begin cooking from. With so many fresh, quick dishes to choose from I feel it is the perfect choice to usher in the upcoming spring and summer; and to feel good the delicousness on your table is also healthy!
This cook book is the first of Hay's slated to be available in digital form in the future. You can monitor her website for details about that and other cookbooks.
Lime and Chili Fish Tacos – Bright, Fresh Flavors
I will confess in trying to choose a recipe to share from Fresh and Light, it was a very difficult task. Everything in the book looks and sounds so fantastic it seems unfathomable to select only one dish.
I found myself coming back repeatedly to the photo of Lime and Chili Fish Tacos. The idea of the fresh, bright flavors and healthy dish was something I crave after a long winter.
If you've tried this Lime and Chili Fish Taco recipe or any other recipe on BoulderLocavore.com, please don't forget to rate the recipe and let me know where you found it in the comments below, I love hearing from you!
Also please SUBSCRIBE and FOLLOW ME on FACEBOOK, TWITTER, INSTAGRAM and PINTERST to see more delicious food, travel and what I'm up to!
How to Make Lime and Chili Fish Tacos – Step by Step:
I was happy to read the recipe for Lime and Chile Fish Tacos to confirm it's not a difficult recipe to make. It also is flavor-packed thanks to wholesome ingredients.
Add some Quick Pickled Red Onions for a tangy bite!
Nutrition Facts
Lime and Chili Fish Tacos
Amount Per Serving
Calories 340
Calories from Fat 90
% Daily Value*
Fat 10g15%
Cholesterol 10mg3%
Sodium 474mg20%
Potassium 1277mg36%
Carbohydrates 46g15%
Protein 17g34%
Vitamin A 2235IU45%
Vitamin C 123mg149%
Calcium 347mg35%
Iron 11.5mg64%
* Percent Daily Values are based on a 2000 calorie diet.
Disclosure: I was provided a copy of Fresh and Light for the purposes of this review. All opinions are my own.