These crispy Tuna Cakes are easy to make, budget-friendly and make the meal special. They are baked instead of fried for a healthier main dish recipe too.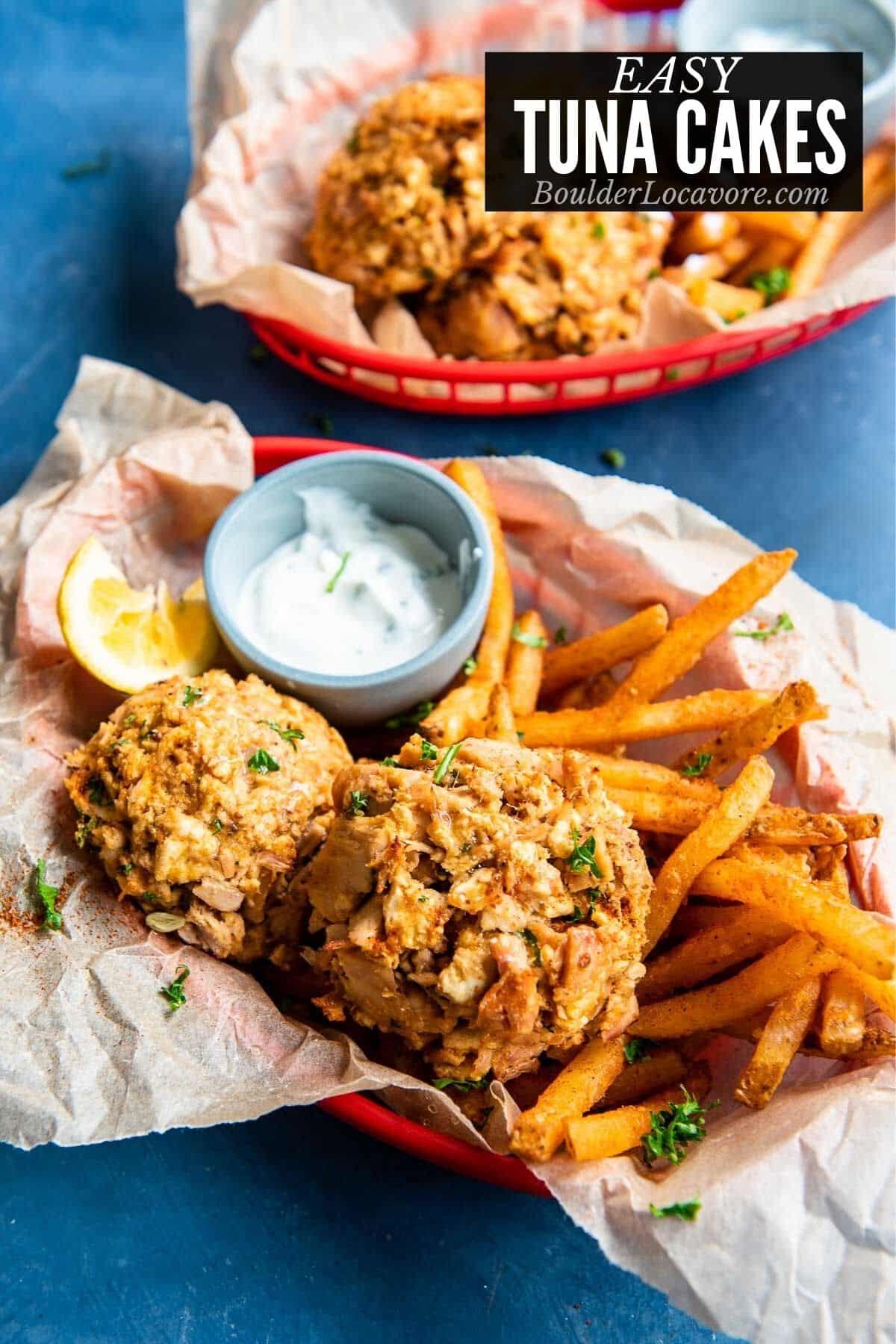 Tuna cakes or tuna patties are a great main dish recipe that's flavor-packed and fast to make.
It's a great way of using canned tuna and turning it into something really special.
Serve them with home fries or homemade curly fries and some tzatziki sauce for dipping!
Jump to: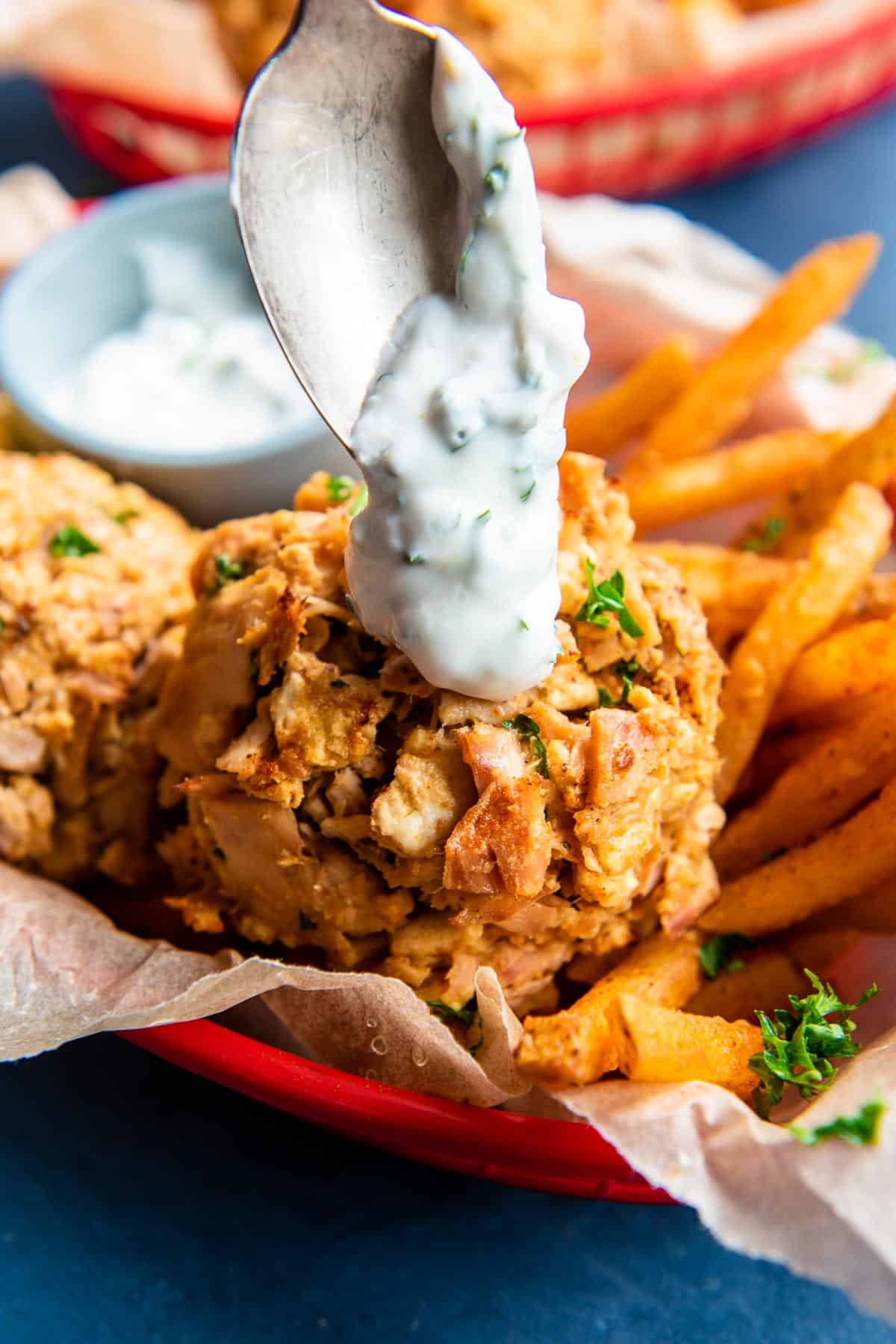 What are Tuna Cakes?
Chances are either your mother or grandmother used to make tuna cakes, or you have never heard of them.
If in the latter category, think of classic crab cakes just made with canned tuna fish.
Spices and flavorful ingredients are combined with the canned tuna along with a binding agent and egg.
It's all mixed together like making a meatloaf but they are cooked in indivdual tuna patties or savory cakes.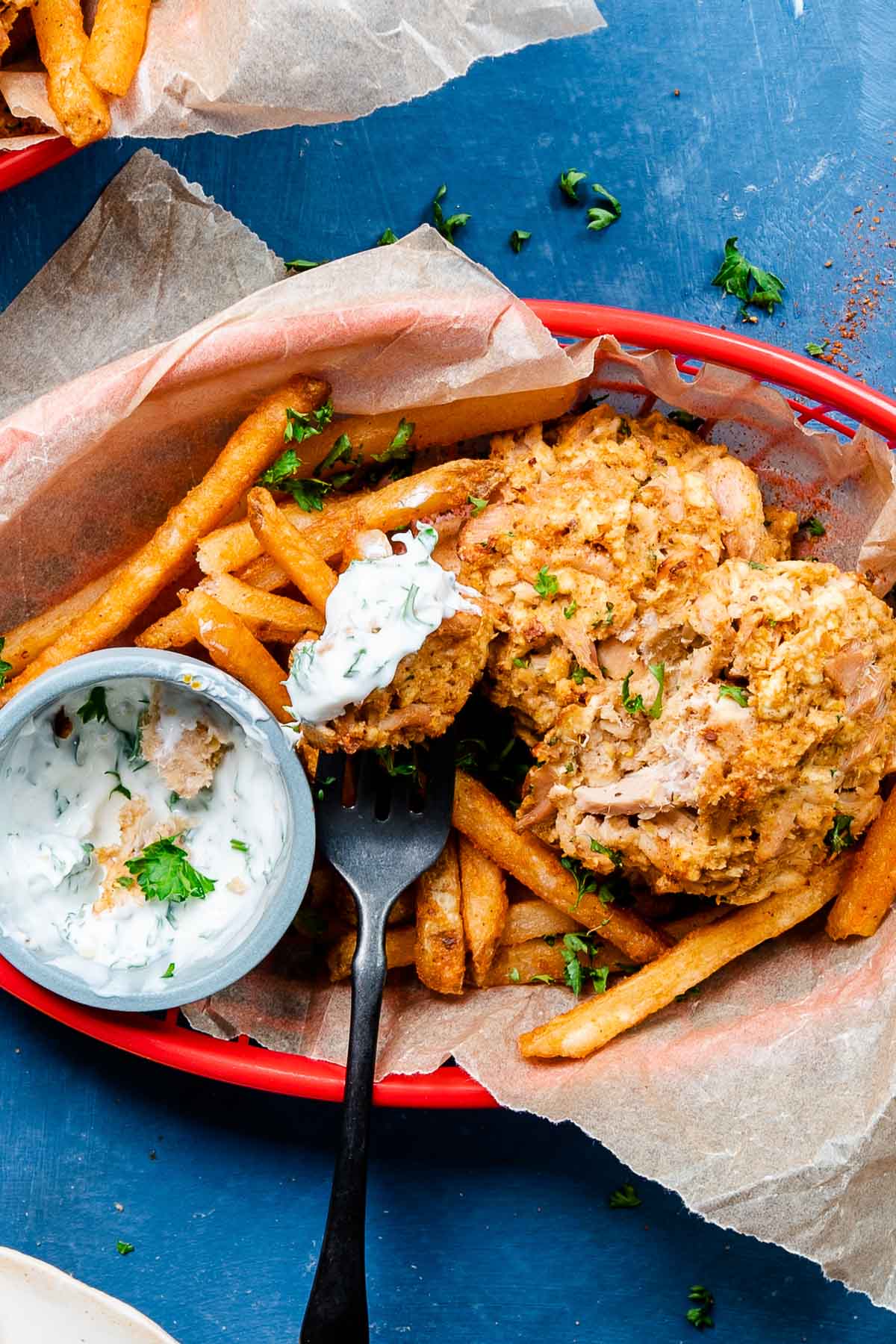 Zesty Tuna Cakes
We've used delicious ingredients like Dijon mustard and Worcestershire sauce combined with bright flavors. Old Bay seasoning, lemon zest, hot sauce and fresh parsley. They give the tuna patties incredible flavor!
Instead of frying the tuna fish cakes they are baked for just 15 minutes. They emerge with a crispy golden brown exterior that's really fantastic.
You'll never miss the frying and have less calories and fat to content with too.
They can be made in tuna cakes or mounds, or in a tuna patty more like a burger.
Any way you make them they are filling and satisfying….and fast!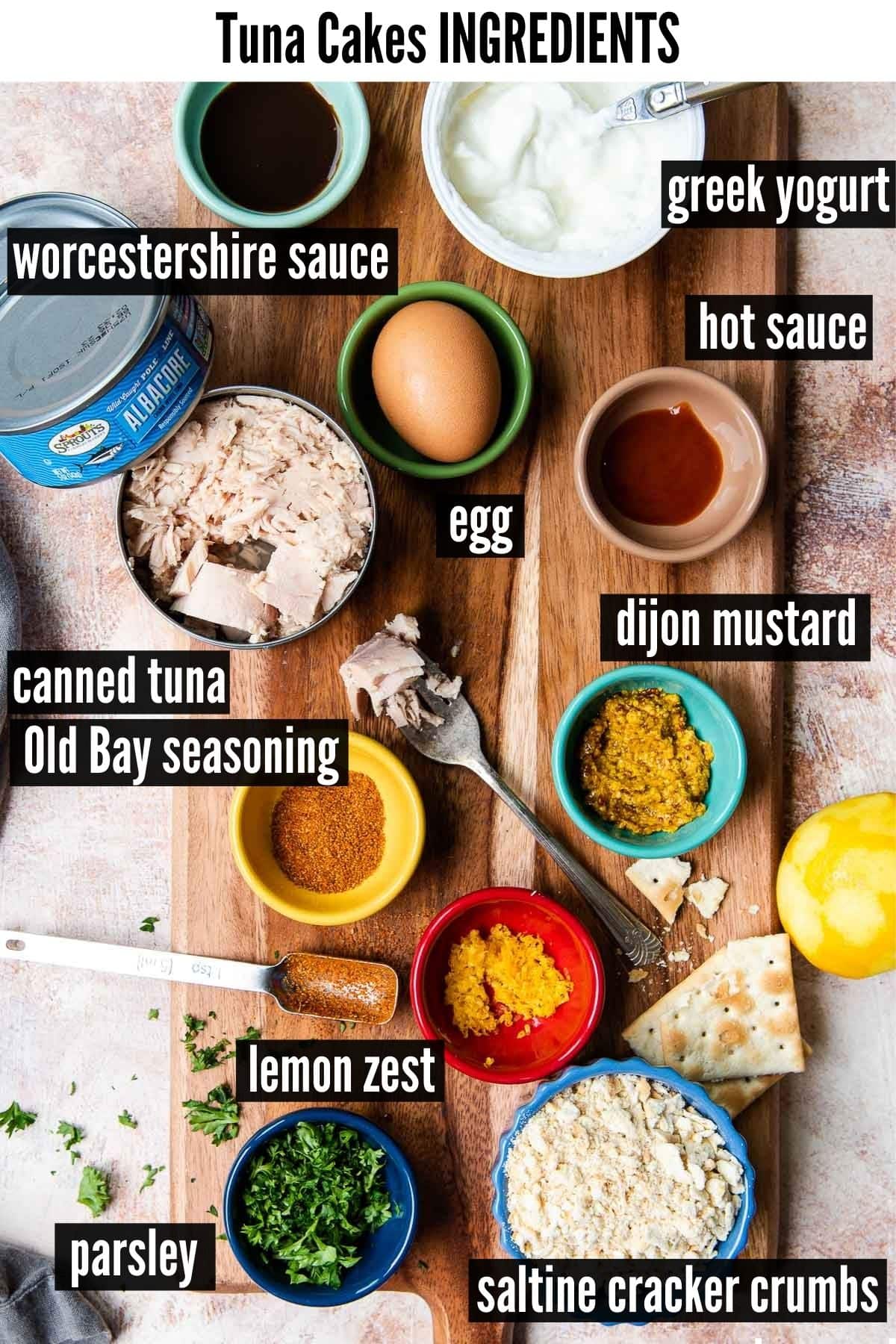 Recipe Ingredients + Notes
Egg. This helps to hold all the ingredients together.
Parsley. Either fresh Italian parsley or curly parsley can be used.
Greek yogurt. This adds a creaminess to the ingredients and a slight tangy flavor.
Dijon mustard. Perks up the flavors.
Worcestershire sauce. Another great flavor enhancer.
Old Bay seasoning. This is a classic seasoning to use with seafood. Cajun seasoning can also be substituted.
If substituting do not use a Cajun seasoning with salt as the first ingredient.
Hot sauce. Any type of hot sauce can be used. Louisiana hot sauce, sriracha, Tabasco sauce etc.
Lemon zest. Instead of lemon juice this gives a lemony flavor. I use a zester to make quick work of getting the zest.
Canned tuna. Regular or albacore tuna can be used. Use tuna packed in water not oil.
I prefer albacore tuna packed in water. The tuna will be drained before making the patties.
Saltine crackers. These are used for binding the easy tuna patties instead of breadcrumbs.
Regular saltines or gluten-free table crackers can be used. For the gluten-free version we used (and loved) Schar brand table crackers.
Lemon wedges. For serving.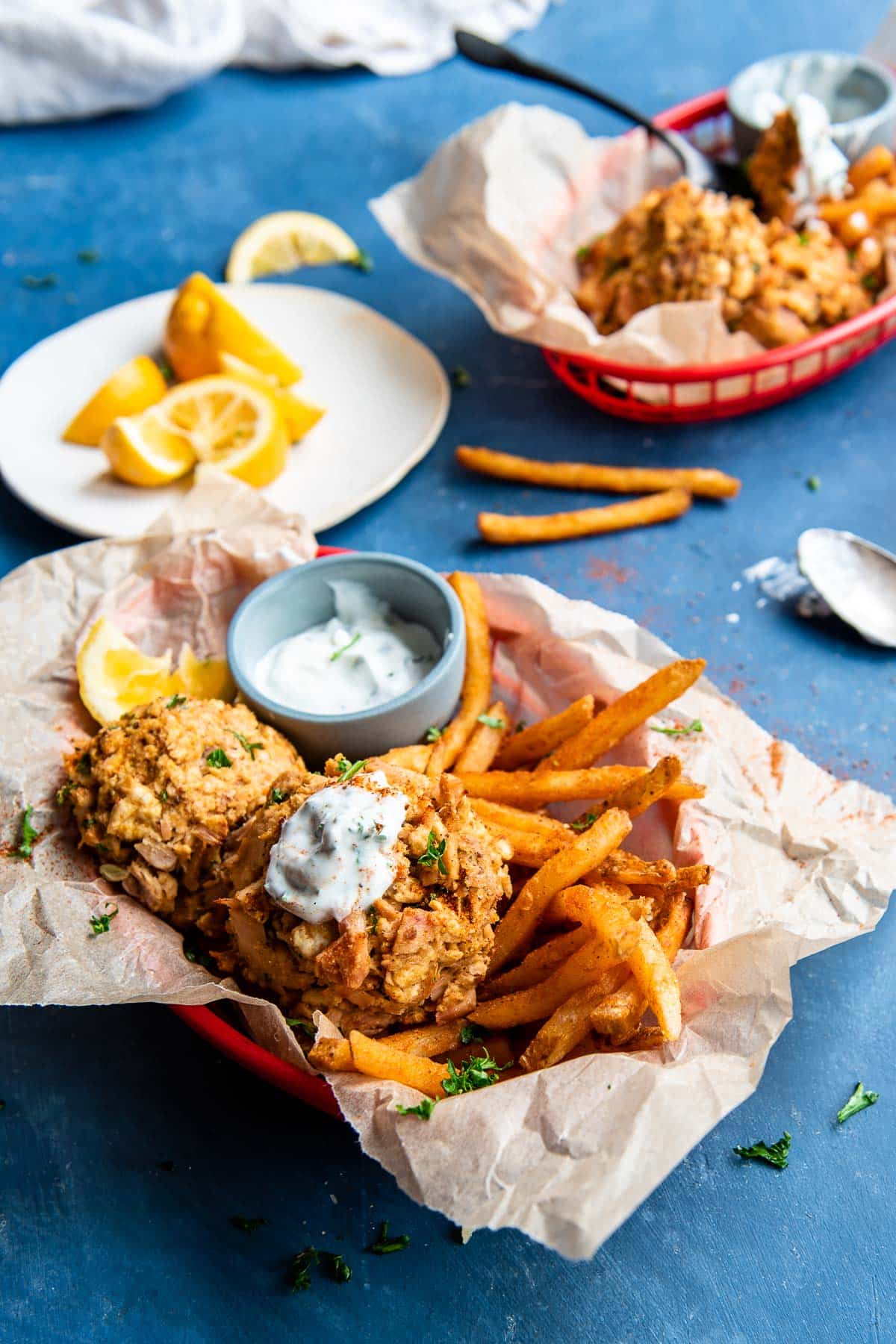 How to make cracker crumbs
The crackers will need to become crumbs before adding them to the recipe. Here is two methods to do that:
Use a mini chopper/food processor
Add the crackers and pulse until crumbs form. I prefer a mini chopper for smaller jobs but a food processor should work well too.
Hand crush
Add the crackers into a zip top plastic bag and seal. Use a rolling pin, meat tenderizer or bottom of a cast iron skillet to crush the crackers into fine crumbs.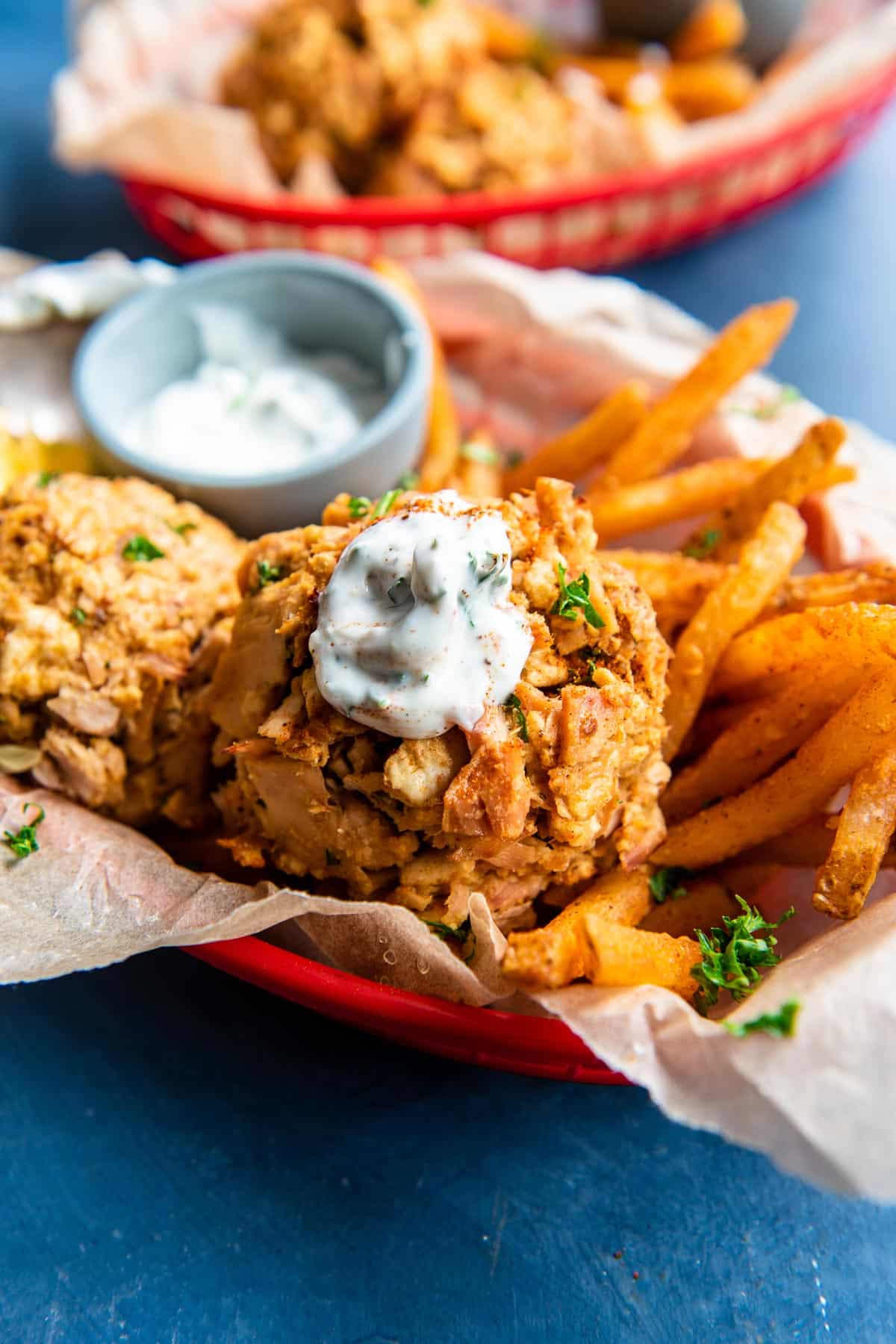 How to Make Tuna Cakes – Step-by-Step
STEP 1. Preparation
Preheat oven to 450 degrees F. Line a rimmed baking sheet with parchment paper.
STEP 2. Make the tuna cake mixture
In a bowl combine the egg, parsley, Dijon mustard, Worcestershire sauce, Old Bay seasoning, hot sauce and lemon zest. Stir together (photo 1).
Add the tuna and cracker crumbs. Gently mix together (photo 2).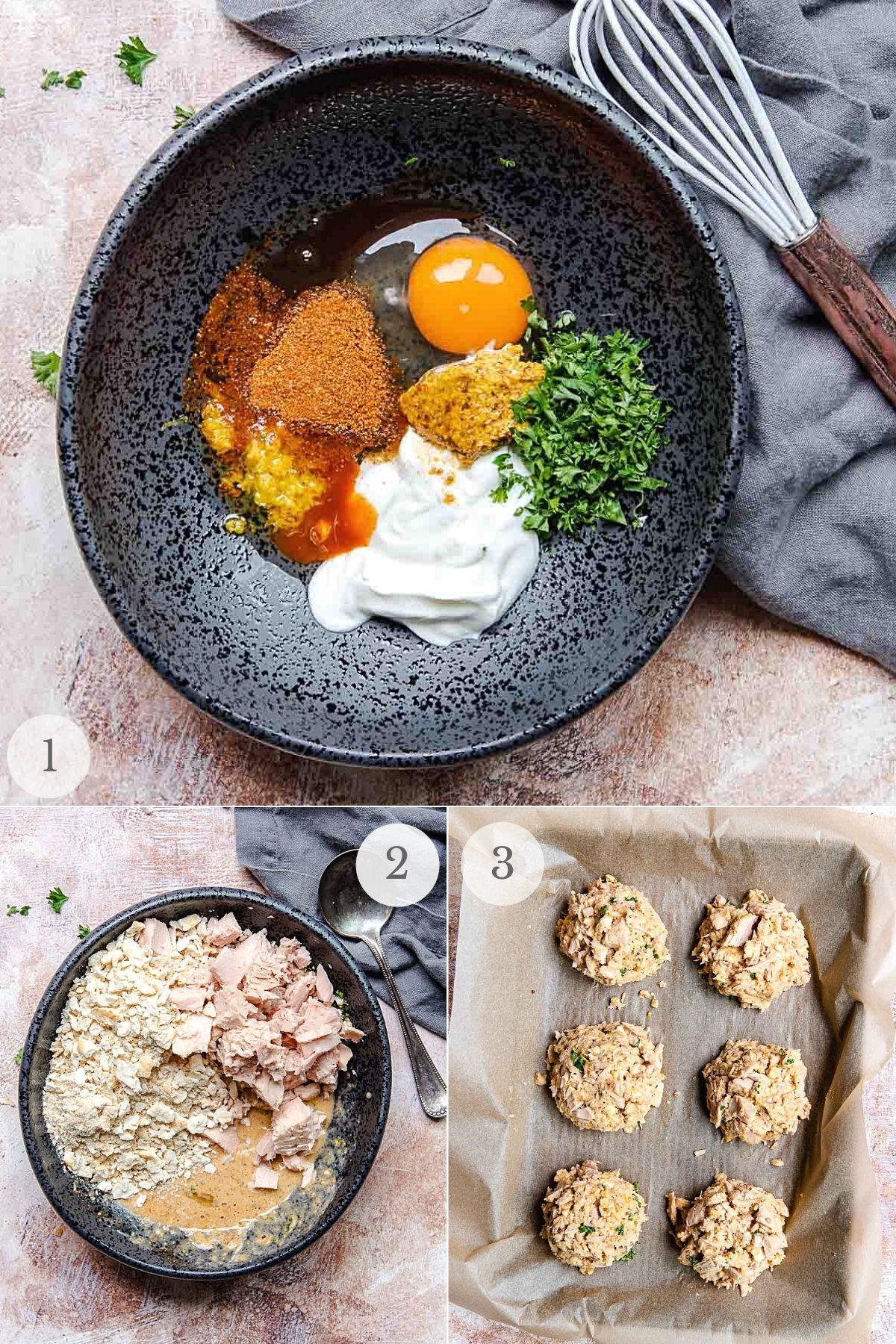 STEP 3. Make and bake the Tuna Cakes
Use a 1/3 cup measuring cup to scoop the tuna mixture. Turn the mixture out onto the baking sheet. Gently form a mound (photo 3) or patty.
NOTE: the tuna cakes can be baked in the form of a mound (photo 3) or made into flatter patties. If making tuna patties do not make them too thin.
Bake for 12-14 minutes until golden brown. Allow to cool for a minute or two before serving.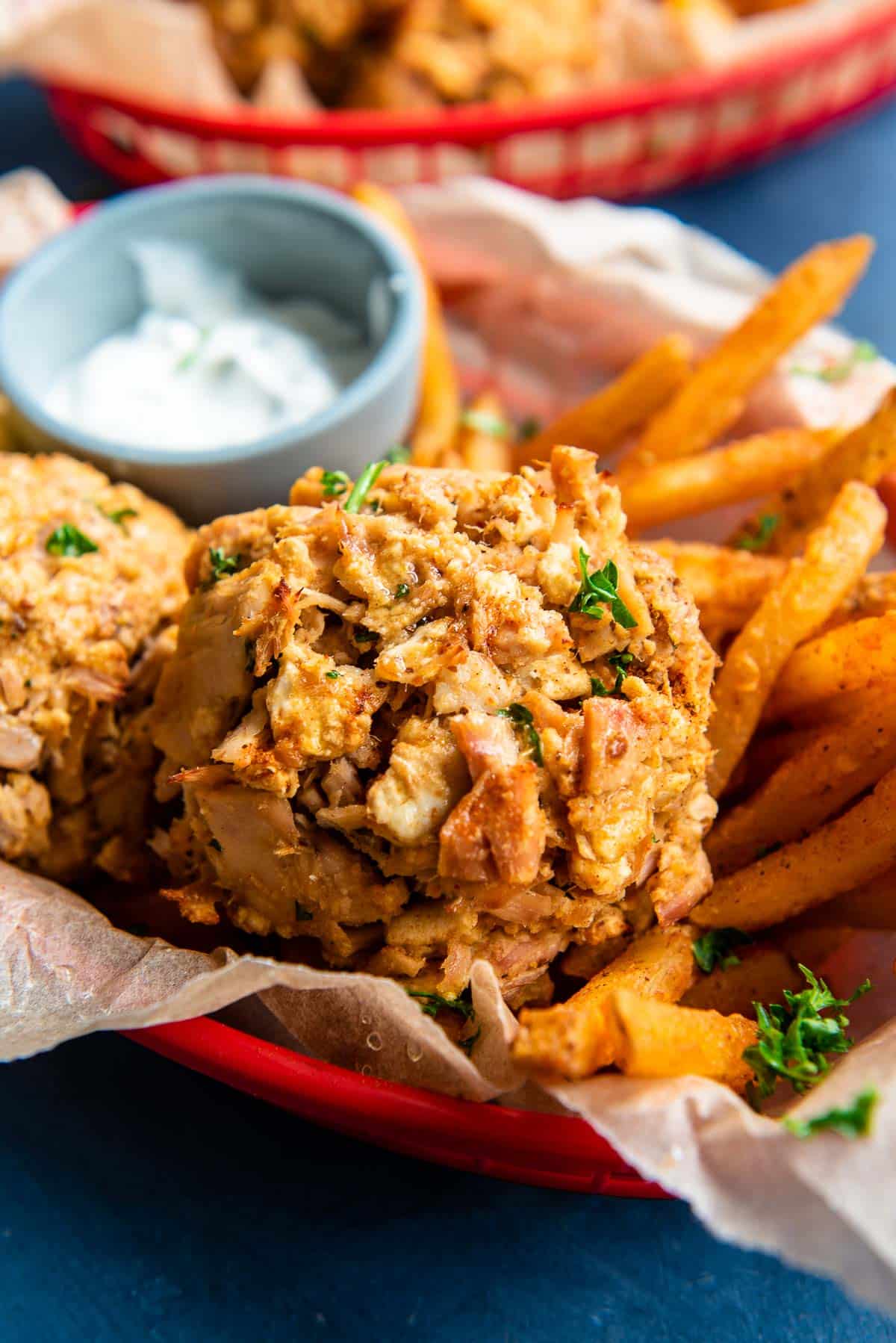 Pro Tips
Break tuna into small pieces. Whether using regular tuna or albacore, break the tuna apart into small pieces before mixing with the other ingredients. This helps the final patty stay together better.
Make sure the cracker crumbs and parsley are small. The finer the ingredients the better the patties hold together.
Frequently Asked Questions
Why do my tuna patties falling apart?
This can happen for a few reasons. 1) The ingredients are not in small enough pieces. Be sure the tuna, crackers and parsley are in very small pieces before mixing. 2) Mix all ingredients well to ensure the egg is distributed throughout. The egg holds everything together. 3) Allow the patties to sit for a few minutes after baking before moving them from the baking sheet. This allows them to become more solid before serving.
Storing leftovers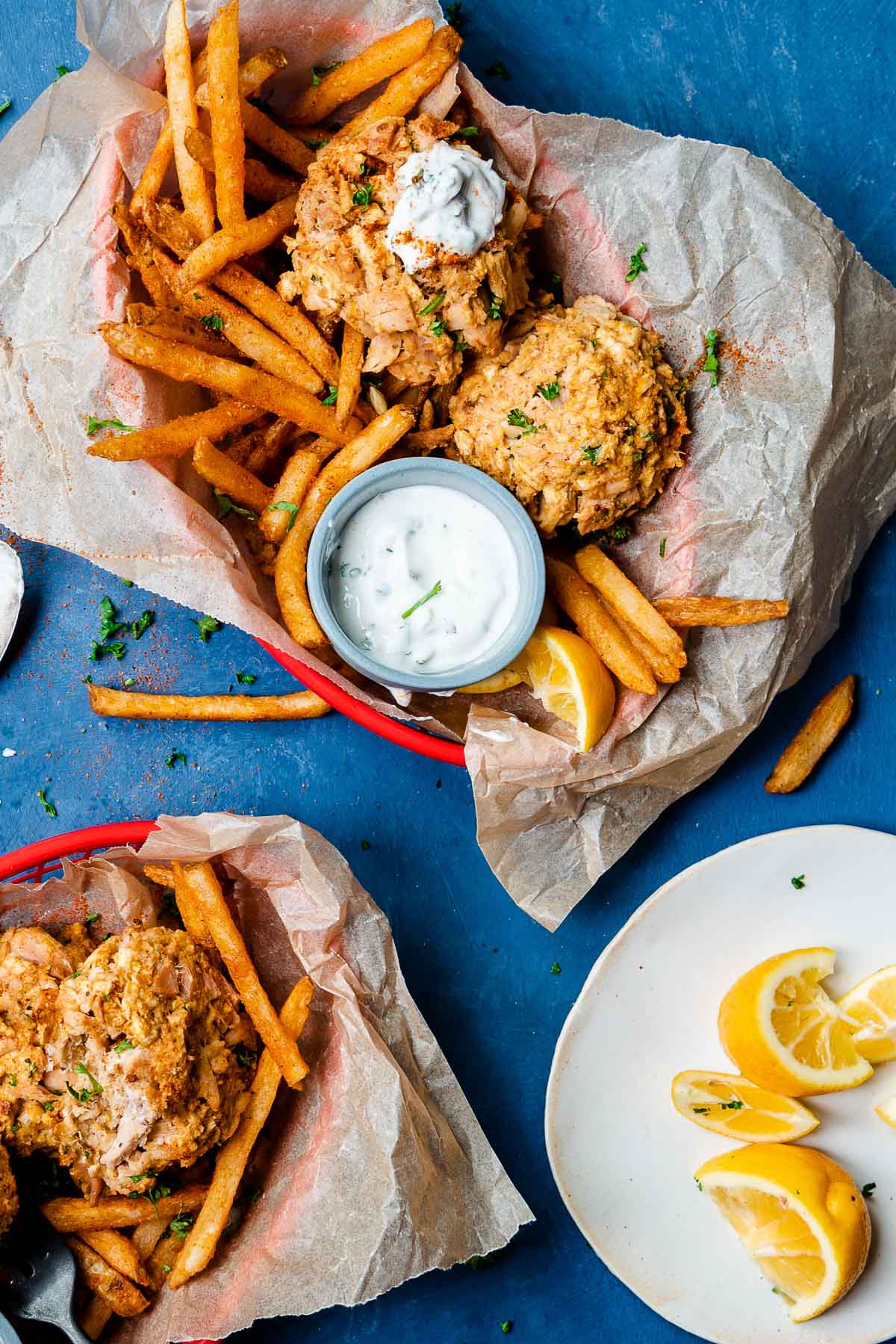 More Recipes You'll Love!
Did you make it? Please RATE THE RECIPE below!
Please
SUBSCRIBE
and
FOLLOW ME
on
FACEBOOK
,
TWITTER
,
INSTAGRAM
and
PINTEREST
!
Recipe