Tacos Al Pastor is a spicy, sweet taco recipe with pork and pineapple. This recipe is easy in the slow cooker any time of the year. Great recipe for making a taco bar too!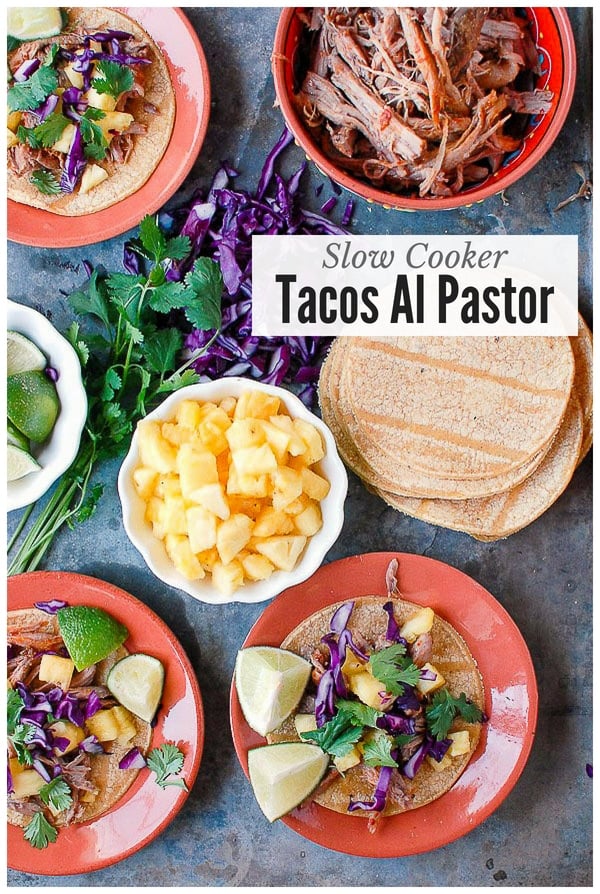 Originally published July 2014; updated July 2018
There is a misconception about using slow cookers: that they are only good for cold months of the year. Not true.
The thought of turning on the oven in the summer is almost unthinkable by July or August. If you aren't grilling, using cooking appliances like an Instant Pot or slow cookers a welcome relief.
This recipe for Tacos Al Pastor will quickly become a favorite all year long.
What is Tacos Al Pastor?
This recipe was originally titled 'pork and pineapple tacos' which describes the key ingredients and flavors.
Literally translated, Tacos Al Pastor are 'shepherd style'. Originally they were made with crisp pork shaved from pork cooked on a spit. The combination of spicy chilies, sweet pineapple, onion and pork make a mouthwatering combination.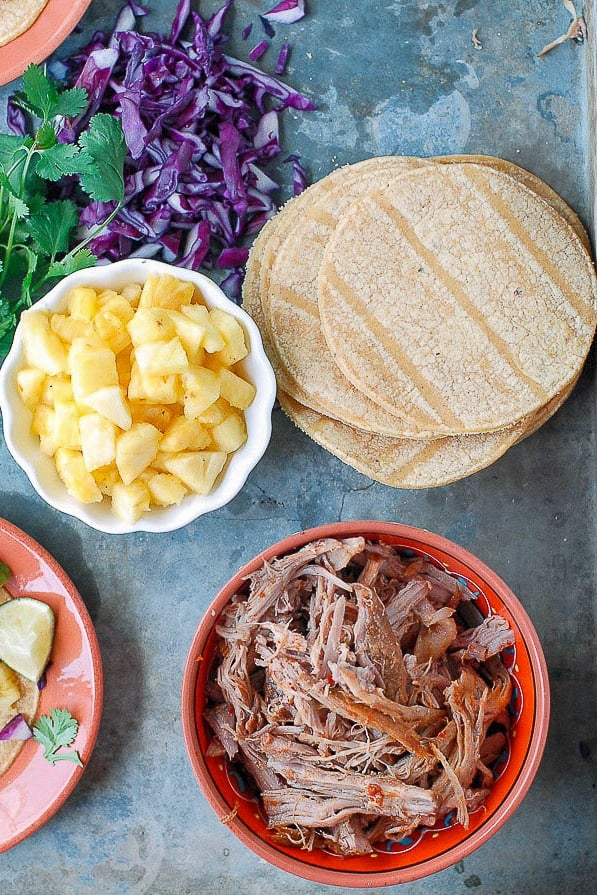 How to Make Tacos Al Pastor in a Slow Cooker
This slow cooker version of Tacos Al Pastor is very easy to make. Though this spicy, sweet pulled pork is intended for Tacos Al Pastor, it can certainly be used for other dishes such as a pulled pork sandwich or breakfast tostada.
A trimmed pork shoulder is combined with enchilada sauce, brown sugar, fragrant cumin and coriander, pineapple juice, lime juice, onion, garlic, salt and pepper in a slow cooker.
The pork may be cooked for 4-6 hours on high temperature or 8 hours on low temperature. After is cooked the pork shoulder is shredded.
The Tacos Al Pastor are made with corn tortillas, some of the shredded pork, pineapple, shredded red cabbage and torn cilantro leaves. They are served with lime wedges.
Do you love those pink pickled red onions served on street tacos too? This easy Quick Red Pickled Onion recipe is another great topping for carnitas tacos.
SERVING IDEA: These Tacos Al Pastor make a great meal for a crowd. The shredded pork may be added back to the slow cooker with some of the cooking sauce, with other ingredients being set up to make a Tacos Al Pastor 'serve yourself ' taco bar.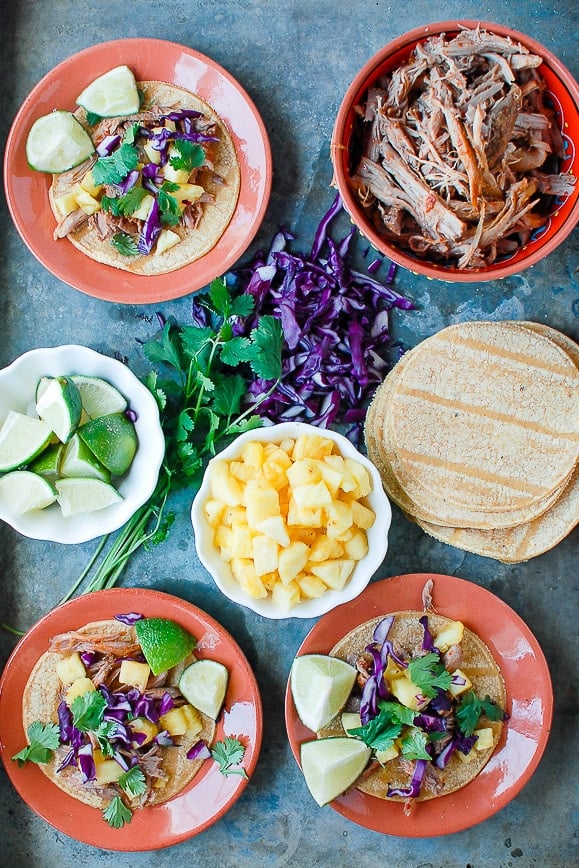 Notes on Making Tacos Al Pastor
These pulled pork and pineapple tacos cannot be beat for fresh flavors. The pork is so simple to cook in the slow cooker, rendering it moist with earthy spices perfect for making tacos.
I prefer making these Tacos Al Pastor with smaller corn tortilla, about 4 1/2 inches diameter or 'street taco' size. One can make a serving of a few tacos and despite the smaller size they are surprisingly filling.
If unavailable, using traditional size corn tortillas works great too; increase the filling as desired.
Tacos are what I'd consider 'personal' as it relates to preference on how much filling is used. However I've included my suggestions for pork servings sizes below.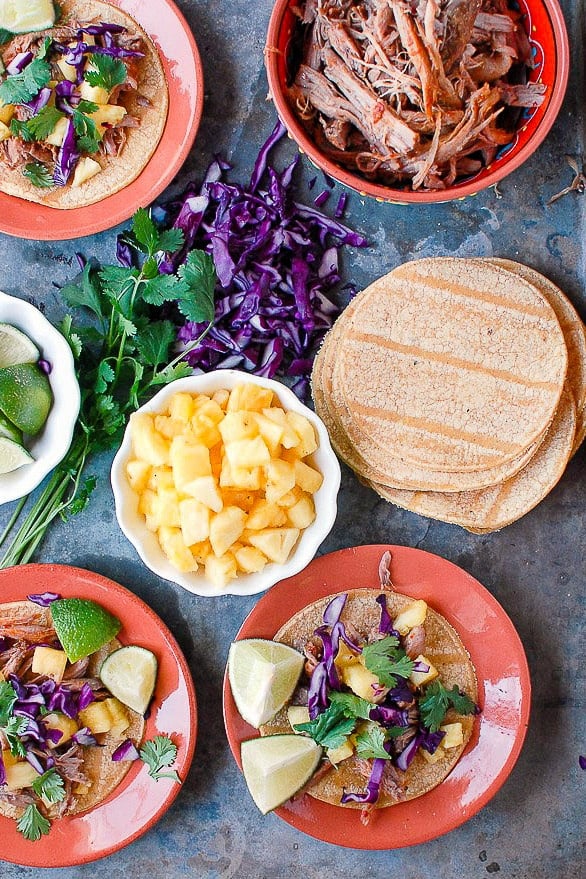 Pork Shoulder Portion Guide
As a guide a pork shoulder slightly under 2 pounds will yield approximately 3 cups of shredded pork, and I found 1/4 cup of pork was about right for smaller tortillas per taco to still allow them to be folded for eating.
A 2-pound pork shoulder will make approximately 12 small tacos.
The Slow Cooker I Use
Because you've asked, I have a few slow cookers but use this 6 quart Crock Pot brand slow cooker for recipes like this (as well as Slow Cooker Mexican Chicken Taco Meat (for a crowd) and Pineapple Citrus Slow Cooker Carnitas & Carnitas Tacos).
I like that it is programmable ('set it and forget it') and has clips to secure the lid if transporting it to a gathering.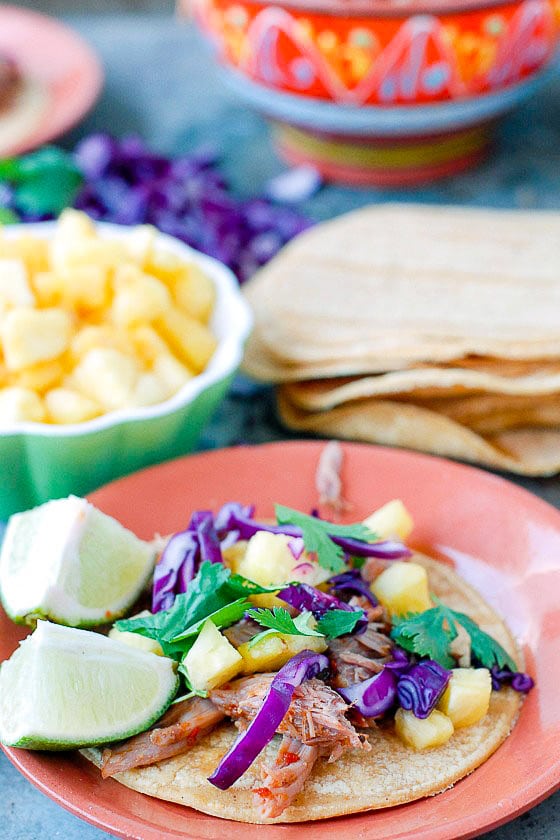 More Recipes You'll Love!
Did you make it? Please RATE THE RECIPE below!
Please SUBSCRIBE and FOLLOW ME on FACEBOOK , TWITTER , INSTAGRAM and PINTEREST !
How to Make Tacos Al Pastor (Slow Cooker) – Step by Step: