This mouthwatering Elote recipe (grilled Mexican Corn) is easy to make and will be an instant favorite. Grilled sweet corn, slathered in a creamy, spicy sauce sprinkled with Cotija cheese!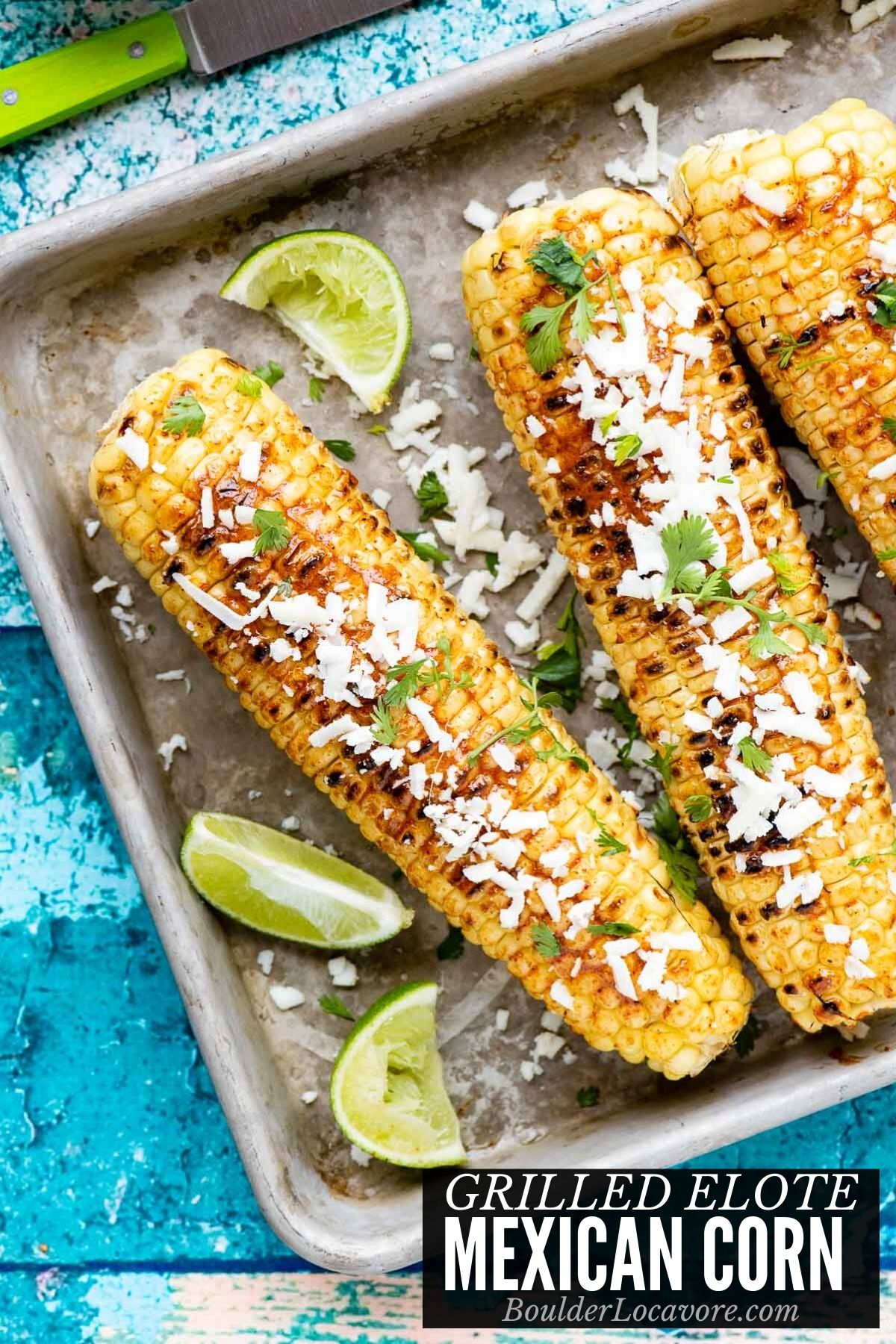 This spicy version of corn on the cob will steal the show as an addition to your next grilled meal, as a side dish or the main event.
Charred on a high heat grill, the corn develops a robust, earthy flavor of deepened sweetness and smoke.
When slathered with a spicy mayonnaise, cotija cheese, cilantro leaves and a squeeze of lime, it's really out of this world delicious.
If you love these flavors try our Mexican Corn Dip too!
What is Elote or Mexican Corn?
Elote is sweet corn slathered with a spicy coating sprinkled with cheese is often called 'Mexican Street Corn'.
It's served by Mexican street vendors and at festivals.
The word 'Elote' is literally translated to mean 'corn cob'. Though most foodies will think of the delicious street food if you use the term with them.
It's easy to make and irresistibly delicious!
It can be prepared many different ways. It is frequently cooked in the husk then grilled and served with condiments for diners to dress it up.
It's easy to make and irresistibly delicious!
How to pronounce Elote?
uh-low-tay.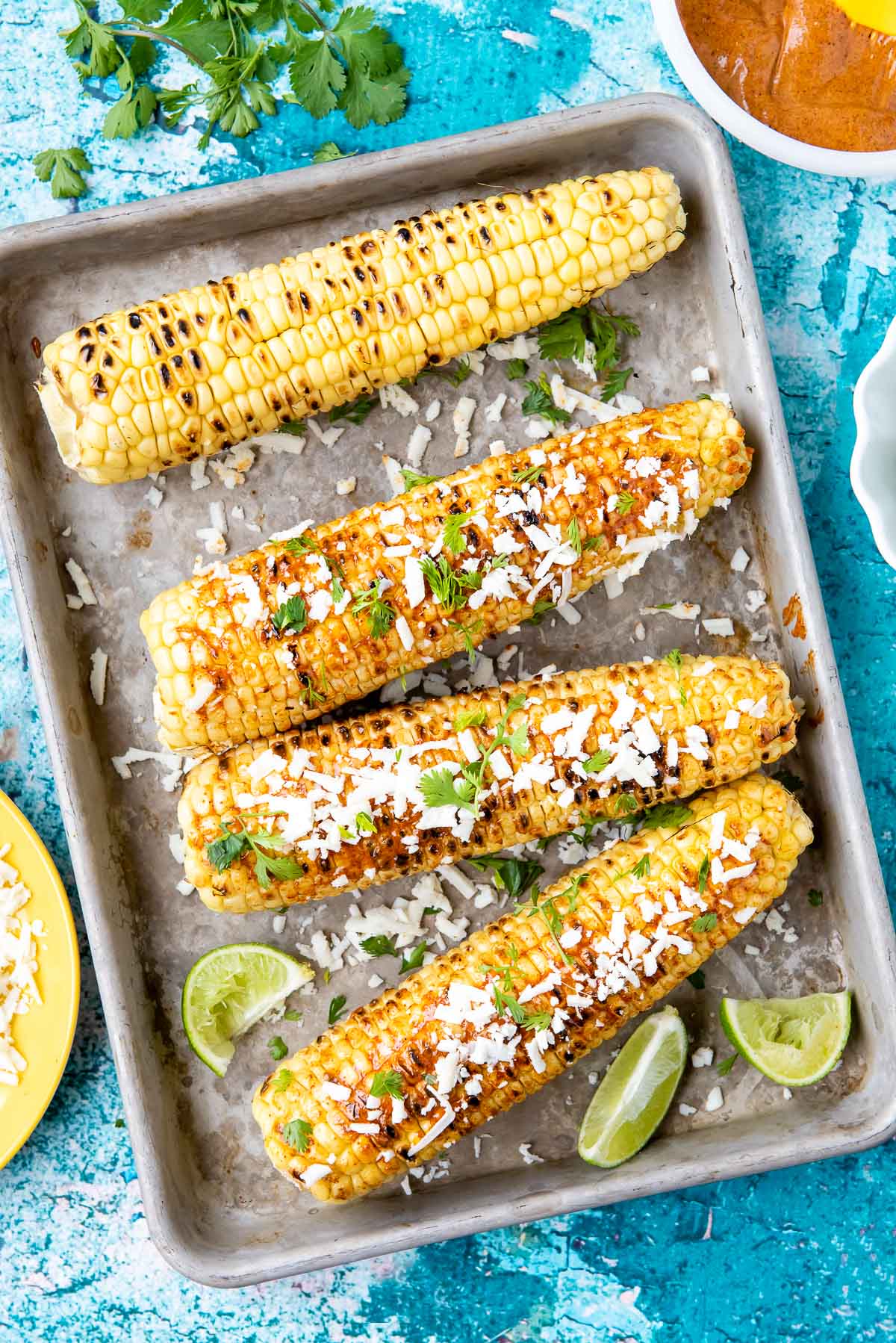 Recipe Ingredients + Notes
There are only a few key ingredients in Elote. This Mexican Corn is really about the creamy, spicy, tangy sauce that is brushed on while grilling.
Sweet Corn. Fresh sweet corn is perfect for this recipe. For s shortcut it can be purchased already shuked (otherwise the husk and silk will need to be removed before boiling).
Frozen corn on the cob (thawed) can also be used though we recommend fresh corn for the best results.
Mayonnaise. Use full fat mayonnaise in this recipe.
Chipotle Chile Powder. Chipotle chile powder has a deep, earthy smoky flavor. If needed regular chili powder can be substituted.
Smoked Paprika. This type of paprika also adds a wonderful smoky flavor. We recommend regular smoked paprika, not HOT smoked paprika unless you want the elote to be really spicy.
Lime Juice. Freshly squeezed for best results. I use a handheld juicer which is great for extracting juice quickly and straining the seeds.
Unsalted Butter. This is used to butter the corn. Since the cheese has a saltier flavor, unsalted butter is best to use.
Cotija Mexican Cheese. This classic Mexican cheese is delicious and traditional for Elote. Queso fresco can be substituted too (milder flavor).
Cilantro leaves. Fresh chopped cilantro will be sprinkled on top of the corn.
Lime Wedges. These are for serving. Diners can squeeze some fresh lime juice on the street corn as desired.
What is Cotija Cheese?
Cotija Cheese is a hard cow's milk cheese that is easy to crumble. It's named after the town of Cotija, Michoacán Mexico.
It is white in color and light in flavor and somewhat salty. It is often compared to feta cheese.
Cotija Cheese is usually sold in a round sealed in plastic. It can be found in the cheese section of most grocery stores.
It's the final edition to this Elote recipe!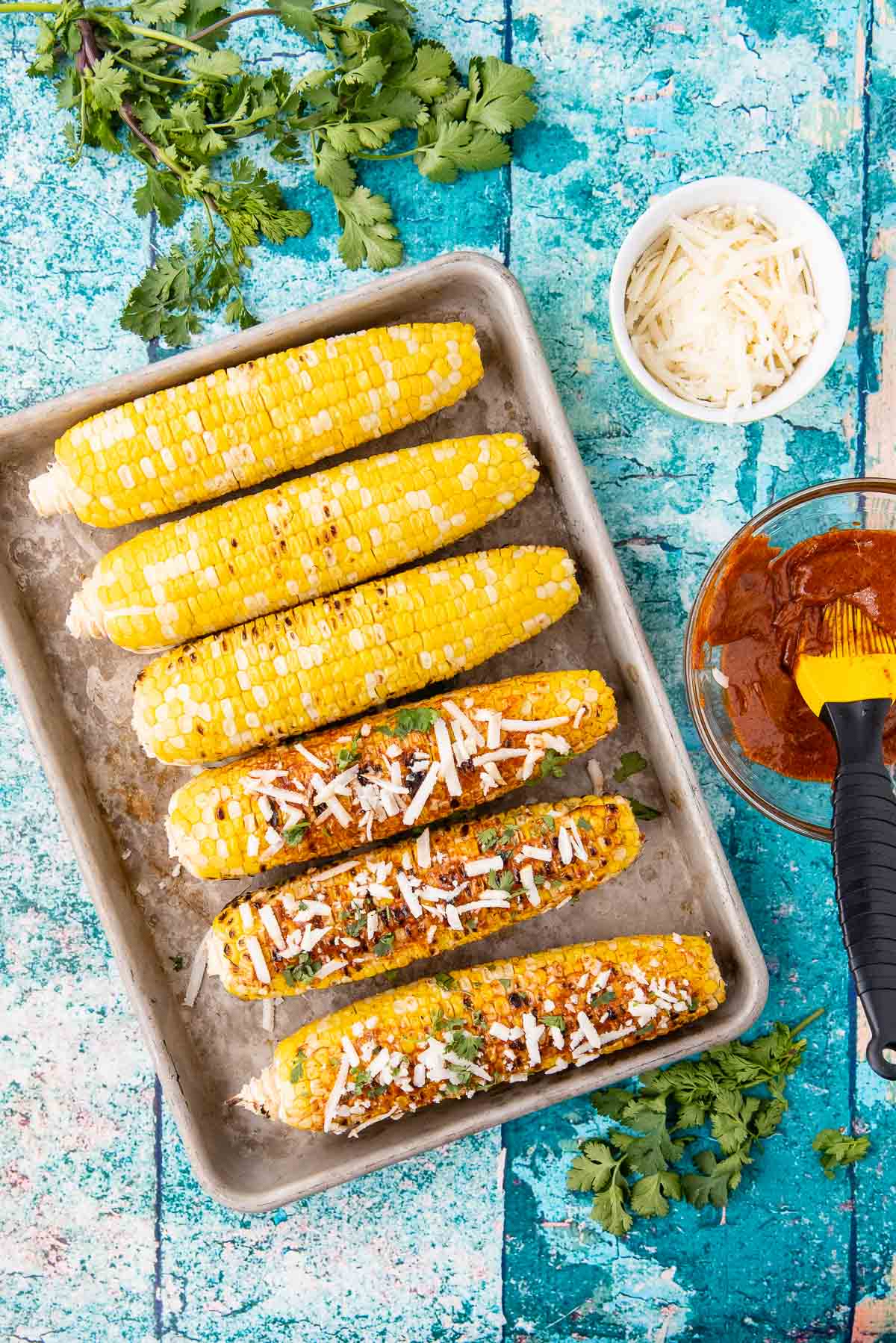 How to Make Grilled Mexican Corn – Step by Step
For the detailed printable recipe, refer to the recipe card at the end of the blog post.
STEP 1. Preheat the grill
Heat the gas grill to 400 degrees. Clean and oil the grill when hot.
STEP 2. Boil the corn
Bring a large pot of lightly salted water to a boil over medium high heat.
Cook the ears of corn in the boiling water for 5 minutes (photo 1).
While the corn is boiling, prepare the sauce and melt the butter.
STEP 3. Make the sauce
Combine the mayonnaise, chipotle chili powder, smoked paprika and lime juice in a small mixing bowl. Stir to fully combine.
STEP 4. Grill the corn
When the corn is done boiling, remove it from the pot with tongs allowing any excess water to drain.
Place the corn on the heated grill grate. Grill on each side from 30 seconds to a 1 minute, causing some browned spots (photo 2).
Continue to rotate the corn to cook on all sides. NOTE: Total cooking time is 2-3 minutes.
Remove corn from the grill.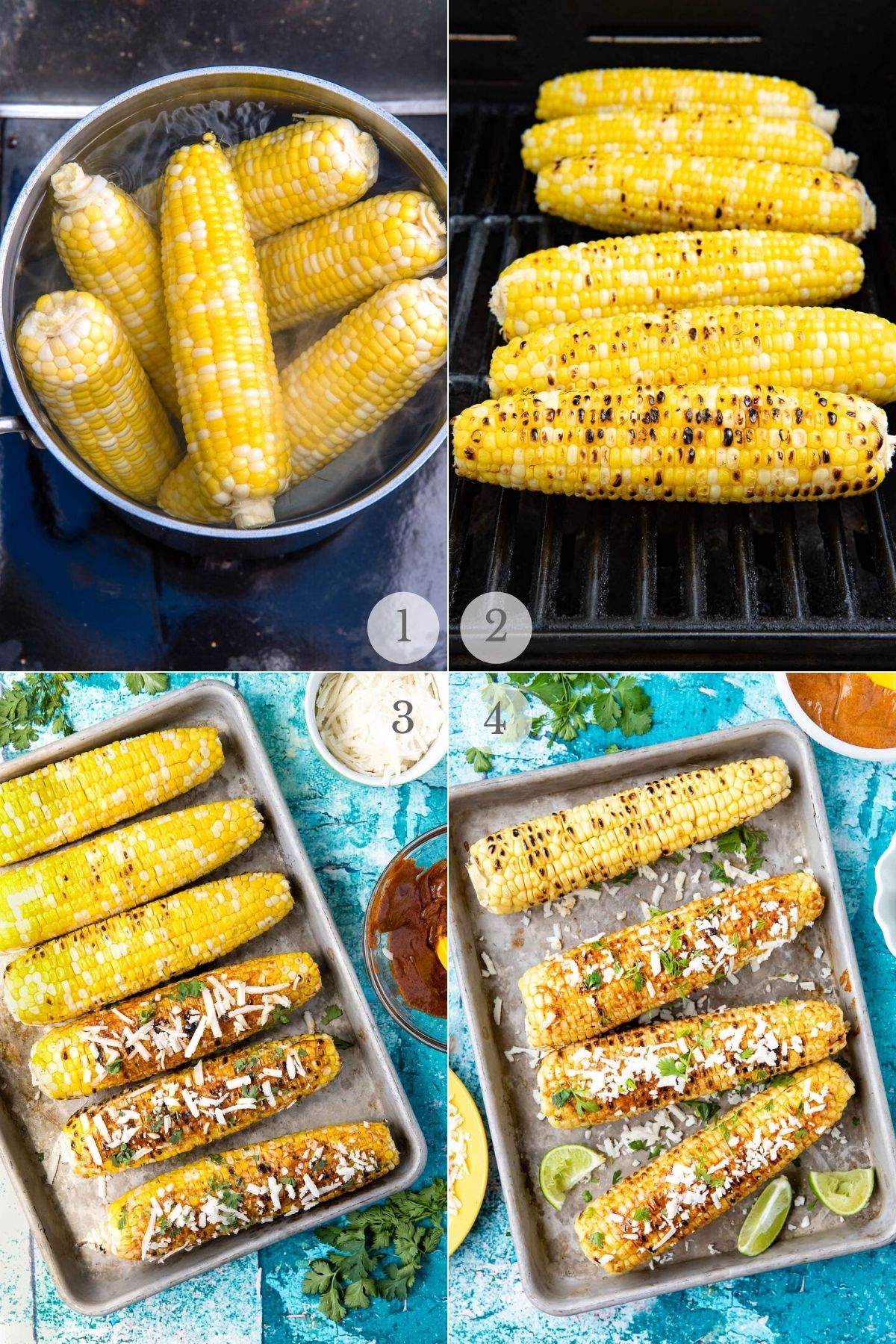 STEP 5. Finish the Mexican Street Corn
Brush the corn with melted butter followed by the sauce (photo 3).
Sprinkle with the cotija cheese, cilantro leaves and serve with lime wedges (photo 4).
Note: corn can be brushed on all sides or just half, allowing some of the kernels to remain in their natural state to offset the spicy sauce!
Storing Leftovers
Elote is best when it is first cooked. Leftovers can be stored in an airtight container in the refrigerator for up to 3 days.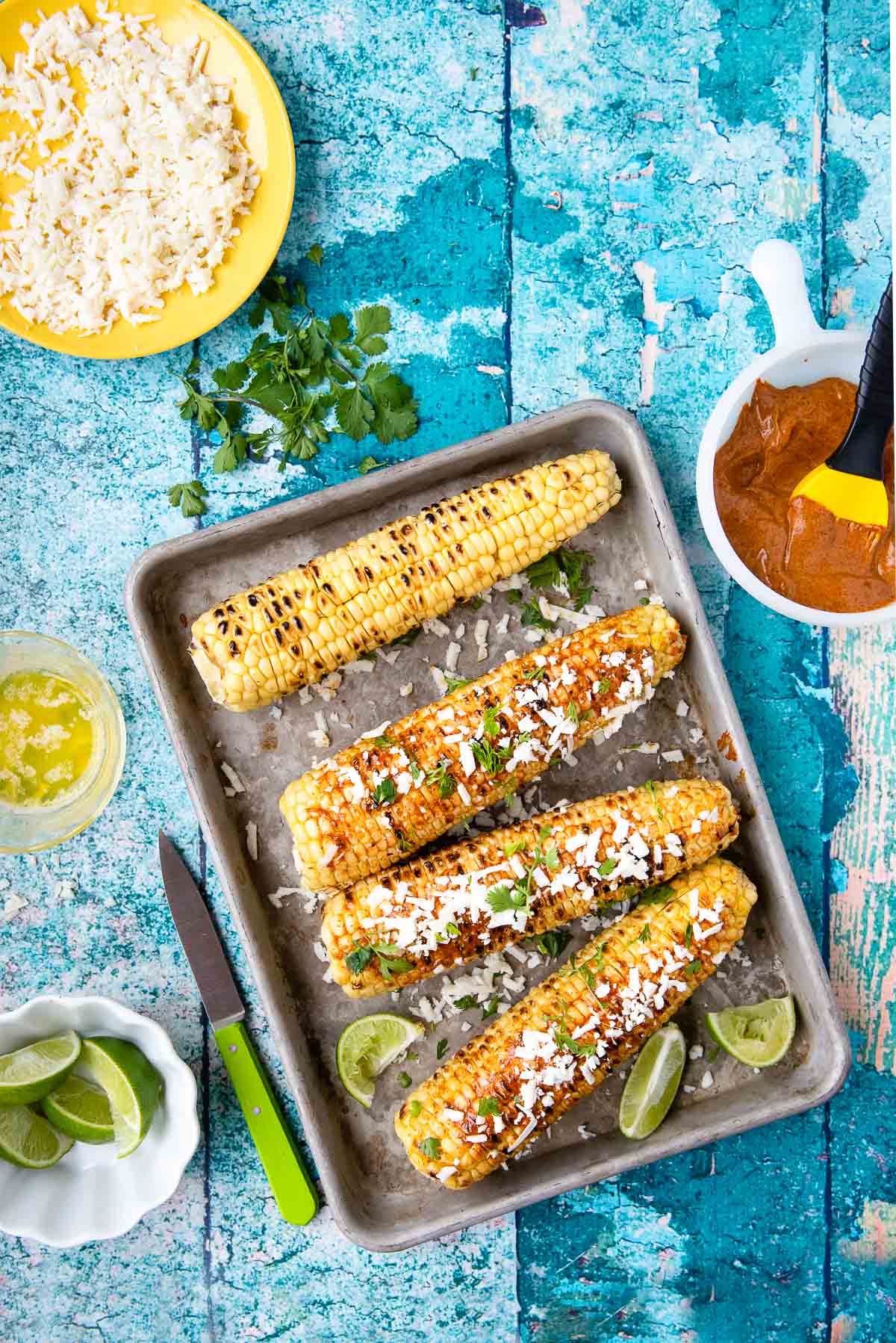 How to eat leftover Elote?
The Mexican corn can be reheated in a microwave or heated in the oven wrapped in foil.
The grilled corn can also be removed from the cob (I love this tool for cutting the corn) and used in other dishes. Here are some favorites:
Frequently Asked Questions
How long can Elote sit out?
Because of the mayonnaise sauce it should not sit out at room temperature more than two hours. If serving when it's very hot outside it should be eaten soon after making it (the 2 hour rule does not apply in hot temperatures).
Can Elote be reheated?
If needed reheat in a microwave in 15 second intervals until heated through. It can also be wrapped in foil and heated in a 350 degree oven.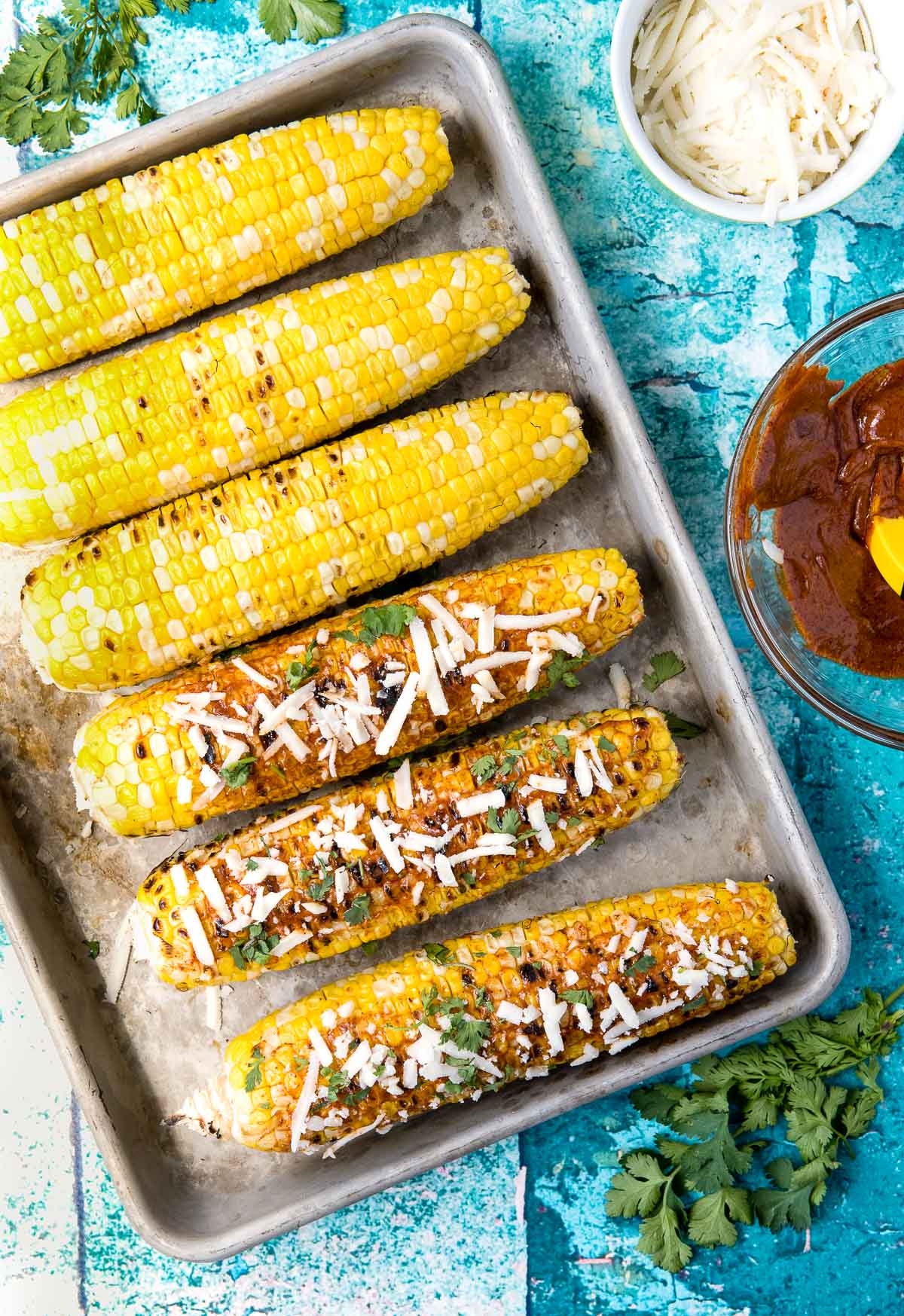 More Mouthwatering Recipes You'll Love
Did you make it? Please RATE THE RECIPE below!
Please
SUBSCRIBE
and
FOLLOW ME
on
FACEBOOK
,
TWITTER
,
INSTAGRAM
and
PINTEREST
!
Originally published: May 21, 2015