This mouthwatering Baja Fish Taco Bowl is family-style main dish recipe that's easy to make, packed with spicy flavor and fantastic texture. From new cookbook 'Nourishing Superfood Bowls'. You won't want to miss it!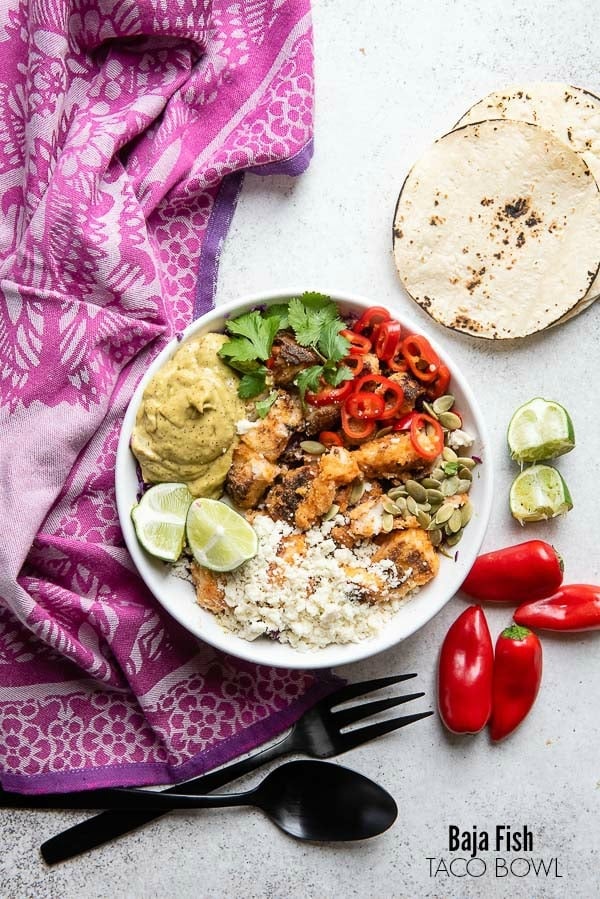 If you spend any time on the internet looking at recipes, or on social media, the 'bowl' recipe trend has undoubtedly caught your attention. From smoothie bowls, to salad bowls, burrito bowls to dessert bowls, they are taking kitchens by storm.
If you have not caught wind or are addicted to bowl recipes already, this post is for you. I'm sharing a gorgeous new cookbook, Nourishing Superfood Bowls(75 healthy and delicious gluten-free meals to fuel your day) by Lindsay Cotter.
Jump to:
Lindsay is a AASDN Certified Nutrition Specialist, creative recipe developer extraordinaire, talented photographer and owner of the popular website 'Cotter Crunch' where she dazzles readers with inspired recipes and breathtaking photography regularly.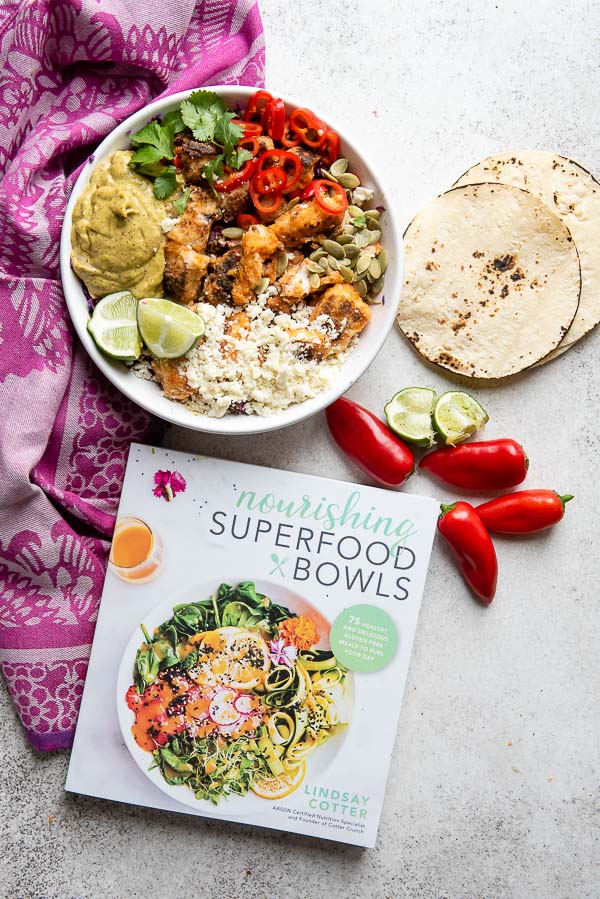 Nourishing Superfood Bowls Cookbook Review
Nourishing Superfood Bowls is equally stunning, both visually (a photo for each recipe) and from a flavor stand point. There are bowl recipes for every meal of the day.
Energizing Breakfast Bowls, Zippy Lunch Bowls, Plant-Powered Bowls, Family-Style Large Bowls, and Sweet Tooth Bowls are the categories of bowl recipes that deliver exciting recipes, layered with interesting ingredients and textures.
Some examples that caught my eye include Peanut Butter Cookie Dough Parfait Bowls, Winter's Delight Buddha Bowls, Spring Pea Noodle Bowls, Mexican Savory Oatmeal Bowls. Do I have your attention?!
The cookbook includes tips and tricks for making bowls and selecting the best ingredients. The recipes support healthy flavorful eating, energizing food options, exercise recovery, also being gluten-free and allergy-friendly. There are vegan, vegetarian and Paleo options, all well-marked.
Don't Let the Word 'Superfood' Scare You
If you aren't surfing the leading edge of natural foods recipes, the term 'superfood' can conjure scary ideas. Mossy flavors, unidentifiable ingredients that are 'good for you'.
Nourishing Superfood Bowls is packed with 'normal ingredients', thoughtfully curated to produce both the best flavors AND nutritious results. There is no sacrificing or eating it because you think you should. You'll want to gobble up everything in this cookbook; trust me.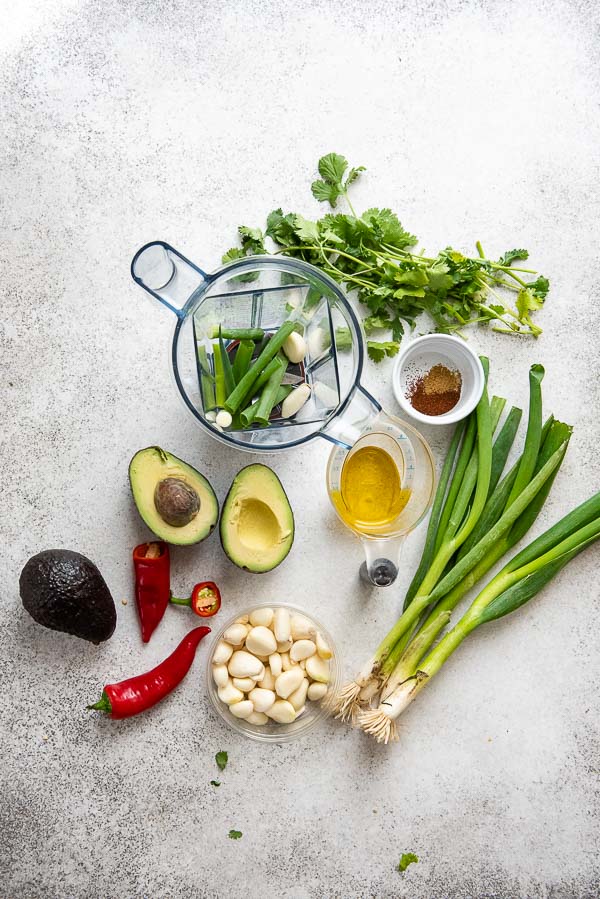 Baja Fish Taco Bowl
For my first recipe I made the Baja Fish Taco Bowl and it was out-of-this-world good. Packed with robust, spicy flavor and a variety of textures, which is what I love about a bowl recipe; every bite has new textures to enjoy.
Creamy sauces, crunchy red cabbage slaw and pepitas, spicy seasonings make this a celebration of really good ingredients coming together in a perfect match.
Change Up Baja Fish Taco Bowl to Meet Your Needs
Something I love about Nourishing Superfood Bowls is that the recipes are flexible. Baja Fish Taco Bowl was created as a dairy-free option; if you eat dairy, that's fine! I swapped out some ingredients for those I typically use and the recipe is still just as fantastic.
Specifically, I used safflower oil for frying instead of avocado oil and used traditional mayonnaise in the Le Crema Topping. Use what works with your eating preferences and needs.
Preparing All Ingredients for Baja Fish Taco Bowl
Whenever I dive into a new recipe I read it with a goal of consolidating and visualizing the work flow.
For the Baja Fish Taco Bowl my stir-fry recipe experiences came to mind. It's a fast recipe to make with three main components. You'll want to eat the fish as soon as it's done cooking AND both sauces have avocado which means they will begin to oxidize (brown) if left out too long (still delicious though).
KEY TO RECIPE SUCCESS: Read through the entire recipe, have the ingredients prepped and organized for each component of the recipe before starting to cook.
PRO Preparation TIP: the two sauces each use a blender. I used my Vitamix blender for the Sauce and my mini chopper for the La Crema Topping so I did not have to clean out the blender in between!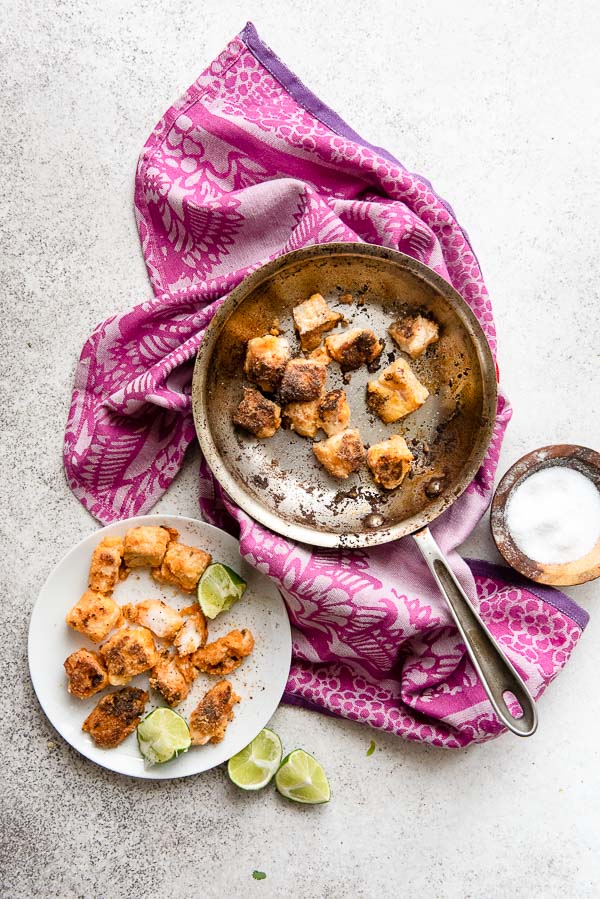 How to make Baja Fish Taco Bowl – Step by Step:
Though the recipe is long, it's very easy. Don't let the length discourage trying this incredibly delicious bowl recipe!
You'll be doing four main things to prepare this recipe:
coating and frying the fish,
making the sauce in a blender,
making the Le Crema topping in a blender (or see the previous TIP) and
assembling the bowls. Each step is easy if you prep all ingredients before beginning to cook.
The Fish
The fish is coated in an oil/chili sauce then dipped in flour before lightly frying in a small skillet. This is done in two batches giving plenty of room for the fish to be turned while cooking for a golden coating. The fish is finally dressed with a squeeze of fresh lime juice, salt and pepper.
NOTE: I used white rice flour and found I needed more flour than the recipe called for, as well as a bit more oil. Have these on hand and add more as needed.
The Sauce
All the ingredients for the sauce are put in a blender to puree. Easy.
Le Crema Topping
All the ingredients for Le Crema topping are also put in a blender until smooth (or a mini chopper). Both sauces should remain covered to retain best color.
The Slaw
Red cabbage is processed in a food processor into a rice slaw then dressed with the Sauce.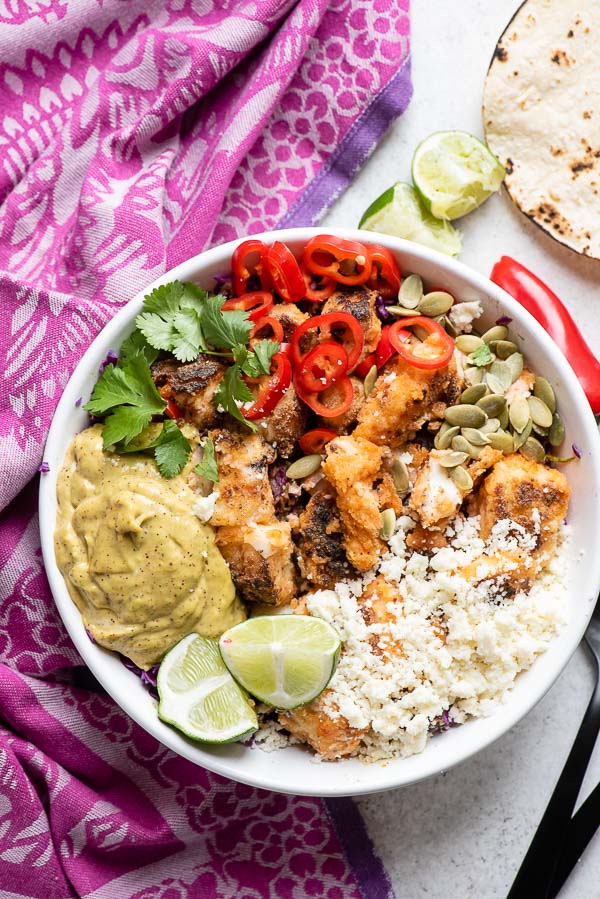 The Baja Fish Taco Bowl is served family-style in one big bowl. The serving bowl is lined with a large cabbage leaf and filled with the slaw. NOTE: I chose to mix my slaw and sauce in one bowl then add it to the serving bowl (the recipe calls for having the slaw and sauce to be mixed in the serving bowl).
The spicy slaw is topped with the Baja fish, sliced peppers and the Le Crema topping. NOTE: the recipe calls for drizzling however mine was too thick to do so. It could be spooned or more oil added for a more liquid consistency.
Finally, crumbled Cotija cheese, pepitas, salt and pepper are added. I threw in a few lime wedges and cilantro leaves too.
This meal is a feast for the eyes and the palate! I can't wait to dive into more recipes soon.
More recipes to try!
Did you make it? Please RATE THE RECIPE below!
Please
SUBSCRIBE
and
FOLLOW ME
on
FACEBOOK
,
TWITTER
,
INSTAGRAM
and
PINTEREST
!
Recipe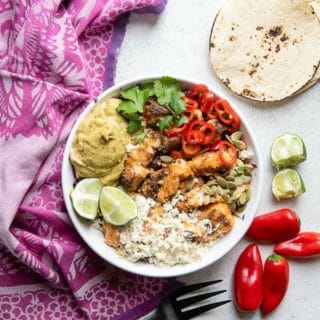 Baja Fish Taco Bowl
"This Baja Fish Taco Bowl is a family favorite! The red cabbage slaw provides your daily does of vitamin C and vitamin K. The avocado crema sauce and fish add a boost of protein and omegas" – Nourishing Superfood Bowls
Print
Save Recipe
Recipe Saved!
Pin
Rate
Ingredients
Baja Fish ingredients:
10

ounces

Cod or Halibut

2

tablespoons

Avocado Oil

plus more for frying (alternative oil with high smoke point may be substituted)

1/2-1

tablespoon

Chili Sauce or Sriracha

1

tablespoon

Rice or Potato Flour

(gluten flour may be substituted; see Recipe Notes below)

Fresh Lime Juice

Sea Salt

to taste

Black pepper

to taste
Sauce ingredients:
1

Green Onion

2

Garlic Cloves

1/2

Avocado

1

Red Chili Pepper

stem cut off

1/4

cup

Avocado or Olive Oil

1/4

teaspoon

Cumin

1/4

teaspoon

Chili Powder

1

handful

fresh Cilantro leaves

1

tablespoon

Lime Juice
Le Crema Topping ingredients:
1/2

Avocado

1/4

cup

Paleo Mayo or Olive Oil based mayo (if dairy-free)

regular mayonaise may be substituted if not on a dairy-free diet

2

tablespoons

Olive or Avocado Oil

1

tablespoon

Lime Juice

1

pinch

Garlic Powder

1/2

Green Onion

1

teaspoon

Chili Powder

optional
Bowl ingredients and toppings:
1/2

head

Red Cabbage

1

handful

sliced Red Pepper (cayenne or jalapeno)

crumbled Cotija Cheese

Pepita (pumpkin) Seeds

Gluten-free or Corn Tortillas

OR large lettuce leaves for serving
Instructions
Baja Fish instructions:
Clean and dry the fish, then cut into bite-size pieces, approximately 3/4-inch wide.

In a small bowl, place the oil and chili sauce. In another bowl, place the flour.

Dip the fish in the oil and chili sauce, then the flour. In a saute pan, place half of the fish with 1/2 tablespoon of oil. Cook over medium-high heat. Turn the fish while cooking for 3-6 minutes, or until it is cooked through and golden. Drain on paper towels and repeat for the remaining fish. NOTE: additional oil may be needed.

Add a squeeze of fresh lime juice, sea salt and pepper to taste to the fish. Set aside while you prepare the rest of the bowl.
Sauce instructions:
Combine the green onion, garlic, avocado, pepper, oil, cumin, chili powder, cilantro, lime juice, salt and pepper in a blender. Blend well. Set aside in a small bowl. NOTE: cover the bowl tightly to avoid oxidation (browning) of the avocado.
Le Crema Topping instructions:
Combine the avocado, mayo, oil, lime juice, garlic powder, green onion, chili pepper (optional), salt and pepper in a blender. Blend until creamy and set aside.
Preparing and Dressing the Cabbage Slaw:
Set aside a large leaf to line the bowl. Cut the cabbage into quarters or smaller; process in a food processor and pulse until riced slaw is formed.

Place the cabbage in a large bowl and squeeze out any extra water if needed; pat dry with a paper towel. Pour the sauce over the cabbage and mix well to combine.

To arrange the family-style bowl, place the large cabbage leaf at the bottom of the bowl. Add the cabbage slaw and top with the Baja fish, followed by red pepper. Spoon on the Le Crema Topping.

Top with Cotija cheese and pepita seeds. Season with salt and pepper to taste. Serve with tortillas on the side for scooping.
Notes
Using gluten flour for the Baja Fish: the absorbency of gluten flour differs from gluten-free flours. I chosing to substitute all purpose gluten flour, more oil/chili sauce may be needed to coat the fish and additional oil to fry the fish.
This recipe republished with permission from Nourishing Superfood Bowls and Page Street Publishing, Inc.
Nutrition
Calories:
529
kcal
|
Carbohydrates:
16
g
|
Protein:
15
g
|
Fat:
46
g
|
Saturated Fat:
6
g
|
Cholesterol:
36
mg
|
Sodium:
215
mg
|
Potassium:
837
mg
|
Fiber:
5
g
|
Sugar:
5
g
|
Vitamin A:
1675
IU
|
Vitamin C:
87
mg
|
Calcium:
67
mg
|
Iron:
1.7
mg
Disclosure: I was provided a copy of Nourishing Superfood Bowls for the purposes of this review. All opinions are my own.