Instant Pot Chicken Tacos are easy, fast and delicious. The Mexican Shredded Chicken cooks in 10 minutes with only 3 ingredients! It's a recipe you'll want to use in lots of other dishes too.

You will not want these JUST for Taco Tuseday's. They are way too good.
They are so fast and easy to make, you'll want these tacos multiple nights a week.
Pair them with Chicken Tortilla Soup or Instant Pot Chicken Taco Soup for a full meal.
If you don't use a pressure cooker, try my Slow Cooker shredded Taco Chicken.
Easiest Mexican Shredded Chicken
The star of this recipe is the shredded Mexican chicken. You'll love it because:
it's so FAST & EASY to make
only 3 ingredients
it's moist and packed with flavor
it's flexible to change up
it can be used in SO many ways (ideas below)
can be made with fresh or frozen chicken

Recipe Ingredients + Notes
Mexican Shredded Chicken
Salsa – restaurant-style, or a more liquid salsa works best for this recipe versus a 'drier' salsa like pico de gallo. It can be smooth or chunky but should have more liquid (see photos).
You can make it as spicy (or mild) as you prefer. Just pick the heat level you like when you select the salsa you'll use.
Taco Seasoning – I recommend using homemade taco seasoning. It has a perfect blend of spices and is not as salty tasting as store bought taco seasoning. However store bought taco seasoning can also be used.
Boneless Skinless Chicken Breasts – 2 pounds of boneless skinless breasts are used; 4 8-ounce breasts as an estimate.
Chicken breasts range widely in size and the larger the breasts the longer cooking time is required. Aim for 4 boneless breasts equaling a total of 2 pounds.
Fresh or Frozen Chicken Breasts Can be Used!
Instructions are included for larger chicken breasts and frozen ones too.
Up to 12 ounces – 10 minutes cook time
Over 10 ounces or using frozen chicken breasts – 15 minute cooking time
Chicken Tacos
Taco shells (hard tacos) or soft corn tortillas (soft tacos)
Toppings (suggestions): lettuce, tomatoes, salsa, guacamole, sour cream and grated cheese. Whatever you love on a taco!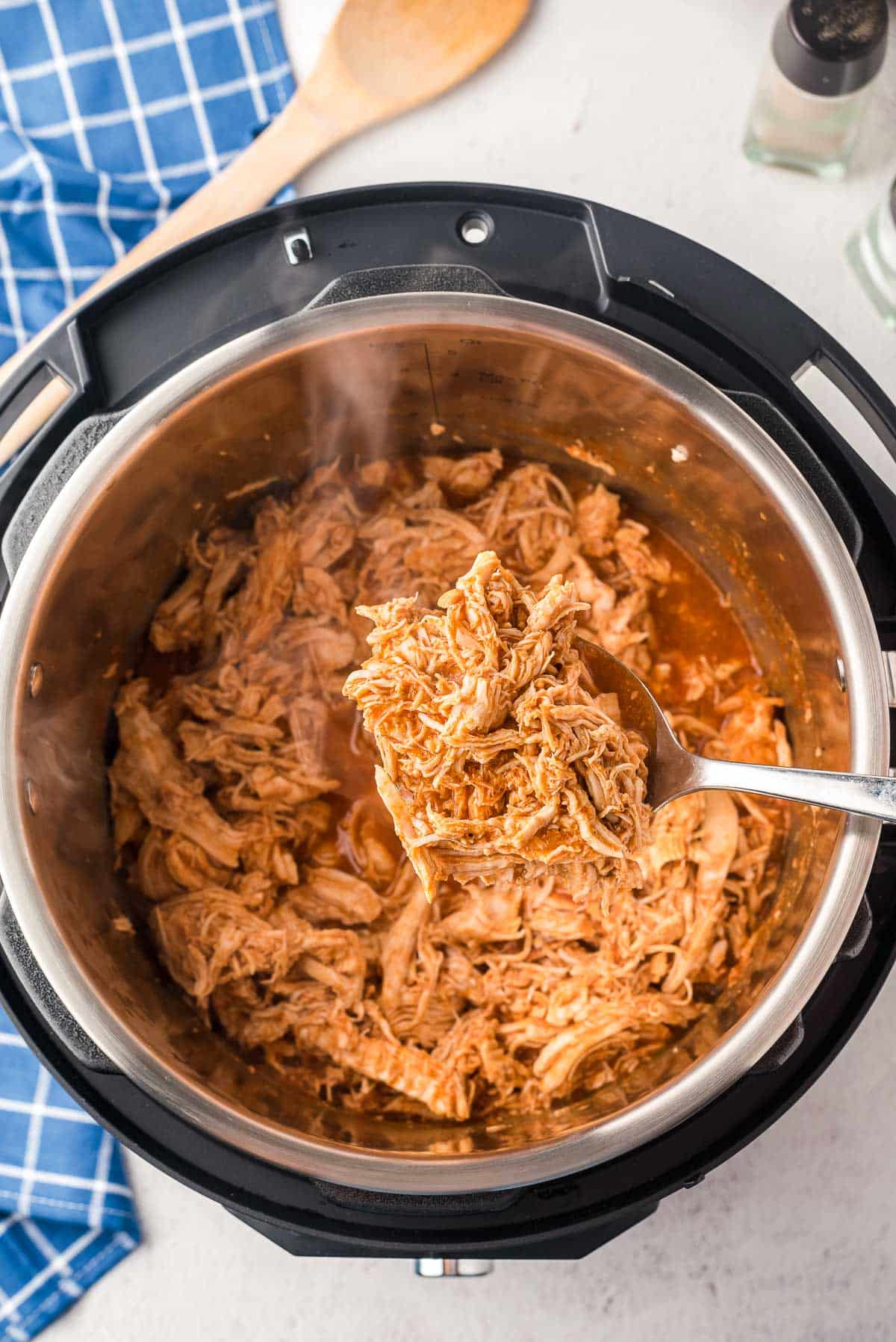 How to Make it – Step-by-Step
STEP 1: Combine the salsa and taco seasoning and stir to fully mix (photo 1).
STEP 2: Pour half of the salsa mixture into the Instant Pot. Spread to lightly cover the insert bottom (photo 2).
Add the chicken breasts side by side (photo 3) and pour the remaining sauce over them (photo 4).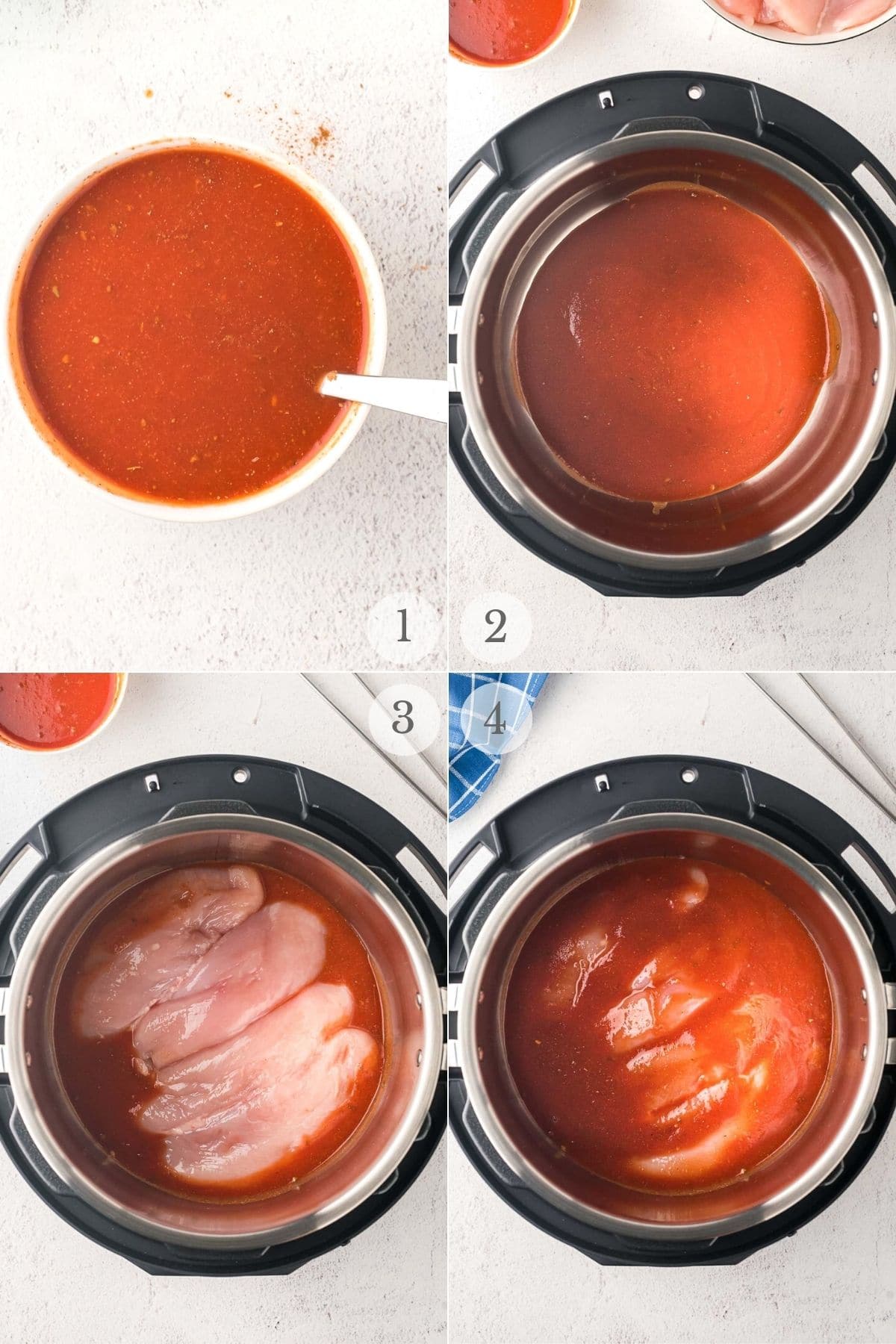 STEP 3: Close the lid and set the vent to SEALING. Set the Instant Pot to HIGH PRESSURE (Manual setting) for 10 minutes.
NOTE: if using frozen chicken breasts or very large breasts (12-ounces or more) set the time to 15 minutes instead.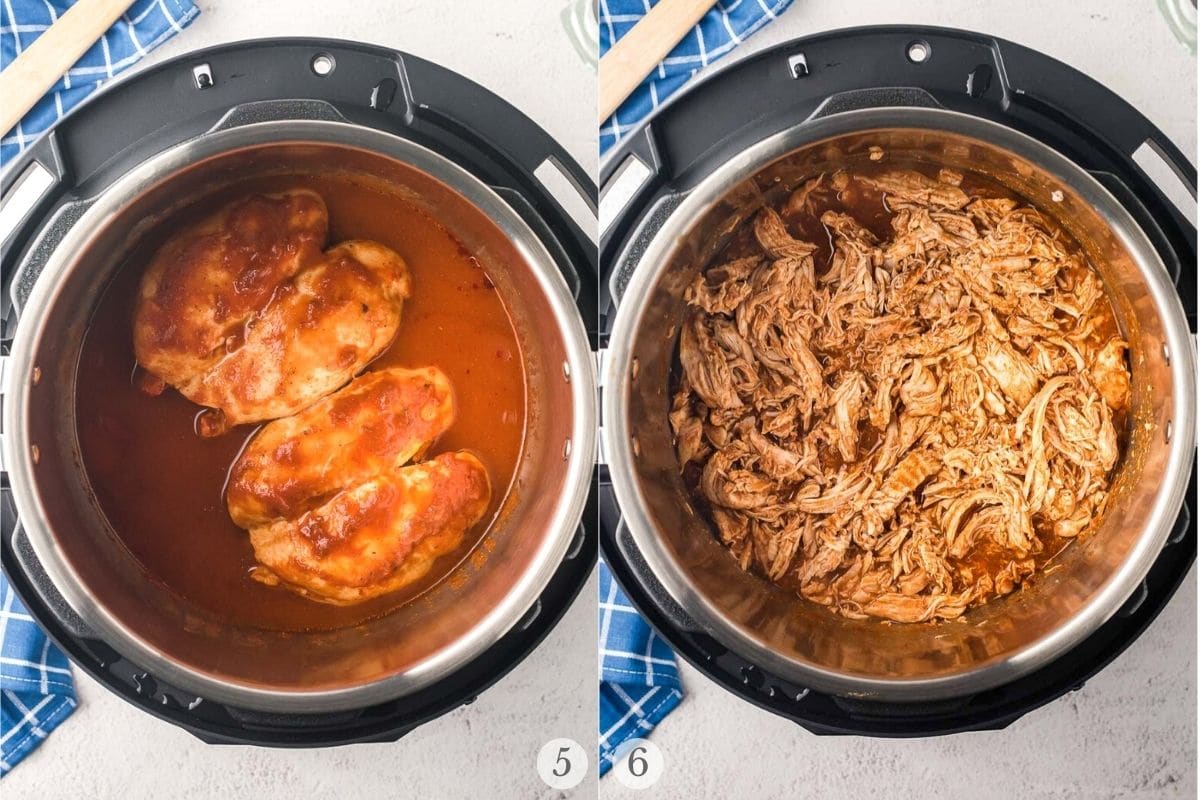 STEP 4: When cooking completes allow a NATURAL RELEASE for 10 minutes. NOTE: the pressure may not take that long to release.
Follow with a Quick Release to relieve any remaining pressure.
Remove the chicken from the pressure cooker and keep the Instant Pot on WARM (default setting after cooking).
STEP 5: Use 2 forks to shred the chicken and return it to the Instant Pot (photo 6). Turn the meat to fully coat with the sauce.
PRO TIP: Perfect Shredded Chicken in the Instant Pot Every time
There is a secret I've found that keeps shredded chicken moist and delicious when using an Instant Pot. And so many recipes don't do it!
After cooking and shredding it, put it back in the Instant Pot and coat it with sauce.
This allows more surface area to be penetrated by the flavors and moisture in the sauce.
The end result is moister and more flavorful!
Also reserve the sauce for storing with leftovers.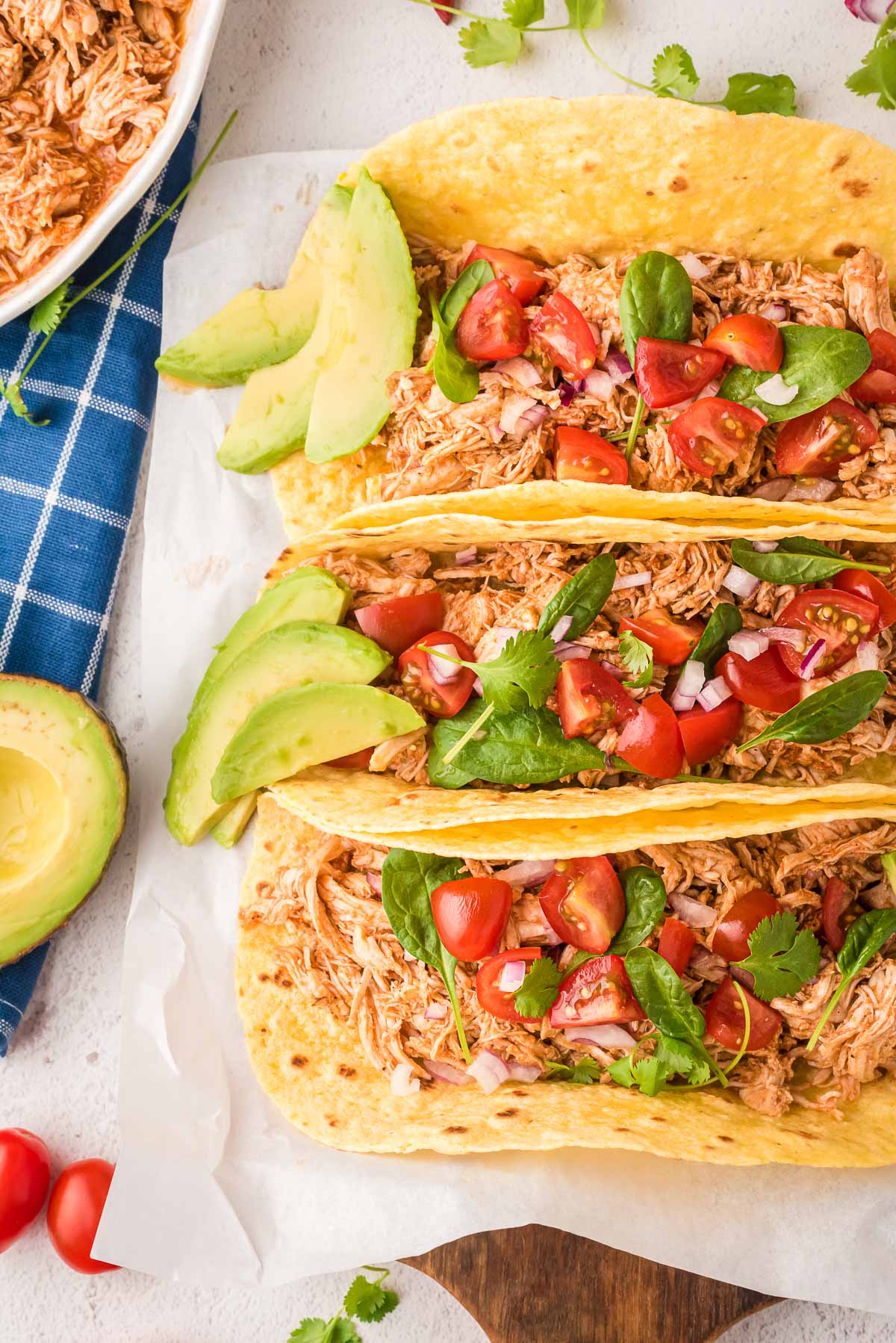 How to Make the Instant Pot Chicken Tacos
Making tacos is more of a personal art than a science. And there is no wrong way to make them.
Once the shredded chicken is ready add some (2-4 tablespoons) to a hard taco shell or a soft corn tortilla.
Layer on any of the following:
shredded lettuce
chopped fresh tomatoes
grated Mexican blend cheese
sour cream or Mexican crema
guacamole or sliced avocados
Pro Tip: this chicken will not be overly saucy. However to keep your taco shell from breaking due to moisture, put the shredded lettuce in FIRST before the chicken.
I do this with hamburgers too; add the lettuce below the burger on top of the bun.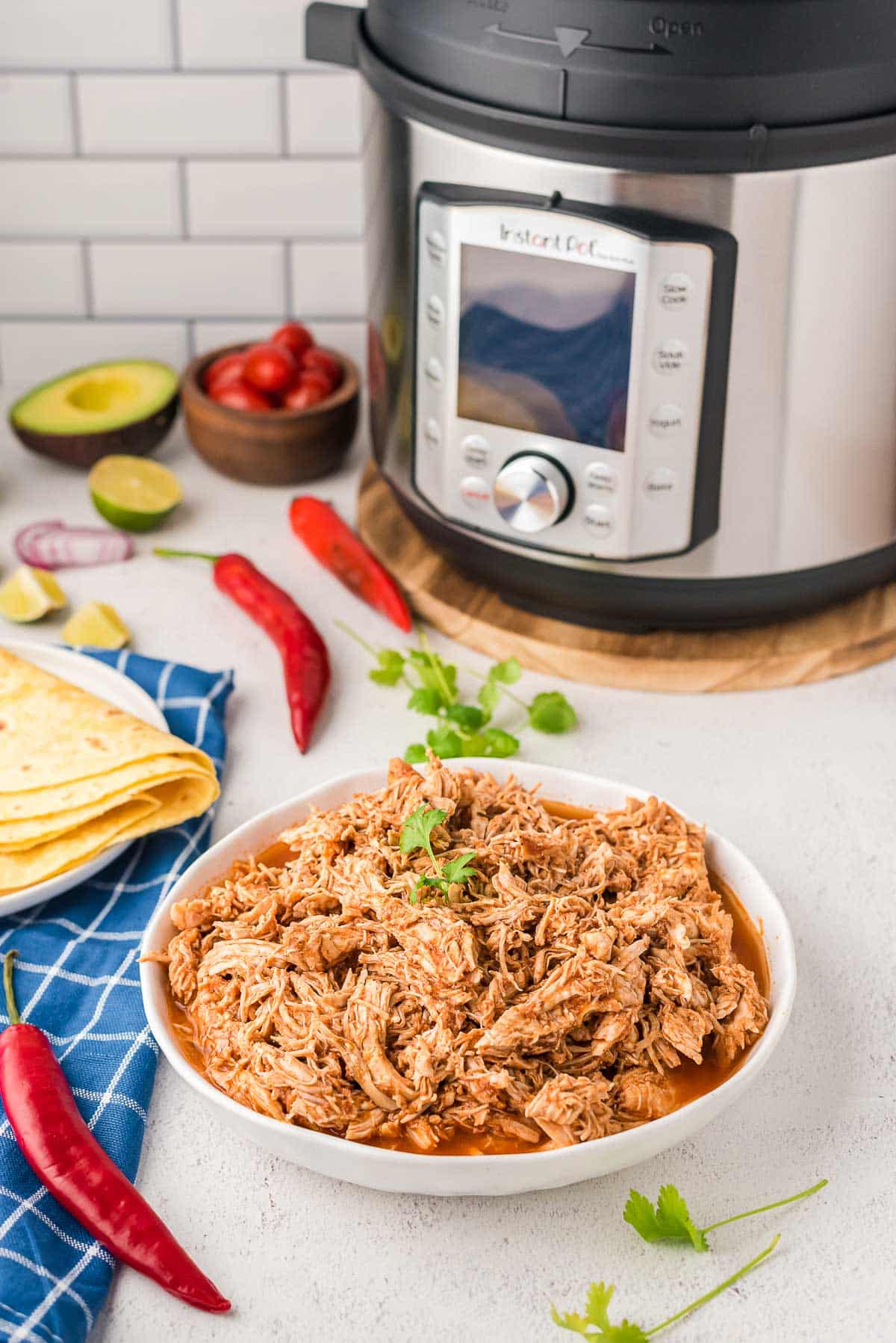 How to Use the Mexican Shredded Chicken
After one bite this will becomes one of your favorite chicken recipes for pressure cooking!
Any Mexican dishes: enchiladas, burritos and burrito bowls, tostadas, nachos
In omelets
Over rice with some of the cooking liquids
Storing Leftovers
In the Refrigerator:
Store in a sealed container with the cooking liquids for up to 4 days.
In the Freezer:
Add the chicken and cooking liquids to a freezer safe container or bag. Remove as much air as possible. Freeze for up to 3 months.
Thaw in the refrigerator. Reheat in the microwave.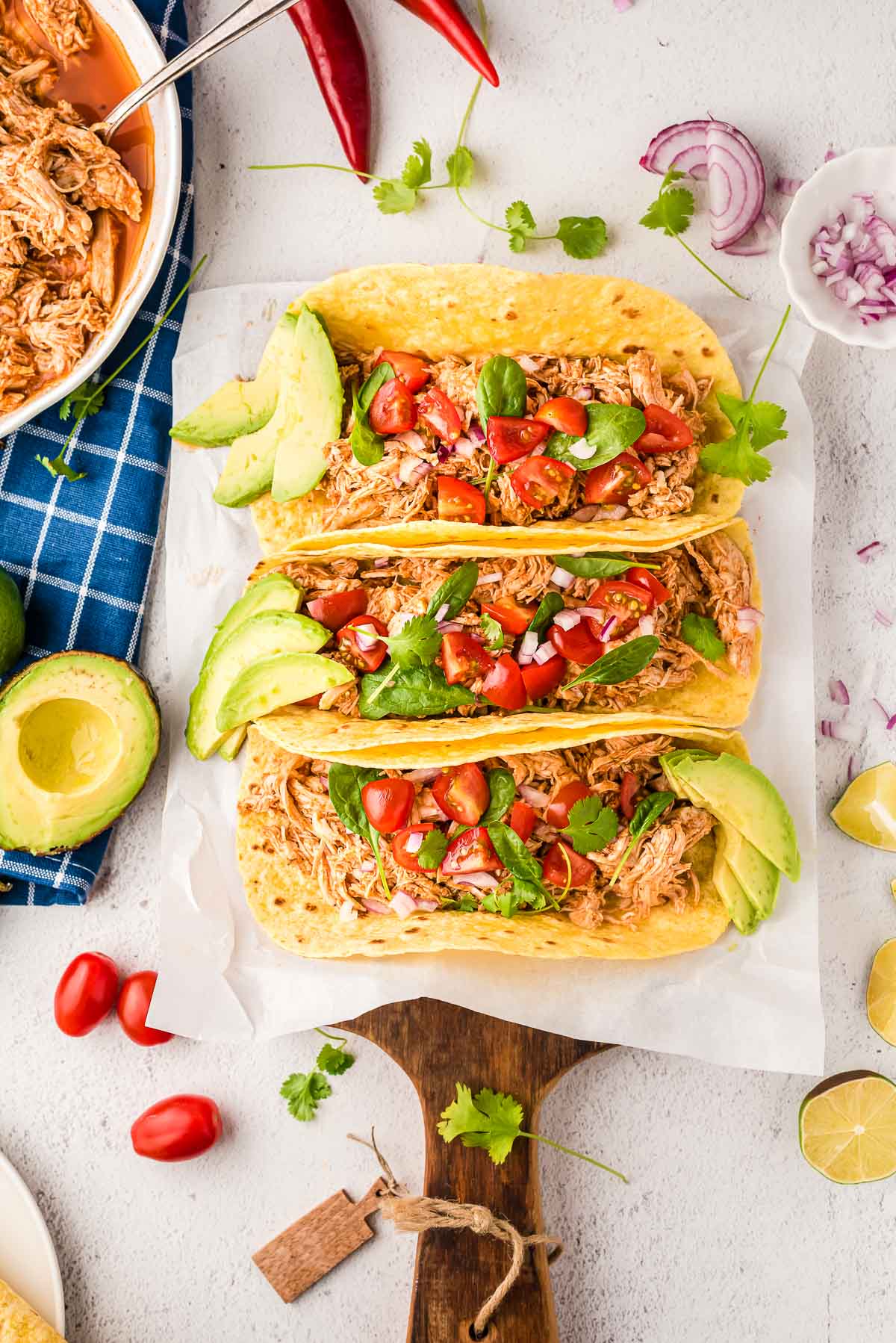 More Recipes You'll Love!
Did you make it? Please RATE THE RECIPE below!
Please SUBSCRIBE and FOLLOW ME on FACEBOOK , TWITTER , INSTAGRAM and PINTEREST !