Strawberry Mojitos are a thirst quenching twist on the well-loved classic cocktail. This version uses lemon rum and key lime juice for a refreshing sipper. Mocktail version included!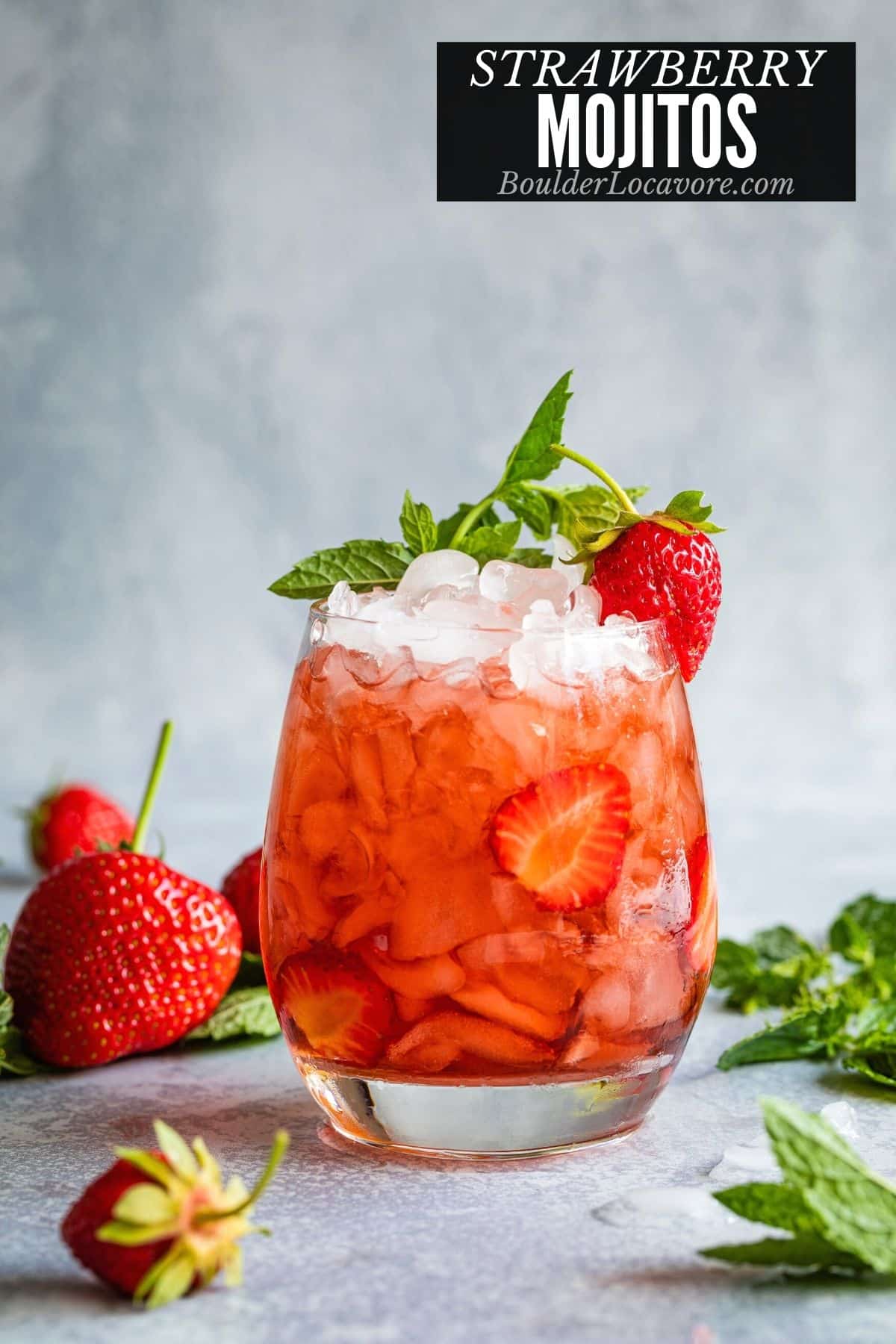 If you are looking for a cocktail to take the heat out of the steamiest of days, look no further than these Strawberry Mojitos.
Sweet strawberries make this a perfect drink especially during the summer months.
Full of fresh ingredients the deliver big delicious flavor.
If you are already a classic mojito lover try Blueberry Mojitos and Watermelon Mojitos too!
What is a Mojito?
Mojitos are a refreshing classic Cuban cocktail. The traditional version combines white rum, mint, sugar, lime juice and club soda.
It's served in a tall glass with lots of ice.
Strawberry Mojitos
Don't let strawberry season pass by without making this refreshing cocktail!
It's a fun twist on the classic mojito recipe great on a hot summer day.
Fresh lime juice (we used key lime), the best rum (we used lemon), sprig of mint and bubbly club soda make this fresh strawberry mojito and
Lemon rum gives a bright sunny flavor. Key lime juice adds a tropical twist.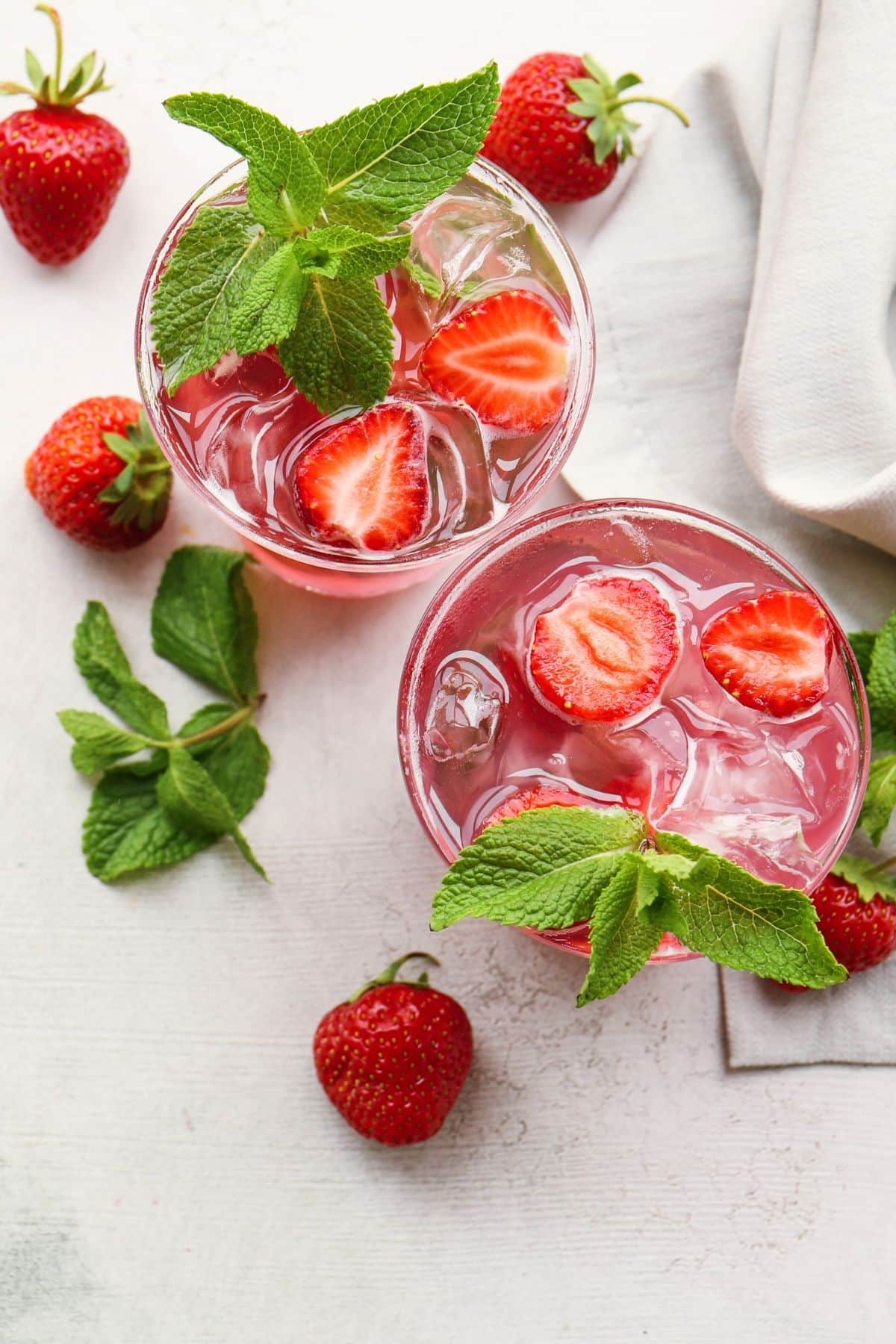 Recipe Ingredients + Notes
Fresh Mint leaves. I use spearmint leaves but any fresh mint works!
Extra fine sugar. Using extra fine sugar makes it easier to dissolve the sugar when muddling the ingredients and shaking the cocktail.
Fresh strawberries. Use large strawberries that are fully ripened for best flavor. If the strawberries don't have much flavor additional sugar may be necessary.
Key lime juice. Use fresh juice from 2-3 key limes. Key limes are smaller than Persian limes (common limes) and have a distinct tangy flavor.
Key limes can be very small (about an inch in diameter). I would suggest using the juice of 1-2 limes, tasting the cocktail when mixed and adding more lime juice should your taste feel it's needed.
Fresh juice from regular limes can also be substituted. Use 1 large lime.
Lemon rum. We picked lemon rum to heighten the flavor of the strawberries. White rum or light rum can be substituted if desired.
Club soda. This will be used 'to fill' the glass after the cocktail is strained in over the ice. It adds a refreshing fizz to the mojito.
What is muddling?
It is basically smashing the ingredients to break them down and release the natural flavors.
A muddler is a stick with either a rounded end or with a plastic end with a textured surface. They can be wood or metal.
It's definitely a cocktail tool every mixologist needs.
How to make Strawberry Mojitos – Step-by-Step
STEP 1. Muddle ingredients
Combine the sugar and mint leaves in a cocktail shaker or quart Mason jar (photo 1).
Add the strawberries and lime juice. Muddle strawberries and lime juice to break down the berries (photos 2-3).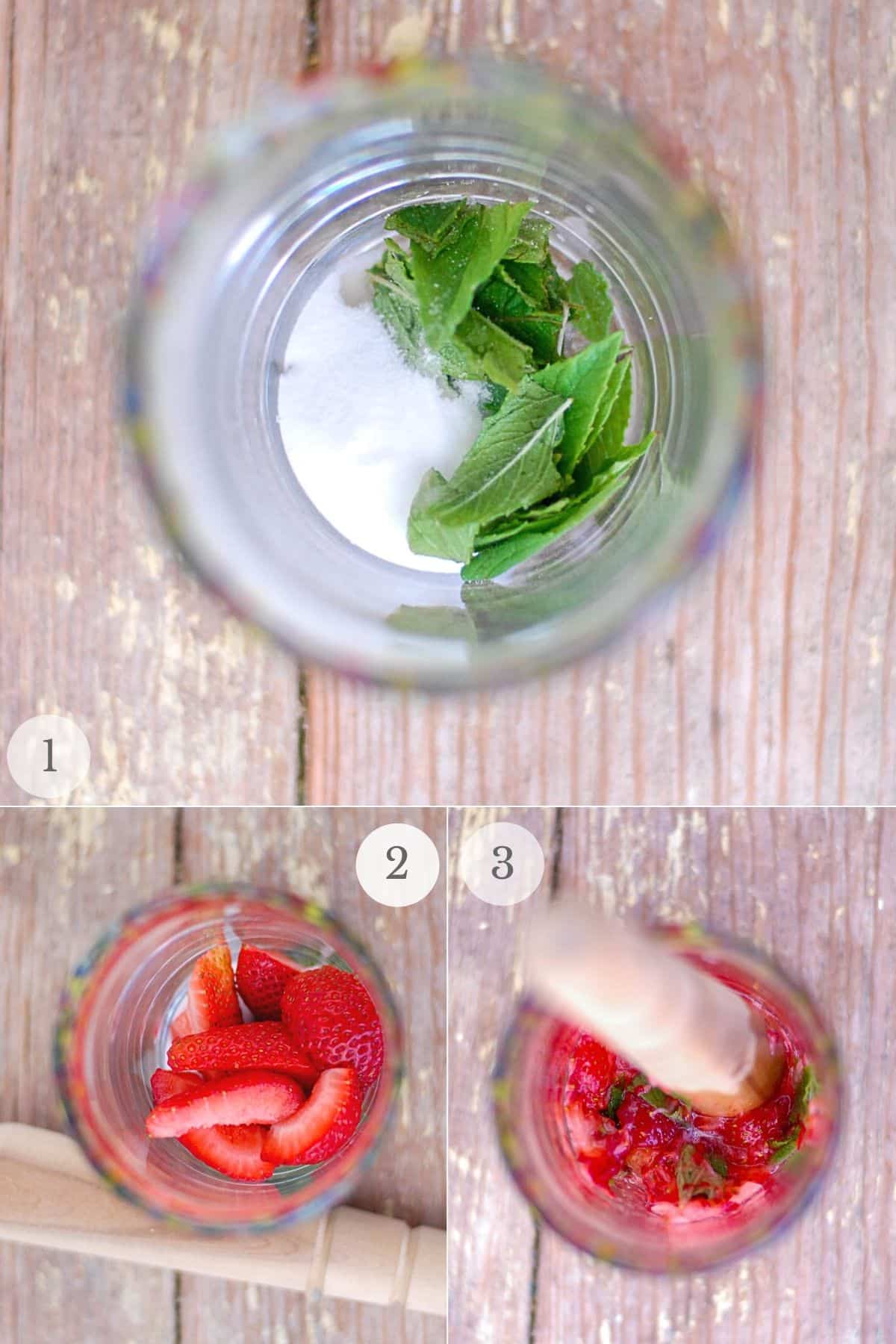 STEP 2. Shake vigorously
Add the lemon rum and a handful of ice. Shake vigorously.
STEP. 3 Strain and fill
Strain into a 16 ounce glass with fresh ice. Fill with club soda and serve.
Additional sliced strawberries and/or lime slices can be added to the cocktail before serving.
To strain or not to strain?
Some people enjoy NOT straining out the muddled ingredients. If so, no problem?
The entire cocktail can be muddled in the serving glass. Follow the muddling directions below using the serving glass.
Instead of shaking the cocktail stir in the rum, add ice and fill with club soda.
The ingredients infuse as the cocktail is sipped and is delicious!
Strawberry Mojito Mocktail!
Follow the instructions up until adding the rum. Add the club soda or lemon-lime soda instead (skip the club soda).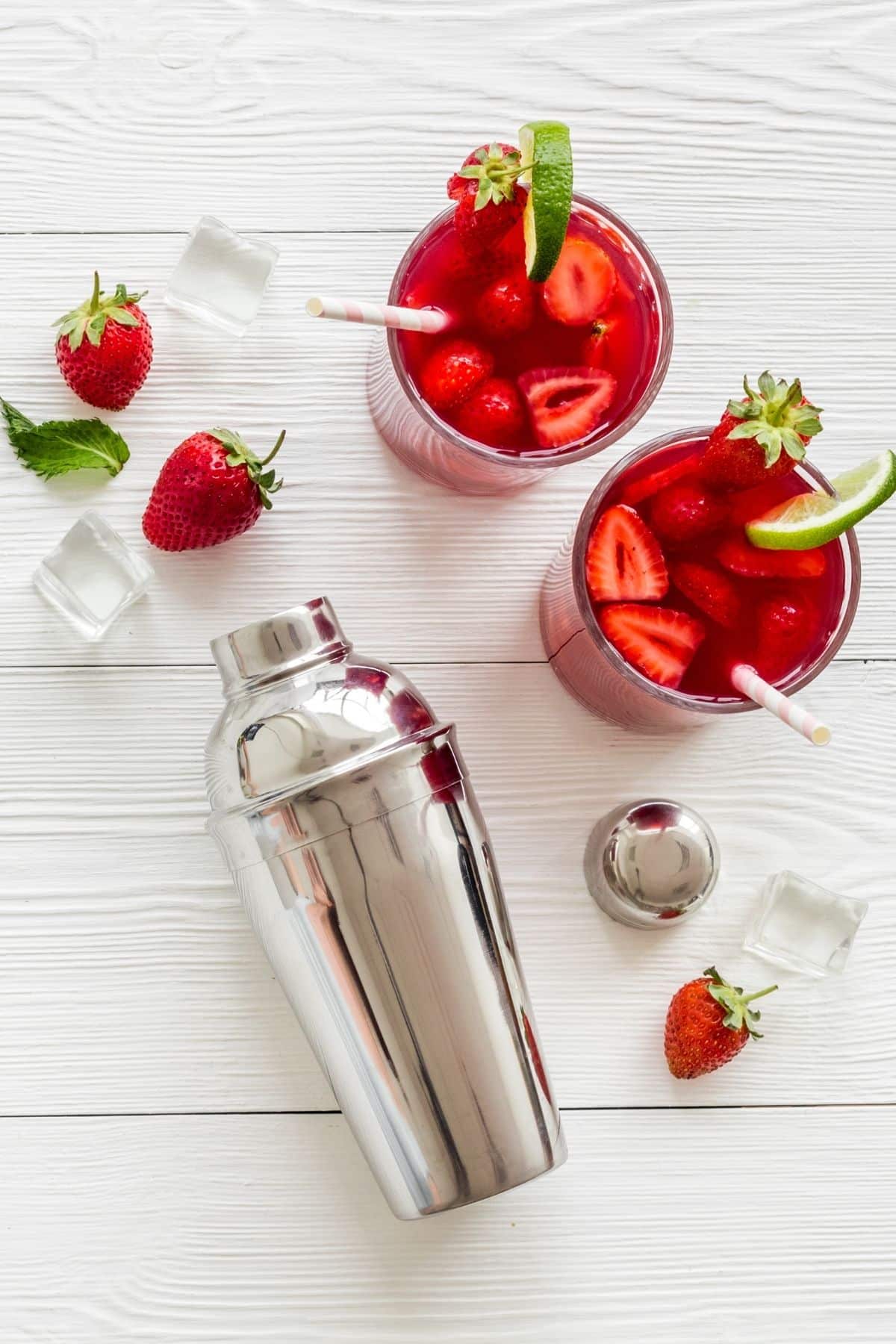 More recipes you'll love!
Did you make it? Please RATE THE RECIPE below!
Please
SUBSCRIBE
and
FOLLOW ME
on
FACEBOOK
,
TWITTER
,
INSTAGRAM
and
PINTEREST
!
Originally published: June 30, 2011