Favorite comfort with a South-of-the-Border twist, Mexican Lasagna has the ooey gooey texture we love with a spicy bite and warming earthy flavors. Can be made regular or gluten-free!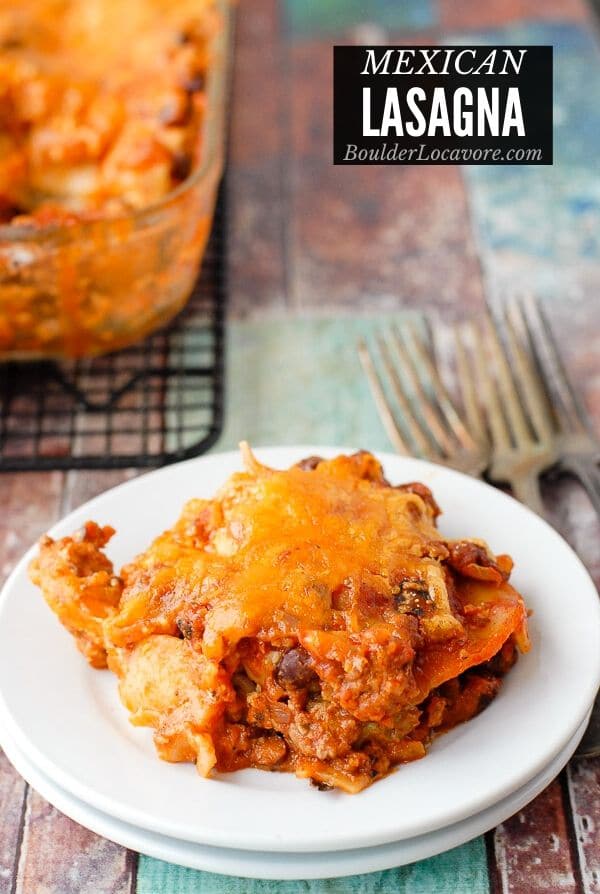 Lasagna is a universal comfort food.
Layers of soft rippling pasta, creamy ricotta cheese, ground beef in a savory tomato sauce.
This recipe for Mexican Lasagna is that AND a whole lot more.
Spicy chorizo sausage, black beans, fire roasted tomatoes and green chilies.
That's just the start of this cheesy delight.
It's all the things you love about Mexican food AND lasagna rolled up into one comfort food favorite.
Mexican Lasagna Ingredients
You'll recognize some classic lasagna recipe ingredients on this list.
In addition, some flavor-packed Mexican food ingredients make this Mexican Lasagna truly special!
Lasagna Noodles – gluten-free or regular
Vegetable Oil
Yellow Onion
Roasted Green Chilies or Hatch Chilies
Lean (95% fat free) Ground Beef
Mexican Chorizo Sausage (loose)
canned Black Beans
canned Fire Roasted Tomato Sauce
Medium-heat Salsa
ground Cumin
Red Pepper Flakes
Kosher Salt
ground Black Pepper
Ricotta Cheese
Mexican Cheese blend
Sharp Cheddar Cheese
Hot water

Ingredient Notes
Lasagna Noodles
This lasagna recipe can be made with regular or gluten-free lasagna noodles!
Meat
This Mexican Lasagna has a blend of both ground beef and ground chorizo.
The combination give a big flavor and some spiciness to the lasagna.
For this recipe loose or Mexican Chorizo sausage should be used, not Spanish Chorizo which is a hard, aged solid sausage.
Mexican Cheese Blend
This is a prepared cheese blend available in the dairy section of the grocery store with other bagged, grated cheeses.
It's a time saver to use.
If you want to prepare your own blend, finely grate equal parts of mild cheddar, Monterey jack and Colby cheeses.
Green Chilies or Hatch Chilies
Freshly roasted chopped green chilies can be used for this recipe OR canned fire roasted green chilies.
I recommend using mild green chilies unless you love spicy heat!
If you do, either combine mild and hot green chilies, or use hot green chilies.
If you want to roast your own chile peppers here are instructions for roasting peppers.
I recommend using Anaheim chile peppers for this recipe.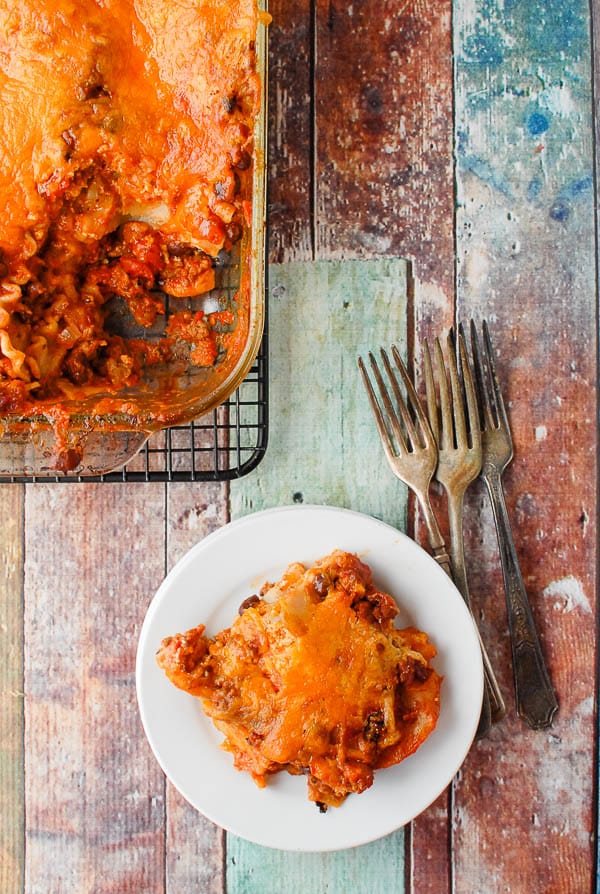 What are Hatch Green Chilies?
Hatch Green Chilies are grown in the Hatch Valley in New Mexico.
They are closest to an Anaheim chile and slightly less spicy than a jalapeno chile pepper.
They are seasonal and harvested between August and September.
In the southwest and Colorado the smell of freshly roasting Hatch Chilies fills the air at farmer's markets everywhere.
They have a wonderful earthy, smoky flavor when roasted and are my personal favorite for this recipe.
You can find canned roasted Hatch Chilies at the grocery store in the ethnic food section.
They are also available to order from places like the The Hatch Chile Store.
I have multiple packs of roasted diced chilies in my freezer all year long.
PRO Time Saving Trick: Don't Pre-Boil the Lasagna Noodles!
Lasagna can be time consuming to put together. This is especially true since the lasagna noodles usually need to be pre-boiled before assembling the casserole.
The noodles are slippery and difficult to manage.
I have a trick I've used for years that allows no pre-boiling of the lasagna noodles!
It works perfectly every time and the lasagna turns out perfectly.
How to Bake Lasagna without Boiling the Noodles First
Assemble the Mexican Lasagna as directed in the recipe card below with uncooked noodles.
Gently pour 1/3 cup boiling water around the edge of the assembled lasagna (between the lasagna and the pan).
I recommend using a liquid measuring cup to direct the water to the right location.
Double seal the lasagna and bake as instructed.
That's it! The noodles will be soft and well cooked when the Mexican lasagna is baked. This works for any lasagna recipe.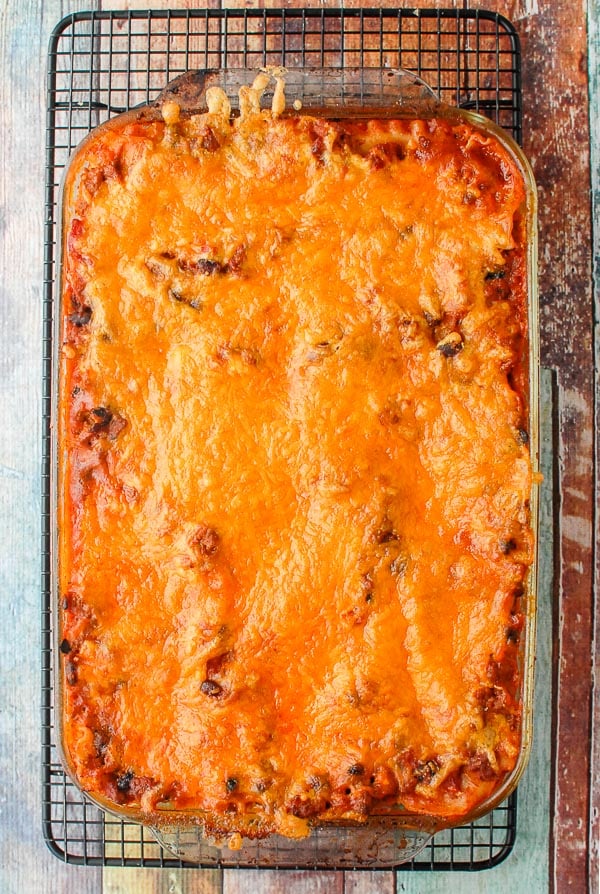 How to Make Mexican Lasagna – Step-by-Step
For detailed instructions refer to the printable recipe card at the end of the blog post.
STEP 1: Preheat the oven to 375 degrees.
STEP 2: In a large skillet, heat the oil and saute the onions.
STEP 3: Add the green chilies and saute for two minutes.
STEP 4: Add the meat and brown until no pink is showing. Break meat up while cooking with a spatula.
STEP 5: Add black beans, stir together.
STEP 6: Add the tomato sauce, salsa and spices. Stir to combine.
STEP 7: Assemble the lasagna as described in the recipe card below.
STEP 8: Cover with a double layer of foil and bake for 50 minutes.
STEP 9: Remove the foil, add more cheese on top and bake 10 additional minutes uncovered.
Add a few sliced of pickled jalapenos on top when serving if desired!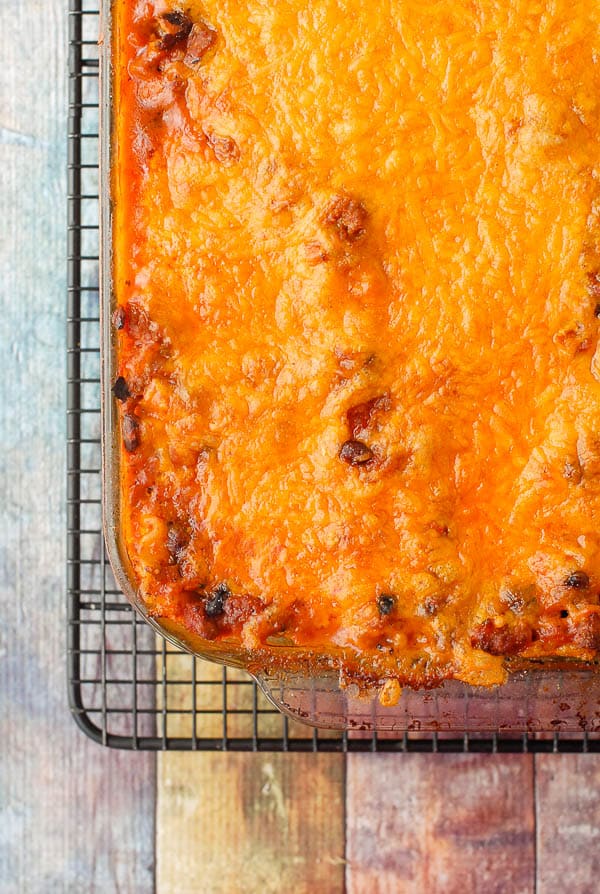 How to Store Lasagna Leftovers
Refrigerator
Once the Mexican lasagna has fully cooled, seal the top with plastic wrap.
Plastic wrap will help the lasagna not dry out in the refrigerator.
Allowing the lasagna to fully cool before chilling will prevent condensation from developing and making the lasagna soggy.
Store for 3 to 5 days.
How to Freeze Lasagna
The best way to freeze lasagna is in individual serving sizes.
Chances are this is how you'll eat it. It also saves freezer space.
Its also easier to prepare to freeze for best results when thawing and reheating.
Allow the lasagna to fully cool. It can also be chilled in the refrigerator to make slicing easier.
Cut the lasagna into individual portions.
Double wrap with plastic wrap (I recommend Press N Seal for best results).
Place the portions in the freezer in a single layer to freeze.
Once frozen they can be placed together in a freezer plastic bag for additional protection.
Alternatively each portion can be placed in a freezer-safe airtight container.
Freeze up to 3 months.
How to Reheat Leftover Lasagna
The best way to reheat lasagna is to microwave it in single portion servings.
Reheating in the oven is possible too but takes almost as long as originally cooking the lasagna.
It risks drying it out too.
For frozen lasagna thaw in the microwave (on Defrost cycle) or in the refrigerator.
Then heat in the microwave.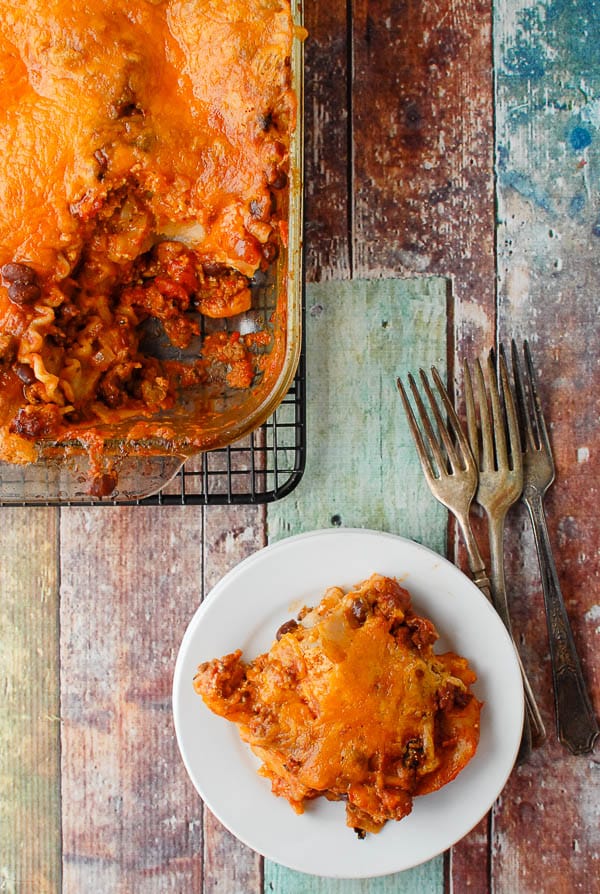 Make it a Meal!
More Mexican Inspired Recipes You'll Love!
Did you make it? Please RATE THE RECIPE below!
Please SUBSCRIBE and FOLLOW ME on FACEBOOK , TWITTER , INSTAGRAM and PINTEREST !
Originally published: September 7, 2014