If traveling to Santa Fe, the Buffalo Thunder resort is steeped in the heritage of the Southwest. Exciting margaritas, an irresistible guacamole recipe and great surrounding sights make it an unexpected jewel.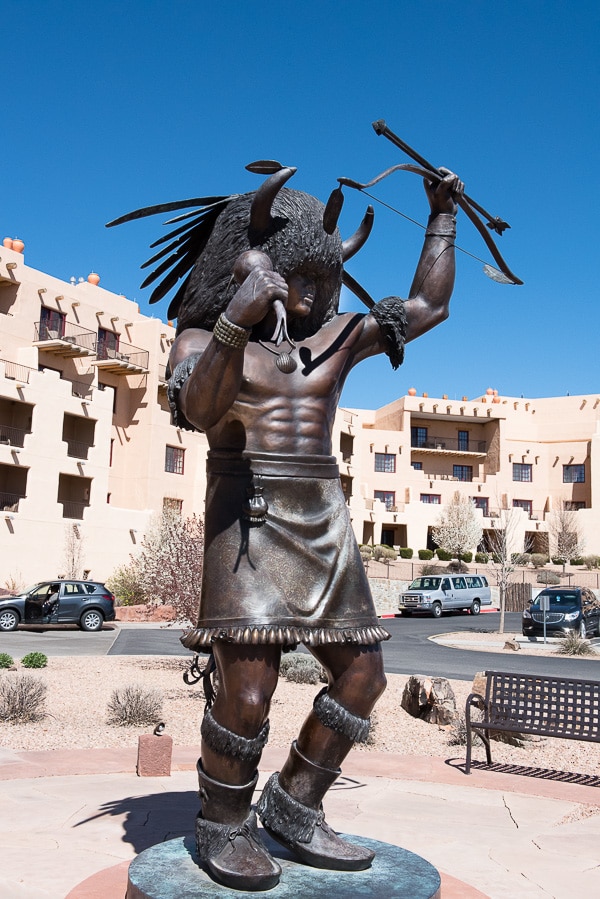 When considering where to stay as part of our exploration of the Santa Fe Less Traveled a local friend mentioned that the Buffalo Thunder Hilton as one of her favorites.
Her feeling is they've done an exceptional job of integrating all the local pueblos and tribes.
When reviewing the resort online, I was intrigued, and decided to explore for a few nights.
We are so glad we did.
Located on the Pojohaque (pronounced poe-hockey) pueblo, a mere 15 minute drive to downtown Santa Fe, Buffalo Thunder offers desert oasis with no need to leave for anything one could wish for.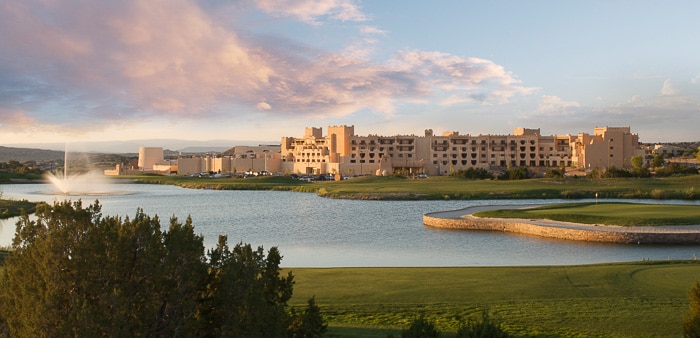 Buffalo Thunder Resort – Santa Fe
The expansive 395-room resort presents authentic pueblo architecture, setting the tone for all one might explore at the property.
Native American Art
The $2 million Native American art collection represents artisans of all mediums and kicks off with an impressive bronze sculpture of a man in full native dress, poised as a sentinel outside the main entrance.
The collection continues inside, adorning walls with enormous paintings, an extensive pottery collection, more sculpture and a breathtaking stained glass piece reaching from floor to ceiling in the expansive, tastefully appointed lobby area.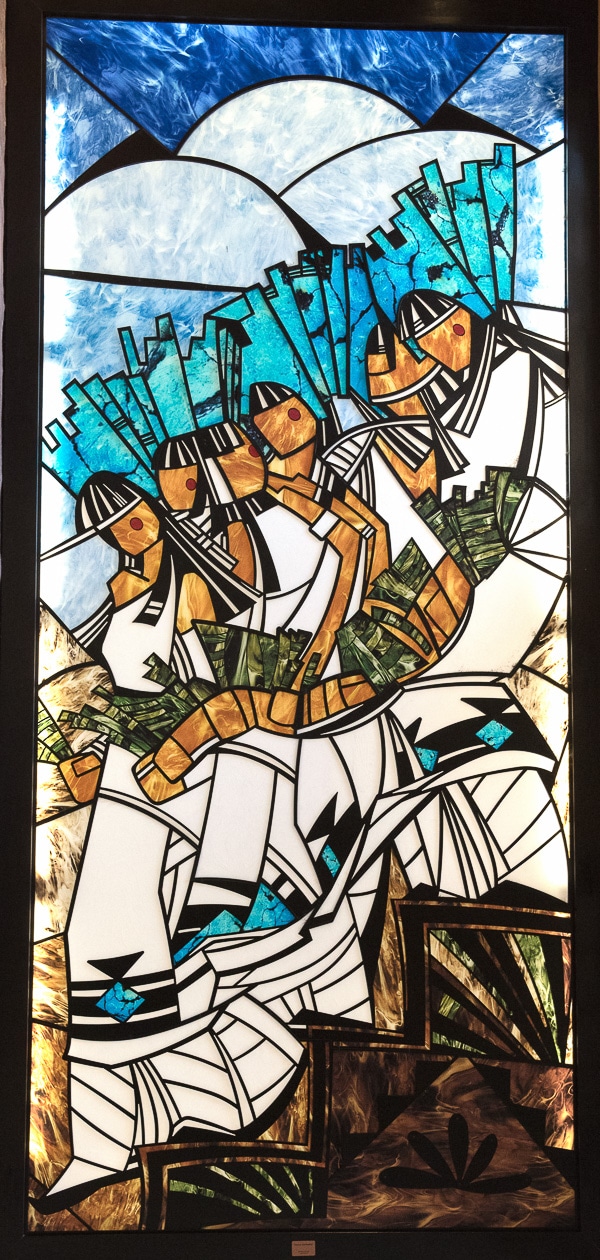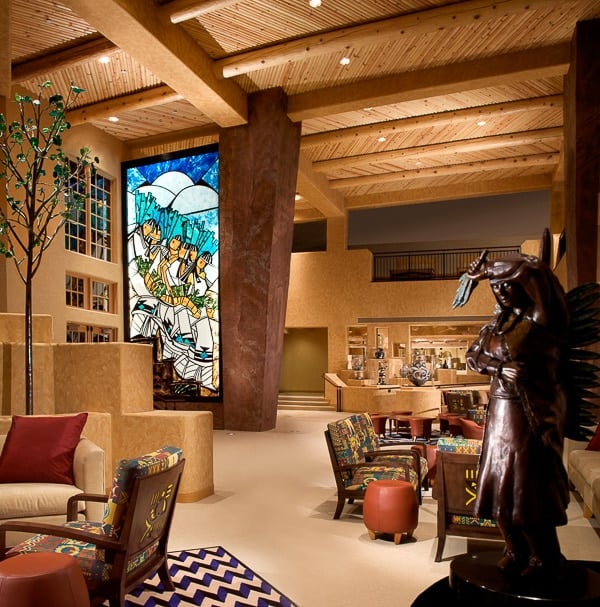 My first impression, and one that only built during our stay, was how friendly, warm and helpful the resort personnel are.
At every encounter we found people eager to help, to educate us and to share about their own background. It is the crowning jewel of the resort's charm.
Everything a Traveler Wants On Site
I was also struck by the scale of the resort.
It is extremely large, and includes a casino, three golf courses (one with an island hole in the middle of a lake), indoor and outdoor (seasonal) pools, a spa, meeting facilities, multiple large shops, and ten eateries (including a Starbuck's Coffee Shop, cafes, restaurants and room service).
Rooms all include hand-carved headboards, Native American themed décor with plenty of space to spread out. We realized quickly that our desire for exploration could largely be done AT the resort (though we will share a few great finds nearby), as it felt like a one stop venue offering any option one could desire.
What I imagined from my trips to Las Vegas hotel casinos of having to walk through smoky, boozy parts of casinos to get to the elevators to my room was not the case at Buffalo Thunder.
Though accessible through a section of the hotel, the casino has a separate entrance and parking lot, with no alcohol allowed on the casino floor, creating a very different family-friendly feel at the resort.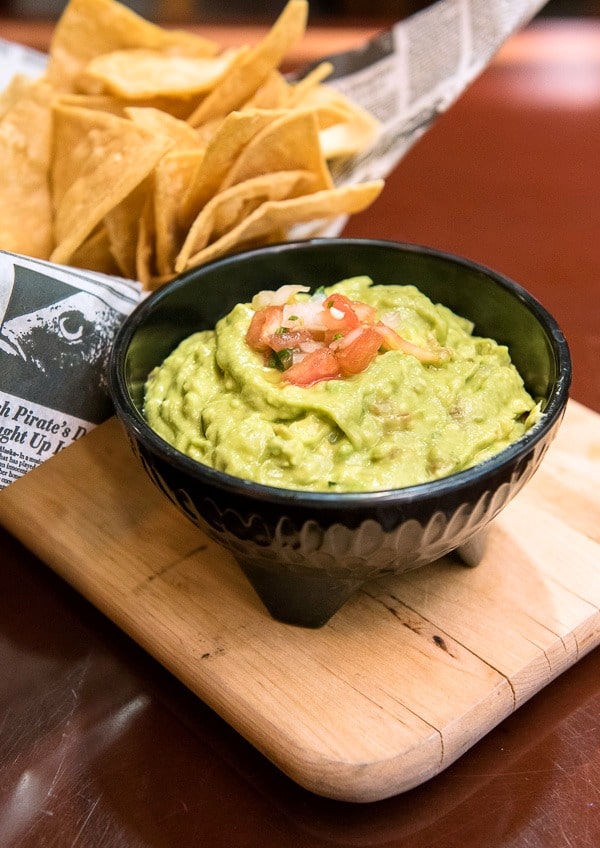 Iguana Cafe
Before arriving I was invited to experience a newly installed Guacamole Bar and a margarita tasting in the recently reopened Iguana Café.
The Iguana Café serves New Mexican and Mexican cuisine in a casual setting for all three meals of the day.
It is a vibrant epi-center for delicious food in a relaxed and welcoming setting. Our server Edgar, greeted patrons as old friends and quickly transformed a potentially regular dining experience into an animated engagement with a feeling that we belonged.
The result was much fun, lots of learning and my kids begging to go back the next night having loved the tacos, and Edgar frankly. Incidentally gluten-free dining at the resort was very easy.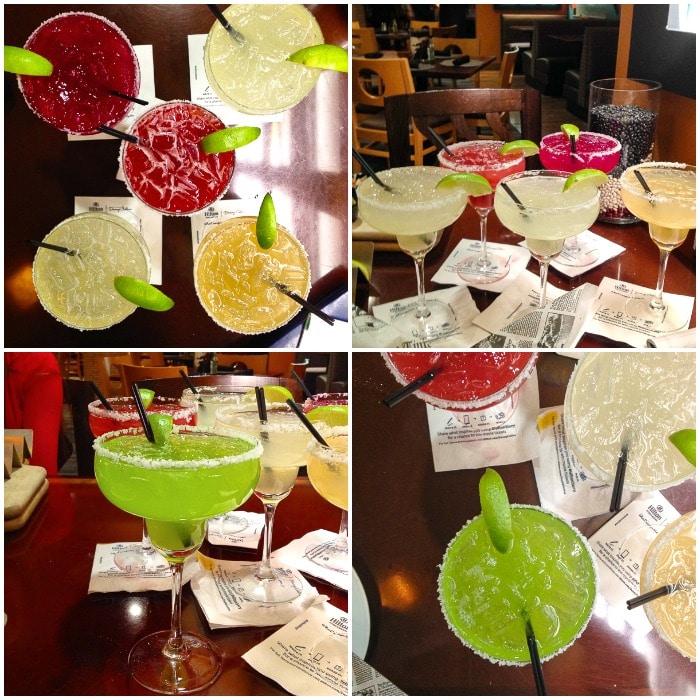 30 Different Margaritas
I really did not comprehend what a margarita tasting would entail, thinking 'how many types of margaritas could one place serve?'
The Iguana Café boasts over 30 margaritas on their menu, all distinctly different.
For my tasting I asked them to bring their favorites. I tried:
Buffalo Thunder Classic Margarita (Patron Buffalo Thunder Reposado Tequila, Naranjo Orange Liqueur from Alcalde New Mexico, and House Made Fresh Citrus Sour mix)
18-Karat Gold Margarita (1800 Gold Tequila, Grand Marnier and Fresh Citrus Sour mix)
El Don (Don Julio Silver Tequila, Solerno Blood Orange liqueur and Fresh Citrus Sour mix)
Prickly Pear Margarita (in the most sublime shade of pink ever: Sauza Blue Silver Tequila, Prickly Pear Puree, Triple Sec and Fresh Citrus Sour mix)
Tequila Makers Her Clothes Fall Off Marg (Patron Silver Tequila, X-Rated Fusion Liquor, Blood Orange Puree, Passion Fruit Puree and Fresh Citrus Sour mix).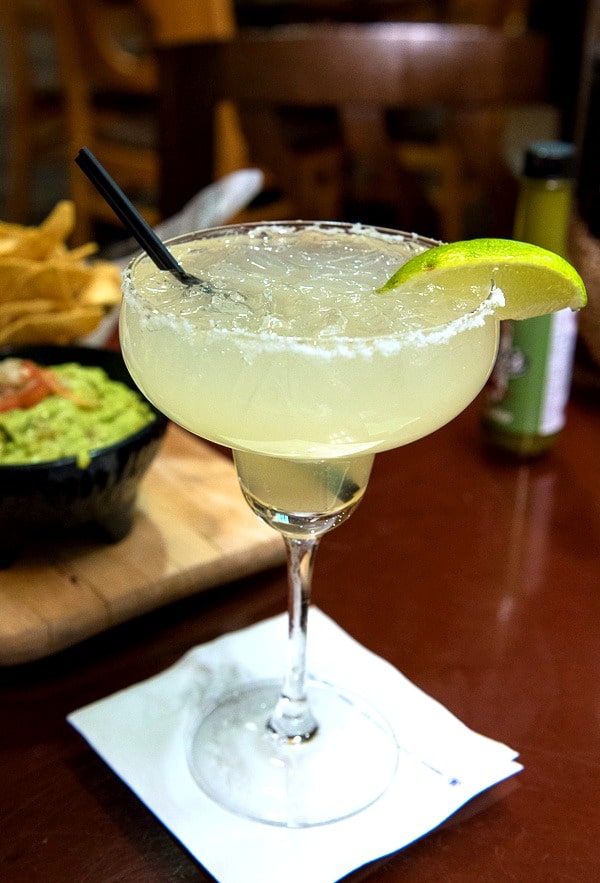 Before you ask, no, I did not drink them all! As with any tasting, I did just that; taste.
I really liked them all however the one that came back to my room with me was suggested by a sweet server, Michelle, who after watching this madness from afar, suggested to Edgar he bring me the Midori Melon Margarita.
Candidly I've never order Midori Melon anything, a bit dubious of the color and (wrongly) imagining it to be uber sweet in a 'watch out for a hangover' kind of way.
I was so wrong. The margarita was fresh-flavored, light, refreshing in a dazzling shade of green.
The BEST Guacamole Recipe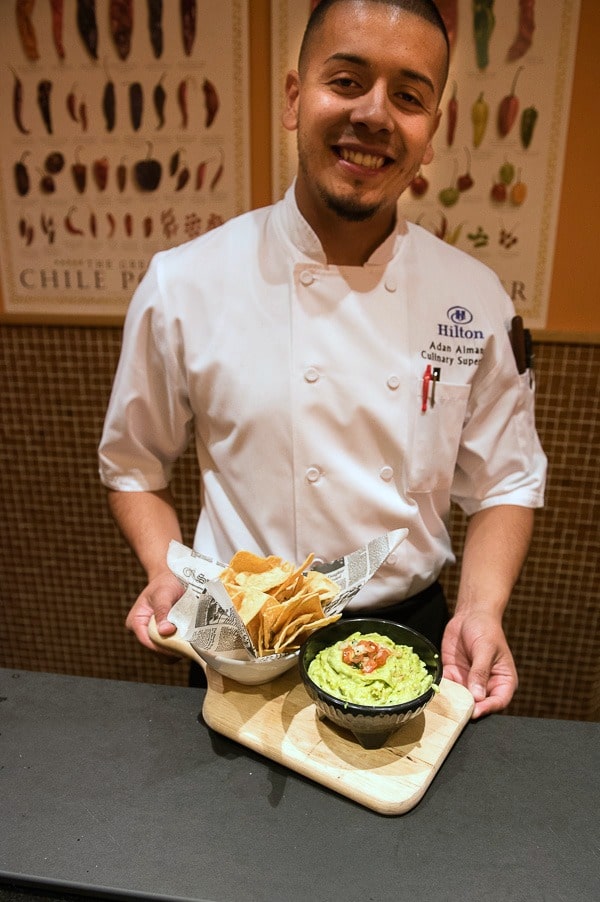 We loved the walk up Guacamole Bar which allows diners to customize their guac blend under the watchful eye of the chef.
Culinary Supervisor Adan Almanza created our blend, offering different options of ingredients to personalize the flavors and heat.
We let him lead the way and enjoyed watching the process, especially the final mixing in an authentic lava rock Molcajete mortar and pestle, creating the creamiest guacamole I have ever had.
Adan recalled his Grandparents in Mexico making guacamole in this way when he was a child, which is how he learned to make it.
His dream is to return to Mexico to make guacamole for them one day and I am sure they would be very proud.
Easy Guacamole Recipe
This guacamole recipe is easy and delicious to make at home. Using a molcajete (a textured mortar and pestle, shown below) makes quick work of blending the ingredients together but isn't required!
Pro Tips
The recipe can be just as easily be made in a bowl.
Ensure the avocados are ripe (not overly ripe and brown) for best flavor and softer texture.
If Crema Fresca is the Mexican version of Creme Fraiche. Both are a thinner version of a sour cream. If Crema Fresca isn't available, is not available substitute sour cream.
Guacamole can be customized to suit your tastes at home just as they make it at the hotel. Experiment with different salsa or the amount of Crema Fresca to get your favorite mix!
How to Make the Guacamole Recipe – Step by Step Photos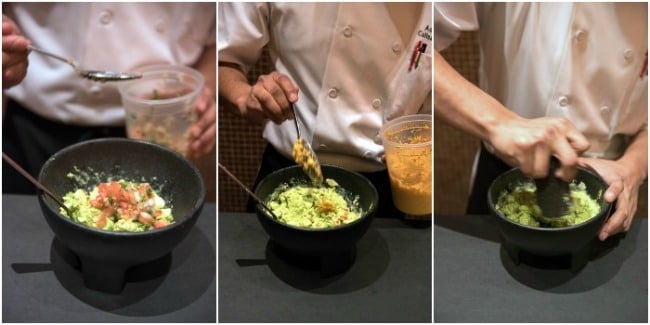 Recipe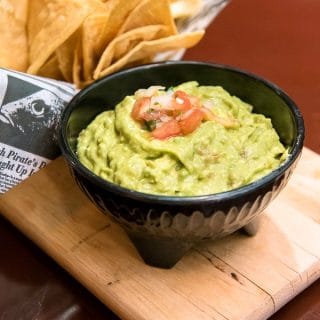 Guacamole Recipe
Fresh guacamole is easy to make and always the hit of a party! This recipe from the Buffalo Thunder Iguana Cafe in Santa Fe is always a hit.
Print
Save Recipe
Recipe Saved!
Pin
Rate
Ingredients
2

Ripe Hass Avocados

, removed from peel

½

Lime

, fresh squeezed Juice

1

Tablespoon

Fresh Pico de Gallo

1

Tablespoon

Crema Fresca

Dash of Ground Cumin

Dash Sea Salt

Dash Fresh Ground Black Pepper
Instructions
Smash avocados in a bowl or molcajete.

Add remaining ingredients and blend together with a large spoon or pestle.
Notes
Use fully ripe, soft avocados.
If Crema Fresca is unavailable, substitute sour cream.
To keep the guacamole from turning brown if leaving out at a longer gathering, try this tip.
Nutrition
Calories:
170
kcal
|
Carbohydrates:
9
g
|
Protein:
2
g
|
Fat:
15
g
|
Saturated Fat:
2
g
|
Cholesterol:
1
mg
|
Sodium:
27
mg
|
Potassium:
487
mg
|
Fiber:
6
g
|
Sugar:
1
g
|
Vitamin A:
165
IU
|
Vitamin C:
12.5
mg
|
Calcium:
18
mg
|
Iron:
0.6
mg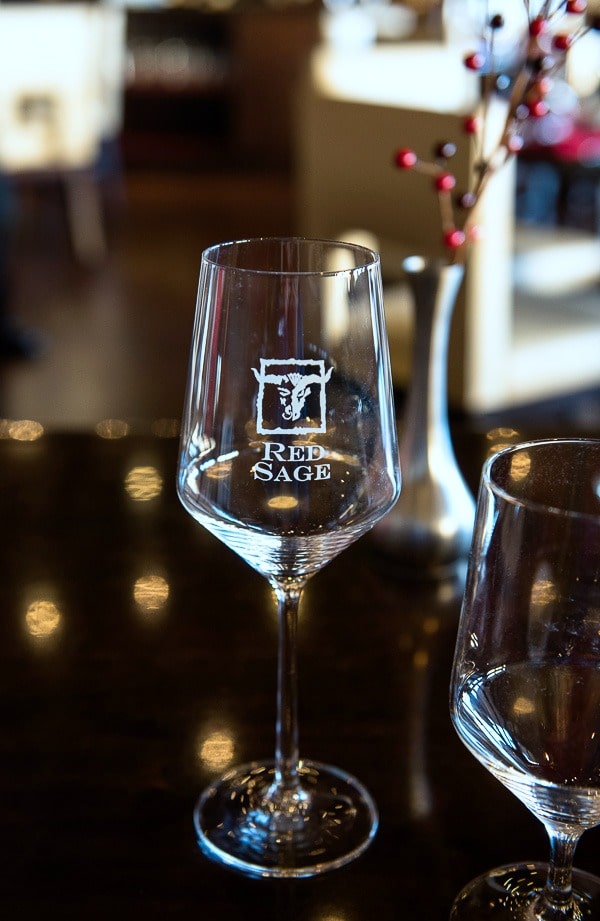 Red Sage Restaurant
The next evening we dined at the Red Sage restaurant, the resort's more upscale American steak house also featuring inspired seasonal dishes.
Chef Kristian Markland, treated us to a sample of his creativity in a wine-paired chef's tasting.
His kitchen navigated the seasonal change and we enjoyed:
fresh summery wedge salad
an autumnal harvest salad with the last of the season's Brussels Sprouts and pepitas
gorgeous deconstructed prawn cocktail
salmon filet with roasted greens and pine nuts on a bed of polenta and the irrefutable highlight
a Bison tenderloin that was extraordinary; cooked to perfection so it melts in one's mouth. I won't forget that for some time.
Red Sage has an extensive and exciting wine list to sip solo on their fire-pit dotted patio or to combine with any of their dishes.
We loved our stay at the Buffalo Thunder Hilton.
I've found myself thinking of what we left undiscovered; the spa, summertime at the elaborate outdoor pool with bar to experience the other 24 margaritas on the menu, walks around the outside of the resort.
Their busier season is from May through mid fall however our visit proved there is plenty to do at the resort and nearby all year round.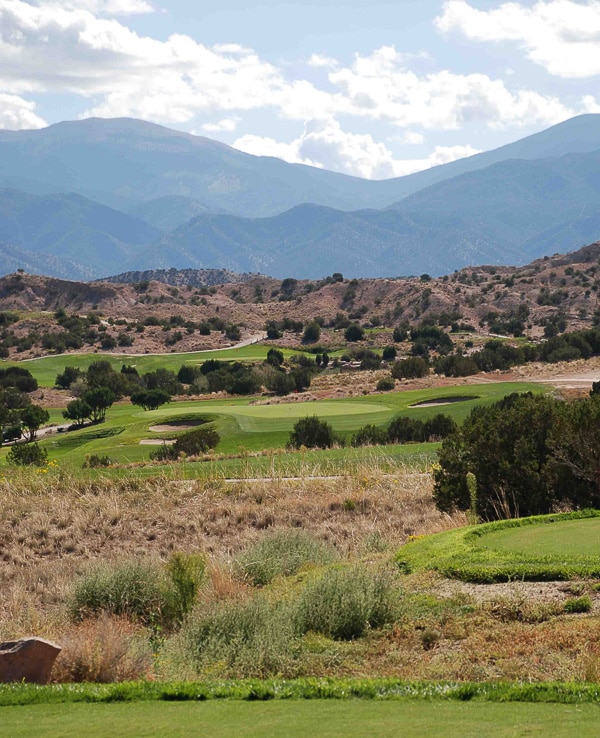 Nearby Sights Worth a Visit
Than Povi Fine Art Gallery
A few minutes drive toward Santa Fe, this gallery includes Native American artisans from all 22 local tribes.
Run by Elmer and Deborah Torres (of San Ildefenso Pueblo), the gallery has all mediums of art from paintings to pottery, jewelry, traditional art to the most contemporary.
It's an approachable space and Elmer is a gold mine of information.
It was an exciting find after much museum going and furthered our knowledge about many of the artisans who'd caught our attention during our Santa Fe stay. A must go!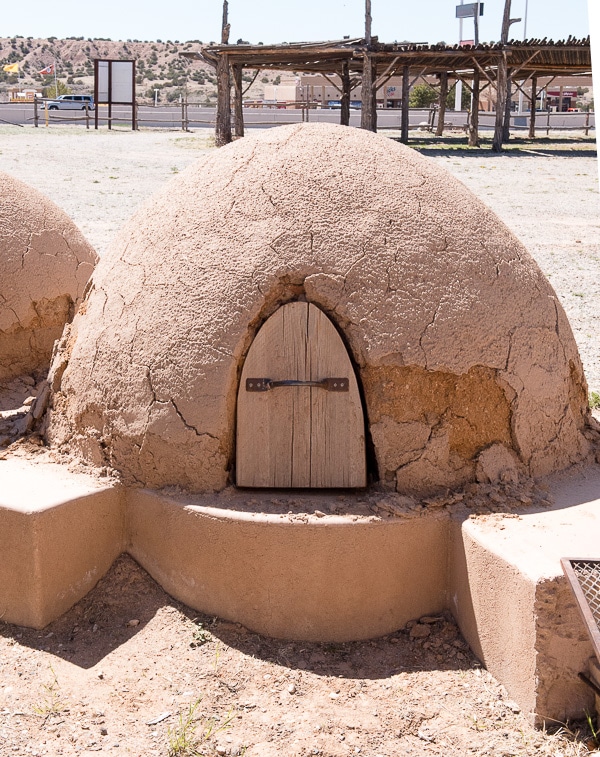 A few minutes north from the resort, the Poeh Center offers a look into art and artists mainly from New Mexico's six Tewa-speaking pueblos.
They curate, display and preserve traditional and contemporary art and cultural work in both a permanent collection and photo archive of the Pojoaque pueblo life and history.
The center has a wonderful six-room journey taking the visitor from the beginning through current day pueblo living, giving an experiential feel of the connectedness of the Pueblo people to their land.
Many of the Poeh Center's artists are showcased live in a common area at the Buffalo Thunder resort. Visiting the center is free.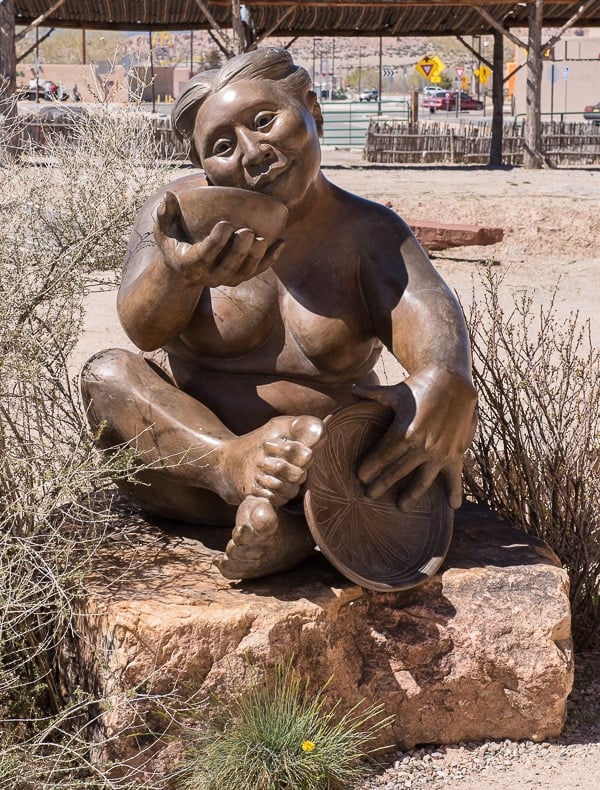 Boulder Locavore thanks to the Buffalo Thunder Hilton for hosting our visit. This is not a compensated review and all opinions stated are my own.
More Santa Fe

Travel

You'll Love
Try These Southwestern Recipes at Home!
Discovering the Original Frito Pie in Santa Fe, New Mexico (recipe)
Posole: a Shortcut Slow Cooker Mexican Stew Recipe
Green Chile Stew: Hearty New Mexico Comfort Food