Slow Cooker Shredded Chicken Taco Meat is perfect for large gatherings or to freeze for other meals. A simple trick makes the shredding of the chicken breasts effortless too!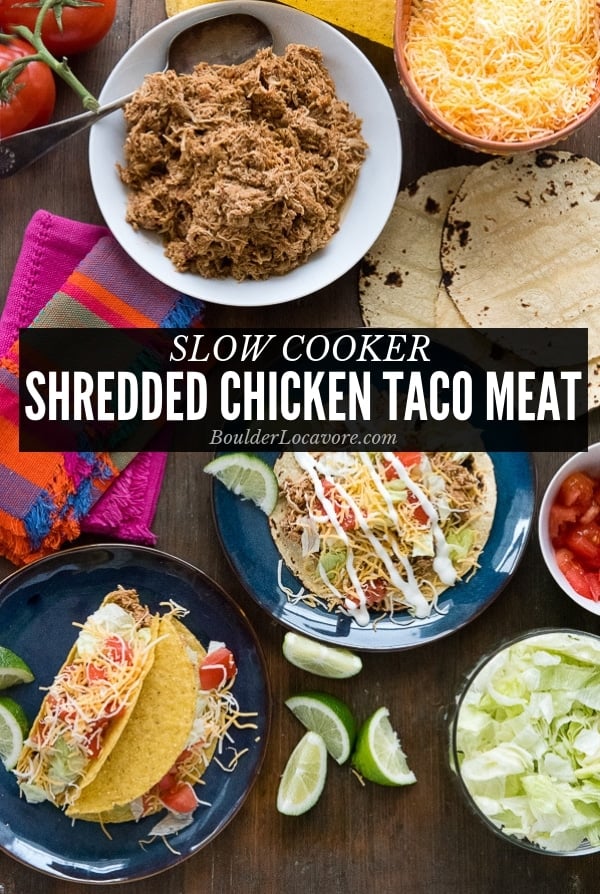 Is there anyone who doesn't love Mexican food? It's my favorite! Whenever I'm not sure what to make for dinner I whip something up in that direction.
I love that it's so relaxed and unpretentious but mostly those gorgeous, earthy, spicy flavors!
This Slow Cooker Shredded Chicken Taco Meat recipe is a great way to cook up a large batch of succulent, spicy shredded chicken for a taco party, for salads, or soups,
Perfect for a Mexican-themed meal or Cinco de Mayo.
A simple trick shreds the chicken in about 30 seconds with no effort from you.
It's an easy recipe and makes a ton of savory, taco meat perfect for meal prepping, party taco buffet OR to freeze and pull out when you need something quick to make for dinner (tostadas, on taco salad, etc.).
If you use an Instant Pot try this Mexican Shredded Chicken recipe too!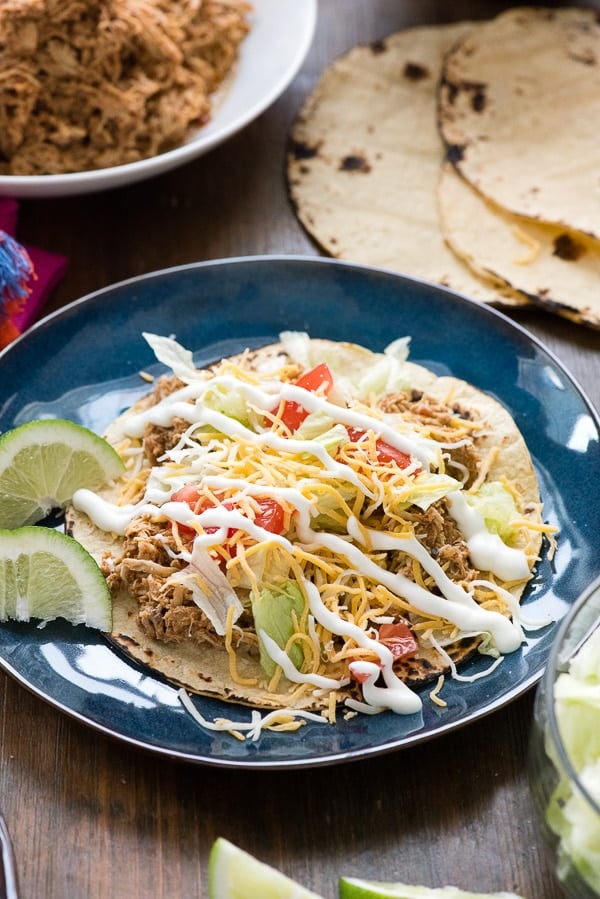 Crockpot Chicken Tacos – Ingredients
The shredded chicken taco recipe is very easy. It uses:
skinless boneless chicken breasts
chicken stock
a can of spicy diced tomatoes
spices that create a homemade taco seasoning
That's all it takes to make mouthwatering meat for shredded chicken tacos!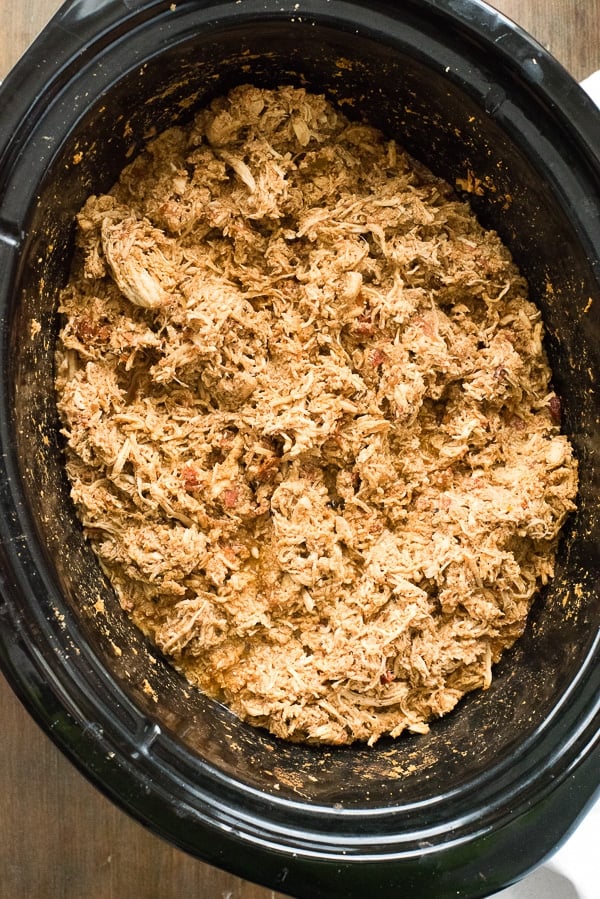 Which Diced Tomatoes to Use
A few notes on the ingredients. We are so fortunate that canned food producers have dialed in on all the uses for canned diced tomatoes and do the work for us.
Have you noticed how many varieties there are now?!
Every manufacturer has multiple versions of fire roasted or regular diced tomatoes with salsa, green chilies, cilantro and lime, with habaneros, etc.
For this recipe, I use diced tomatoes with some sort of spicy flavor that works with tacos (and the can juices).
Homemade Taco Seasoning
As much as I love convenience and making recipes easy I have a problem with most taco seasoning packets; they are way too salty! Do you notice that?
I feel that salt overwhelms the flavors I WANT in the mix to the point that is overpowers the taco meat.
Though it takes a few minutes longer using a blend of spices creates flavors that are on point.
Well-rounded seasonings that create mouthwatering meat that's spicy enough and not overly salty (if you LOVE salt, you can add more but this way it doesn't highjack the natural flavors in the recipe).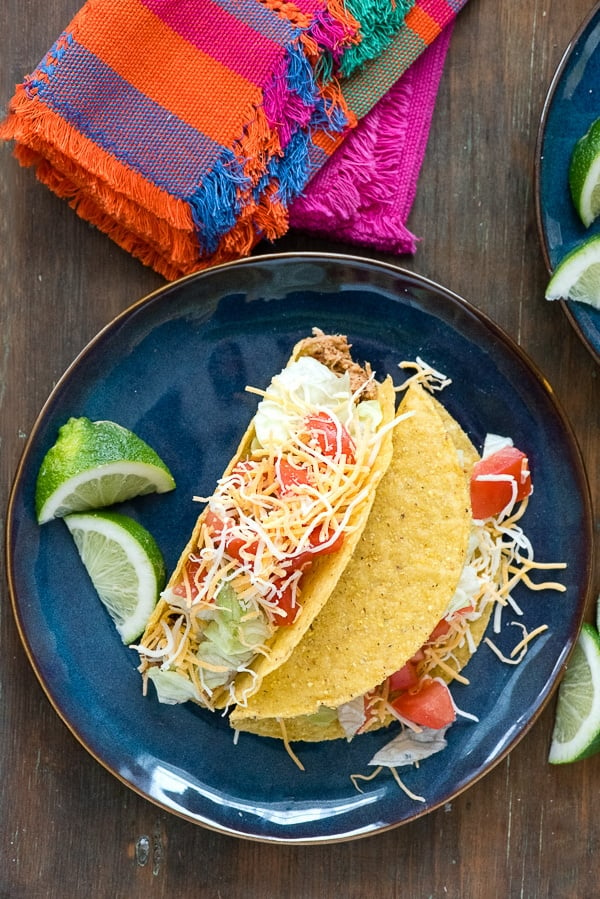 A TRICK for Making Shredded Chicken Taco Meat
The part that I love the most? If you've read my post about making Moist Homemade Shredded Chicken Breasts (which was my most popular post for 2016, with good reason; once you make it you'll never buy shredded chicken meat again!!)
I have a little trick I use to shred chicken: I put it in my standing mixer!
In about 30 seconds the meat is wonderfully shredded with no pulling it apart with forks. You can watch a video of it here.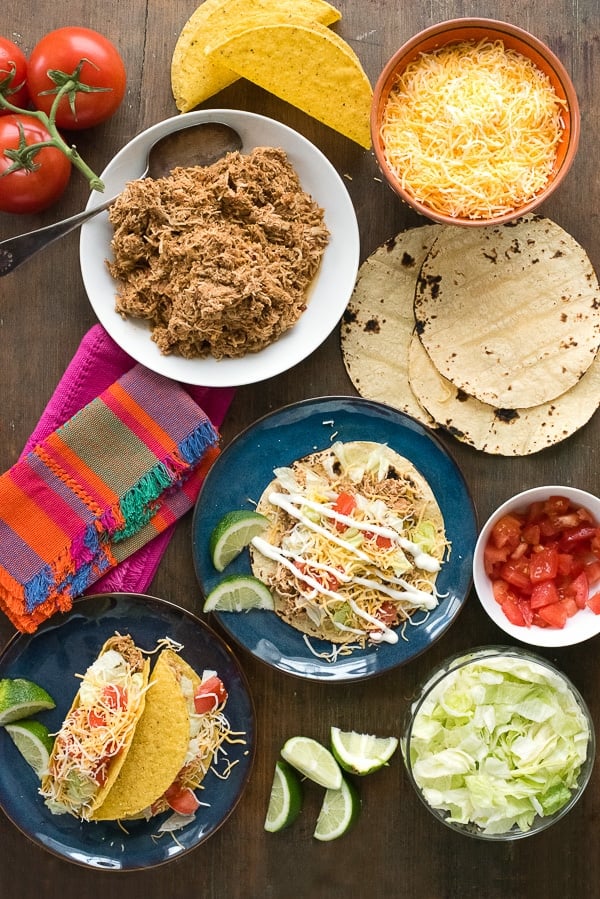 A TIP About this Shredded Chicken Taco Meat
So, I'll tip you off to something before you begin.
When I first began to make this I was panicked that it was way too much liquid.
Of course, the beauty of a slow cooker is that the liquid does NOT evaporate (as well as you can fix it and forget it).
I was really worried the amount of liquid would create soup; not so.
Toward the end of the cooking, the chicken is shredded and returned to the slow cooker to cook a bit longer and drinks in the savory spicy broth.
It keeps the shredded chicken taco meat moist with some juices but certainly not more than is needed.
On the other hand, if you are a person who loves lots of juice in their meat, add an extra ½-1 cup of broth when you begin!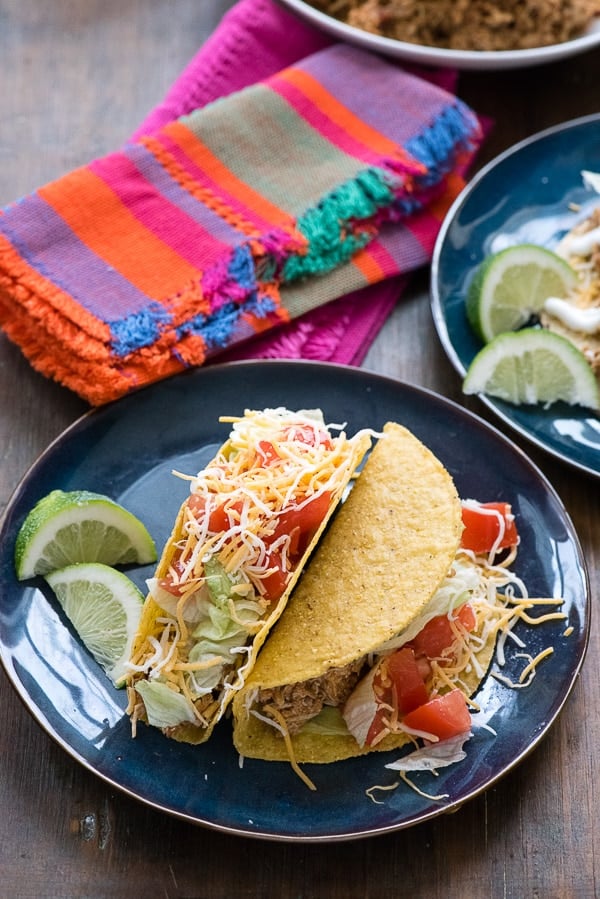 Perfect for a Shredded Chicken Taco Bar
Thinking of the Big Game this weekend, this pot of Slow Cooker Shredded Chicken Taco Meat would be great to set up on a buffet with all the taco fixings.
Set up the slow cooker with the shredded chicken taco meat along with:
Hard taco shells OR soft corn tortillas (for soft tacos or tostadas)
Shredded iceberg lettuce
Chopped fresh tomatoes
Shredded cheddar or Mexican cheese blend (you can buy this already prepared in the dairy section of the grocery store)
Sour Cream
Lime wedges
It's a perfect make-your-own meal situation. It will stay warm for people to nosh throughout the day.
How to Freeze Shredded Chicken Taco Meat
If you are making this shredded chicken taco meat for yourself or your family, it makes a ton!
Leftovers can be packaged up in freezer-safe containers and saved for another meal or prepped for salads for the week. So many options!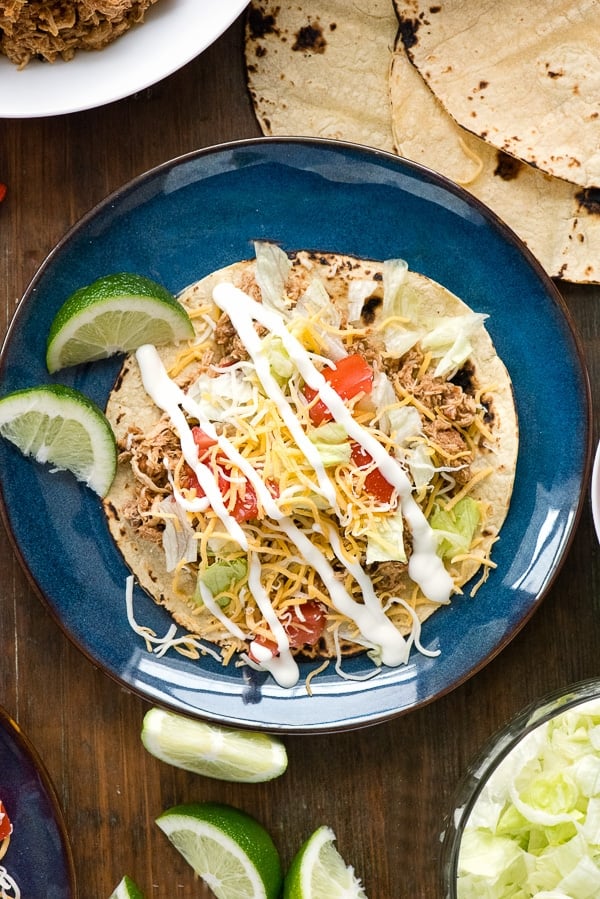 How to Make Slow Cooker Shredded Chicken Taco Meat – Step by Step: