Salsa lovers take note! Roasted Pineapple Salsa is an easy way to change up your salsa game with sweet, spicy flavors you'll for for dipping, or a relish with grilled chicken, fish or grilled meats!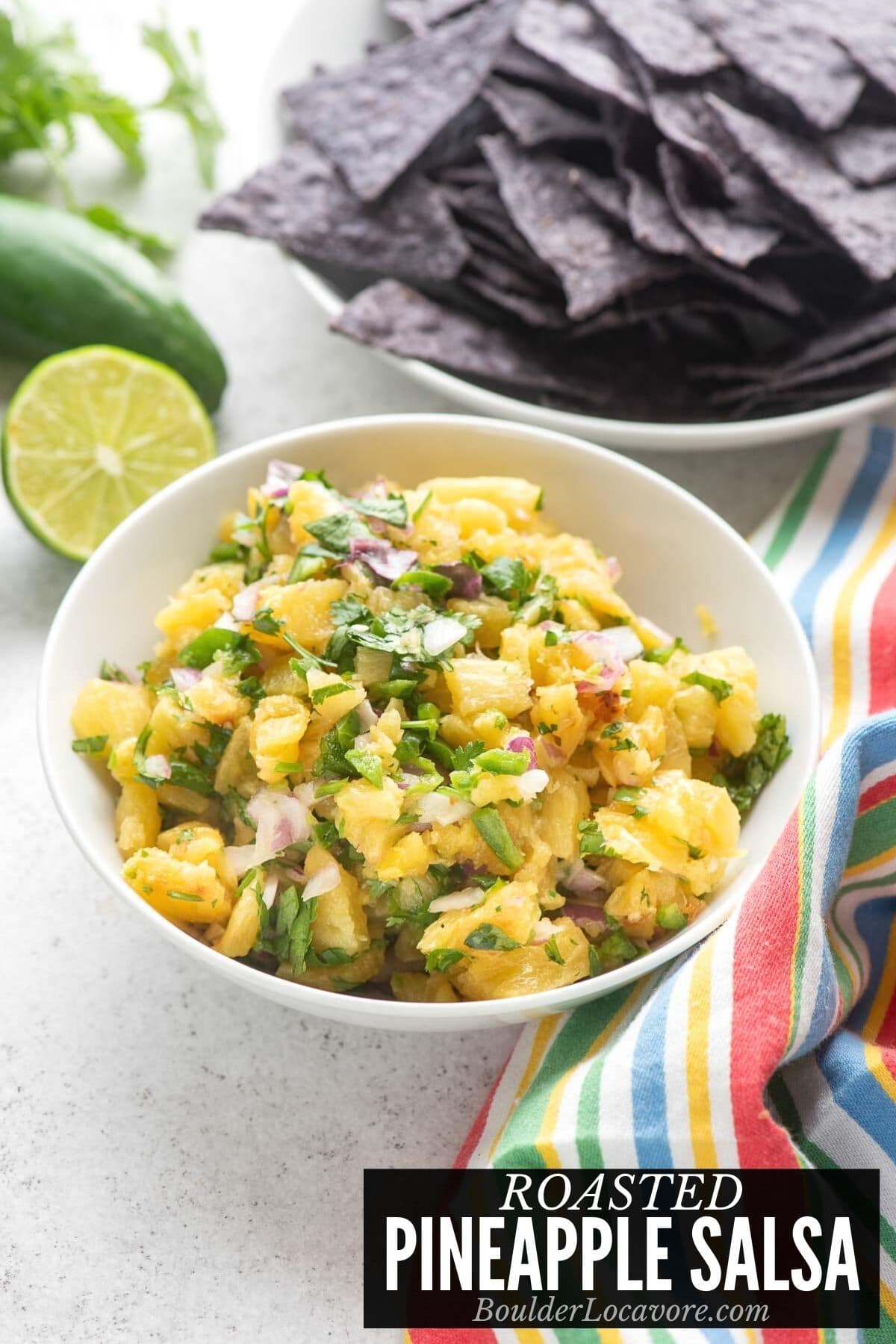 Salsa is a delicious, easy recipe to prepare at home.
No need to GO to a restaurant to enjoy restaurant-style salsa!
Fruit salsas, like mango salsa or cranberry salsa, are a great way to pull a sweet flavor into this classic spicy dish.
Roasting pineapple allows the sugars to caramelize, developing a sweet depth of flavor that pairs wonderfully with spicy jalapeno, lime juice, cilantro and onion.
The contrast of roasted sweet pineapple in this salsa recipe is simply the best!
Jump to:
Easy Pineapple Salsa recipe
Fruit salsa's are just as easy are savory salsa's like pico de gallo. They just swap fruit for traditional tomatoes.
This pineapple salsa is fantastic as an appetizer recipe or as a relish on grilled fish or chicken.
There's just something about the flavor contrast of the pineapple's sweetness and the spicy jalapenos that makes it hard to stop eating it!
After combining the salsa ingredients, it can be eaten immediately or if possible allow it to sit in the refrigerator for a few hours so the flavors can blend.
We think you'll love this recipe and will find many occasions to enjoy it!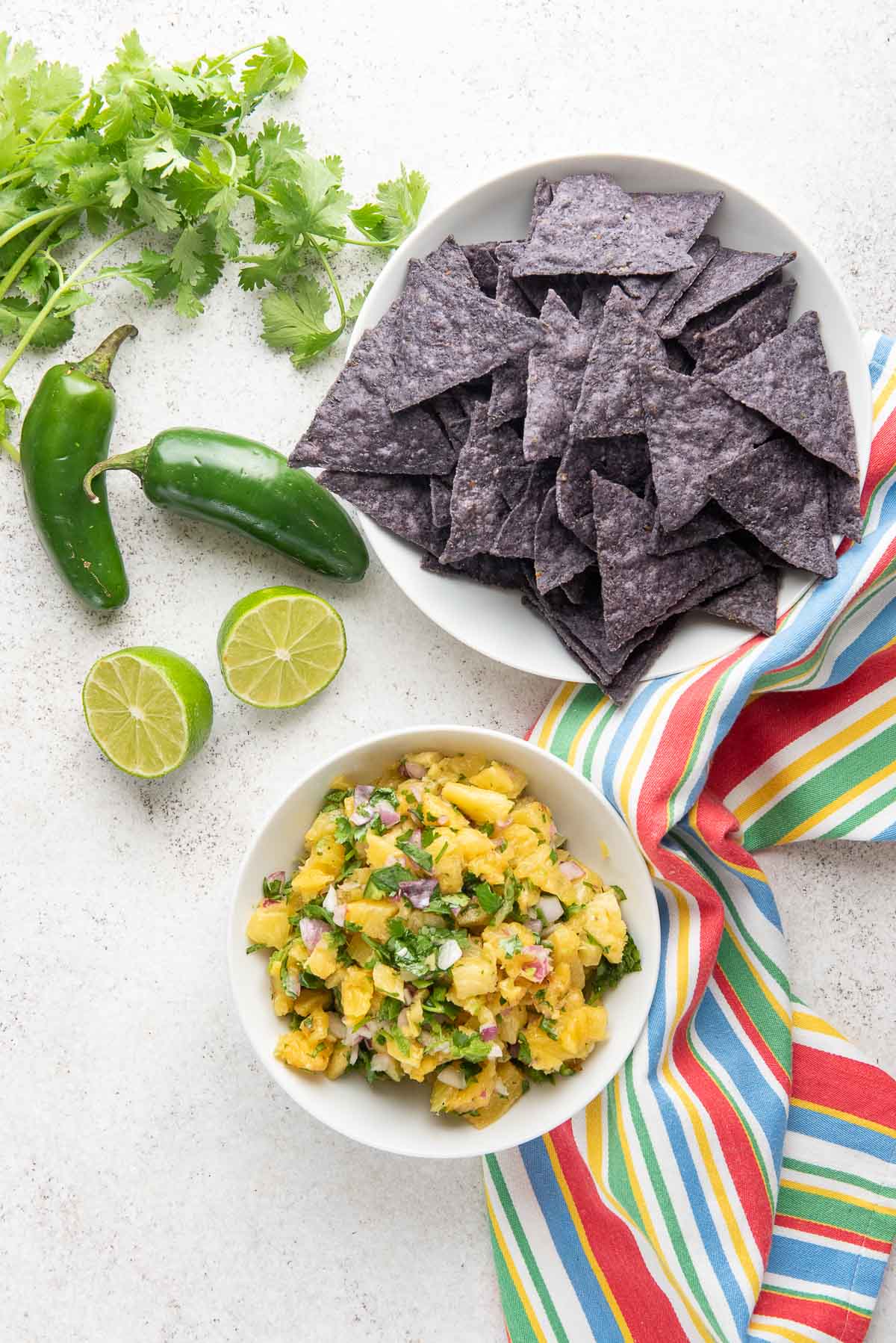 Recipe Ingredients + Notes
Pineapple. The recipe calls for a medium peeled, cored, sliced ripe pineapple.
It's easy to buy pineapple that has already been peeled and cored too. OR even peeled, cored and sliced which saves you time.
Canola oil. This is used to baste the pineapple when roasting it. Vegetable oil or any neutral flavors oil can be used.
Sunflower oil and safflower oil are great choices too as they do well with hotter cooking temperatures.
Red onion. Adds color and some of the spicy flavor in the pineapple salsa.
Lime Juice. You'll use the juice of a fresh lime. Freshly squeezed lime juice it fresh has better flavor than bottled lime juice. I use a handheld juicer for this.
Cilantro. Fresh cilantro is a classic salsa ingredient. It will be chopped for the recipe.
Jalapeno pepper. We recommend using a medium sized pepper. Their hotness can vary from very mild to very hot so tasting it to determine if more is needed is a good idea.
The pepper will have the stem and inner seeds removed before chopping. The seeds are the source of most of the pepper's heat!
Salt. This will be used 'to taste' after the salsa is made. We prefer kosher salt which is a less salt tasting salt.
Roasting Pineapple
When the pineapple is roasting you'll smell the difference as the sugars begin to caramelize.
It starts to smell a bit like brown sugar.
The fruit becomes a more golden color as well.
Once it has roasted, let it cool before chopping.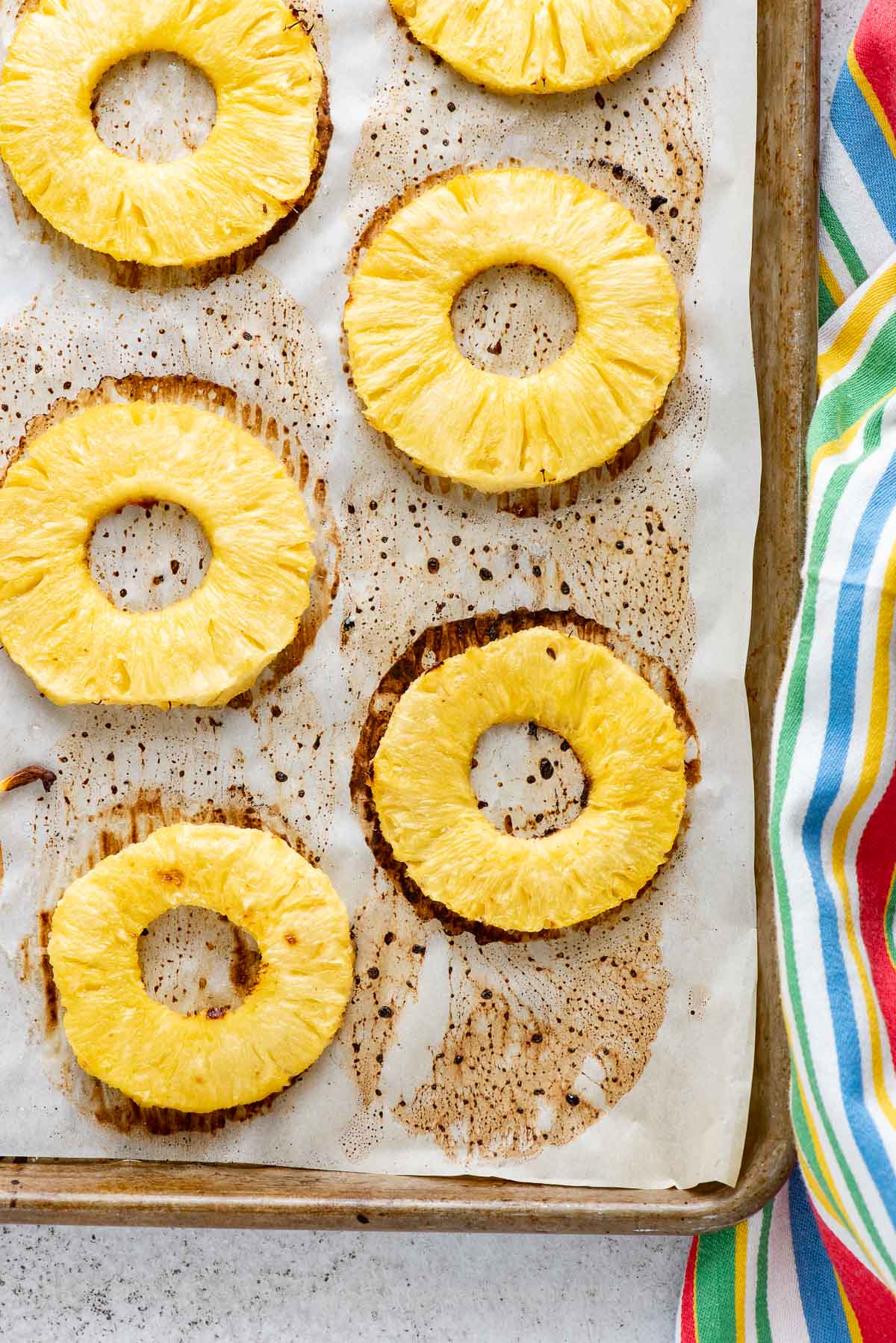 How to make Pineapple Salsa – Step-by-Step
STEP 1. Roast the pineapple
Heat the oven to 450 degrees F. Line a rimmed baking sheet with parchment paper.
Place the pineapple slices on the baking sheet with room in between. Brush the tops with oil.
Bake 15 minutes, flip over, brush the tops (formerly the undersides) with oil and bake 10 additional minutes.
Remove from oven. Allow to cool to room temperature. Chop the pineapple.
STEP 2. Make the salsa
In a medium bowl combine the chopped pineapple, onion, lime juice, cilantro and jalapeno pepper. Stir to combine. Season to taste with the salt.
Serve or allow to sit for 20 minutes for the flavors to blend.
Variations
Fresh pineapple salsa. As delicious as roasting the pineapple makes it, if you are short on time skip the roasting step. Fresh pineapple salsa is equally delicious.
Add some mango. The combination of mango and pineapple makes a delicious tropical flavored salsa.
Red bell pepper. Some chopped bell pepper adds a different flavor. Red bell pepper tends to be sweeter too.
Pro Tips
Buy peeled and cored pineapple to save time. Buying a peeled fresh pineapple saves time and the hassle of the peeling. A medium pineapple yeilds about 2 cups of chopped roasted pineapple.
The pineapple slices can be cored before (easiest) or after roasting. But the woody core needs to be removed before chopping the pineapple for the salsa.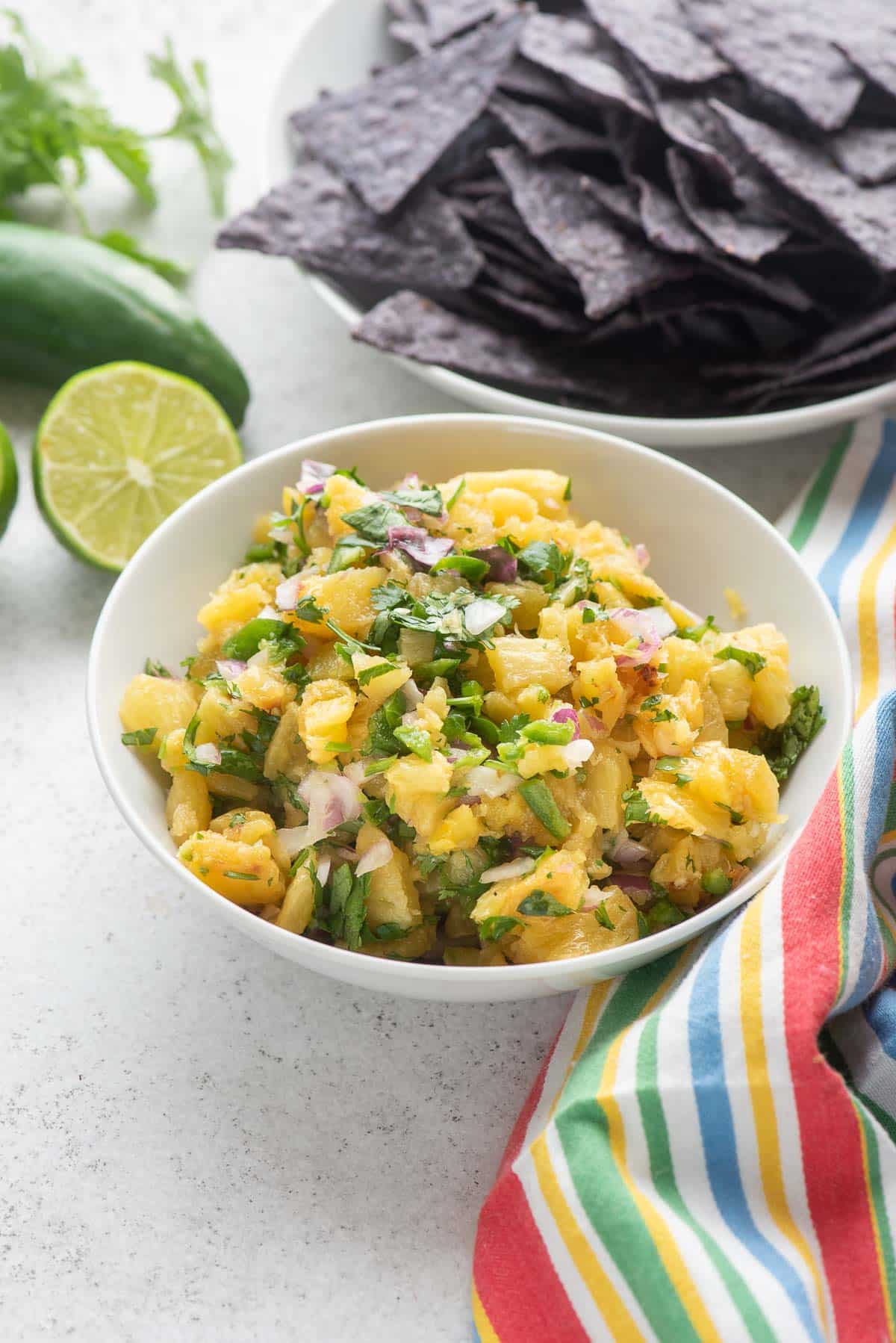 How to use Pineapple Salsa
It's perfect for dipping or as a relish. Serve with tortilla chips, jicama spears or strips of fried plantains!
Here are some ideas for pairing:
It can also be added on top of a green salad to perk it up!
Use it as a topping on pizza or curry too.
How to Store it
Store the salsa in a glass airtight container for up to 3 days.
More recipes you'll love!
Did you make it? Please RATE THE RECIPE below!
Please
SUBSCRIBE
and
FOLLOW ME
on
FACEBOOK
,
TWITTER
,
INSTAGRAM
and
PINTEREST
!
Recipe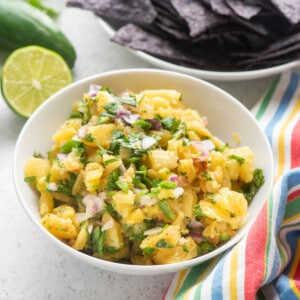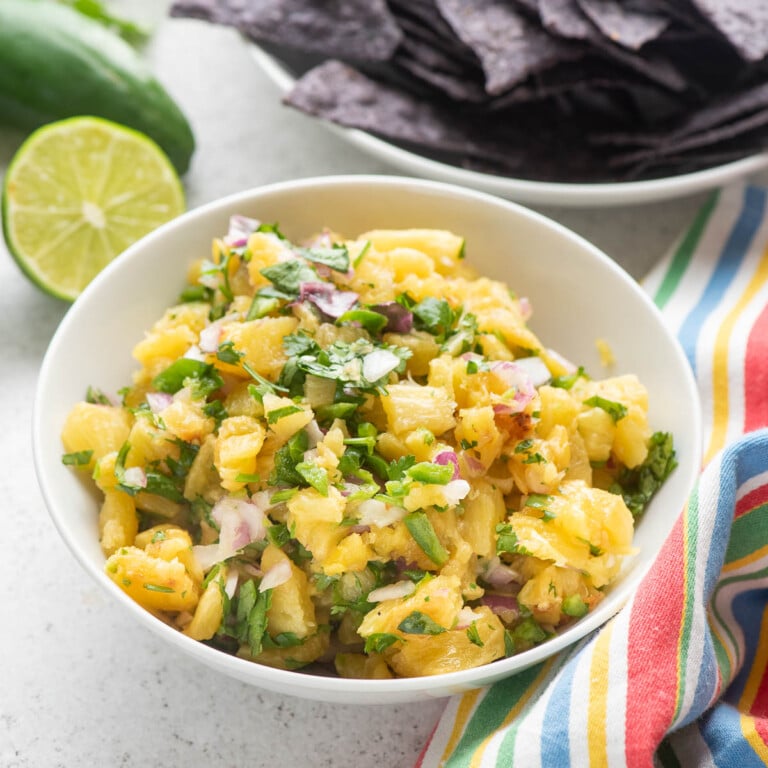 Roasted Pineapple Salsa
Roasting pineapple allows the sugars to caramelize adding a wonderful depth of sweetness. Combined with spicy jalapeno, onions, lime and cilantro, the flavors are exciting and a fun departure from traditional salsa.
Print
Save Recipe
Recipe Saved!
Pin
Rate
Ingredients
1

medium

Pineapple

peeled, cored and sliced into 1/2 inch slices

1

tablespoon

Canola Oil

1/3

cup

Red Onion

chopped

Juice of 1 Lime

1/2

cup

Cilantro Leaves

chopped

1

Jalapeno Pepper

seeds removed, diced

Kosher Salt

to taste
Instructions
Preheat the oven to 450 degrees. Line a large baking sheet with parchment paper or a Silpat and lay the pineapple slices out with room in between them. Brush the tops lightly with the canola oil.

Bake the pineapple slices for 15 minutes. Flip them over, brush lightly with oil and allow to bake 10 additional minutes. Remove and allow to cool to room temperature and chop.

In a large bowl combine the chopped pineapple, red onion, lime juice, cilantro, jalapeno pepper and mix together. Add salt to taste. If time permits, allow the salsa to sit 20 minutes before serving for the flavors to blend.
Notes
For a preparation short cut, buy a prepared cored pineapple. All that will need to be done is to slice and roast it. It will save the time peeling and coring and ensures the pineapple is ripe.
Approximately 2 cups of chopped roasted pineapple is used.
Nutrition
Calories:
33
kcal
|
Fat:
3
g
|
Sodium:
1
mg
|
Potassium:
10
mg
|
Vitamin A:
175
IU
|
Vitamin C:
4.7
mg
Originally published: September 14, 2017