Buttery Lemon Blueberry Muffins are bursting with bright lemony flavor and plump fresh blueberries. Great for breakfast or a snack. They bring the sunshine to any day!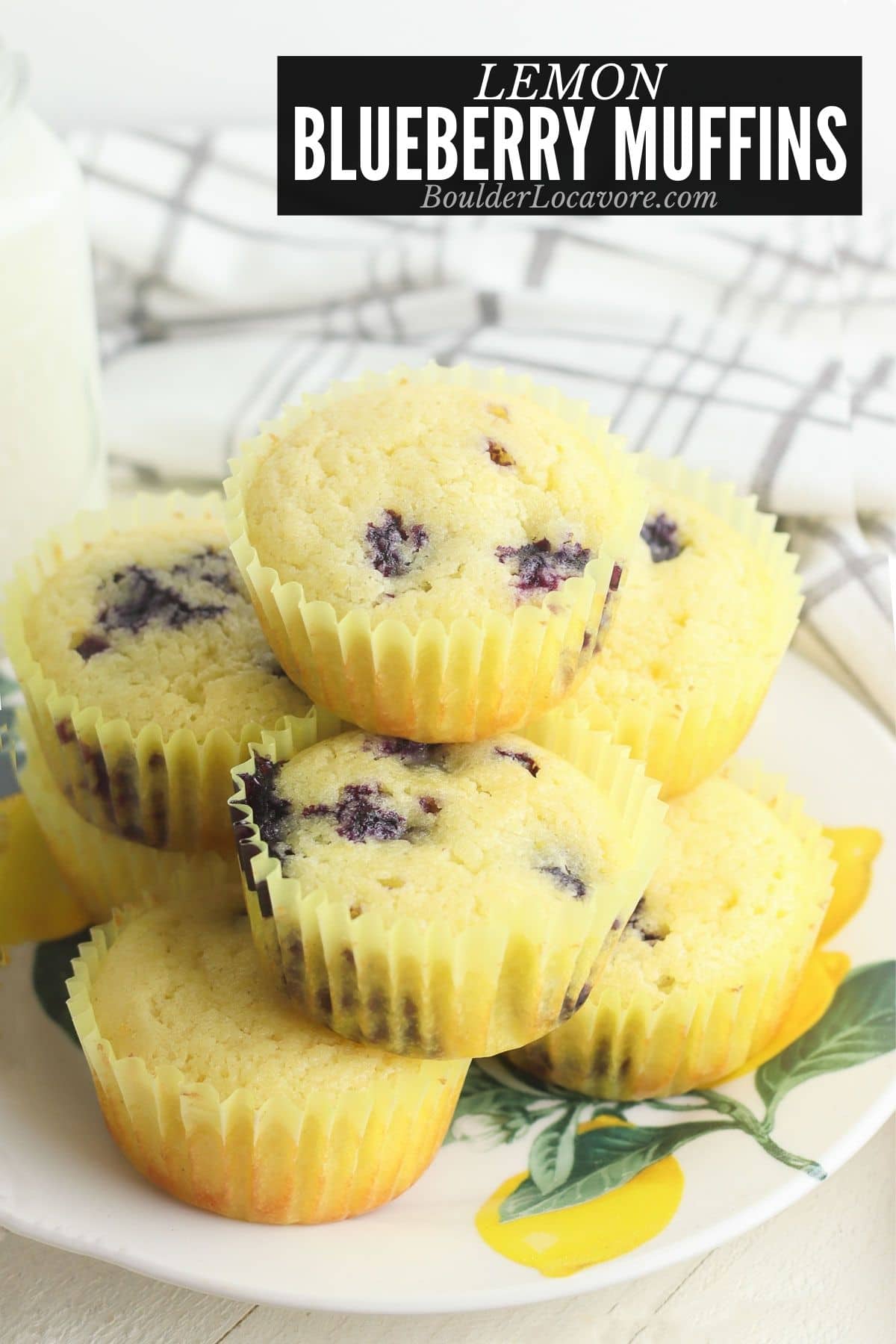 This delicious Lemon Blueberry Muffin recipe is a cinch to make.
The moist muffin and real lemon flavor make them so much better than anything store bought. And still so EASY to make too.
Combine them with Morning Glory Muffins and Coffee Cake Muffins with Fresh Orange Glaze for a delicious brunch buffet.
Easy Lemon Blueberry Muffins
These muffins are pound cake muffins. They are rich and buttery.
The fresh lemon flavor sings from lemon juice AND lemon zest. No lemon extract is used.
And there are enough blueberries to count on them in every bite.
These muffins are wonderfully tangy, sweet and buttery. If you love lemon pound cake, these muffins will be your dream come true!
Best of all? This lemon blueberry muffin recipe is super easy to make from scratch.
Your kitchen will be filled with the delicious aroma of lemon muffins in no time.
As a personal testament, I test a lot of recipes in my kitchen. And these muffins flew off the cooling rack.
They truly will become a favorite recipe.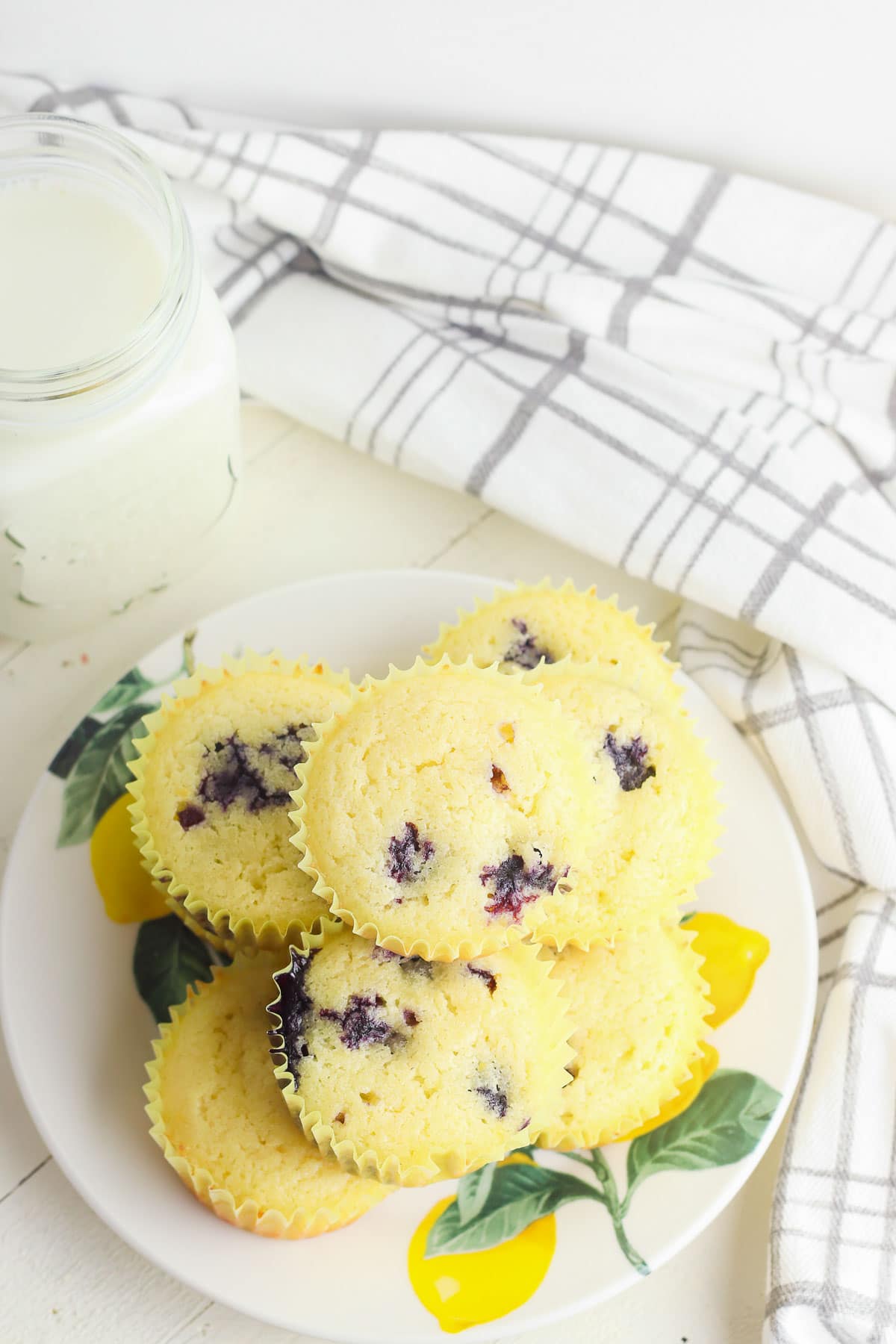 Recipe Ingredients + Notes
All purpose flour. Regular or gluten-free measure-for-measure flour blend can be used.
The gluten-free version of all our recipes are tested with Bob's Red Mill gluten-free 1-to-1 Baking Flour.
Baking powder. A leavening agent that helps the muffins rise a bit as they bake.
Salt. We recommend kosher salt which has a less salty flavor.
Butter. Use unsalted butter. Let it soften at room temperature before using.
Sugar. White granulated sugar brings simple sweetness to the muffins.
Eggs. You'll use 4 eggs.
Greek yogurt. Use plain and unsweetened yogurt for these muffins.
Lemon juice. Fresh squeezed juice gives these muffins a bright, tangy flavor. TIP: microwave the lemon for 10 seconds before juicing to extract more juice.
Vanilla extract.
Lemon zest. Using lemon zest in addition to the juice increases the lemon fragrance and deepens the citrus flavor.
Fresh blueberries. We love using fresh blueberries. Frozen thawed blueberries can also be used.
Variations
Sour cream. Don't have any Greek yogurt? Sour cream can be used as a substitute for the Greek yogurt in this lemon blueberry muffin recipe.
Raspberry variation. Fresh raspberries make a fine substitute for the blueberries. However, the muffins may be more tart since raspberries tend to not be as sweet.
Tried and Tested Recipe
This recipe has been tested with regular all purpose flour, gluten-free measure-for-measure flour*, at altitude and sea level. Delicious results every time!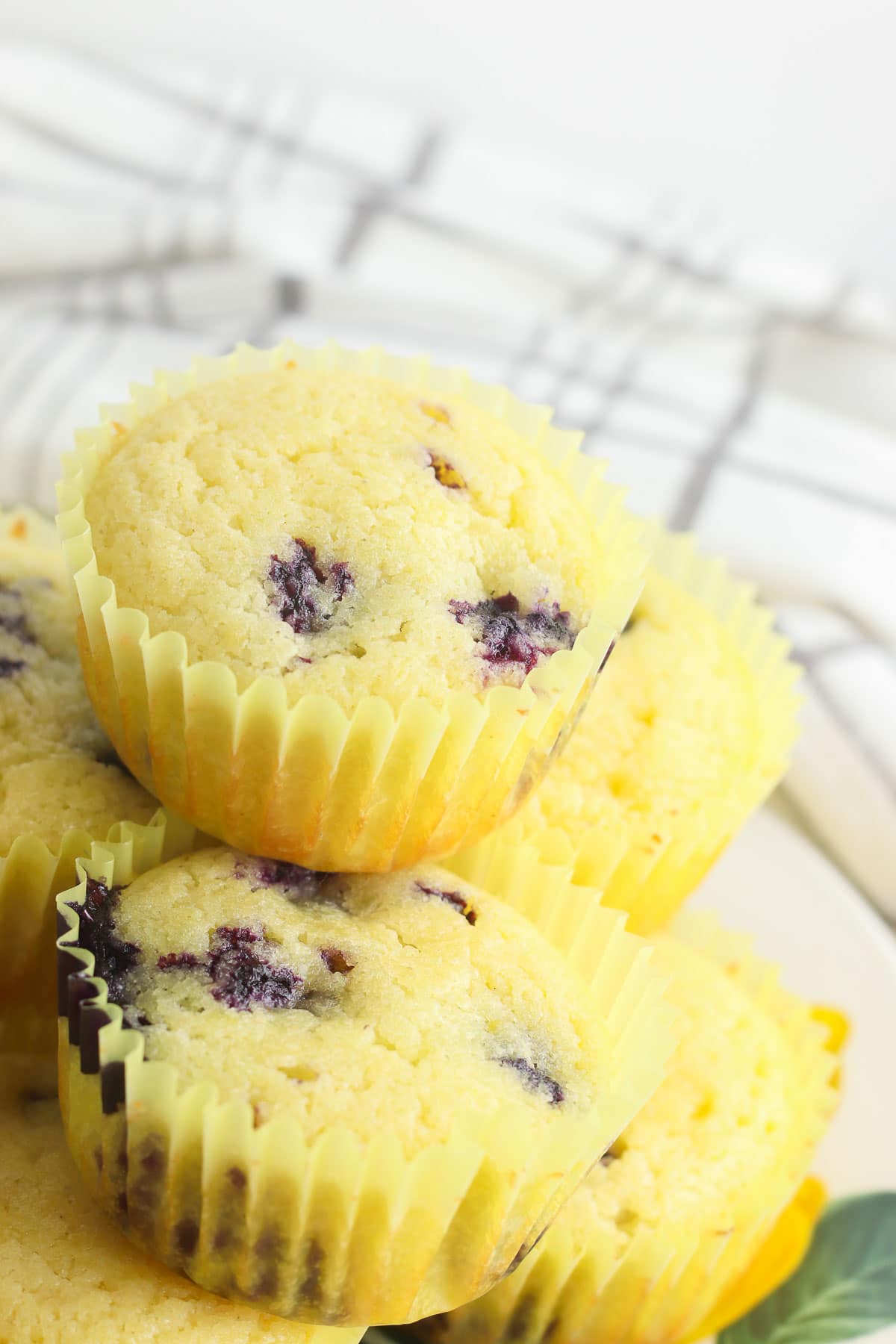 How to Make it – Step-by-Step
STEP 1. Preparation
Preheat the oven to 350 degrees F. Line a muffin tin with paper liners OR spray with non-stick food spray.
STEP 2. Mix dry ingredients
Combine flour, baking powder and salt in a large mixing bowl (photo 1).
STEP 3. Combine wet ingredients
Add butter and sugar to a separate bowl (photo 2). Beat until fluffy (photo 3).
Beat in the eggs one at a time until well combined (photo 4).
Add the lemon juice, zest, and vanilla (photo 5). Mix to combine.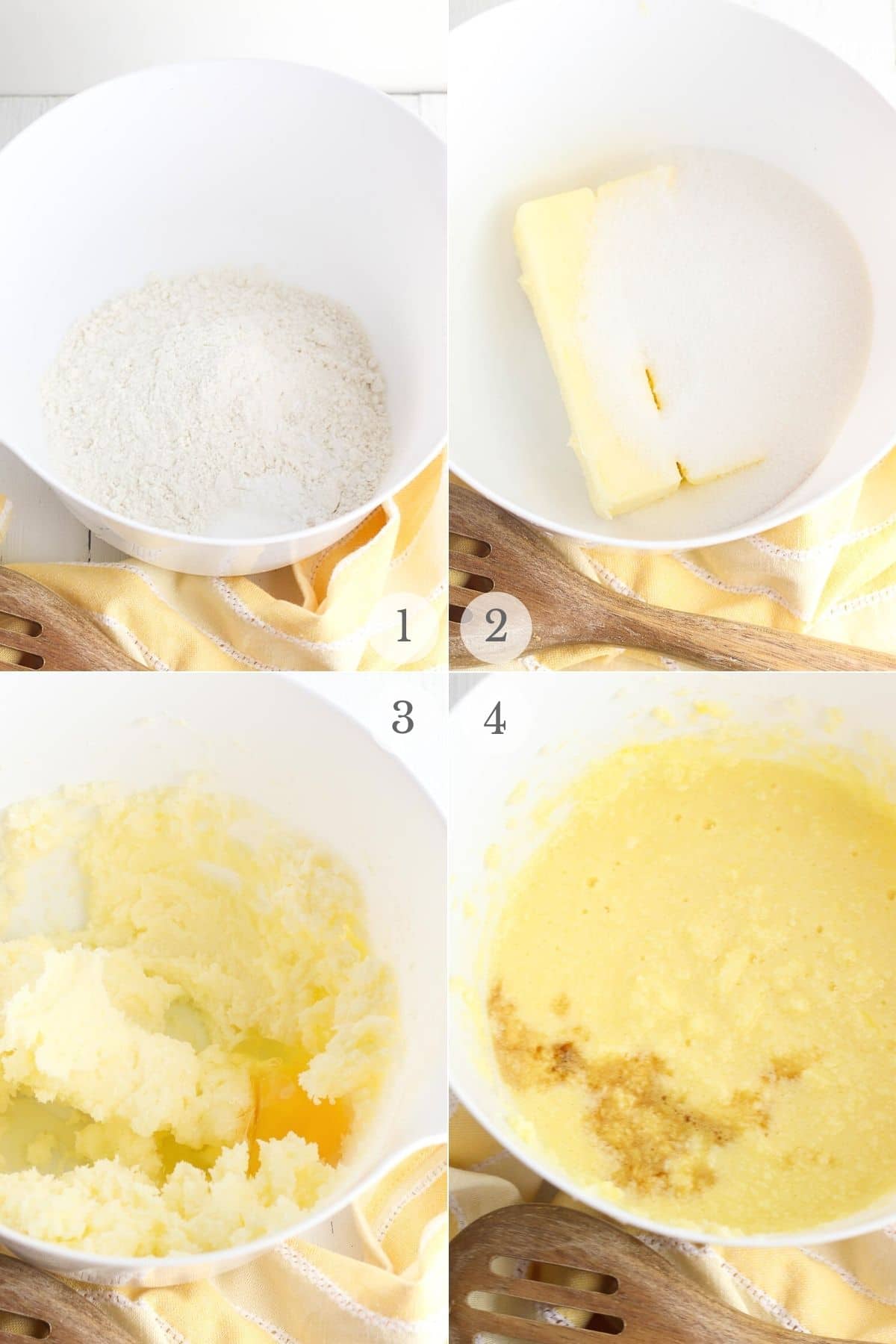 STEP 3. Combine dry and wet ingredients
Gradually beat flour mixture into the butter mixture (photo 6).
Fold in the blueberries (photo 7).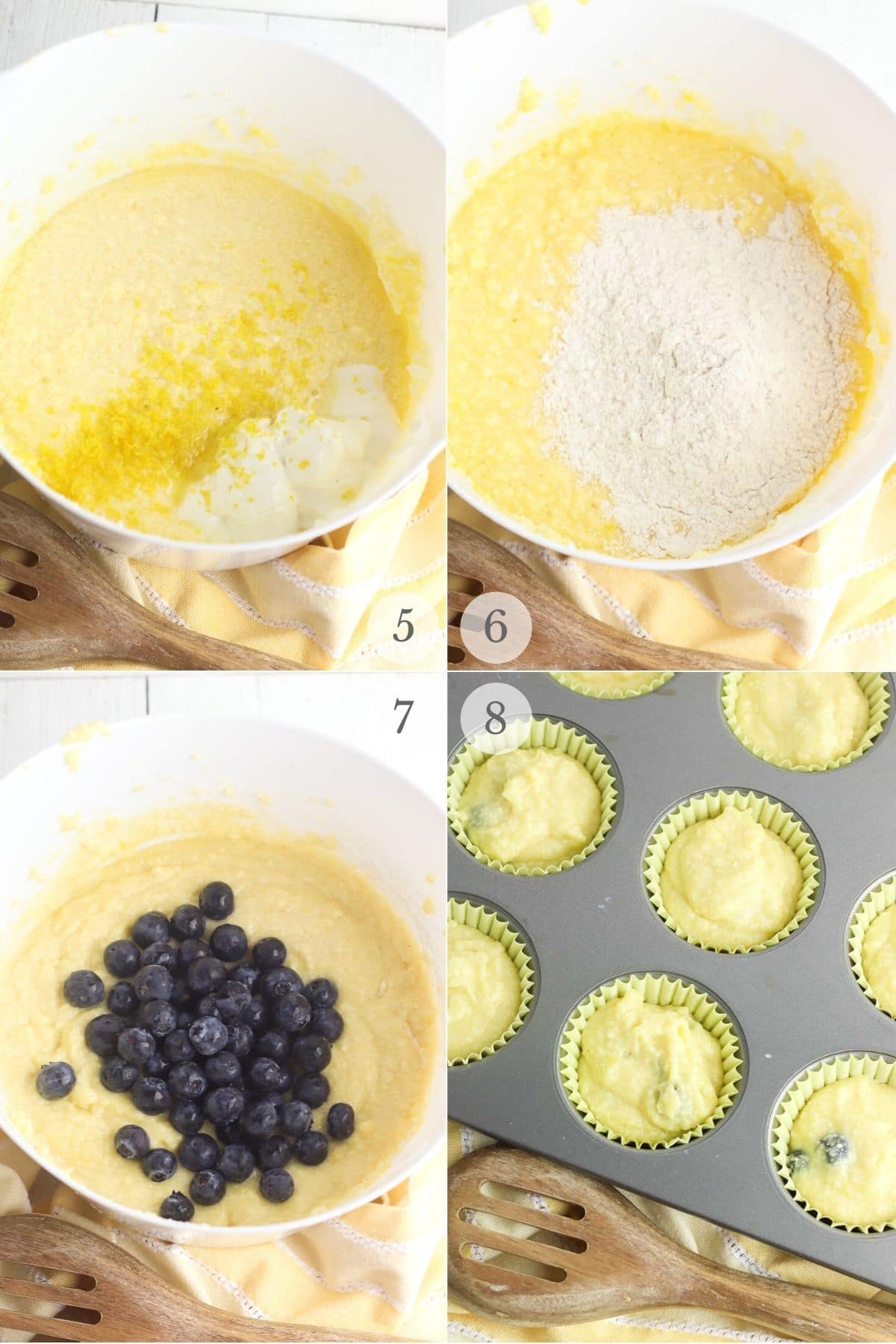 STEP 4. Bake and Cool
Divide the batter evenly into the prepared tin. Fill each muffin cup to the top (photo 8).
Bake for 22 – 25 minutes.
When the lemon blueberry muffins are done baking, let them cool in the pan for 5 minutes.
Then transfer them to a wire rack to cool completely.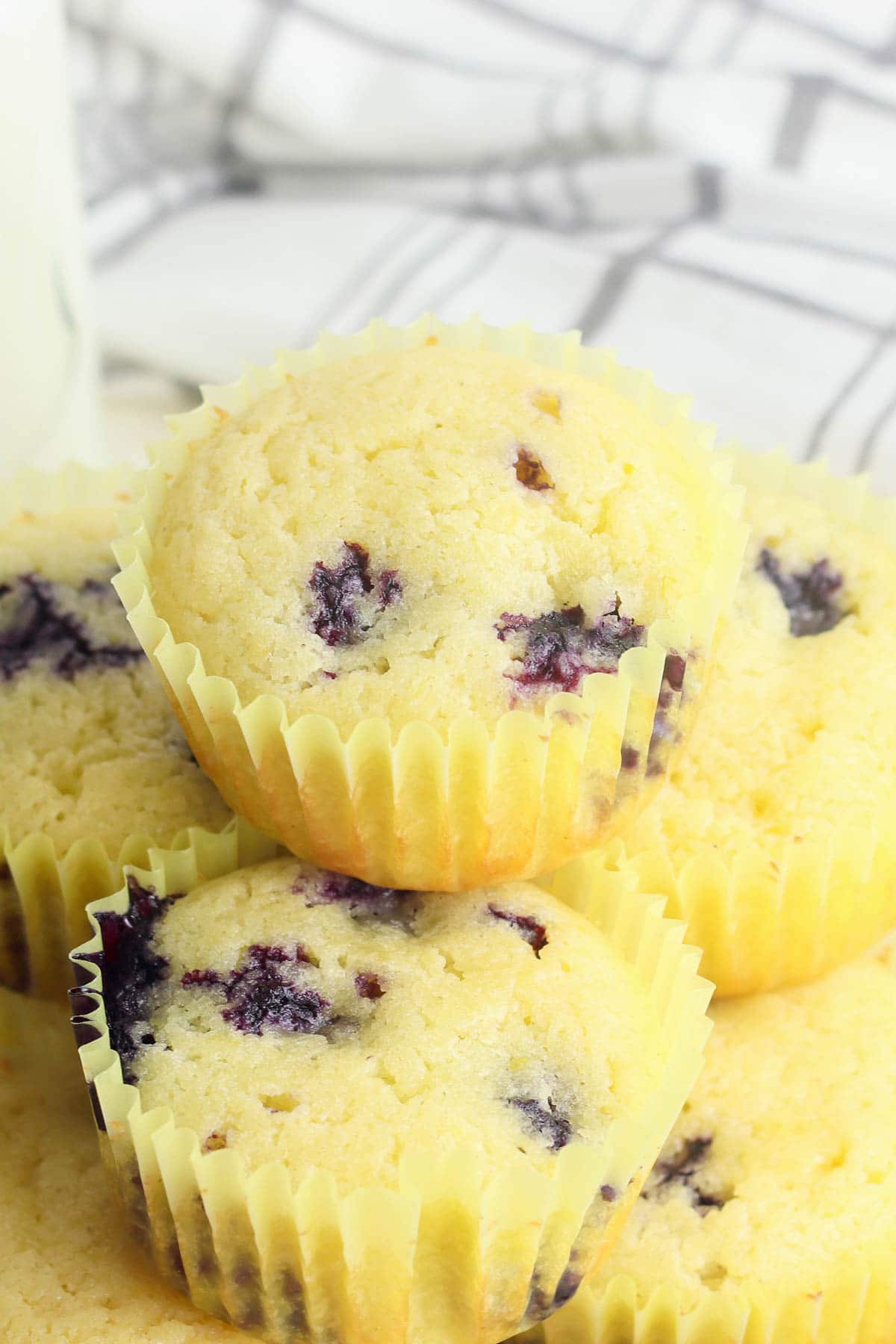 Pro Tips
Microwave the lemon. Microwaving citrus fruits for 10 seconds before juicing helps extract more juice.
Always zest lemon before juicing it. Use a zester or grating tool to remove the zest from the rind before juicing it. It's much easier. Here is my all time favorite zester too.
Lemon juicing tips. Use a hand held juicer for the best juice extraction. It also traps the seeds.
If hand squeezing the lemon, juice it into a separate bowl (not directly into the batter). This gives you the chance to remove any stray seeds that make their way into the juice.
Use large spoon or spatula for folding in blueberries. A large utensil makes it easier to fold in the blueberries without smashing them.
Fill the muffin cavities almost to the top. Because these are pound cake muffins they do not rise as lighter muffins do. Fill each cavity almost to the top refer to photo 8 above.
FAQs
How do you make these as mini muffins?
Use a mini muffin pan. Follow the recipe as indicated. Bake the muffins for 10-12 minutes until a toothpick inserted comes out clean.
Storing Leftovers
Place cooled muffins in an airtight container. Store at room temperature for 1-2 days or up to 5 days in the refrigerator.
How to Freeze the muffins
Cool the muffins completely. Place them in a freezer safe airtight container or bag. Freeze up to 2 months. Thaw in the refrigerator.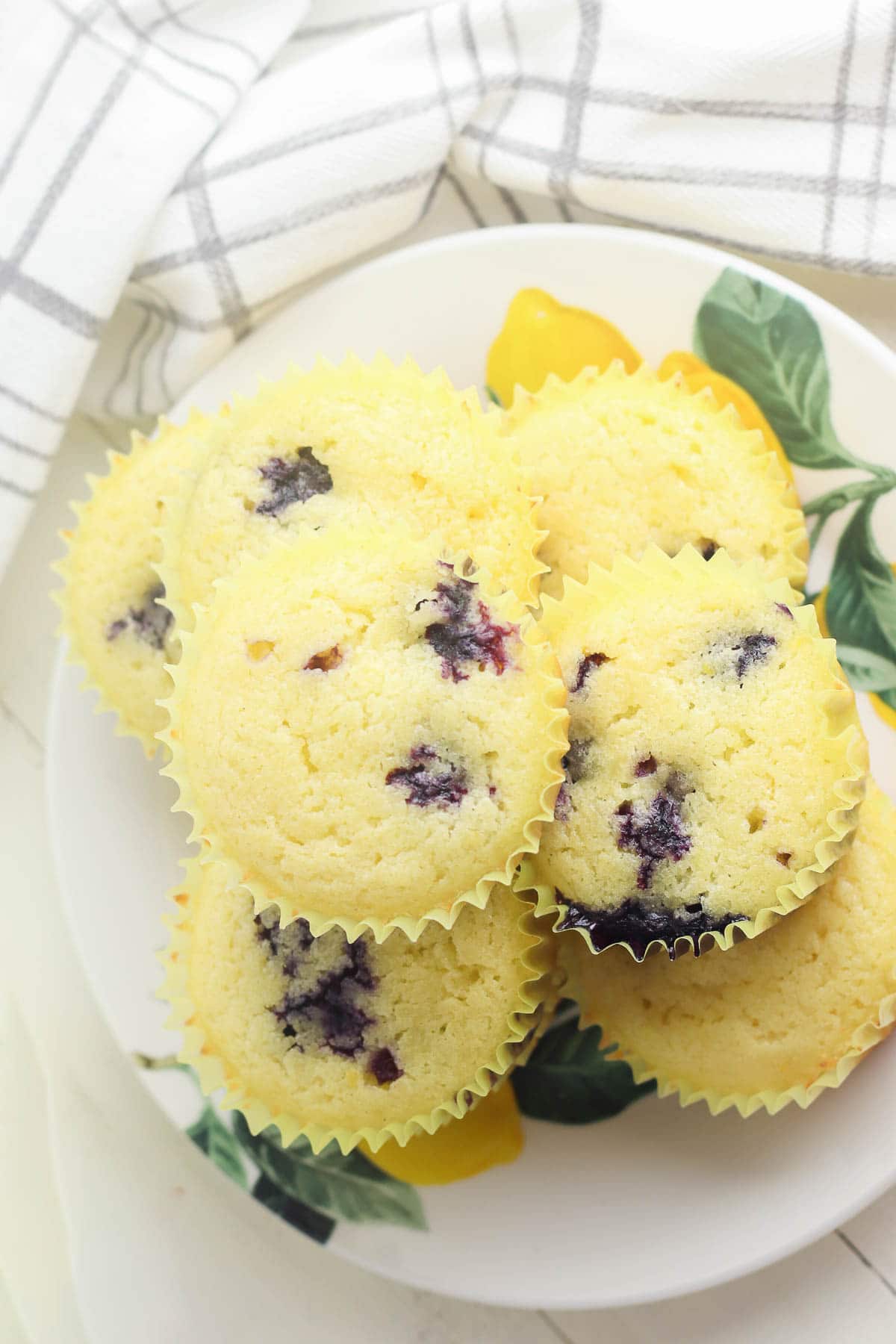 More Recipes You'll Love
Did you make it? Please RATE THE RECIPE below!
Please
SUBSCRIBE
and
FOLLOW ME
on
FACEBOOK
,
TWITTER
,
INSTAGRAM
and
PINTEREST
!