Fresh Corn Salsa is a favorite summer appetizer recipe. This sweet and spicy easy recipe is made with fresh grilled corn and loads of tasty fresh ingredients.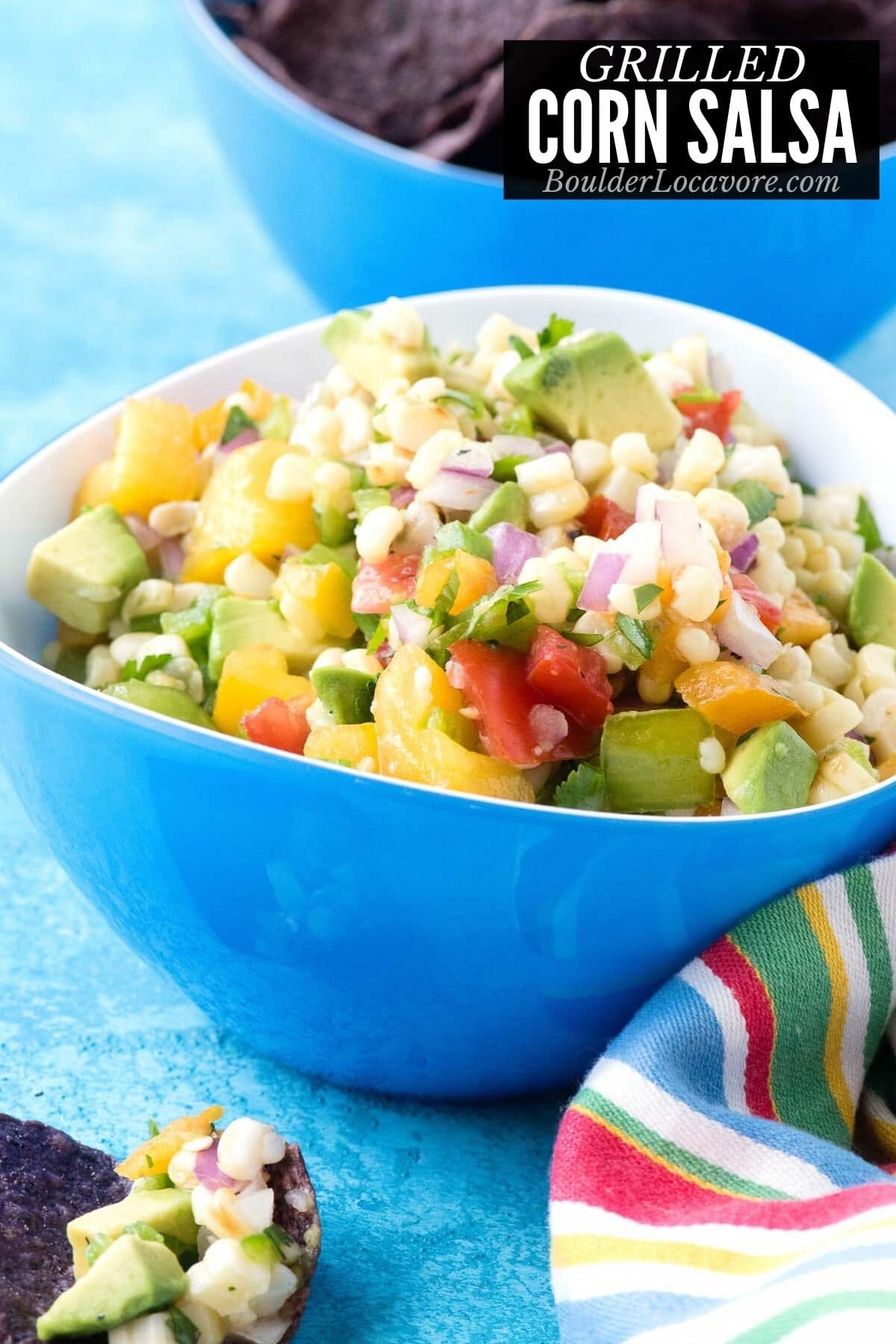 Fresh sweet corn is a signature summer flavor we all can't wait for.
This fresh corn salsa recipe grills the ears of corn first, caramelizing the sugars for a delicious smoky, sweet flavor.
Combined with other wholesome fresh ingredients like juicy tomatoes, ripe avocado, spicy jalapenos makes a perfect dip or relish for cooked meats.
Use it as a side dish, appetizer recipe or a favorite topping; it's delicious anyway you eat it.
However you enjoy it you'll agree it's the best corn salsa recipe.
Don't miss our Mango Salsa or Roasted Pineapple Salsa too!
Jump to:
Corn Salsa with Grilled Sweet Corn
There is something so delicious about the sweetness of the corn with the spicy salsa ingredients that makes it such a great dish.
Simple ingredients come together quickly in this easy corn salsa recipe.
It's a hit at backyard barbecues and one of the favorite things of summer.
The fresh corn kernels transform when grilled in the best way.
The corn can be done on the grill or in a grill pan if that's easier too.
With all the other traditional ingredients of a regular salsa corn salsa is a sweet and spicy summer dip.
Recipe Ingredients + Notes
Everything in this corn salsa is fresh and colorful. It's perfect for summer meals and parties!
Kosher Salt. Will be added to the water used to boil the corn before grilling it.
Sweet Corn. Pick sweet raw corn that is undamaged. You can pull the top of the husk away to check the condition of the corn if it's sold in the husk.
Olive Oil. Brushed onto the grilling corn.
Fresh Tomatoes. Pick fully ripe tomatoes. Regular, heirloom tomatoes or cherry tomatoes can be used. Great flavor is the key here.
Red Onion. Finely chopped.
Avocado. Pick a fully ripe still firm avocado. This will ensure great flavor and that it's easy to cut without turning to mush.
Fresh Cilantro. A classic flavor in salsa recipes.
Serrano Chile Pepper. Smaller and hotter than jalapeno peppers. This adds some spicy heat to the salsa.
Jalapeño Pepper. Adds more spice with a slightly different flavor.
Juice from one Lime. Fresh lime juice makes a huge difference in flavor. We use a handheld juicer for this. It's fast, easy and strains out the seeds.
Notes on chile peppers
The seeds add the spiciest heat from the chile pepper. Removing them before chopping will make the spiciness of the salsa more manageable.
Gently scrap them out using a dinner knife.
Always wash any cutting board and hands well after handling chile peppers. Do not rub eyes, nose or mouth too!
A serrano pepper is hotter than a jalapeno pepper. If you don't love much spiciness leave the serrano out and just use the jalapeno or even part of the jalapeno.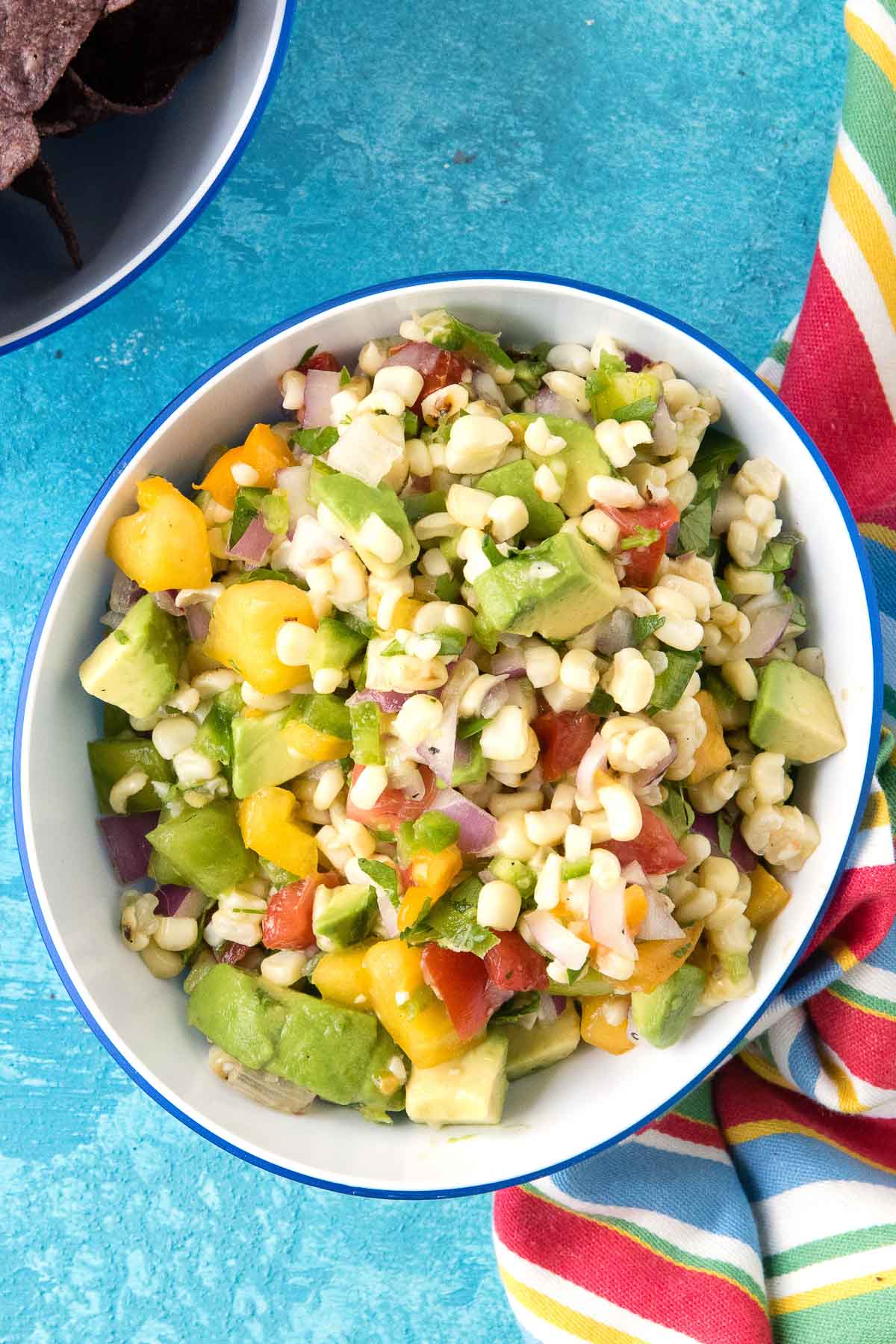 Variations
Add more fresh veggies. Have something you love in salsa? Add it. Chopped red bell pepper, green onions, poblano peppers (milder). Add what you love.
Throw in some cotija cheese. This salty cheese is classic in Mexican food and delicious with the zesty flavor of this salsa. It makes it taste like Elote.
Like is smoky? Add some chopped chipotle en adobo for a chipotle corn salsa recipe.
Black beans. Mix in a can of black beans for more substance.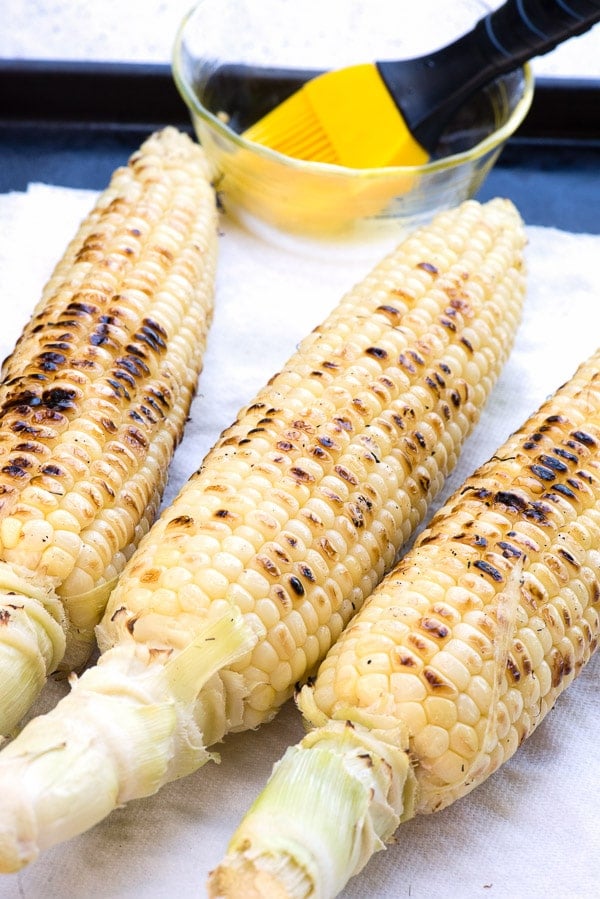 The Best way to Grill Sweet Corn
We've found the best way to grill corn is
Boiling it briefly, then
Putting it on a piping hot grill to rotate it for just a few minutes
This causes the kernels to blister, the sugars to caramelize and deliver all the sweetness the corn has to offer.
I use the same method in my Grilled Mexican Street Corn (Elote) recipe which is a summer favorite in our house.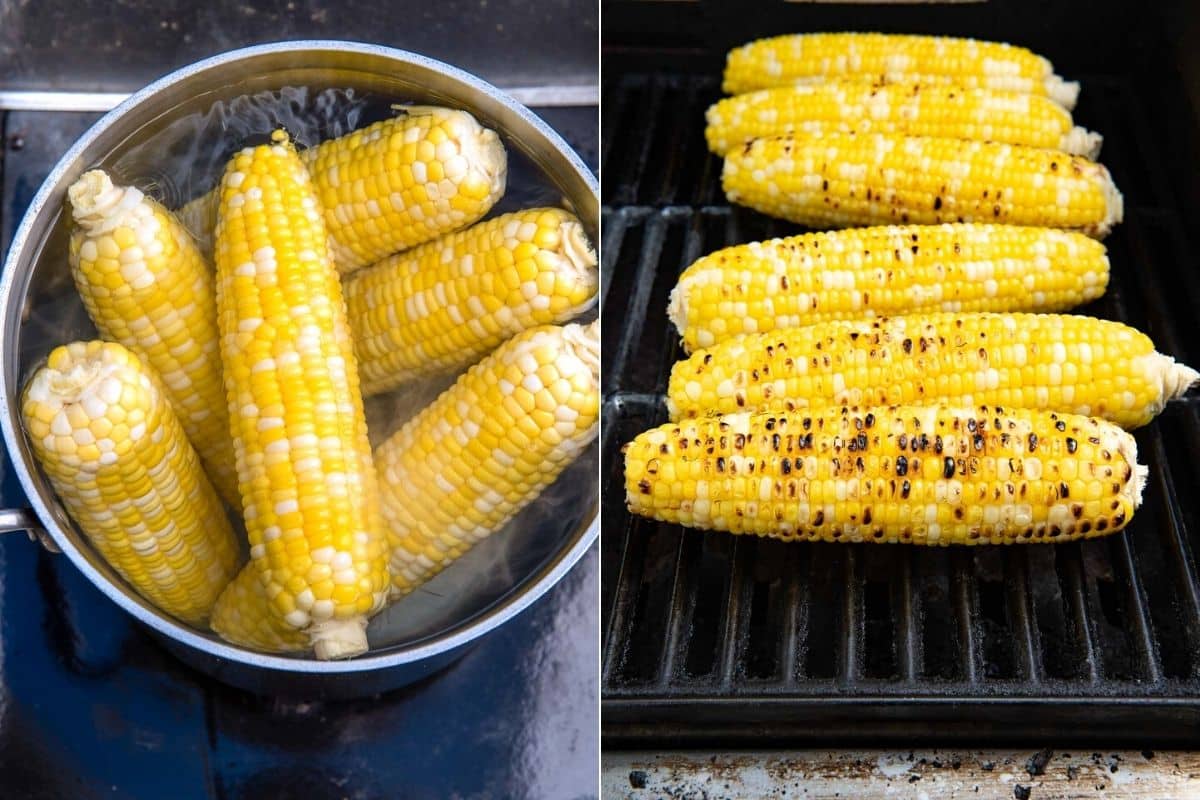 Pro Tip: How to Easily Remove Corn from the Cob
The one tricky thing about corn is trying to remove the kernels from the cob.
Kitchen knives have to be very sharp. Even still it risks bodily harm or taking chunks of the cob along with the plump kernels.
Is discovered a life-changing gadget for this very purpose: a corn zipper.
One swipe of the zipper down the corn cob and full kernels drop to the plate with no effort whatsoever.
It's made me much more adventurous when making summer recipes for corn off the cob. It's now on my top 5 'must have' kitchen tools!
How to Make Corn Salsa – Step by Step
STEP 1. Preparation.
Bring a large pot of cold water with a pinch of salt to boil over medium-high heat. Heat the grill to 400 degrees.
STEP 2. Grill the corn.
Cook/boil the corn for 5 minutes, remove, drain and pat dry.
Brush the corn with olive oil and place on the clean, oiled grill.
Turn every 30 seconds allowing browned spots to form. NOTE: total grill time is 2-3 minutes.
Remove the corn and allow to cool for 5 minutes.
STEP 3. Prepare the corn salsa.
Remove the cooked corn kernels with a sharp knife or corn zipper and place in a large bowl.
Add the remaining ingredients and toss to fully mix.
May be served immediately or covered and refrigerated for a few hours to allow the flavors to blend. Salt to taste prior to serving.
How to use it
How to store Corn Salsa
Store in an airtight container in the refrigerator for up to 3-4 days.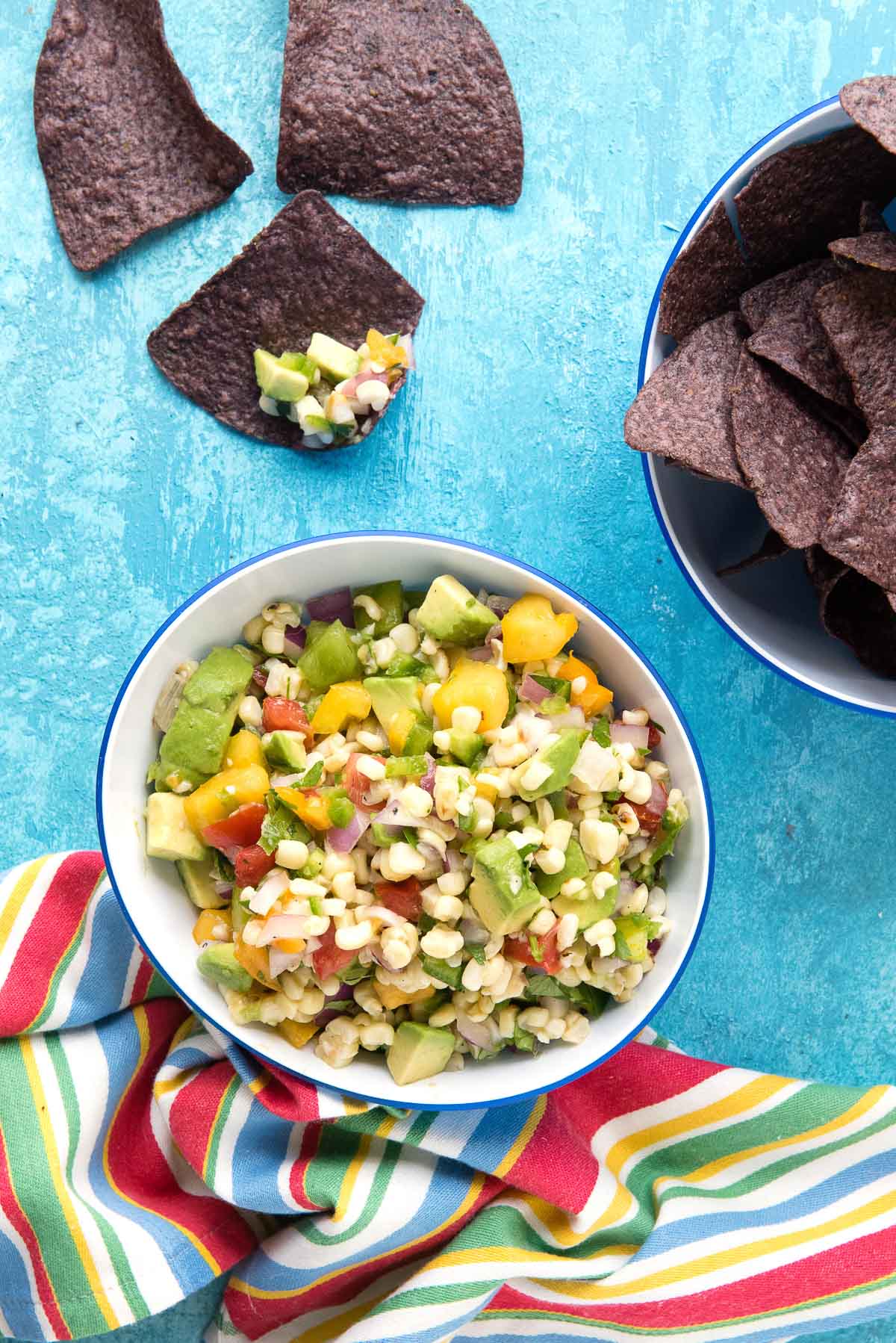 Did you make it? Please RATE THE RECIPE below!
Please
SUBSCRIBE
and
FOLLOW ME
on
FACEBOOK
,
TWITTER
,
INSTAGRAM
and
PINTEREST
!
Recipe
Originally published: July 23, 2016
This Grilled Sweet Corn Salsa Recipe was originally is a contribution to Food Fanatic.