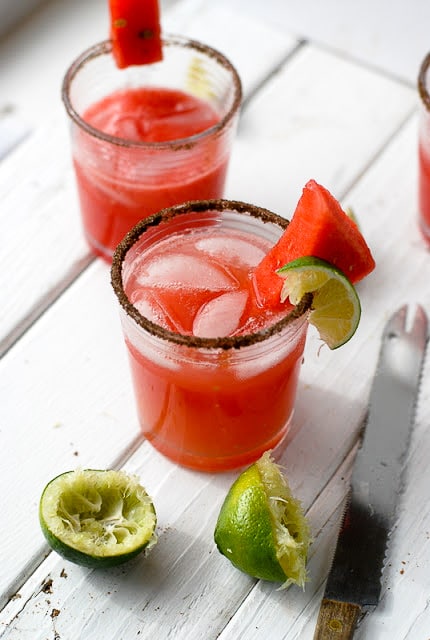 When I look back in time I see the bread crumbs leading me to put cyber pen to paper about my love for food and drink.

 

Looking through travel photo albums, I'll find a random cocktail photo or a plate of food I snapped ; something that just caught my eye for the color, texture and natural composition.
Similarly I've found scribbled recipes on the back of flight ticket jackets or in notebooks gone astray in my active switching out of purses and tote bags.

 

I just rediscovered one such notebook.

 

It was full of odd recorded thoughts, memos, and reminders spanning a vast period of time.

 

Buried in the haphazard content was a recipe that I instantly remembered writing down from an inflight magazine, being intrigued by the flavor combinations.

 

I flashed on a desperate scene of rummaging through my bag for paper and pen (I tend not to tear things out of public magazines and this was before iPhones where all can be captured in a photo) to jot it all down feverishly as the landing gear was dropping.

 

No memory of where I was or when it was.

 
Summer is afoot.

 

I've always regarded Memorial Day weekend as the official gateway to summer.

 

It feels like metaphorically running through a finish line ribbon, arms tossed to the heavens in elation and relief.

 

The ritual of grilling and summer cocktails usher us into the season and my long-lost-newly-discovered cocktail feels perfect to christen the occasion.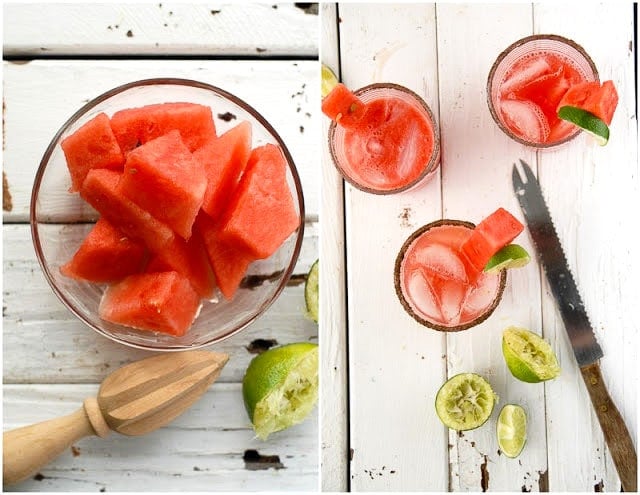 SMOKY WATERMELON-JALAPENO MARGARITA
This cocktail is an exciting fresh-style margarita with the fantastic flavor combination of fresh lime juice, pureed watermelon, agave nectar to sweeten it all up and the perky heat of a fresh jalapeno chile pepper.

 

At first I wondered if the agave quantity would be too much but it isn't.

 

I found it to be a perfect blending of tart, sweet and spicy.
I am in love, utterly and completely, with smoked salt.

 

The recipe calls for hickory smoked salt for rimming the glass and in the end I used alderwood smoked salt for the finer grind.

 

A family member walked into my photo room and exclaimed 'it smells like a campfire in here'; there you have it.

 

It is the perfect match for this cocktail.

 

It is a strong salt so consider that when rimming the glass for how much of a rim you desire.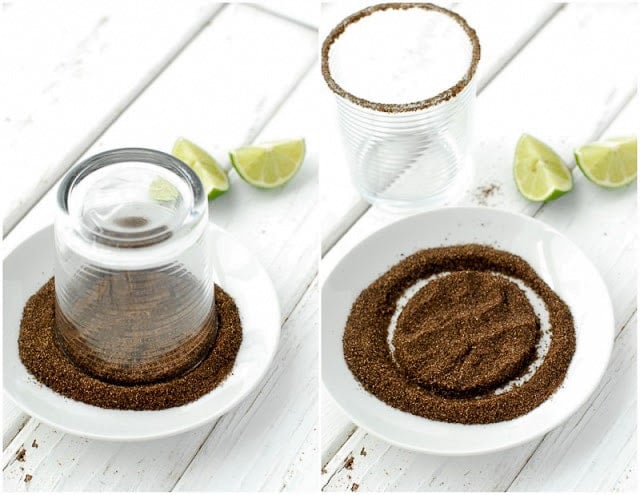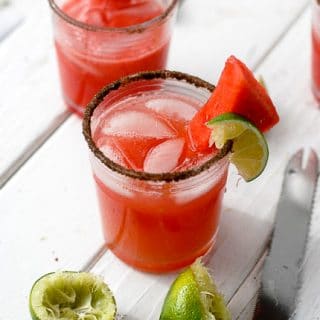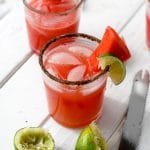 Smoky Watermelon-Jalapeno Margarita
Sweet and smoky spicy Watermelon Margaritas are a perfect summer cocktail
Ingredients
1

jalapeno chile pepper

2

ounces

tequila

(I used a Blanco, or white, un-aged tequila for this)

1

ounce

freshly squeezed lime juice

1

ounce

watermelon puree

¾

ounce

agave nectar/syrup

Hickory smoked salt for rimming the glass
Instructions
Muddle the jalapeno in a shaker or a pint glass.

Add the tequila, lime juice, watermelon puree and agave nectar.

Shake with ice and strain into a double old fashioned glass filled with fresh ice and rimmed with hickory smoked salt. Garnish with a slice of watermelon and lime wedge.
Nutrition Facts
Smoky Watermelon-Jalapeno Margarita
Amount Per Serving
Calories 216
% Daily Value*
Fat 0g0%
Cholesterol 0mg0%
Sodium 2mg0%
Carbohydrates 21g7%
Protein 0g0%
Vitamin A 315IU6%
Vitamin C 27.4mg33%
* Percent Daily Values are based on a 2000 calorie diet.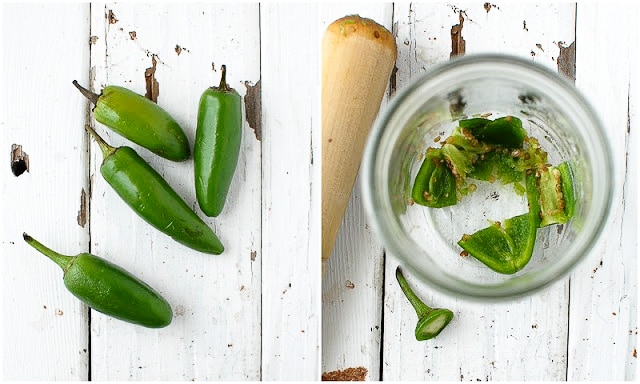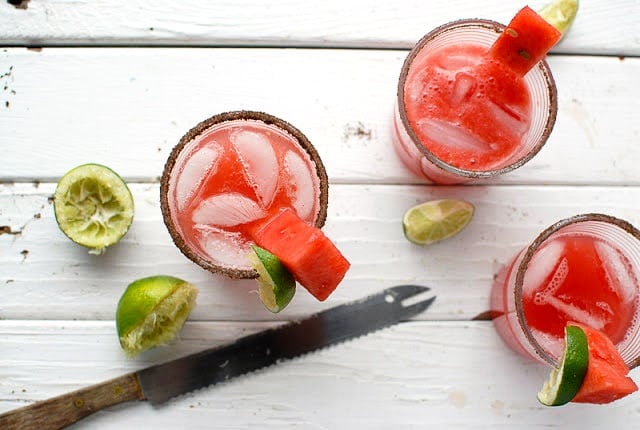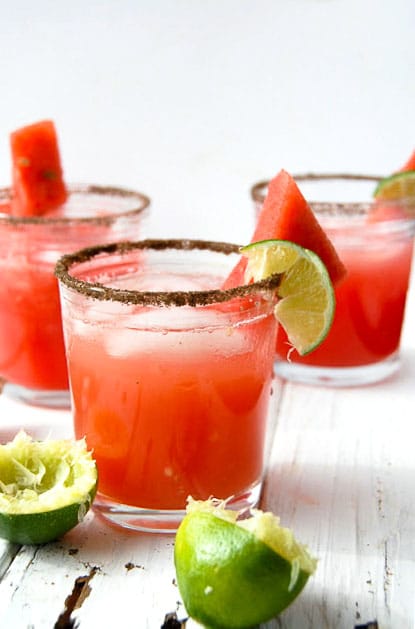 I had a flashback the other day of watching the TV show 'Sunday Morning' and around this time each year they would release a summer reading list.

 

'Beach reading' I'd consider it.

 

Light, fun, non taxing literary frivolity.

 

Something to tease the imagination and set the tone for the season of relaxation.
I admittedly have not watched Sunday Morning for years.

 

I don't know if they still publish the same list though I think with so much of our reading shifting to the internet perhaps the 'summer reading lists' have also migrated online.

 

I have discovered a number of international blogs; all with a food focus that feel like summer reading to me.

 

All very photo driven, I love to linger over their inspired, mood-evoking photos and content that's always easy to take in.

 

Some are new to me, and some old favorites, but all are subscriptions I anticipate.

 

I wanted to share them with you so you too might linger a bit with this new cocktail in hand to usher in the summer!
BOULDER LOCAVORE'S SUMMER CYBER READING LIST:
La Recita de la Felicidad
(note: this blog is written in Spanish but generally when accessing the site you'll be prompted with a translator open; if not, open it in Google Chrome and Google's translator will activate)
Two others that should not be missed:
Donal Skehan
 

(This is the blog of Ireland's male Martha Stewart.

 

He could not be cuter, is a fantastic cook and photographer, and is spreading like wild fire in Europe.

 

I even emailed my Irish friend Aoife author of Dublin's The Daily Spud to see if he was for real or just a model posing with the goods.

 

He's the real deal and apparently very nice at that.)
Leite's Culinaria
(a non-stop parade of fantastically inspired and 'do-able' recipes to keep your table intriguing and flavorful for every meal in every season)
Any you'd add to the list?

 

Do tell!