There is nothing like a cool, sweet and spicy Watermelon Jalapeno Margarita to take the sting out of a sweltering summer's day. The only thing better? A smoked salt rim on the glass.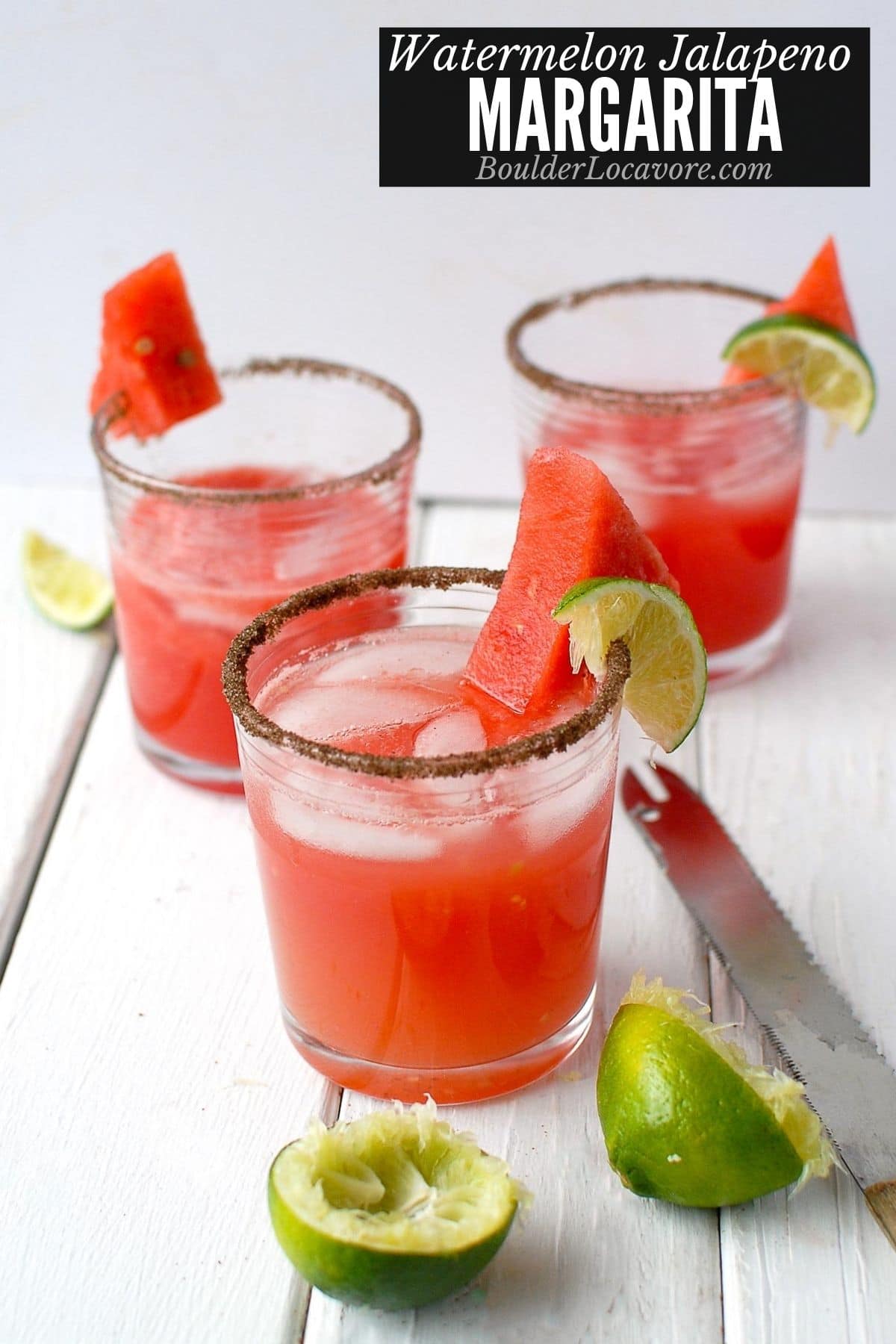 Watermelon margaritas are great, especially in the summer. We love making them with watermelon infused tequila in fact.
This spicy watermelon margarita recipe spin takes it up a notch for those loving some spicy heat. Jalapenos make this an exciting cocktail you won't soon forget!
Grab some pico de gallo or some Queso Fundido and relax!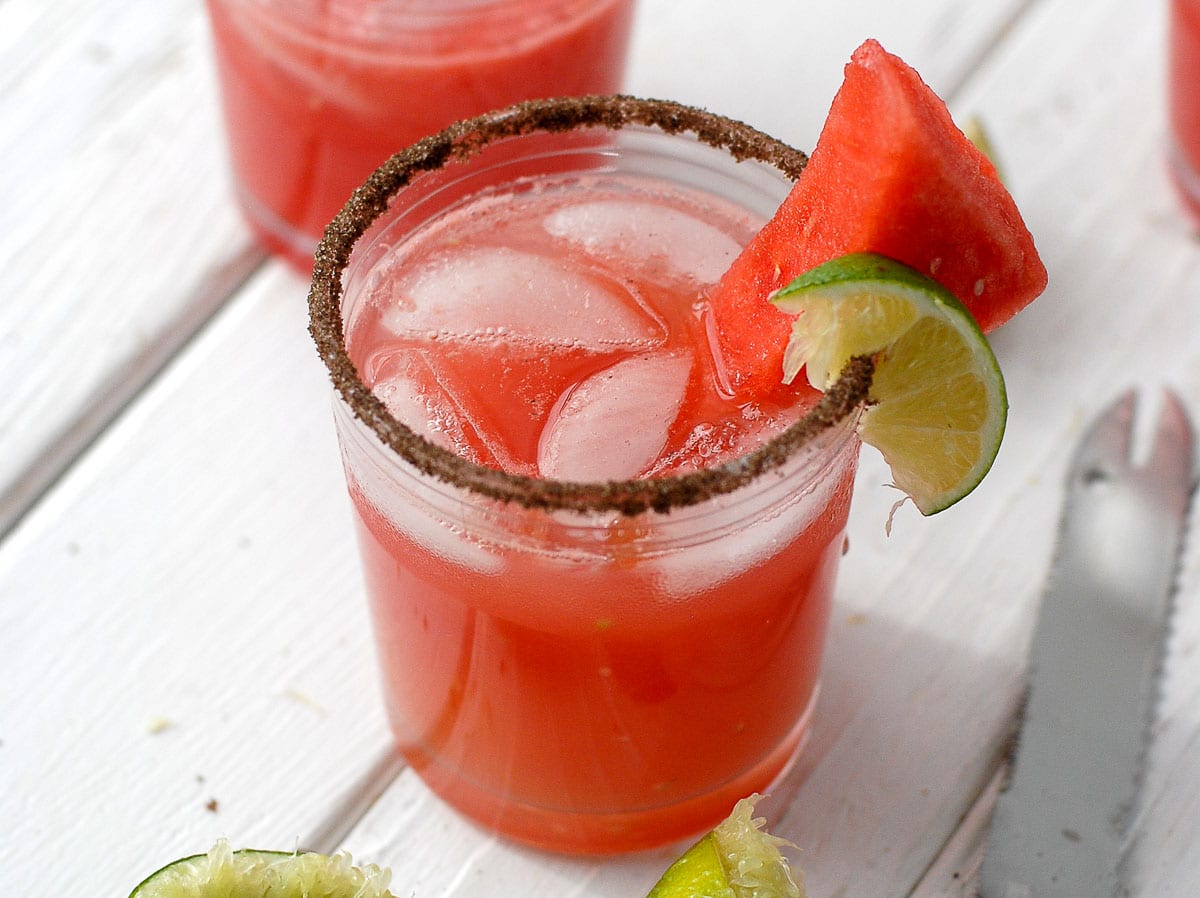 Spicy Watermelon Jalapeno Margarita
This cocktail is an exciting fresh-style margarita. 'Fresh style' means there are no mixes used to get the great margarita flavor.
It doesn't use Triple Sec which is very sweet. Or simple syrup.
The fantastic flavor combination of fresh lime juice, pureed watermelon, and agave nectar to sweeten it all up.
Plus a spicy kick of a fresh jalapeno chile pepper.
The jalapeno watermelon combination is a dynamic duo!
It's a perfect blending of tart, sweet and spicy.
This is a perfect summer cocktail to pair with summer grilling.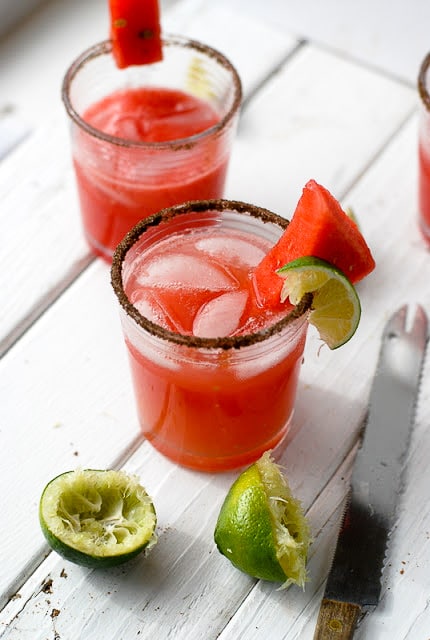 Smoked Salt Rim
The icing on the cake, or the salt on the rim as it were, adds a whole next level to this watermelon jalapeno margarita.
I am in love, utterly and completely, with smoked salt.
The original recipe called for hickory smoked salt for rimming the glass. I've also used alderwood smoked salt in a finer grind.
A family member walked into my photo room and exclaimed 'it smells like a campfire in here'; there you have it. It has a wonderfully smoky aroma.
It is the perfect match for this cocktail.
NOTE: It is a strong salt. A little goes a long way so consider that when rimming the glass for how much of a rim you desire.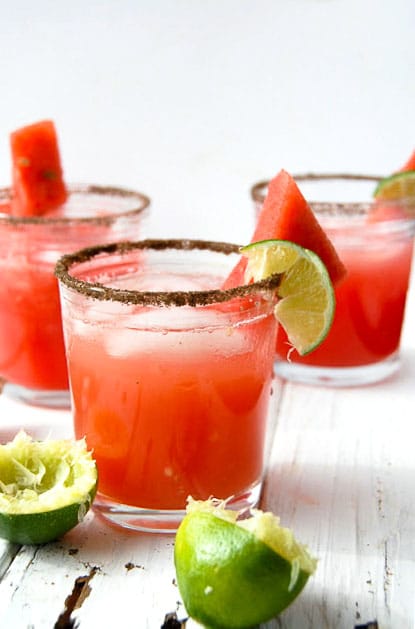 What you need to make it
Jalapeno Pepper
If you have not worked with chile peppers there are a few notes. Wash your hands very well after handling them.
Also do not touch your fingers to your eyes, nose or mouth before washing them first. The oil from the pepper will sting.
The seeds generate most of the heat. So if you want a milder cocktail, remove the seeds before muddling the pepper.
I have a trick for doing that easily in this Spicy Jalapeno Cranberry Sauce Recipe. Check the photos for a visual tutorial.
It involves sliding a dining spoon underneath the seed membrane to easily remove it.
Jalapenos can vary in heat often dramatically. If you don't enjoy spiciness use less.
Tequila
Use Blanco (white) or Silver tequila for this margarita recipe. Aged tequila has a more distinct flavor that can overtake the other ingredients.
Lime Juice
Freshly squeezed lime juice makes all the difference. I use a handheld juicer which really extracts lots of juice. It also traps any seeds.
TIP: microwave the lime for 10 seconds before juicing to extract more juice.
If juicing the lime my hand (no juicing device) before to keep any seeds from getting into the cocktail ingredients.
Watermelon Puree
Make your own by putting watermelon in a blender and pureeing it.
Watermelon puree is available to purchase for use in cocktails but it is not straight watermelon. It's more liquid in texture and usually has multiple ingredients including high fructose corn syrup so will be very sweet.
Agave Nectar
This is what sweetens the watermelon jalapeno margarita.
Smoked Salt (glass rim)
This is optional buts a great dimension to the flavor of the cocktail. Use a fine grind smoked salt.
Regular margarita salt can also be used.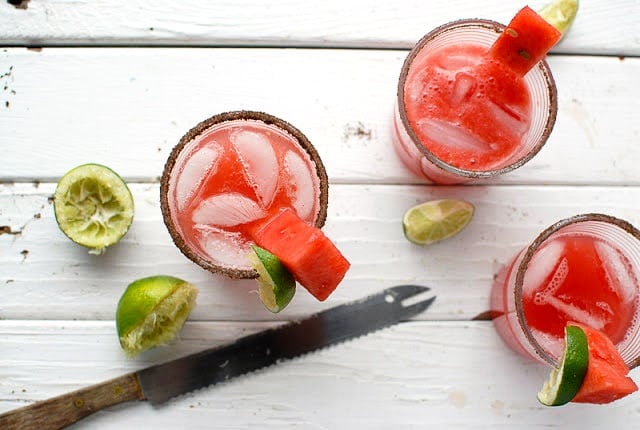 Variations
For a spicy rim: combine some chili powder and margarita salt. OR chili powder with the smoked salt.
How to make it
STEP 1. Muddle
In a quart size glass Mason jar or cocktail shaker, add the jalapeno and mudde it.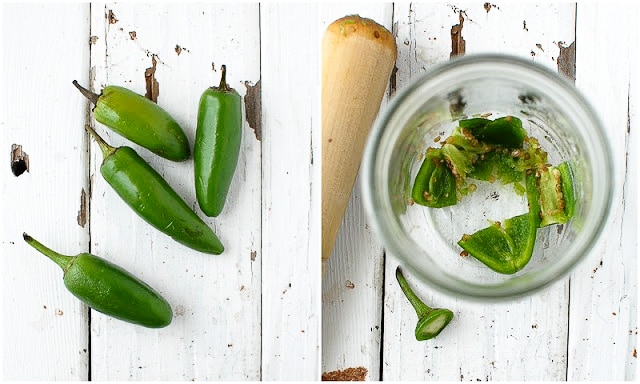 What is muddling?
Using a cocktail muddler (it looks like a long wand with a rounded end of plastic disk on the end) the chile pepper is smashed to release the liquids and flavors.
STEP 2. Make the margarita
Add the tequila, watermelon puree, agave syrup and lime juice and a handful of ice to the cocktail shaker or jar.
Seal and shake vigorously.
STEP 3. Rim the glass with salt
You can choose to serve in a salt rimmed glass or not. Using regular margarita salt or the smoked salt.
To rim the glass run some lime juice along the glass rim.
Place the glass rim side down in a small plate with salt.
Twist, lift and set on the bottom of the glass for the rim to dry.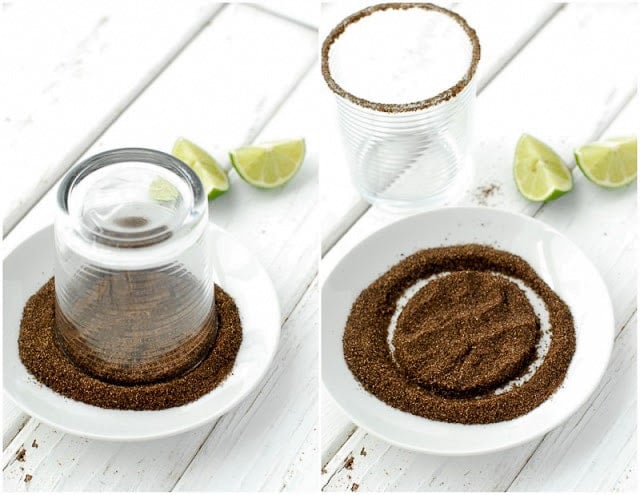 STEP 4. Strain and pour
Fill an old fashioned glass with fresh ice. Strain the margarita into the glass using a fine mesh strainer or the strainer in the cocktail shaker.
Garnish with a piece of watermelon and lime wedge (optional).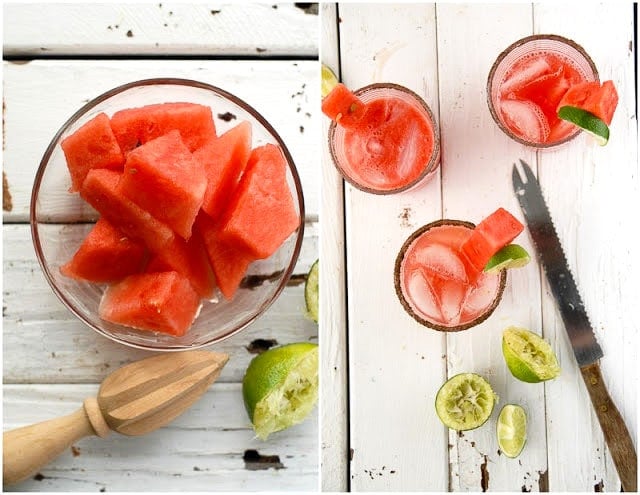 Make a Pitcher!
If you want to make a larger batch of watermelon jalapeno margaritas instead of individual cocktails here's how.
The one tricky part is needing to muddle the jalapenos (so it can't just be made into a punch-like batch).
Making an 8-cocktail batch will require a container 38-ounces or larger plus room for ice.
We recommend getting a large Mason jar to muddle and mix the cocktails in. It can then be strained into a pitcher for serving.
Make just before serving as citrus juice can dull in flavor as it sits. Also save the ice for the glasses so it doesn't melt and dilute the drinks.
Measurements in the recipe card below.
FAQs
Do I need a cocktail shaker for this recipe?
You'll need a cocktail shaker or use a quart size glass jar with lid. Both work great.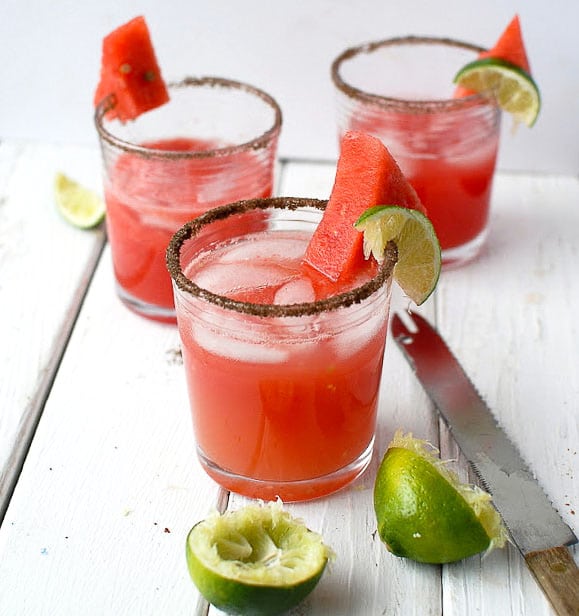 More Recipes You'll Love!
Did you make it? Please RATE THE RECIPE below!
Please
SUBSCRIBE
and
FOLLOW ME
on
FACEBOOK
,
TWITTER
,
INSTAGRAM
and
PINTEREST
!
Recipe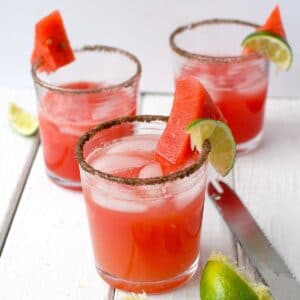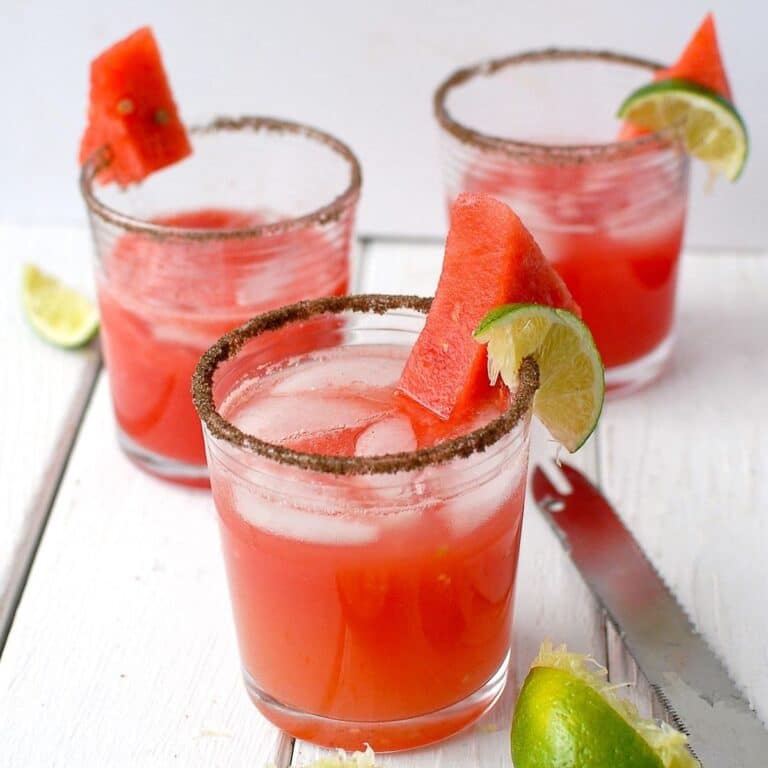 Ingredients
1

jalapeno chile pepper

2

ounces

tequila

(I used a Blanco, or white, un-aged tequila for this)

1

ounce

freshly squeezed lime juice

1

ounce

watermelon puree

¾

ounce

agave nectar/syrup

Hickory smoked salt for rimming the glass
Instructions
Muddle the jalapeno in a shaker or a pint glass.

Add the tequila, lime juice, watermelon puree and agave nectar.

Shake with ice and strain into a double old fashioned glass filled with fresh ice and rimmed with hickory smoked salt. Garnish with a slice of watermelon and lime wedge.
Notes
Make watermelon puree by putting chunks of fresh watermelon in a blender and processing on the puree setting.
For an 8-cocktail large batch:
6 jalapenos
16 ounces silver or blanco tequila
8 ounces watermelon puree
8 ounces fresh lime juice
6 ounces agave nectar
a glass container larger then 38-ounces
In a large jar or container muddle the jalapenos. Follow the recipe as written above, sealing the container with ice and vigorously shaking it.
Strain into a pitcher and pour into rimmed glasses with ice for serving.
Nutrition
Calories:
216
kcal
|
Carbohydrates:
21
g
|
Protein:
0
g
|
Fat:
0
g
|
Saturated Fat:
0
g
|
Cholesterol:
0
mg
|
Sodium:
2
mg
|
Fiber:
0
g
|
Sugar:
17
g
|
Vitamin A:
315
IU
|
Vitamin C:
27.4
mg

Originally published: May 20, 2012