Banana cupcakes with Cream Cheese Buttercream Frosting and a Caramel Drizzle! A flavor-packed cupcake recipe with homey flavors you'll love!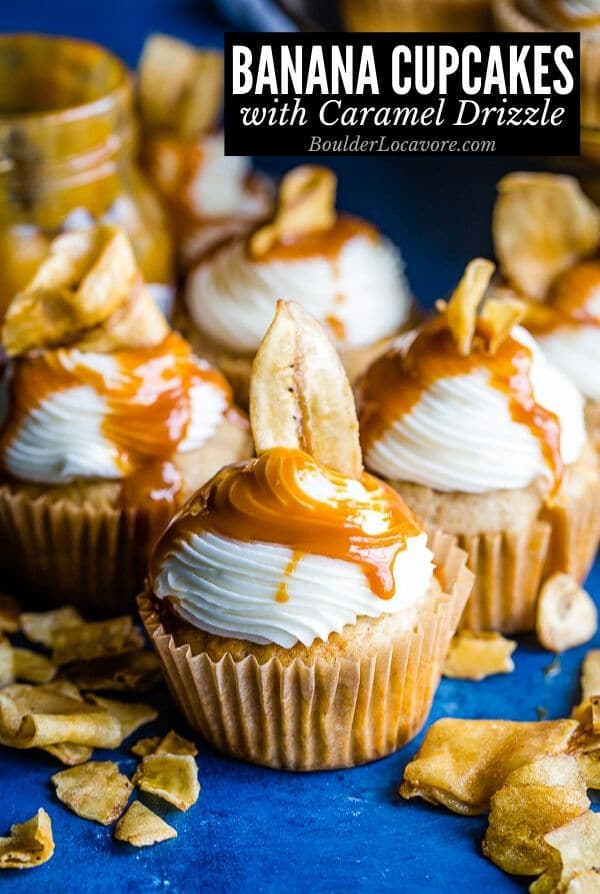 There is nothing like a homemade cupcake to make a day feel special.
Whether for a surprise or an easy dessert, this cupcake recipe gets people excited!
Homemade Banana Cupcakes with Cream Cheese Buttercream Frosting and a caramel drizzle.
Light, fluffy cupcakes topped with delicious tangy flavors.
What's not to love?!
Banana Cupcakes
Banana cupcakes are a light, fluffy cupcakes that aren't overly sweet.
This is perfect to pair with the cream cheese buttercream frosting and caramel drizzle.
There is just enough banana flavor for a delicious homey cupcake. Not overwhelming banana flavor.
Cinnamon and buttermilk are delicious too.
Using a mix of butter and vegetable oil makes moist cupcakes that don't dry out as they are stored for eating.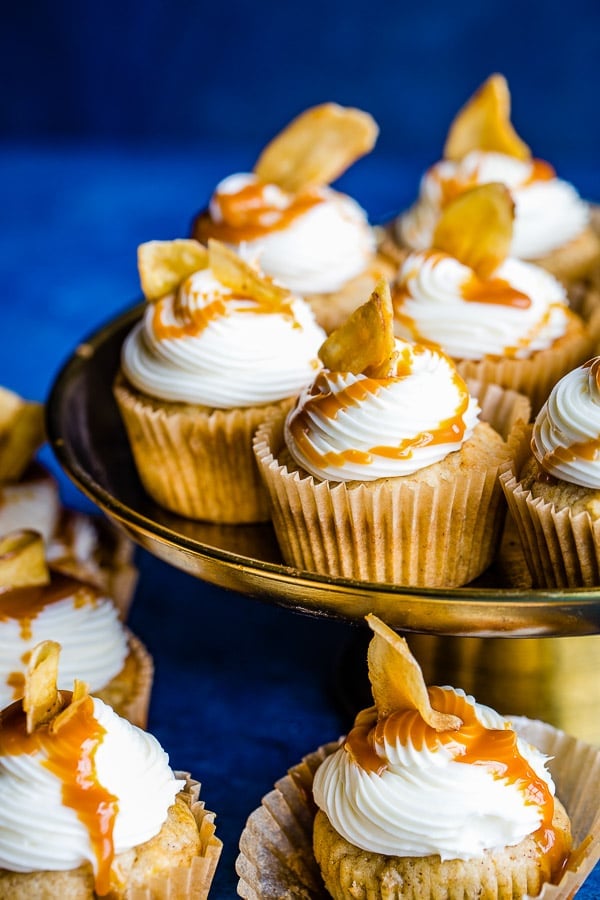 Banana Cupcake Ingredients
The ingredients for this cupcake recipe are mainstream and easily available from any grocery store.
It's easy to change them up to be gluten-free too.
All-purpose flour (regular or gluten-free)
Baking soda
Baking powder
Cinnamon
Kosher salt
Unsalted butter
Vegetable oil
Granulated White sugar
Bananas
Eggs
Vanilla Extract
Buttermilk
What Type of Bananas to Use
Ripe bananas are key for the great flavor of this cupcakes recipe.
They do not HAVE to be over ripe or blackened. Just not green or you'll taste that in the flavor.
They should be soft enough to mash easily with a fork.
Banana Cupcakes are a great way to use up ripened bananas though.
The deep sugar flavor of the over ripened bananas enhance the the sweet flavors in the cupcakes.
How to Force Ripen Bananas: Roasted Bananas!
Don't want to wait for the bananas to ripen? Roast them!
They have a more caramelized flavor that make these cupcakes even better. It's a trick I use whenever I make Hummingbird Cake.
How to Roast Bananas:
STEP 1: Heat oven to 350 degrees.
STEP 2: Place bananas on a cookie sheet with peels left on.
STEP 3: Bake in the oven for 12 minutes until the skins are black (the bananas may leak which is fine).
STEP 4: Remove and let cool until they can be handled. Peel bananas, place in a small mixing bowl and mash. Set aside.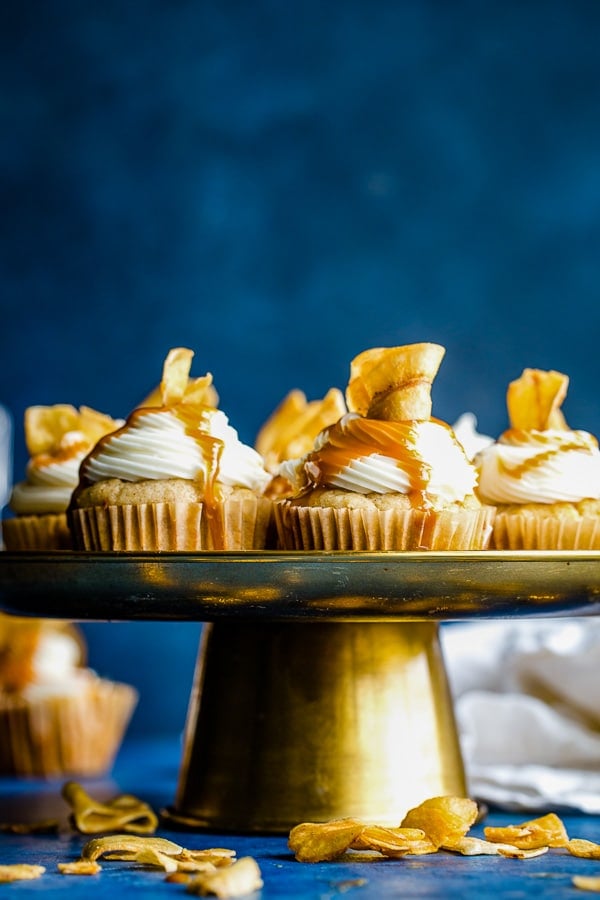 Make Gluten-Free Banana Cupcakes
Using a gluten-free measure-for-measure flour blend for this recipe makes perfect gluten-free cupcakes.
All other ingredients are naturally gluten-free!
Cream Cheese Buttercream Frosting
This frosting is the best of buttercream with a tangy addition of cream cheese!
The flavor is a perfect addition to the banana cupcakes.
Piping the frosting gives a fancy look but it can also be spread on.
If you like the Cream Cheese Buttercream Frosting you'll find it in these dessert recipes too:
Cream Cheese Buttercream Frosting Ingredients
When the ingredients are all at room temperature the frosting whips up to be light and fluffy!
Unsalted butter
Cream cheese
Powdered (Confectioner's) sugar
Vanilla extract
Heavy Cream
Caramel Drizzle
The crowning touch on these cupcakes is the ooey gooey caramel drizzle on top of the frosting.
It's a perfect flavor combination!
Store-bought caramel sauce can be used. Or if you have the time you can make homemade salted caramel sauce too!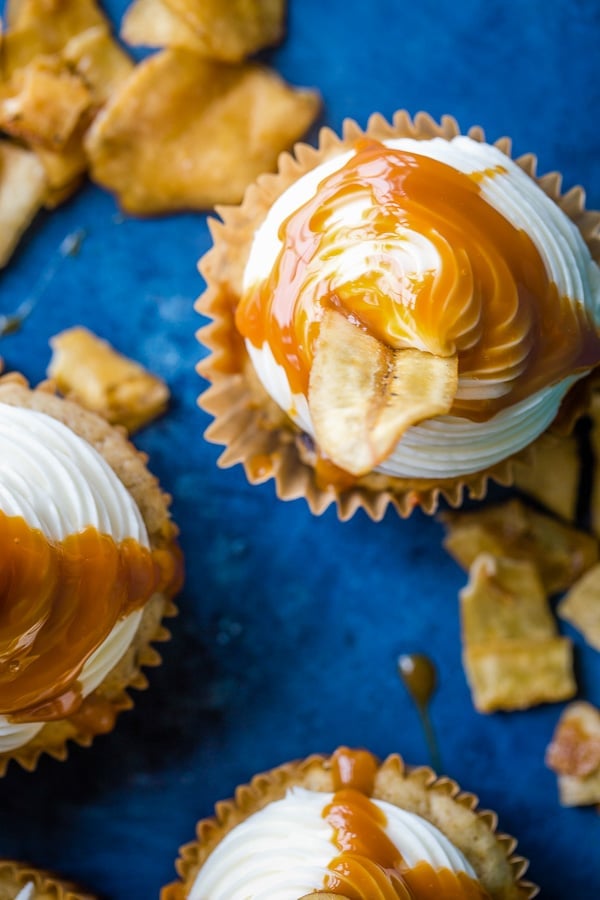 PRO TIPS
Room Temperature Ingredients
Be sure the ingredients specified in the recipe as 'room temperature' ARE room temperature.
This includes the unsalted butter and buttermilk for the banana cupcakes.
For the Cream Cheese Buttercream Frosting this includes the butter and cream cheese.
The temperature of these ingredients makes a different in the final texture of the cupcakes and frosting.
Do Not Overmix the Banana Cupcake batter
Over mixing will make a denser consistency banana cupcake.
Following the instructions for mixing together the dry ingredients and buttermilk for the best results.
Double Line the Cupcake Molds
This trick allows the outside facing liner to be clean.
The inside liner absorbs any oils that come out in cooking leaving the outside liner looking perfect!
Cool Cupcakes Completely before Frosting
This prevents the frosting from beginning to melt on warm cupcakes.
It also allow the light, fluffy cupcakes to set fully before frosting them.
How to Make Banana Cupcakes – Step-by-Step
For a detailed printable recipe refer to the recipe card at the end of the blog post.
STEP 1: Preheat oven to 350 degrees. Line 24 muffin tins with cupcake liners.
STEP 2: In a large bowl, whisk together the dry ingredients.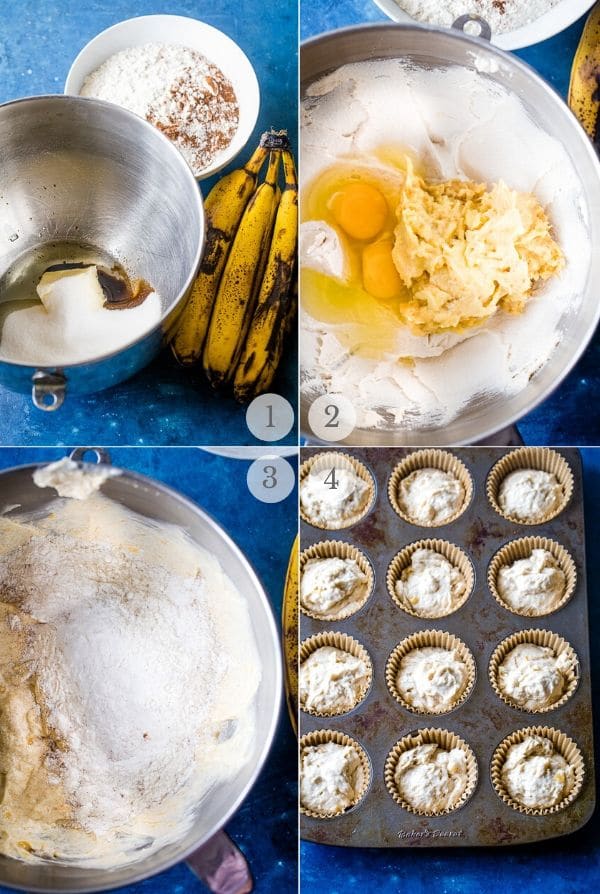 STEP 3: Using a standing mixer with paddle attachment, cream together butter, oil, and sugar (photo 1) until light and fluffy. NOTE: a handheld mixer may also be used.
STEP 4: Add mashed bananas, eggs, and vanilla extract, and beat until smooth (3-4 additional minutes) (photo 2).
STEP 5: Add the buttermilk and the dry ingredients. Start and end with the flour mixture. Gradually combine adding a small amount of each at a time. DO NOT OVERMIX (photo 3).
STEP 6: Scoop batter into the cupcake liners 2/3 of the way full (photo 4).
STEP 7: Bake cupcakes for 15-17 minutes. Or until a toothpick is inserted into the center of a cupcake and comes out clean.
STEP 8: Remove from oven and cool completely.
Making the Cream Cheese Buttercream Frosting
Cream together the butter and cream cheese until smooth.
Add the powdered sugar, vanilla extract, and salt; beat until smooth.
Spoon frosting into a large pastry bag fitted with a large star frosting tip. Frost cooled cupcakes.
Caramel Drizzle
Right before serving, drizzle frosting with caramel sauce and garnish with dried banana chip.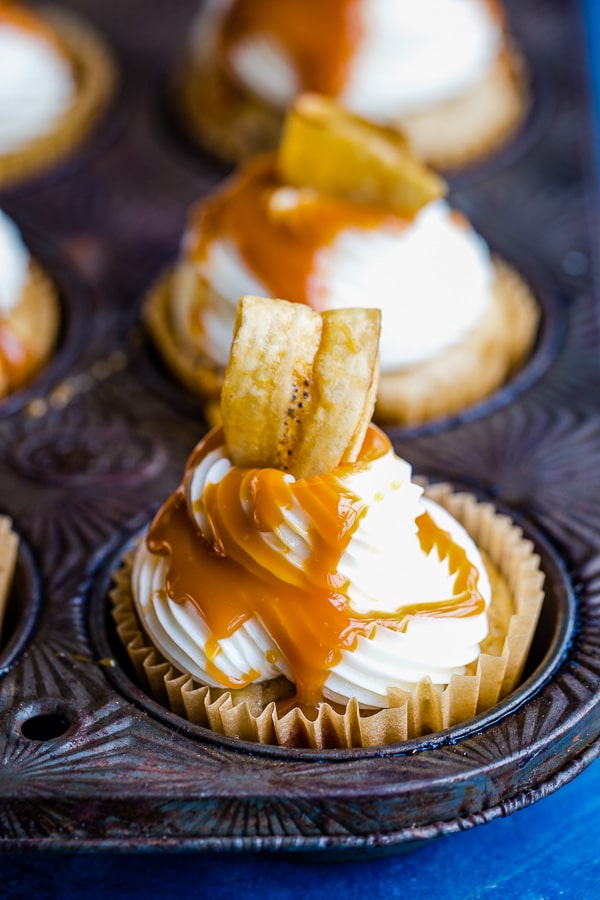 How to Store Banana Cupcakes
Store in an airtight container in the refrigerator for up to 3-4 days.
Due to the dairy frosting the frosted banana cupcakes must be refrigerator.
Can you Freeze Banana Cupcakes?
Yes, before they are frosted.
Put the cupcakes in an airtight container. Freeze for up to 3 months for best flavor.
Thaw in the refrigerator.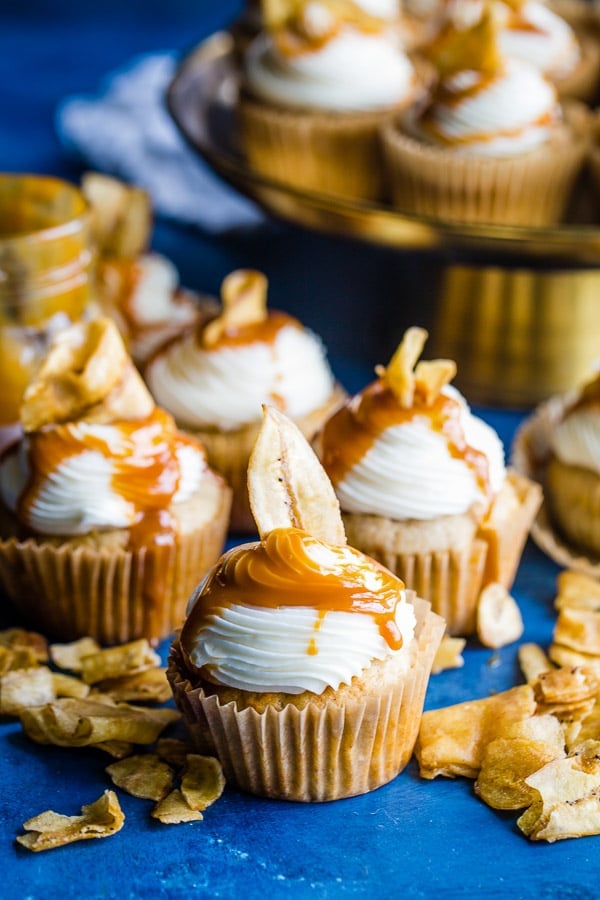 More Banana Recipes You'll Love
Did you make it? Please RATE THE RECIPE below!
Please SUBSCRIBE and FOLLOW ME on FACEBOOK , TWITTER , INSTAGRAM!