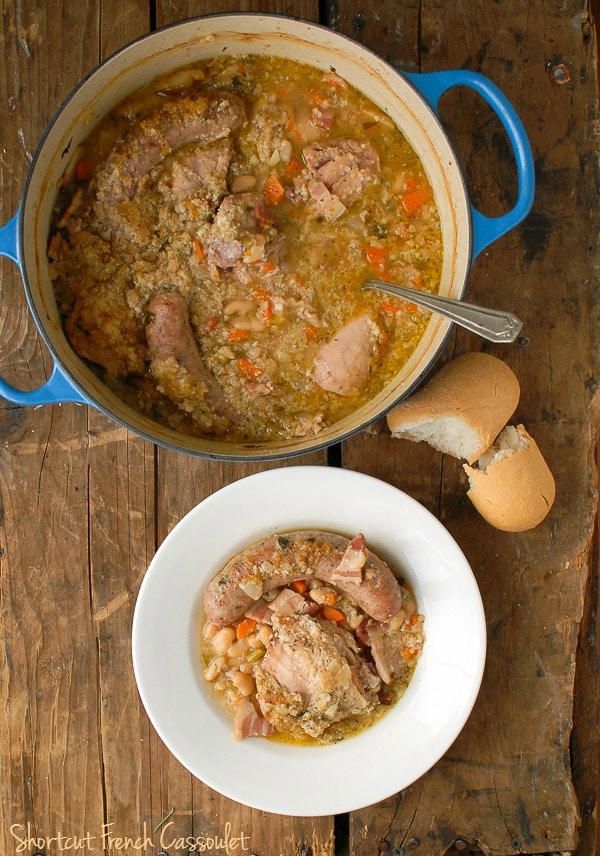 I distinctly remember my first experience of Cassoulet (pronounced cass-oh-lay).  We had just moved to a college town in northern Colorado where my step father had accepted a teaching job.  I was in third grade at the time.  It turned out my mother had an older cousin who was living in the same town with her husband; Marite.  She was sophisticated and worldly while being approachable and kind.  Her hair was a fair blonde and she wore it in the style of Marlo Thomas in 'That Girl'; straight with a deliberate curl outward on the bottom all the way around.  She greeted us at the door with a long sweater coat and smart looking slacks on and I knew instantly I was in the presence of someone well-traveled.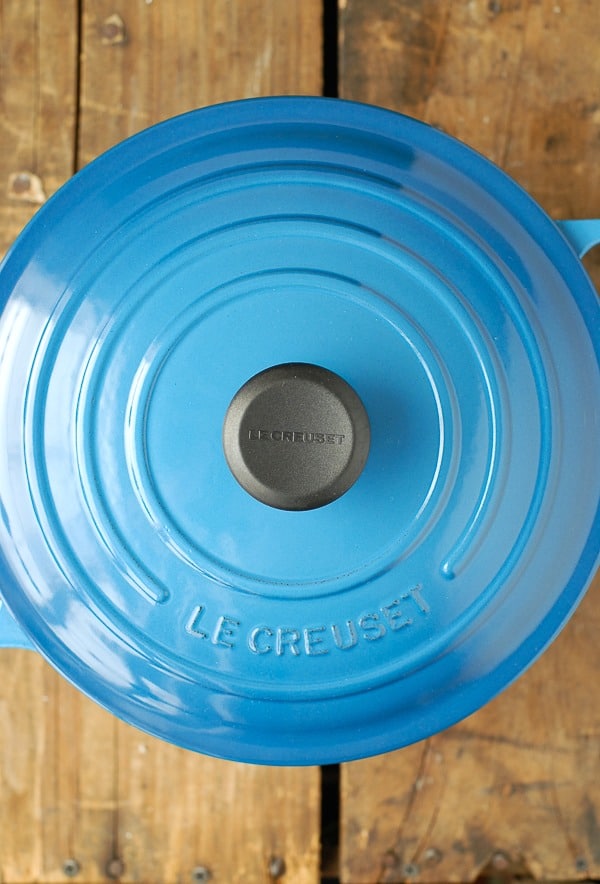 Her house smelled incredible.  I did not have an adventurous palate at that stage or more probably did not have much exposure to other cuisines.  We were seated for dinner and she swished effortlessly around the table delivering a beautiful plate of something I'd never seen before.  Large white beans, poultry of some kind, sausages and rustic flavors that surely ignited what has become my lifelong passion for country food for its honesty and comfort.  Cassoulet.  The name was as exotic as the evening and I have never forgotten it.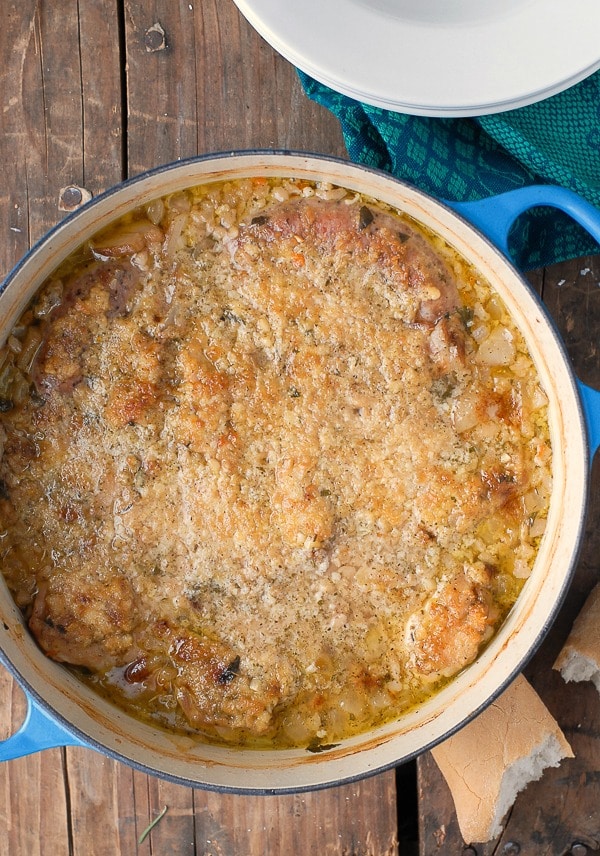 Whenever I have the chance to enjoy Cassoulet I do but candidly have not made it much.  The traditional version takes up to three days to prepare.  In fact for my husband's birthday one year a longtime friend of ours who loves to cook suggested as a gift they make a traditional Cassoulet together, as my husband also loves to cook.  It never happened.  Why?  No one has three days to make a rustic one pot dish (well, most people I know do not).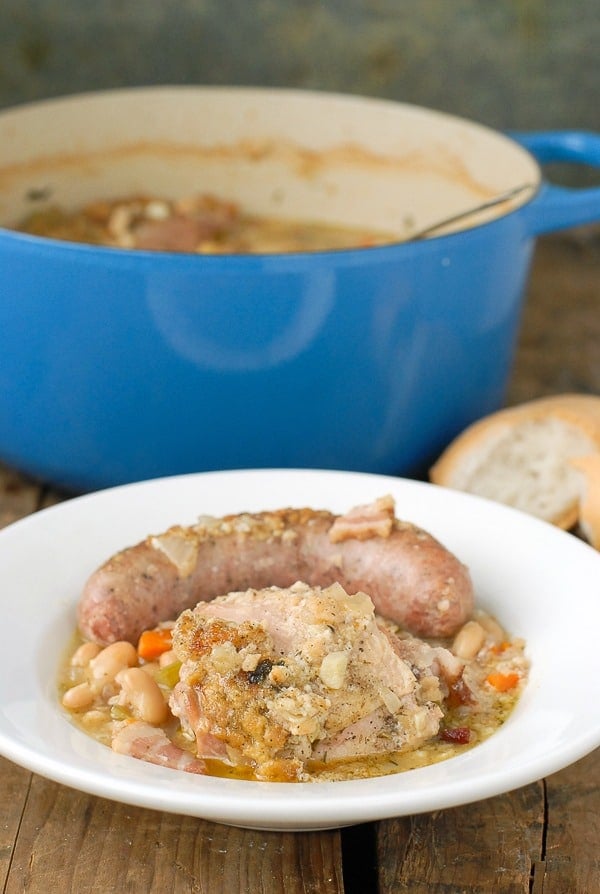 Ever since our stay in Paris this summer I have had my mind set on creating a Shortcut Cassoulet.  One that does not sacrifice the intent of the dish or core flavors but allows regular cooks to make it in less than a few hours.  I felt I was treading on thin ice, setting myself up for militant purists to post on my blog that I was a sellout, a disgrace to the traditional of French country food.  As I researched the dish I learned a few things.  The origins of the dish reside in Southwestern France in the areas of Gascony and Languedoc.  The dish would include white beans, duck or duck confit, pork, sausages, and/or mutton however it was a peasant's stew, constructed based on availability of ingredients therefore varying readily.  More than a particular 'recipe' it is more of a cultural dish.
When reviewing current day Cassoulet recipes, whether they be from traditional French chefs or chefs with a more contemporary perspective, they also vary wildly.  Other than the white beans (which can also vary between traditional Tarbais beans, haricot blanc, to Cannellini), one might find any type of meat as long as there is some pork if not two forms.  In my case I opted for canned beans to bypass the time to cook them from dried form, chicken thighs, garlic sausages and chunky bacon.  Browning the meat in duck fat is my nod to the presence of duck however I did not include duck confit which is often traditional.  This recipe is soul-warming with simple, homey flavors.  The ease of preparation allows this shortcut Cassoulet to pay homage to the more time-intensive version, and to be more of a mainstream consideration rather than something one saves up days to prepare (though that would be fun too).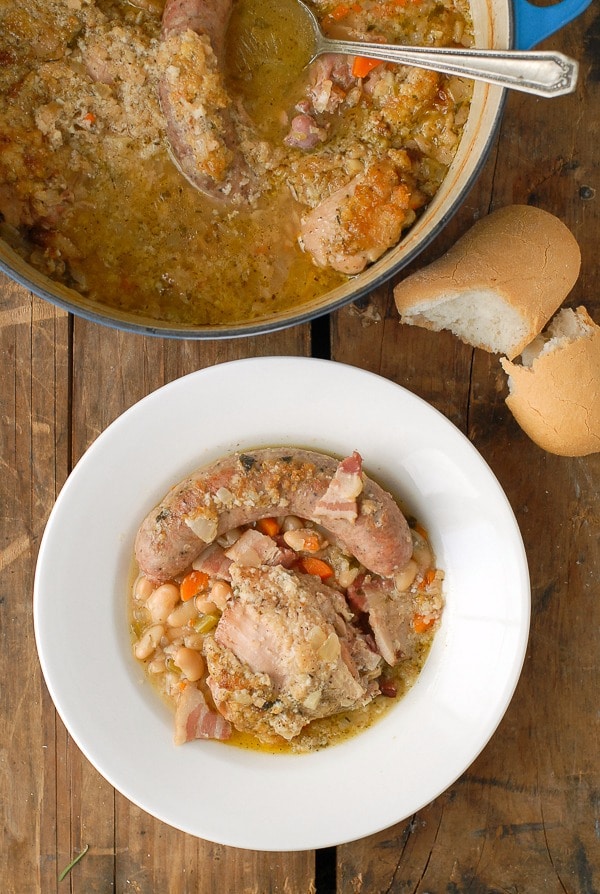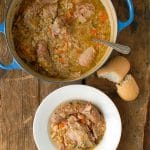 Shortcut French Cassoulet
Cassoulet is an iconic white bean and meat stew, and perhaps the best example of peasant country food. It is said to try the most authentic Cassoulet when in France, do not go to a restaurant but rather have a Farmer's wife make it for you! Recipes vary greatly for this dish as it originally was made with what was available however meat, pork and beans are a constant. Typically Cassoulet is a long cooking dish often taking days to prepare. This recipes is a short cut, staying true to the rustic intentions of the stew but timed for more modern lifestyles when lengthy cooking projects are challenging.To make the cooking even faster, the vegetables may be prepared the day prior to cooking and stored sealed in the refrigerator until cooking is ready to begin!
Cook Time
1
hour
15
minutes
Total Time
1
hour
45
minutes
Ingredients
1 ½

tablespoons

Duck Fat*

(or butter may be substituted)

8

bone-in skin-on Chicken Thighs

, rinsed, dried with paper towels and lightly salted and peppered

1

pound

Garlic Sausages

, uncooked**

½

pound

thick-cut Bacon

, cut across the bacon into 1 inch pieces 1 medium Yellow Onion, chopped

2

small Carrots

, chopped (unpeeled)

1

large stalk Celery

, chopped

1

tablespoon

fresh Italian Parsley

, diced

1

teaspoon

Herbes de Provence

1 29-

ounce

can Cannellini

(or White Kidney) Beans, drained

4

cups

(1 quart) Low Sodium Chicken Stock

3

large Garlic Cloves

, minced

2

cups

fresh Soft Bread crumbs from a baguette

(I used Udi's Gluten Free Baguettes)+
Instructions
Preheat the oven to 350 degrees.

In a 5 ½ quart (or larger) pot or French/Dutch oven, liquefy the duck fat at medium heat. Place the chicken thighs skin down in the bottom of the pan. Allow to cook for 8 minutes on Medium to Medium High, periodically checking to be sure the skin is not sticking to the pan (if it is gently slide a heat-proof spatula underneath to free the skin).

Using heatproof tongs, tune the chicken thighs over and cook for an additional 3 minutes. Remove from pan to a plate; set aside.

Add the sausages to the same pan and brown on each side (approximately 3-4 minutes total). Remove and set aside.

Add the bacon to the pan. Sauté to render the fat only (about 3 minutes). The fat will turn a gray color and be more translucent though the bacon will still be supple and pliable. Remove with a heatproof slotted spoon, allowing excess fat to drain back into the pan before setting the bacon aside (all the meat may be piled onto the same 'holding' plate).

Reserve 2 tablespoons of the pan fat (leave it in the pan) and discard the remaining fat.

Add the onions to the pan and sauté over medium-high heat scraping all the browned bits from the bottom and sides of the pan. Sauté until the onions begin to turn translucent but are not limp.

Add the carrots, celery, parsley, herbes de Provence, beans and chicken stock; stir to combine. Add the bacon to the pot; stir to combine. Insert the chicken thighs and sausage into the stew so they are covered.

In a small bowl combine the bread crumbs and diced garlic. Sprinkle it evenly over the stew. Bake for 1 hour and 15 minutes, periodically pressing the bread crumbs into the stew which will help thicken it.

Place the stew underneath the broiler to slightly brown the top crumbs and remove from oven. Allow to sit for a few minutes, cut sausages into 2 inch pieces stirring them back into the stew, and serve. The stew is even more flavorful the second day too!
Recipe Notes
*Duck fat may be purchased from gourmet or specialty food stores, or online (I bought mine from Amazon.com). It lasts a long time and can be a great substitute for sautéing to add different flavor.**I suggest checking with a butcher for garlic sausage (I found some at Whole Foods in the butcher department). If they are not available a kielbasa may be substituted or see what you butcher suggests.+To make Soft Breadcrumbs place chunks of baguette in food processor, chopper or strong blender and pulse until they form large crumbs.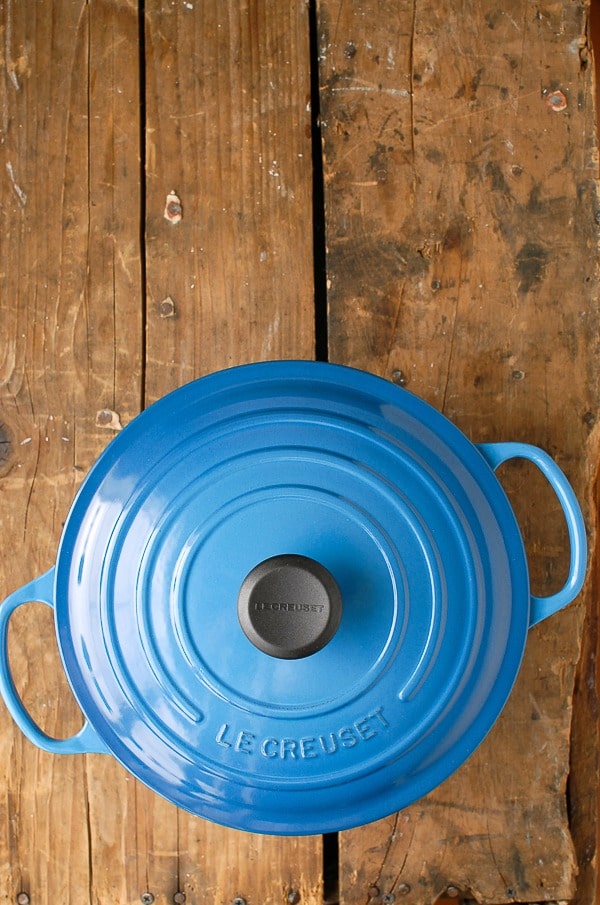 There is of course no better vessel in which to make Cassoulet than an authentic French Oven from Le Creuset.  I've spoken adoringly about Le Creuset before.  They are the iconic maker of enameled cast iron French ovens that bear a lifetime guarantee.  Their fame comes from their even heat distribution, ability to be used on all cooktop styles (gas, electric, ceramic, induction and radiant ring).  The French ovens may be used in the oven (to 500 degrees) and washed in the dishwasher, as well as they clean up very easily.  I have several Le Creuset pieces, as does my mother and Grandmother. They truly last a lifetime.  The variety of colors makes me happy.  My 5 ½ quart round French Oven is Marseille blue, perfect for my beloved French dish.
Le Creuset is giving away one 5 ½ quart round French Oven to a Boulder Locavore reader today as well!  Winner may select the color of choice (based on availability)!
Disclosure: This is not a sponsored post however I received a duplicate French Oven for the purposes of this post.  All my opinions are my own.