Cassoulet is a French country stew with white beans, chicken, sausage, bacon and vegetables. It's a comfort food recipe you'll love!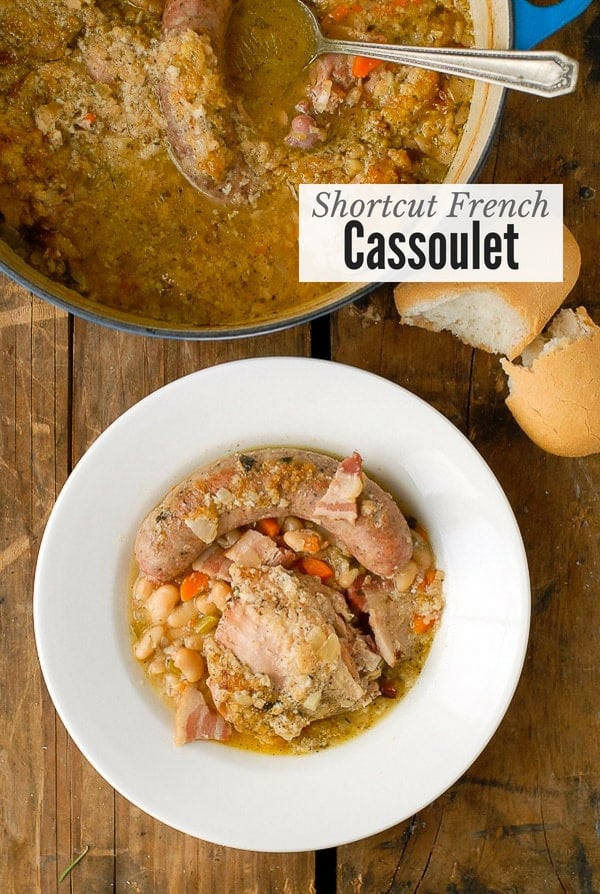 Cooler weather calls for hearty soul-warming recipes. A long time favorite of mine is Cassoulet, a French country stew that's hearty, relaxed and brimming with great ingredients and flavors.
When made traditionally Cassoulet takes three days. I've come up with a modified version, staying true to the original flavors but whittling it down to a few hours to make!
Jump to:
Shortcut French Cassoulet is sure to become a favorite; if not for the flavors and textures, then for the flexibility to change it up with ingredients you love.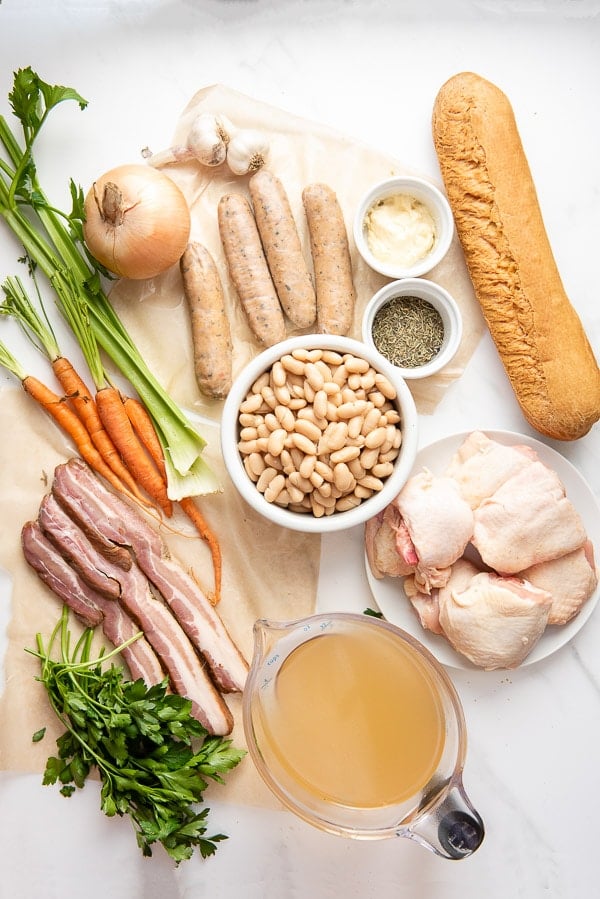 What is Cassoulet?
It is an iconic white bean and meat stew, and perhaps the best example of peasant country food.
It is said to try the most authentic Cassoulet when in France, do not go to a restaurant but rather have a Farmer's wife make it for you!
Recipes vary greatly for this dish as it originally was made with what was available however meat, pork and beans are a constant.
Typically, it is a long cooking dish often taking days to prepare. This recipe is a shortcut, staying true to the rustic intentions of the stew but timed for more modern lifestyles when lengthy cooking projects are challenging.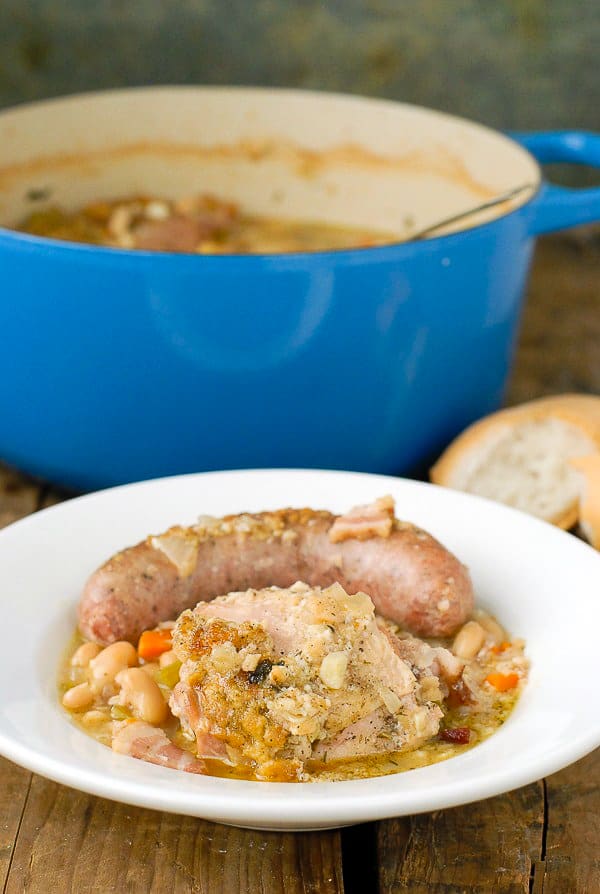 How to pronounce Cassoulet?
Cas-sue-lay.
Where is it From?
The origins of the dish reside in Southwestern France in the areas of Gascony and Languedoc.
How to Make Cassoulet
When reviewing current day recipes, whether they be from traditional French chefs or chefs with a more contemporary perspective, they also vary wildly.
More than a particular 'recipe' it is more of a cultural dish.
Other than the white beans (which can also vary between traditional Tarbais beans, haricot blanc, to Cannellini), one might find any type of meat as long as there is some pork if not two forms.
With the goal of making a Shortcut version I made some modifications to allow enjoying the dish without slaving to make it!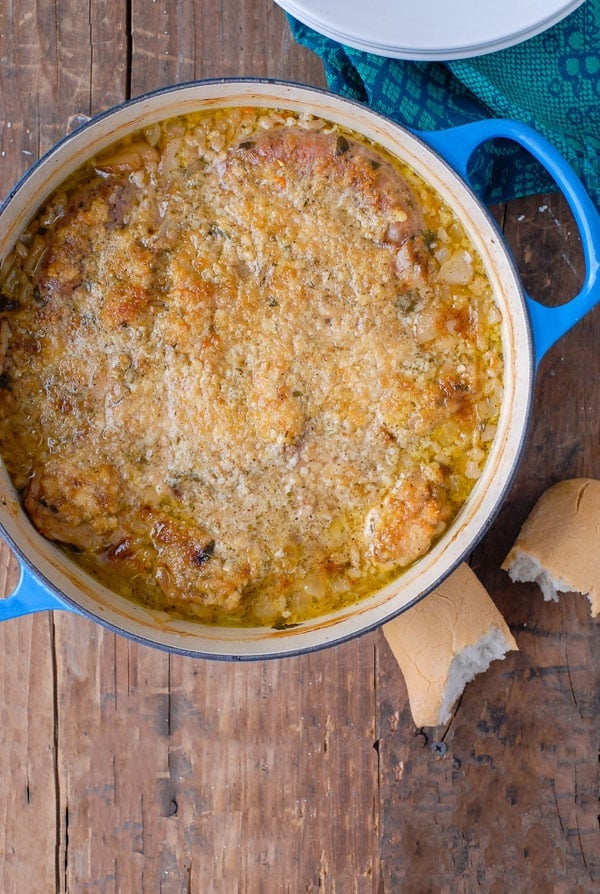 Recipe Shortcuts
To make Cassoulet in a reasonable amount of time I changed up some of the ingredient preparations to creatively meet the flavors of the dish without the time.
I was also mindful of using ingredients that were easily available.
I used canned beans to bypass the time to cook them from dried form.
There is no duck meat in this recipe. Instead the meat is browned in duck fat as my nod to the presence of duck. I also did not include duck confit which is often traditional (note: butter may also be substituted).
Time-Saving Tip: To make the cooking even faster, the vegetables may be prepared the day prior to cooking and stored sealed in the refrigerator until cooking is ready to begin! AND I use a mini chopper to prepare them.
A Note on Duck Fat
Duck fat may be found in gourmet kitchen stores or online. It's not cheap however. That being said, duck fat can be subsituted anywhere you'll be sauteeing for a wonderful flavor and it lasts a long time.
Butter can be substituted and the cassoulet will be delicious! Olive oil can be used in a pinch but will not conjure the same flavor.
If you are a duck fan, you can also add some duck instead of the chicken to change the recipe up!
Step-by-Step Instructions for Making Shortcut French Cassoulet recipe
This recipe is soul-warming with simple, homey flavors. The ease of preparation allows this shortcut recipe to pay homage to the more time-intensive version, and to be more of a mainstream consideration rather than something one saves up days to prepare (though that would be fun too).
The oven is preheated to 350 degrees
In a heavy 5 1/2 quart Dutch/French oven, the duck fat or butter is melted.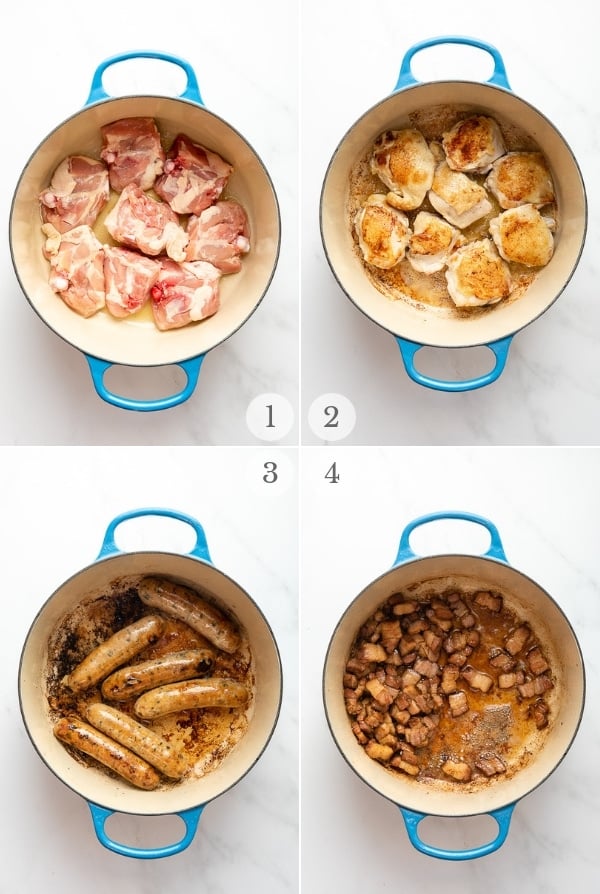 The chicken thighs are placed skin down in the pan to cook for 8 minutes (photo 1 above); then flipped with tongs and cooked 3 minutes longer then removed from the pan (photo 2).
The sausages are added to the pan and browned for 3-4 minutes (total) then removed from the pan. (photo 3)
The bacon is sauted just to render the fat ('render the fat' means to allow the fat to begin to melt and liquify); 3 minutes, then removed from the pan with a slotted spoon.(photo 4)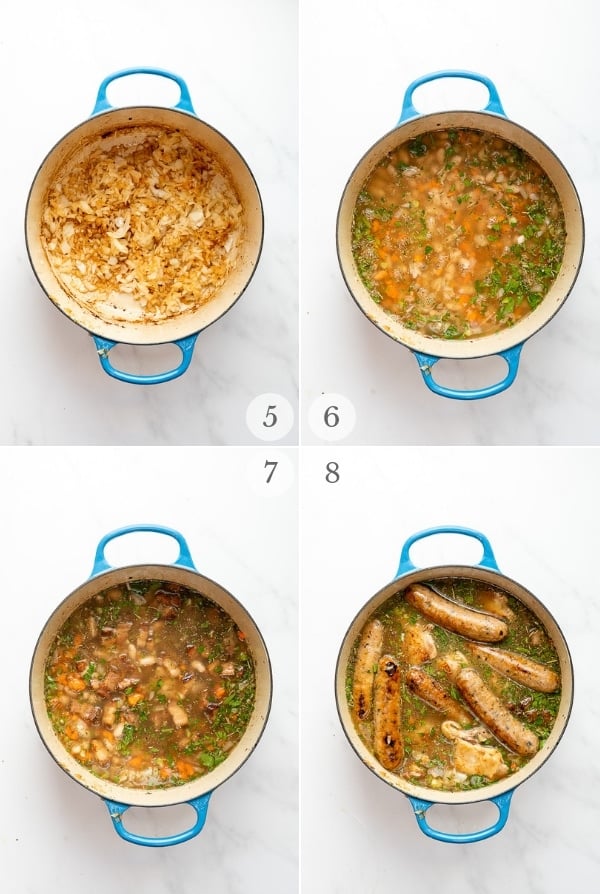 Most of the fat is then removed from the pan and onion sauteed (photo 5).
The other vegetables,herbs, cannellini beans and chicken stock are added to the pan (photo 6), followed by the bacon (photo 7), chicken and sausages (photo 8).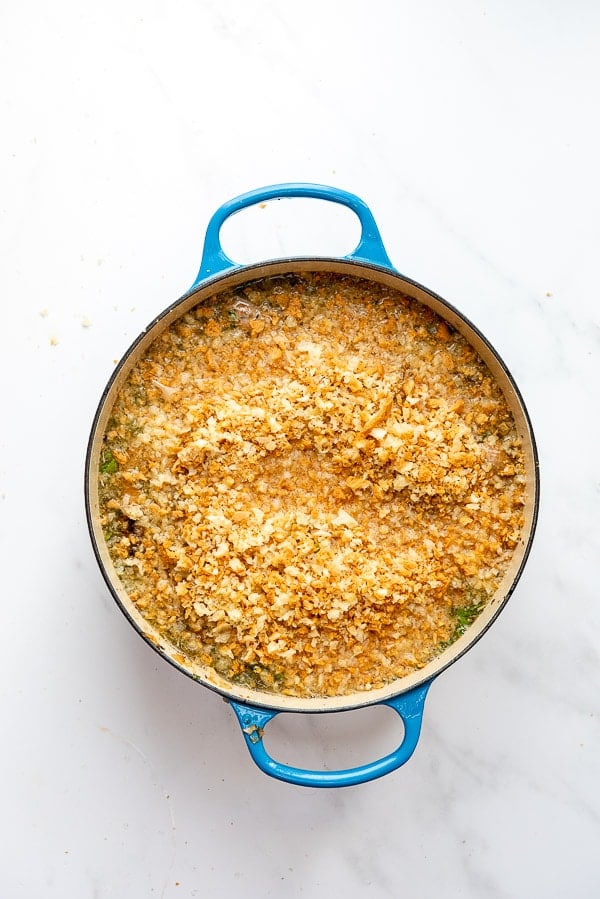 Homemade soft breadcrumbs (see Recipe Notes) are tossed with garlic and added to the top of the stew (this will help thicken the cassoulet too). NOTE: regular or gluten-free bread may be used.
The recipe is baked for 1 hour 15 minutes. Periodic pressing of the breadcrumb topping into the cooking liquid of the stew while cooking helps thickening.
Finally it is broiled to crisp the top. The sausages are cut into 2-inch lengths, added back and it is ready! Enjoy with a glass of white wine!
How to Make Homemade Bread Crumbs
Whether making soft breadcrumbs as used in this recipe, or hard breadcrumbs used in many recipes such as meatloaf, meatballs or for breading, they are very easy to make at home.
I use my mini chopper for everything. It's essentially a mini food processor so great for smaller jobs and easy to clean up (pop the vessel in the dishwasher).
To make homemade breadcrumbs, fresh bread is used for this cassoulet recipe. I use baguettes (gluten-free for me but regular work if you aren't gluten-free).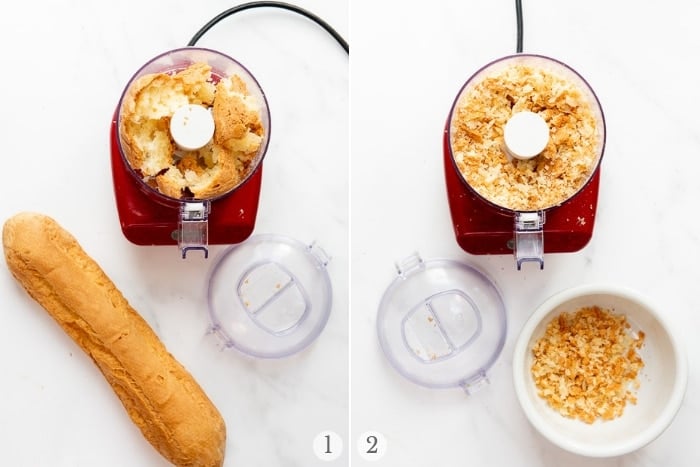 Tear off large pieces of the baguette and place into the container of a mini chopper or food processor.
Process until large crumbs are created.
If making hard breadcrumbs for a different recipe, toast the bread first in a toaster or under the broiler. Let it sit out until it cools and any moisture has dissapated. Then follow these same steps.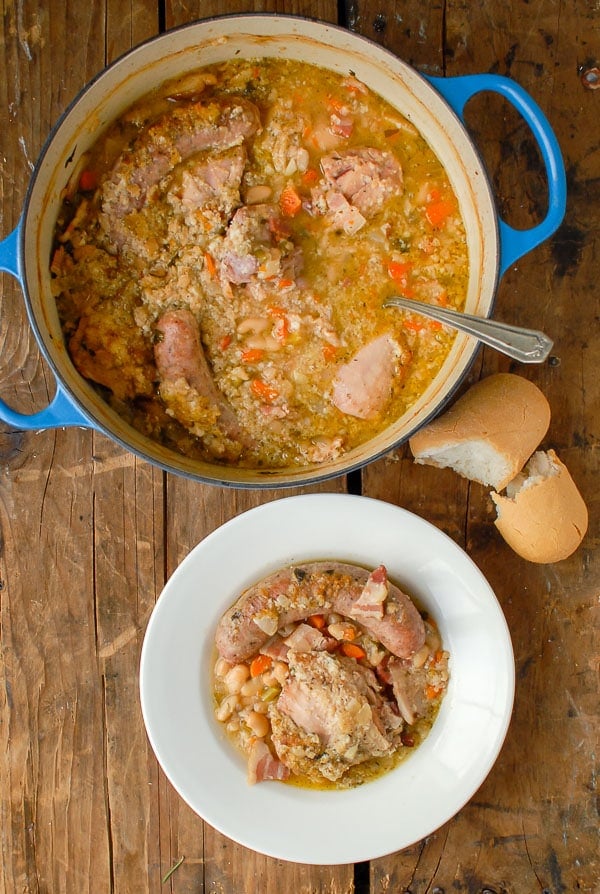 Try These Recipes Too!
Recipe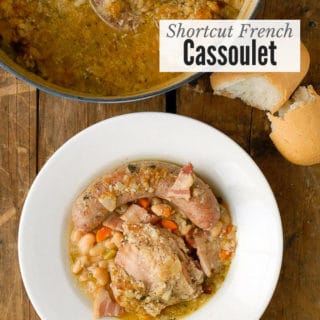 Ingredients
1 ½

tablespoons

Duck Fat*

(or butter may be substituted)

8

bone-in skin-on Chicken Thighs

, patted with paper towels and lightly salted and peppered

1

pound

Garlic Sausages

, uncooked**

½

pound

thick-cut Bacon

, cut across the bacon into 1 inch pieces 1 medium Yellow Onion, chopped

1

medium

Yellow Onion

chopped

2

small

Carrots

, chopped (unpeeled)

1

large stalk

Celery

, chopped

1

tablespoon

fresh Italian Parsley

, diced

1

teaspoon

Herbes de Provence

1

29-ounce can

Cannellini (or White Kidney) Beans

drained

4

cups

(1 quart) Low Sodium Chicken Stock

3

large

Garlic Cloves

, minced

2

cups

fresh Soft Bread crumbs from a baguette

(I used a gluten-free Baguettes)+
Instructions
Preheat the oven to 350 degrees.

In a 5 ½ quart (or larger) pot or French/Dutch oven, liquefy the duck fat at medium heat.

Add chicken thighs skin down in the bottom of the pan. Allow to cook for 8 minutes on Medium to Medium High, periodically checking to be sure the skin is not sticking to the pan (if it is gently slide a heat-proof spatula underneath to free the skin).

Using heatproof tongs, turn the chicken thighs over and cook for an additional 3 minutes. Remove from pan to a plate; set aside.

Add the sausages to the same pan (be careful of hot fat splattering!) and cook until lightly browned on each side (approximately 3-4 minutes total). Remove and set aside (can be added to the plate with the chicken)

Add the bacon to the pan. Sauté to render the fat only (about 3 minutes). NOTE: The fat will turn a gray color and be more translucent though the bacon will still be supple and pliable. Remove with a heatproof slotted spoon, allowing excess fat to drain back into the pan before setting the bacon aside.

Reserve 2 tablespoons of the pan fat (leave it in the pan) and discard the remaining fat.

Add the onions to the pan and sauté over medium-high heat scraping all the browned bits from the bottom and sides of the pan. Sauté until the onions begin to turn translucent but are not limp. TIP: if you allow the onions to sit before stirring they will pick up more of the pan drippings.

Add the carrots, celery, parsley, herbes de Provence, beans and chicken stock; stir to combine.

Add the bacon to the pot; stir to combine.

Insert the chicken thighs and sausage into the stew so they are covered.

In a small bowl combine the bread crumbs and diced garlic. Sprinkle it evenly over the stew.

Bake for 1 hour and 15 minutes, periodically pressing the bread crumbs into the stew which will help thicken it.

Place the stew underneath the broiler to slightly brown the top crumbs and remove from oven.

Allow to sit for a few minutes, cut sausages into 2 inch pieces stirring them back into the stew, and serve. The stew is even more flavorful the second day too!
Notes
*Duck fat may be purchased from gourmet or specialty food stores, or online (I bought mine from Amazon.com). It lasts a long time and can be a great substitute for sautéing to add different flavor.
**I suggest checking with a butcher for garlic sausage (I found some at Whole Foods in the butcher department). If they are not available a kielbasa may be substituted or see what you butcher suggests.
+To make Soft Breadcrumbs place chunks of baguette in food processor, chopper or strong blender and pulse until they form large crumbs.
To make the cooking even faster, the vegetables may be prepared the day prior to cooking and stored sealed in the refrigerator until cooking is ready to begin!
Nutrition
Calories:
839
kcal
|
Carbohydrates:
39
g
|
Protein:
47
g
|
Fat:
54
g
|
Saturated Fat:
16
g
|
Cholesterol:
203
mg
|
Sodium:
1136
mg
|
Potassium:
713
mg
|
Fiber:
6
g
|
Sugar:
2
g
|
Vitamin A:
2780
IU
|
Vitamin C:
2.5
mg
|
Calcium:
147
mg
|
Iron:
5.8
mg
Originally published: December 7, 2014