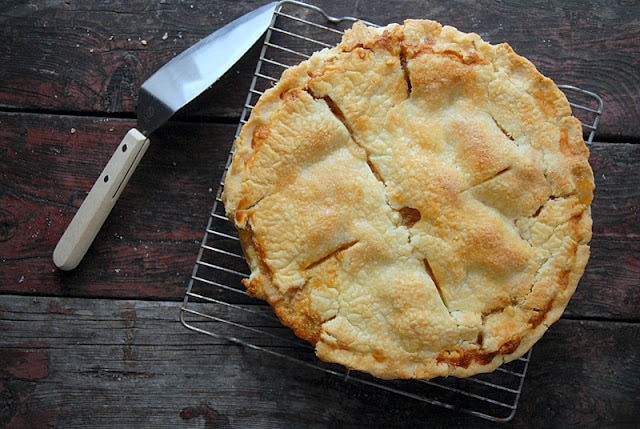 I think I'm developing a bit of a crush on pie.

 

I'm drawn to the rustic sensibilities of an old fashion fruit pie.

 

They bear a pleasing sense of symmetry but are never fussy.

 

They don't pretend to be perfect yet I personally find comfort and perfection in that.

 

They are approachable, delivering on flavor with a sense they've been around forever and aren't going anywhere soon.

 

They seem totally ok with only being made when you are in the mood and would rather be enjoyed on that occasion rather than to be made for less genuine intent.
I don't have a great deal of 'from scratch' fruit pie baking

experience.

They scare me a little bit to be quite frank.

 

It seems so much more predictable to pour all ingredients into a pan and bake a cake.

 

However there are certain fruits that seem to beg to be baked into a pie.

 

When I received two boxes of beautiful pears from Oregon a few weeks ago as a gift, my wheels began turning about dishes to include them in while savoring them in their natural state.

 

The chance to make a Ginger-Pear Pie recipe from my stash of vintage recipes sprang forth with a sense of destiny.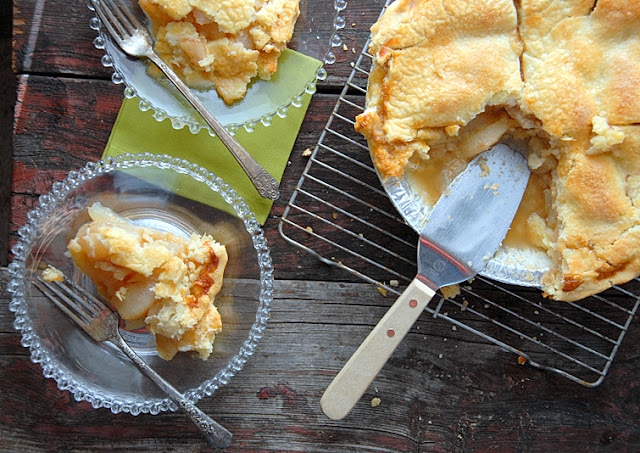 This pie represents a second 'first' on my pie accomplishment list: my first double crust pie.

 

I recently made a vintage Cherry Pie recipe requiring a woven top.

 

Mine was definitely 'beginner' style but a success nonetheless.

 

I was unsure if I could expect a second pie coup with the top crust but am delighted to say it turned our beautifully.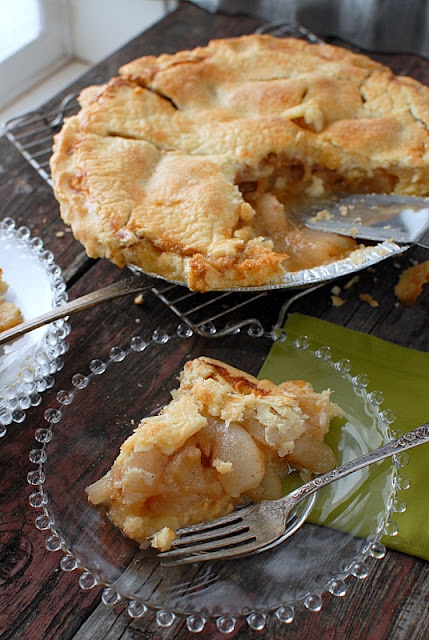 My vintage recipe suggests this pie can also be made without the ginger.

 

I loved the flavor with the ginger but will caution crystallized ginger is strong in taste.

 

I would resist the 'more is better' motto, lest the delicate pear flavor become overwhelmed by the ginger.
·

        
Your favorite pie pastry for two 9 inch crusts (gluten free or regular)
·

        
4 tablespoons orange marmalade or mixed citrus marmalade (click here for my choice)
·

        
Juice of one lemon (for use see ingredient instruction below for the pears)
·

        
6-7 medium pears (Bartlett or Anjou recommended), cored, peeled and sliced in ¼ inch thick slices and tossed in the juice of one lemon listed above
·

        
1-2 tablespoons crystallized ginger, minced
·

        
¼ cup light brown sugar, firmly packed
·

        
¼ teaspoon ground cardamom
·

        
¼ teaspoon nutmeg
·

        
¼ teaspoon cinnamon
·

        
2 ½ tablespoons cornstarch or arrowroot starch
·

        
2 tablespoons cold unsalted butter, chopped into small pieces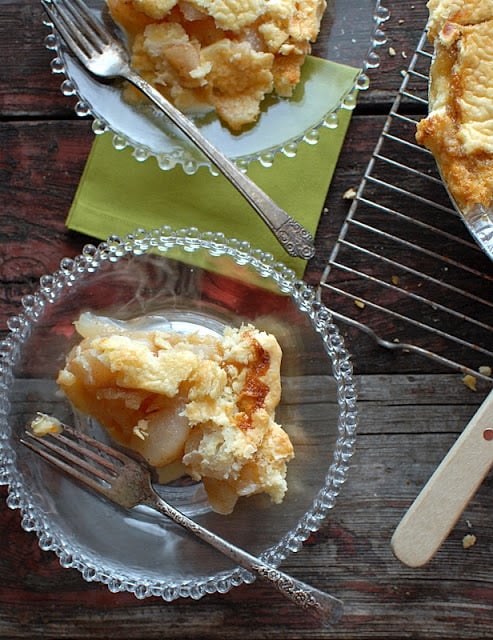 1.
 

Preheat the oven to 425 degrees.
2.
Prepare one crust and line a 9 inch pie pan with it.

 

Spread the bottom of the pie crust with the marmalade.
3.
In a large bowl, combine the pears, ginger, granulated sugar, brown sugar, cardamom, nutmeg, cinnamon and cornstarch/arrowroot starch.

 

Toss gently to combine.
4.
Spoon into prepared pie crust.

 

Place pieces of butter on top of the pie filling.
5.
Prepare an egg glaze with the egg, whisked with one tablespoon water.

 

Brush the edge of the prepared pie crust with the egg glaze.

 

Set the egg glaze aside.
6.
Prepare the second pie crust.

 

Place on top of the pie filling allowing ¾ inch of the crust to overhang the filled crust.

 

Fold the top crust edges over the filled crust edges, and pinch together to make a fluted edge.

 

Cut vent holes on the top (I cut 4 long slits and a ½ inch circle in the middle).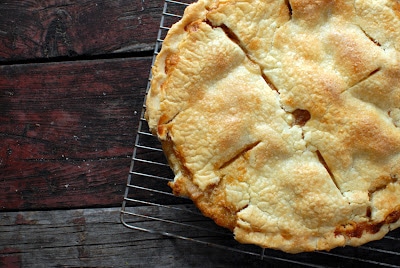 7.
Brush the top with the egg glaze and sprinkle with granulated sugar.
8.
Place pie in the lower portion of the oven at 425 degrees and bake for 12 minutes.

 
9.
Lower the oven heat to 350 degrees, move the pie to the middle of the oven and bake 30-35 minutes longer or until top crust is golden.

 

Check the pie during the last 30-35 minutes and if the crust edge is beginning to over brown, cover with foil (edges only).
10.
Remove and cool on rack.

 

Serve at any temperature but perfect warm with vanilla ice cream!