Ice Cream Cone Cupcakes are a fun surprise and make any day feel like a party! This Easter version is dipped in sprinkles and has a candy filled egg on top!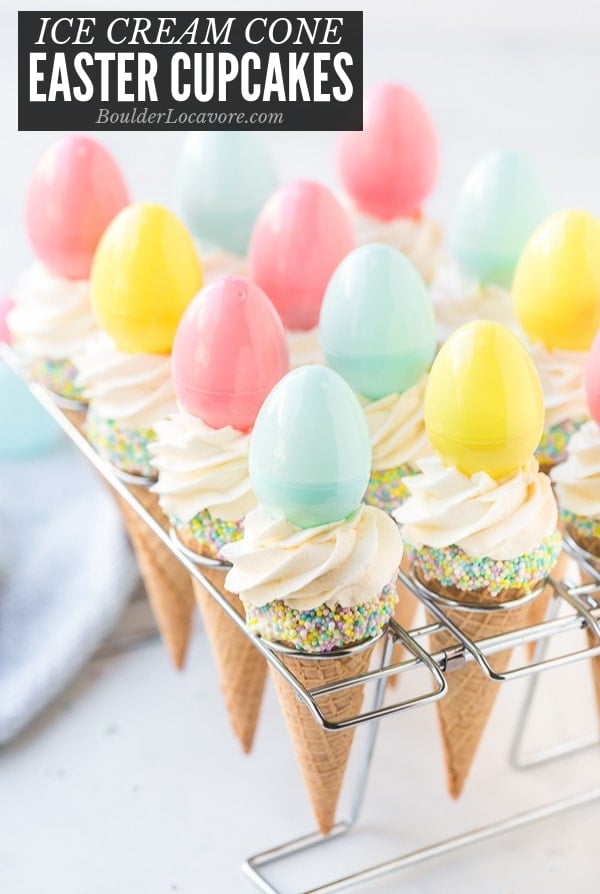 The surprise of realizing these Easter cupcakes are actually ice cream cones filled with baked cake and topped in such a whimsical way is always a delight for all ages.
The cupcakes are not difficult but take multiple steps to complete.
They are worth the time for the end result!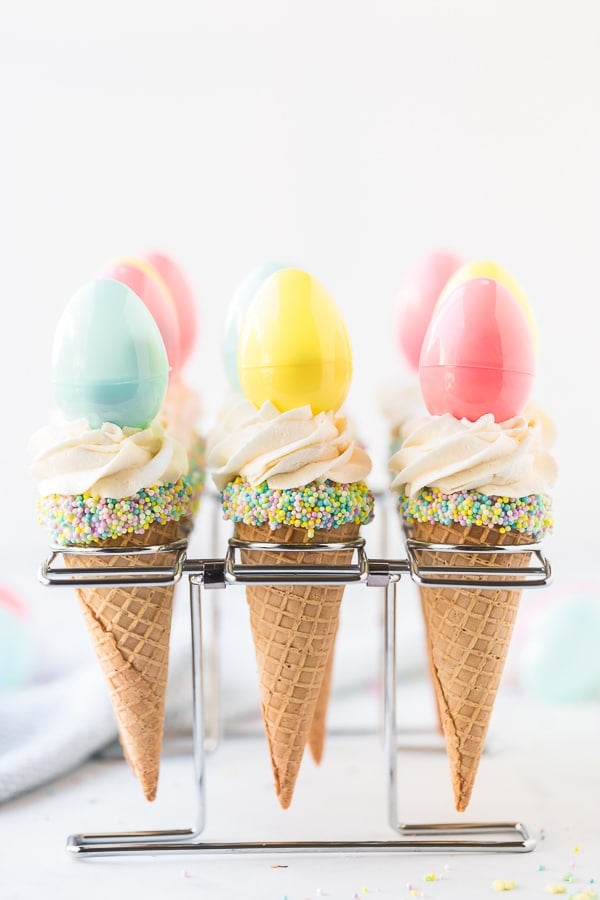 What are Ice Cream Cone Cupcakes?
They are cupcakes baked right in an ice cream cone!
The cupcakes can be made from any cake mix (these are Funfetti) and a regular or gluten-free cake mix.
These Easter cupcakes are made with Funfetti cake mix.
A special tool makes creating ice cream cone cupcakes a cinch.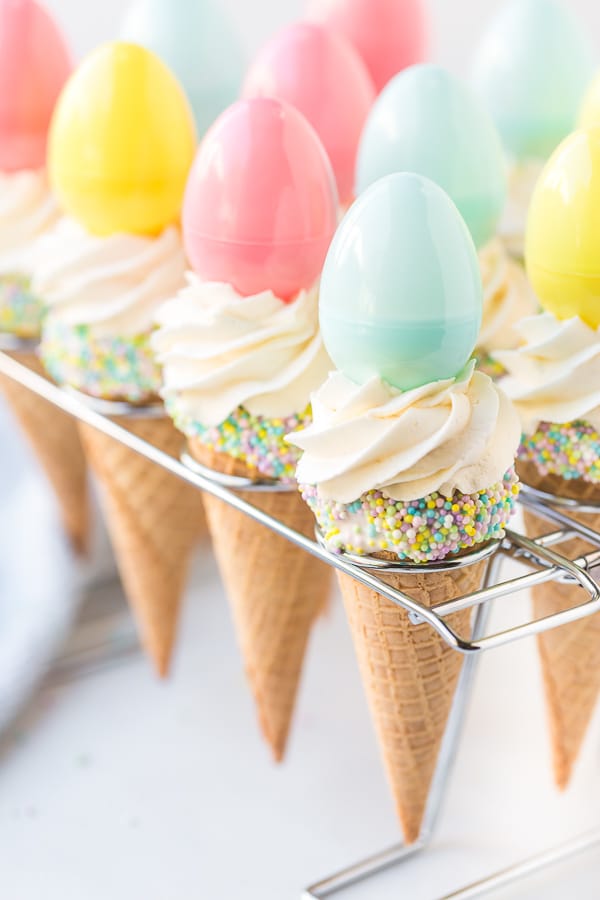 Ingredients for the Ice Cream Cone Cupcakes
All ingredients are easy to find with notes about some of the specific ingredients (candy melts and ice cream cones) detailed in sections below!
Sugar Cone Ice Cream Cones (regular or gluten-free)
Box of your favorite cake mix, regular or gluten-free (I used Funfetti) plus any ingredients specified in the mix instructions
High-quality Vanilla Candy melts
Colored sprinkles (smaller size works best for coverage)
Plastic Easter eggs
Small candies to fill Easter eggs
Unsalted Butter
Salt
Vanilla Extract
Powdered (confectioner's) Sugar
Heavy Whipping Cream or Half and Half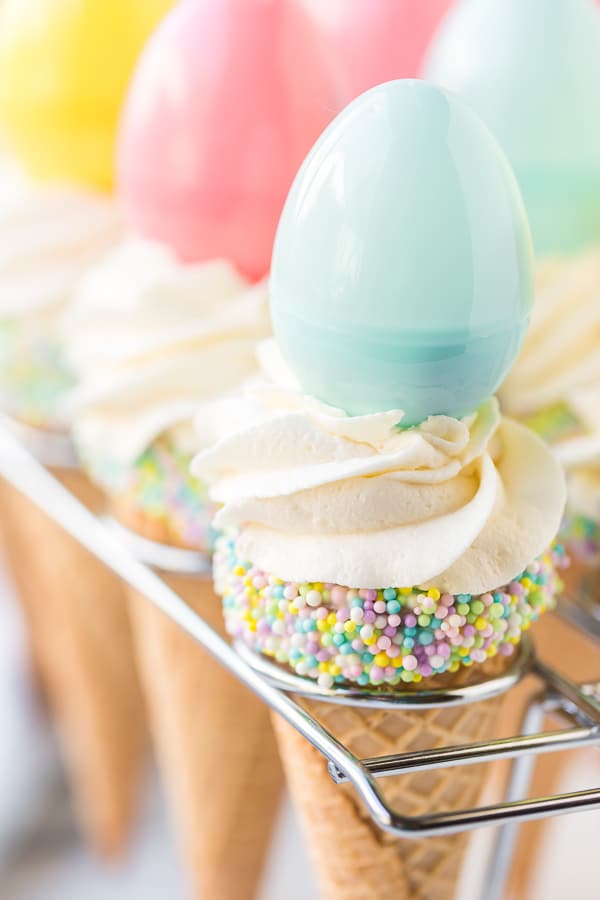 Special Supplies for these Ice Cream Cone Cupcakes
Most of the equipment required for these Easter cupcakes are regular things already in your kitchen.
Here are two special things you'll need:
Ice Cream Cone Baking Rack
Using a cone baking rack makes everything with ice cream cone cupcakes easy.
There are many options though I used a Wilton Cupcake Cones Baking Rack.
It collapses for easy storage and is used to bake, decorate and hold the ice cream cone cupcakes.
It's affordable and worth the investment to make these and other ice cream cone cupcakes.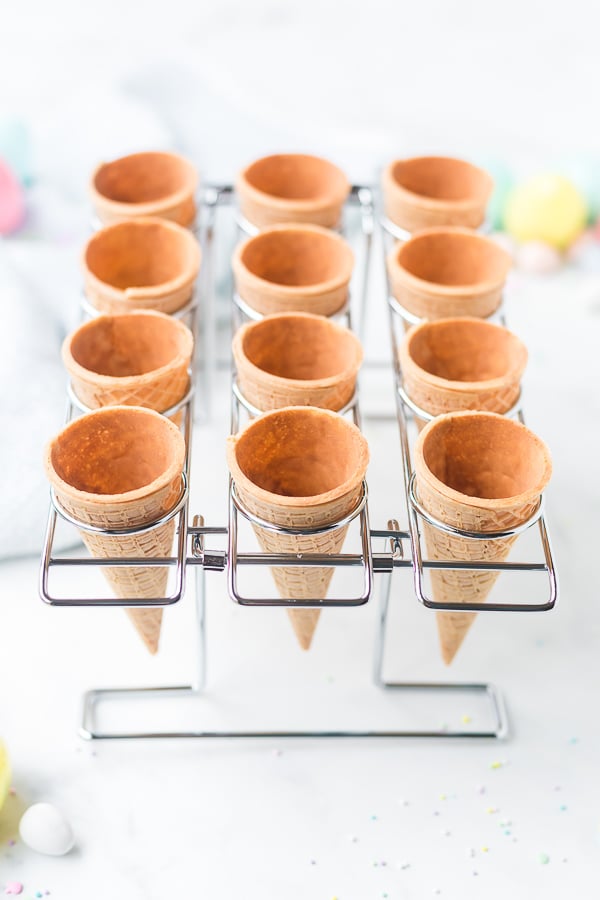 1M Frosting Tip and Piping Bag
Frosting the top of the dipped ice cream cone cupcakes is easy and makes the perfect spot for a filled egg to rest.
A 1M Wilton Frosting Tip and piping bag are needed for this step. These supplies are inexpensive and can be found online or in any stores with a baking section.
If you need some guidance this video should help!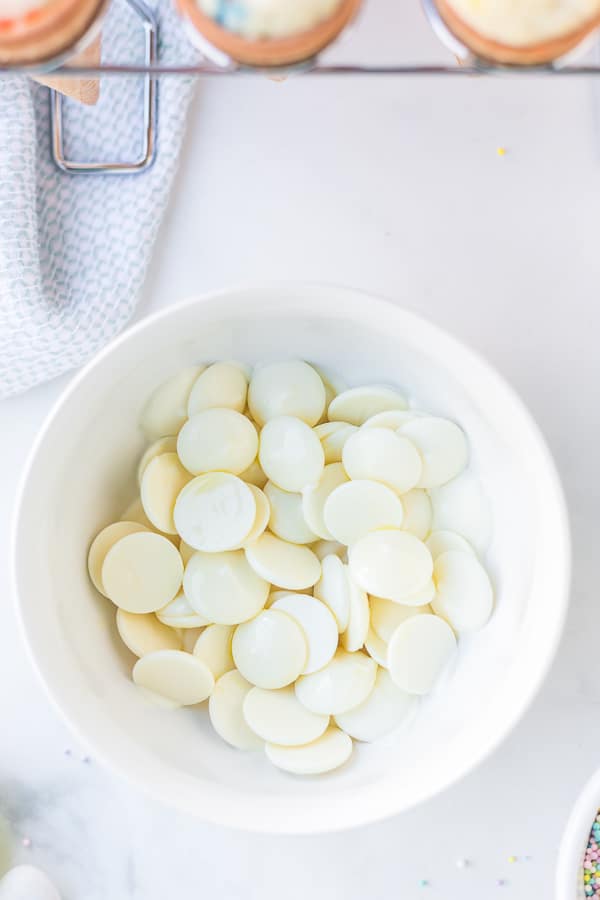 Using Candy Melts
If you have not used candy melts in desserts, they look like flatter, larger chocolate chips.
They melt to a creamy consistency making them perfect for dipping these ice cream cone cupcakes as well as for flavoring the vanilla frosting.
The one catch is all brands are not created equal for taste. Candy Melts can taste a bit waxy.
I used Ghirardelli White Melting Wafers which melt well and have a wonderful rich flavor.
Guittard is another high-quality brand.
There are many vanilla candy melts options to try. They can be found online or in crafting and kitchen stores with a baking area.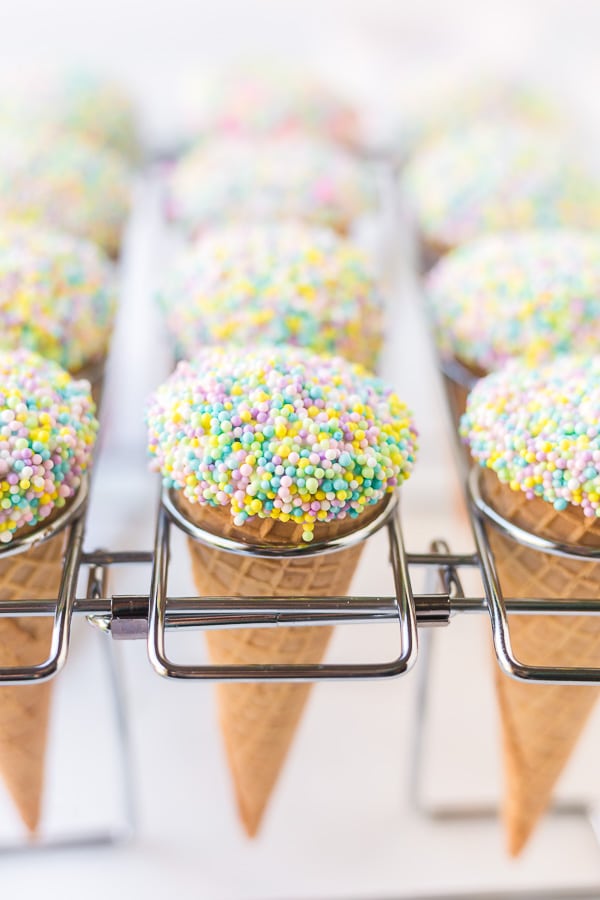 Regular Sugar Cones or Gluten-Free Cones May be Used
This recipe has been tested with both gluten and gluten-free cake mix and cones. Both work great.
Notes on Gluten-Free Ice Cream Cones
For gluten-free cones I like Goldbaum's Sugar Cones though any sugar cones will work.
Goldbaum's have great flavor and crunch, as well as are sturdy cones.
Normally I order everything I can from Amazon to be delivered to my doorstep, however for these cones in particular I found the price there to be four times higher and many reviews of poor packaging and the cones arriving broken.
They are usually available at Target and Walmart stores for a few dollars a package.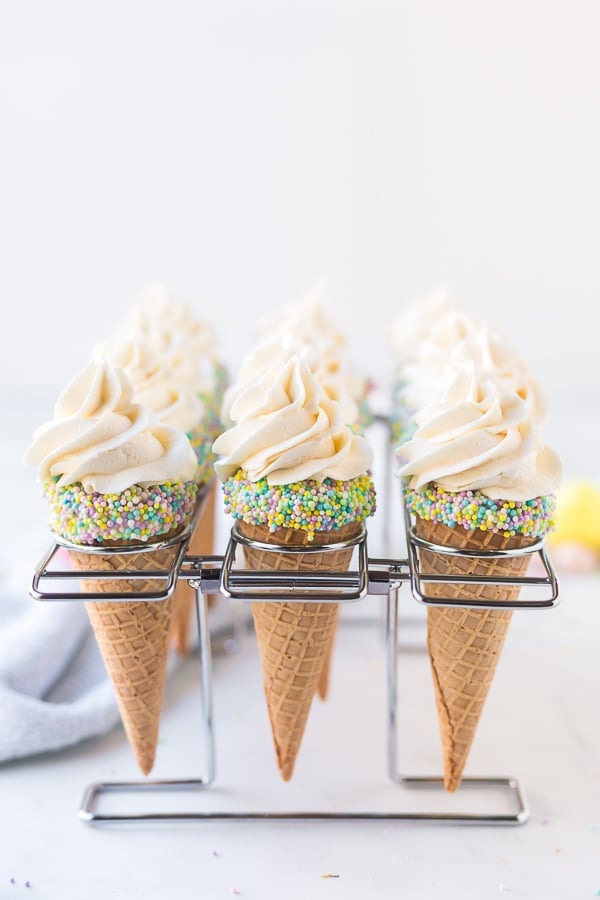 Gluten-free ice cream cones can be a bit smaller than regular ice cream cones but still fit in the cone holder.
TIP: check the fit of your cone in the cone baking rack before dipping them.
If the cone sits low in the holder (not much sticking up over the holder), over dipping the cone cupcake can cause them to affix to the holder when the dipped surface hardens.
How to Make Ice Cream Cone Cupcakes for Easter – Step by Step
Don't let the length of this recipe scare you!
Even though there are many steps, they are all easy and broken down with photos and simple instructions.
Please refer to the recipe card for all the specifics of the recipe.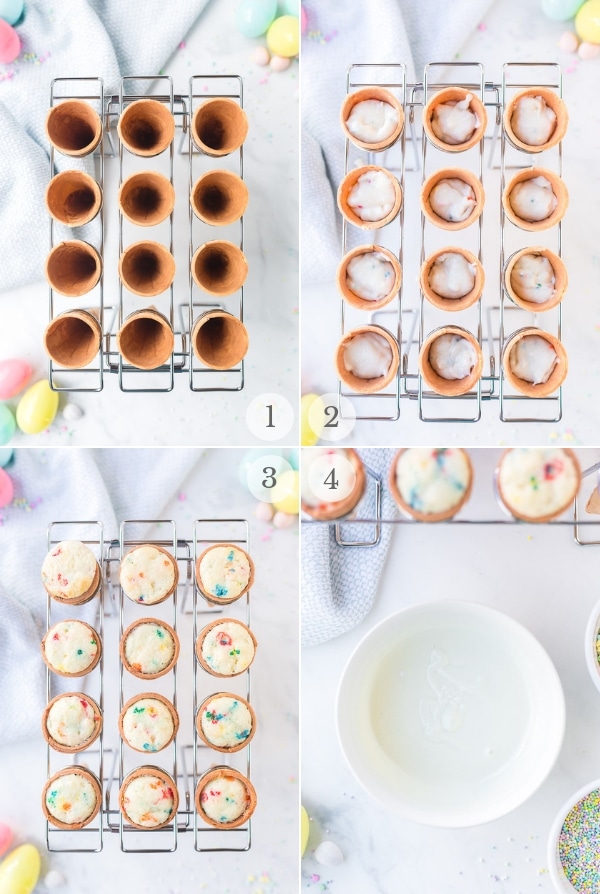 Place a cone holder on a rimmed baking sheet. (photo 1; without the baking sheet)
Preheat the oven to 350 degrees.
Prepare the cake mix according to package directions.
Spoon batter into the cones filling them 2/3's full and place in the cone holder.(photo 2)
Bake 16-18 minutes, or until toothpick comes out clean.
Keep the cones in the cone holder to cool (5-10 minutes; until they can be handled) (photo 3)
While the cupcakes cool, melt the 1 cup of candy melts according to package instructions. (photo 4)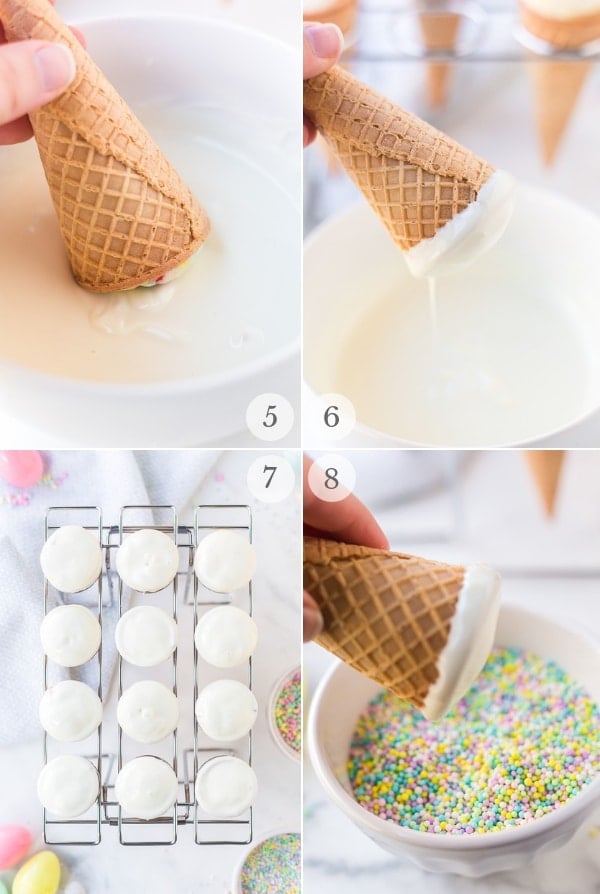 Dip the top of cones in melted candy one by one. (photo 5 and 6) Do not dip past the top area of the cone (see photos).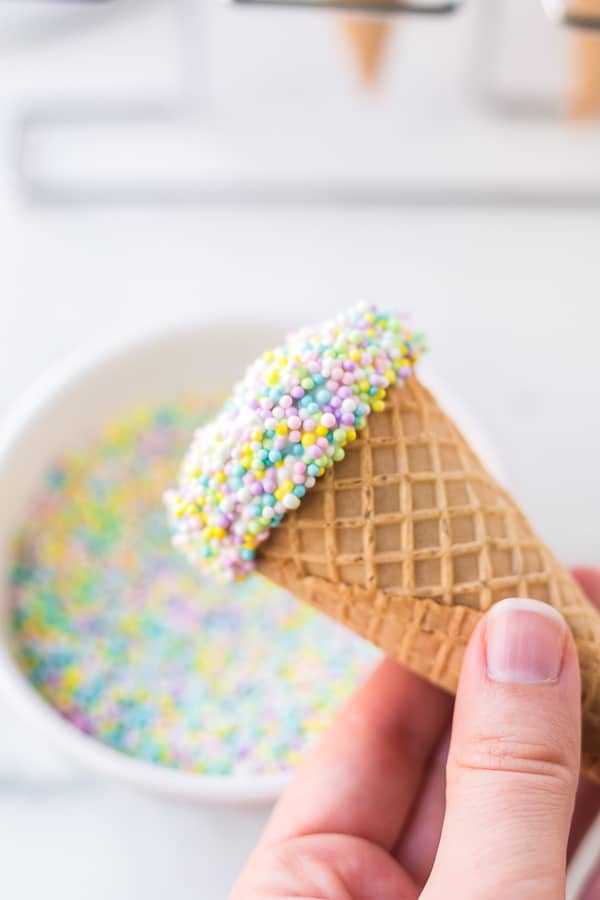 Place back into the cone holder.(photo 7)
After all of the cones have been dipped in melted candy, begin dipping cones in sprinkles (this allows the melted candy to set first) (photo 8). Place in the cone holder to set up (see below).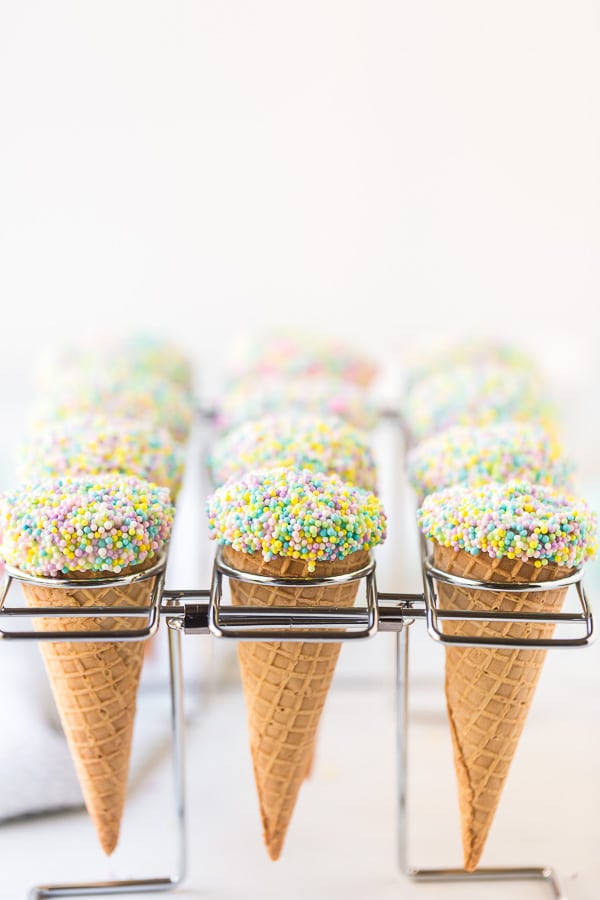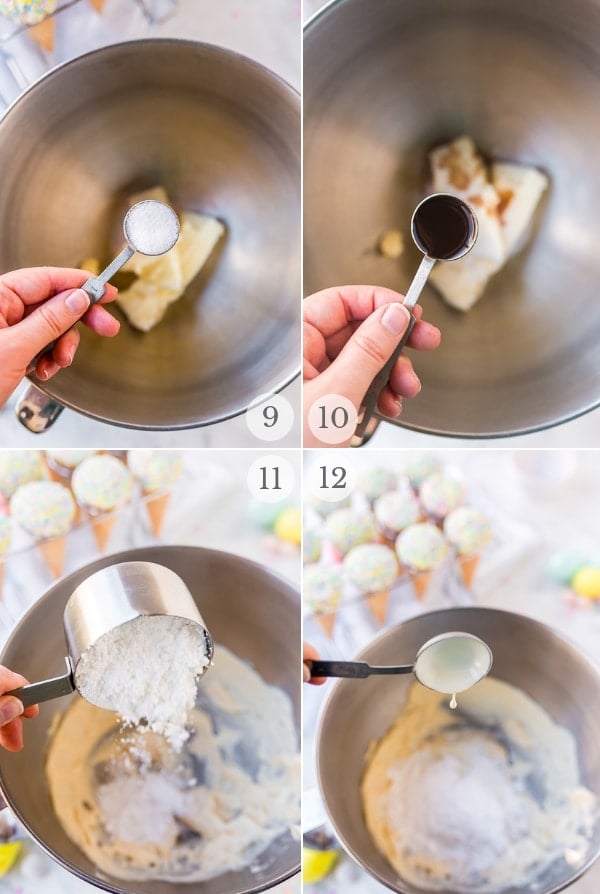 Make vanilla buttercream frosting as directed in the recipe card below (photos 9-13)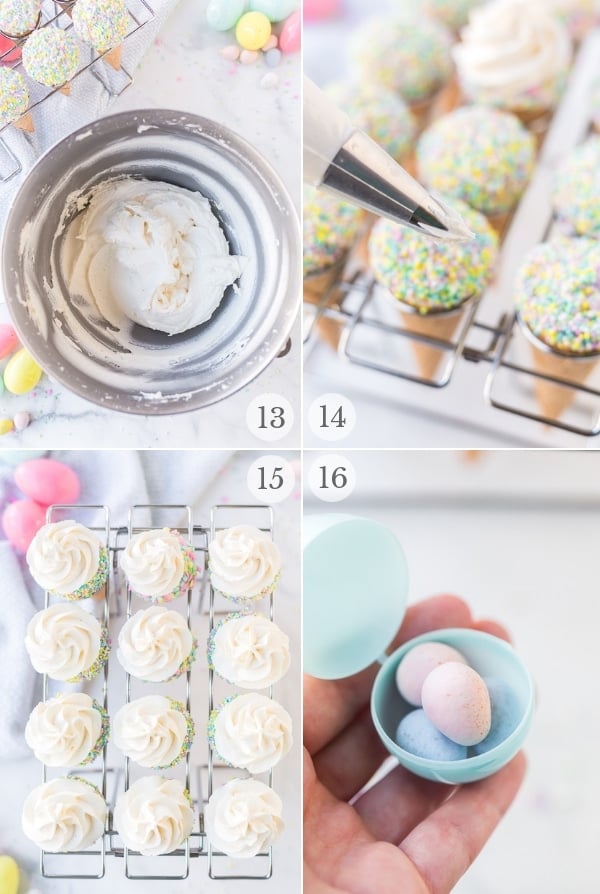 Using a 1M wilton tip, fill piping bag and frost cones in a circular motion. (photo 14-15)
Fill clean plastic Easter eggs with desired candy (photo 16).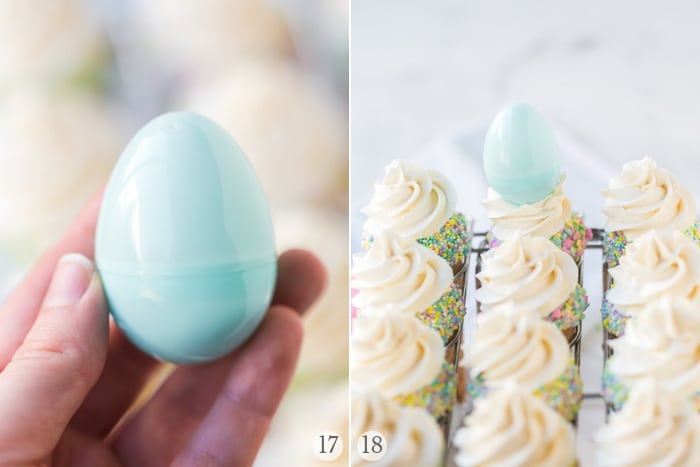 Add the filled egg (photo 17) to the top of the ice cream cone cupcakes (photo 18).
Recipe PRO Tips
Don't overfill cones or they will overflow down the cone when baking.
Don't rush the cooling process. When the cupcakes are comfortable to handle they can be dipped.
Dip each of the cone cupcakes THEN roll each in sprinkles. This allows the melted candy to set.
Make the frosting AFTER all cones are dipped and sprinkles added; this allows setting up.
Do not fill the plastic Easter eggs with heavy candies or more than half full so they stay in place on top of the cupcakes.
How to Use Leftover Cake Mix Batter
This ice cream cone cupcake recipe will make 12 cone cupcakes and use about ¼-1/3 the batter.
What to do with the leftover batter?
Increase the cupcake recipe to make more than 12 cupcakes. Increase the number of ice cream cones, dipping candy melt quantity and the sprinkles proportionately to the additional cupcakes (e.g. if you'll make 24, double the cones, candy melts for dipping and sprinkles).
The frosting makes a large batch and could be stretched over 24 cupcakes but would also need to be increased for more than that.
Bake a smaller size cake using a 6-inch pan if you have one or in a single layer cake pan.
Bake some regular cupcakes to also enjoy or freeze for later.
Make Cake Batter waffles!
Or just discard it
Storing and Serving the Ice Cream Cone Cupcakes
These are best served the day they are made.
The Easter cupcakes can be kept at room temperature unless it's very hot and humid.
Store and serve them in the cone cupcake rack.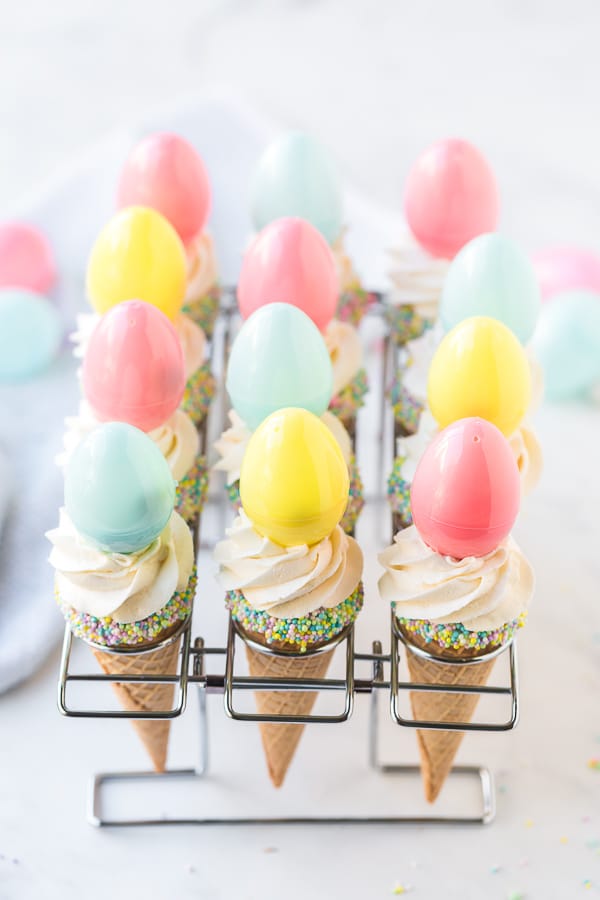 More Easter Treat recipes
Please SUBSCRIBE and FOLLOW ME on FACEBOOK , TWITTER , INSTAGRAM and PINTEREST!