Shortcut Margarita Cupcakes with Cream Cheese Lime Frosting are an easy box mix hack to create a delicious margarita-flavored dessert!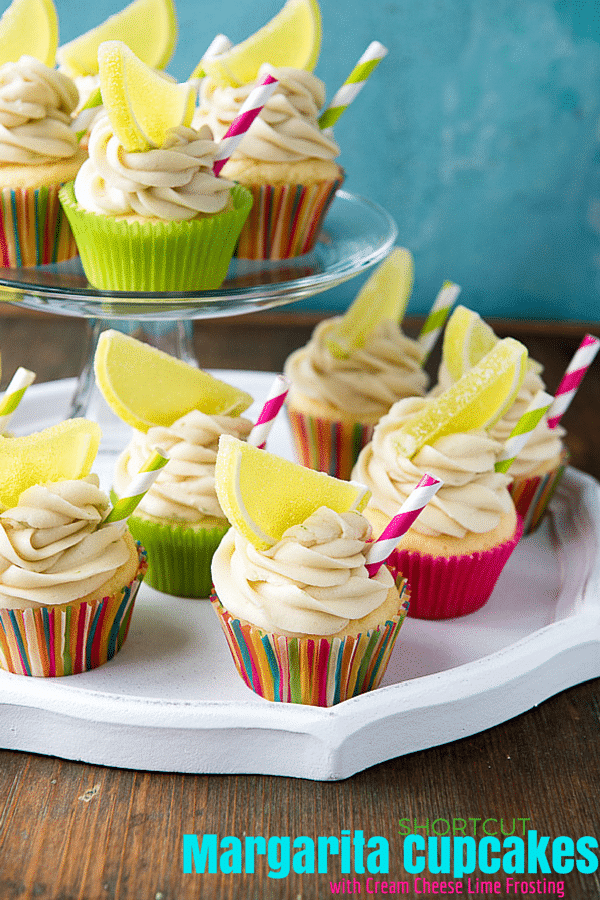 There are a few topics about which I receive regular email requests from Boulder Locavore readers:
great school lunch box ideas for kids usually when school starts up,
quick dinner entrees, and
shortcut ideas for desserts when there is not time to bake from scratch.
Today I'm sharing one of my favorite cake mix hacks for a great, fun dessert for parties and Cinco de Mayo: Shortcut Margarita Cupcakes with Cream Cheese Lime Frosting.
My tip will work with any mix and those shown in the photos are even gluten-free!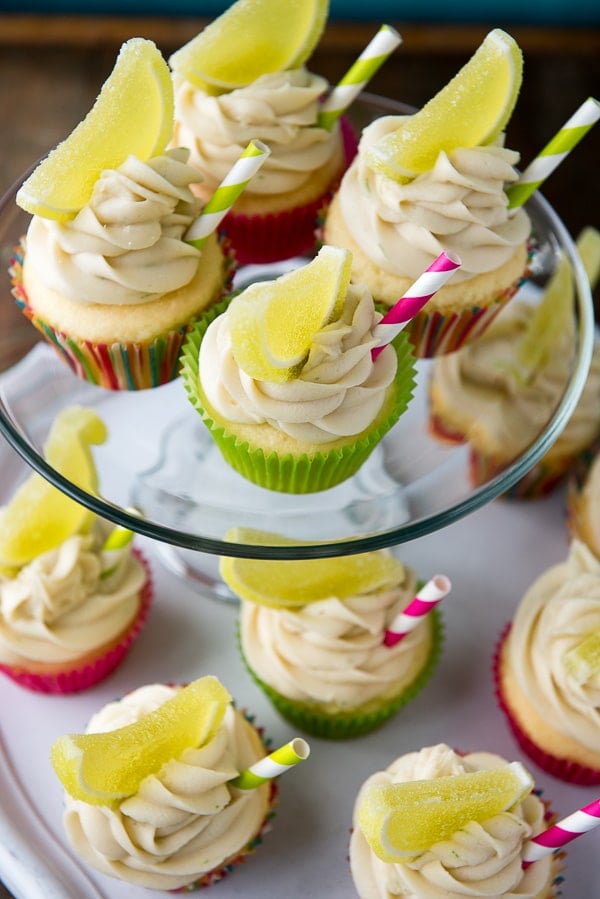 Shortcut Margarita Cupcakes
Everyone has times when last minute treats are needed for fun or a gathering, and baking from scratch isn't possible.
That doesn't mean that you can't whip up something fun!
Shortcut Margarita Cupcakes are doctored from a regular vanilla cake mix and will work for regular and gluten-free mixes.
The cupcake flavor is transformed from plain-Jane vanilla to that of a margarita cocktail in cake form by swapping out part of the water requirement in the mix and replacing it with some white or silver tequila (milder flavor than reposado tequila), lime juice and adding a bit of orange extract.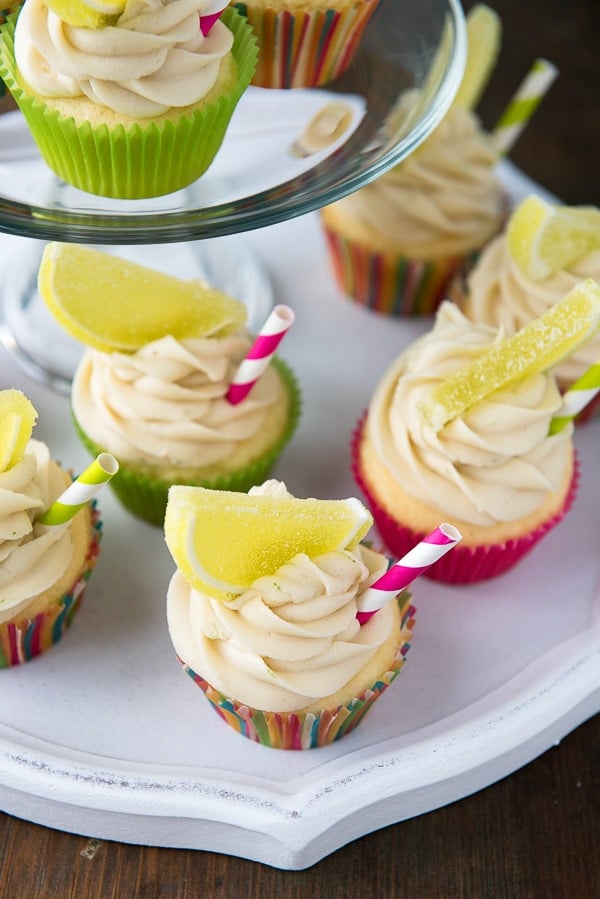 How to Make Margarita Cupcakes with ANY Vanilla Cake Mix
The trick with these cupcakes is the correct amount of liquid. Any cake mix can be adjusted to include the amount of liquid required for the given mix.
The water amount in the mix will be replaced by a mixture of water, tequila and lime juice combined.
NOTE: to make Margarita Cupcakes WITHOUT tequila, see the next section below.
Figuring Out the Amount of Liquid for Your Cake Mix
To figure out the amount of each liquid required for the vanilla cake mix you select, some simple math is required:
Identify the amount of water called for by the mix
Subtract 1/4 cup PLUS 2 tablespoons (which is the amount of the tequila plus lime juice)
The amount leftover is the amount of water you will add to the mix; in addition to the specified tequila and lime juice.
TIP: there are four tablespoons in a 1/4 cup, which should help with the math.
The orange extract is added directly with no accounting required.
Here's an example:
In the case of the cupcakes I made, I used a gluten-free mix from Pamela's Products calling for 2/3 cup water.
Two-thirds cup is a bit over 10 tablespoons, so after adding the ¼ cup of tequila and 2 tablespoons lime juice (6 tablespoons total), I added ¼ cup (4 tablespoons) water to ensure the total liquid added was equivalent to what the mix called for. Make sense?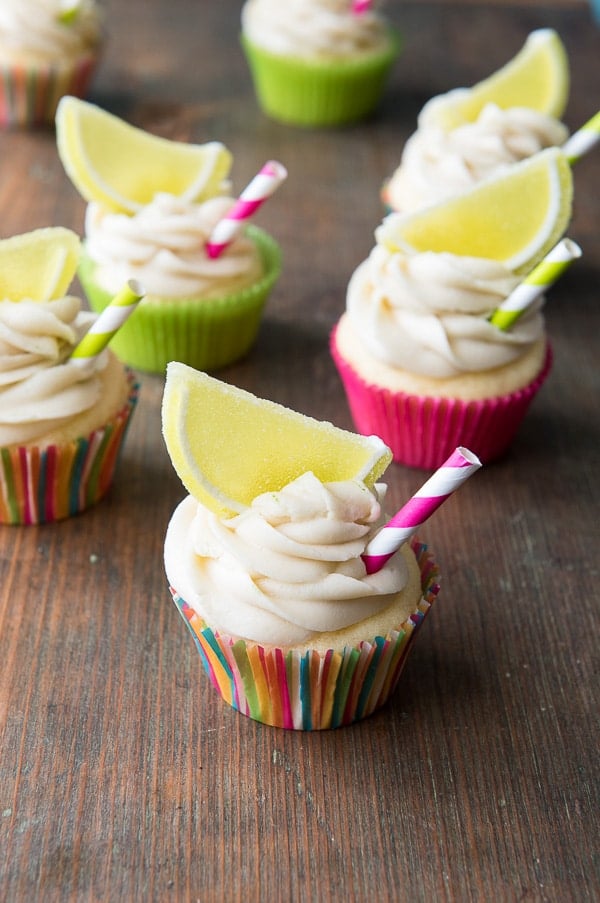 Tequila Substitute Suggestion for Margarita Cupcakes
There is not a large amount of tequila in the cupcakes however should you wish to leave the alcohol out, replacing the tequila and lime juice combination with premade margarita mix, the type that calls for adding tequila, is also an option.
Cream Cheese Lime Frosting
When making these festive cupcakes I do prefer to make frosting from scratch.
It takes less than 10 minutes to make this luscious Cream Cheese Lime Frosting. The tangy, sweet, lime-y frosting perfectly compliments the cupcakes.
The Cream Cheese Lime Frosting is very easy to spread. If you decide to pipe it onto the cupcakes as shown in the photos, it performs well.
To Make the Frosting Stiffer for Piping:
If you wish to make the frosting stiffer put it in the refrigerator for 10-15 minutes before piping should it be made in a warmer kitchen or in the summer.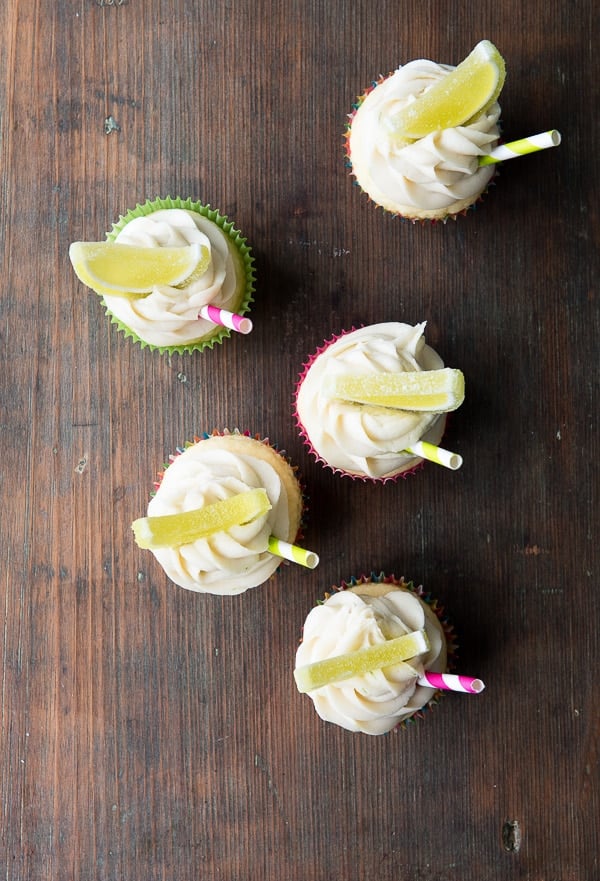 Garnish Margarita Cupcakes for a Festive Feel
Wanting the cupcakes to feel like a party, they are topped with jellied citrus wedges (shown here are lemon-lime).
They don't affect the frosting with extra citrus juice as an actual lime wedge would, as well as add a fun touch with the sparkly look and citrus flavor.
Cutting a colorful paper drinking straws in thirds and inserting them into the cupcakes are the finishing touch. These cupcakes are a hit every time!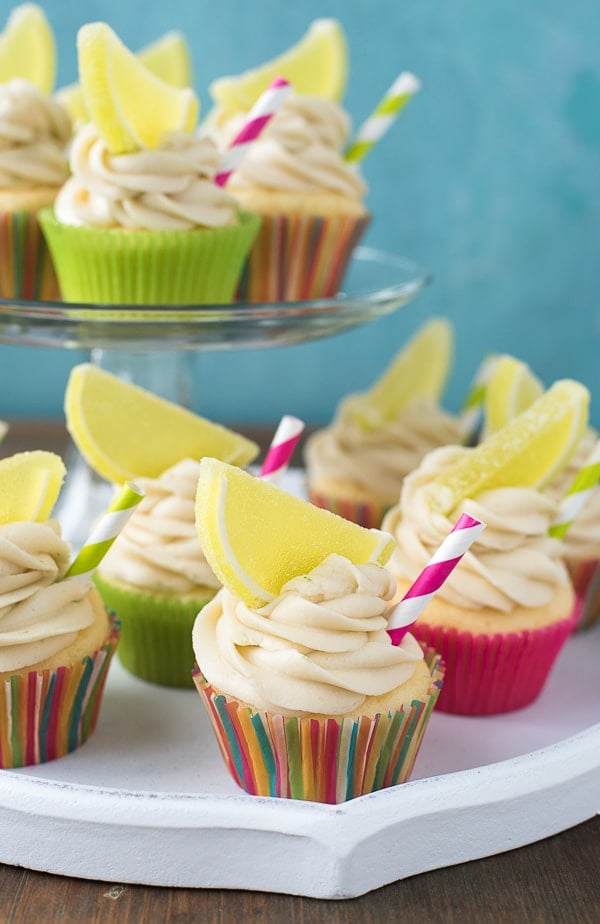 How to Make Margarita Cupcakes – Step by Step:
Recipe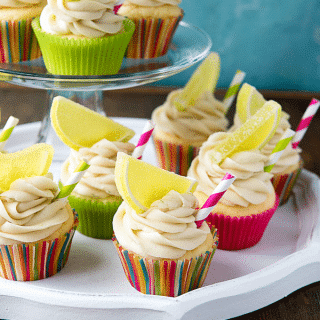 Shortcut Margarita Cupcakes with Cream Cheese Lime Frosting
A few quick changed to any vanilla cake mix (regular or gluten free) turns ordinary cupcakes into the flavor of margaritas! Topped with Cream Cheese Lime Frosting and they become the hit of any occasion.
NOTE: Cook Time, Servings and Nutrition Facts may vary depending on the box mix used
Print
Save Recipe
Recipe Saved!
Pin
Rate
Servings:
24
3 cups Cream Cheese Lime Frosting (number of cupcakes determined by cake mix used)
Ingredients
Ingredients for Margarita Cupcakes:
1

box Vanilla Cake Mix

(and any ingredients required by the mix; eggs, oil, etc. I used Pamela's Products Gluten-Free Vanilla Cake Mix for these)

1/4

cup

Silver or Blanco Tequila

2

tablespoons

Lime Juice

1/4

teaspoon

Orange Extract
Ingredients for Cream Cheese Lime Frosting:
1/2

stick

(4 tablespoons) Unsalted Butter, softened and at room temperature

8

ounces

Cream Cheese (full fat)

, softened and at room temperature

1 1/2

teaspoons

Lime Zest

1

teaspoon

Vanilla Extract

1/8

teaspoon

Kosher Salt

3 1/2

cups

Confectioner's Sugar

(Tip: sifting the sugar eliminates any hard sugar clumps from the frosting)

3

tablespoons

Lime Juice

Optional decoration: jellied citrus slices

, drinking straws cut into thirds
Instructions
Instructions for Margarita Cupcakes:
Preheat the oven to the temperature specified on the cake mix box.

Line a cupcake pan with decorative cupcake baking cups.

Prepare the mix as described substituting the tequila and lime juice for 1/4 cup plus 2 tablespoons (6 tablespoons) of the required water (see the example in the blog post).

Add the orange extract with the other ingredients.

Bake as instructed by the cake mix and allow to cool fully on a cooling rack before frosting.
Instructions for Cream Cheese Lime Frosting:
Using a mixer, cream the butter on medium-high speed until fluffy (1-2 minutes).

Add the cream cheese, lime zest, vanilla and salt; continue to mix on medium-high until combined and smooth.

Add 1 cup of sugar and beat on low speed (increase speed after the sugar is incorportated) into frosting, followed by 1 tablespoon of the lime juice.

Repeat, alternating the sugar and lime juice, for the remainder of the sugar and lime juice, finishing with the 1/2 cup of sugar.

Frost cupcakes when they are completely cool. NOTE: Frosting can be covered and placed in the refrigerator while the cupcakes cool or to stiffen before frosting if desired.

Top cupcakes with a jellied citrus wedge and a short straw stuck into the cupcake.
Nutrition
Calories:
85
kcal
|
Carbohydrates:
18
g
|
Protein:
1
g
|
Fat:
0
g
|
Saturated Fat:
0
g
|
Cholesterol:
1
mg
|
Sodium:
79
mg
|
Potassium:
28
mg
|
Sugar:
17
g
|
Vitamin A:
5
IU
|
Vitamin C:
1
mg
|
Calcium:
33
mg
|
Iron:
0
mg