Chocolate Chip Banana Bread turns a favorite banana bread recipe into a sweet quick bread everyone loves. Mini chocolate chips and sour cream take this easy bread recipe up a notch…or two!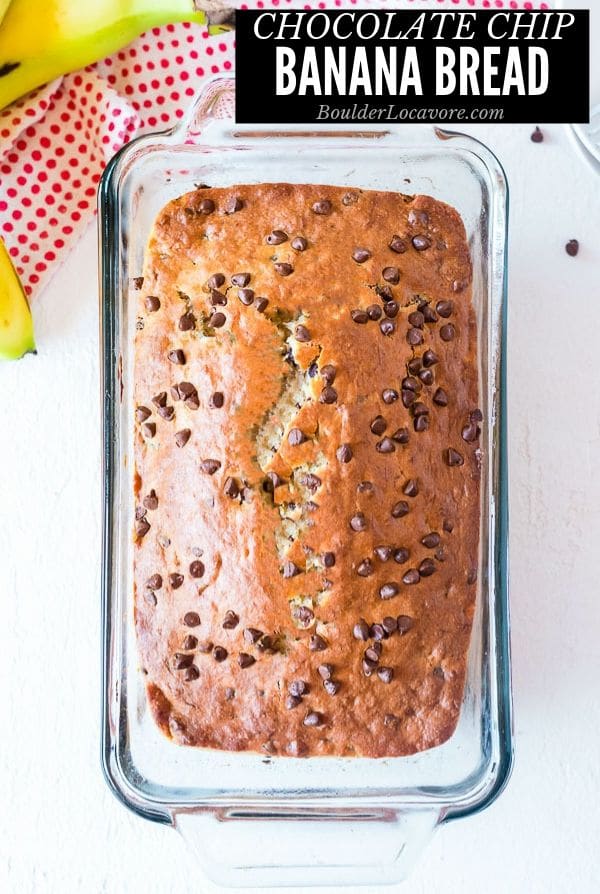 There is nothing more homey than the smell of home baked bread. Quick breads are an easy way to serve freshly baked breads that take very little time.
Chocolate Chip Banana Bread is a great recipe and family favorite!
Easy to make and a wonderful combination of banana and chocolate flavors.
Great for dessert, snacks or lunch boxes! You'll love these Banana Bread Cookies too!
What is a Quick Bread?
Quick bread is a type of bread that does not need to rise using yeast.
They are simple to make. All the ingredients are combined and the bread bakes in about 1 hour.
Quick breads are great for any experience level baker.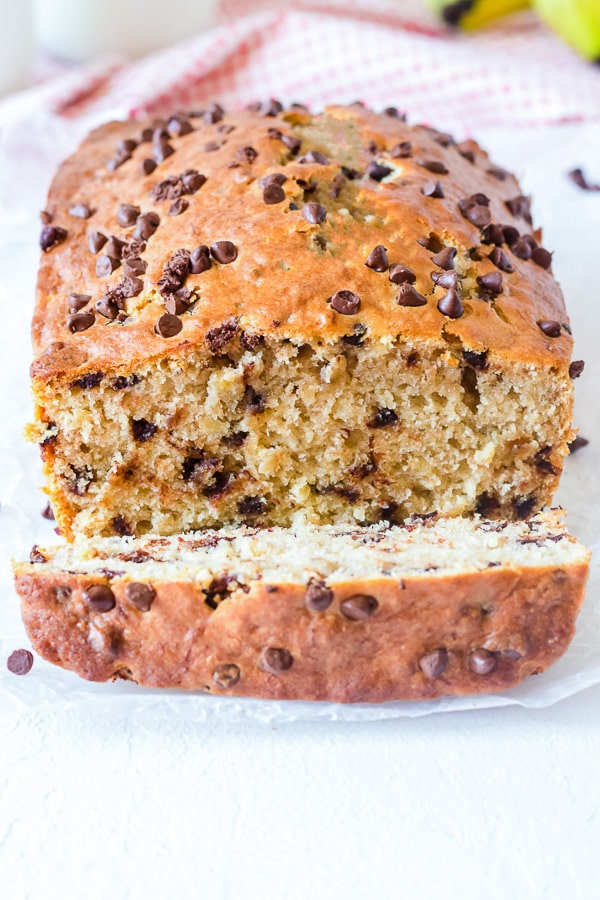 Why Make this Chocolate Chip Banana Bread recipe
I am confident after one try this will become your favorite chocolate chip banana bread recipe!
It's moist, delicious and so easy to make.
Two things that make this bread a favorite:
Sour cream keeps the bread moist. It also adds a punch of flavor to balance the sweetness of the bananas and chocolate chips.
Lightweight Mini chocolate chips ensure the chips do not sink into the bread. They are spread evenly throughout the bread. Also adding some to the top makes it an extra special treat.
Chocolate Chip Banana Bread Ingredients
All the ingredients are easy to find at the grocery store.
PRO TIP: Select bananas that are ripe (not hard or green) but have not begun to show brown spots. These have the true banana flavor without becoming overly sweet from over ripening.
Granulated Sugar
Brown Sugar
Unsalted Butter
3 ripe Bananas
Sour cream
1 large Egg
Vanilla extract
Baking soda
Kosher salt
All-Purpose flour (regular or gluten-free)
Mini chocolate chips

Use Regular or Gluten-Free Flour
This recipe has been tested with both regular All-Purpose Flour and gluten-free flour. Both gave fantastic results.
My gluten-free recommendation is to use a measure-for-measure style flour blend.
These gluten-free flour blends are designed to replicate the binding ability and flavor of traditional all-purpose wheat flour.
I used Bob's Red Mill 1-to-1 Gluten-Free Baking Flour.
How to Make Chocolate Chip Banana Bread – Step by Step
For a detailed printable recipe, refer to the recipe card at the bottom of the blog post.
Spray a 9-inch by 5-inch loaf pan with nonstick spray.
Place an oven rack in the middle of the oven. Preheat oven to 350 degrees.
Mash bananas with a fork (photos 1 & 2).
In a large mixing bowl add: granulated sugar (photo 3), brown sugar (photo 4) and melted butter (photo 5 &6). Mix to combine (photo).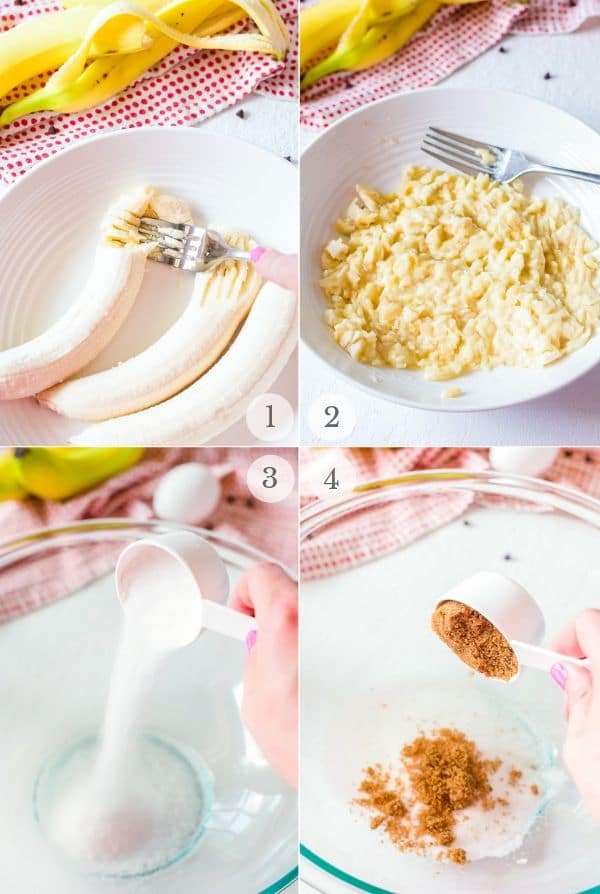 In a large bowl add: granulated white sugar (photo 3), brown sugar (photo 4) and melted butter (photo 5 &6). Mix to combine.
Add in the egg, sour cream (photo 7), vanilla (photo 8), and mashed bananas (photo 9).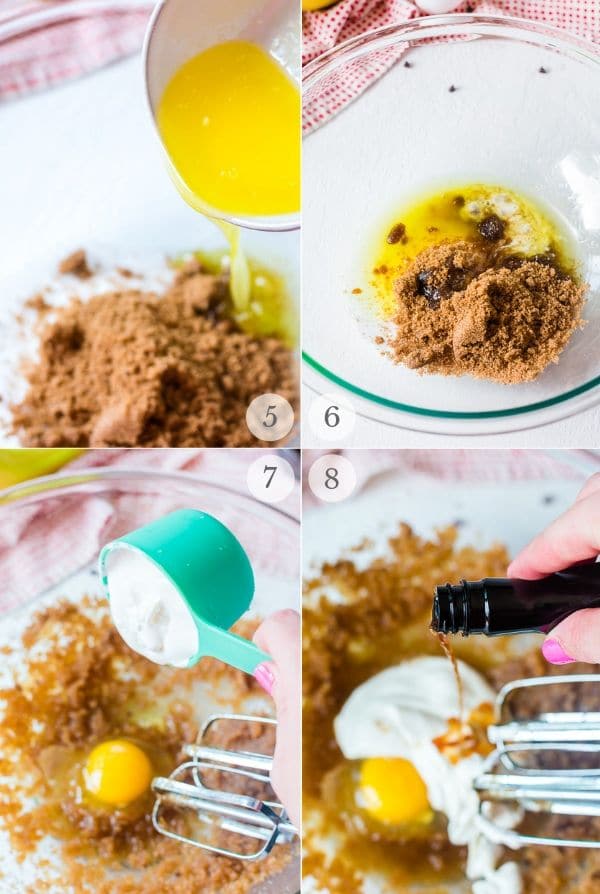 Mix until well combined and smooth (photo 10).
Add in the flour, baking soda, and salt (photo 11) and mix until just combined (photo 12).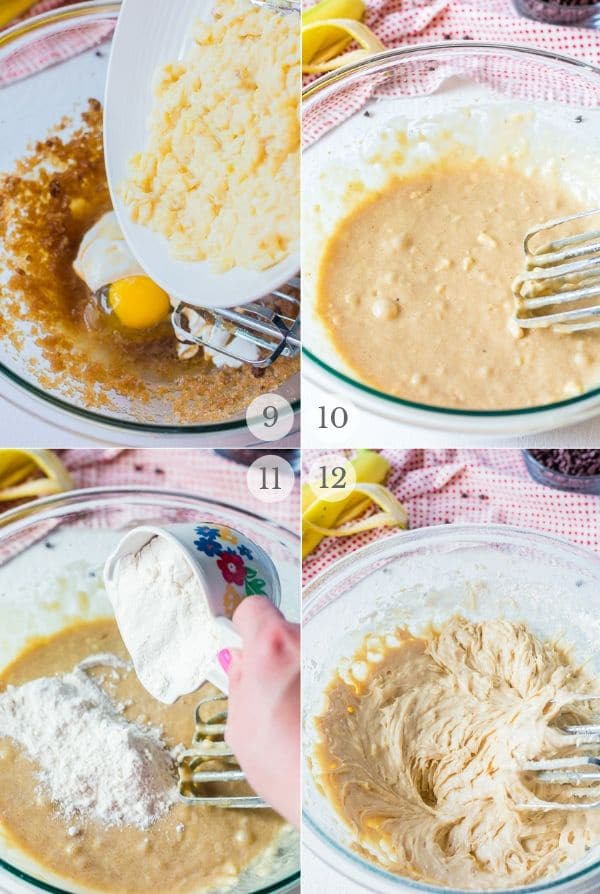 Fold in the chocolate chips (photo 13) with a spatula until evenly distributed (photo 14).
Pour the batter into the prepared loaf pan and smooth (photo 15). Top with 2 tablespoons mini chocolate chips (photo 16).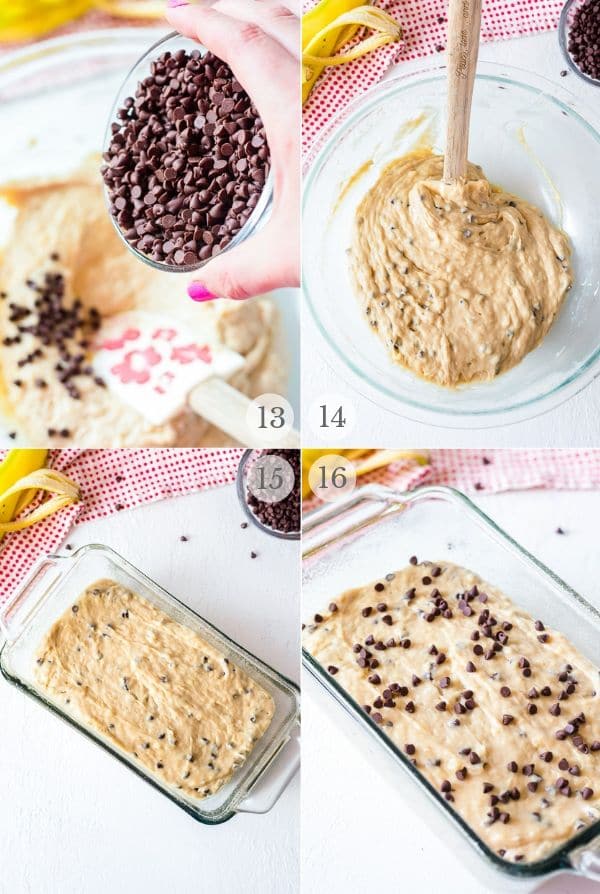 Place in the oven and bake for 30 minutes. After 30 minutes cover the top of the bread with foil to protect from over browning.
Check bread after 55 minutes-1 hour by inserting a toothpick. Remove from oven when toothpick inserted into the center comes out clean.
Allow bread to cool in the pan on a cooling rack from 10 minutes before removing it. Cool fully on rack before slicing.

How to Store Chocolate Chip Banana Bread
When banana bread is completely cool, wrap tightly with plastic wrap and place in the refrigerator for up to one week.
Foil can be added to the outside (it will provide more structure). The banana bread can also kept in a sealed container.
The plastic wrap helps keep the banana bread from drying out.
How to Freeze Chocolate Chip Banana Bread
After the banana bread is completely cool, wrap with plastic wrap tightly.
Place into a gallon freezer plastic bag. Remove as much air as possible and seal.
The banana bread can be stored for up to 3 months in the freezer.
Allow to thaw in the refrigerator.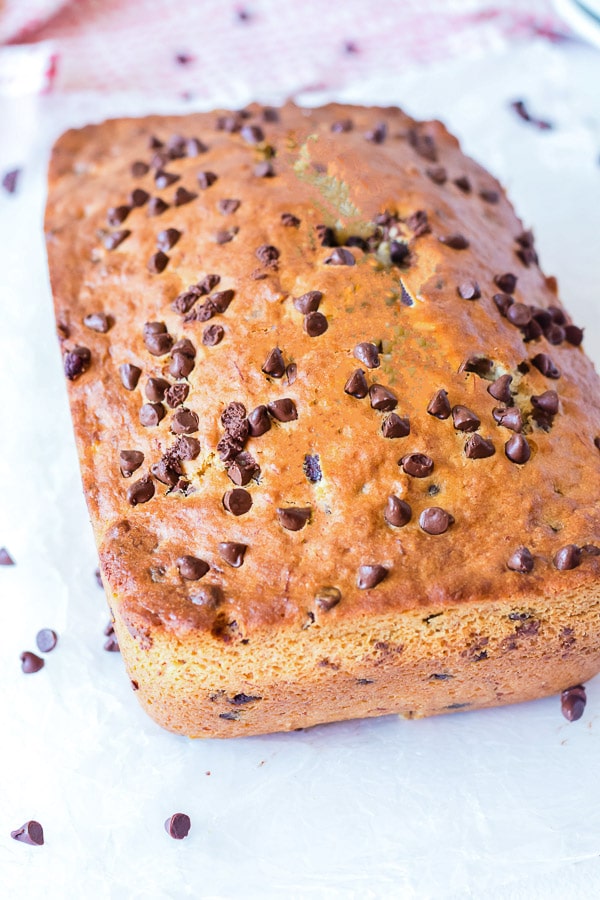 Did you make it? Please RATE THE RECIPE below!
FOLLOW ME on FACEBOOK , TWITTER , INSTAGRAM and PINTEREST!