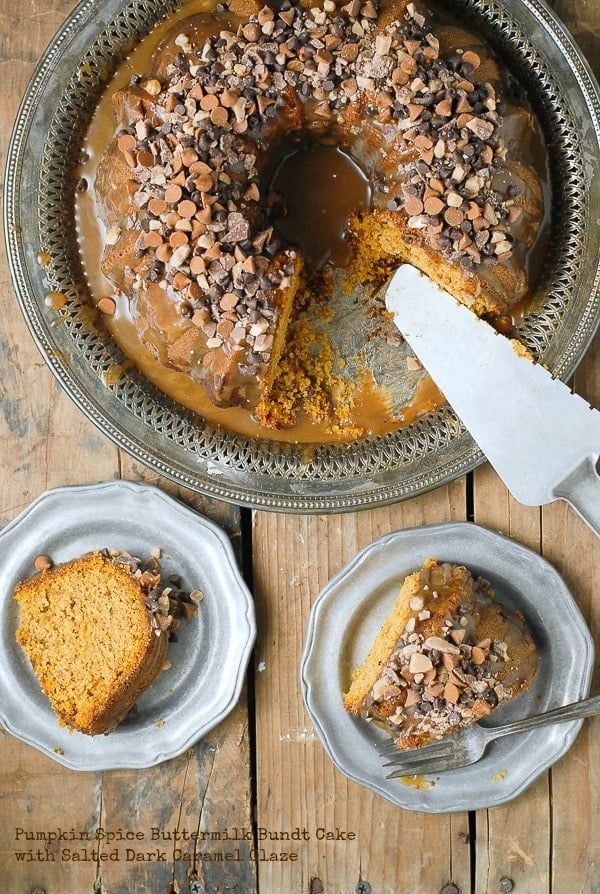 I hope wherever you are in the Northern Hemisphere you are enjoying as beautiful a fall weekend as are we. At the end of a veeeeeeeery long week last week, I was remarking to my very sleepy kids on route to school that I was really done with the 85 degree temps; that it's time for fall. My teen (who I can say unequivocally is a nice variety teen girl) quietly suggested that I should contact Mother Nature and let her know she had left her summer on too long.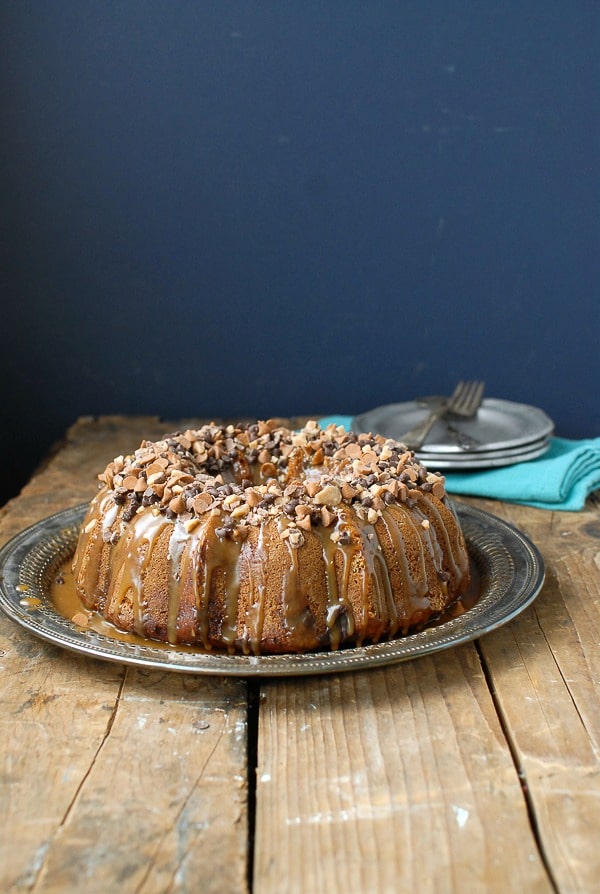 Mother Nature got the message because we've had our first freeze warning and are enjoying hospitable sweater weather. It's a beautiful time for taking walks with the light at a cozy warm angle in the sky. Brilliant crimson, gold, and peach leaves flutter in the breeze. Canadian geese are flying overhead. Halloween decorations are beginning to show up on front porches. Pots of rusty-orange, deep maroon and yellow mums keep company with uncarved pumpkins on front steps. Only one thing could make it more perfect: a cake.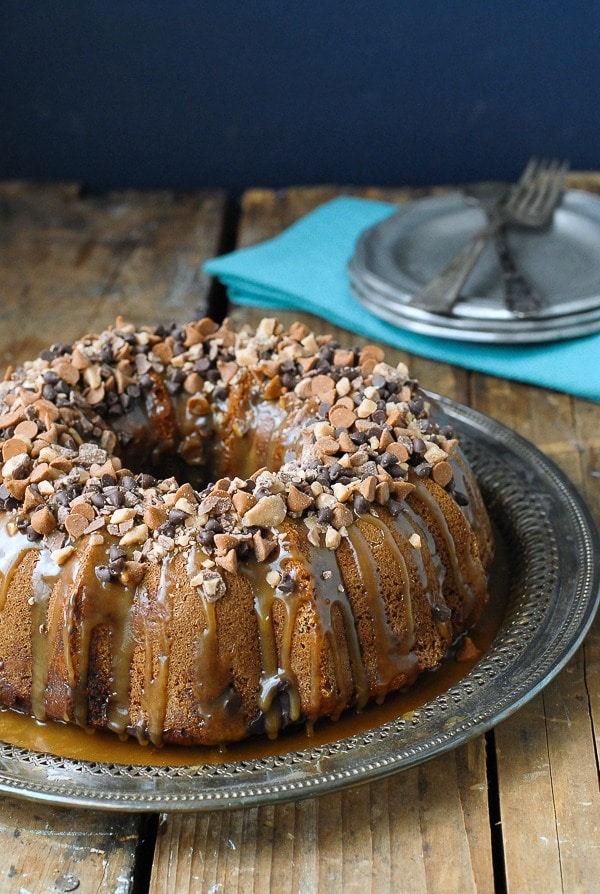 I remember when my mother got her first Bundt pan, in fact I think I have it now. It was a lemony-yellow with elegant curves in the thin metal. It was so odd really, with the cone in the middle; I couldn't quite figure out how it would work.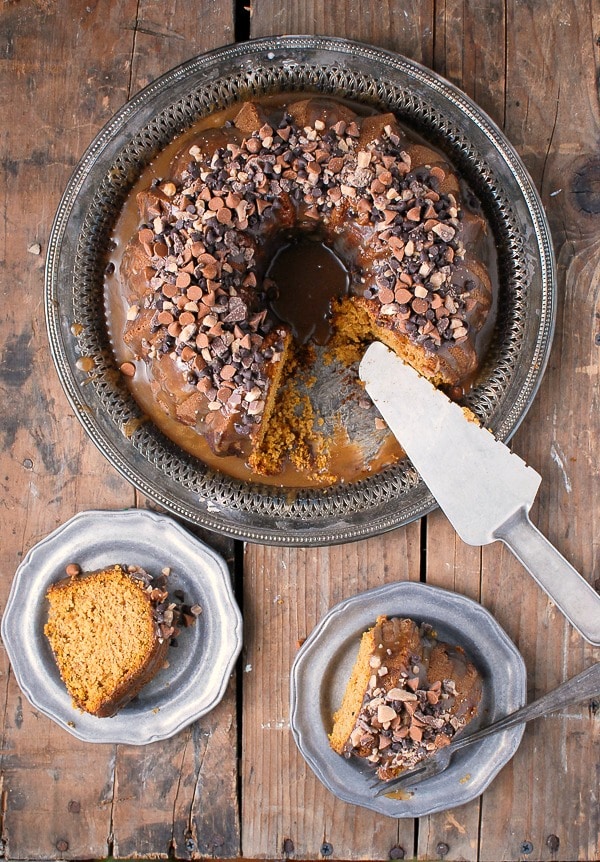 At the time I do believe Bundt cakes became very en vogue. There were dedicated Bundt mixes. I was always delighted when she's make one with something in the middle or marbling. There is nothing better than cutting into a cake to find something unexpected.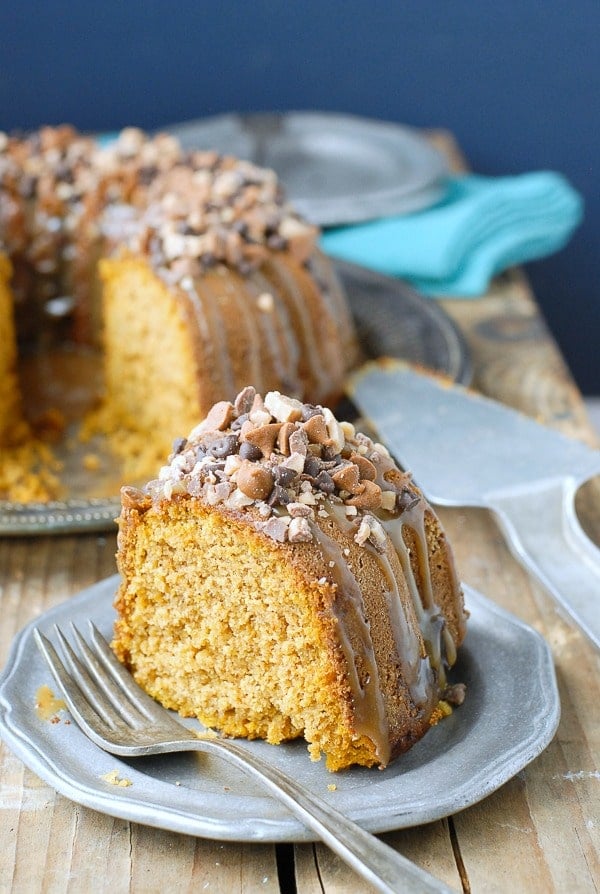 I don't make as many Bundt cakes as I should. For the novelty as well as the satisfying ability to know exactly where to cut the slices thanks to the pan design, they don't get enough play time. I actually bought a new Nordicware Bundt pan for this occasion. I have not discarded the vintage yellow pan but thought to bring my Bundt making into current day.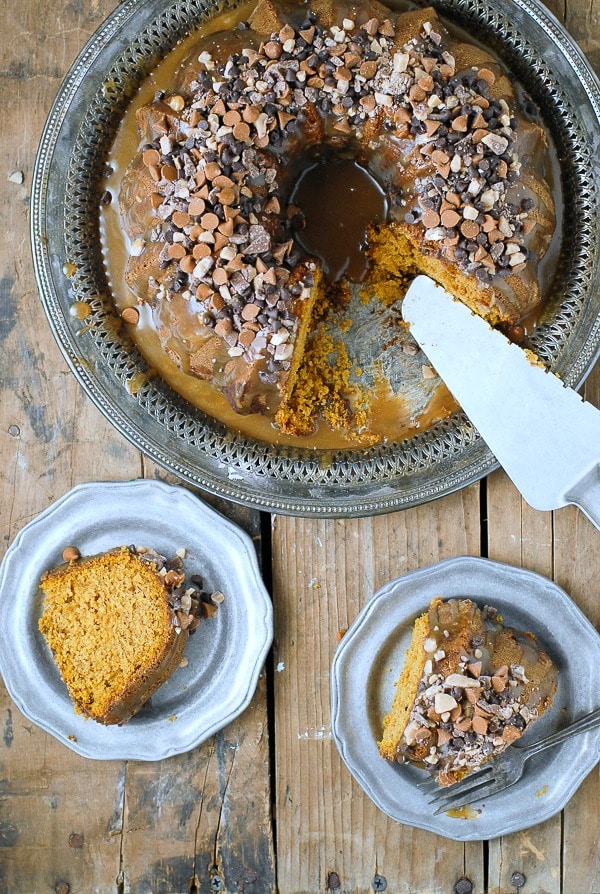 If fall were a dessert, it would be this Pumpkin Spice Buttermilk Bundt Cake. I know, I know; the name is a mouthful and sounds like those kids who have one too many middle names. It is glazed with a Salted Dark Caramel glaze that will have you licking the spoon when no one is looking….and most possibly when they are as well. I love the orange tone and the melding of pumpkin and caramel flavors. In case that is not quite enough it is topped with English Toffee bits (chocolate and caramel Heath Bar), cinnamon chips (something that just can't be used enough at this time of year) and mini chocolate chips. It is a beautiful dessert for any fall meal or just because.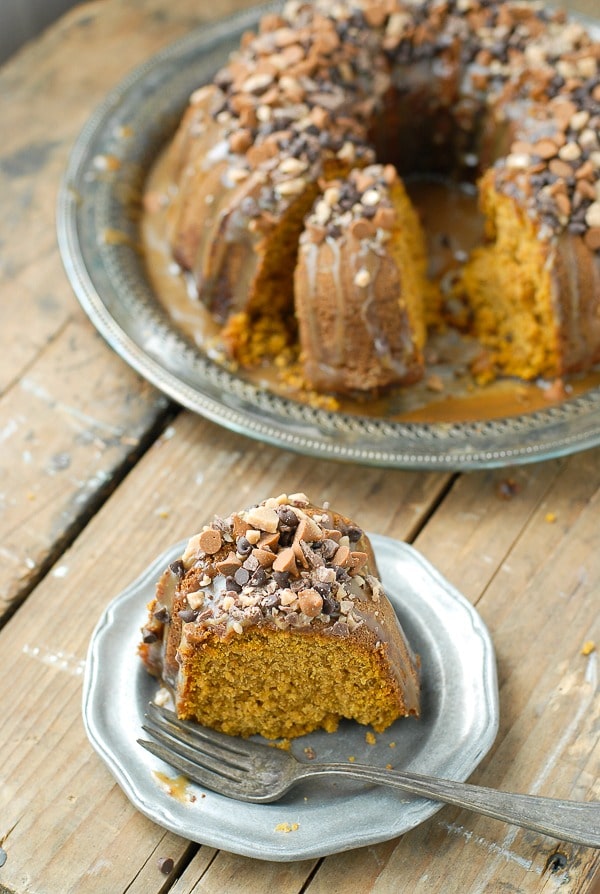 Recipe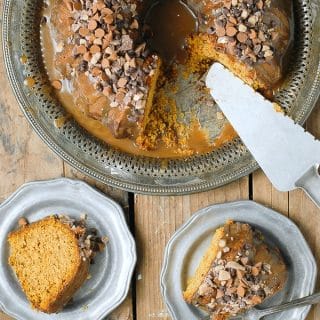 Pumpkin Spice Buttermilk Bundt Cake with Dark Salted Caramel Glaze
A wonderful cake for fall, this Pumpkin Spice Buttermilk Bundt Cake is light, and brimming with autumnal flavors. Only made more irresistible with Salted Dark Caramel Glaze and topped with mini chocolate chips, cinnamon chips and English toffee bits.
Print
Save Recipe
Recipe Saved!
Pin
Rate
Ingredients
Instructions for the Pumpkin Spice Buttermilk cake:
3/4

cups (1 1/2 sticks)

unsalted butter

softened, plus additional for greasing Bundt pan

11/4

cups

all-purpose flour

regular or gluten-free (refer to Notes)

1

cup

Oat Flour

regular or gluten-free

2

teaspoons

baking powder

1

teaspoon

baking soda

1 ½

teaspoons

Pumpkin Pie Spice

1/2

teaspoon

ground allspice

1/2

teaspoon

salt

1 1/4

cups

canned solid-pack pumpkin

(from a 15-ounce can; not pie filling)

3/4

cup

well-shaken buttermilk

1

teaspoon

vanilla

1 1/4

cups

granulated sugar

3

large eggs
Ingredients for the Topping:
¼

cup

Mini Chocolate Chips

¼

cup

Heath Bar Bits

(available in the baking department or crush up a Heath Bar)

¼

cup

Cinnamon Baking Chips
Ingredients for Salted Dark Caramel Glaze:
4

tablespoons

(1/2 stick) Unsalted Butter

¼

cup

Dark Brown Sugar

¼

cup

Granulated Sugar

½

cup

Heavy Whipping Cream

½

teaspoon

Fleur de Sel

(sea salt)
Instructions
Instructions for the Pumpkin Spice Cake:
Place the oven rack in the middle of the oven and preheat the oven to 350 degrees F. Prepare the Bundt pan: using a paper towel with softened butter (start with around a half tablespoon), generously wipe the butter fully over the internal cavity of the Bundt pan, including the middle cone. Remove any excess butter. Generously dust flour into the buttered pan, rotate it tapping the outside to spread butter over the butter. Turn upside down and tap out excess flour; tapping the pan while upside down on a firm surface.

In a medium mixing bowl, combine the all-purpose flour, oat flour, baking powder, baking soda, pumpkin pie spice, allspice and salt; whisk to fully combine.

In a second medium size mixing bowl, combine the vanilla extract, pumpkin and buttermilk; whisk together until smooth.

On medium-high speed, beat together with a mixer the butter and granulated sugar for 3 minutes until light colored and fluffy. Add eggs, allowing each to blend in before adding the next; beating to fully incorporate into the butter-sugar mixture.

Reduce mixer speed to low. Starting and ending with the dry ingredient mixture, alternate adding the dry ingredient mixture and the pumpkin mixture. Beat only to combine; do not over mix.

Spoon the cake batter into the prepared Bundt pan and smooth the top. Bake for 45-50 minutes until a toothpick inserted comes out clean. Allow the cake to cool in the pan for 15 minutes then turn out onto a cooling rack. TIP: place a cooling rack on top of the cake pan with the top surface facing the top of the cake and invert. Allow to cool completely.
Instructions for Salted Dark Caramel Glaze:
In a medium saucepan over medium heat, melt the butter.

Add both sugars to the melted butter and stir constantly until the mixture begins to come to a boil.

Slowly pour in the heavy cream, still stirring constantly. Allow the mixture to come to a boil again and simmer for 3 minutes, still stirring constantly.

Remove from heat and stir in the sea salt. Allow to cool fully before glazing the cake (it can be placed in the refridgerator to hasten the cooling.
Glazing and Topping cake:
In a small bowl, combine the toffee chips, cinnamon chips and chocolate chips. Mix together well.

Pour glaze over the cake evenly (I use a liquid measuring cup and pour from the inside to the outside and back). Sprinkle the topping evenly on the top of the cake.
Notes
Cake recipe adapted from Epicurious.
Flour notes
This cake was adapted from a recipe using only all purpose flour. Oat flour adds some flavor and texture however you can just use 2 1/4 cups all purpose flour instead (regular or gluten-free measure-for-measure blend and we suggest Bob's Red Mill gluten-free 1-to-1 baking flour).
Nutrition
Calories:
387
kcal
|
Carbohydrates:
62
g
|
Protein:
7
g
|
Fat:
13
g
|
Saturated Fat:
7
g
|
Cholesterol:
66
mg
|
Sodium:
325
mg
|
Potassium:
215
mg
|
Fiber:
4
g
|
Sugar:
34
g
|
Vitamin A:
1375
IU
|
Vitamin C:
1.1
mg
|
Calcium:
99
mg
|
Iron:
2.3
mg