A breakfast bowl packed with protein is a delicious and healthy way to start any day. This chia pudding breakfast bowl recipe features roasted bananas, Mandarin oranges, coconut flakes, and slivered almonds for a little crunch. It's a sweet and healthy, no sugar added, gluten-free breakfast that tastes like dessert!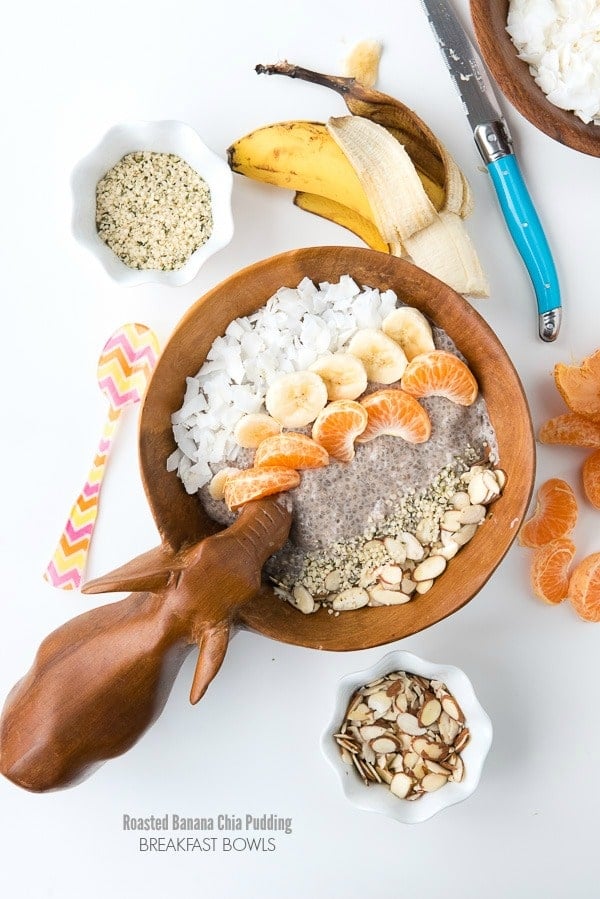 I have a confession to make. I really struggle to expand our weekday breakfast options. I am not sure why lunch and dinner flow with so many ideas, and interchangeable choices at that, but breakfast feels like only a handful of foods are 'appropriate'. A big part of that is a mindset I think. That thing in your brain that classifies foods by their normal meal and makes it feel weird to eat certain foods outside of designated genre.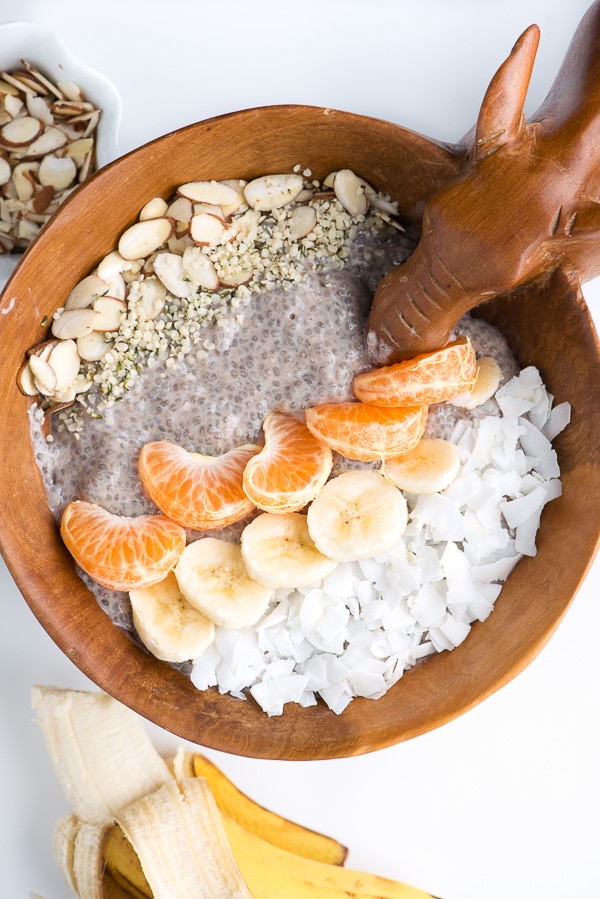 I will say I lived in Singapore for six months on a work assignment and that really catapulted me out of some of that thinking. We usually wouldn't really eat much before starting the work day and then around 9 we'd head to a canteen a few floors up from our offices to have Hokkein Mee, a noodle dish with a savory broth, prawns, and chicken. It was filling to the senses and the stomach. It left me wondering why on earth we eat cereal for breakfast in the U.S.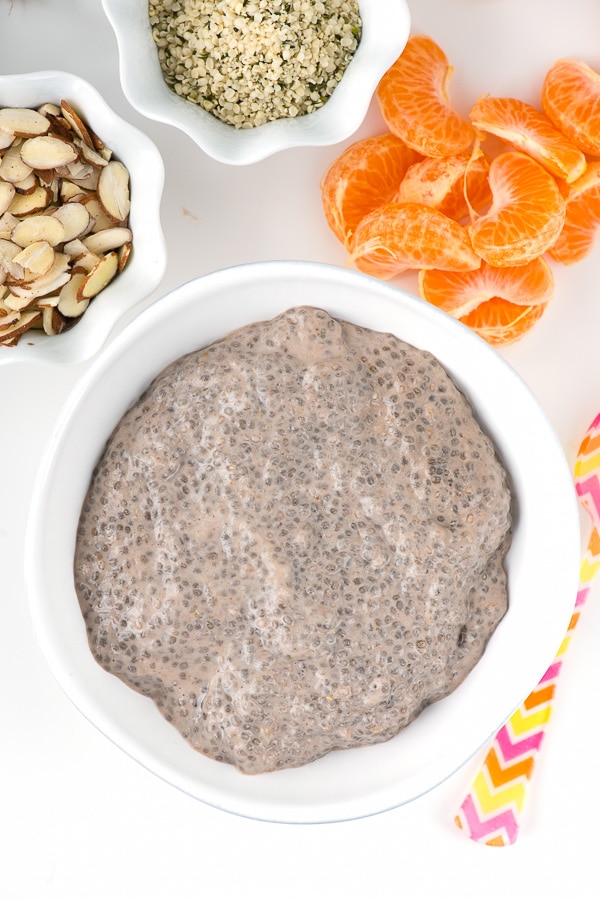 Similarly, I've traveled to Costa Rica multiple times and their 'Tico' (locals) breakfast is Gallo Pinto, a mix of black beans and rice with some spicy flavors. Rice and beans form a full protein and it's all plant-based. I was in heaven eating it daily and even sought out a local recipe which I've shared here and make at home.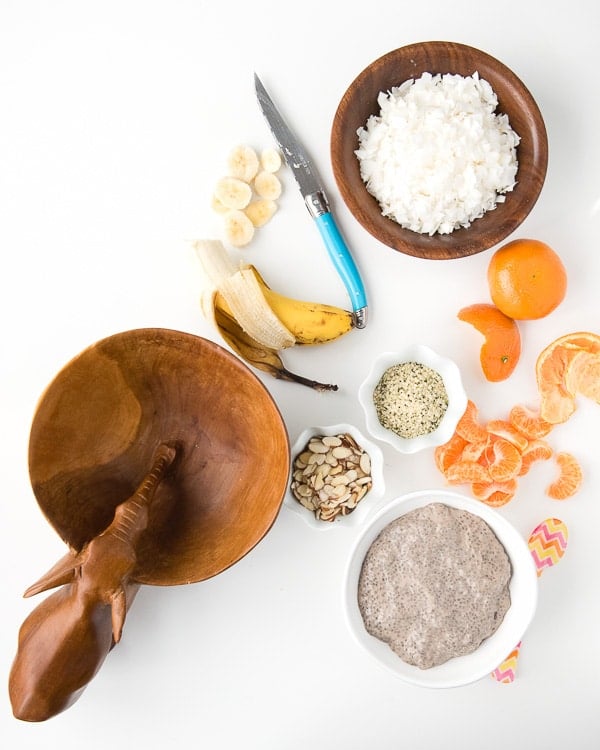 How to Make a Healthy Breakfast Bowl:
I'm feeling in a rut again. I have wanted to add more options to our morning repertoire that don't take a ton of time to prepare, are loaded with protein and preferably plant-based.
I was raised with protein=meat, which was the state of nutritional knowledge at the time. Since my family has been gluten-free I've always added chia seeds and hemp hulls/seeds to increase the protein and fiber in my gluten-free baked goods.
They are small seeds with little flavor making them perfect to manipulate with other flavors.
They provide some great options for adding to things like smoothies to amp up the protein too. Ideally, they would be my source of success for new healthy breakfast ideas.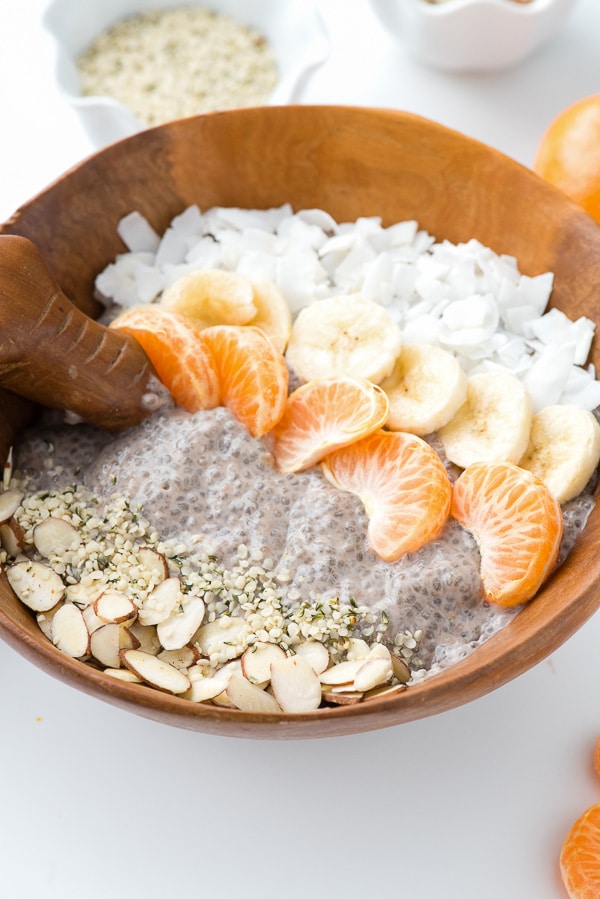 My other criteria on the breakfast front is no added sugar. I find that just jacks one's 'energy' level up and then drops you off the side of a building on your head. Especially for kids in school; I want a steady delivery of energy and not from processed, sugary foods.
Awhile ago I shared an Overnight Quinoa-Chia Chocolate Breakfast Pudding which was very popular. In a similar spirit I've made a Roasted Banana Chia Pudding Breakfast Bowl today.
The chia pudding is a soft consistency like tapioca pudding but with no dairy AND no sugar added! 'Yuck' you may be thinking? Not so. I have a little trick to share. I've been roasting bananas for different recipes for years and the 12-minute process turns bananas into incredibly sweet fruits without being overly ripe tasting.
Before mixing up the pudding I processed some Unsweetened Almond Milk with a roasted banana and two pitted dates in the blender. You can use oat milk too for a dairy-free option.
This creates a smooth, naturally-sweet milk to add to the chia seeds. The pudding has a wonderful banana flavor and creamy texture; perfect for a breakfast bowl to layer toppings on for a vibrant start to any day!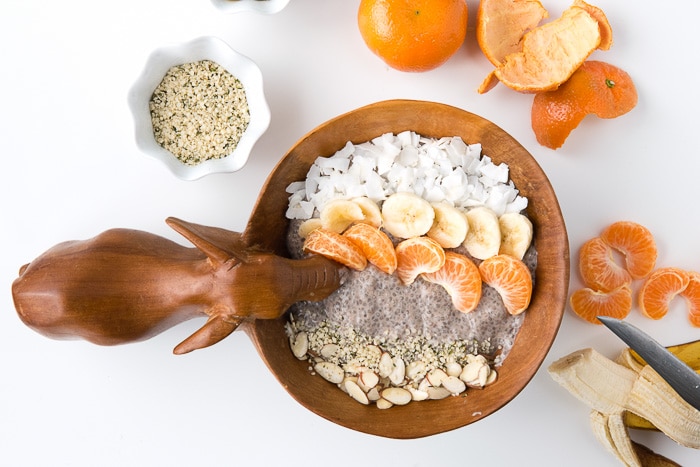 If you like this recipe and want to learn more about Silk or a delicious plant-based diet you should SIGN UP for Silk's newsletter (no hassle and no purchase obligation). You'll receive an instant discount coupon, will be eligible for monthly giveaways (automatically eligible when signed up) and be notified about the latest news and recipes. Silk is a local company I've watched 'grow up' with pride in their product integrity and commitment to vibrant, healthy plant-based diet options. I love them!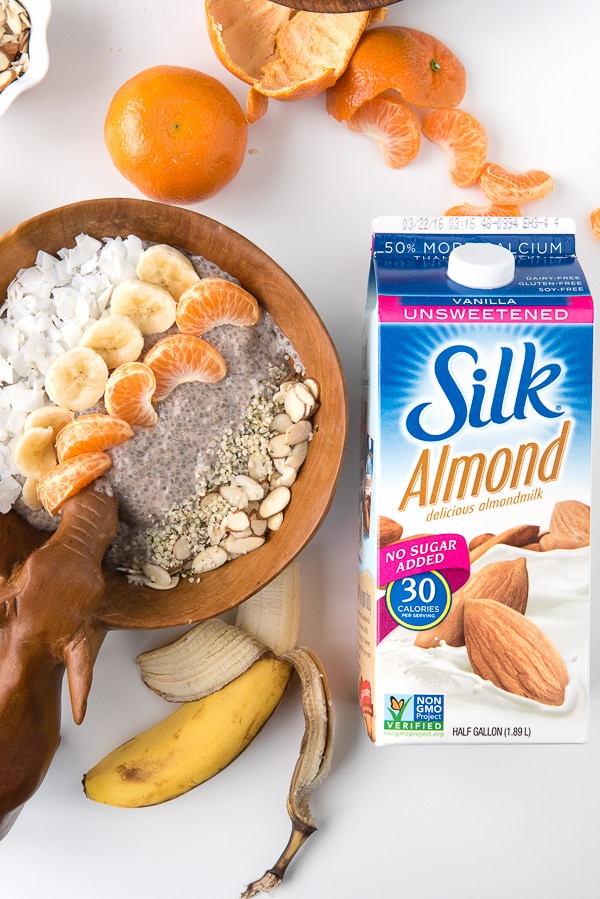 This is post is sponsored by Silk. The opinions are my mine.