Zucchini Cake is an easy dessert recipe perfect for summer. This version adds fresh blueberries and a delicious tangy cream cheese frosting!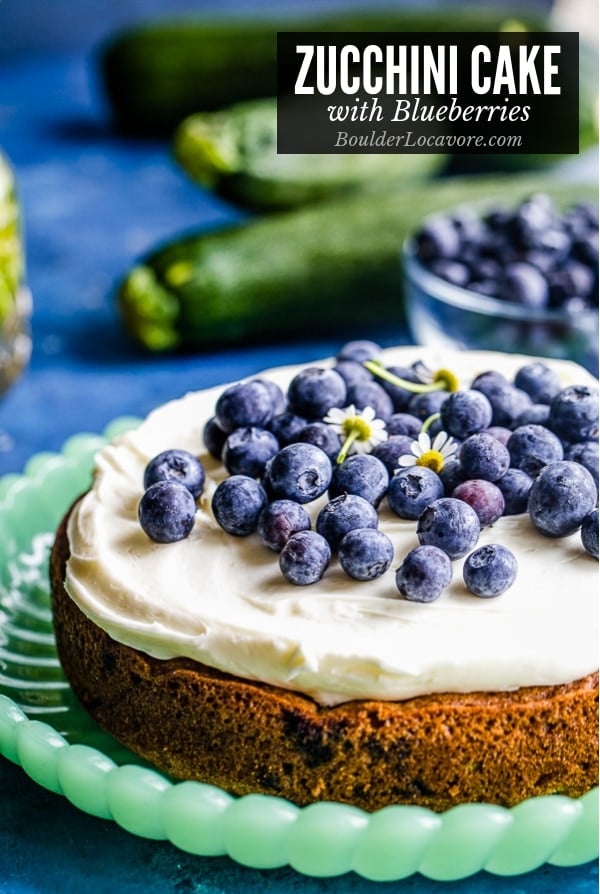 Zucchini is a light, delicious summer squash that is perfect in so many recipes.
If you have a home garden, you may have found this recipe frantically searching how to use your harvest!
This lightly sweet, relaxed one-layer Zucchini Cake is a perfect choice. Easy to make and with the addition of fresh blueberries for an additional naturally sweet touch!
Don't miss Chocolate Zucchini Cake and Zucchini Muffins too!
What is Zucchini Cake?
A kissing cousin of Zucchini Bread, Zucchini Cake is a moist lightly sweet cake incorporating grated zucchini squash.
If you have not enjoyed a slice the idea of vegetables in your dessert may be a turn off. Never fear!
Why Put Zucchini in Cake?
Zucchini has a high amount of moisture.
When combined with the regular cake ingredients adds to the moistness that is so appealing.
The grated zucchini blends into the cake and does not affect the texture at all.
Most importantly, the moist delicious cake does not taste like zucchini at all!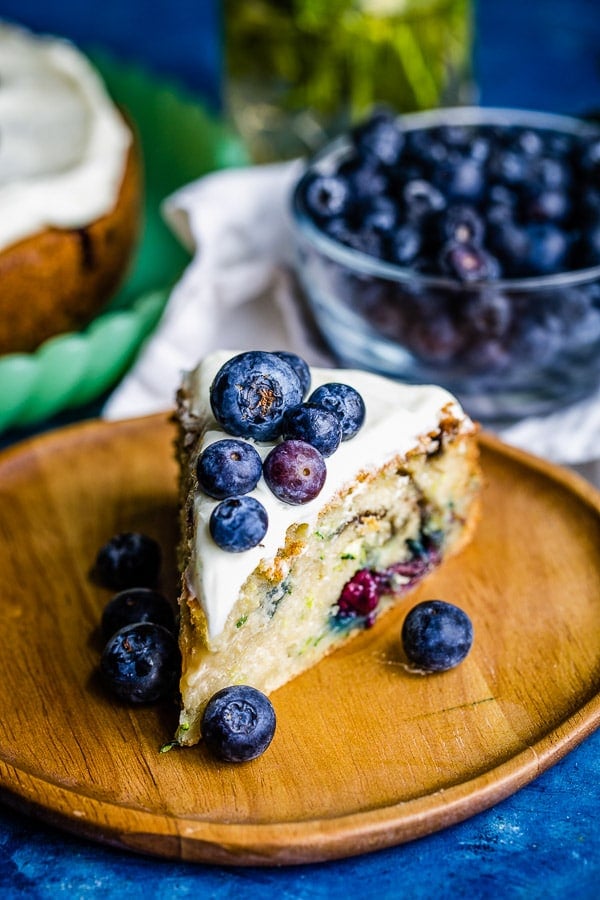 Zucchini Cake Ingredients
Homemade zucchini cake has the same ingredients as a regular cake. The addition of grated zucchini and fresh blueberries is what makes this recipe special!
All-Purpose Flour (regular or gluten-free)
Baking Soda
Baking Powder
Granulated Sugar
Light Brown Sugar
Eggs
Vegetable Oil
Vanilla Extract
Whole Milk
Grated Zucchini
Fresh Blueberries
Don't Peel Zucchini for Cake
It's not necessary to peel zucchini for this cake recipe.
Because the zucchini is grated the peel blends in easily with the other ingredients.
Make it Gluten-Free
We've tested this zucchini cake recipe with all-purpose (gluten) flour and gluten-free flour. It's delicious both ways.
Gluten-Free Flour Recommendation
Using measure-for-measure gluten-free flour blends is the easiest way to get a great baking result. It's also easy since the flour blending is taken care of.
My recommendation is NOT to select a blend with garfava flour for baked goods. Though it has good binding properties, it has a very beany flavor not well-matched with baked desserts.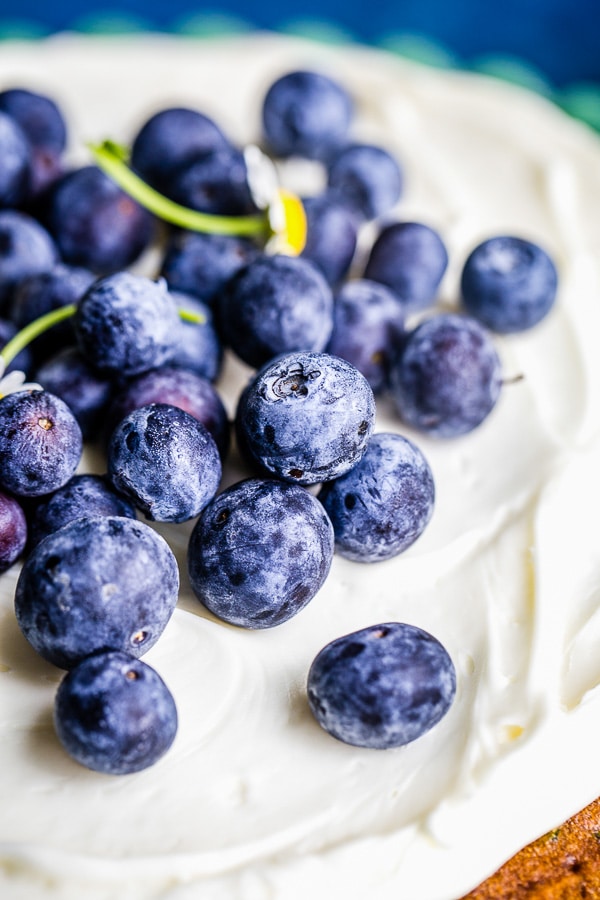 My Favorite Way to Prepare a Cake Pan
Preparing a cake pan for easy release after the cake is baked is a key for success.
Though greasing and flouring the pan may work fine, I have a preferred method that always guarantees smooth release.
Lining a Cake Pan with Parchment Paper
Cut a piece of parchment paper larger than the size of the cake pan.
Place the cake pan on the parchment paper and trace around the bottom with a pencil onto the parchment paper.
Cut out the parchment circle.
Grease (I usually use butter) or spray the bottom of the pan with non-stick spray.
Place the parchment circle inside the pan and press it to the prepared bottom.
Spray the parchment and the sides of the pan with non-stick spray.
Add a small amount of flour to the pan. Rotate the pan, to cover with a light layer of flour; tapping the pan to release any excess flour (discard excess).
After the cake is baked, it will come out easily and the parchment paper peels off the cake with ease too.
How to Make Zucchini Cake – Step by Step
This cake is easy to make! It's not fussy in the least. No matter what your baking skill level it's a wonderful cake to make.
For detailed printable instructions refer to the recipe card at the bottom of the blog post.
Preheat oven to 350 degrees.
Grease and flour an 8-inch round cake pan. Refer to my favorite cake pan preparation method above.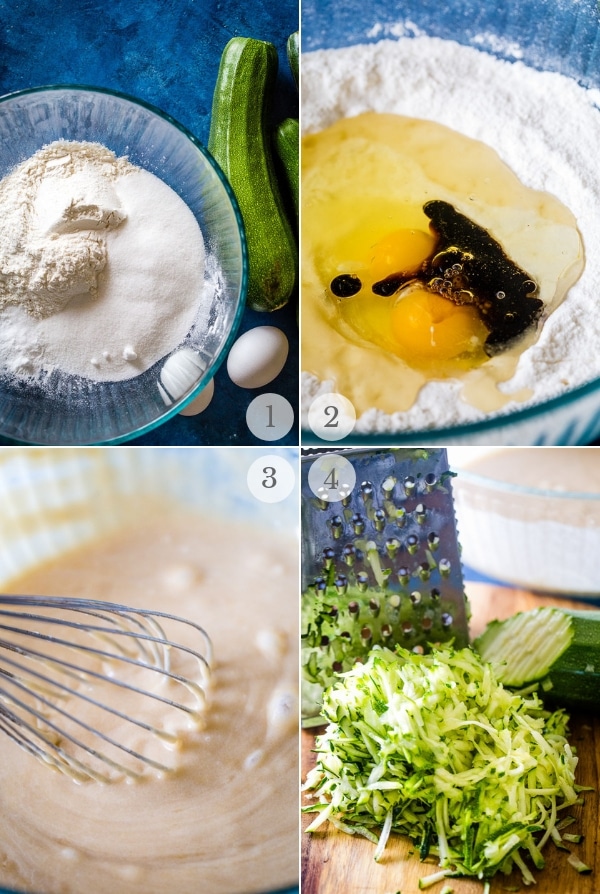 In a large bowl whisk together flour, baking soda, salt, sugars and cinnamon (photo 1).
Create a well in the center of the flour mixture (photo 2).
Add the eggs, oil, vanilla, and milk into the center of the flour mixture well (photo 2).
Whisk batter together until smooth (photo 3).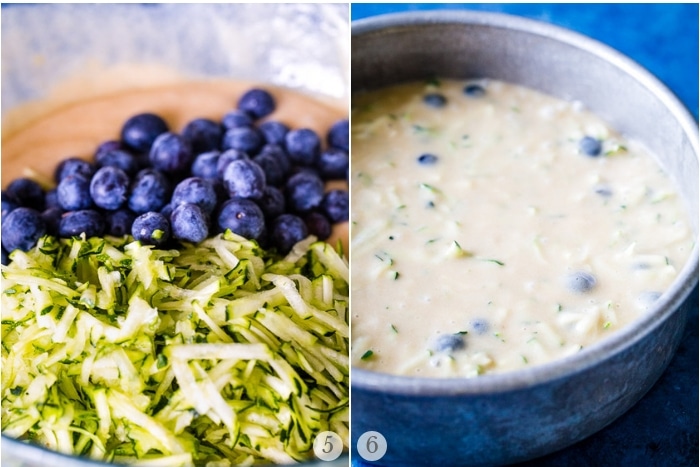 Fold in the grated zucchini (photo 4) and blueberries to the batter (photo 5).
Pour batter into the prepared pan and smooth as necessary (photo 6).
Bake for 30-35 minutes or until a toothpick is inserted into the center and comes out clean.
TIP: check the cake at 30 minutes and bake longer if needed. Top will golden brown.
Remove from oven and cool completely.
How to Frost this Zucchini Cake
This cake can be frosted in many ways depending on your preference:
Buttercream Cream Cheese Frosting
The frosting included in the recipe is a creamy, tangy frosting option. It's easy to make.
Sprinkle with Powdered Sugar
The Zucchini Cake flavor is light. A sprinkle of powdered sugar may be all you want!
PRO TIP: For easy dusting of the cake top, add some powdered sugar into a fine mesh sieve/strainer. Move the strainer over the top of the cake while tapping the side with the opposite hand. This creates a fine powder over the cake.
Vanilla Frosting
This is a great option to frost the cake but with less tanginess if cream cheese frostings are not your favorite.
Timesaving Tip: Buy premade frosting to quickly frost the cake with no effort.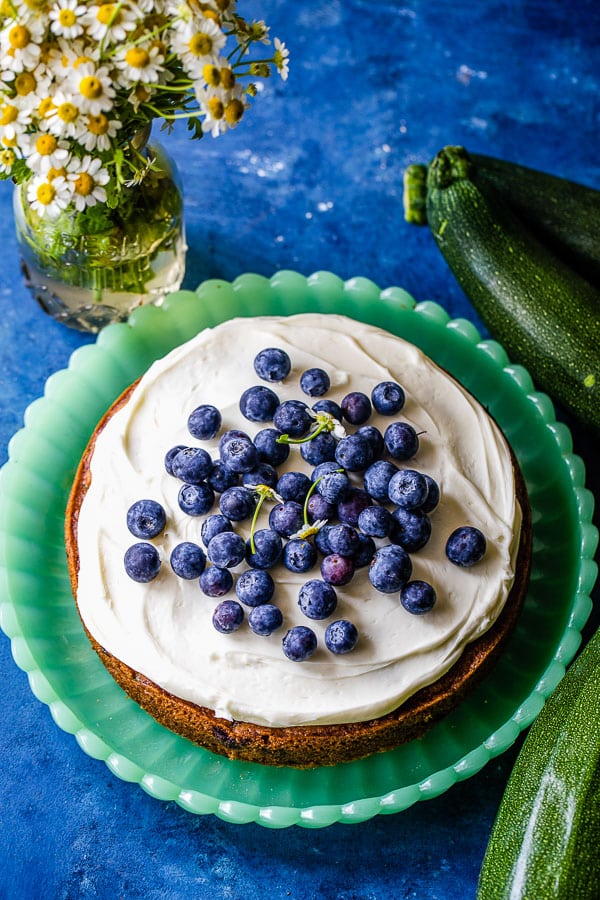 More Delicious Cake Recipes
Did you make it? Please RATE THE RECIPE below!
FOLLOW ME on FACEBOOK , TWITTER , INSTAGRAM and PINTEREST !