The Grave Digger Cocktail can be quickly made up for a crowd or for solo sipping for a ghouslishly good time! This Halloween cocktail is a refreshing, fizzy fall cocktail perfect for celebrating.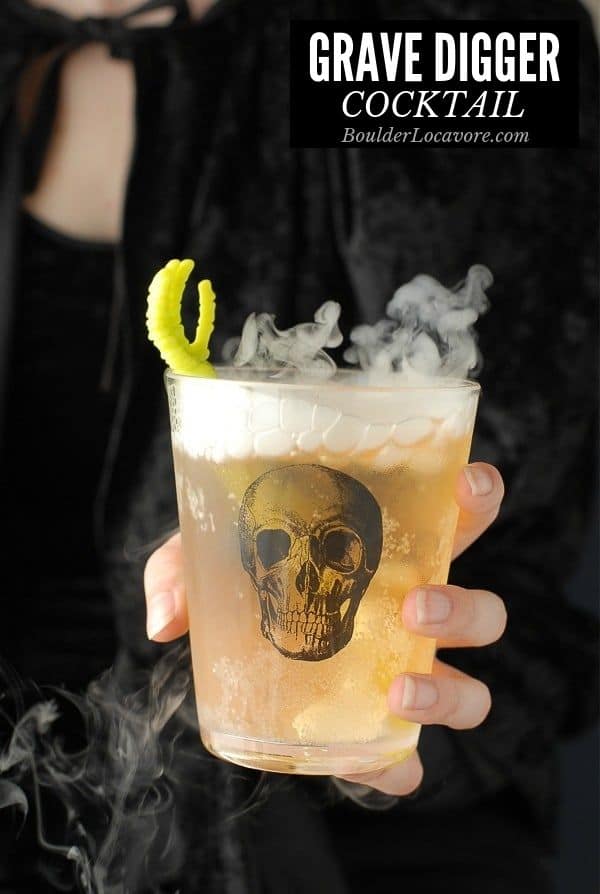 A signature cocktail always makes a party festive and gives cause to celebrate the season.
The Grave Digger cocktail does both.
With familiar fall flavors and some fizz, this Halloween cocktail will make your party the favorite.
It will be the cocktail friends ask you to make on repeat as the cold weather rolls in.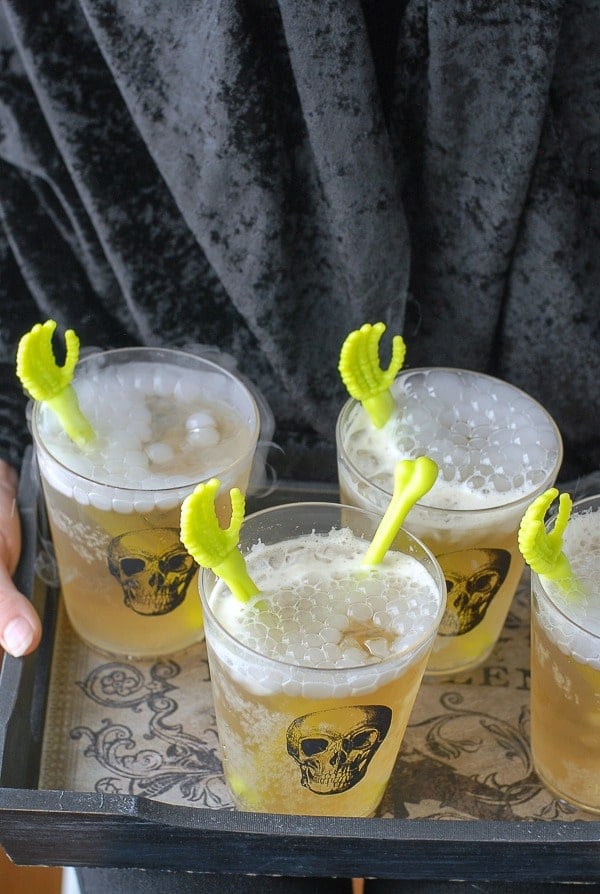 A Delicious Halloween cocktail
There is no better way to celebrate October than with a fall-inspired Halloween cocktail!
The Grave Digger cocktail was created after pondering 'if I were a grave digger, what would I drink?'
Whisky, would be what I would drink.
I could picture man with a shovel in the thick of night silhouetted only by a harvest moon.
Wiping his brow, he would pull out a small flask for a sip before burying the new casket by morning.
I frankly know nothing about grave digging other than what I've seen in movies.
But I liked this eerie visual all the same.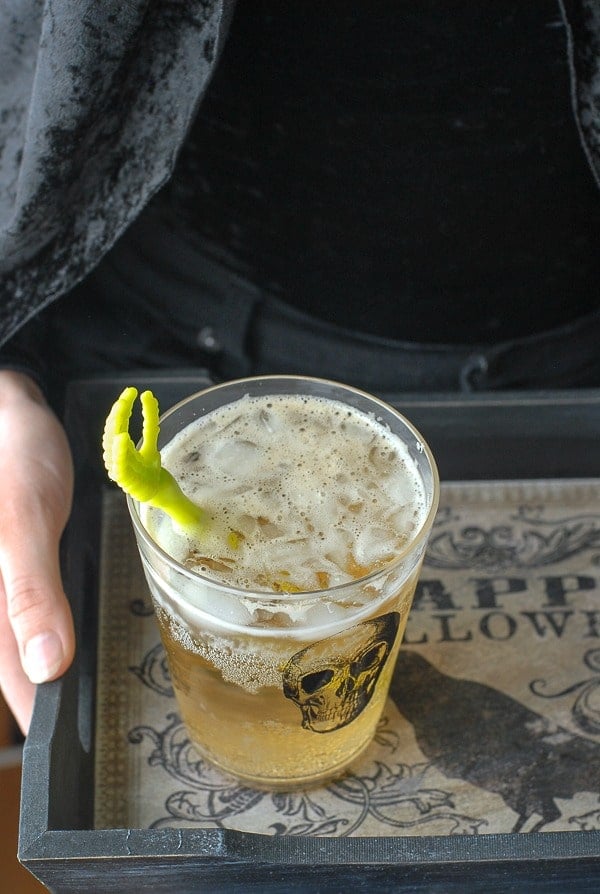 Grave Digger Cocktail Ingredients
The ingredients in this Halloween cocktail are simple and full of fall flavors:
Hard Cider
Bourbon or other

Whiskey

Ginger Ale or Ginger Beer
Hard Cider
It's apple season and hard cider is a great alternative to beer especially for fall.
Most hard ciders are also gluten-free which is a plus for those needing to avoid gluten.
If you are gluten-free always check the hard cider label!
It has a bright flavor and carbonation making for a delicious apple-cider-meets-beer alternative.
I love the combination of bourbon and ginger, as well as apple and ginger.
It seemed natural to combine all three into a concoction to celebrate fall and certainly for Halloween parties.
The Grave Digger ingredients make a delicious combination.
What's the Difference between Ginger Ale and Ginger Beer?
Both are carbonated ginger-flavored non-alcoholic drinks.
Ginger Beer has a much stronger ginger flavor. It is usually brewed using fresh ginger.
Ginger Beer is a signature ingredient in Moscow Mules.
Ginger ale has a lighter ginger flavor and is made from ginger syrup.
Both are delicious in this halloween cocktail.
This Halloween cocktail also doesn't pack too big a punch thanks to the ginger ale filler.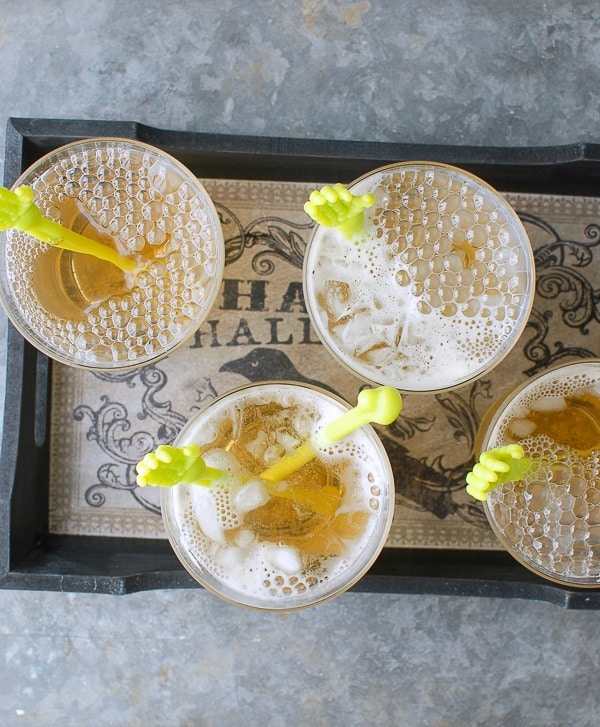 How to Make it – Step-by-Step
This cocktail is made per drink for the best results.
STEP 1. In a 12-16 ounce glass, combine the hard cider and whiskey.
STEP 2. Fill with crushed ice. Fill to top off with ginger ale or ginger beer.
Can this be made as a large Batch Cocktail?
This is not a cocktail that translates easily into a punch-style recipe for two reasons.
It has two carbonated ingredients which can go flat over time leaving a less desirable cocktail.
Adding ice per glass and ginger ale 'to fill' is not easy to directly translate into a large batch.
How to make this for a Party or large Group
Instead of making it into a punch style drink, I would suggest:
Figure out how many cocktails you'll need to make.
Set out that number of glasses and add the whiskey to each before guests arrive.
Have the other ingredients chilled and ready, including measuring jigger for the hard cider.
As guest arrive finish assembling the cocktails so they will be fresh and delicious.
Make a Punch instead
Vampire punch or Off With Your Hand Halloween Punch are both great options.
Vampire Punch is warm and in a slow cooker so easy for self serving.
It's a mocktail punch so great for a mixed group. You can add syringes of liquor for guests to inject or just have liquor options for spiking if desired.
Sparkling Cranberry Vodka Punch is another option.
Using Dry Ice in a Halloween Cocktail
IMPORTANT NOTE! The addition of dry ice is a fun visual however drinks should not be consumed with dry ice in them!
Dry Ice is solid carbon dioxide frozen to -100 degrees which will cause frostbite.
Once the dry ice has evaporated fully, drinks are fine to consume (I actually checked with a physician on this!).
READ THIS Dry Ice Guide for everything you need to know about dry ice. Where to buy it, how to handle it and more.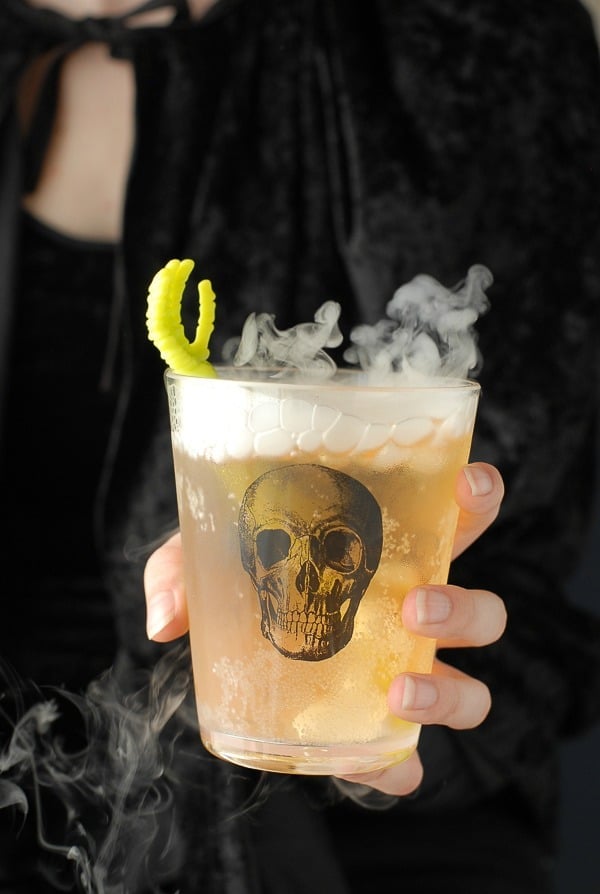 Halloween Recipes to Serve with the Grave Digger Cocktail
Did you make it? Please RATE THE RECIPE below!
Please SUBSCRIBE and FOLLOW ME on FACEBOOK , TWITTER , INSTAGRAM!
Recipe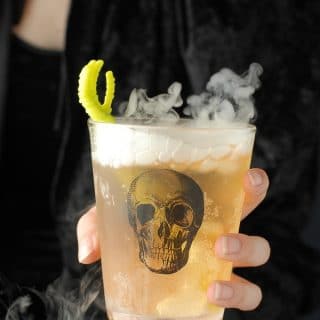 The Grave Digger Cocktail
The Grave Digger cocktail is perfect not only for Halloween but as a celebration of fall. Flavors of apple and ginger make this a great seasonal sipper.
Print
Save Recipe
Recipe Saved!
Pin
Rate
Ingredients
2

ounces

Hard Cider

1

ounce

Whiskey

(I used Bourbon)

Ginger ale

, to fill

Crushed ice
Instructions
In a 12-16 ounce tumbler or high ball glass, combine the hard cider and whiskey.

Fill the glass with crushed ice. Fill with ginger ale.
Nutrition
Calories:
94
kcal
|
Carbohydrates:
1
g
|
Protein:
0
g
|
Fat:
0
g
|
Saturated Fat:
0
g
|
Cholesterol:
0
mg
|
Sodium:
2
mg
|
Sugar:
1
g
Originally published: September 30, 2014
The Grave Digger cocktail is a perfect Halloween cocktail with fall flavors and some fizz!